I started using the NutriBullet over 5 years ago when I bought it to use as a smoothie maker, juicer, food processor, and blender. Now, don't tell NutriBullet that I said that, because it's obviously not supposed to be all of those things! But I really got to know this device over the last 5+ years so I thought I would share its pros and cons with you. Maybe you are trying to decide whether to invest in a blender, smoothie maker, juicer, or food processor. All of these are a decent investment, so this should help you understand exactly what a NutriBullet does and how I use it. I am also sharing one of our favorite cleansing smoothie recipes. This recipe is detoxifying and an anti-inflammatory, and it just tastes great! Enjoy!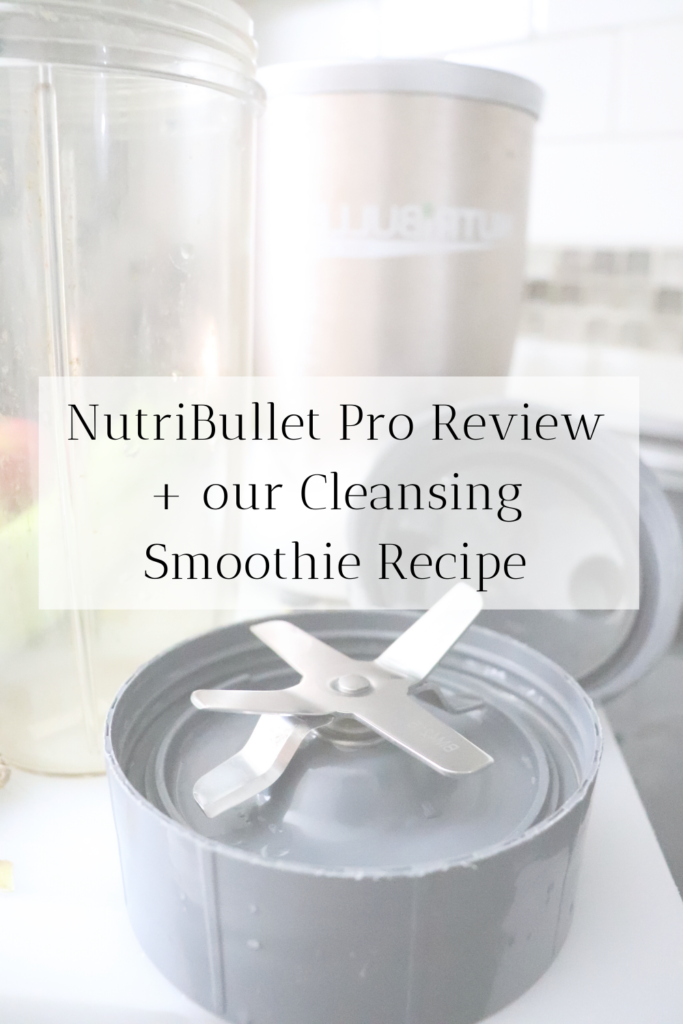 I have been using the NutriBullet for over five years now, and am still very happy with the investment we made in purchasing it. Keep reading for my thoughts on the NutriBullet and my favorite cleansing smoothie recipe!
What is a NutriBullet?
If you have never heard of NutriBullet before, it is essentially a blender made specifically for smoothies. So it has blades fine enough to turn fruit and veggies into a smoothie, but not fine enough to be a juicer on its own. It can also act as a food processor but has a limited capacity. We have used the NutriBullet for over 5 years and almost on a daily basis. It is my go-to for smoothies, blending, and main food processing needs. Here I go into the details of what the NutriBullet can and cannot do.
Difference between a Blender and a Juicer
The NutriBullet is a type of blender. The primary difference between a blender and a juicer is that a juicer extracts the juice from a fruit or veggie and leaves behind the skins. A blender however, will chop every part of the fruit or veggie including the skin. So, the consistency of a blender will be thicker than a juicer. Some people like juices better than smoothies. However, the skins of apples and other fruits and veggies are actually very nutritious for you (as long as they're organic and free of pesticides). So we prefer the blender versus a juicer for that reason.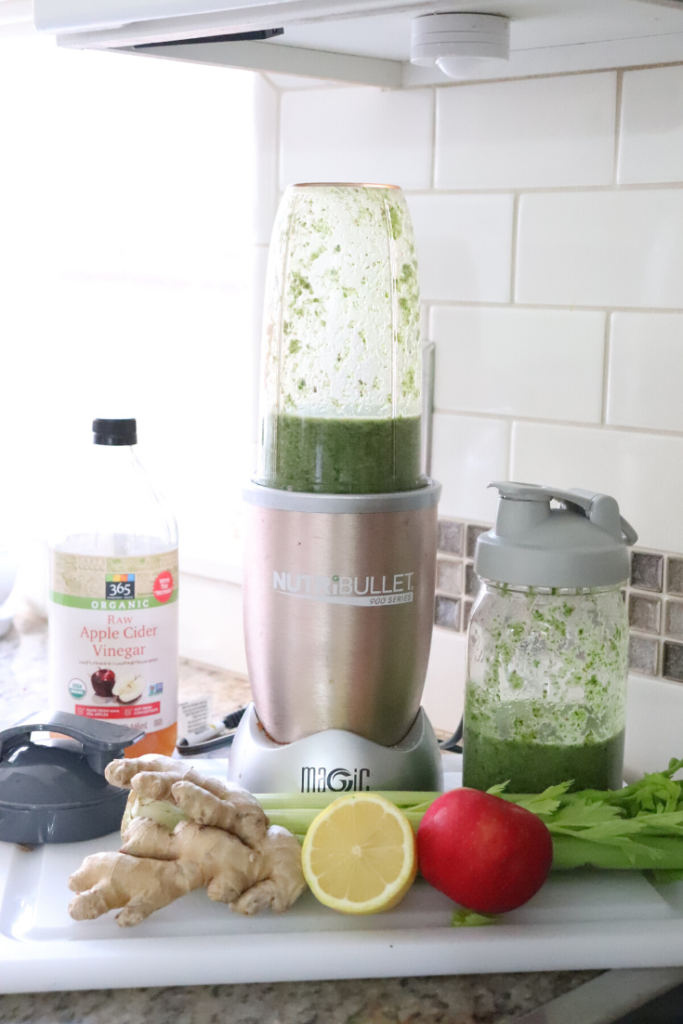 UPDATE: I'm updating this post about a year after a wrote it to tell you that there is another reason the NutriBullet differs from a blender. After buying this Oster Blender last year and hoping to use it to make smoothies, I was a little disappointed. Because of the double blade set up in the NutriBullet, I can put dates, bananas, fruit, etc in the smoothie and there will be no chunks left when it's all blended. Whereas the blender can't reach those small items so I had to cut up the dates manually and drop them in the smoothie.
What is a NutriBullet good for?
Making smoothies for 3 or less people at a time.
Food processing with liquid.
Double blades allow for blending up all the small chunks inside – like dates, avocado, frozen fruit, etc.
Counter appeal – very small and looks nice on your counter. There is only so much space on the counter for appliances, and this NutriBullet is so useful for us that I'm fine with keeping it on the counter every day.
An easy kitchen tool that can do many things from blending to food processing. It's my go-to for most blending needs.
Simple and safe – there are no buttons and it's very easy to use. Simply press the blender cup into the blender and twist. The blade won't run unless the cup is in the blender, so it's safe and well made.
Saving you money! Many nice and larger blenders cost upwards of $200 or more, whereas the NutriBullet Pro costs only $99 on Amazon.
Super easy to clean. The cup is dishwasher safe, so you can make your smoothie in the morning, bring it home at night, and throw it in the dishwasher. The only thing that you can't wash in the blade. I recommend at least rinsing the blade immediately after each use to prevent fruit from sticking.
What are the NutriBullet limits?
Just like as stated above, the NutriBullet is small and can only hold so much liquid. If you want to make smoothies for more than about 3 people at a time, a bigger blender might be better for you.
The NutriBullet can blend food well when liquid is used. But if you want to use it to chop up dry food like nuts, onion or garlic, you're better off with a real food processor. I have used the NutriBullet to food process cabbage for sauerkraut, to mix ghee and butter to make lattes, and for all sorts of things. But for small chopped items, I use my mini food processor.
The cup and lid that the NutriBullet come with are just OK. We have used them for many years and over time the residue from the smoothies can get stuck on the cup. Also, the seal on the lid doesn't work great. We have a solution to this problem though. We started mixing our smoothies in the NutriBullet and then pouring the smoothie into a wide mouth glass mason jar and putting a sealed drinking lid on top. This totally solves the problem of not being able to take your smoothies on the go. My husband carries this in his backpack, work bag, car, you name it.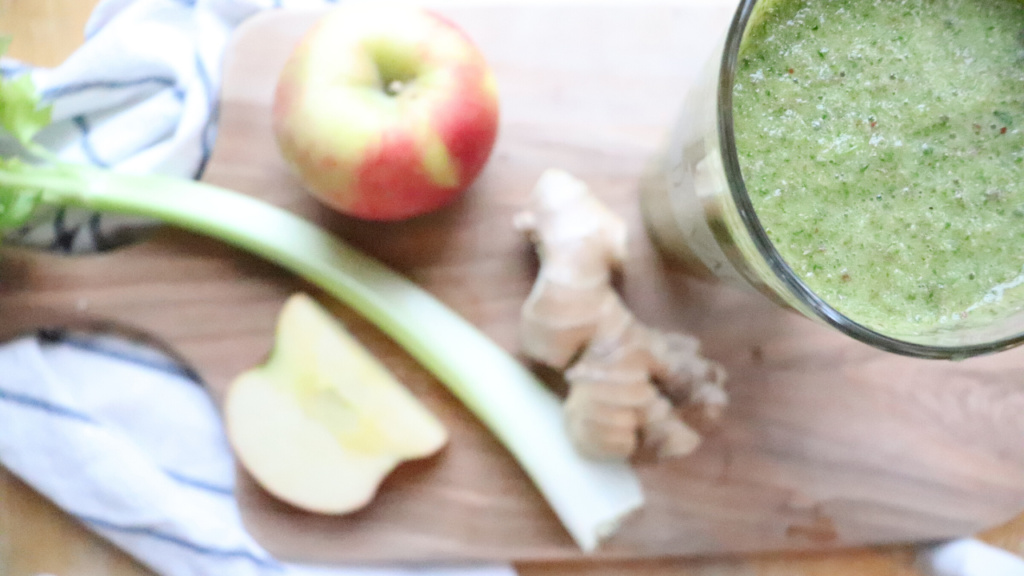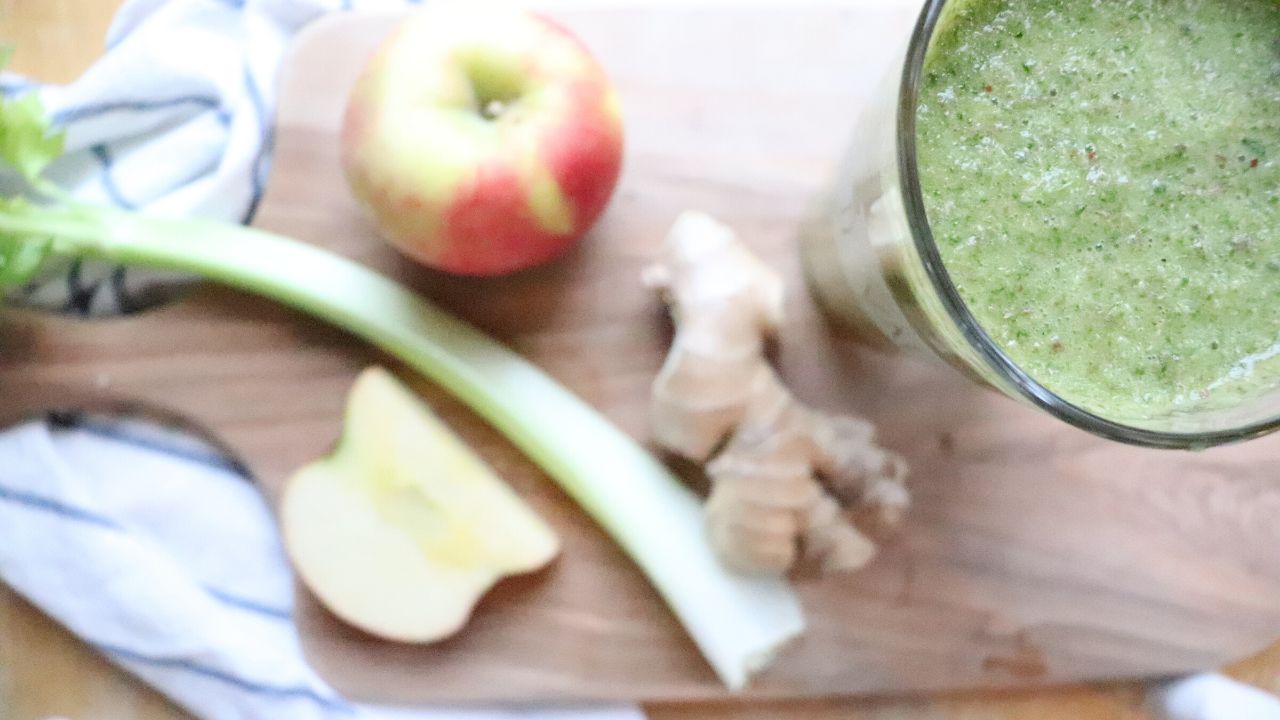 Green Cleansing Smoothie in the NutriBullet
We make a smoothie with milk kefir, frozen fruit, and protein powder every morning. It's a great way to start the day. But about once a week whenever we have time, I like to make us a cleansing smoothie just to boost our metabolisms and immune systems.
This smoothie recipe is anti-inflammatory, good for the gut, and packed full of nutrients. For this smoothie, you'll need:
1/2 C frozen veggies like lettuce or spinach
1/2 C chopped apple
1/4th frozen banana
1 celery stick
Juice from half lemon
1 tsp apple cider vinegar
1 TBSP chia seeds
About 1/2 tsp fresh chopped ginger
filtered water to the fill line
Simply blend all the ingredients in the NutriBullet and enjoy. We like to make this on Sunday mornings after a long hike. Ah, the feeling of true health!
Benefits of a Green Cleansing Smoothie
Ginger
The first power ingredient in this smoothie is ginger. Ginger is as powerful anti-inflammatory that contains antioxidant properties. We use ginger in a lot of our cooking here at the homestead. We put it in soups, sauces, smoothies, and even hot cocoa. The anti-inflammatory properties are so important in your health. Inflammation in the body is the cause of many health issues, from arthritis to allergies. Reducing inflammation in the body is almost always a good thing. Taking ginger can also help with muscle and joint pain and even menstrual cramping. Ginger is healing to the stomach. It helps empty the stomach which helps with digestion and stomach pain. And, it's just a fun spice to add to many dishes!
Apple Cider Vinegar
The second power ingredient is apple cider vinegar. Apple cider vinegar is made by fermenting the sugar from apples and turning it into acetic acid. This acid has been using for many years to treat wounds because of its powerful bacteria-eliminating properties. Apple cider vinegar is also known to promote balance blood sugar levels, as well as healthy blood pressure. We put apple cider vinegar in smoothies, salad dressing, soups, and our chicken's water bowls about once a week.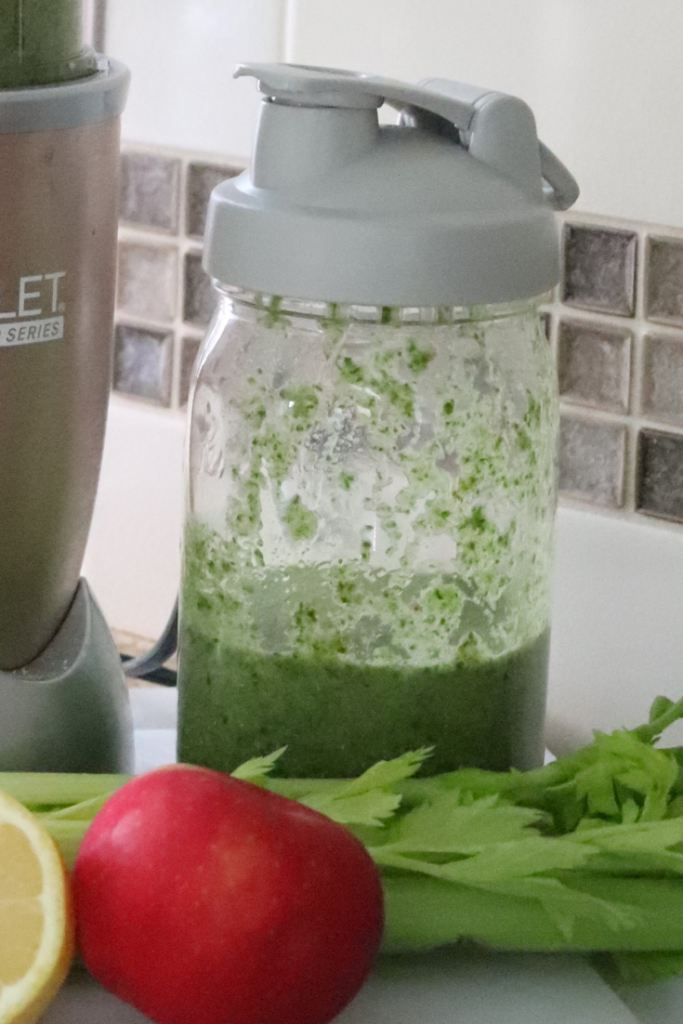 A note on making smoothies with a NutriBullet or other blender:
The key difference between a blender and a juicer is that a blender keeps the whole fruit or vegetable including the skins, whereas a juicer extracts the juice and discards the skins. It is best practice to wash your fruits and veggies before consuming them, and to always buy organic when available to prevent the intake of chemicals or pesticides.
This post contains affiliate links, which means I make a small commission off of items you buy at no cost to you. This post is NOT sponsored by NutriBullet, I am just providing my honest review to you after over 5 years of daily use.
Shop this post:
32 oz Wide Mouth Glass Mason Jar
Silicone Reusable Freezer Storage Bag (BPA Free, PVC Free, etc)
Want more NutriBullet smoothie recipes? Grab your FREE Smoothie Recipes EBOOK!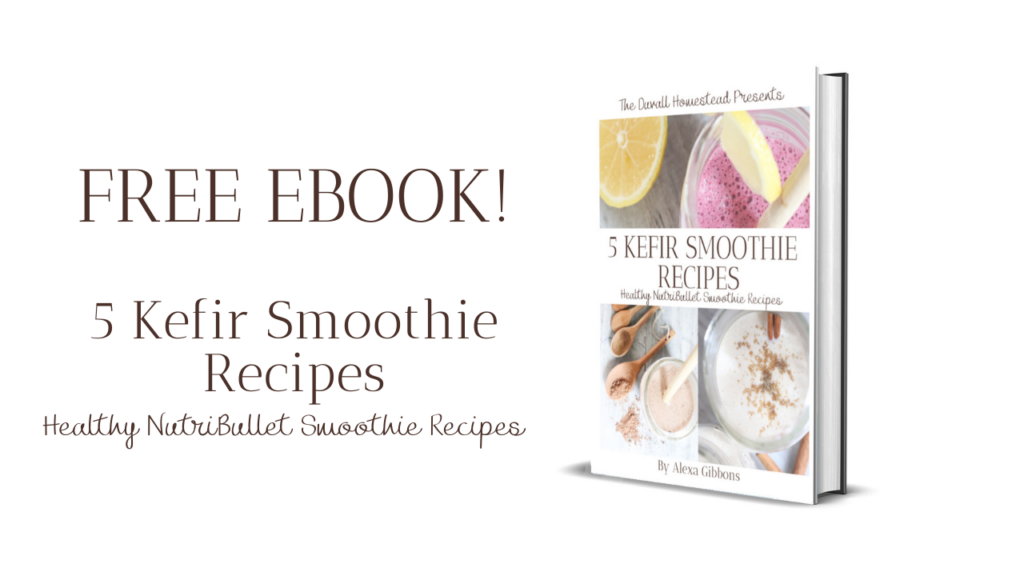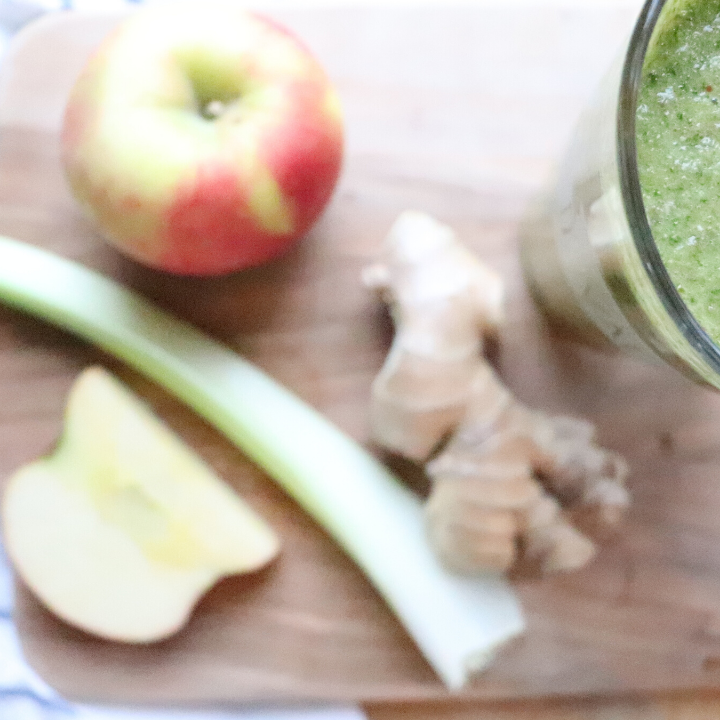 Cleansing Smoothie
This cleansing smoothie is gut-healthy, helps reduce inflammation, and promotes many other health benefits. I use a NutriBullet but any smoothie maker will do.
Ingredients
1/2 C frozen veggies like lettuce or spinach
1/2 C chopped apple
1/4th frozen banana
1 celery stick
Juice from half lemon
1 tsp apple cider vinegar
1 TBSP chia seeds
About 1/2 tsp fresh chopped ginger
filtered water to the fill line
Instructions
Simply blend all the ingredients in the NutriBullet and enjoy. We like to make this on Sunday mornings after a long hike. Ah, the feeling of true health!
Notes
I use a Nutribullet but any smoothie maker will do.
Pin it for Later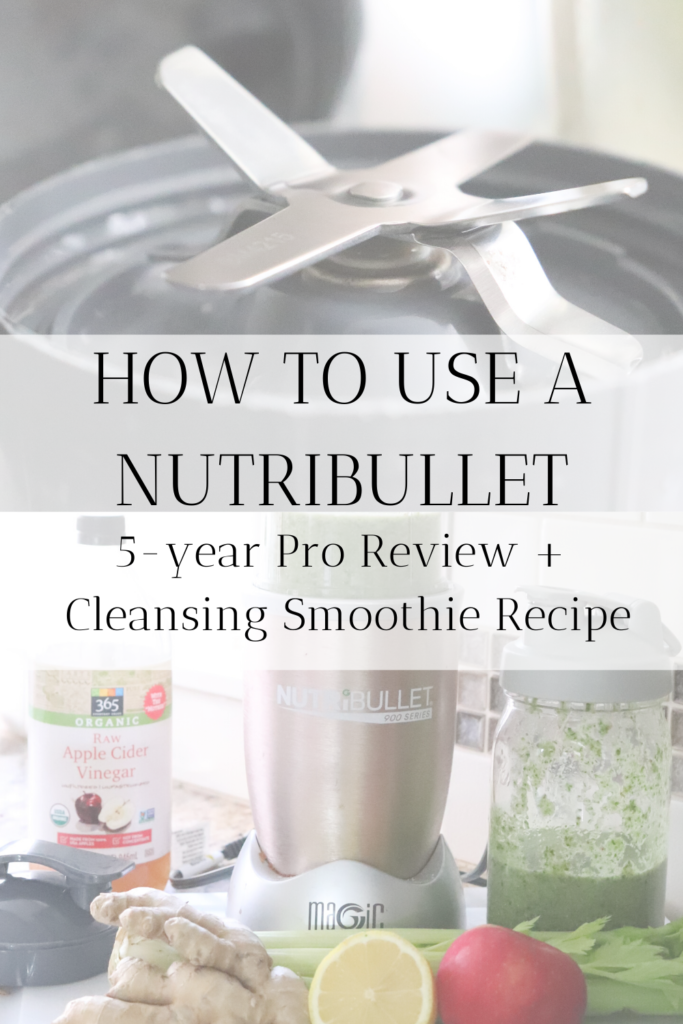 Thanks for stopping by the farmhouse!
Other recipes you might like:
Healthy Beef Stew with Bone Broth