We love cooking from scratch and eating organic, farm-to-table when we can. Every now and then we run out of a lot of food at one time and chose to do a healthy Costco grocery haul. Here's what we bought to cook homemade meals every day without going back to the store for, hopefully, a while!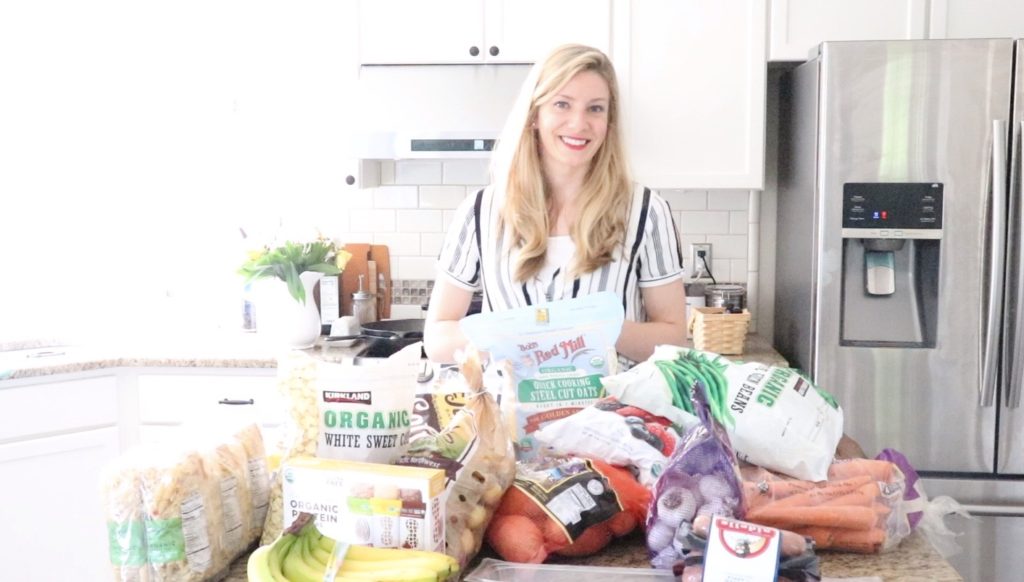 Watch: Costco Grocery Haul!
We have Costco stores here in the PNW and "Costco runs" are definitely a thing. What's your go-to store for buying in bulk? Some people have Aldi, or Walmart, or chose to buy online. Whatever you do, I think bulk buying is definitely a good idea. It saves money and gives you comfort of knowing you have enough food to last a while!
To be totally transparent, I don't enjoy said "Costco runs". I don't like crowds of people and having to lug around huge amounts of food. But I can put that aside on the rare occasion that we do a big bulk grocery haul.
I just tie my hair up and bring a cup of coffee to enjoy after the haul is done.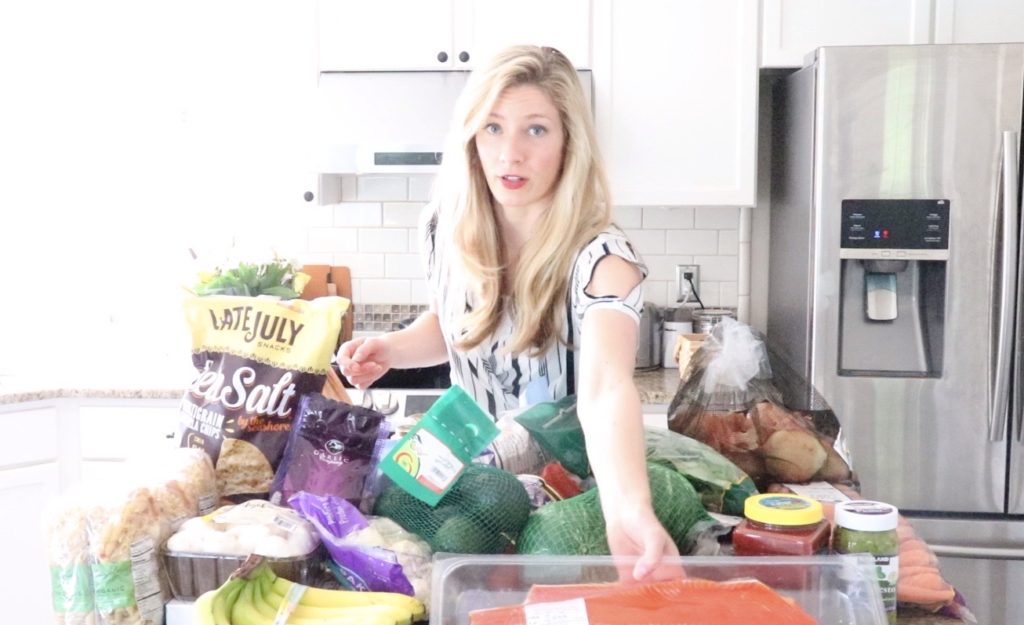 Food to Buy at Costco
Costco has done a really good job in the last few years of sourcing better food. There's more organic, antibiotic-free and hormone-free meat than there used to be.
The only items I don't buy from places like Costco are fresh produce like salad or fruit that goes bad before we use it all. We also don't buy eggs there because we have our own chickens and access to local farm fresh eggs if we need them.
Healthy Costco Food Ideas:
Organic chicken. If you watched our quarter cow unload, you know that we buy our beef in bulk from a local farmer. We prefer this way and want to buy our chicken in bulk too at some point.
Organic frozen fruit and veggies. You can't have enough frozen fruit for smoothies or veggies for soups and roasts.
Potatoes. They even had organic sweet potatoes which I was excited about!
Onions
Garlic
Cheese – give us all the cheese. Cheese is SO expensive when you buy just one block from the store. It really kills our budget. Costco cheese is a much better idea for us.
Wild seafood. Costco has wild salmon, scallops, shrimp, and probably more that I didn't see. I'm so happy about this! We try not to eat farm raised fish because we don't know what they're eating or how they're treated. Plus, we live in the PNW so come on, we have wild fish at our fingertips.
Take and bake breads. Before we knew how to make our own sourdough bread, we used to love buying the sourdough take and bake breads. They're organic and pretty good. But now we use our sourdough starter for just about everything so I pretty much stay away from the bread aisle at this point.
Bagged vegetables. If you are planning on cooking a lot of veggies in one meal, you can buy them by the bag at Costco. In our grocery haul we got organic cauliflower and served it with grilled salmon. It was delicious! You can also get a bag of organic Brussels Sprouts and prepare them on the cast iron. Carrots are another good one!
Pasta sauce, pasta, and olive oil. You can find all of these organic at Costco now.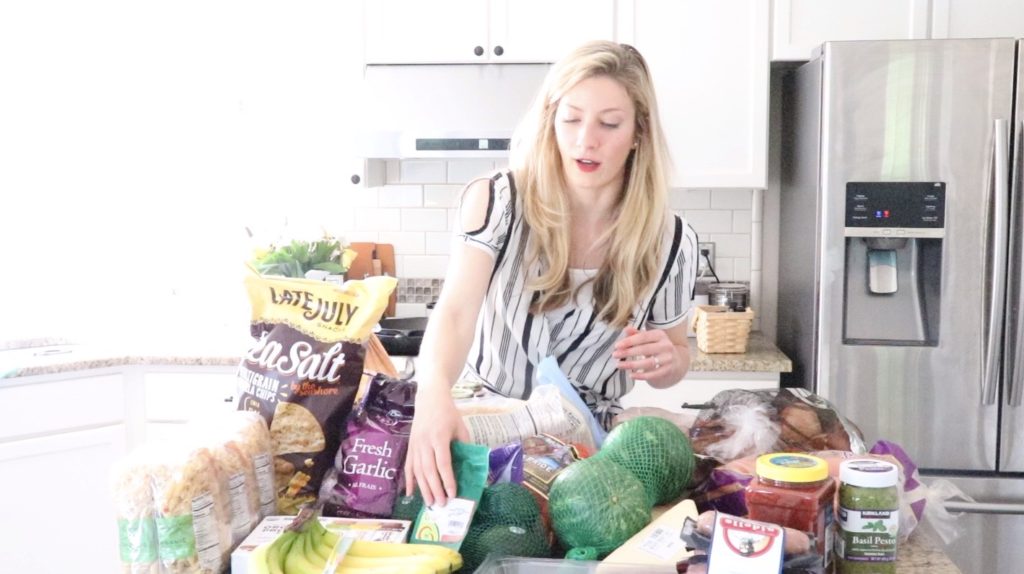 Costco Meal Prep Ideas
There's a lot you can do with the bulk food you buy from Costco, or any bulk food store you might have near you.
Roasted Chicken Dinner with potatoes and carrots. You can really add any of your favorite veggies to this, but if you want the one-pot meal then the potatoes and carrots are perfect. Add lots of garlic and homemade bone broth and after 90 minutes you'll dig in to a juicy perfectly cooked chicken. You could even make two whole chickens if you want to meal prep for the week ahead.
Sausage and Veggie Soup. Grab some antibiotic and hormone-free organic chicken or pork sausage and you can make instant pot sausage soup. I love this recipe because you can also throw in whatever onion, garlic, and veggies you have on hand and it's pretty much still so good.
Try a new form of pasta and make spaghetti squash. If you haven't made this before, it is SO good. When I went to Costco for our grocery haul in this video, we are at the end of our squash season so I didn't buy any. But in the fall or winter, we could easily go through two of these a week. You can use the squash for pasta, a side dish, on pizza, in a burger, or just as a snack. So many ways to eat spaghetti squash and it's so healthy for you!
Beef stew is great for just about any cut of meat. Sometimes we have family over for dinner and we'll cook A LOT of steak. Then, whatever steak is leftover will go in our beef stew with bone broth. Another great opportunity to use up your bulk onions and garlic, and maybe throw in some green beans, peas, or other frozen veggie too.
How Much Money to Spend on Groceries
I think it's a common conversation in households today of how much should be spent on groceries. Also many people associate healthy food with being more expensive. While that's true sometimes, I just don't think that's a very strong argument and I'll share my opinion why.
When you're looking at your monthly or weekly budget, what are your priorities? For us, food is one of the top. I would much rather spend $50 on vitamins or protein powder for example rather than going out to lunch or dinner. While going out to eat can be fun and we do enjoy it sometimes, I know that spending the money on high quality food will save us money in the future.
I try to think of "bang for your buck". If you're saving money now on non-organic fruit but you're eating pesticides that could cause serious health problems in the future, it's not a great investment for your money today.
With all that said, I think you can still eat organic even if you have a small budget. For example, you don't need to buy everything organic.
Sometimes food that have a skin or shell like a banana or avocado are safer to buy non-organic. The pesticides, if the farmer used any, would have to get through that barrier first. Unlike a strawberry or head of lettuce for example, which has no protection on it whatsoever.
I don't know about you, but it makes me so happy to bring home healthy groceries each week. Do you like to grocery shop?
Pin it for Later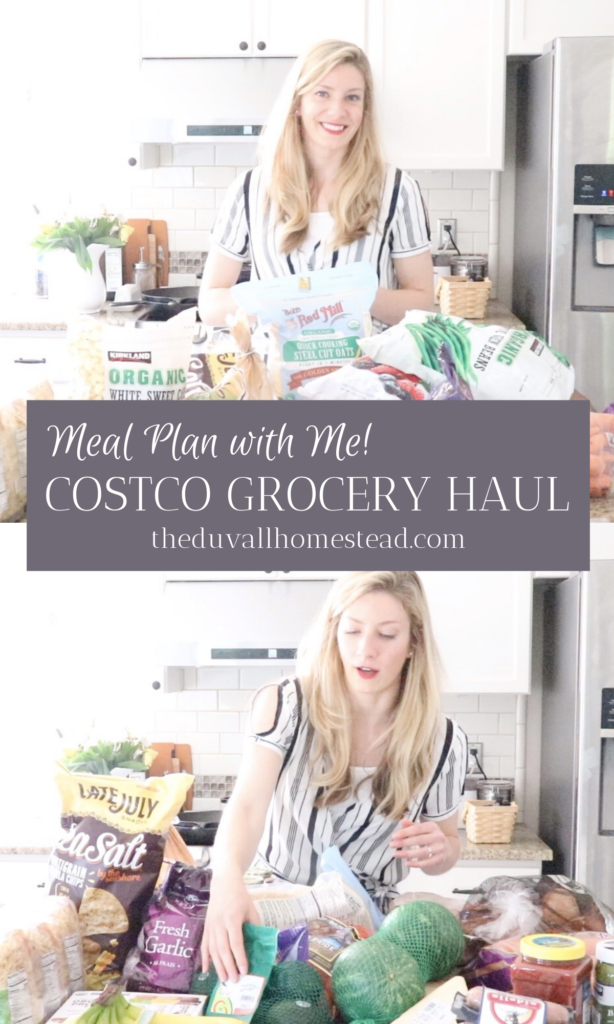 Thanks for stopping by the homestead!