Last week I set up our Easter tablescape. I always look forward to setting up our table for every holiday and season. Sometimes it's just a simple floral arrangement or change in placemats. I keep a small stash of linens and placements in the cupboard that I swap out every few weeks. These are just some of the very simple ways you can set up a tablescape without spending much money. Find some simple farmhouse easter table setting ideas in this post. Thanks for stopping by the homestead!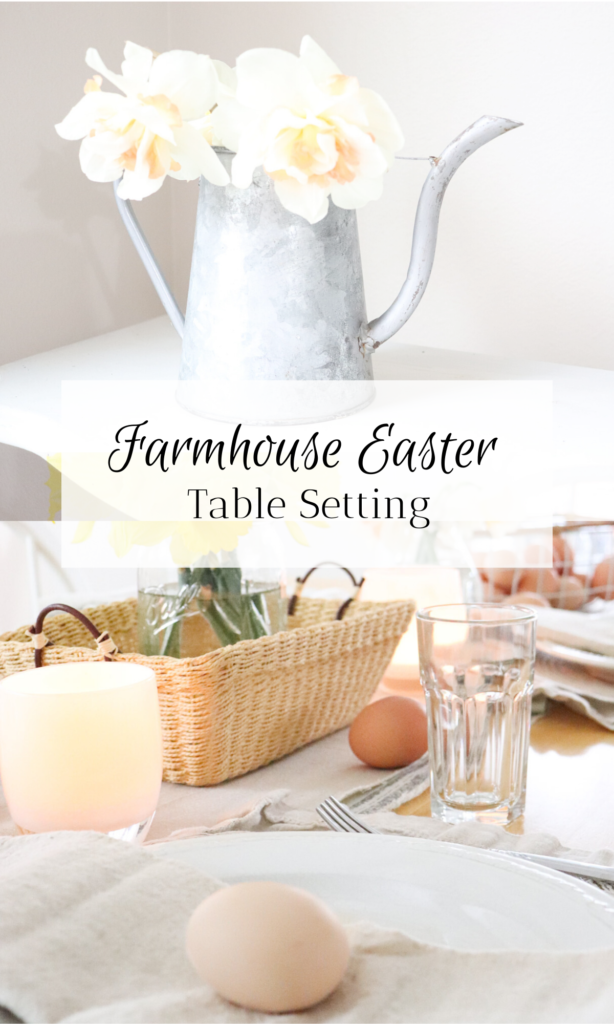 Spring has Sprung
It seems like winter was just a few weeks ago. Boy what a difference a few weeks makes!
We've had our first batch of real sunshine and warmth, and there is nothing like that.
Our farmhouse table is right next to two large windows leading to the backyard, so it's the perfect place to sit for Easter brunch.
Whether or not you have sun for Easter this year, you can still enjoy a warm farmhouse Easter table setting.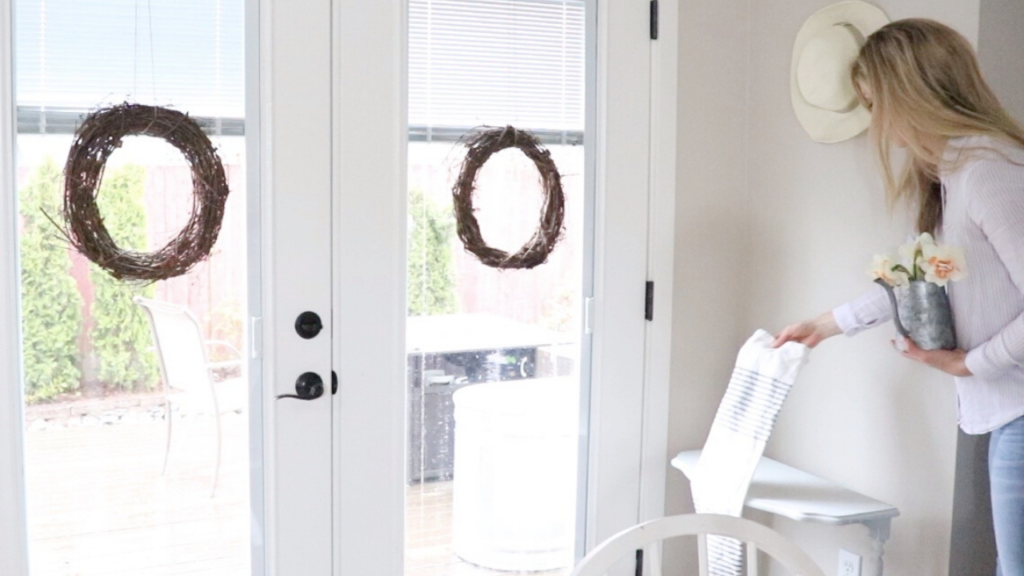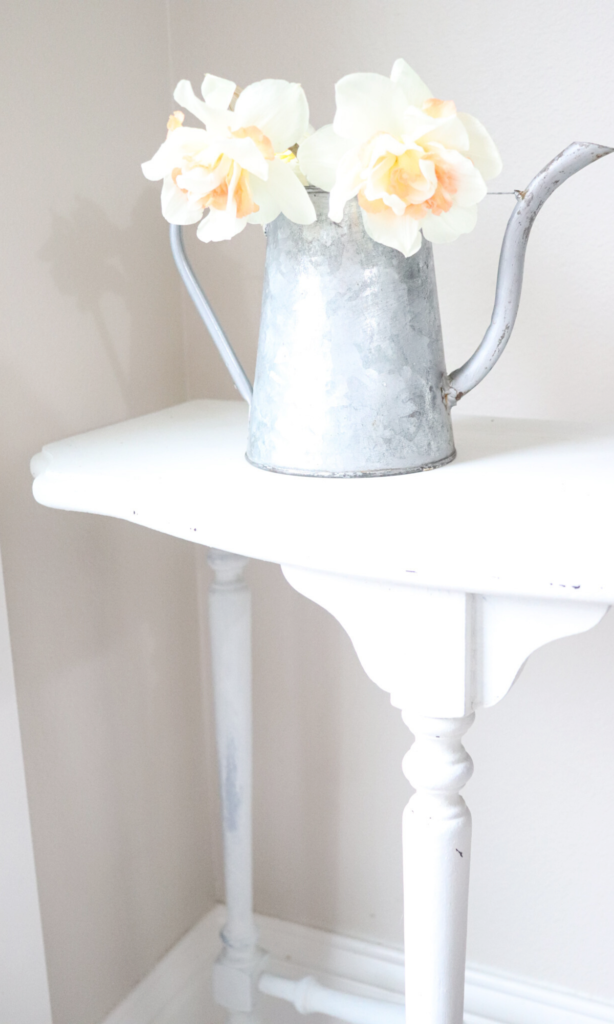 This post may contain affiliate links, which means I make a small commission off items you buy at no charge to you.
Creating Warmth
Warmth is about more than just sunshine.
One thing I love about Easter is the true Christian meaning, the resurrection of Jesus. Going to church as a little girl I always remember the bright flowers that lined the pews and around the cross.
One thing I love about Easter, and about all holidays, is it forces people to get together. Life is all about the moments we pause and reflect and spend time with one another.
I think we should celebrate these moments every day, not just when the calendar says so.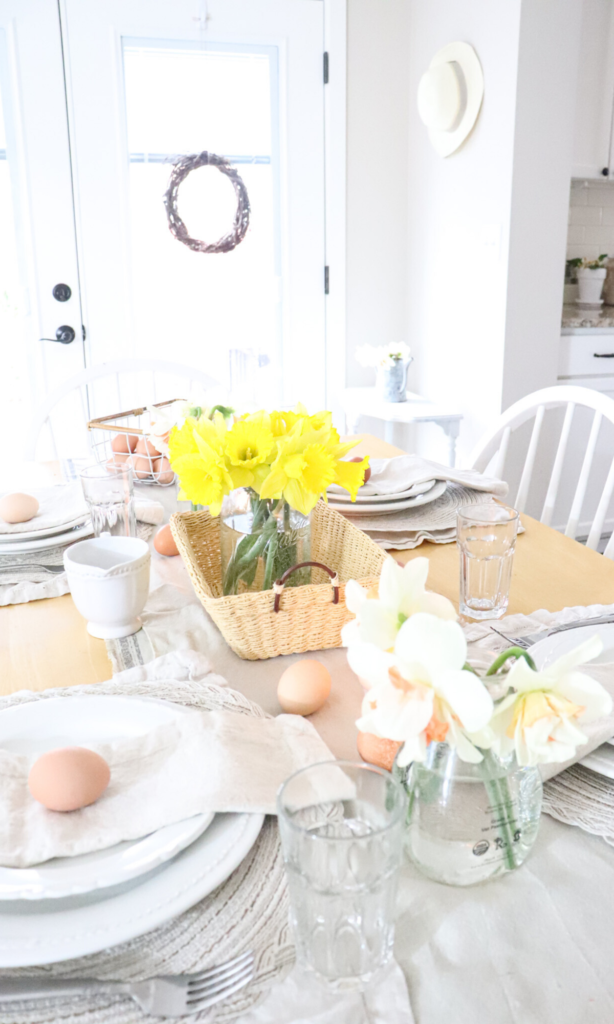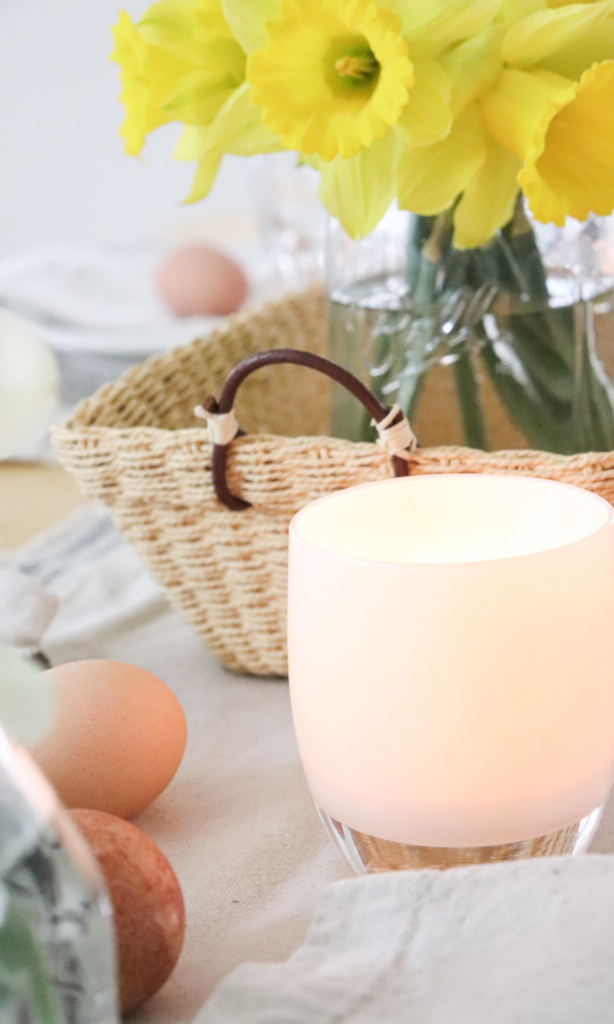 Shopping our Home
Sometimes all you need is what you already have.
During this time of quarantine, I think we are all learning that more than ever. Selfishly there is a part of me that is so happy that everyone is stuck at home, because that's what I've been doing for so long. Learn how to make your home your life, not just somewhere you sleep at night.
I can honestly say that everything in these pictures were items that I already had. Now, I don't shop much for home decor anyway. Simple and natural is always better in my opinion.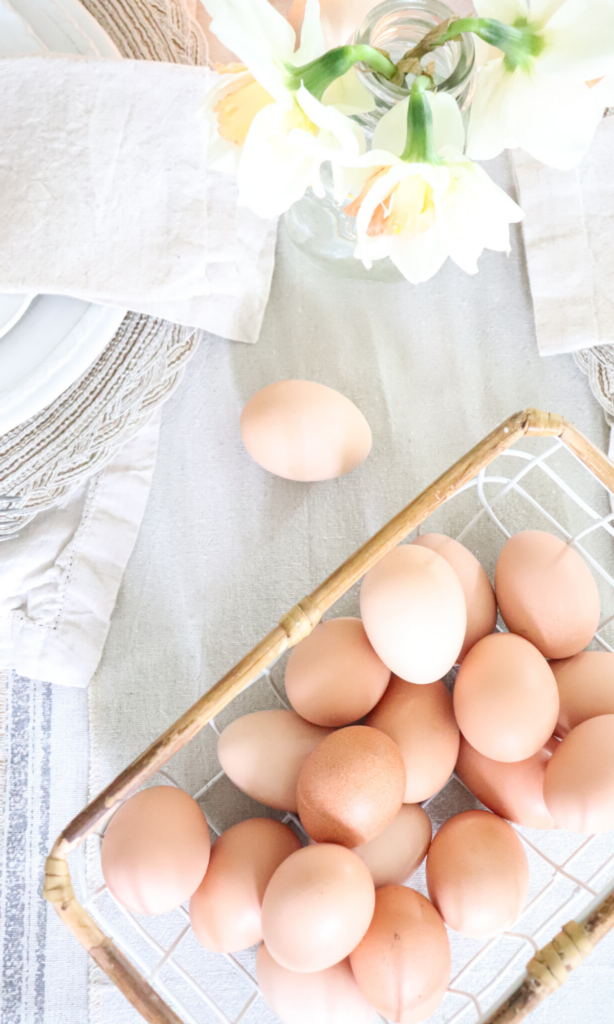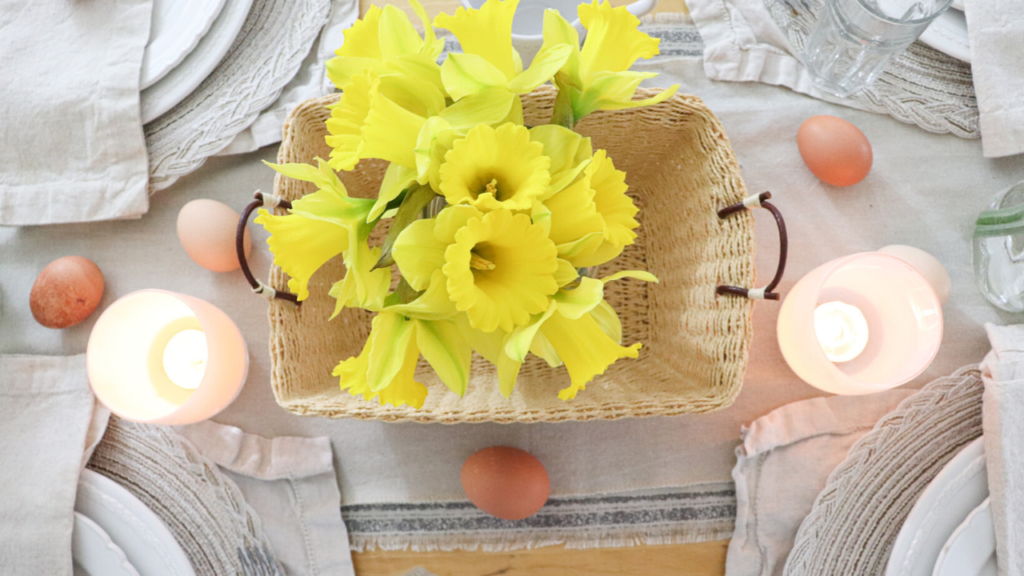 Eggs, eggs, eggs
If you don't eat eggs normally, now is the time for sure. What makes you think of spring and Easter more than an egg, a baby chick, or maybe even the sounds of hens singing. While we don't have any baby chicks, we sure do have singing hens and eggs.
This is yet another way to celebrate Easter and create warmth. FOOD! I love using food as decor.
When you walk into someone's home and you see food on the counter and table ready for the pickin', how happy does that make you?
I made a batch of hard-boiled eggs for us to enjoy this week. We will make homemade mayo with our chicken's egg yolks, and turn that into deviled eggs. This is the only time of year we do this, although considering how easy and delicious hard-boiled eggs are I'm starting to reconsider that!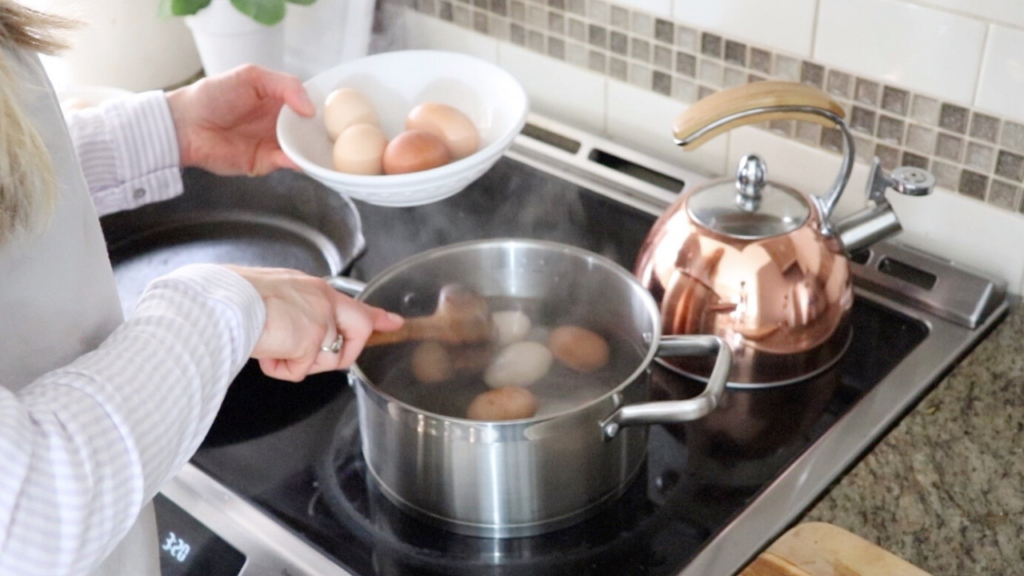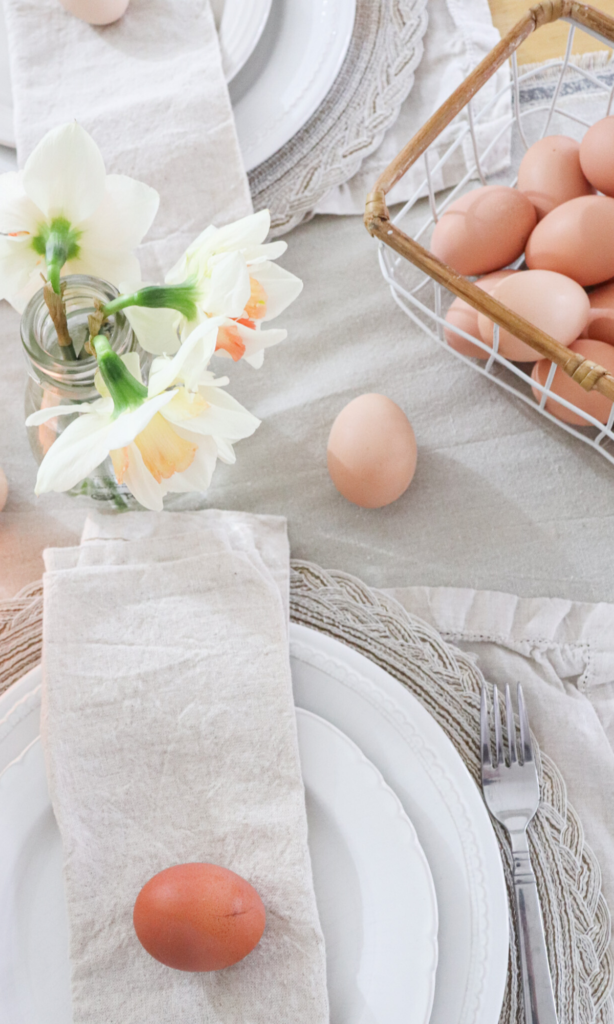 I love comfy
I love comfy styles. For me this means cotton, linen, white, cream, neutrals, and shades of whites creams and neutrals.
I added some flowers from the garden for our centerpiece to add a pop of color. Then I hung these simple twig wreaths over the doors to the back. I love incorporating nature into our homestead.
You really don't need much to create a warm and inviting Easter table setting.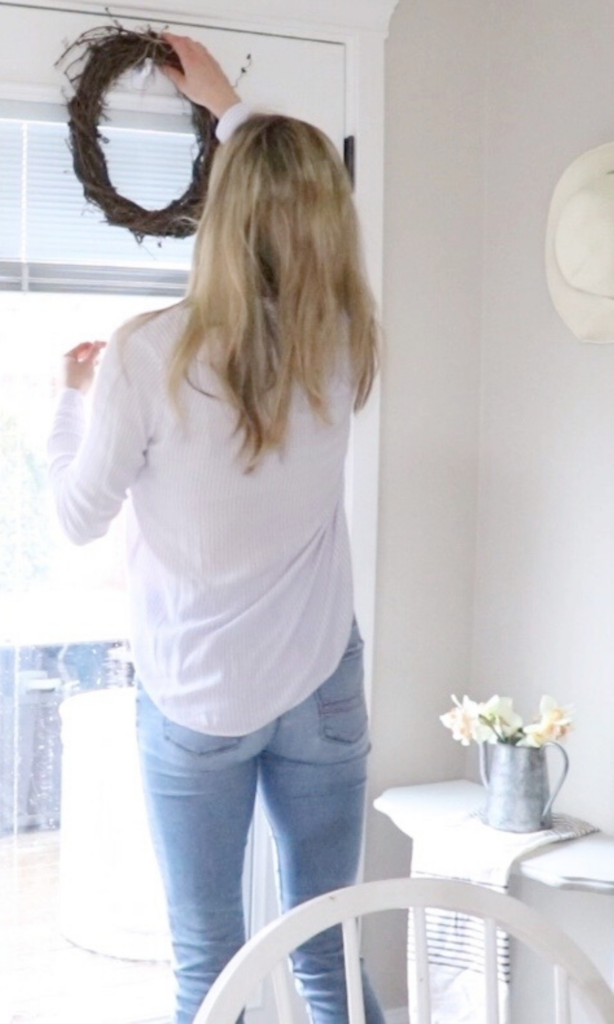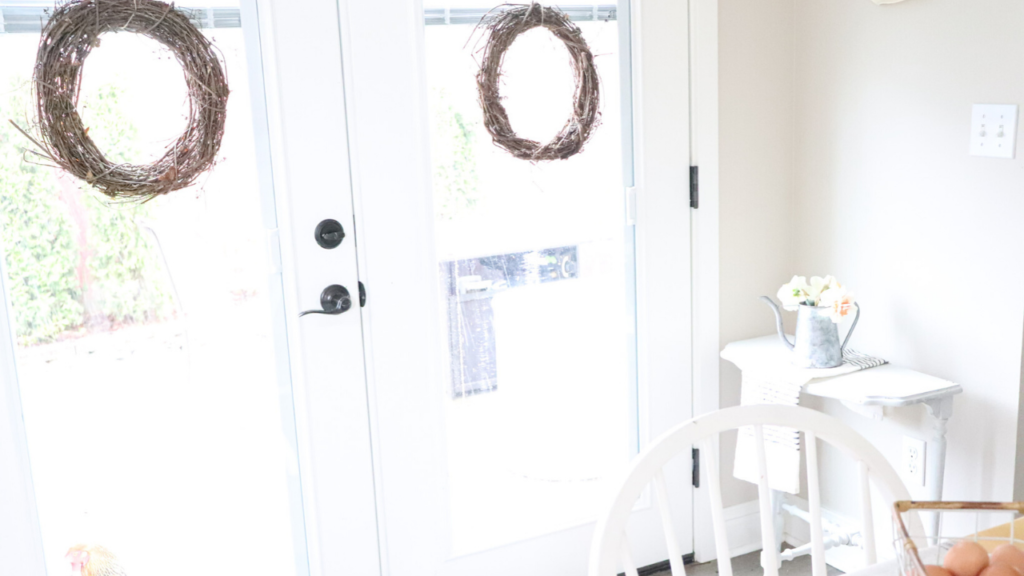 Watch: Farmhouse Easter Table Setting
Thank you so much for stopping by the homestead!
Shop this post:
Similar items to what appear on our farmhouse table:
Similar mason jars for flower vases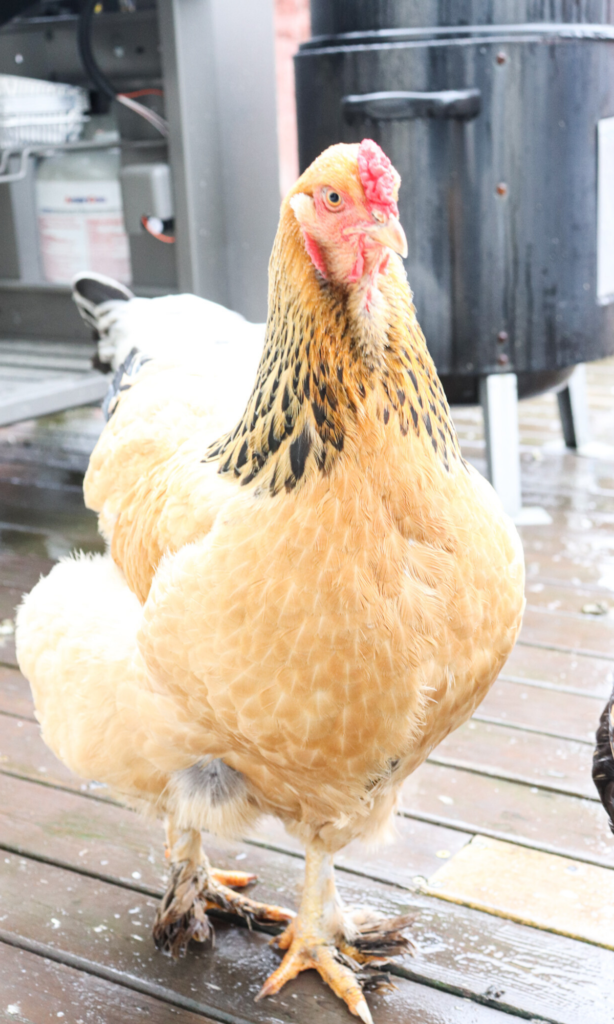 Pin it for Later: Farmhouse Easter Table Setting