It is summer at the homestead and we're starting to get our first tomato blooms. One of my favorite things to do in the summertime is make tomato soup! This delicious, creamy, and simple tomato soup recipe is healthy and so easy to make. You will want to start a garden just so you can eat soup all summer long!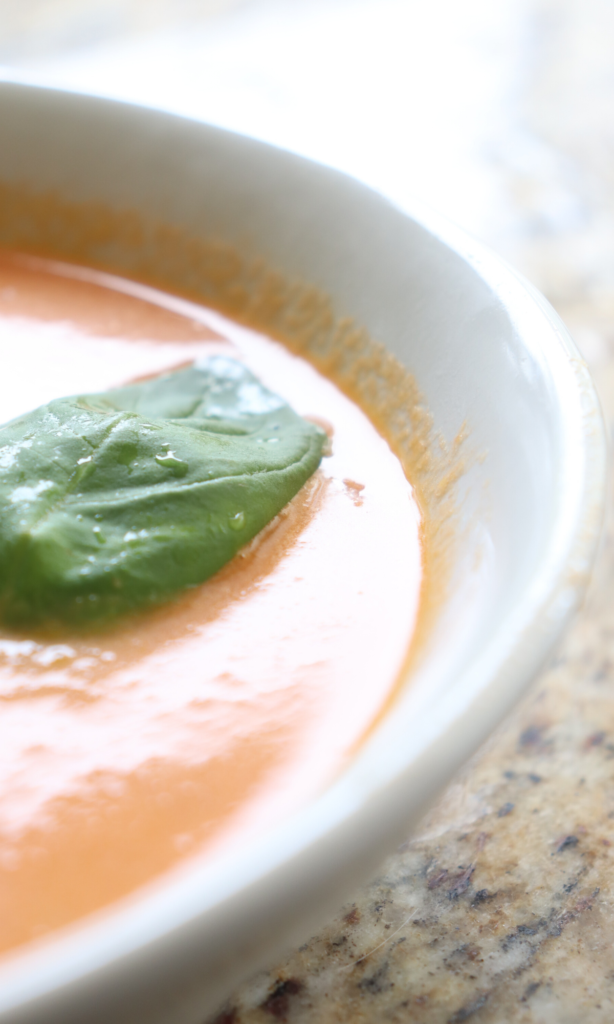 Note: This post contains affiliate links, which means I may make a small commission off items you buy at no charge to you.
Health Benefits of Tomato Soup
Here at our homestead my husband John and I take a multivitamin every day, as well as vitamin C, D, and omega-3. The Vitamin D is especially important in the winter time because we see very little sun.
But there is nothing like getting real vitamins from fresh food. That is what nature intends for us all, yes?
Incorporating tomatoes into your diet is a great way to boost your immune system as they are high in vitamin C. One medium-sized tomato can provide about 28% of the average daily recommended dose of vitamin C. (source) Not bad for such a small fruit!
They are also rich in potassium, vitamin K, folate, and fiber.
So the way I see it is there is really no reason NOT to have tomatoes in our diet whenever possible.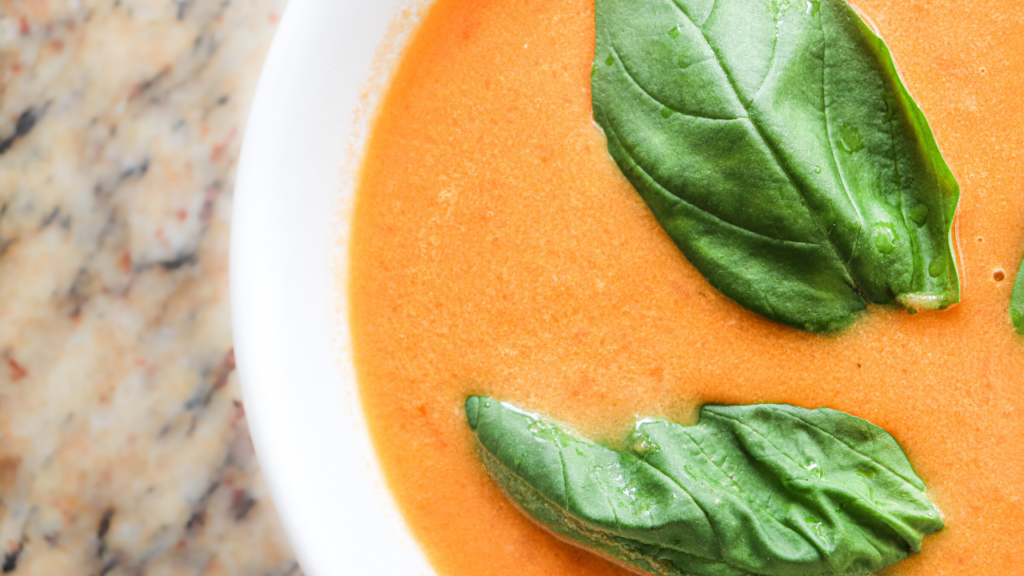 What I love about Homemade Tomato Soup
I started making tomato soup for us whenever we moved here back in 2018. We would get these huge crates of heirloom tomatoes from the farm stand and I would make tomato sauce, tomato soup, salad, etc.
You can also use your tomatoes to make my homemade ketchup and lasagna recipe!
What I love about this recipe is there are really only a few ingredients, and it's so easy to make.
And we're kind of weird here and typically I will make this soup either one of two ways. Either extra creamy or extra basil-y. So for this recipe, you can simply add extra cream or extra basil, depending on which flavor you like best.
Honestly I really don't measure my ingredients anymore. I go where my nose goes, if that's a thing 🙂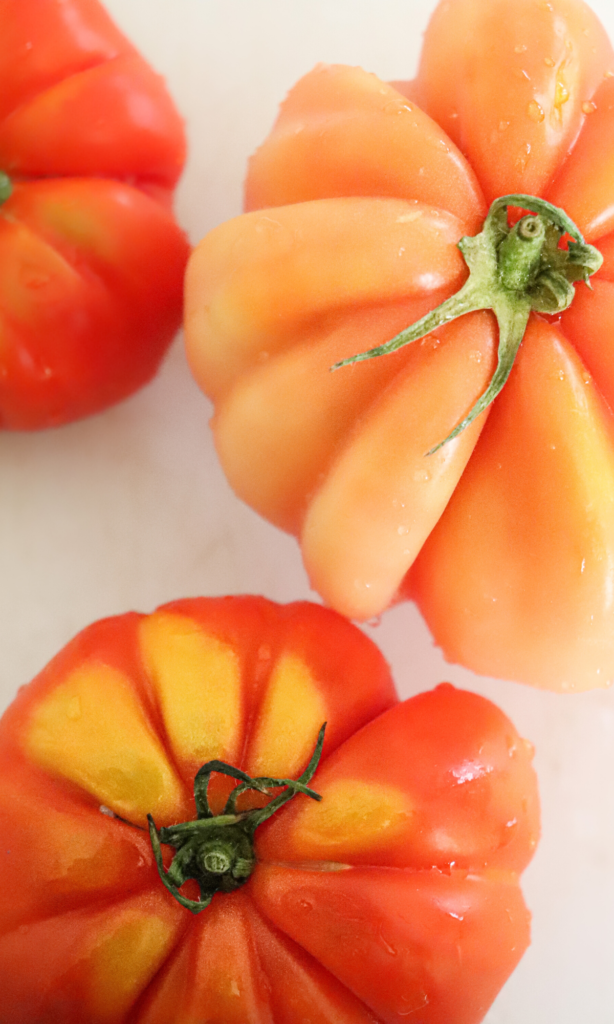 Ingredients
For this recipe you will need:
3-5 heirloom tomatoes. If you don't have fresh tomatoes you could also use a 28 oz can of crushed tomatoes or whole peeled tomatoes chopped in a food processor. But I will tell you, fresh heirloom is truly the best.
Half a large onion, chopped
Three tablespoons of butter
2 C bone broth (we make our own bone broth here. It's free and requires almost no effort. Learn how to make your own here)
Half teaspoon salt
Two tablespoons heavy cream, added towards the end
Freshly grated parmesan cheese
5-10 basil leaves, or one tsp of dried basil
Tablespoon olive oil
Sourdough bread for dipping (optional)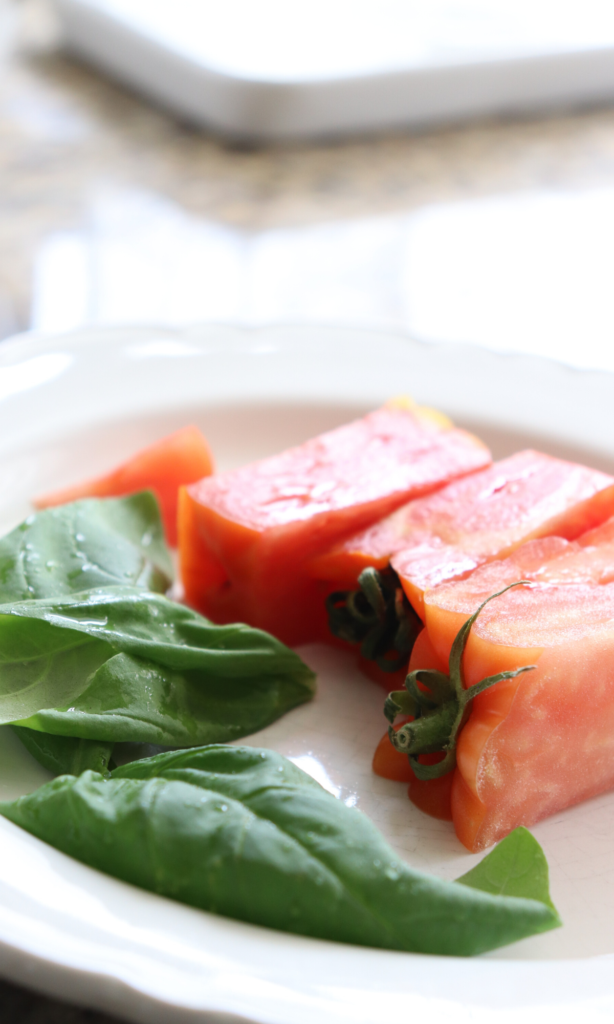 Tools Needed
For soups like this I like to use a dutch oven because it heats the soup on all sides and gives it that rustic flavor from the cast iron. But you could also use a steel stockpot.
Immersion Blender. This is to combine the tomatoes and onions in the pot. Now I used to think immersion blenders were something that was not necessary in the kitchen, but I have to say that after getting one as a gift I really see the difference. I used to just use a handheld blender. But I have had tomatoes get all over my hands and kitchen so now I just use the immersion blender.
Knife
Cutting Board
Cheese grader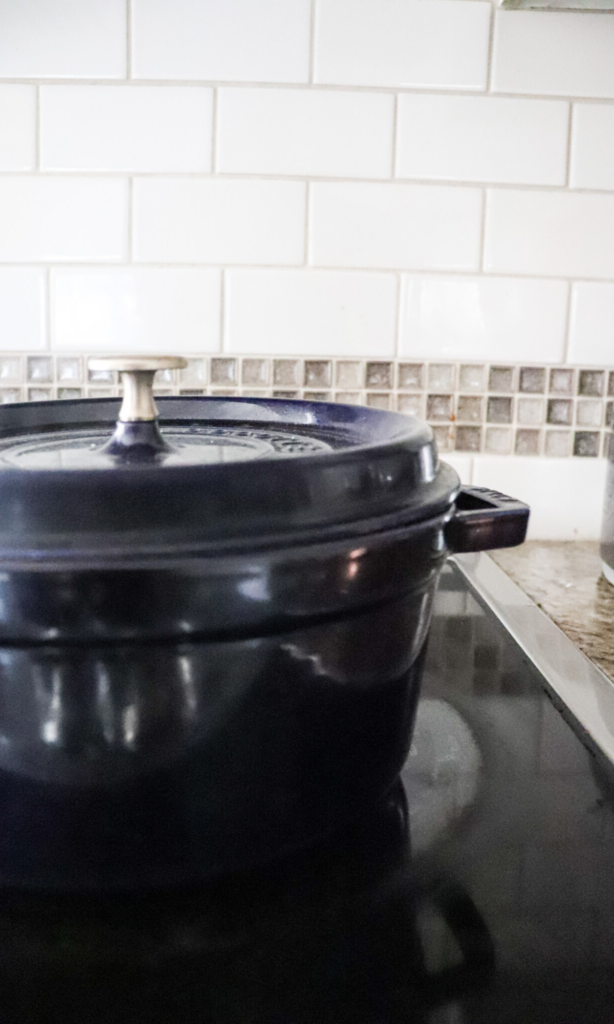 How to Make Tomato Soup Process
First, add your olive oil to the pot along with the onions. Saute them on medium heat for a few minutes until they are mostly cooked.
Then add the tomatoes, butter, bone broth, and salt and stir.
Add the dutch oven lid so that it is mostly covered. Turn heat down to low and simmer for 30 minutes.
After simmering, use an immersion blender to blend the tomatoes and onions. If you don't have an immersion blender and want to use a hand mixer, I would transfer your soup to a large stockpot because when I used to do that it splattered everywhere 🙂
Next return the pot to the stove on low heat. Add the fresh basil (dried works too) and the cream. We like to add parmesan cheese on top too. Stir and serve with fresh sourdough bread.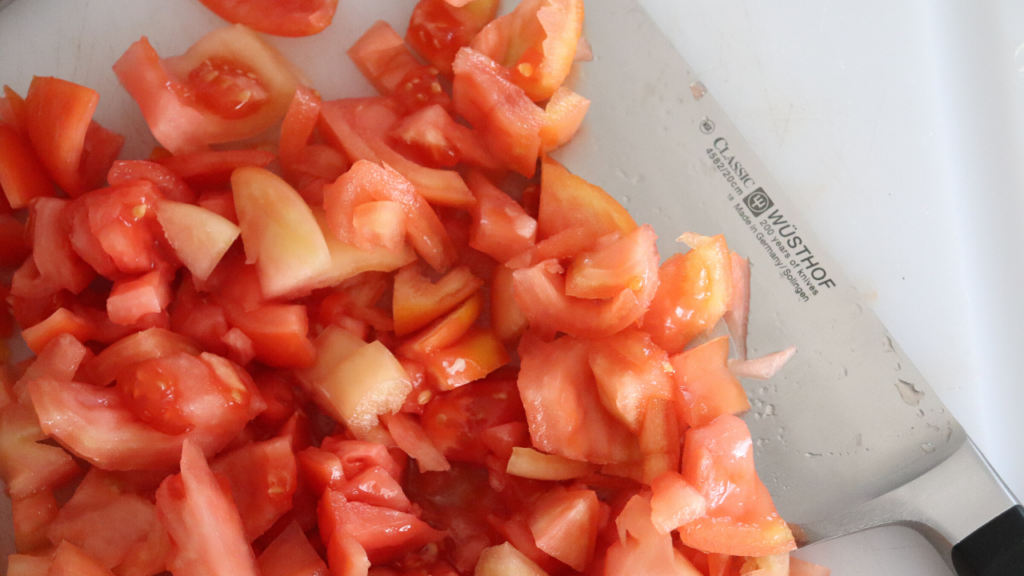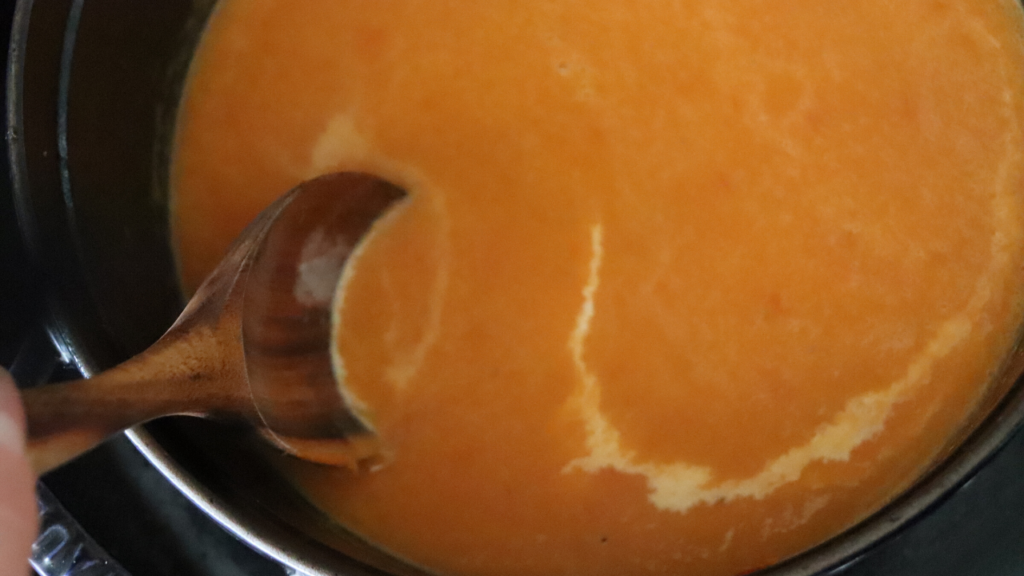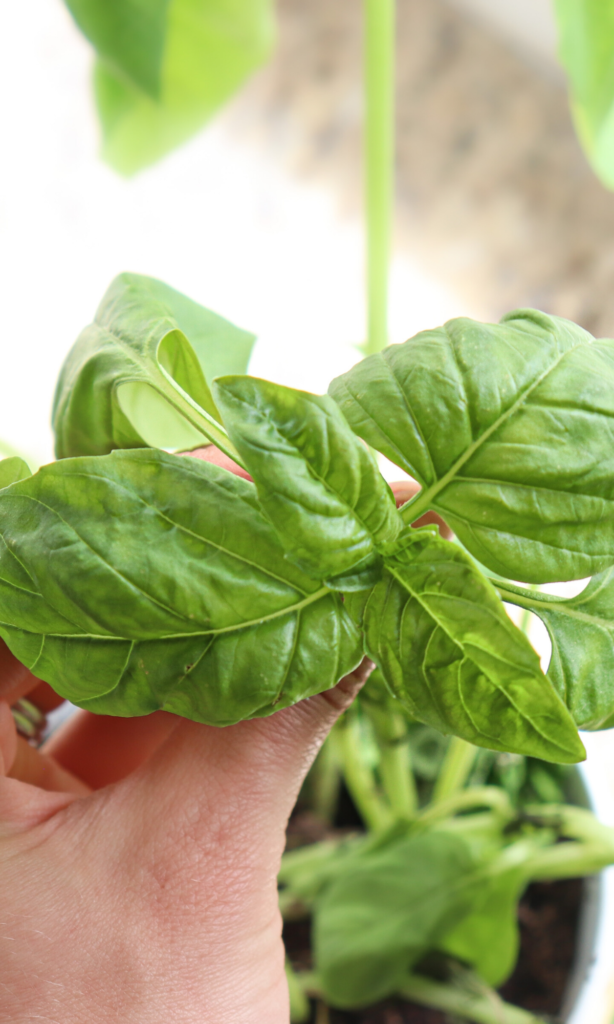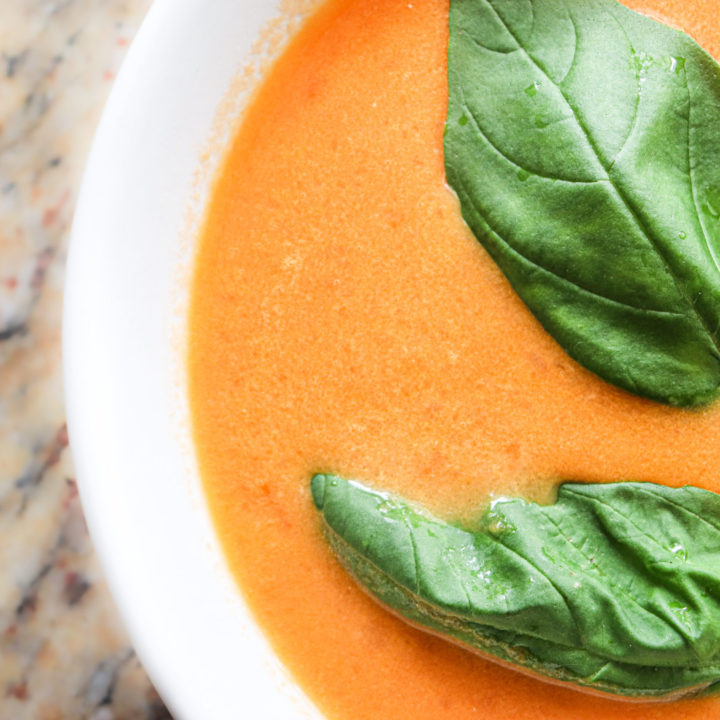 Homemade Tomato Soup
Simple healthy and delicious tomato soup with basil. Made with bone broth and cream, this soup hits the spot for lunch and dinner all year long.
More Recipes for the Farm to Table Family
All About Making Spaghetti Squash
Pin it for Later!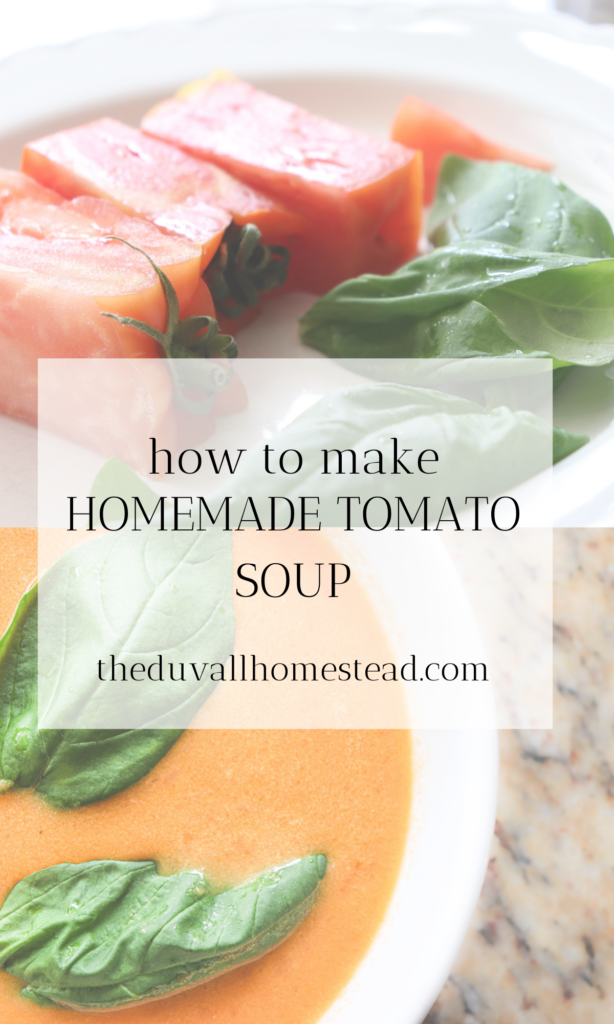 Thanks so much for stopping by the Homestead!