On a hot day, there is nothing like an iced coffee. We are pretty big into coffee over here, and this homemade iced vanilla latte has been a favorite ever since summer started.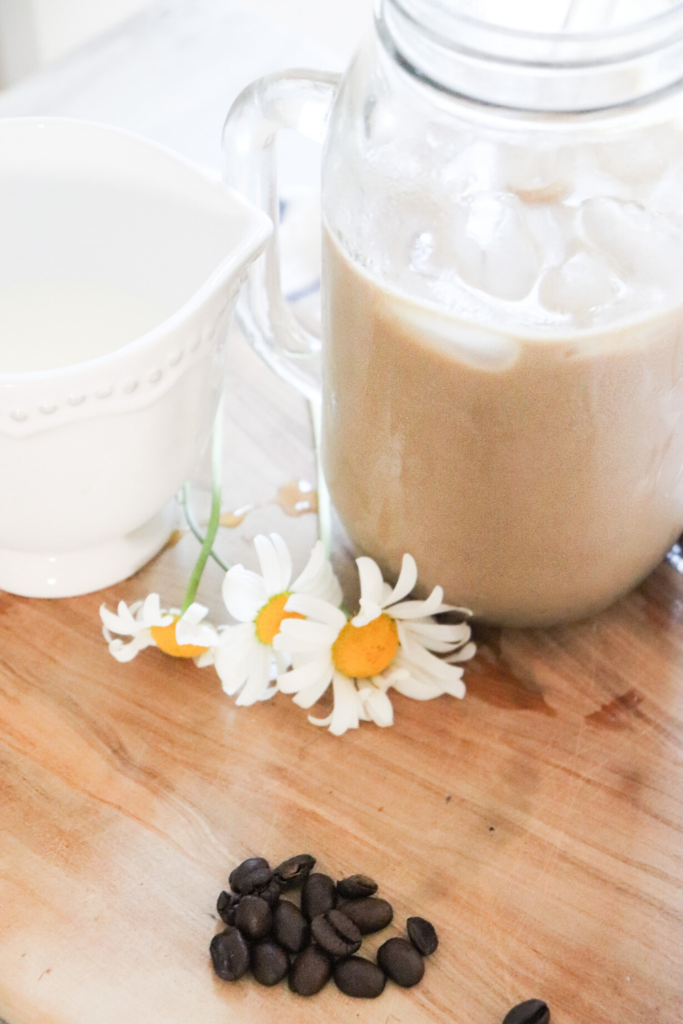 This post contains affiliate links, which means I may make a small commission off of items you buy at no charge to you. As an Amazon affiliate, I earn on qualifying purchases.
So I am going to back up and tell you a little story about coffee at our farmhouse before showing you the recipe. We have always loved coffee and we used to use an automatic coffee maker every morning.
Well, that was back when John was leaving at 6:30am for work and we needed the coffee to be ready by then.
Then, we broke out of this routine when the virus hit and John stopped going into work.
About that same time though, our beautiful automatic coffee maker that we got for our wedding in 2018 broke. It made the best coffee, so we thought.
Obviously not wanting to wait until a new coffee maker could be shipped here (and not wanting to spend the money), we pulled out our french press we used to use whenever we went camping.
So, we have since then become addicted to french press coffee. Once our day gets started and we get busy with work, John and I may not see each other again until dinner. So the morning coffee is really important to us. Nowadays the sound of the whistling tea pot and the 15 minute wait for the coffee to be pressed is our favorite thing.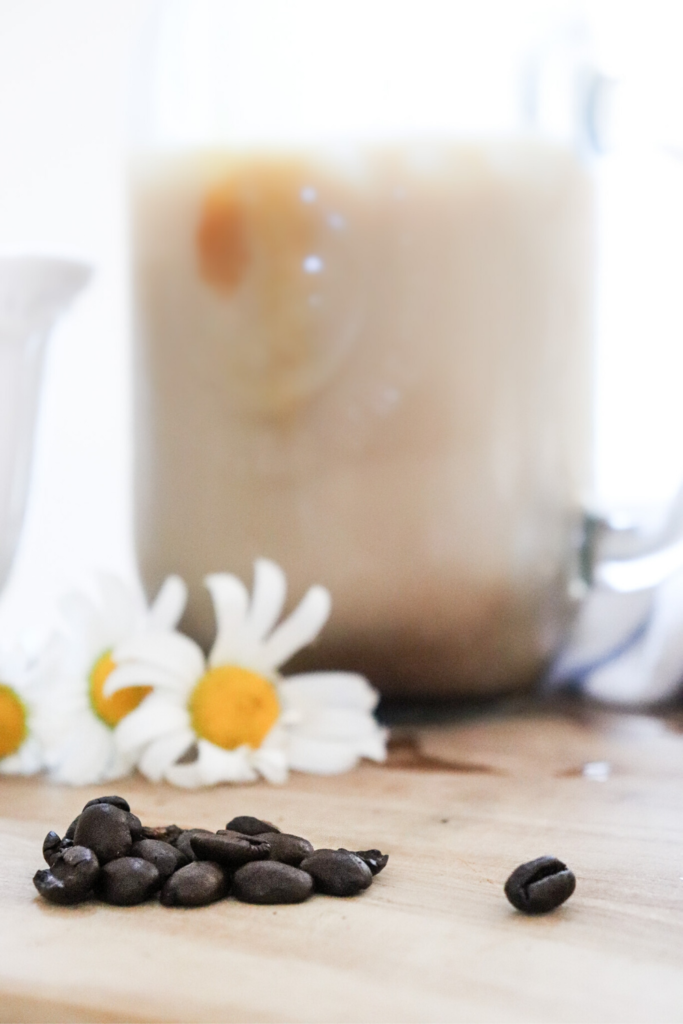 How to Make the Perfect Cup of Coffee
So first, take your favorite coffee beans and freshly grind them. We use this small coffee grinder from Amazon.
Next, bring your water to a boil on the stove using a tea kettle. You always want to boil right up until the kettle is actually whistling and never sooner or it won't be as hot.
Pour 6 scoops of coffee grinds into a nice French Press. We bought this one a while back for a camping trip because it's insulated and easy to use. It keeps your coffee warm for a long time so we can keep coming back and refilling.
Once the tea kettle is whistling, pour the boiling water until just under the top of the french press, leaving about a half inch of space. Cover the french press loosely with the lid and let sit for at least 15 minutes.
Gently and slowly push the strainer down on the french press until it hits the bottom.
Pour you coffee into a preheated mug and add fresh cow's cream. Enjoy your perfect cup of coffee.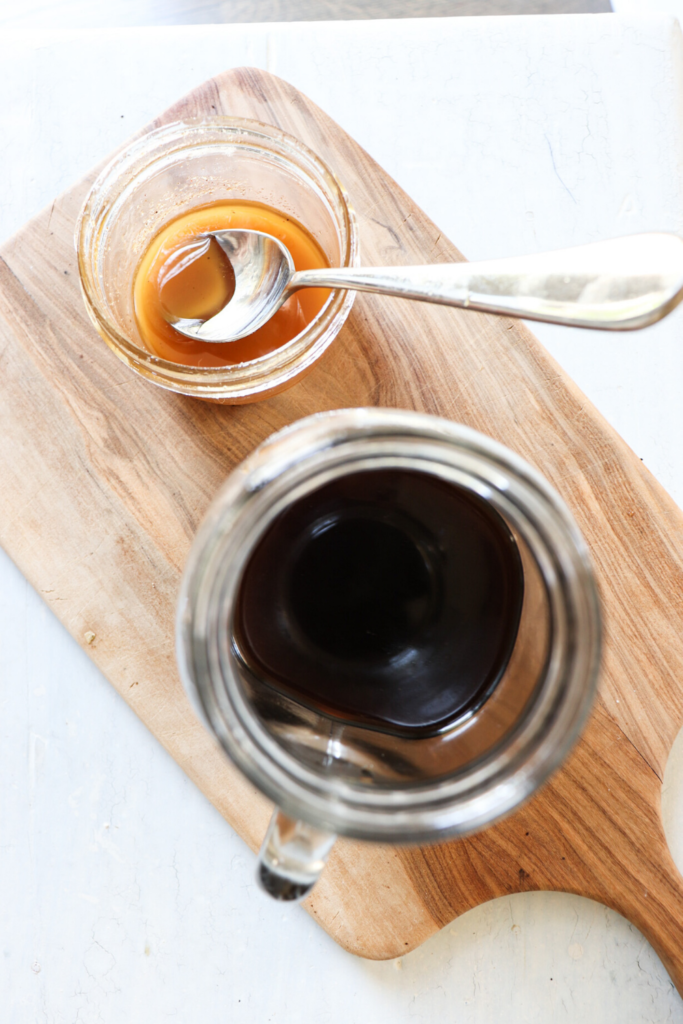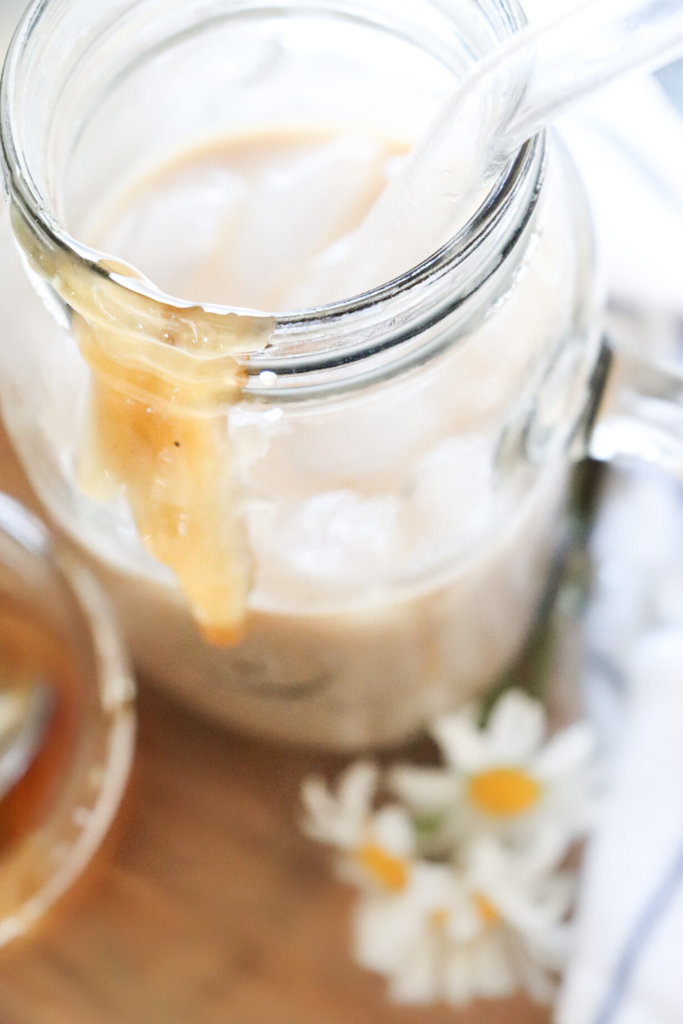 Ingredients for Iced Vanilla Latte
Six scoops of dark roast freshly ground coffee beans. Or you can use the coffee of your choice. We like to make french press in the morning for hot coffee and save the leftovers for iced lattes in the afternoon.
Milk of choice. Whole cows milk is best because it is thick and rich, but this would also be good with almond or coconut milk for a non-dairy alternative.
Quarter teaspoon vanilla extract. This is about how much we use for two lattes, so you can double or cut it in half depending on how many you're making.
Two tablespoons raw honey. This is your healthy non-processed sweetener, and it makes the latte SO good!
How to Make an Iced Vanilla Latte Process
To make a homemade iced vanilla latte, first start by making the "perfect cup of coffee" as described above. Grind the beans, heat the water, run the french press, and pour your coffee. Bring the coffee to room temperature or place in fridge to cool.
Then, take about a half cup of the coffee and add it to a small saucepan on stove on medium-low heat. Add in 2 tablespoons of raw honey and a quarter teaspoon vanilla extract. Stir until the honey is blended in.
Fill a mason jar up about half way with ice cubes.
Pour first the plain dark coffee that has cooled to room temp into the iced mason jar, filling it about half way.
Then pour half the honey syrup mixture into the ice coffee mixture.
Next fill the remaining cup with your milk of choice. Stir and enjoy!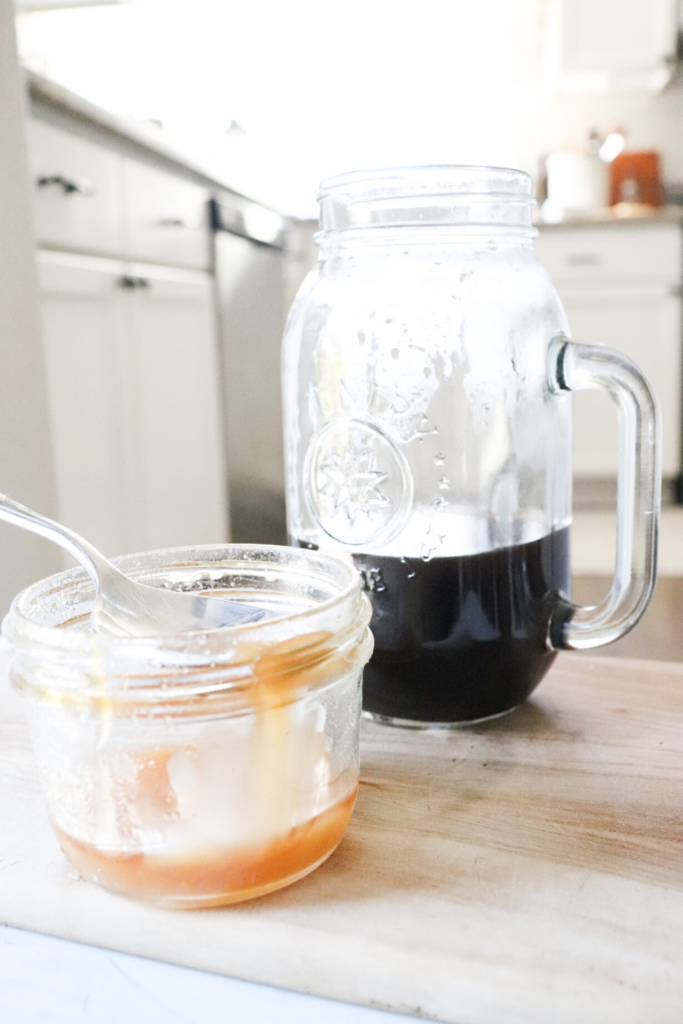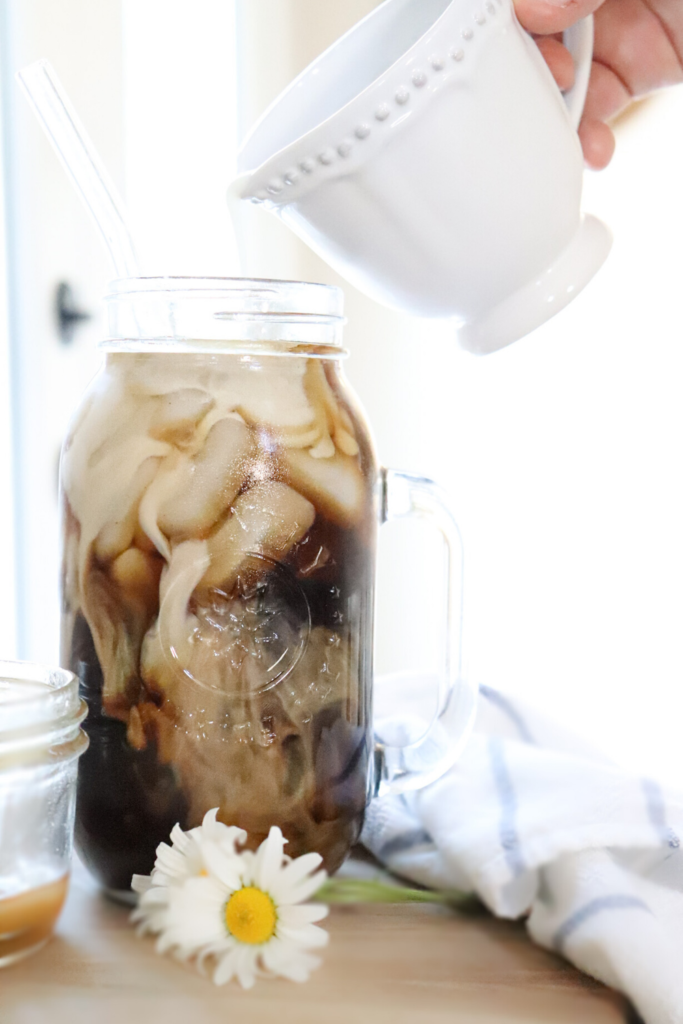 Tips for Making the Best Coffee
The best coffee is made by first grinding the best coffee beans. We are medium to dark coffee lovers over here, and we were introduced to Ethical Beans Coffee by another blogging friend and have loved it for a long time now. It is organic and fair trade, and delicious.
Always use a french press to make your coffee and always freshly grind your coffee beans. I know this sounds like a lot of work, but we have never gone back to conventionally made or bought coffee grounds. Even Starbucks isn't a favorite any more!
For hot coffee, always preheat your mug so that the coffee doesn't lose any of its steam when you pour it in.
For iced coffee, use a mason jar with a handle to drink out of for summer. The glass keeps the latte cool and it's easy to hold.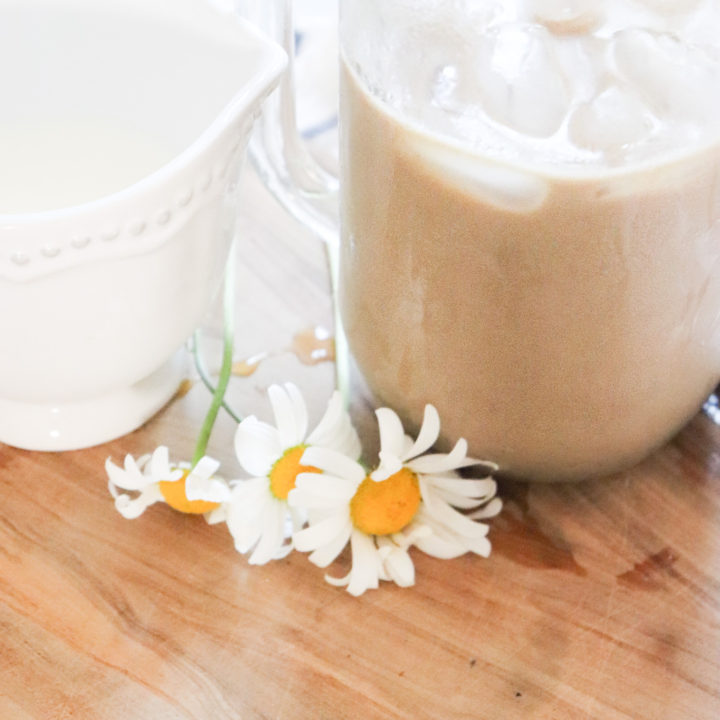 Homemade Iced Vanilla Latte
The perfect drink for summer, this homemade iced vanilla latte is naturally sweetened and truly delicious. I love that this is sweetened with natural honey for just a little sweetener.
Ingredients
6 scoops of dark roast freshly ground coffee beans
Water for french press coffee
Milk of choice
1/4 tsp vanilla extract
2 T raw honey
Instructions
Grind your dark coffee beans like you normally would to make coffee.
Boil water and press the ground coffee beans in a french press, letting steep at least 15 minutes before pressing.
Pour the hot coffee into a mason jar and let sit until room temp, or put in the fridge to cool.
Pour 1 cup of coffee into a steel stovetop pot on medium-low heat. Add the honey and the vanilla and stir until honey is melted and fully combined.
Fill two mason jars with ice. Pour the cold coffee into the mason jars, filling almost half way.
Split the hot coffee mixture in two and pour half of it into each mason jar. This is your homemade vanilla syrup.
Fill the rest of the mason jar up with your milk of choice and enjoy!
Notes
We like to use whole cows milk and raw honey in this recipe. They are just so good!
Thanks so much for stopping by the Homestead!
Keep reading:
How to make & care for sourdough starter
Pin it for Later!