Add some spring farmhouse charm to your home with this homemade wreath with sweet daisies. With two indoor cats, flowers on the table in vases become spilled water pretty quickly. So I've become a big fan of homemade wreaths and wall-hanging floral arrangements. Homemade wreaths are perfect because they are a way to display fresh flowers but kept out of reach of little ones. And, I just love making them 🙂 Learn how to make a spring farmhouse wreath with fresh flowers in this simple tutorial.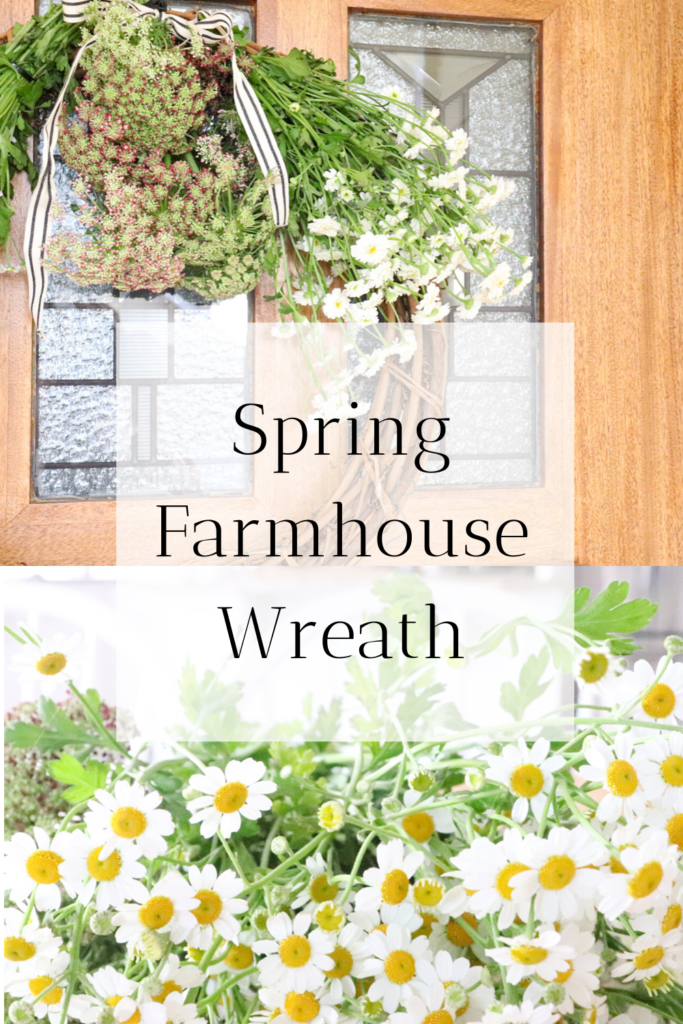 Note: This post may contain affiliate links, which means I make a small commission of items you buy at no extra charge to you.
Watch: How to Make a Spring Floral Wreath
Pin it for Later!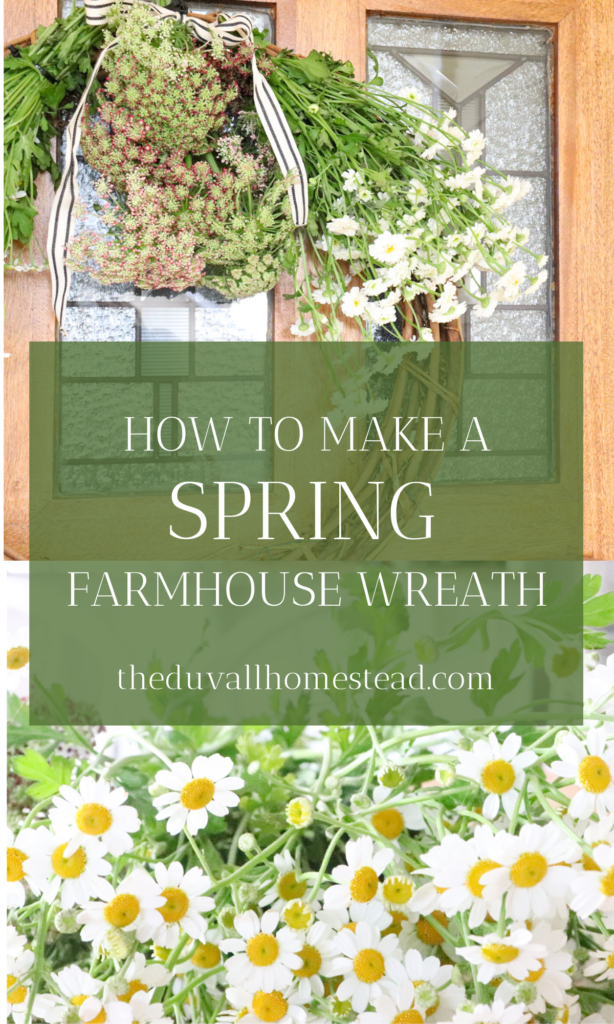 Days are getting longer here and little green baby plants are starting to sprout from the ground. That means spring is on the way! One of my favorite ways to welcome a new season is to bring in the best of that season. This spring, I went to our local farm stand to pick up some apples, potatoes, onion & garlic (that's about all they had) and displayed them in my spring farmhouse kitchen. I wanted fresh flowers too, but since we don't have those growing yet I had to go all the way to Whole Foods to pick them up. Whole Foods is only about 20 minutes from us, but it's still an extra stop for an item that I'd rather just grow myself.
So I picked up some chamomile and random assorted florals for – guess what – only $5! Ever since Amazon bought Whole Foods, their flower prices have been really reasonable. If I go to our local Safeway, these flowers would be $8 or even $10. But honestly I would still probably pick one or two up because I just love flowers that much!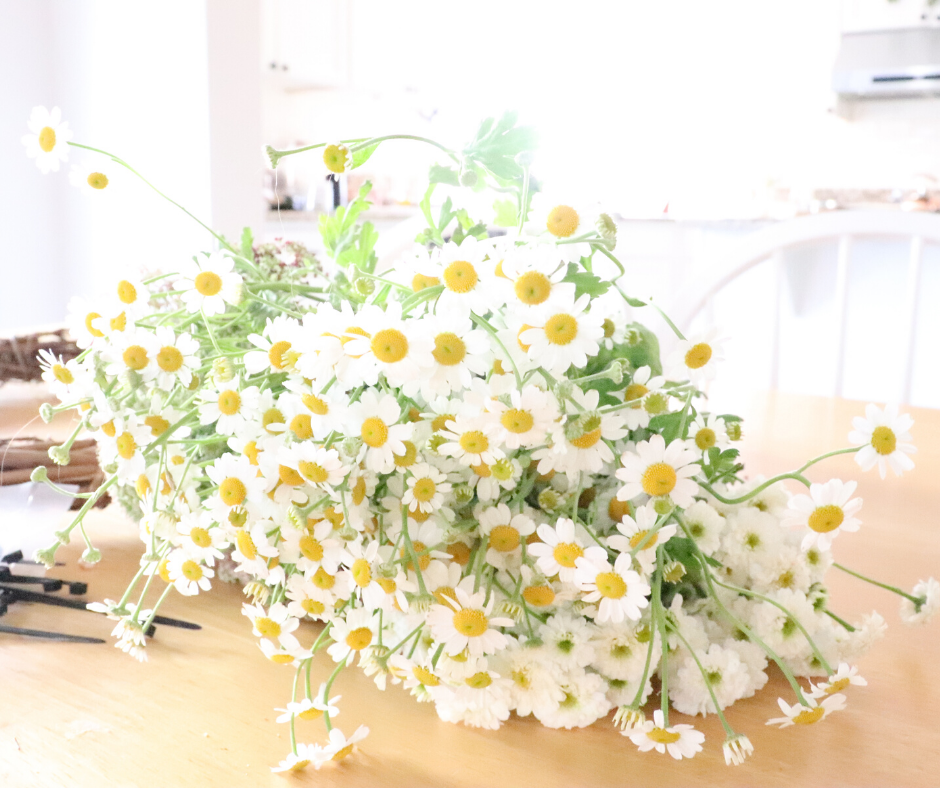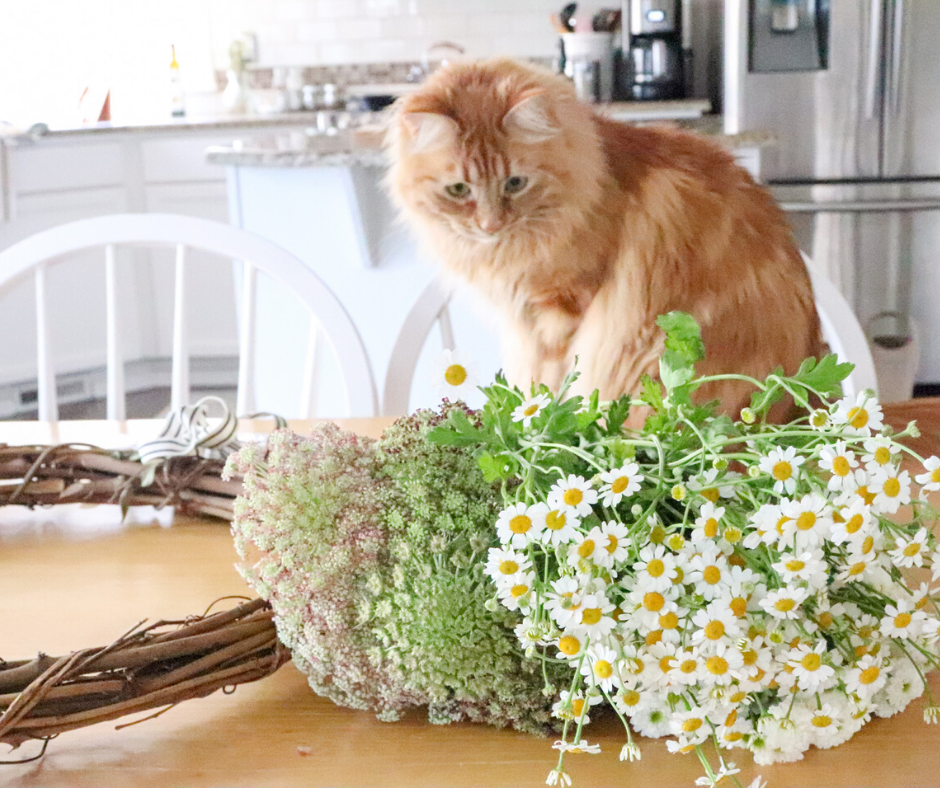 TOOLS NEEDED
You can also use a metal frame. I like the grapevine wreath frame because it's beautiful on it's own – you don't even need to decorate it! Then I just reuse it each season to make a new wreath.
I really am a simple craft kind of person. I do have hot glue at home, but I hardly ever use it. For this project, cable ties are so much easier. And you just cut them off when the wreath is done and use more next season.
Ribbon or bow
If you want, you can add a ribbon or bow! I had this ribbon left over from Christmas wrapping actually. I've always like the look of black and white for spring time.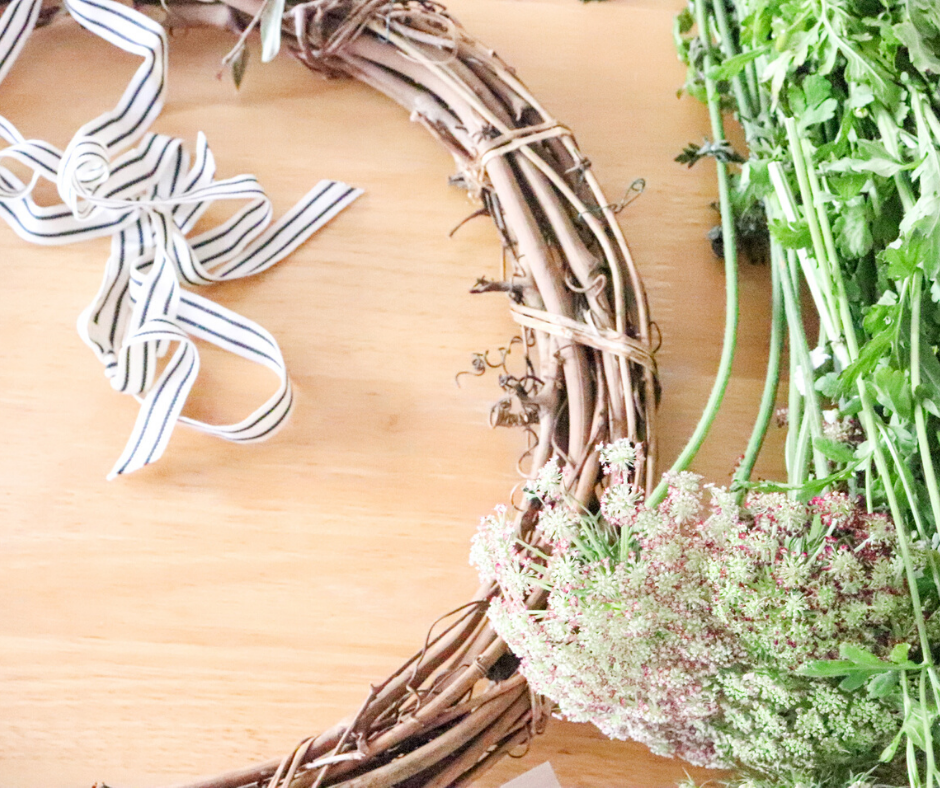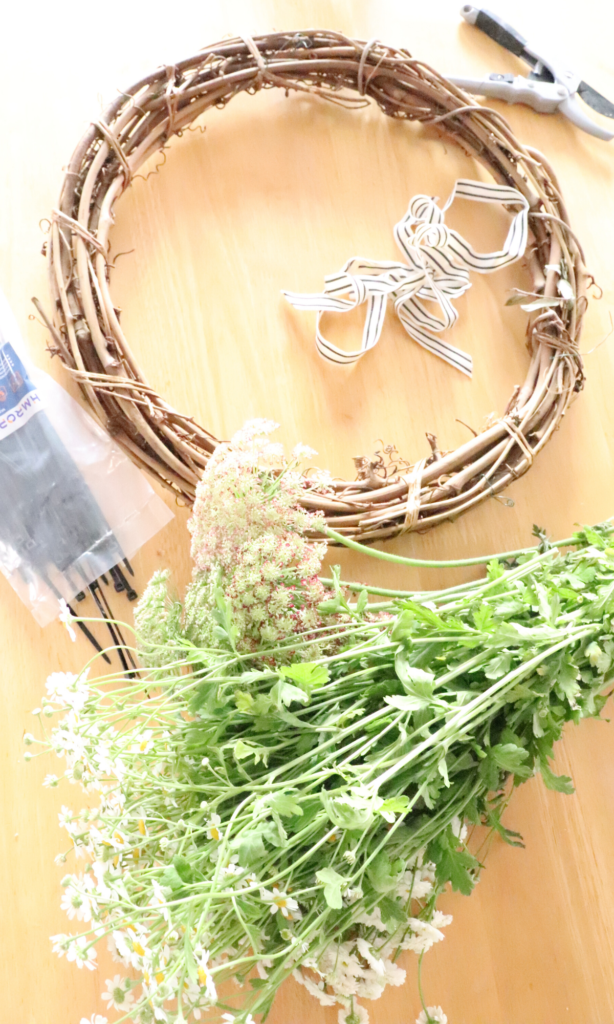 How to pick the best Fresh Flowers
I always use fresh flowers for my wreaths. Now, the down side of that is that they die fairly quickly. So if you want a wreath that lasts for months, fresh flowers may not be your best bet. However, there are some fresh florals that are particularly good at lasting a long time, like pine and eucalyptus. I personally think have a fresh floral wreath is a treasure, and even if it only lasts a week I just think it's very special.
Also, even when the flowers dry out, then you just have a dried floral wreath. So it's not like I only leave it up for a week and then take it down. I leave it up when it's dried and it still looks beautiful.
The best way to get fresh flowers is to buy the flowers that are in season. If it's summertime, simply growing your own flowers is always best because you can change them out every couple of weeks. I just planted some chamomile flowers in our spring farmhouse kitchen last week and they are already coming up. So if you have some time, start planting!
For this wreath I use chamomile flowers (aka daisies) and an assortment of greens that I don't know the name of. I picked these because they were only $5 at Whole Foods. My local Safeway charges $8 or $10 for a bundle of flowers, and I really don't like paying that much. Also I think the bright green with the white is a great spring color combo. I am all about fresh whites and greens in our homestead.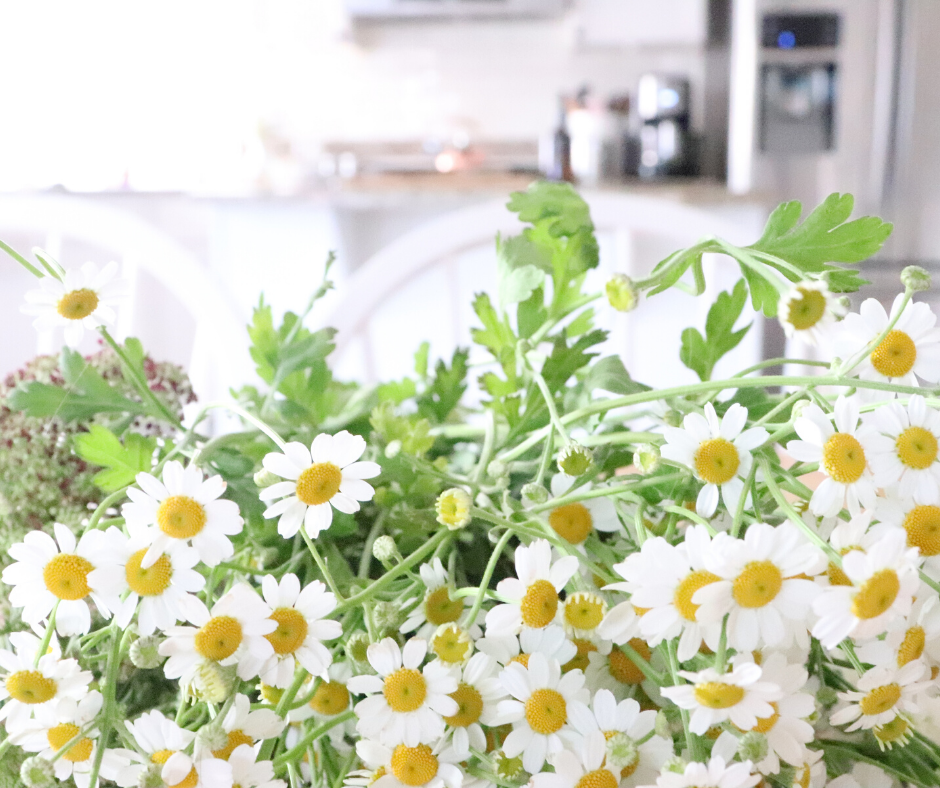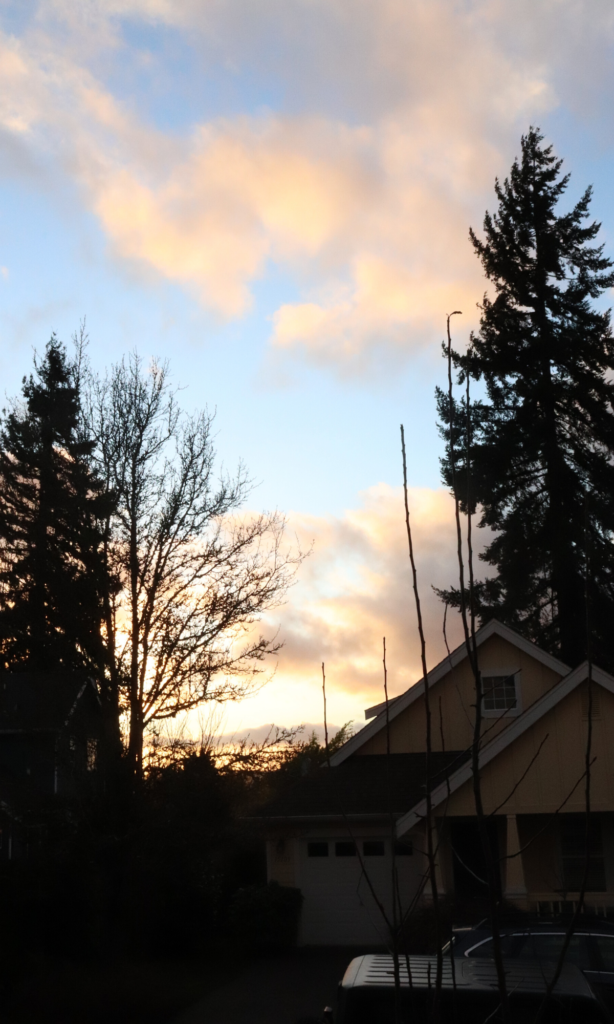 How to Make a Simple Spring Wreath
Making a wreath is simple. First, cut your flowers. For this arrangement I wanted to bundle my flowers together instead of spread them across the base. So I cut short stems for the flowers.
Then, make your arrangement on the wreath frame so you know how you want your florals to look. Keep in mind where your center is and which side of the frame you plan to hang with a hook.
Use the wreath cable ties to fasten the stems to the wreath. This may take some fidgeting until you get the flowers how you want them. It helps to occasionally lift the wreath up and test to see if any flowers fall to the bottom. You need to fasten them tightly to the wreath.
When your flowers are arranged how you want them, add a bow to the top! I just tied mine to the cable tie itself, but you might have to play with this a little bit depending on your bow size and shape.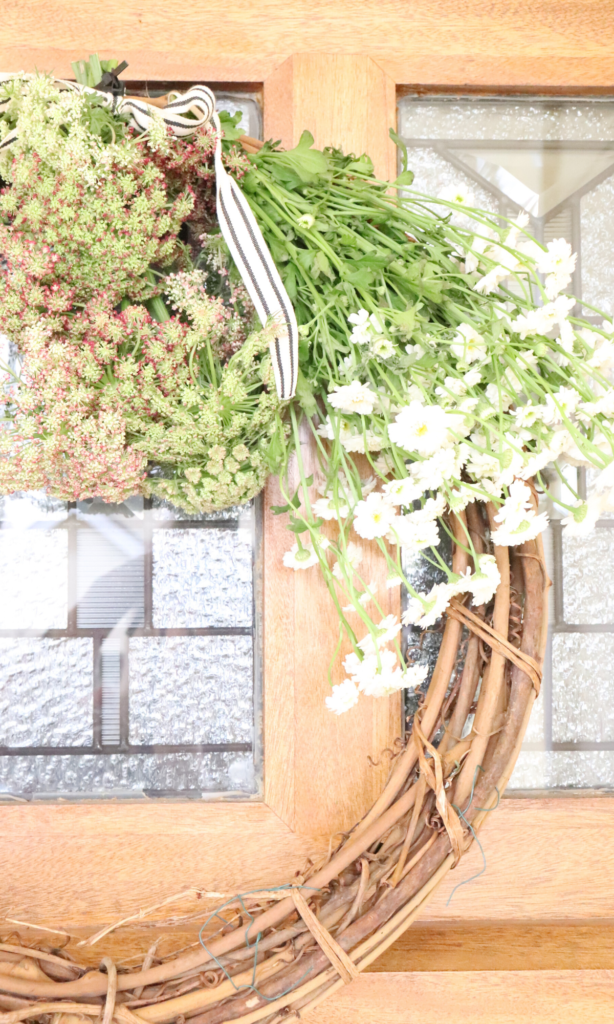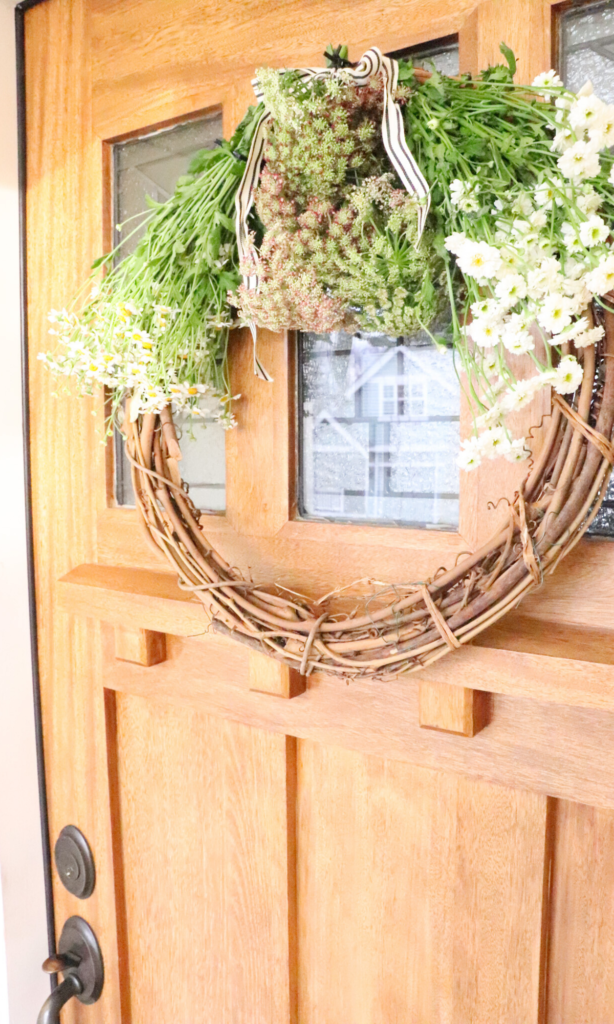 Thanks so much for stopping by the Homestead!