It's pie season! We are making breakfast pumpkin pie, sweetened only with coconut milk and spices, that is so healthy it can be made for breakfast, lunch, or a snack. What I love about this recipe is that is uses a real pumpkin, so it's more like a pumpkin meal than a dessert pie. And pumpkin is so good for you too! This no sugar added pumpkin pie is fun to make and is one of the best ways to go farm-to-table this year. Don't forget pumpkins are in season for a long time, so enjoy this dish well into the holidays!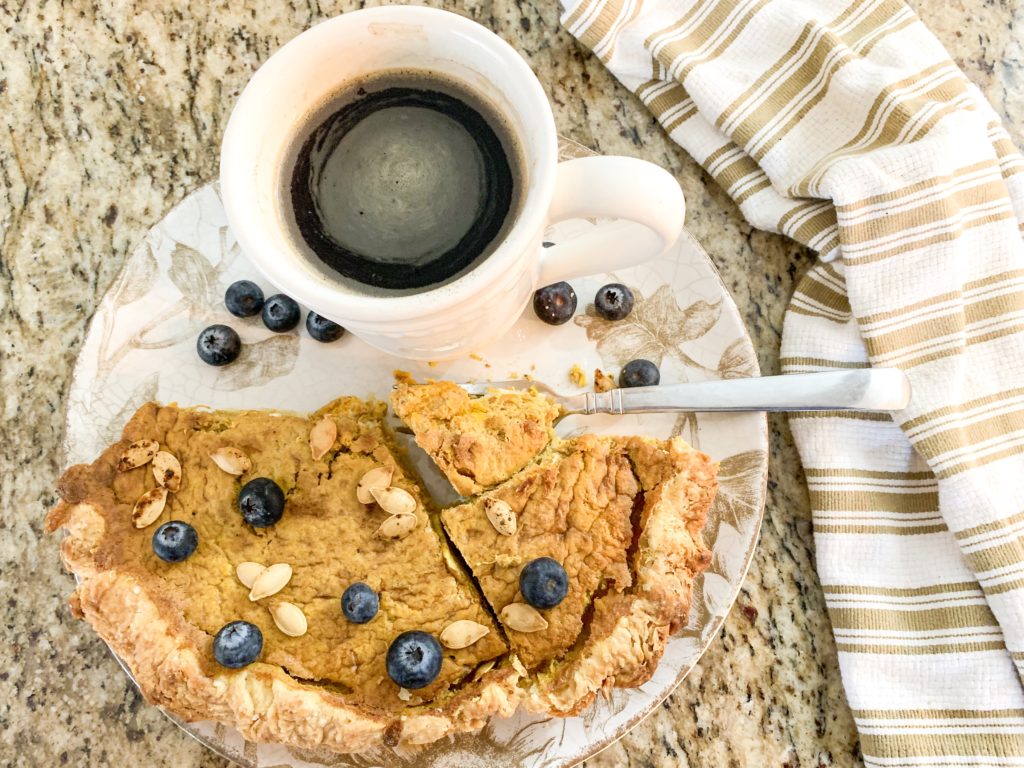 Have you ever started to make something and then realized part way through that you're missing one, two, or more of the ingredients? That ALWAYS happens to me. But I've actually realized that that is how the best recipes are born. When you don't have the right flour, or enough eggs, or you want to sub out the sugared syrup. In walks this healthy breakfast pumpkin pie!
Recently we have been doing everything in our control to eliminate canned goods, processed sugars, and anything involving plastic or artificial ingredients. This isn't always possible, and it takes time to do completely, but you've got to start somewhere. When I started making pies like this one, I realized that you can make a sugar-free BPA-free and totally farm-to-table dessert item – and have it be even better than the original!
In this blog post I share how to cut, gut, and roast a pumpkin, how to make a pie crust from scratch, and how to make this delicious breakfast pumpkin pie. I also made video tutorial and a printable recipe card. Enjoy!
[Read more…]

about How to Make Breakfast Pumpkin Pie Naturally Sweetened