After having our baby I was looking for the best organic bedding. We tried Avocado and Coyuchi and here's my comparison and review.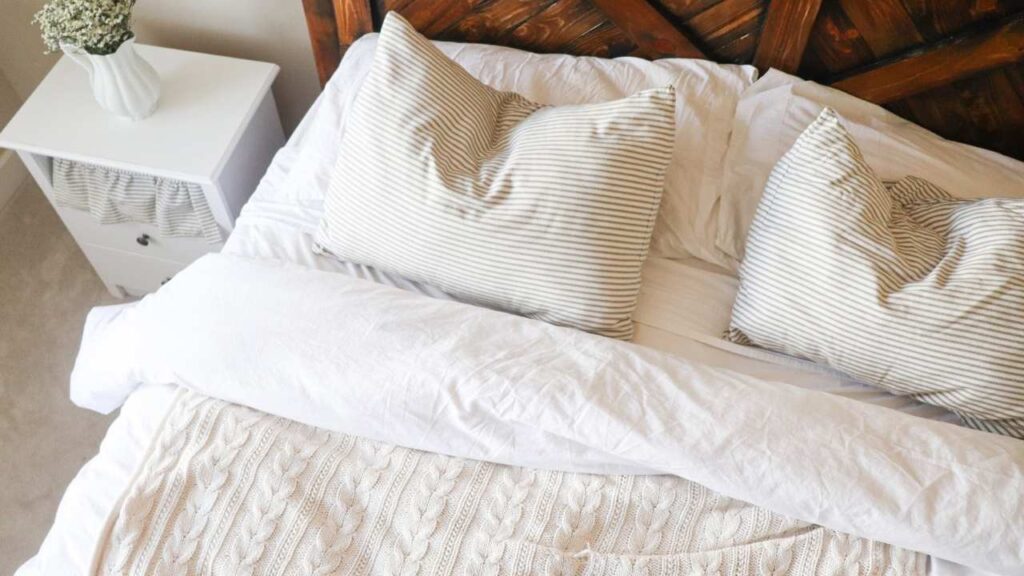 This post contains affiliate links, which means I may make a small commission off items you buy at no extra cost to you. As an Amazon affiliate, I earn on qualifying purchases.
PIN IT FOR LATER!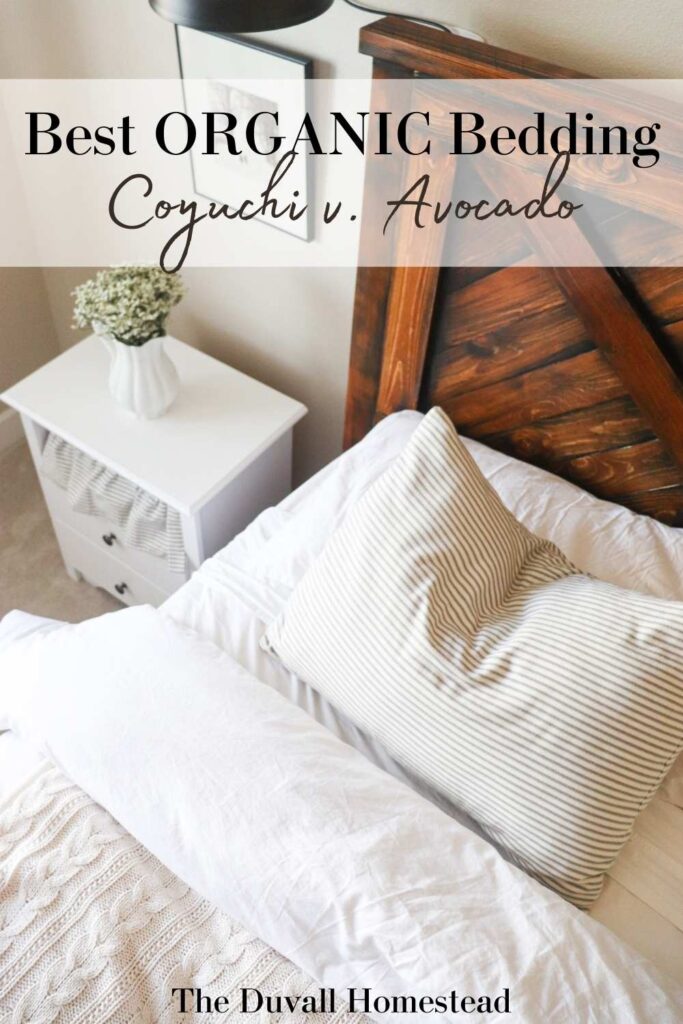 The Scope of this Review
Once I started diving into this topic, I realized that both Avocado and Coyuchi sell far more products than I even realized! So just to clarify, this post only talks about the organic bedding from both companies. I haven't tried their clothing, bath, etc. We do have the organic Avocado mattress though, which I talk about in this post.
Why Organic? + All About the Avocado Organic Green Mattress
I hope you find this review helpful in finding the perfect sheets for your family.
This post is not sponsored by Coyuchi or Avocado. We were not gifted any of the items. However, I do have affiliate links for some of the products mentioned so I would earn a small commission if you bought a product from my link at no extra cost to you 😉
Our Experience with Avocado and Coyuchi
I will start off by telling you why we have tried both these companies in the first place.
Almost a year ago we switched from a queen to a king size bed after our baby was born. So with that, we had to get a new mattress, bed sheets, duvet, etc.
Prior to that, my husband had experienced bad back pain and just generally uncomfortable sleeps for about 2 years. We had gone through several mattresses and toppers and they would work for the first couple weeks or so but then he'd be back to the bad night sleeps. So I started diving into the mattress research and that's when I came across Avocado. You can read more about my Avocado Organic mattress review and why we chose organic in the first place, here.
In the process of buying all new bedding, I was trying to save money by buying one piece at a time and using discount codes, etc. Well what happened was Avocado got sold out of some pieces, and that's when I found Coyuchi (after googling "best organic bedding").
Also, before all this started, when we still had the queen size bed, I had purchased Avocado bed sheets for us to try them out. We loved them, but then had to get new sheets for the king. Since Avocado was sold out, we bought Coyuchi.
So moral of the story is we have tried both Coyuchi and Avocado, which is why I am sharing a comparison here. I hope you find this helpful in your hunt for the perfect organic bedding!
Coyuchi vs. Avocado – what they sell
Coyuchi sells organic bedding (sheets, pillows, duvets, comforters, blankets), bath (towels, robes, rugs, shower curtains), clothing (men, women, PJs, accessories), home decor (throw pillows, kitchen, laundry), and some baby products (blankets, crib sheets, gifts).
Avocado sells all of that, plus they are known for their organic mattress, bed frames, and they even have a collection of various furniture such as nightstands and end tables. To go with the mattresses they also sell toppers, bases, and protectors.
Avocado also has a new Reed + Gwen brand, which is their clean natural beauty products.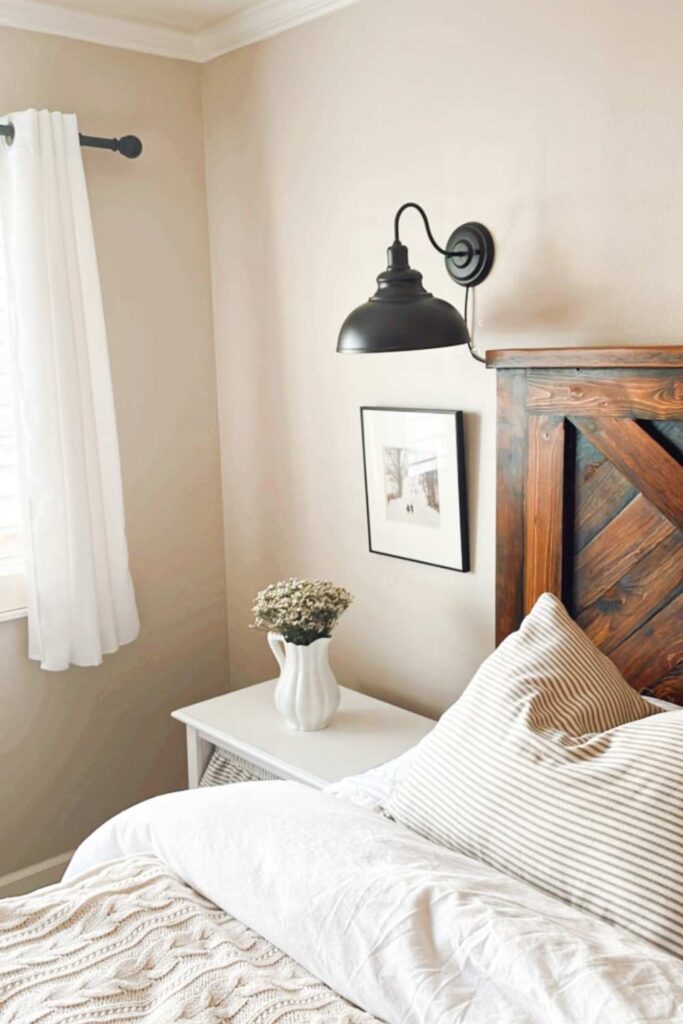 Coyuchi vs. Avocado – Bedsheets Comparison
One differentiator is what fabric options the companies offer. Here's what you'll find at Coyuchi for bedding fabric:
Percale (this is what we have currently)
Linen
Sateen
Jersey
Flannel
And here's what you'll find at Avocado for bedding fabric options:
Cotton (we had this one before, with our queen)
Hemp
Linen
Silk (pillowcases)
Superfine Suvin
Our Experience with the Bedding + Conclusion
So we tried the Avocado organic cotton bedsheets and the Coyuchi percale cotton bedsheets. If you are a cotton lover, I would go with the Avocado 100% organic cotton. Although both were quite similar, I think the Avocado ones just felt a little more soft and cozy. The percale fabric is something I hadn't experienced before we bought it from Coyuchi, and it's very, very light. Almost like paper. We like them both, so I would take either one. But if I had to chose I'd choose the Avocado cotton bedding.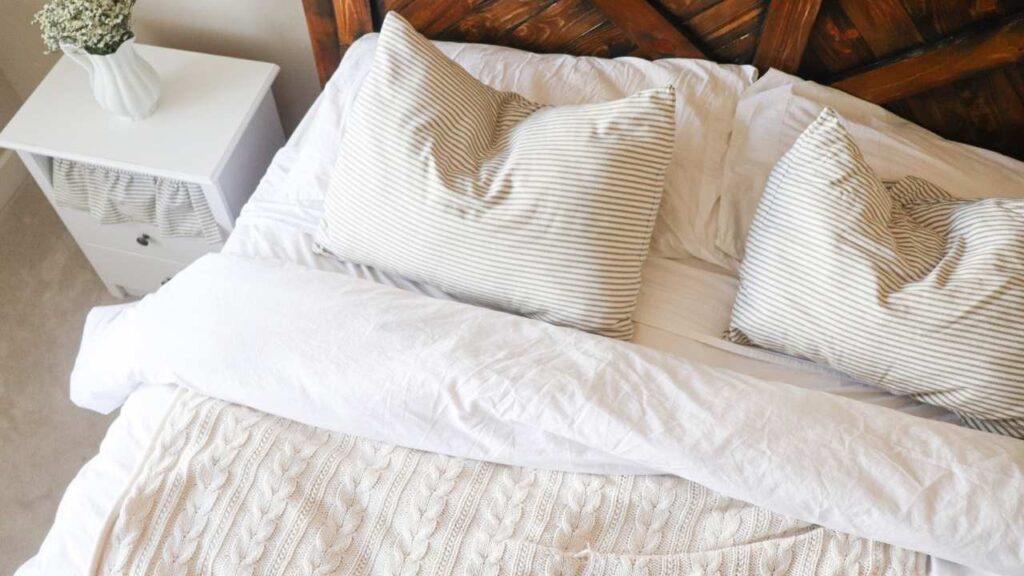 Coyuchi vs. Avocado – Duvet Comparison
Coyuchi offers your standard down duvet insert. This is what I always had growing up and I was a big fan. They have two options: a three season down duvet insert and a winter weight down duvet insert. Obviously the winter weight duvet is warmer and heavier. The duvet insert is filled with pure down encased in a down-proof, 100% organic cotton shell. 
Avocado has a more unique duvet than I've experienced before. Their duvet insert is filled with natural alpaca fiber sourced from the Peruvian Andes. It is lined with a 100% GOTS organic certified cotton percale case. They also have two options: lightweight and all-season.
Our Experience with the Duvet + Conclusion
So we own the Avocado all-season duvet insert currently. Like I said before, this was a stretch for me because I'd grown up with down duvet and always loved it. But I will say, the Avocado Alpaca fiber is actually much warmer. I haven't tried the Coyuchi down so I could wrong, but I did have a Pottery Barn down duvet that was high quality before and it wasn't as heavy or as warm as the Avocado one. Again, I really like them both, but I would choose the Avocado here as well.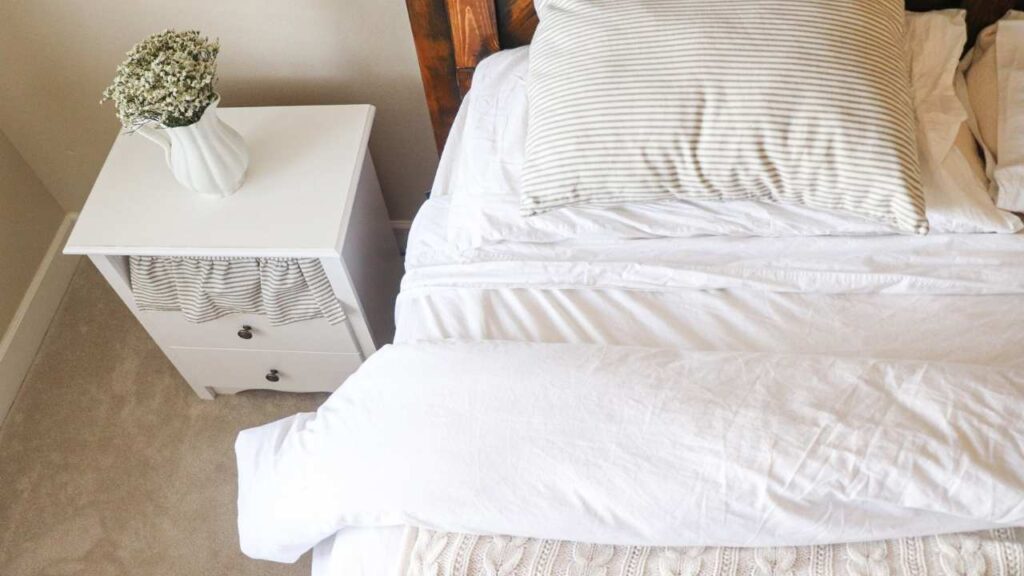 Coyuchi vs. Avocado – Pillows Comparison
Coyuchi offers an organic latex pillow, a shredded latex pillow, and latex molded pillow, and a down feather pillow.
Avocado has what they call the "green pillow", which is the adjustable latex & kapok fill, the molded latex pillow with charcoal-infused latex, and the luxury plush pillow which is natural molded Talalay latex surrounded by a top and bottom layer of wool silk mohair for contouring (wow!).
Our Experience with the Pillows + Conclusion
We own the Avocado green pillows and I haven't tried the Coyuchi ones. So here is our experience with the Avocado pillows.
In the past I have tried memory foam pillows, down pillows, the Purple pillow, and a few in between. Both John and I had a specific set of two pillows each that we slept on and if we ever traveled or didn't have those, we didn't get a good night sleep.
But we decided to buy the new Avocado Green pillows since we were buying the Avocado mattress. Basically they are filled with a stuffing that feels like wool and cotton. It is very, very different than any filling I've felt in a pillow before. It feels nothing like down or memory foam. It also comes with an extra bag of stuffing, so you can add more if you want more firmness. Since John and I had a squishy, not-firm down pillow before, we immediately took about half the stuffing out. After a couple weeks of trying to figure the pillow out, we ended up adding quite a bit of it back in to increase firmness. Now, we love the pillows. It just took us a while to figure them out!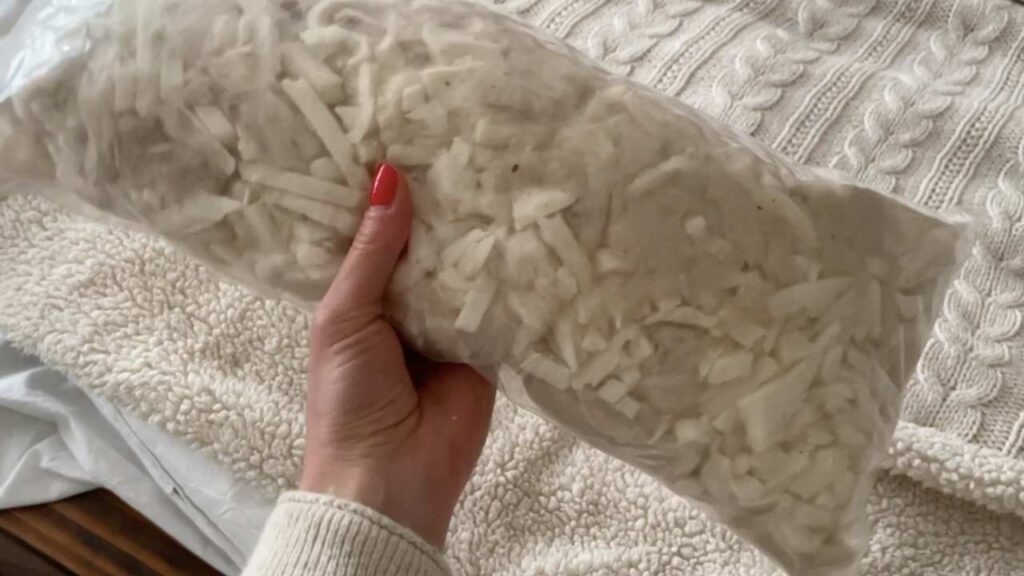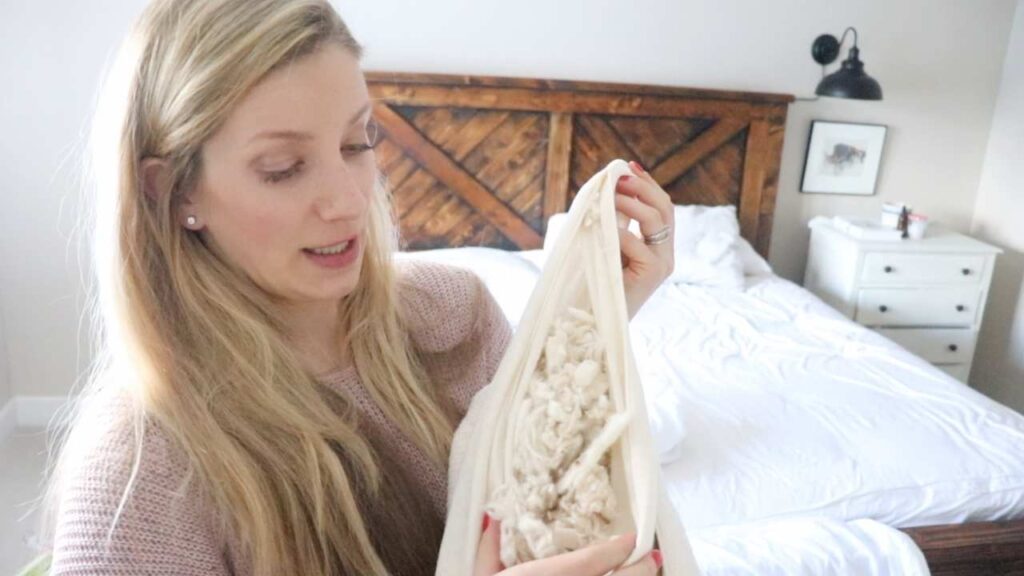 Conclusion, continued.
My conclusion is that I think our opinions of what causes a good sleep are a little bit skewed by our culture today. We strive for this ultimate comfort idea, when in reality I don't think that's what's best for our bodies. In the olden days people didn't have down or plus latex materials. What did they sleep on? Nothing.
Believe it or not, our bodies can actually sleep on very little. So in conclusion, I think the adjustment for us to get used to the Avocado pillows was actually causing us to better align our bodies and spine. John previously had back pain while sleeping and that is now gone. So, whatever Avocado is putting in their pillows, we are a fan of it!
Coyuchi vs. Avocado – Certifications
If certifications are important to you, both companies have an impressive list of certifications. Here's a breakdown:
Both Coyuchi AND Avocado have the following certifications:
GOTS certified (Global Organic Textile Standard)
GOLS (Global Organic Latex Standard)
MADE SAFE seal
1% for the planet
Additional certifications that ONLY Avocado has (some of these only apply to Avocado's mattresses, however):
Responsible Wool Standard
USDA Organic
Carbon Neutral Certified since 2019
Wind and Solar Powered
FSC Certified (Forest Stewardship Council)
Greenguard Gold Certified
Formaldehyde-free
Eco-Institut in Germany
OEKO-TEX Class 1 certification for human and ecological safety
Vegan certified (for the vegan bedding products)
PETA approved (also for the vegan products)
FAQs:
Are organic sheets really better?
Of course they are. Any time you take out chemicals, flame retardants, and toxic materials you will inevitably end up with a better product. But whether or not you like sleeping on organic bedsheets better than non-organic ones is totally subjective. I like the peace of mind that my body isn't touching non-organic material for nearly a third of my life while sleeping, so I'd say yes!
What is the typical price range for organic sheets?
You can find organic cotton sheets for a queen for about $100 (to save more money just wait for a sale, which they have often at Avocado). There may be cheaper sheets on Amazon. The only problem you can run in to there is sometimes companies claim that one material is organic in the bedsheets, whereas Avocado or Coyuchi sheets are 100% organic.
How do I wash and care for organic sheets?
Wash with a gentle, non-toxic laundry detergent and dry on low heat or hang dry. I also use a gentle homemade fabric softener and dryer balls in the dryer. This may vary depending on the fabric, brand, and color. For white sheets, you normally wash on warm, and for color sheets wash on cold.
Are Avocado sheets healthy?
Avocado sheets are 100% organic and are made without the use of toxic fabrics, flame retardants, or chemicals. They are also MADE SAFE® Certified, so you can trust they don't contain toxic materials, and no part of the manufacturing process was harmful to humans or the environment.
Pin it for Later!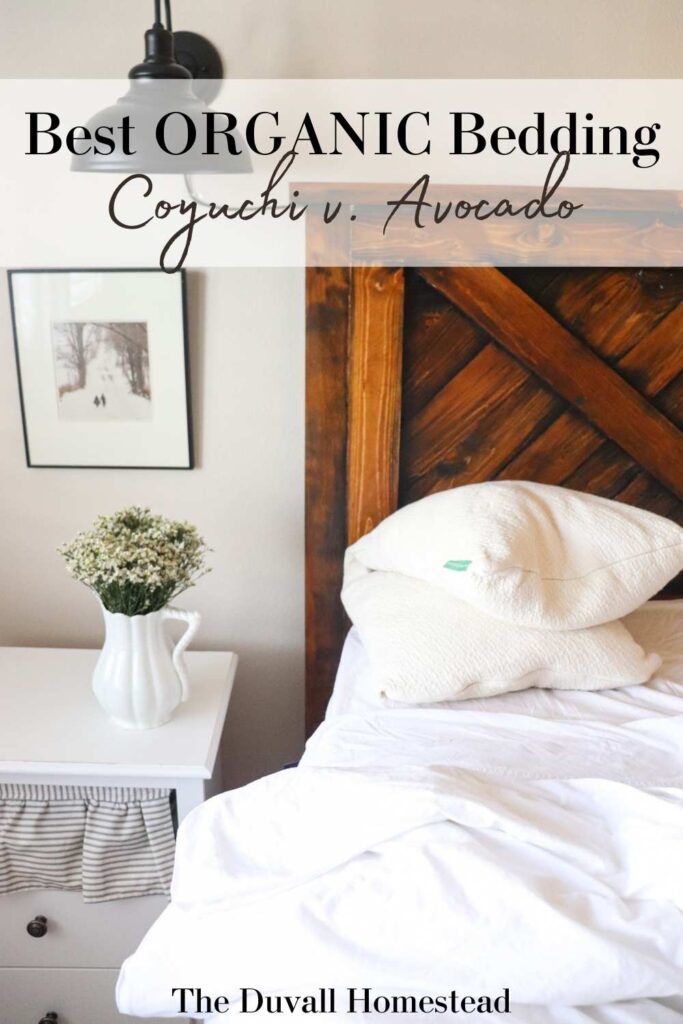 Thank you so much for stopping by the Homestead!