We have been needing to fill our master bedroom with some nice furniture. And when I saw this old dresser on Facebook marketplace, I knew it would be perfect. And the best part was that it was free! Don't you love that? In this post I'm showing you all about how to refinish an old dresser. It's a really simple, easy and inexpensive way to add farmhouse style to your home.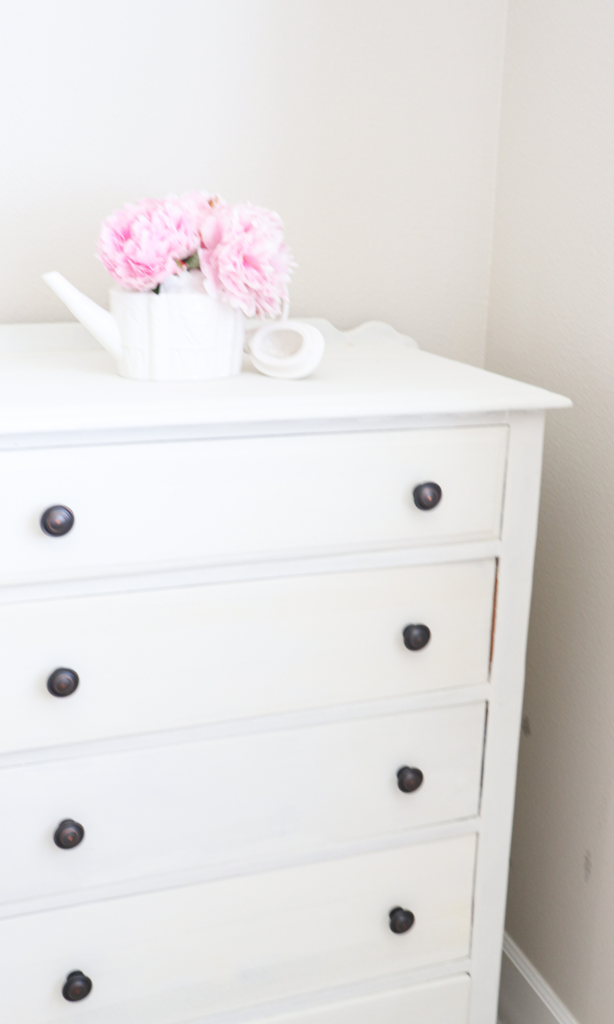 This post contains affiliate links. As an Amazon associate, I earn on qualifying purchases.
A Little Before and After for ya
Obviously, I was so excited when I found this dresser on Facebook Marketplace for – guess how much – $0!
I just used a few simple sanding tools and some milk paint to restore this old dresser to fit perfectly in our farmhouse bedroom.
Before: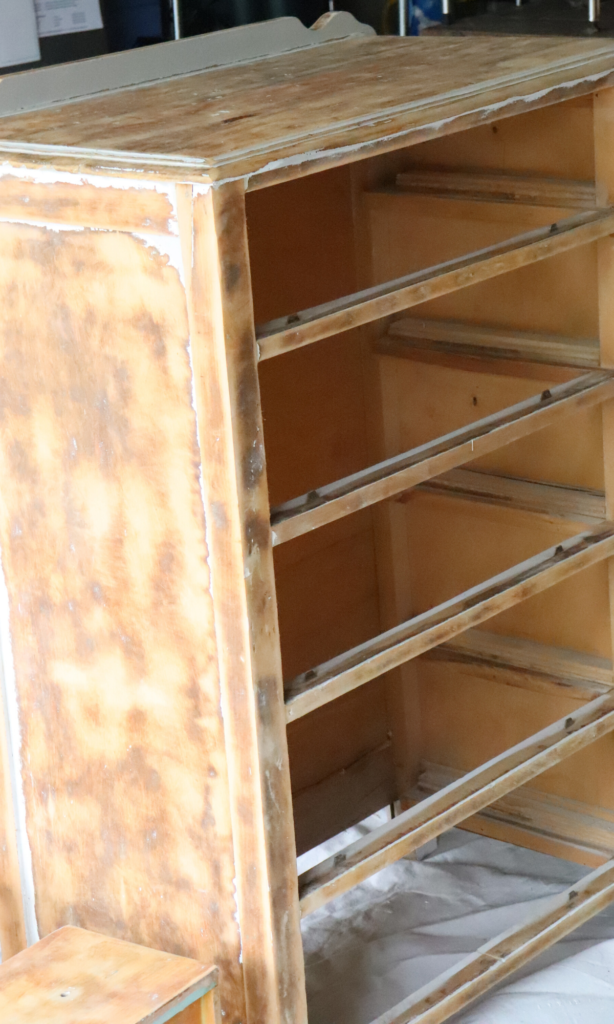 After: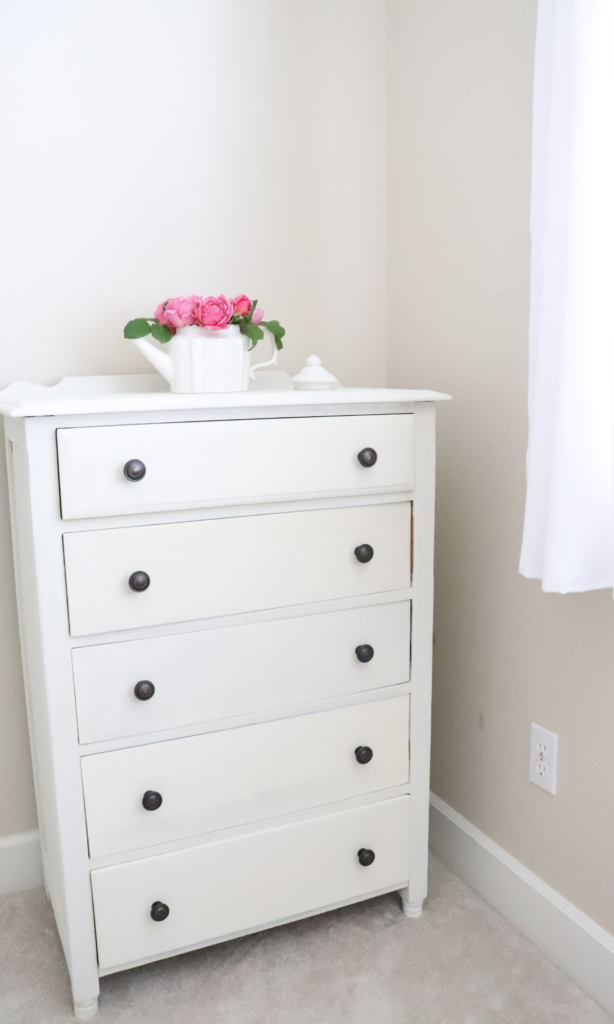 How to Refinish a Dresser
The steps to refinish any piece of wood are really similar and easy.
First, you want to sand down the wood. You can use an electric sander for heavy sanding or sanding sheets for a lighter job. I have a tutorial showing you how to use an electric sander in another post here.
Next you paint your project. You can go as far as applying a primer, paint, stain, or sealer, or you can just paint. You probably want to follow the paint instructions for whatever you're working on.
Now this is where I may get some criticism. But for most of projects we just go straight to the paint and that's it. For simple household furniture I've just been using Miss Mustard Seed Milk Paint directly onto the raw wood.
If you're worried about water getting onto the furniture, you'll want a sealant like this Hemp Oil which is what we use for small furniture pieces.
Do at least two coats of the milk paint, letting the paint dry in between coats.
Some people chose to sand the paint lightly after it's dried to smooth it out, but you don't have to. Then add a sealant if desired.
Watch: How to Refinish a Dresser
Tips for Finding & Refinishing a Dresser
Take a look on Facebook marketplace, craigslist, or whatever consumer to consumer retail outlet you have near you. Antique stores, garage sales, etc. You may be able to find something really good for cheap. We got this dresser from a neighbor for free!
This probably goes without saying, but make sure you wear protective eye gear and a mask when you're sanding. And get a good sander with a dust bag too. I didn't really do this when I first started sanding but when I started using a more heavy duty sander, I almost got wood chips in my eyes several times so just be careful.
Use drop cloths prior to starting your paint. Clean the surface of your project real so there's no residual dust.
If you're going for that rustic, old farmhouse look, check out Miss Mustard Seed Milk Paint. It is easy to use and you just mix it with water to get started. You can apply directly onto raw wood and you don't need a sealant. The color we used for this dress was "Farmhouse White".
The milk paint will chip over time without a sealant, so if you don't want that you can use hemp oil to seal the milk paint.
How much paint do I need?
For a dresser about the size of mine, you're going to want about a quart of milk paint to cover the entire thing plus the drawers.
I suggest getting a quart because you want to do at least two layers of paint with milk paint.
The Miss Mustard Seed quart sized milk paint covers 70 square feet according to Amazon. Now I didn't measure my dresser but I'm pretty sure it was far less than that. So, my experience with milk paint is to get a little extra so you have plenty for a second coat!
Here's what the first coat looked like: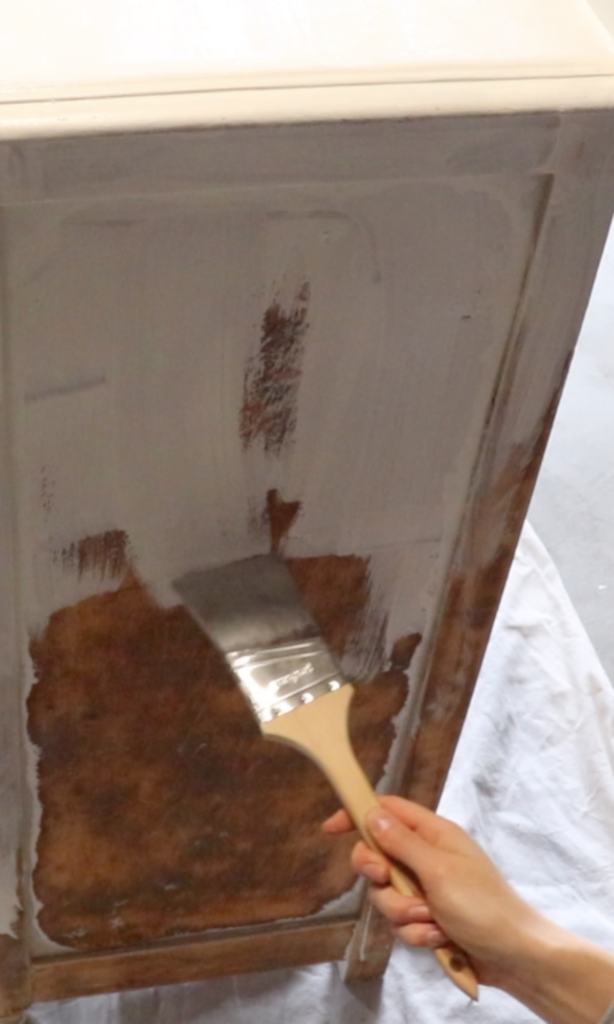 And here's the second: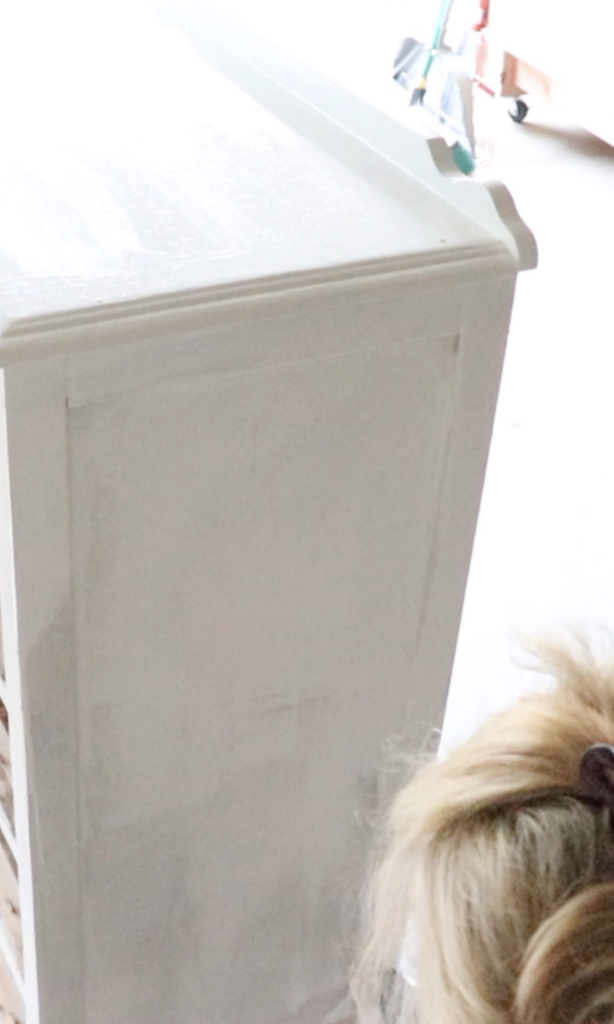 Knobs for Dresser
We ended up buying knobs for this dresser from our local hardware store. Total they ended up being under $20, which was a good deal. I looked on Etsy and Amazon and really didn't see anything I liked that wasn't $10+ per knob. Didn't want to pay that!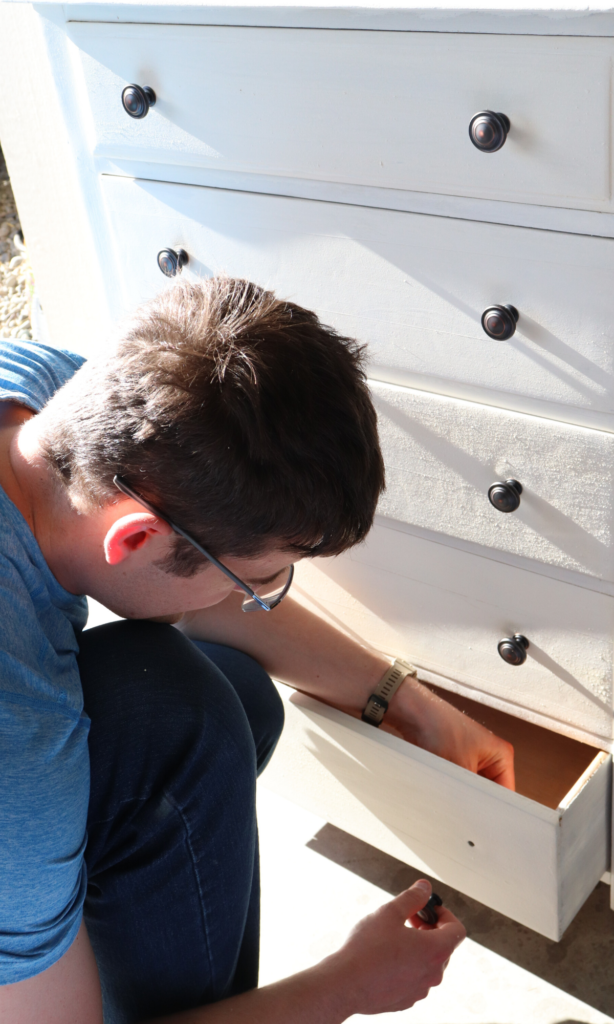 Keep following our Farmhouse Transformation
Follow along as I make more updates to our farmhouse:
Bedroom Update 1 – new curtains!
Watch: How to Refinish a Dresser
Pin it for Later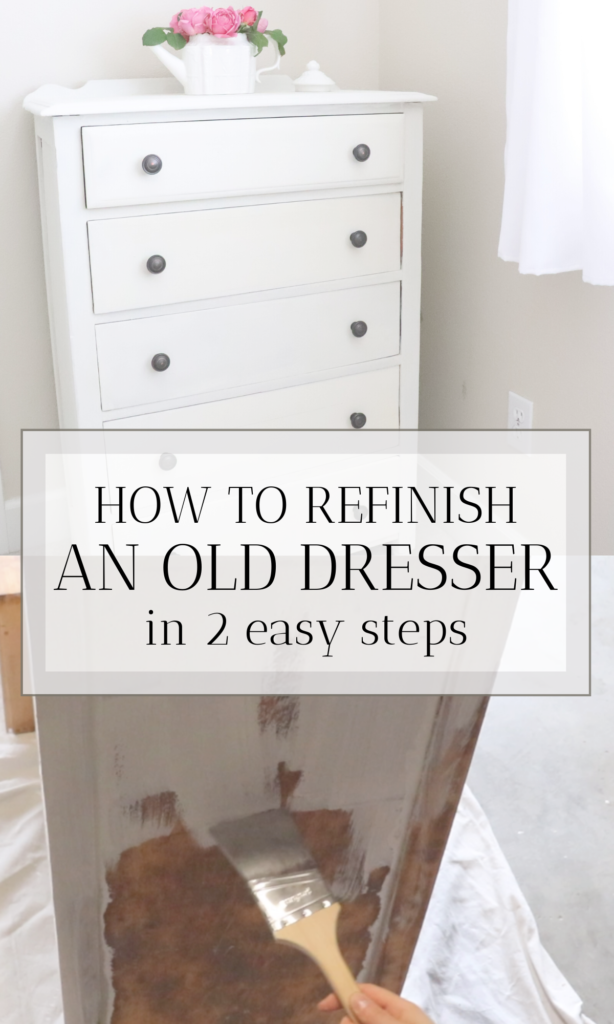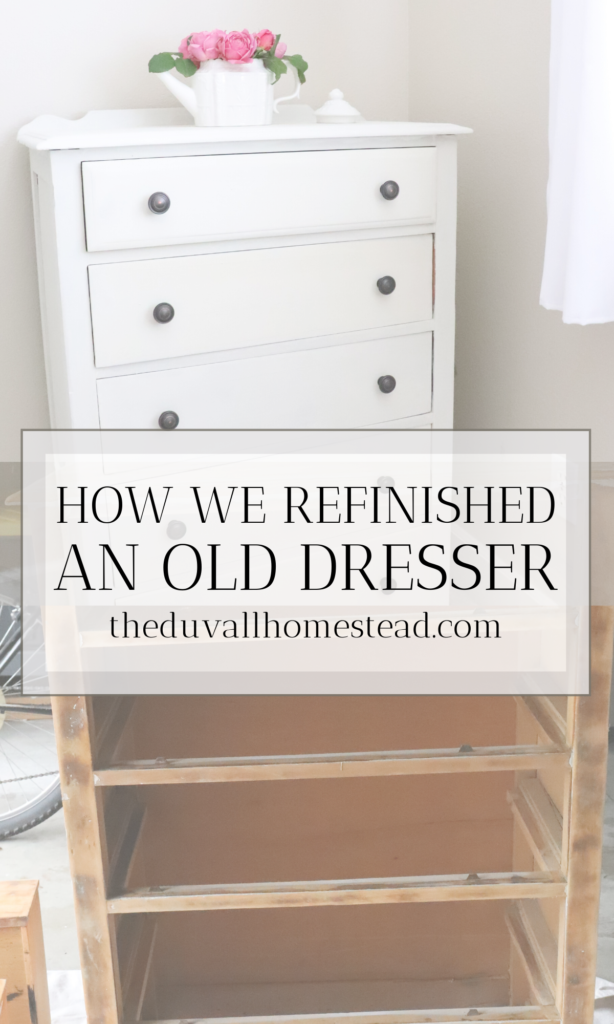 Thanks for stopping by the homestead!