We have spent the last two years trying to find a good mattress and have tried way too many of them. Finally we just took the leap on the Avocado organic mattress, hoping it would be "the one". In this post I share my Avocado mattress review and why we chose it for our family.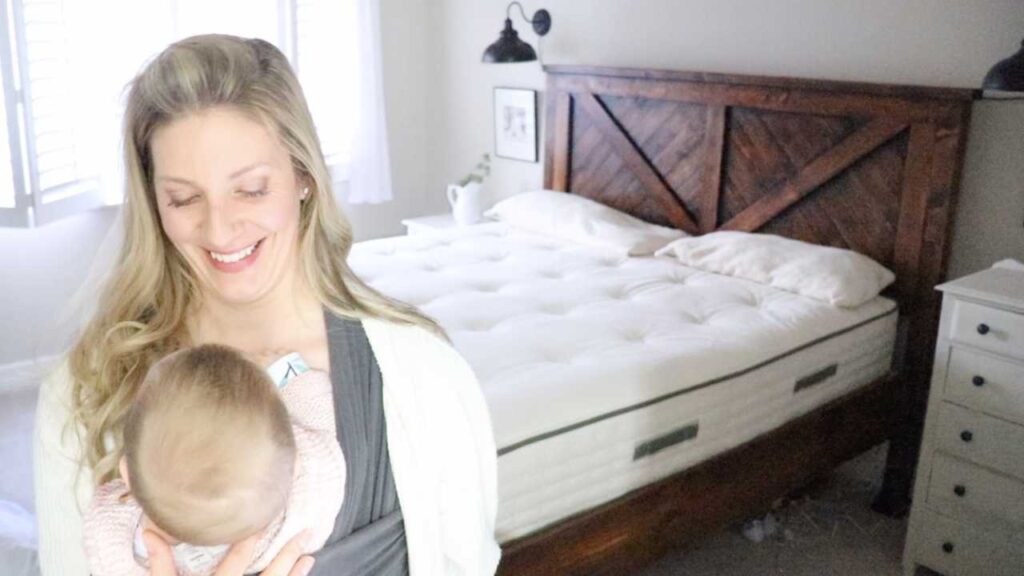 Pin it for Later!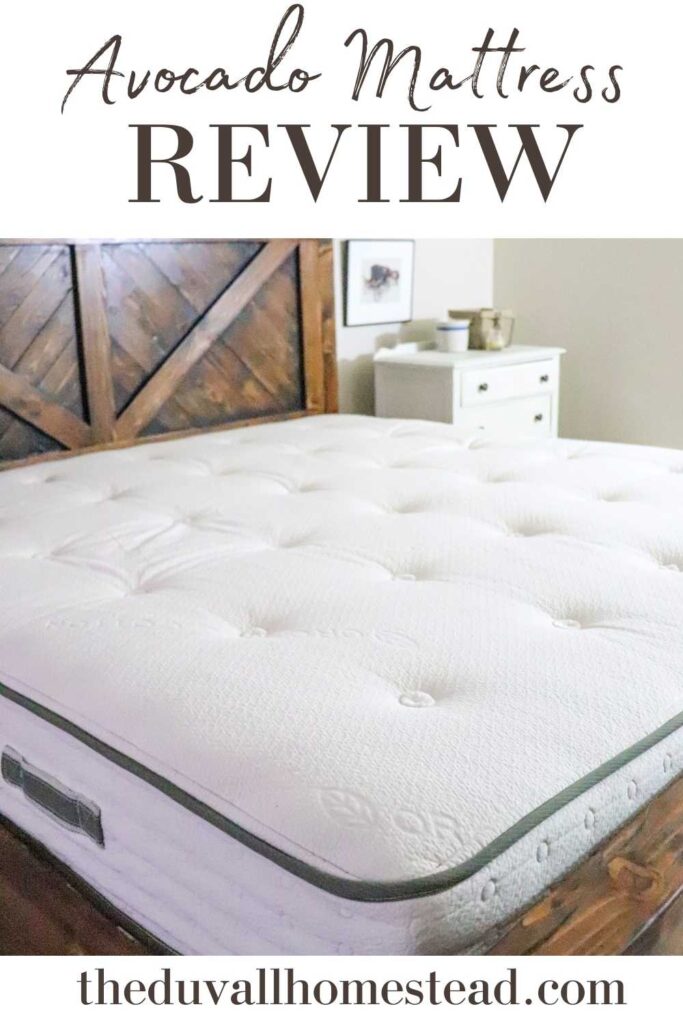 First Things First
Avocado did not sponsor this post. Since buying and loving their mattress I have reached out to them to see if they would like to work with me in the future. But as of the posting of this blog post, they have in no way sponsored me.
This post contains affiliate links, which means I may make a small commission off items you buy at no extra cost to you. As an Amazon affiliate, I earn on qualifying purchases.
Our 4 year Mattress-Finding Journey
My husband John and I started looking for a new mattress after getting married in 2017. My parent's 20 year old hand me down mattress wasn't really cutting it so like everyone else we went to the mattress store and found the cheapest mattress we could.
The first mattress we bought was actually worse than my parent's old one (because that was an expensive one at the time). We should have listened to them when they said to buy a nice mattress.
But then we were $500 into this journey already, so we returned the mattress and decided to spend more money on a fancy one (we got the Purple mattress). The Purple mattress is a one of kind, if you haven't heard of it, and was supposed to be cutting edge technology.
Then we got a Purple Mattress
If you've ever seen a commercial for a Purple mattress, you know how good those guys are at marketing. They make you think the mattress is the next best thing since sliced bread.
Now this blog post isn't about the Purple mattress, but I'll just cut to the chase and say it was terrible in our opinion. It just did not feel like a mattress should at all (but if it worked out for you then that's great for you!). Just not for us.
Over the past few years we've been through at least 2 mattresses and a few mattress toppers, which is ridiculous if you know that a mattress should last you at least 10 years if not more. You shouldn't be buying a new mattress every couple years.
So my lesson learned about all this is that don't invest in new technology or a fancy mattress topper. They are just distractions to what you really need which is a high quality-made mattress. So whatever brand you buy, buy the highest quality one and if you don't like it, return it immediately. Don't "stick it out" (that's one other thing we did which was a bad idea for other reasons).
The Problem with Today's Mattresses
When I was pregnant last year I started researching mattresses and found out that so many commercial mattresses are actually toxic to your air. EPA research shows indoor air is 5 times more polluted than outside air. One reason for that is mattresses that are made with petroleum-based polyurethane foams and memory foams. These are often paired with chemical adhesives and flame retardants, which together can emit chemical odors and VOCs into the air.
Now this is because mattresses sold in the U.S. must meet federal flammability safety standards. But these chemical flame retardants can cause cancer, fertility issues, genetic defects, hormonal imbalance, and reduced thyroid and liver function.
A lot of times when you buy a commercial mattress it's recommended let your mattress air out for at least 24 hours after you open it. This off-gasing process is exactly what I didn't want when I buy a mattress. A mattress is something that you spend 1/3 of your life on, with kids, etc. There was absolutely no smell when we unwrapped the avocado mattress because there were no chemicals to off-gas.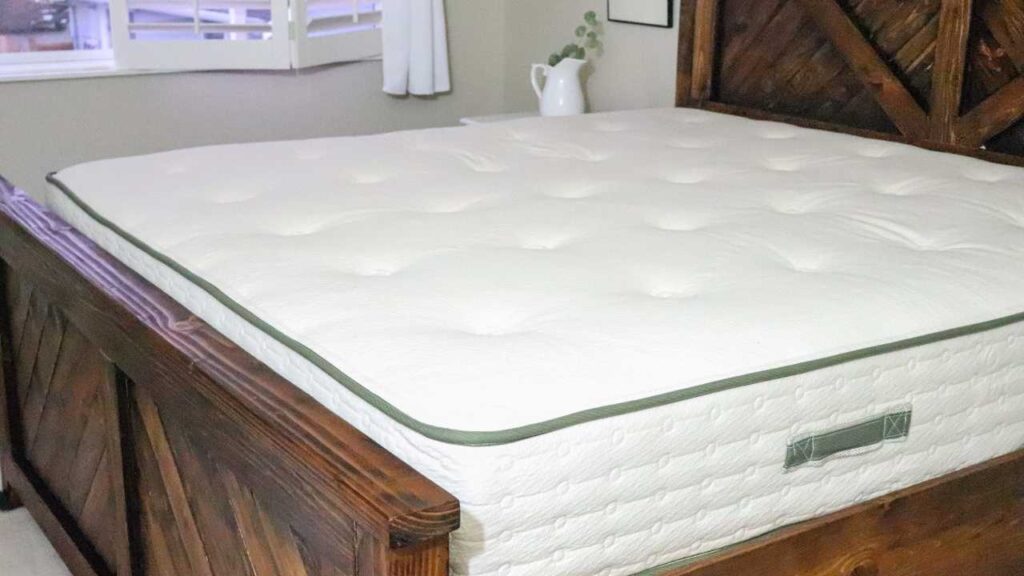 Come see how we stained our bed frame to look rustic in this post.
Why We Like the Avocado Mattress
First of all, the mattress is made up of purely 100% organic materials. Many mattress companies claim they use organic materials, but only part of the materials are actually organic. 
Second, we needed a better night sleep. Now part of this was accomplished just by switching from a queen to a king size. Besides from that, my husband had pretty bad back pain for about 2 years before we got this mattress. We kept thinking it was not enough stretching or maybe an issue with the position he slept in. So we kept buying new mattresses and toppers to see if that would help. We went had the Purple mattress, Serta sleeper, pillow top topper, and even Tempur Pedic memory foam. We've tried them all. He would always feel better for a couple weeks but then the back pain would come right back.
Third, it accomplishes a perfect "firm but molding to your body" feeling in my opinion. We had heard that it's best to sleep on a firm mattress (especially when you're pregnant or if you have a baby in the bed) but the firm mattresses we got just didn't feel good. At one point we even got a memory foam Tempur-Pedic mattress topper, and that felt good for a bit but again didn't work out. For whatever reason this mattress is firm but the support just feels different than other "firm" mattress. It also still has some softness especially on the top. It's hard to explain other than it just feels different than any other mattress I've slept on. 
I should also note that my husband John is a back and tummy sleeper, while I am a side sleeper. And it's the first mattress that we both approve of.
All About the Avocado Mattress
The Avocado Green Organic Mattress is 100% organic and actually certified by the Global Organic Textile Standard.
The materials used in the mattress are sourced from a farm that the Avocado company actually co-owns. The mattress is made of certified organic cotton, certified organic latex, and certified organic wool. All of the materials are certified organic, as opposed to other mattresses that just claim one material as being organic. 
The other thing is that this mattress is 11 inches thick and does not require a box spring. In fact, you should not use a boxspring at all. All you need is the mattress and a bed frame.
The mattress is hand pulled together through a process called needle-tufting (this is instead of using a chemical glue). They pull ribbons through the mattress by hand in 32 locations as you can see on top of the mattress. They do not use any toxic solvent or water based adhesives. This improves the durability of the mattress too, so that it can last longer.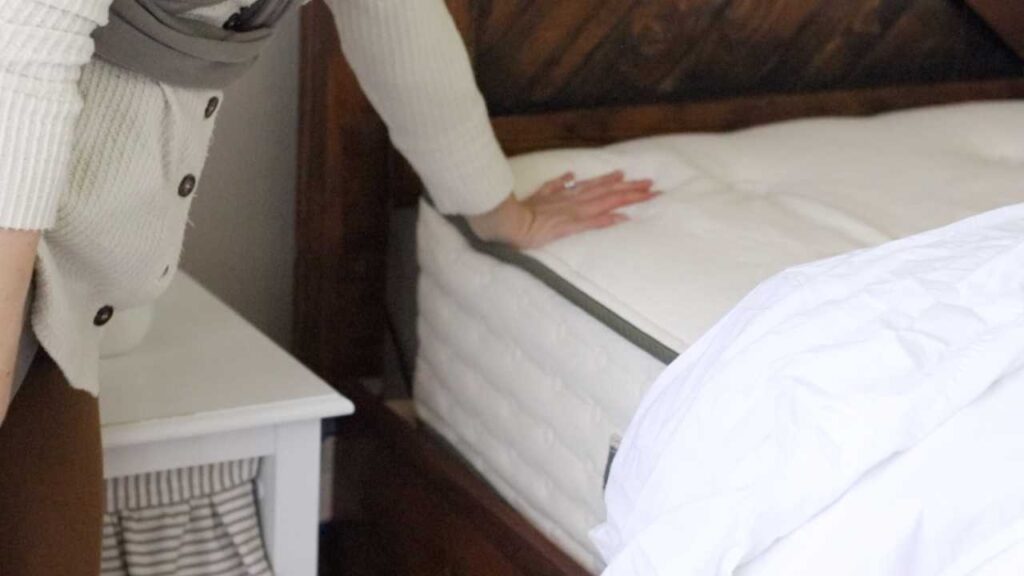 FROM THE AVOCADO WEBSITE:
"A non-toxic mattress is made without the use of toxic chemicals that can be harmful to the health of the people who use it, the folks who made it, and the environment. Although most mattresses today are made with petrochemicals, chemical adhesives, chemical dyes, and flame retardants with known toxicity, affordable non-toxic mattresses do exist. Evaluating brands, however, is no easy task. A real non-toxic mattress will use natural materials, be certified organic by the Global Organic Textile Standard, and have third-party certifications that screen and test for the presence of known toxic chemicals and unsafe chemical emissions. A non-toxic mattress will never use polyurethane foams, memory foams, flame retardants, or fire socks, and will be needle-tufted rather than glued.
The polyurethane foams, adhesives, and flame retardants used in a mattress often contain formaldehyde — exposure to which is known to cause adverse health effects. The Formaldehyde-Free Claim Verification by UL Environment is given to products that have passed lab tests for emissions. These standards are higher than the acceptable limits set by the GREENGUARD Gold certification. That's why Avocado is one of only two mattress brands in America to earn the Formaldehyde-Free Claim Verification Seal."
CON #1 – The Price
The first con of the Avocado mattress is the price. Buying an organic mattress will naturally cost you more than the cheapest one from the mattress store. But I did my research on the polyurethane foams, chemical adhesives, and flame retardants that are used in other mattresses and realized there really wasn't a price on what those toxins could do to our health.
The website states that the mattresses should last 25 years and each mattress comes with a limited 25 year warranty. A full warranty for years 1-10 and a limited one for 11-25. So while you might spend a bit more on this mattress, I amortized that over the life of the mattress. If you spend $1,000 more than you normally would, over 25 years that's 40 per year more. For something that you're going to spend almost half your waking hours on, that's not too bad.
Before buying this mattress we spent a few thousand dollars over 3 years on mattresses that didn't work. So you're going to spend the money on a good sleep at some point, whether it's over time or all at once.
CON #2 – Fewer Varieties
Second con might be that they don't have as many varieties as you would see in the mattress store. There is no difference in firmness which was confusing to us at first. The website says they are all "medium-firm" mattresses. We got the Avocado Green Standard Mattress, which has up to 1,414 pocketed support coils arranged in 5 different zones. They also have the Eco Mattress, which is their brand new mattress coming in at a lower price point. I haven't tried this one but the difference is that it has fewer support coils, but still 100% organic. They also have a luxury mattress with 3,136 coils, vegan mattresses which use organic cotton instead of wool, and a latex mattress that doesn't use springs. So they do have a wide selection.
To me it feels firm but with a soft, comfortable feel when you lay in it. It is 11-inches thick with 3 inches of organic latex rubber foam. The website also says it's ideal for back and stomach sleepers, and average to large/tall side sleepers. 
The other big thing for us was to avoid a sagging mattress. My husband is 6'5" and over 200 pounds and in the past his side of the bed would start to sag, and so we needed a mattress that wouldn't do that. This mattress bounces right back into place after we sleep on it so it's perfect for our family. 
Again we use the Avocado Green Standard Mattress, and we've loved it since day one. The mattress is supposed to take at least 30 days to get used to. However, my family skipped that period and have loved the mattress since day one of sleeping on it.
The company does also make pillow toppers if you still need to adjust the support. 
CON #3 – No Boxspring Needed
Now I'm saying this is a con because some people may already have a bed frame that requires a boxspring. Since the Avocado mattress doesn't require a boxspring (the company recommends you do not use one), your mattress might sit a little lower than you'd expect in your bed frame.
So this may not be an issue for you but I thought I'd point it out.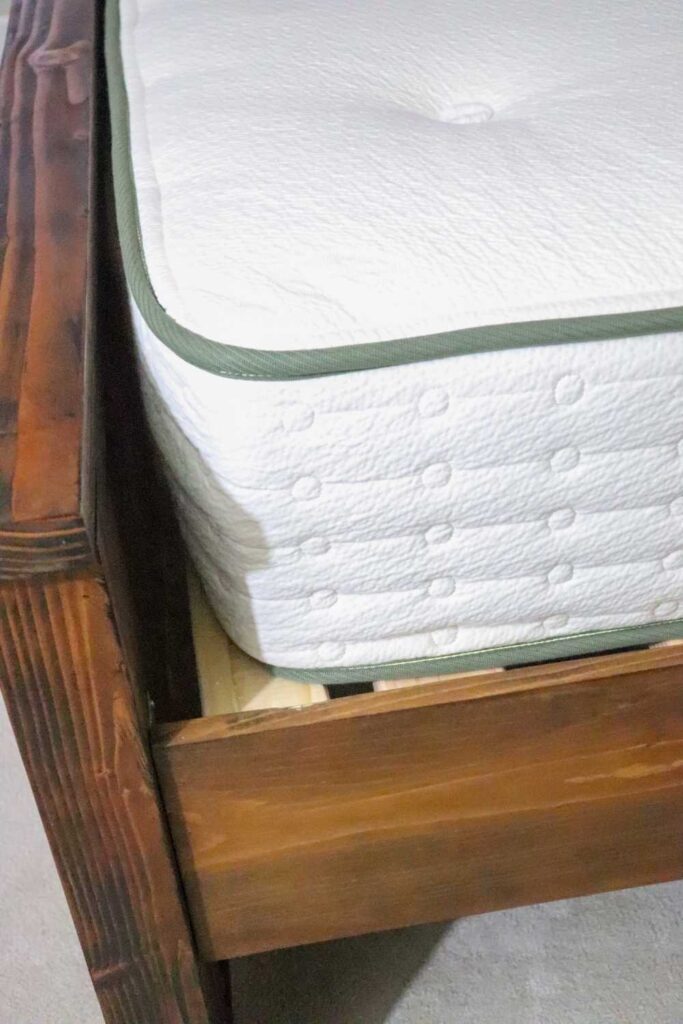 FAQs:
Is the Avocado mattress too firm?
Compared with other mattresses that are "firm", the Avocado mattress is less firm than its counterparts. It has 3 inches of latex padding at the top above the coils, which makes it soft to the touch but firm when you lay down on it.
What does the Avocado mattress feel like?
The Avocado mattress is soft to the touch but firm and supportive once you lay down in it. I've slept on pillow top, firm, memory foam, and Purple mattresses and this one is unlike any of those. Avocado mattresses are their own brand. My husband's back pain went away because of this soft yet supportive structure.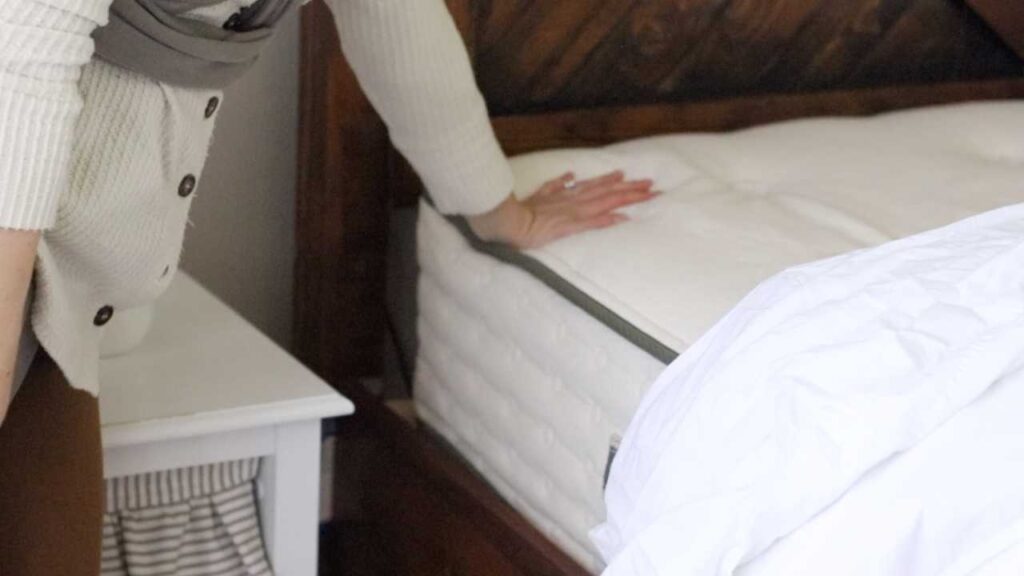 Is the Avocado Mattress too firm for side sleepers?
Not at all. In fact I like it better than other firm mattresses and memory foam since I am a side sleeper. My husband on the other hand is a back and tummy sleeper, and he also really likes the Avocado. The mattress is soft on top but firm in the middle, so it really provides a nice support for all sleepers.
Do Avocado Mattresses Sag?
No, we have not noticed any sagging. My husband is 6'4″ and over 200 pounds and usually his side of the bed gets saggy. Even after one night of sleep you can usually see a dent in the bed. But with the Avocado mattress we haven't noticed any sagging.
Is the Avocado Mattress really worth it?
Yes. Considering we've spent a few thousand dollars on other mattresses and toppers, I wish we wouldn't have let the price stop us from buying the Avocado mattress earlier.
Avocado Mattress Review Summary
In summary, the Avocado mattress was absolutely the right choice for our family. My husband and I have loved it since day 1 and I don't think we've had even one bad night sleep since we got it. Before buying this we tried several mattresses and toppers and for the past 4 years didn't get this kind of sleep. I just wish we would have bought it earlier.
If you have any questions about the Avocado mattress or something that I did not cover in this post, please feel free to comment below. I would love to help you out!
Pin it for Later!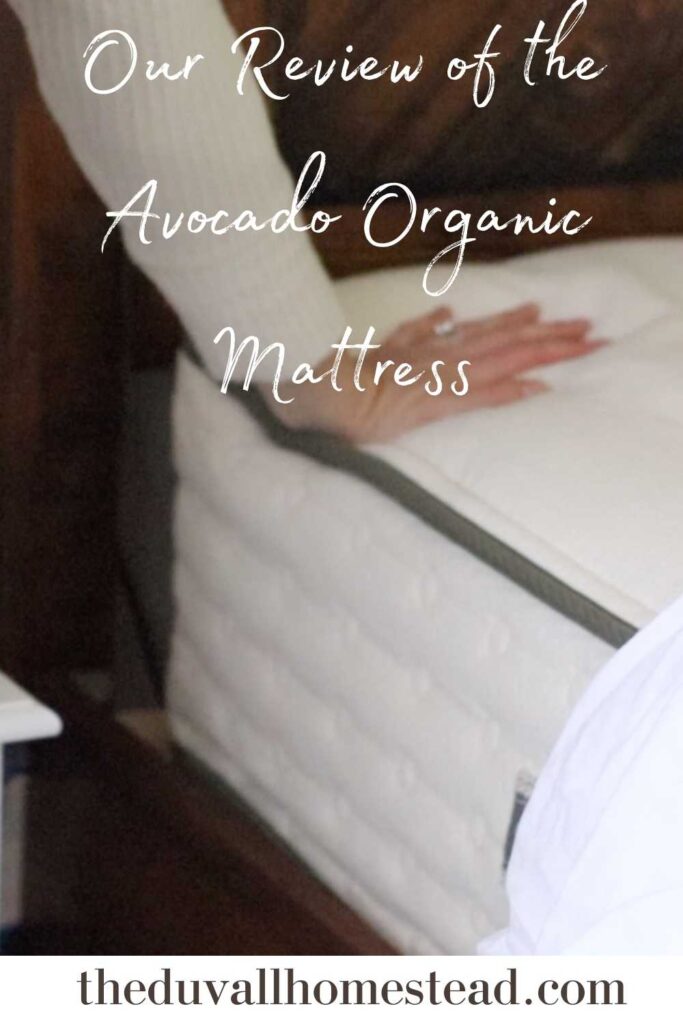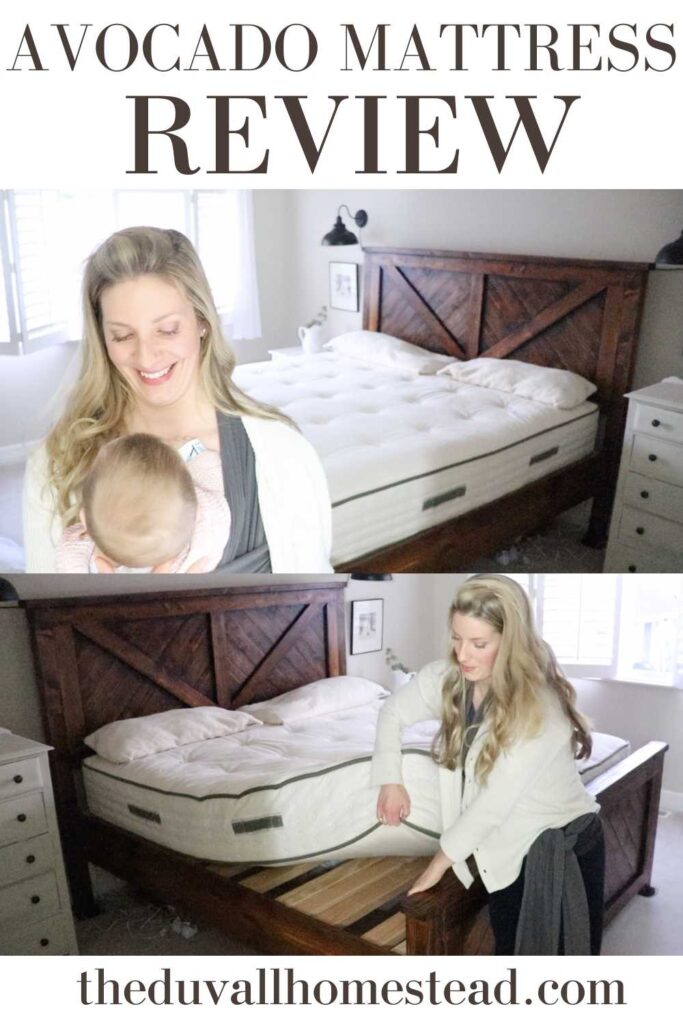 Thank you so much for stopping by the Homestead!