We love our modern farmhouse, but we wanted to bring it some old world charm this Christmas with some simple antique decor. I am becoming more and more involved in sewing our own projects, making things myself as opposed to buying them, and just keeping things simple and traditional. So join me for an old world farmhouse Christmas home tour!
This post contains affiliate links, which means I may make a small commission off items you buy at no extra cost to you.
Save to your Pinterest Board!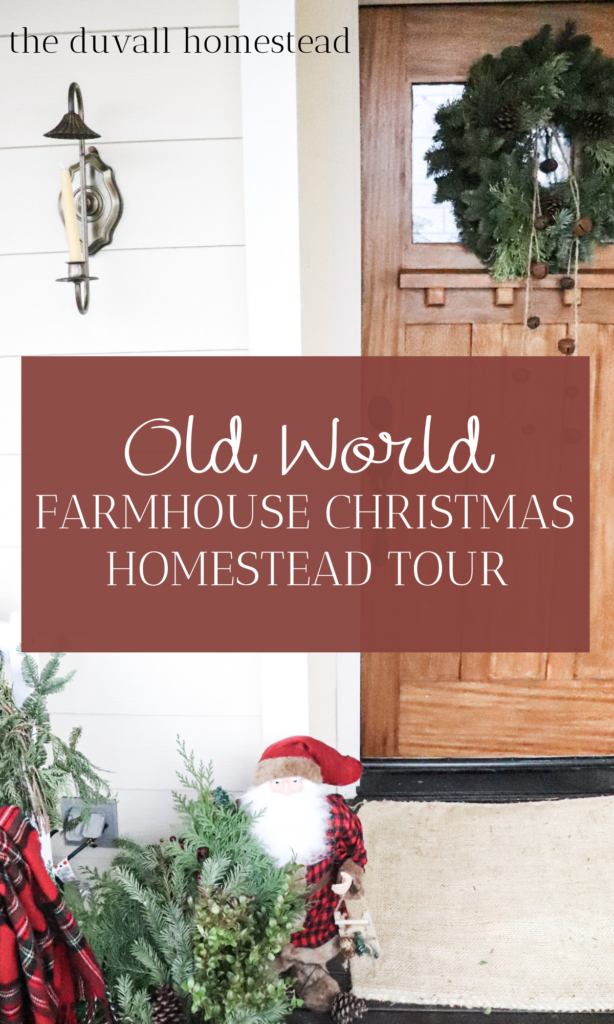 Farmhouse Christmas Home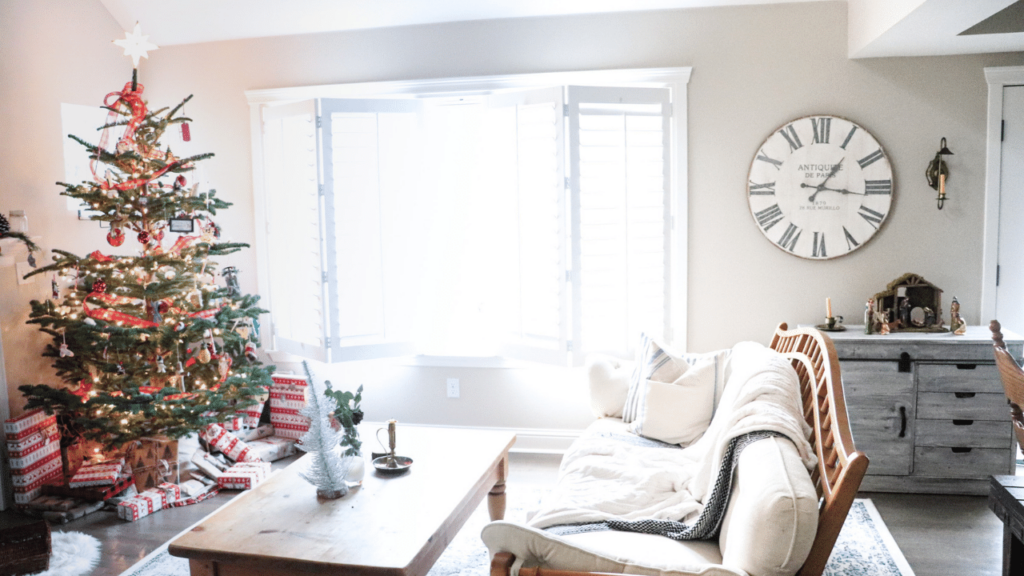 Today I'm going to be taking you on a tour of just about every room of our house, now that it's all decked out for Christmas.
We like to decorate starting in November and into December, and finishing it all right around the 17th, which happens to be my big brother's birthday.
We live in a modern farmhouse with old world charm. Read more about how we got started homesteading in another post here.
Part of the reason that it takes us so long to finish decorating for Christmas is because we spend so much time cooking, baking, and doing other festive things before the big day.
This year we enjoyed lots of homemade roasts, followed by fresh apple pie and gingerbread hot cocoa. Nothing says fall and winter more than warm, cozy, and tasty food.
The Living Room
When you first walk in the house, you are walking into the living room. We spend a lot of our time here, as it is right next to the kitchen and farmhouse table.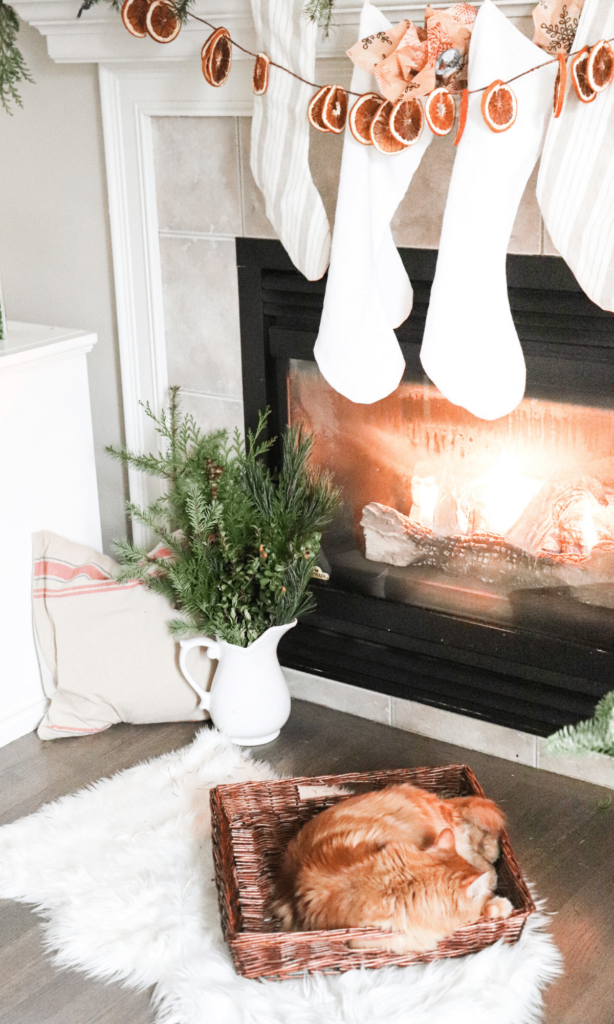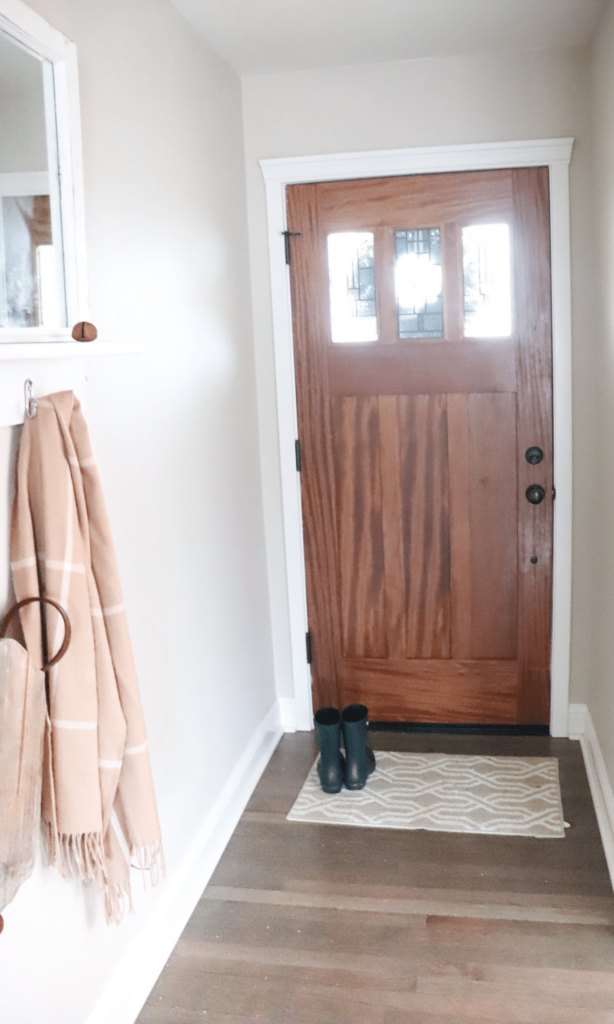 Reading books at Christmas is one of my favorite things. I used to read so many books as a little girl. The Polar Express was one of my favorites. The book in this photo above was given to me recently by my grandma, and it has lots of illustrations and short clips from different stories. I can't wait to grow this collection when we have kids of our own one day.
Over on the dining table I made a hand sewn table runner out of some leftover red Christmas fabric. Every season I buy new fabric just to give our house some new colors and textures. A couple yards of fabric is way cheaper than buying loads of decorations that I will then get tired of, that's for sure!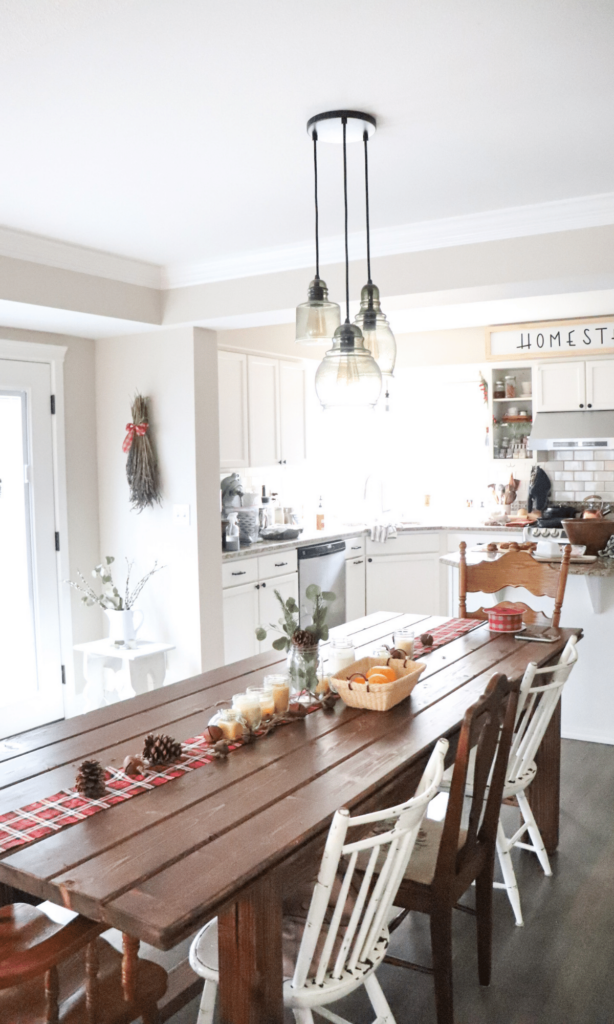 Come see all the details on getting this table ready for Christmas, in another post here.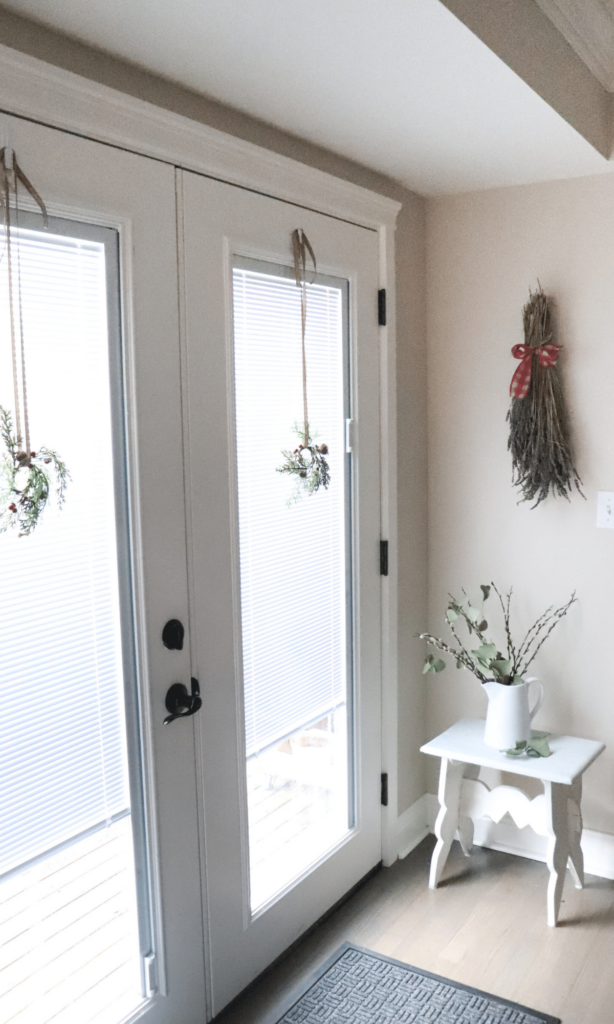 The Front Door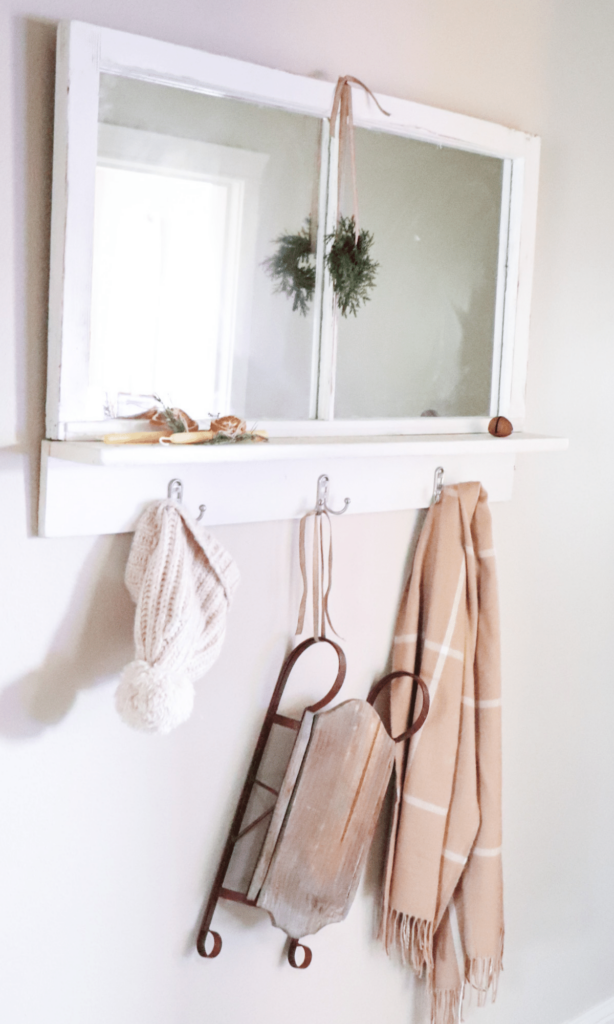 This mirror was handmade by one of our local farms and sits next to the front door. And I was so excited that I found this antique sled to hang from one of pegs!
And here's a little teaser.. this sled is one of two antique items I found for our old world Christmas home this year.
You'll see the next one in the bedroom!
Into the Kitchen we Go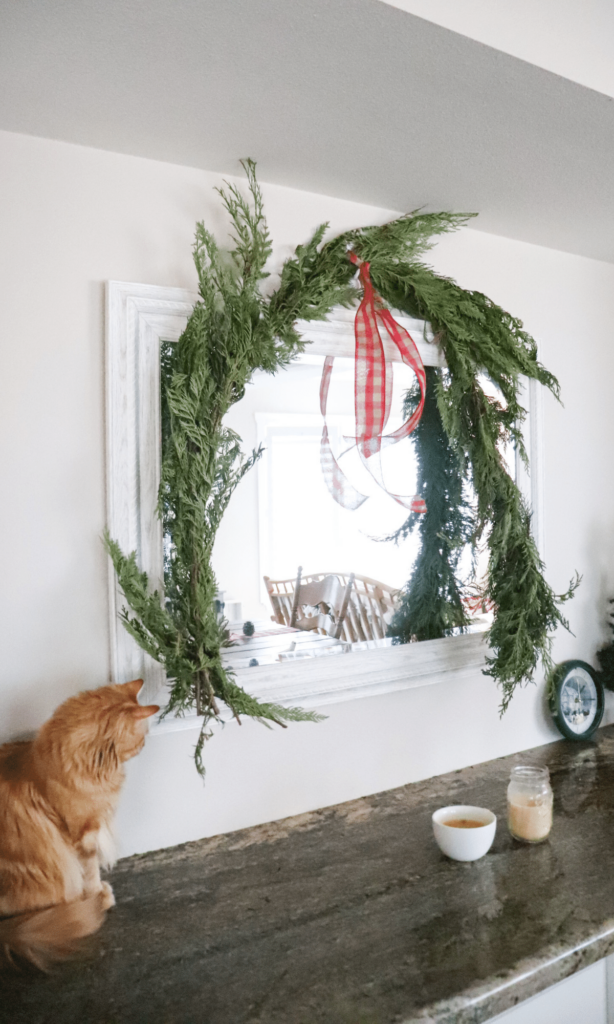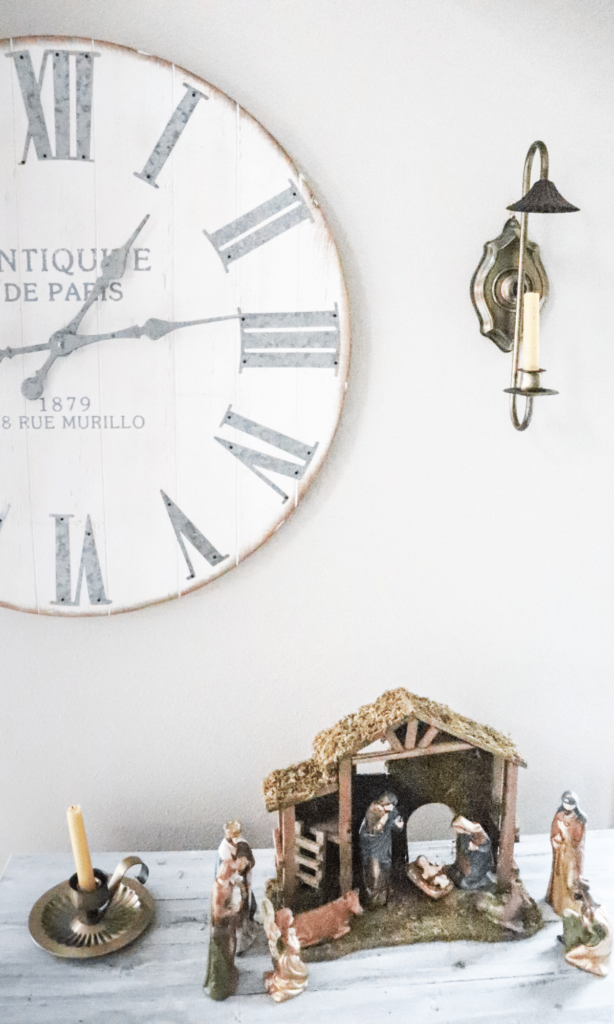 This manger scene sits on a countertop over by our kitchen. Isn't it sweet? I love manger scenes.
We have a neighbor near us who has this same scene only it's outside of their house and about 10 or 20 times bigger.
I love walking by it and seeing the hay, the lights, and of course baby Jesus!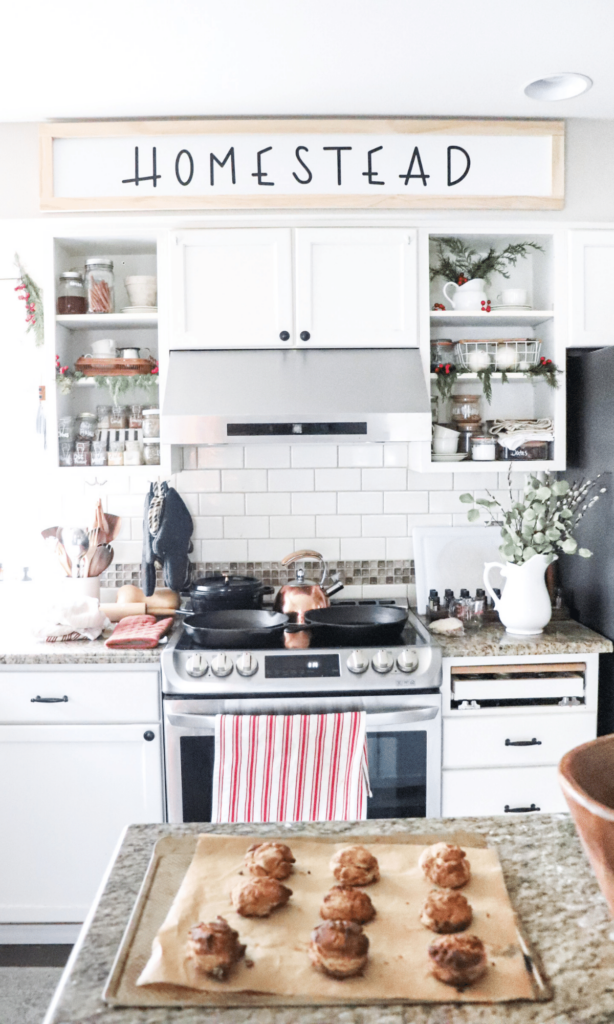 This is a shot of our kitchen with some homemade biscuits fresh out of the oven.
For more Christmas kitchen inspiration, come see the old world farmhouse Christmas kitchen tour.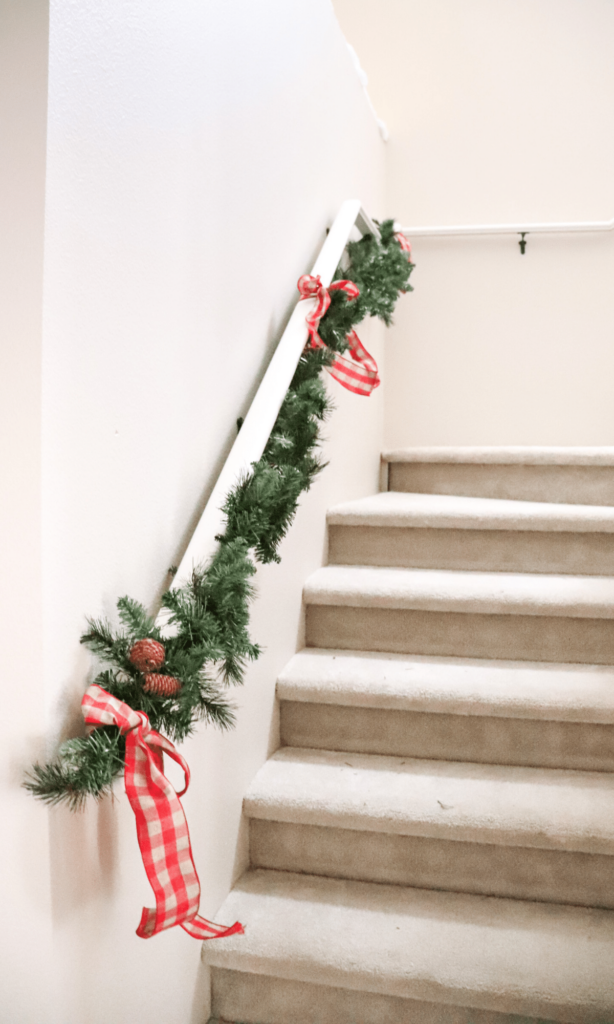 We'll head on upstairs into the bedroom now!
But first… how do you like this little Christmas village?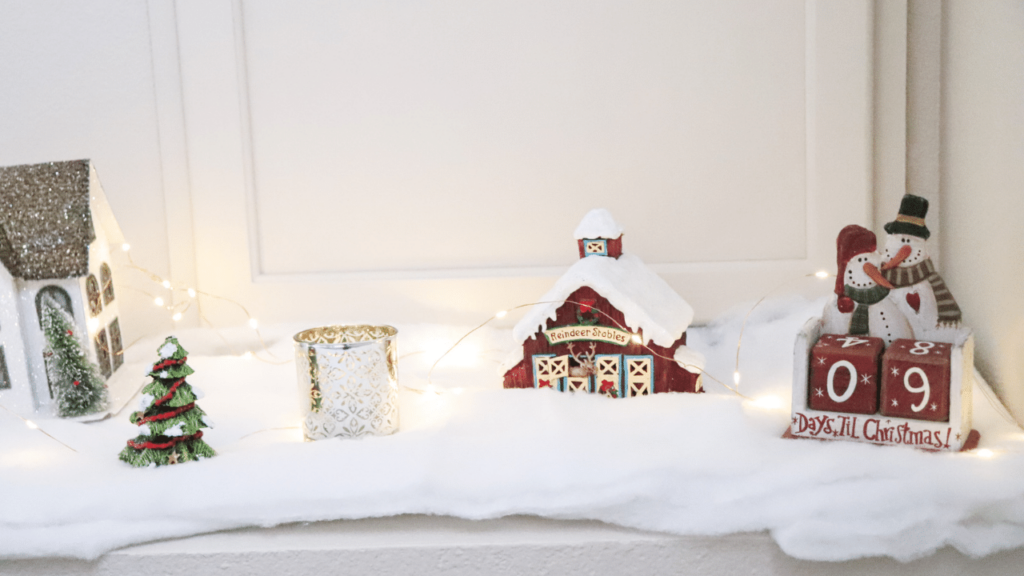 This is on a little shelf that you see as you walk up our staircase. Cute, huh?
A Christmasy Bedroom
I normally keep things really minimal in our bedroom, but I couldn't leave it out during the Christmas decorating.
And this is where I'll show you the second Christmas antique I got, which I am so excited about.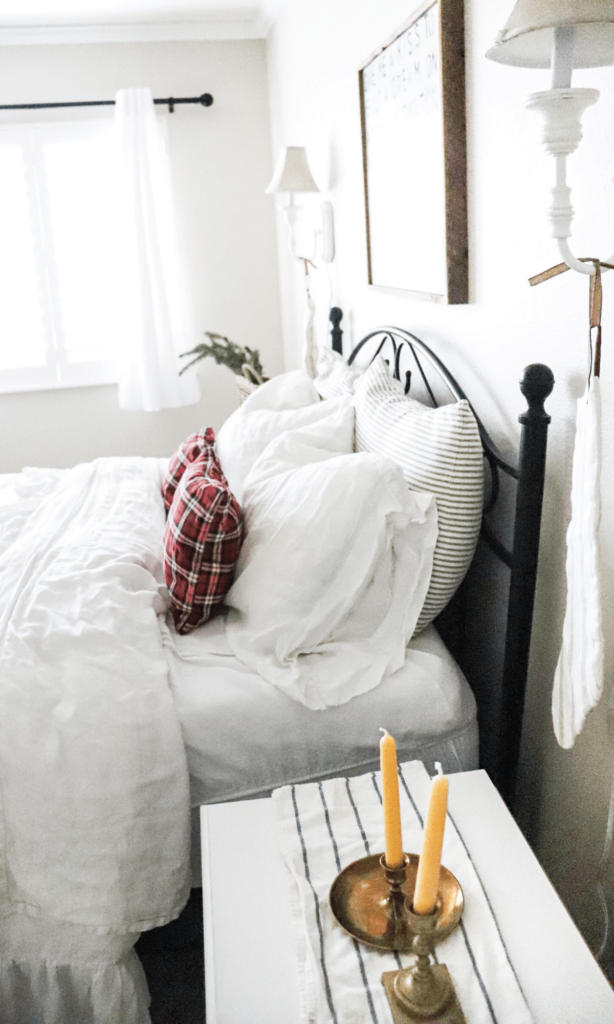 Recognize that fabric? Yep, same one as the table runner!
Of course I brought in some antique brass candle holders. Now I got these from thrifters on Instagram a while back. We've been loving these ever since!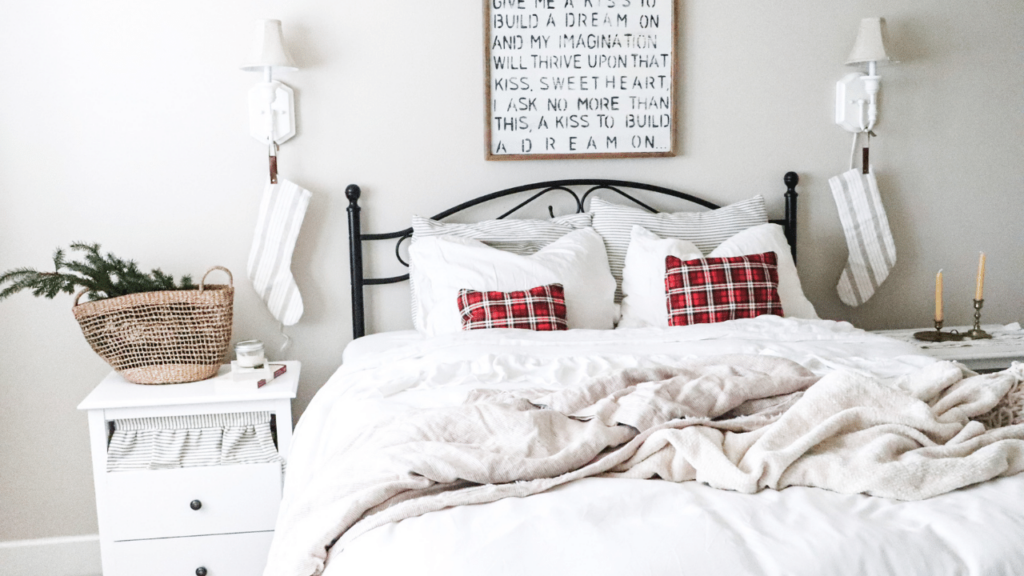 I confess I actually sewed these pillow cases a long time ago and have been snuggling with them ever since.
They were one of the first Christmas touches I added to our bedroom!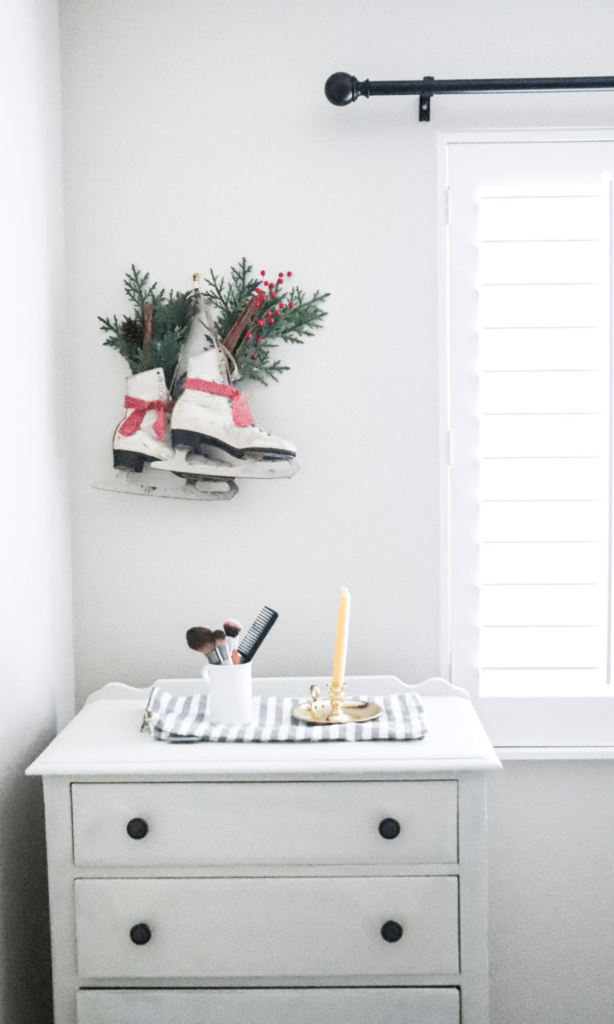 And there they are… my favorite antique skates!
Now I wasn't looking for these specifically, but I came across them at an antique store actually right here in our town and simply could not resist!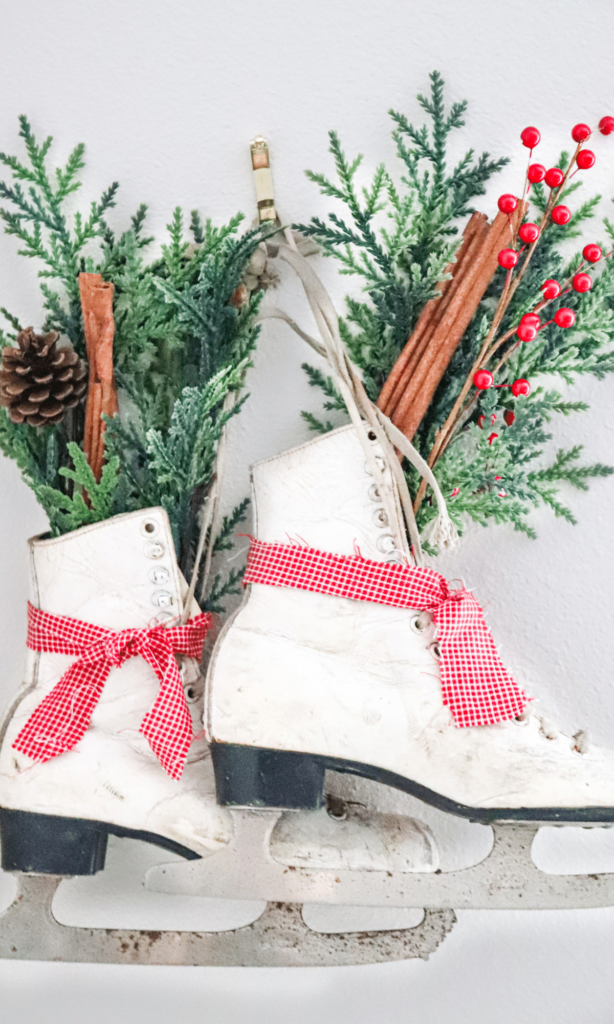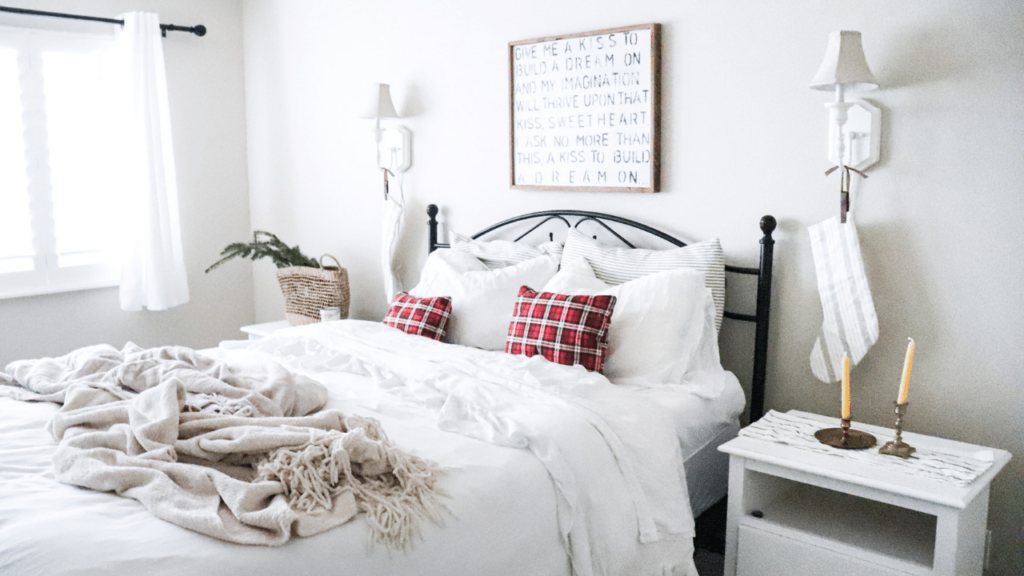 Let's go to the porch!
I have to be honest, this porch was hard for me to decorate. It has been raining almost every day for a few weeks now, and it's just not super inspiring to go outside.
I am a believer that you should always go outside for walks or runs not matter what, and we do, but it's just not the same.
With that said, I was really glad I finally did get outside and decorate the porch. There's nothing better than coming home to a charming Christmas-y porch 🙂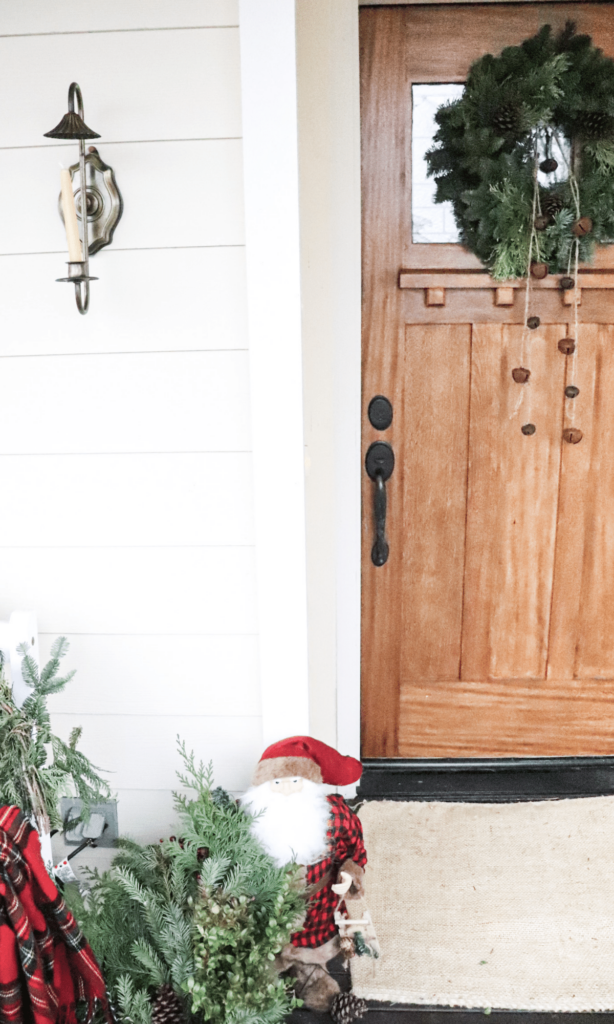 That wall mounted candle light was another thrifted find.. I got really lucky this year with my antique shopping!
I have always felt like a Santa was necessary at Christmas, I mean he's the big guy!
Usually I put him by the fireplace but this year he looked happy on the porch.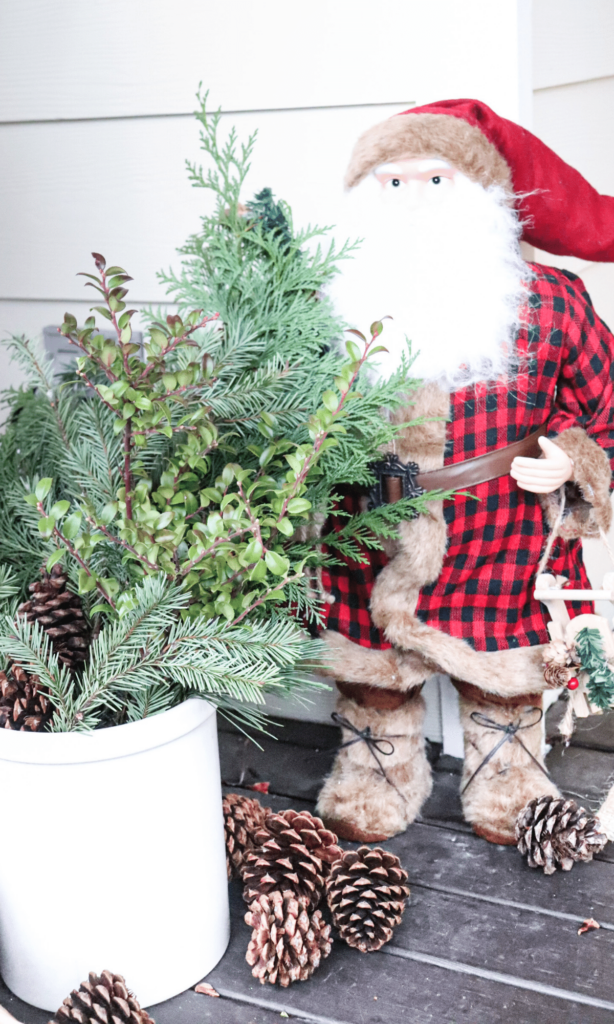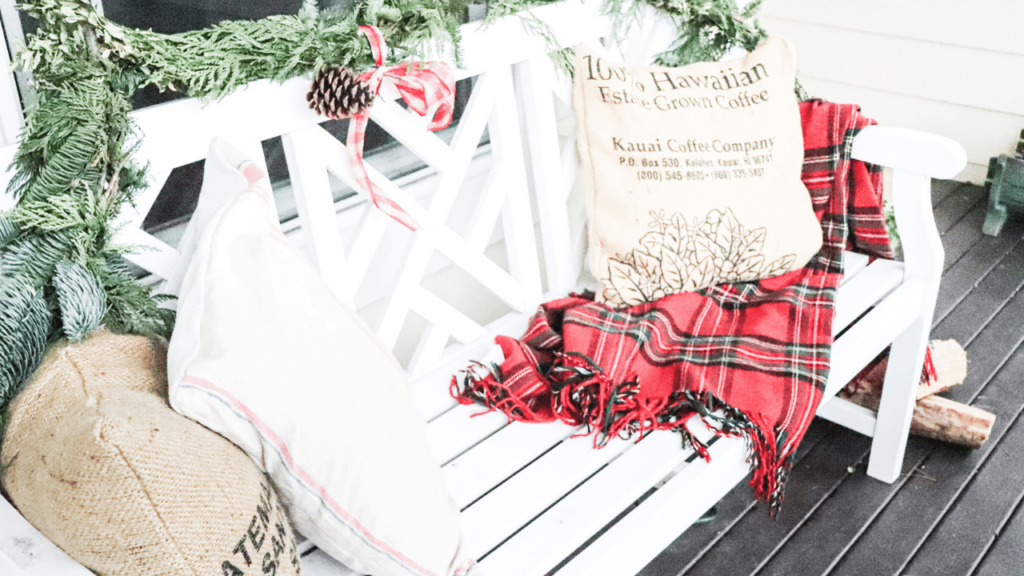 I just added a cozy red flannel blanket to warm up the area. Luckily the porch is covered so nothing gets wet in the rain.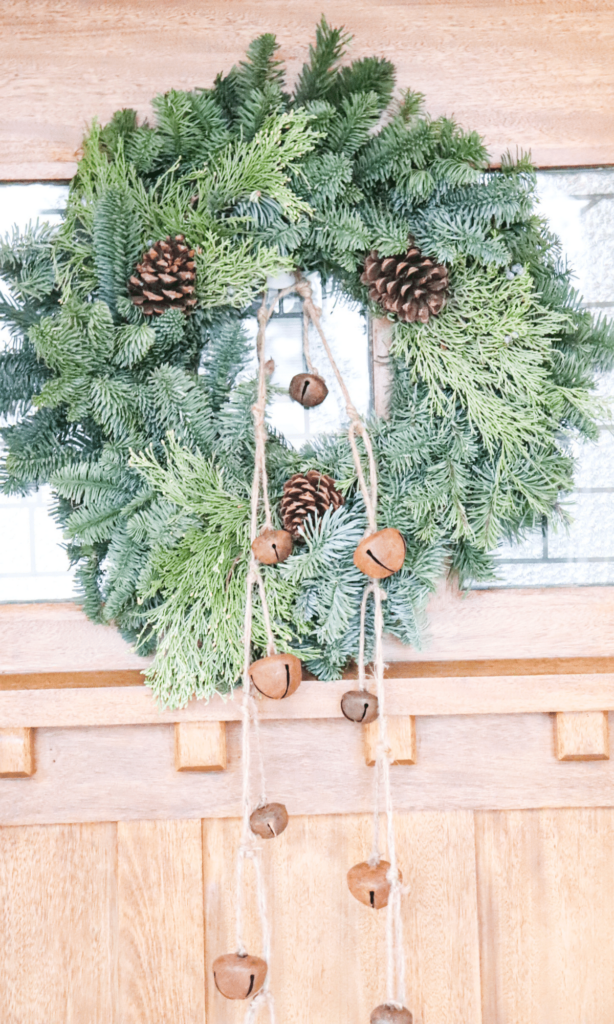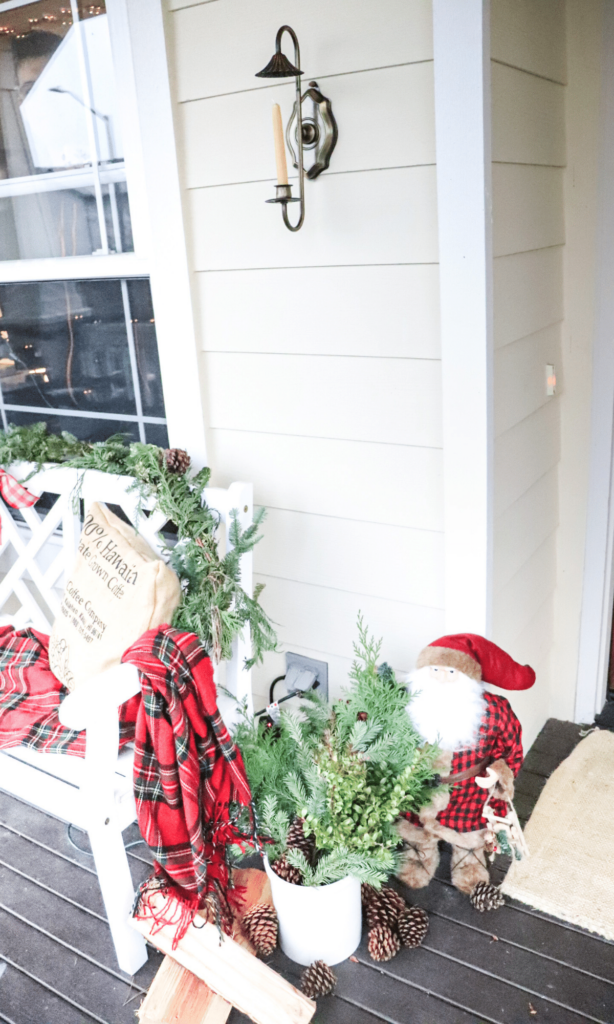 Shop this Post
Red Plaid Fabric I used for Sewing
Similar Red Plaid Blanket on the Front Porch
Wicker Basket for holding greenery
Similar antique wall candle holders
Similar vintage antique skates
Santa similar to the one on our porch
Watch: Old World Farmhouse Christmas Home Tour
Pin it for Later!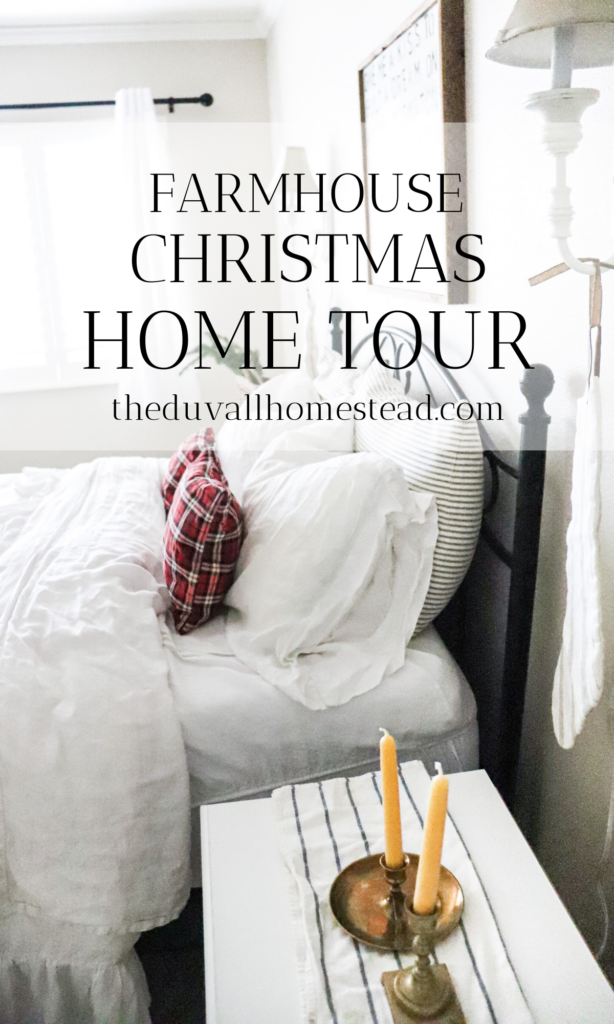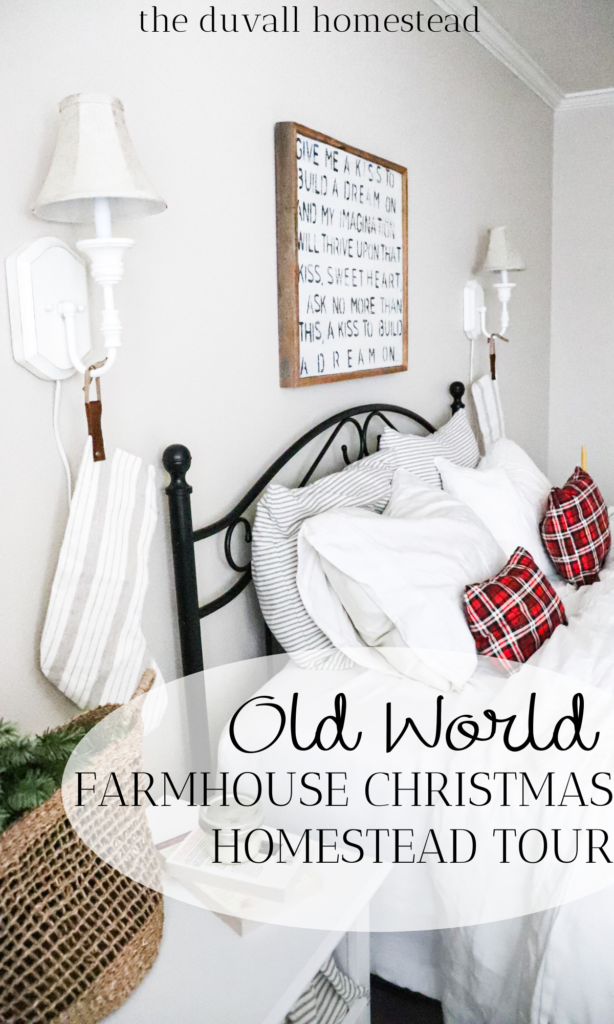 Merry Christmas from the Duvall Homestead!