Get inspired to create a rustic farmhouse Christmas dining table setting with your own two hands to enjoy all season long. If there is any time of year to go all-out on the dining table decor, Christmas is the perfect fit. Plus, learn how to sew an easy Christmas table runner.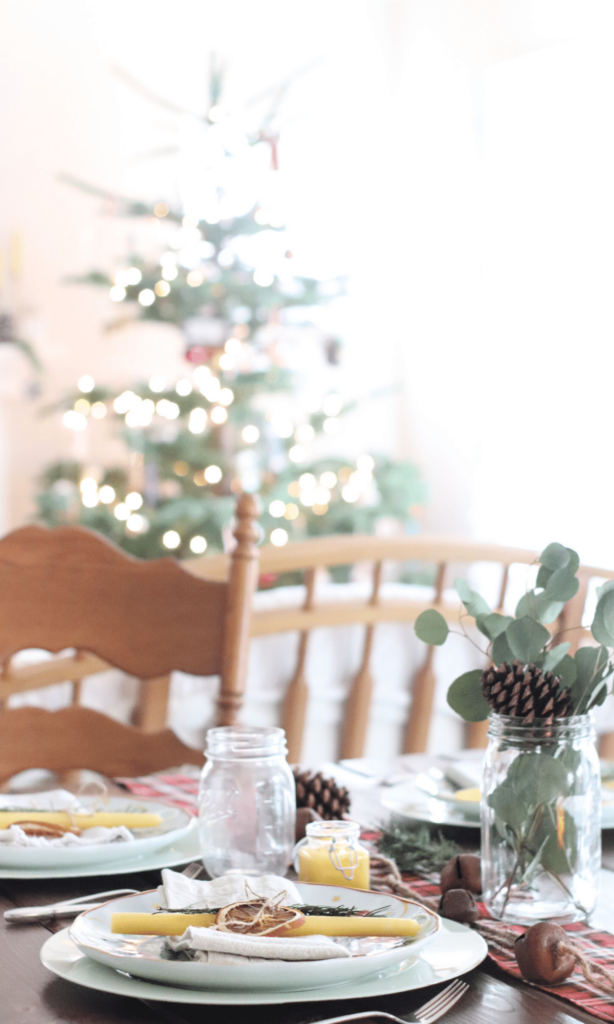 This post contains affiliate links, which means I may make a small commission off items you buy at no extra cost to you.
Save for Later!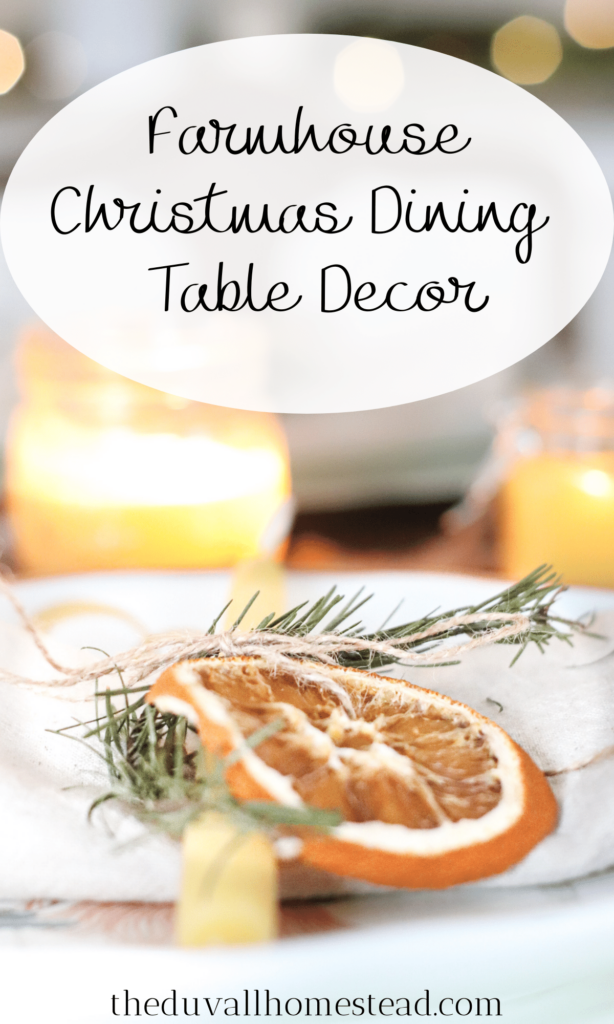 The Spirit of Christmas
Christmas is an inspiring time of year. It is my favorite time of year, but a close tie with fall in general. But what I love about fall is that it really goes from September – November. Christmas on the other hand, goes from the tail end of November through December. It's way too fast in my opinion.
On a personal level, we have the decorations to set up, the tree, and then Christmas shopping, and then cookies and cookies and more cookies. So much to do and so little time. I just wish we had the whole month of December off from work, because I would be just as busy celebrating the birth of baby Jesus all month long if that was the case.
Christmas is a time of family, a time of quietness, a time of peace and a time of celebration of the birth of Jesus. Really all year long is a celebration, because without him we wouldn't be here today. But there is nothing like reading the Christmas story every year, with the Angels, the Wise Men, and "no room at the inn".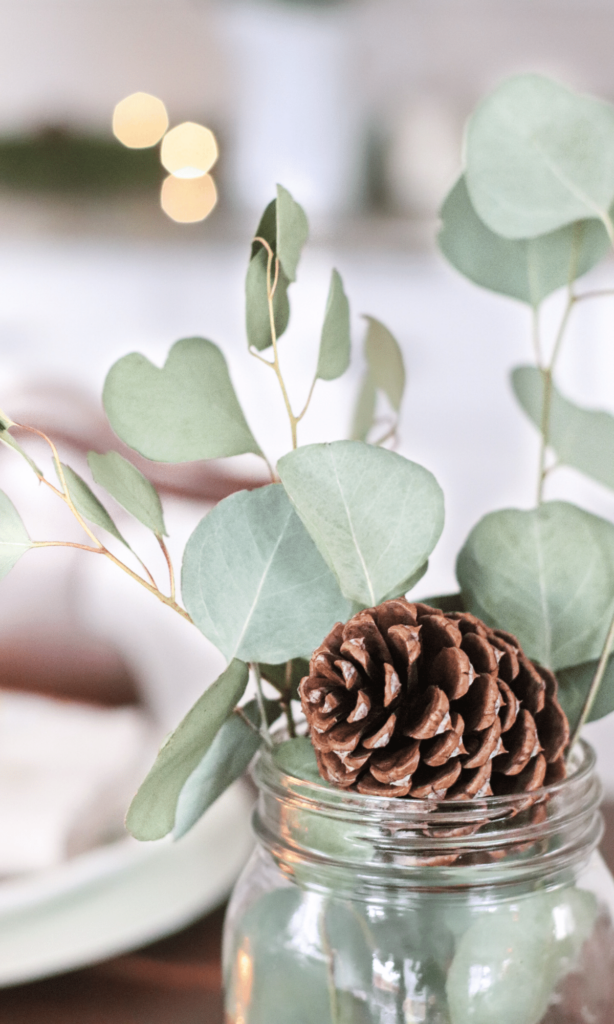 I carry the spirit of Christmas with me long after the holiday, well into January and February. And then I recall it even during the summertime. As one of my favorite movies The Polar Express says, "seeing isn't always believing". You too can carry the magic, spirit, and beauty of Christmas with you all year long if you just remember the month of December.
The Quick Journey
I am doing this tablescape blog post in collaboration with Liz from the Quick Journey. If you haven't checked her out yet, go take a look. You will love her simple and beautiful style, and she is writing about her Christmas tablescape on her blog here. So make sure to go check that out after you're doing reading this!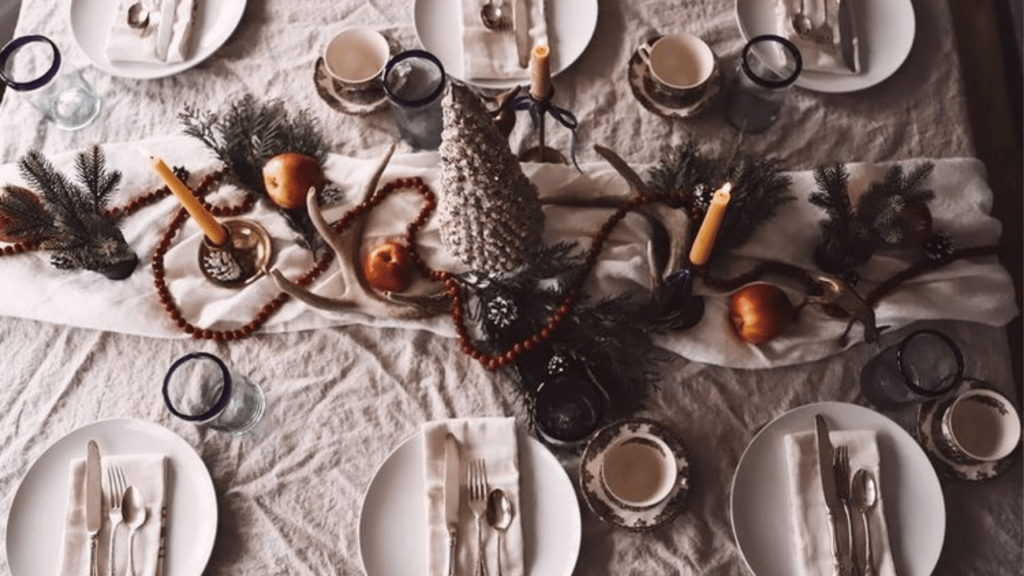 Preparing the Christmas Dining Table
The Christmas table is a big deal.
As you probably already realize if you read my blog, eating food around the table is a big deal to me. And don't get me wrong, you don't need a single decoration on your table in order to have a great meal. The food and the people are all that matter.
But if there's any time to dress the table to the hilt, it's Christmas.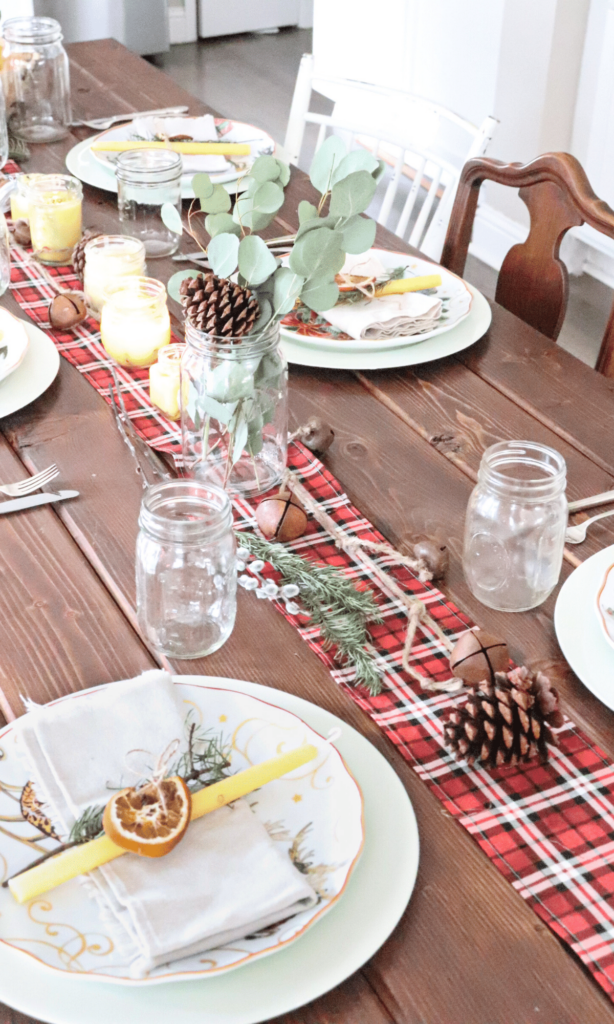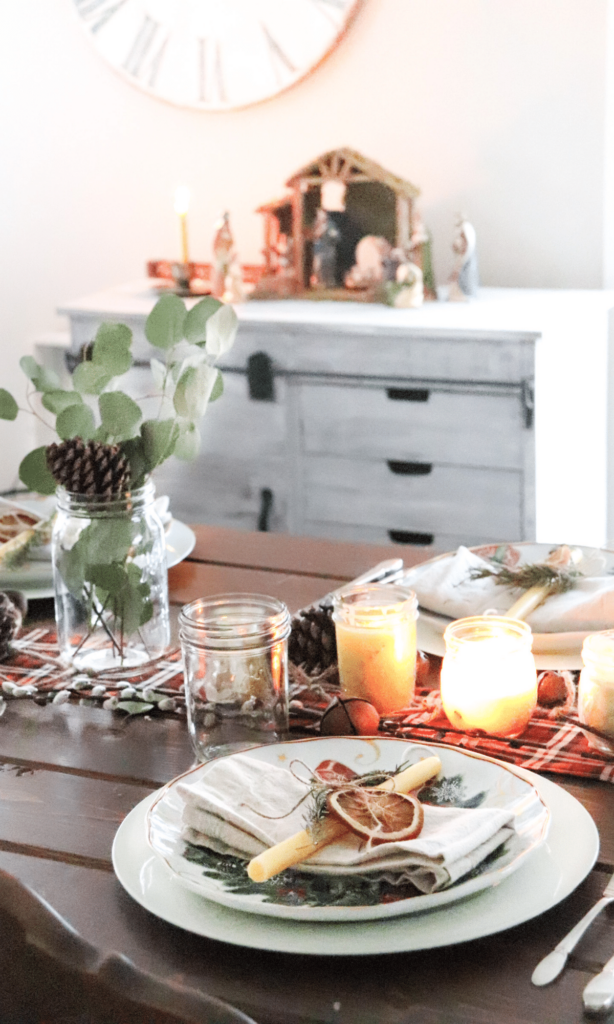 We have so much to celerbate – baby Jesus, each other, blessings of food, and a whole rotation around the sun. I mean, it's arguably one of the biggest parties of the year.
So today I want to share with you how we decorated our farmhouse kitchen dining table in preparation for one of the biggest and most blessed meals of the year.
How to Create Christmas Farmhouse Dining Table Decor
First, go outside and grab something fresh like pine branches. Or if you're feeling fancy, go to the store and buy eucalyptus branches. They are so beautiful at Christmas time.
Next get something woodsy, like branches, twigs, or pinecones. This gives you that rustic and natural feel on the table.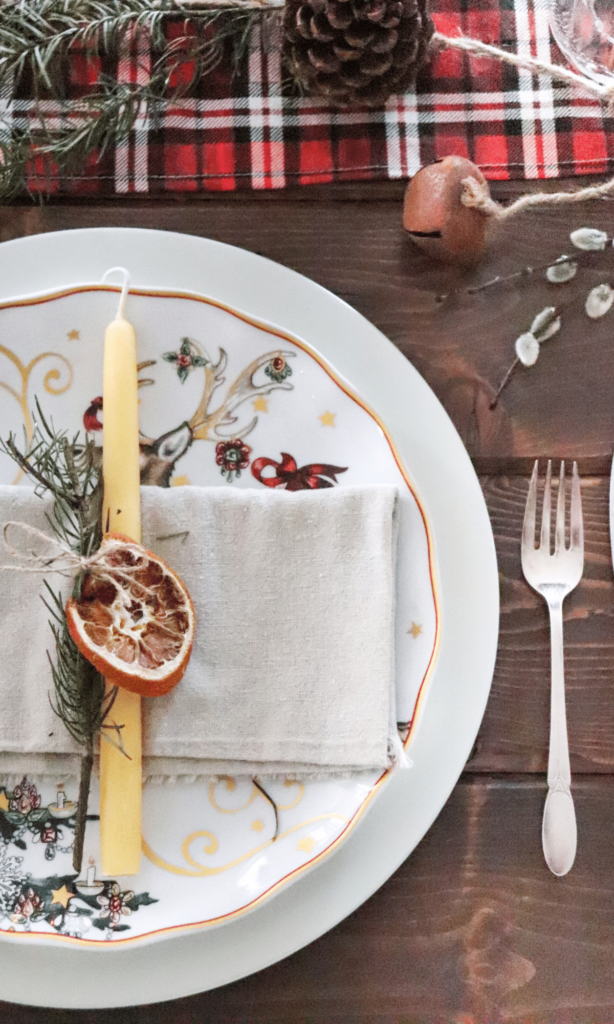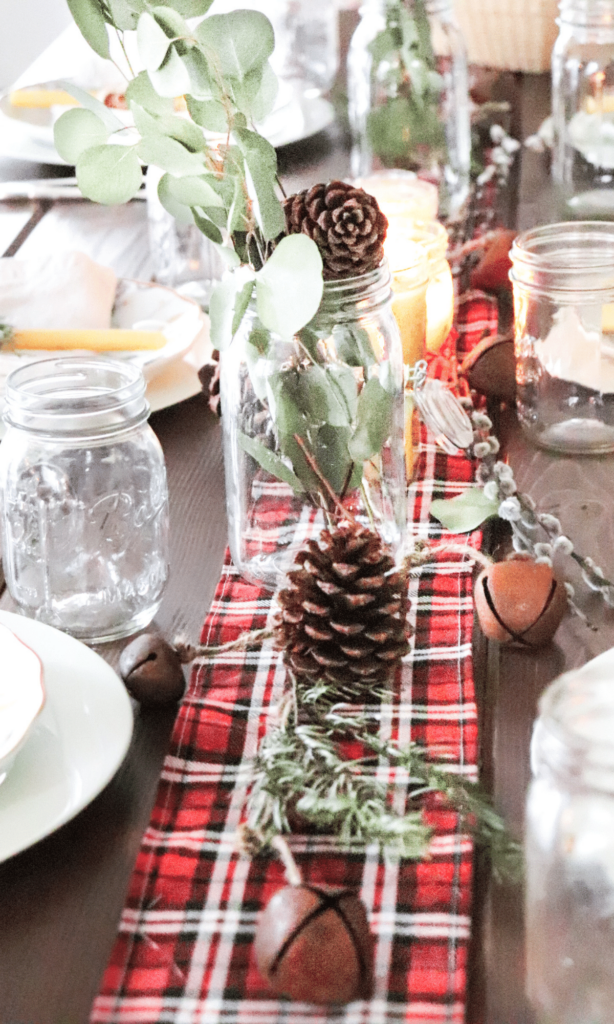 Then think about bringing in some Christmas red. No other time of year does red look so beautiful, at least in my opinion 🙂 I made a homemade table runner with leftover red fabric, which was actually my husband's idea. I love him 🙂
PS – he's the one that built this farmhouse dining table.
Get creative and make something handmade. Maybe some napkins or perhaps use a glue gun to make a wreath centerpiece. I made some homemade candles in mason jars and spice jars.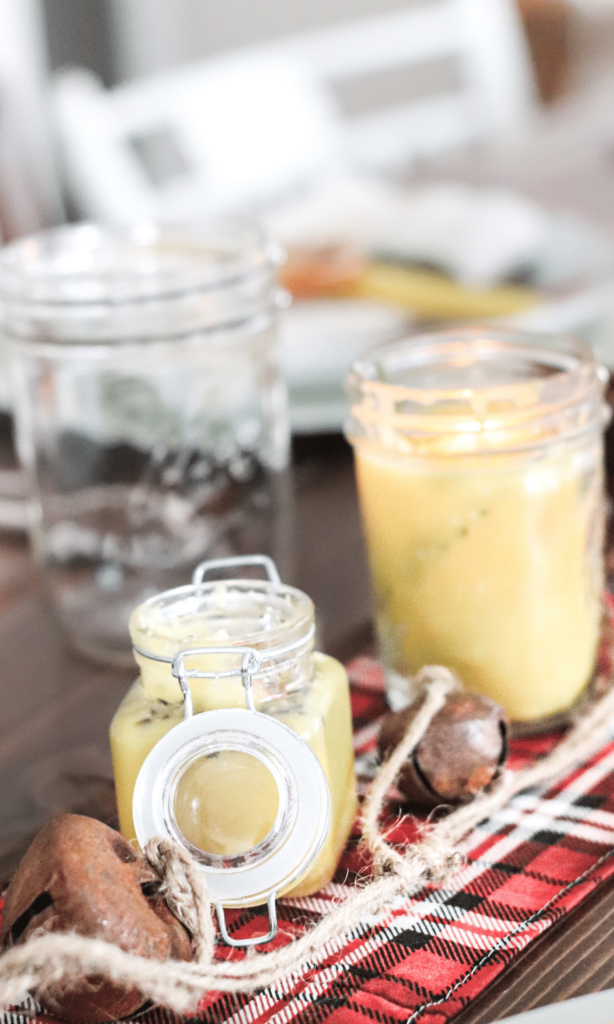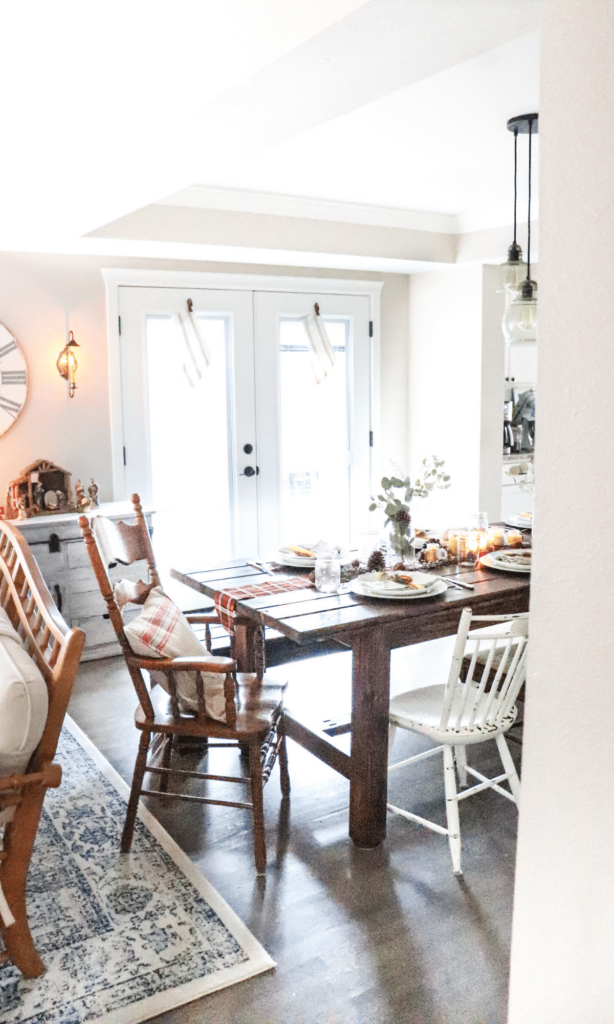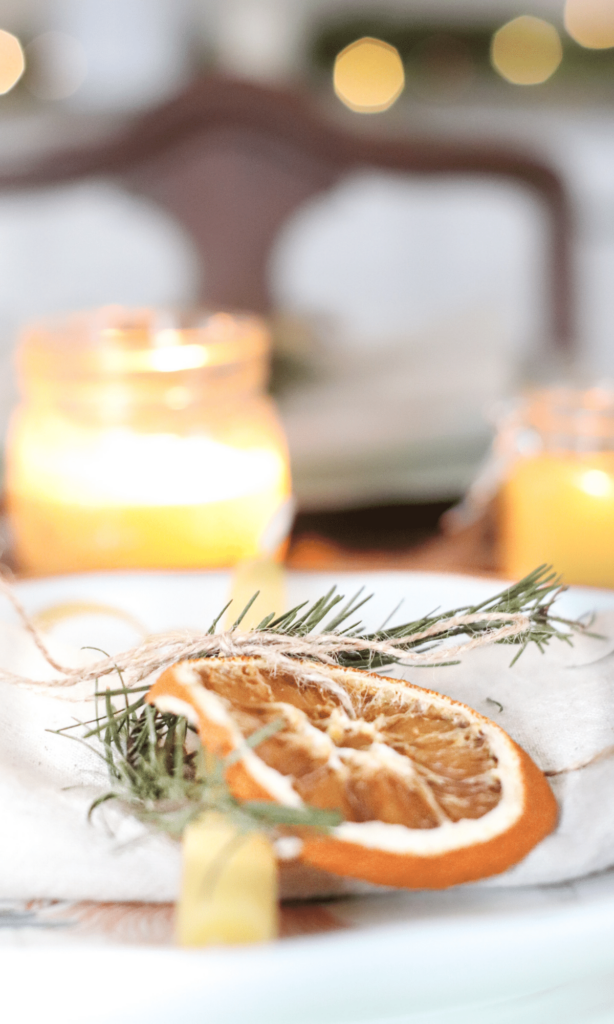 You can learn how to dry oranges and make your own pine garland here.
Lastly add a surprise on the plates for our guests by bundling together a few small items. A beeswax candle, a dried orange, and a pine branch go perfectly together wrapped in a bow with twine. This gives your guests a sweet surprise when they sit down for Christmas dinner.
HOW TO SEW A TABLE RUNNER
Measure the length of your table and add 2 inches to each side. Our table is about 95 inches, so I cut my red fabric to 99 inches. The extra inch on each side is so the runner hangs off the end of the table just slightly.
Decide the thickness of your table runner and add 1 inch to each side. Mine was about 8 inches thick, so I cut the fabric 10 inches wide.
Fold the long edge of the runner over once about a quarter inch wide, and then fold again for a total of a 1/2″ to 1″ hem. Use a hot iron to iron the edge flat before you start sewing the hem. Use pins to secure the hem if needed.
Sew the hem down the long edge and backward and forward stitch at both ends. Repeat the process on the other long edge.
Do the same thing on the short edge, folding it over two times to create a hem. Sew the short edge and backward and forward stitch at the ends.
Cut the extra threads off your runner, lay it on the table, and enjoy all season long.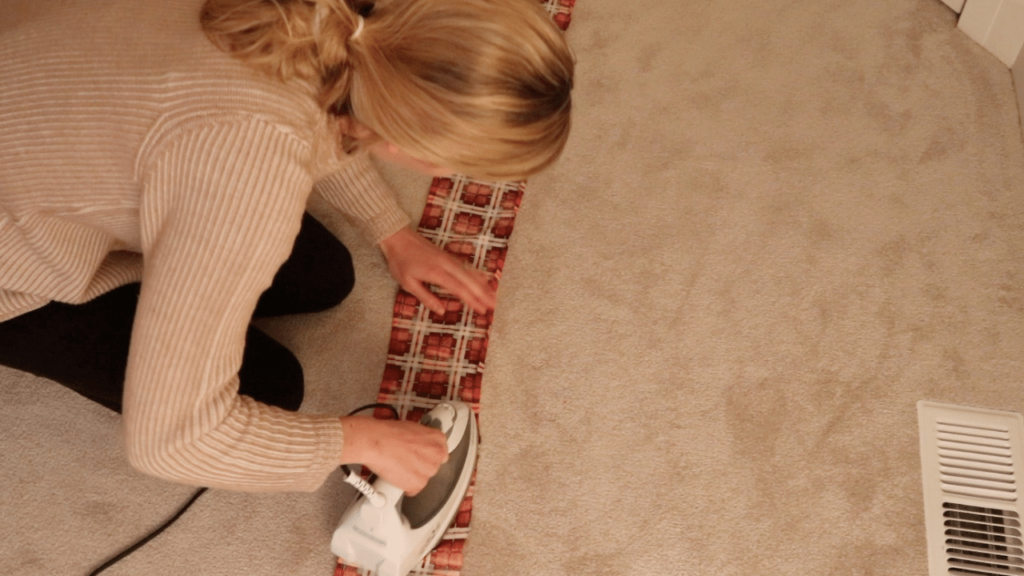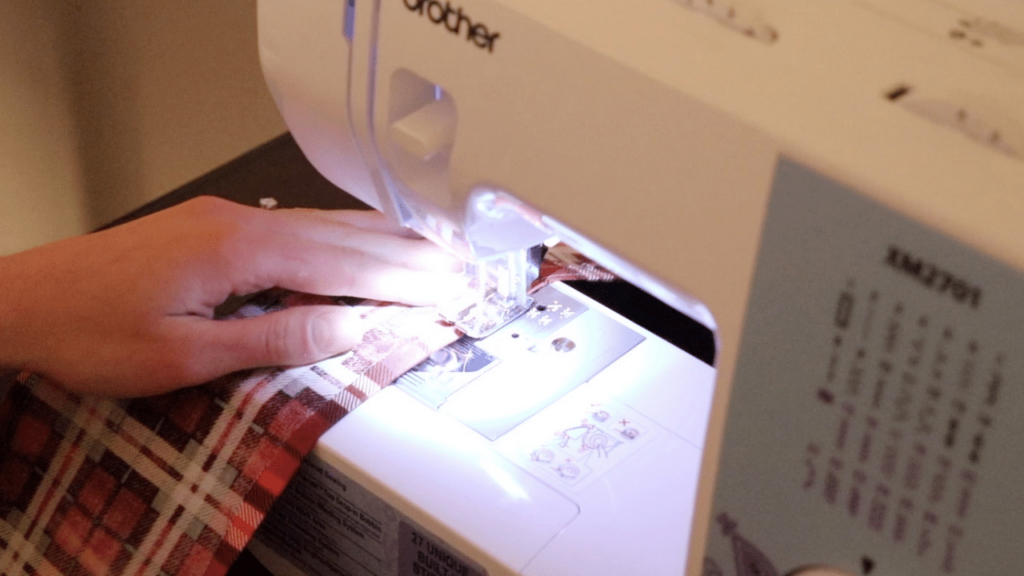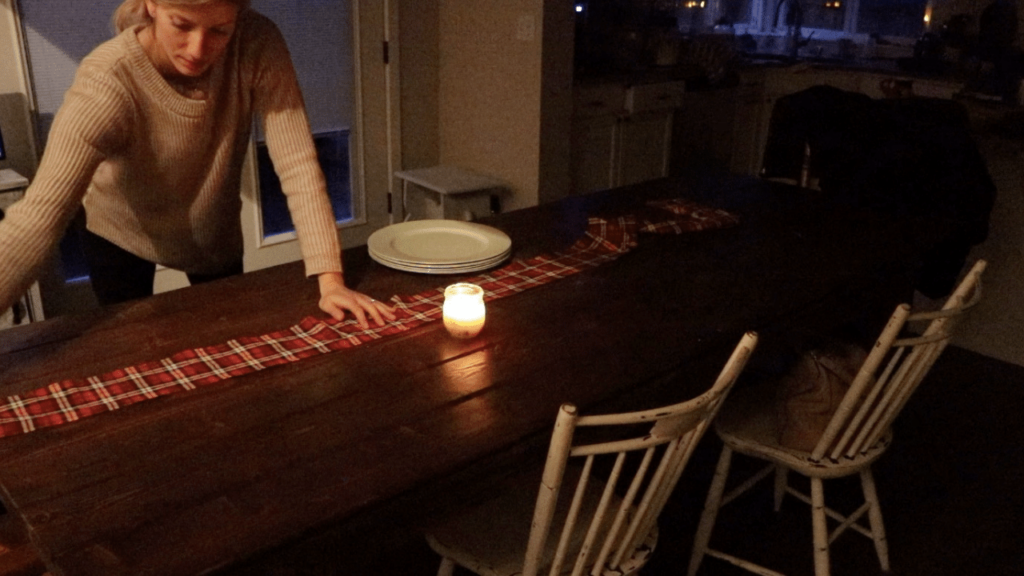 Setting the Christmas Table for Guests
I talk in a recent YouTube video about how when I was a kid my mom always talked to me about how to be a good "host". That means creating a welcoming home and giving your guests a little something special when they walk in. Especially at Christmas time, when magic is so clearly in the air 😉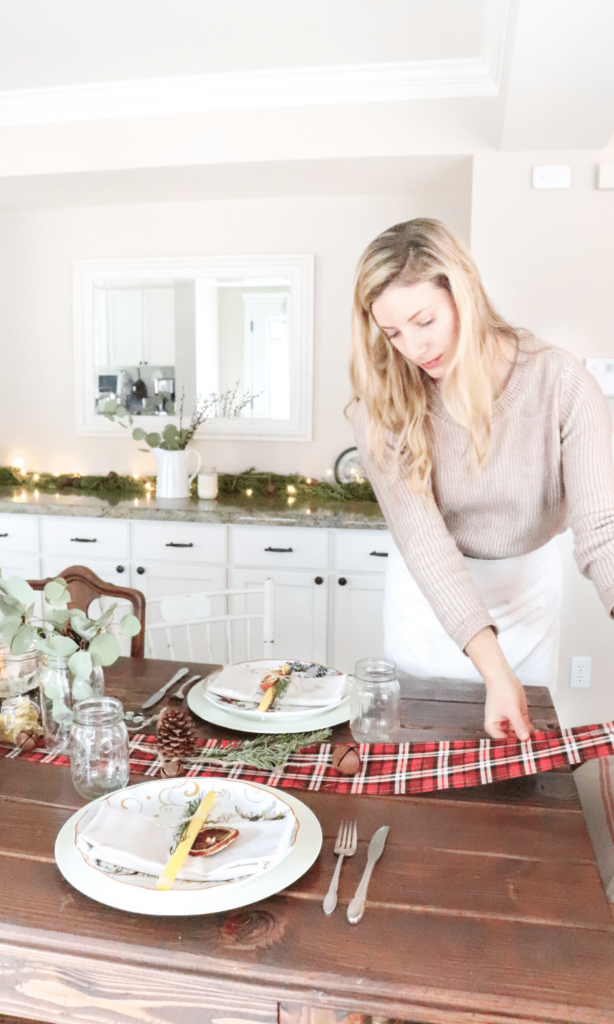 For our tablescape, I did a beeswax candle, a homemade dried orange, and a pine branch for my little surprise at the dinner table. Now of course this is just for fun and you don't need to spend a lot of money to make this special.
It's kind of like when you go to a wedding and you find your seat and you have a name tag just sitting there on your plate. You're like wow, this is my seat, and that's my name tag!
These plates are from Williams Sonoma and were a really special purchase last year. If you can't tell by now, we go all out for Christmas eve and Christmas day dinner, so this is the only time I use these plates. I love the old world illustrations on them, and they are all different pictures. They're so beautiful and perfect for Christmas.
I actually found them online still available, here's a link.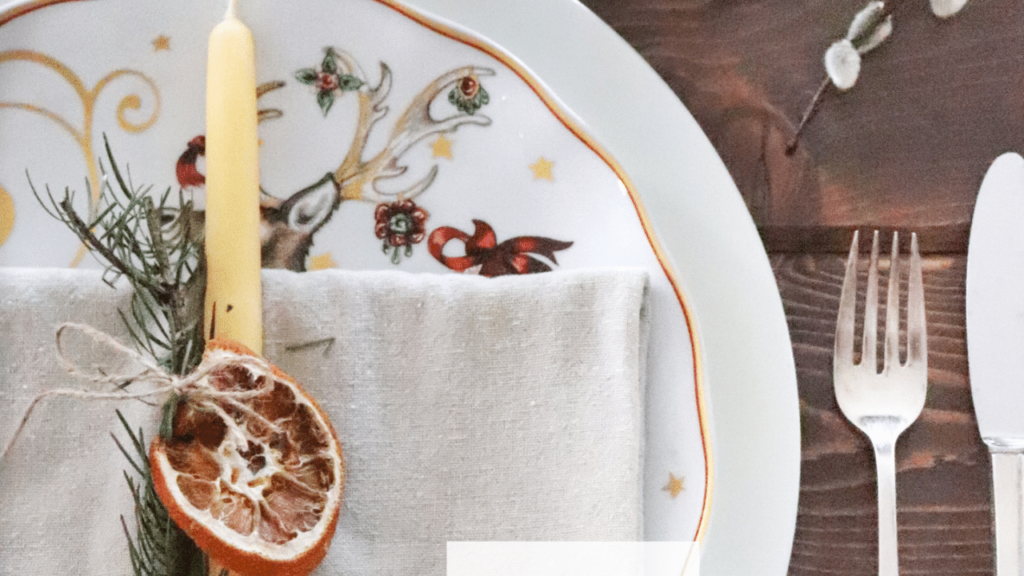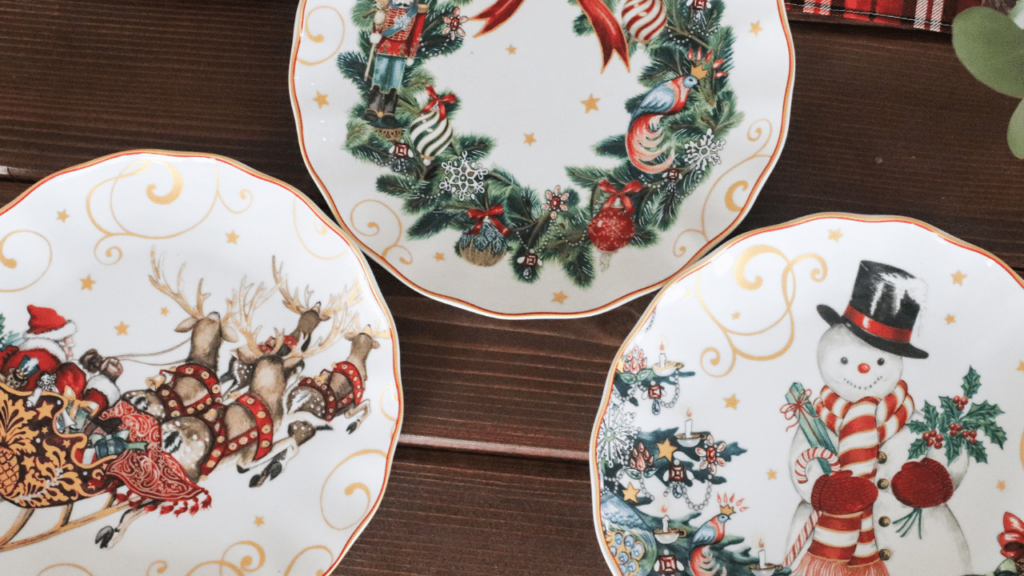 Shop this Post – Christmas Dining Table
Mason jars used for candle holders
Spice jars used for candle holders
Beeswax for making your own candles
Red and White Plaid Christmas Fabric
Twas the Night Christmas Dinner Plates
String of bells or bell garland
Don't forget to check out Liz from the Quick Journey over at her blog. She has a beautiful style, and I am always so relaxed watching her videos on YouTube! Here's a sneak peak from her table setting this year: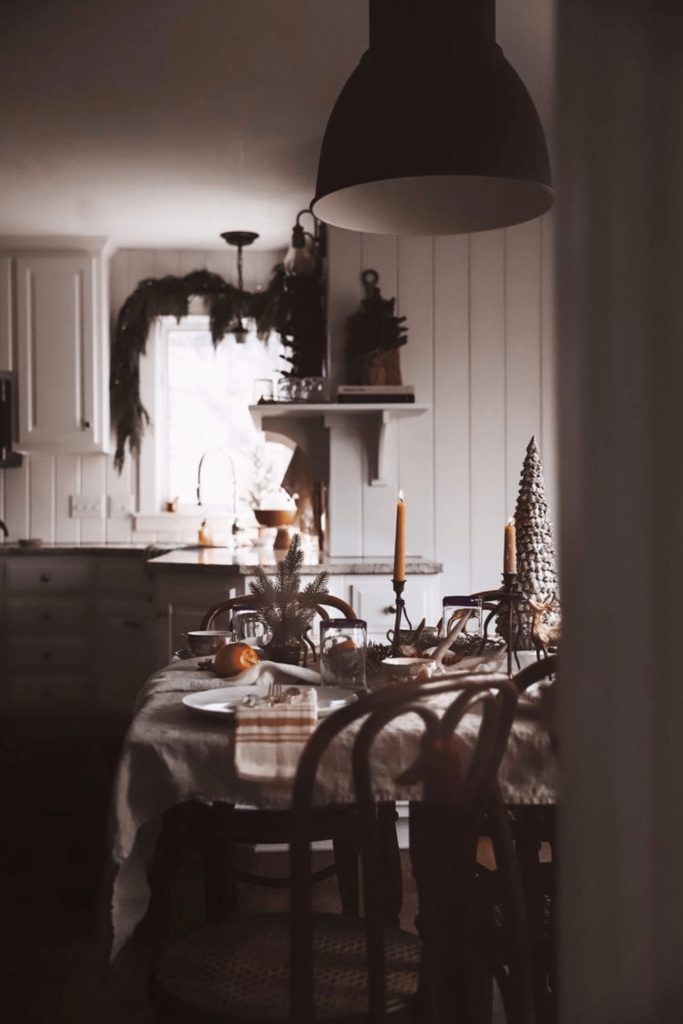 More from the Homestead at Christmas time..
Homemade Gingerbread Hot Cocoa using Essential Oils
And Old World Farmhouse Christmas Kitchen
ADD IT TO YOUR PINTEREST BOARD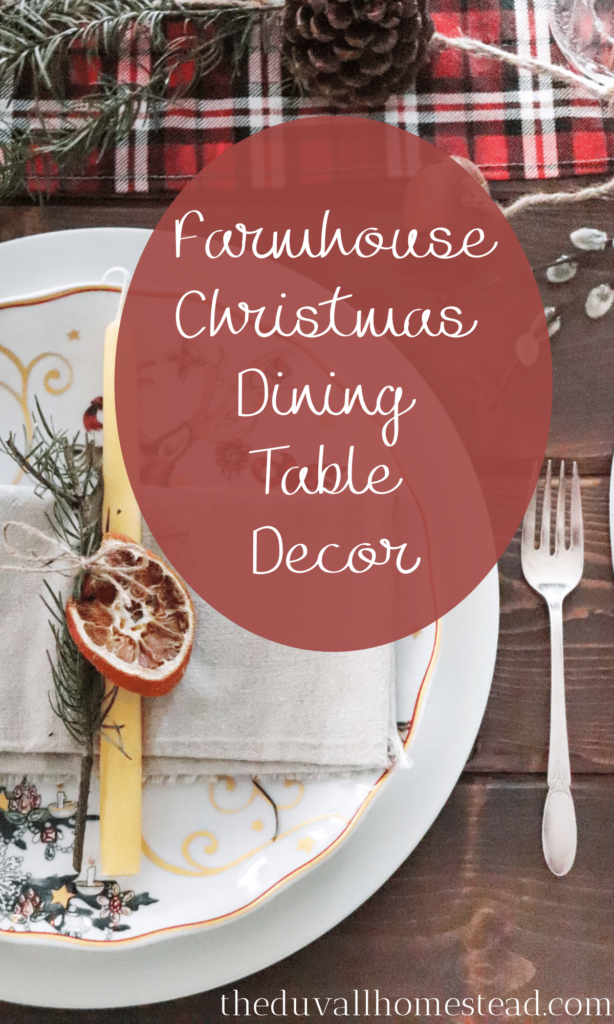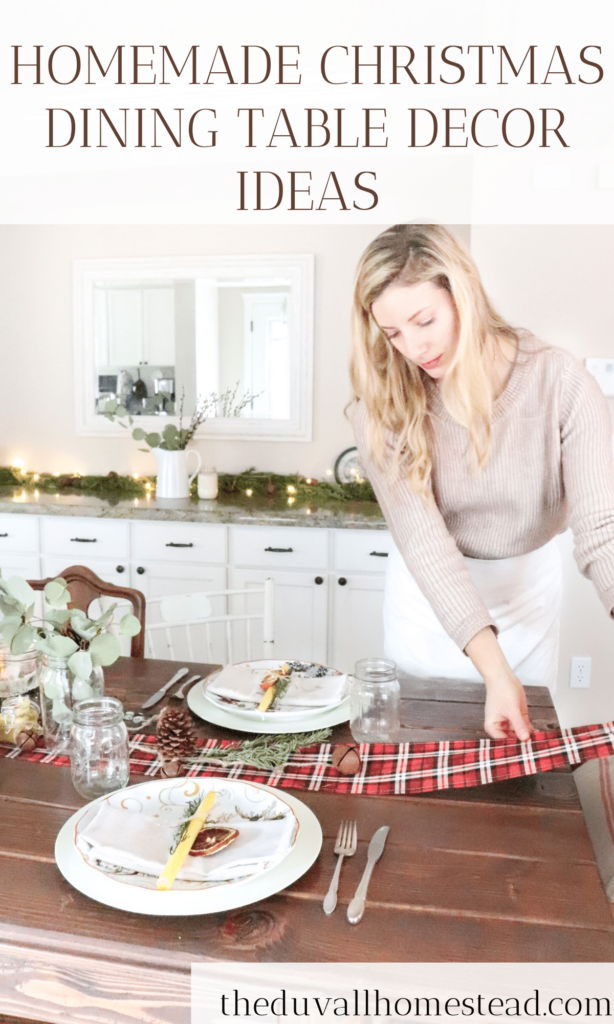 Thank you so much for stopping by the Duvall Homestead!