Cozy up & relax, grab a mug of something warm, and enjoy this vintage inspired Christmas home tour.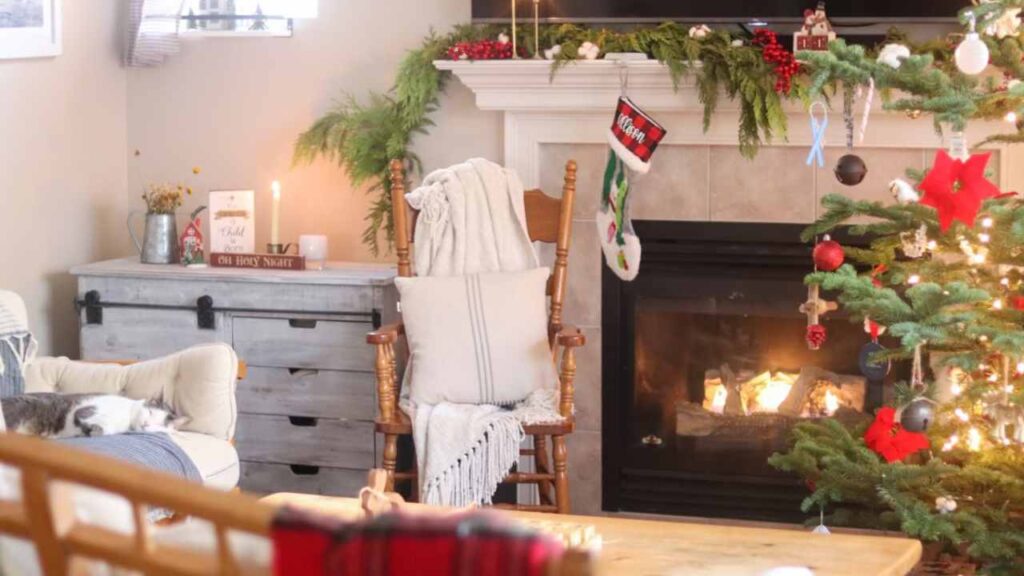 Cozy up & relax, grab a mug of something warm, and enjoy this vintage inspired Christmas home tour.
It's beginning to feel festive at our farmhouse. Christmas has a whole new meaning for me this year, seeing the joy our daughter has experiencing everything for the first time. It has definitely reminded me of what the Christmas spirit really means, and to slow down and enjoy the season. Today I am sharing with you a Christmas home tour of our cozy, country farmhouse.
PIN IT FOR LATER!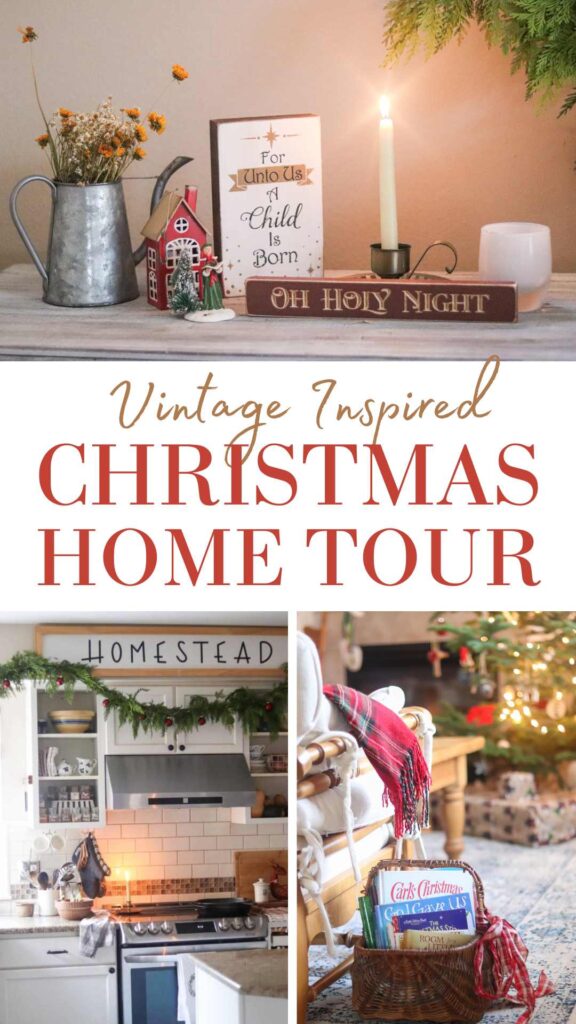 Christmas at our Homestead
December brings shorter, colder days. But with that comes a lot of warmth inside the home.
It's a time for cozy soups, rich roasts, and sweet desserts.
We've even had some snow, which came early this year! I love when we get snow here. It's so magical, especially this year now that we have a 17 month old. I swear, we were outside sledding every single day (sometimes multiple times per day) when we had snow. Check out the winter homesteading VLOG here 🙂
Seeing Christmas time through our daughter's eyes means it's Christmas every day. She loves the lights, the music, and all the new stuff inside the house 🙂 We dance in the kitchen morning, afternoon, and night. We walk through our neighborhood and point out Santa, snowmen, penguins, and boy does she love the life-size manger scene down the street.
Before her, I would get really excited about Christmas just 1 or 2 weeks before hand. But now that it's early December, it feels like Christmas is every day. It's going to be a magical (and busy!) month 🙂
Tips for Adding Vintage Touches to Any Room
In olden days, materials were more natural and handmade. So if you're going for a vintage vibe, be sure to use lots of wood, glass, brass, copper, or even natural greenery or flowers from outside.
Stock up on candles and candlesticks. I have seen an abundance of vintage candle holders from thrift stores recently and you'll see plenty in this home tour. Use a beeswax candle to fill it and, if that's all you did this Christmas, that would be enough to give your home a cozy, vintage feeling.
Fill your home with "action" items. These are things that you can use, read, cook with, play with, cuddle with… you get the idea. For example, try decorating with books, food (oranges make great Christmas decor), popcorn garland, vintage pots, dishes, or glasses, linens, etc.
Shop vintage online! I don't know about your area, but our antique stores are hit and miss here. Meaning, sometimes I score but other times I find satisfactory items at twice or 3x the price.
So, I've started shopping vintage online. Of course you do have to pay shipping but even then, I'm finding some good deals. Two of my favorites are Shop Fleurish Vintage and Vintage Keepers. Because I tend to only shop once per season, I'll get all of my decor from one of those two spots. This Christmas, I chose Vintage Keepers, so you'll see those finds throughout this home tour!
Christmas Living Room
The living room is draped with blue, red, and white throw blankets. These keep our sitting guests cozy, and this is where John and I have dinner every night.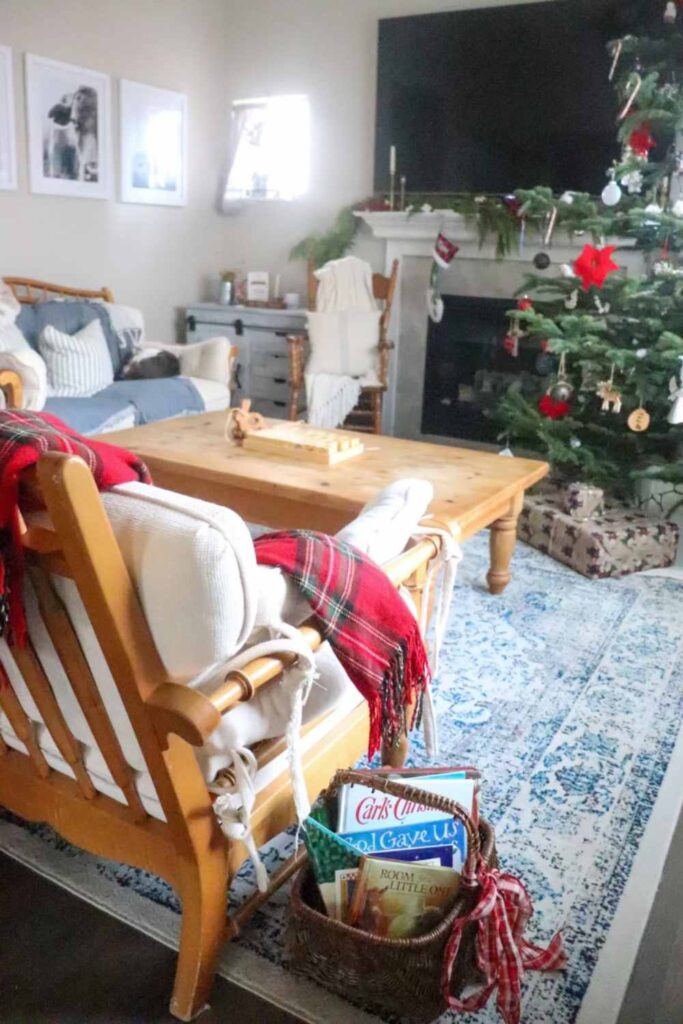 This rug is technically not vintage, although its seen so much wear that it's starting to look like it! (just kidding). It was one of the first things we bought when we bought this house and it's really held up well.
The coffee table is from the 70s or 80s, not totally sure. It was my parents and they handed it down.
On the Christmas tree I decorated with some faux red poinsettias, giving it a beautiful and rustic pop of color. I love the traditional red at Christmas time.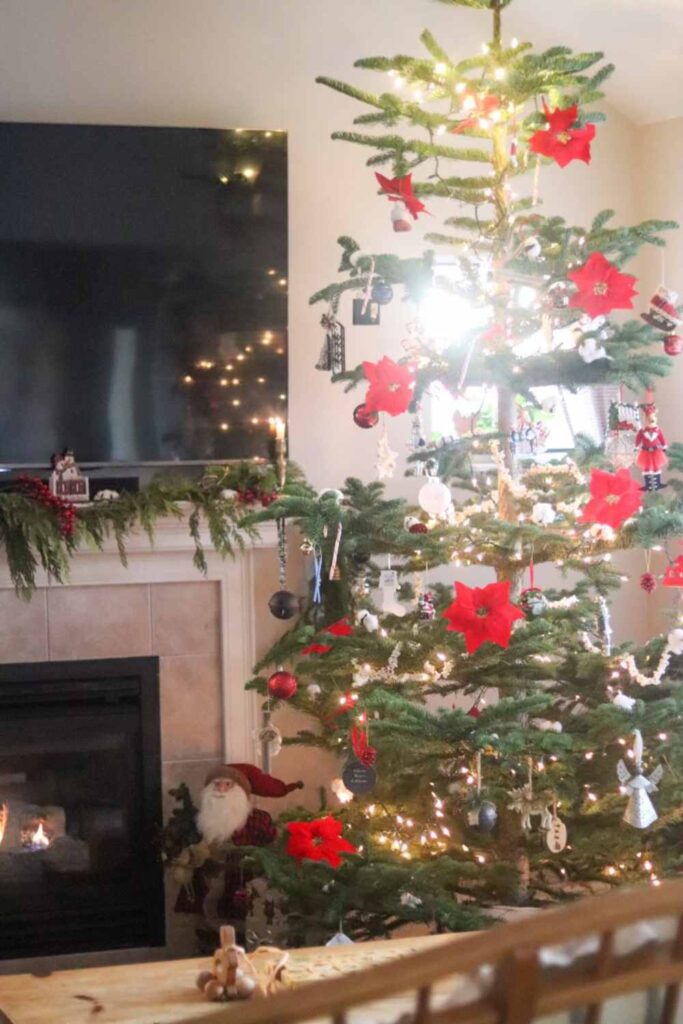 The Santa is actually from Michaels, but I feel like he has a vintage vibe, so I keep him year after year 😉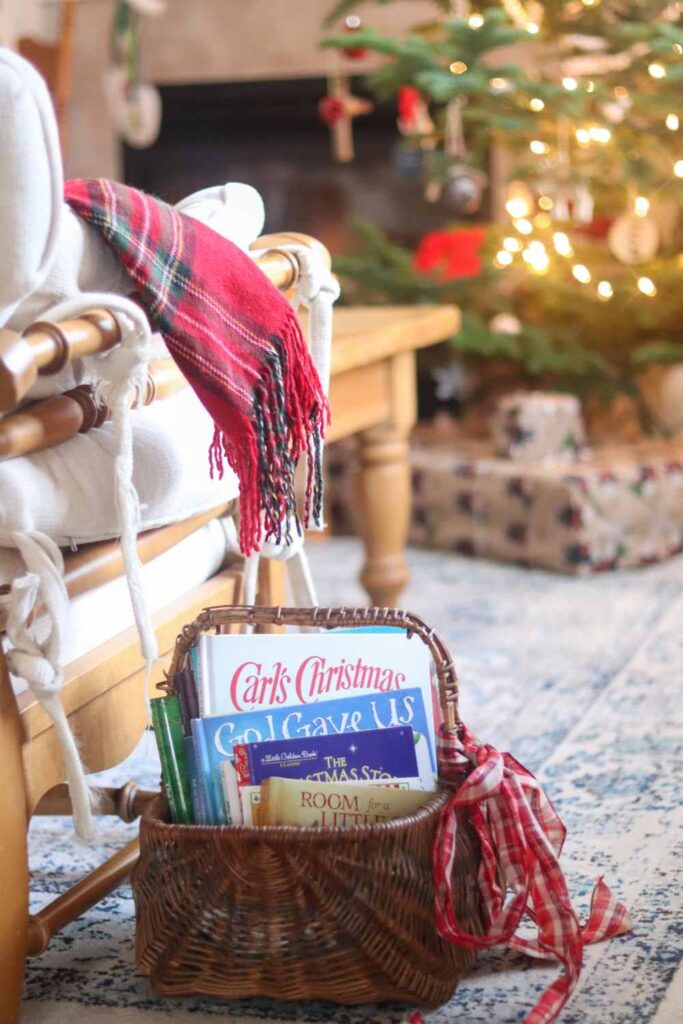 The one thing I get asked the most about is our couches. I wish I had source for them! But again, they're from the 70s/80s, and they were my parents. Don't you love hand me downs? 🙂
Dark red is a classic vintage Christmas color. Next to the couch sits a thrifted basket with some kids Christmas books, topped with a thrifted red ribbon.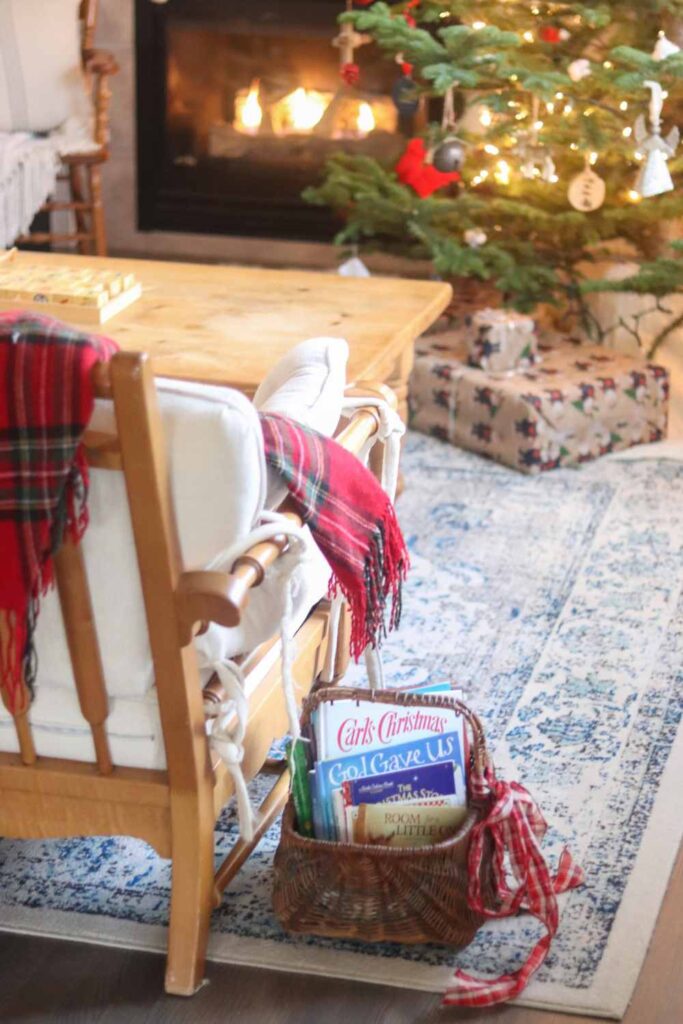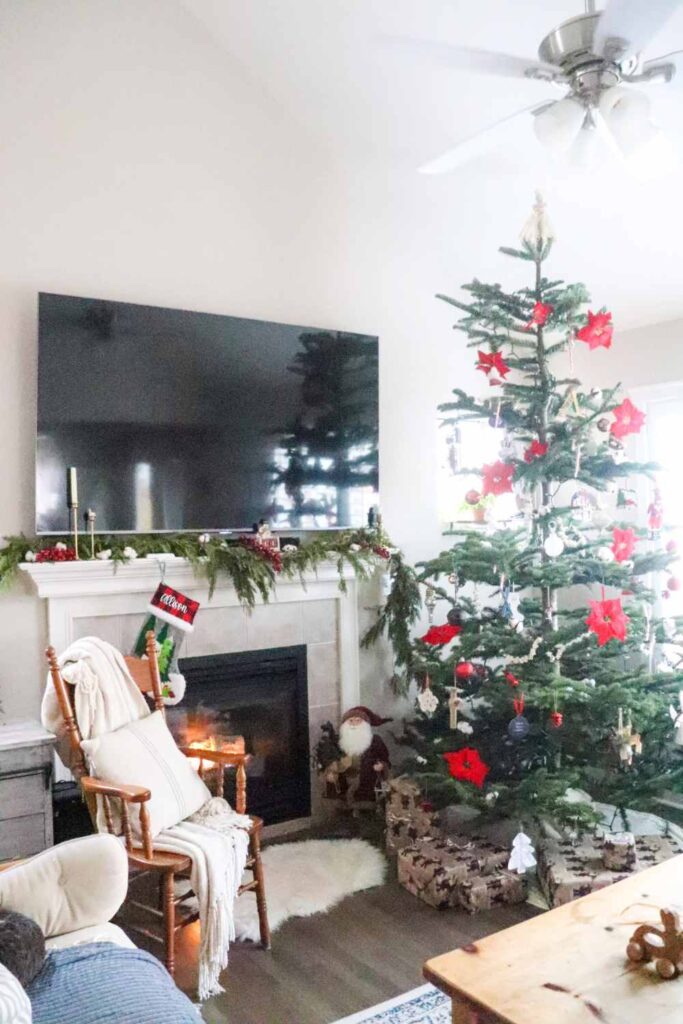 The wood chair was a vintage marketplace find. I think I only paid a few dollars for it. A blanket and pillow against a wooden chair might be one of my favorite scenes in our house!
The mantle is dressed with real garland and sprinkled with vintage brass candlesticks. I always pick up some fresh garland from a local tree farm or our hardware store. The smell of fresh pine always brings warmth to my heart.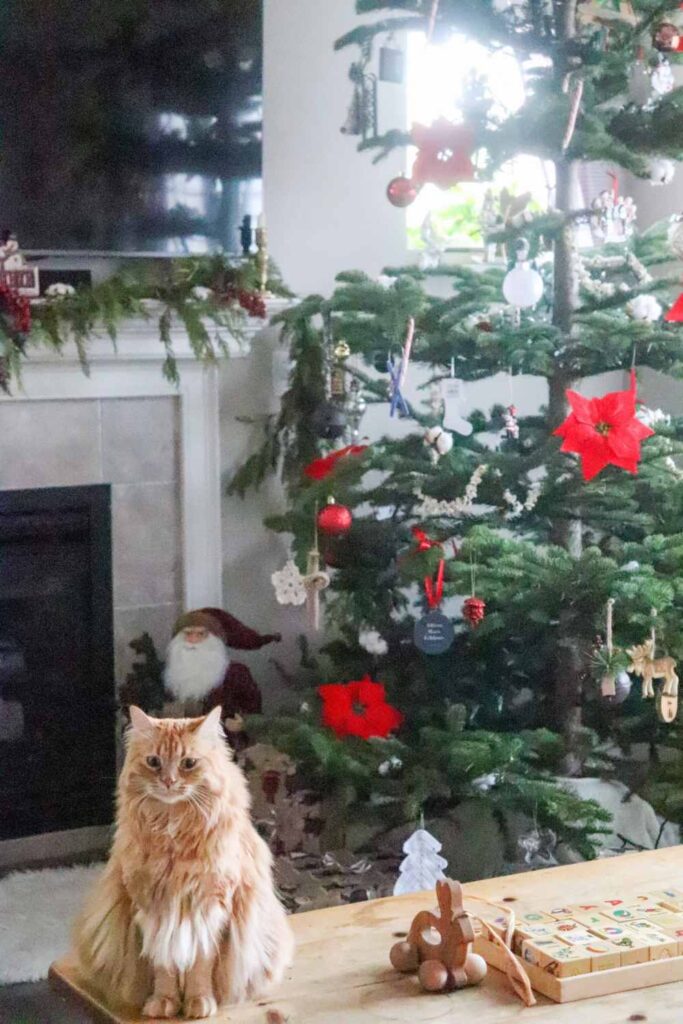 Next to our not-camera-shy cat Summer sits a wooden roller bunny and wooden blocks. I love layering wooden elements in our home, and Allison certainly loves playing with them!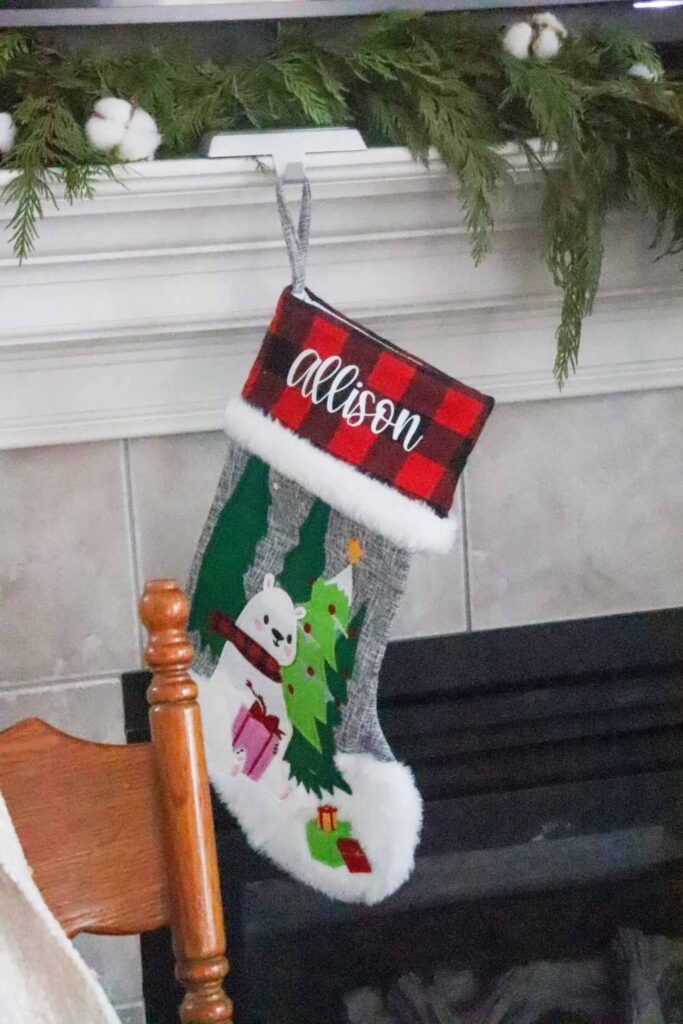 A handmade stocking which was a gift for Allison last year.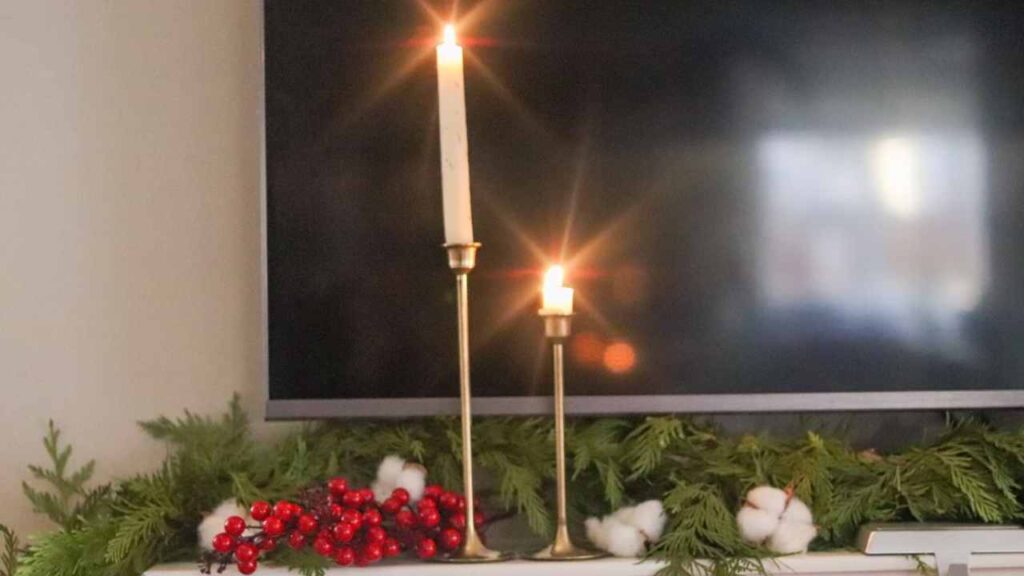 Beeswax candles are one of the few items I must buy new each year. I love the smell when they burn. It is cleaner and nicer than many of the artificially fragranced candles. These are easy to get from Amazon too.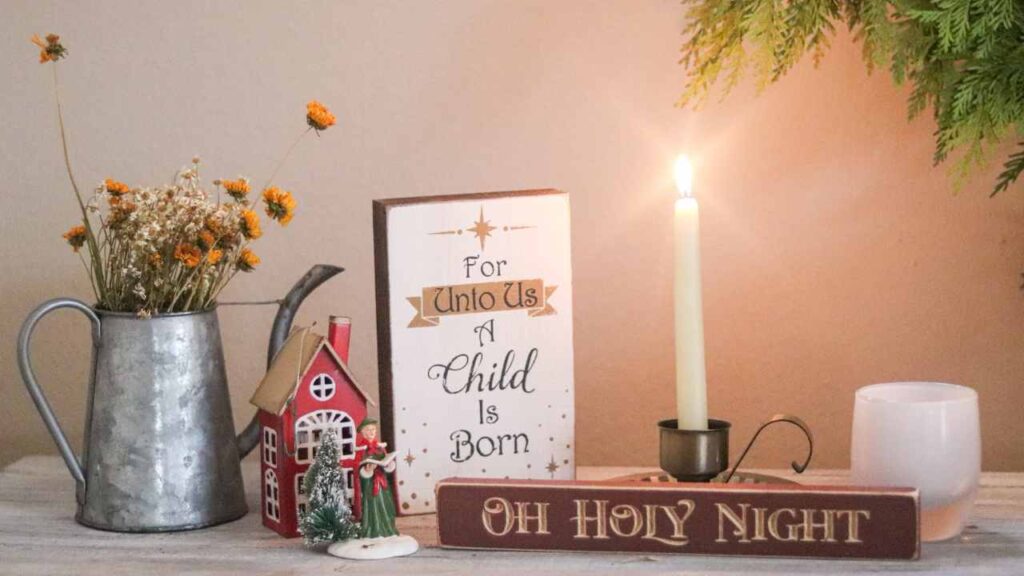 The true meaning of Christmas. Brings joy to my heart every year.
Christmas Dining Room
Our dining room is between the kitchen and living room, so it gets a lot of traffic!
Below you'll see our shiplapped accent wall decorated with bells and vintage candle holders, and complimented with eucalyptus (one of my favorite Christmas greeneries). Get more ideas for Christmas greeneries here.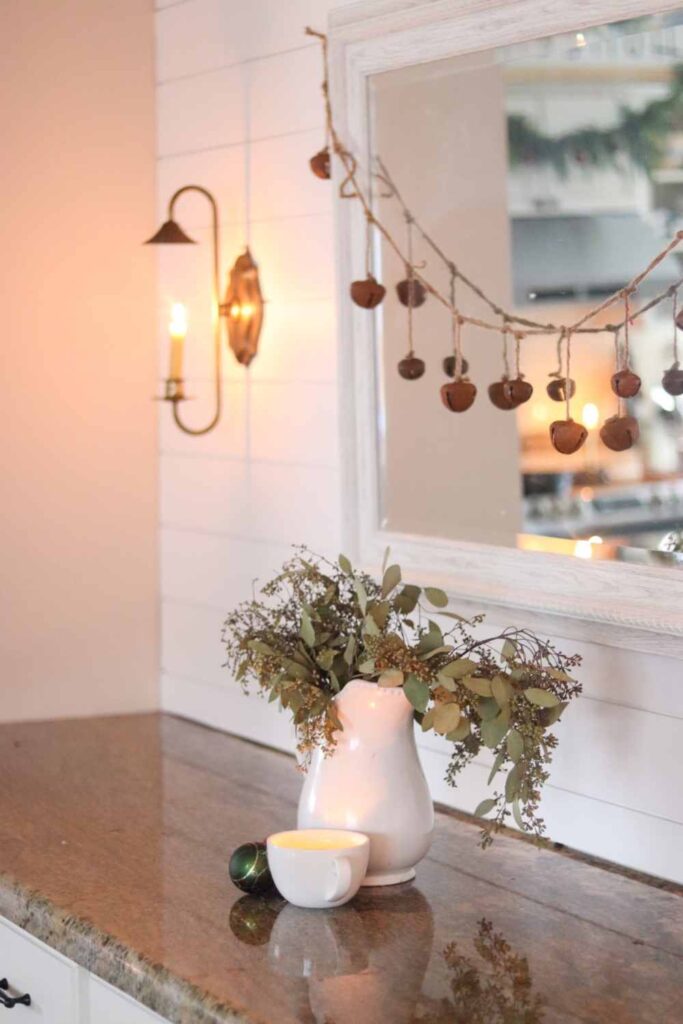 Combining brass, with wood, with copper, and then beeswax candles… its just such a good combination for a vintage inspired farmhouse.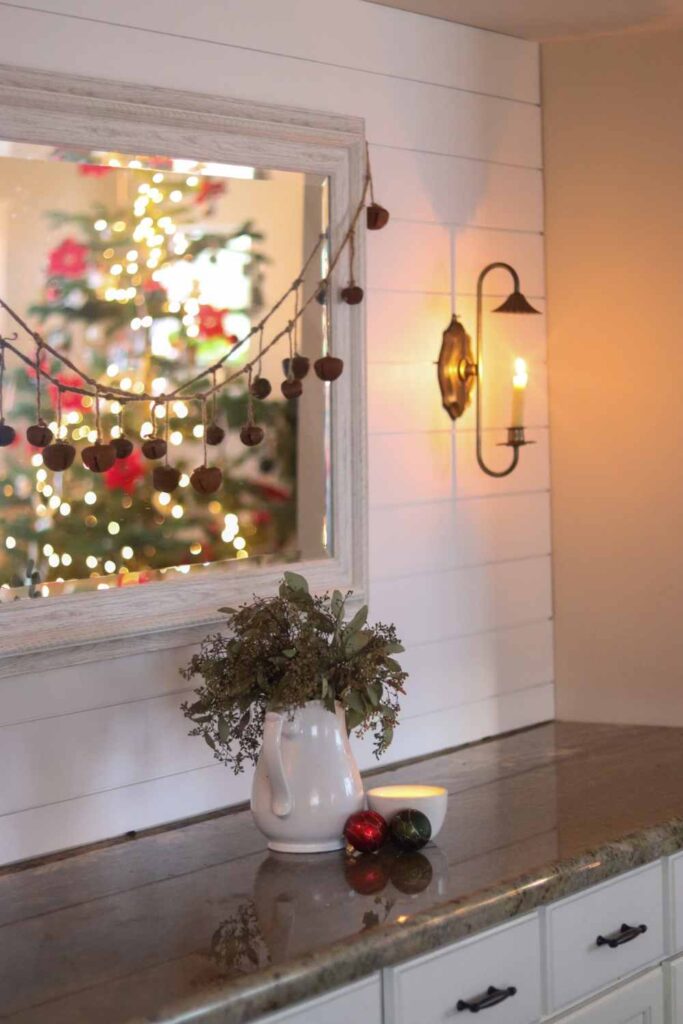 The table below was built by my husband. It's one of the most popular blog posts, actually. How to Build a Farmhouse Dining Table with Free Plans.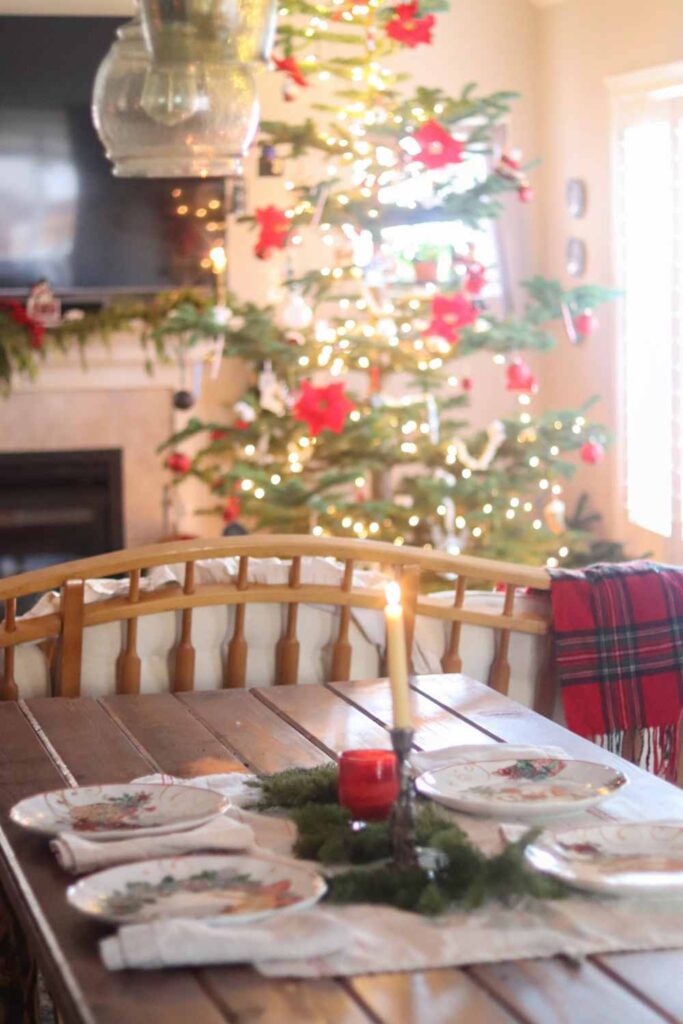 I kept the table decor very simple, with some fresh pine, a couple candles, and vintage linen, and Christmas plates. We won't actually have company over for another few weeks, so these will be enjoyed by us for the time being.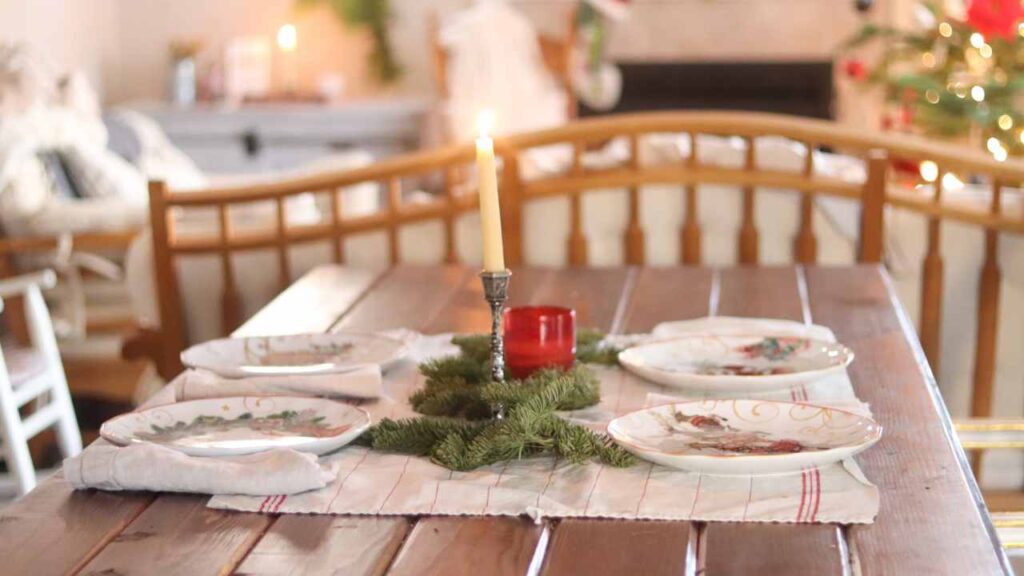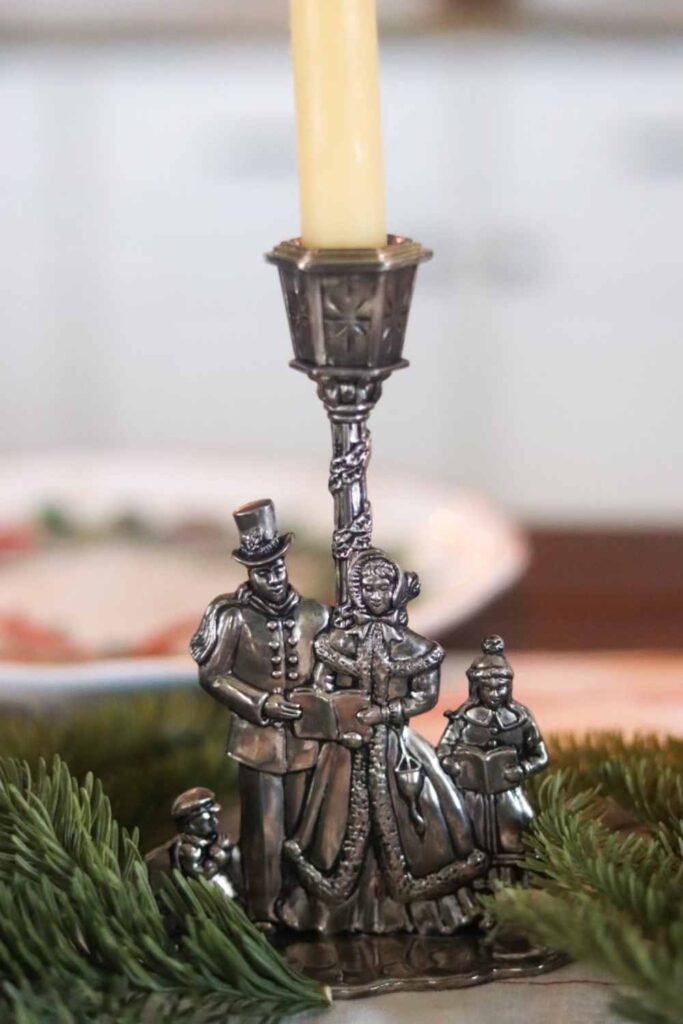 OK and drumroll please….
This has to be my favorite new item this year. This vintage brass candlestick holder from Vintage Keepers shows a family of 5 singing Christmas carols in the cold. You wouldn't know it from this angle, but there is another child and a dog hiding in the back. Which, I didn't actually realize until I was filming the video of our home tour! Check it out here – vintage inspired Christmas home tour.
Farmhouse Christmas Kitchen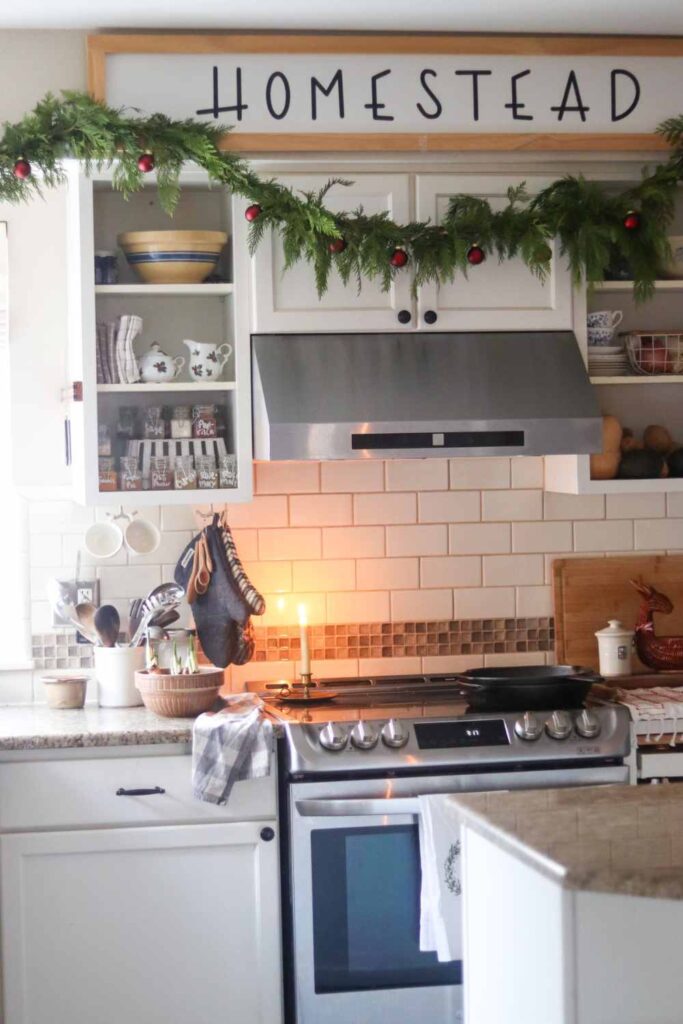 In the kitchen hangs more real garland, supported by two very large command hooks. The garland is gently decorated with small red bulbs.
In the open cabinets there are two thrifted bowls, which I swear make my food taste better when cooking with them. You'll also find vintage Christmas cream cups, saucers, and tea cups. I just love putting pretty thrifted items in these cabinets!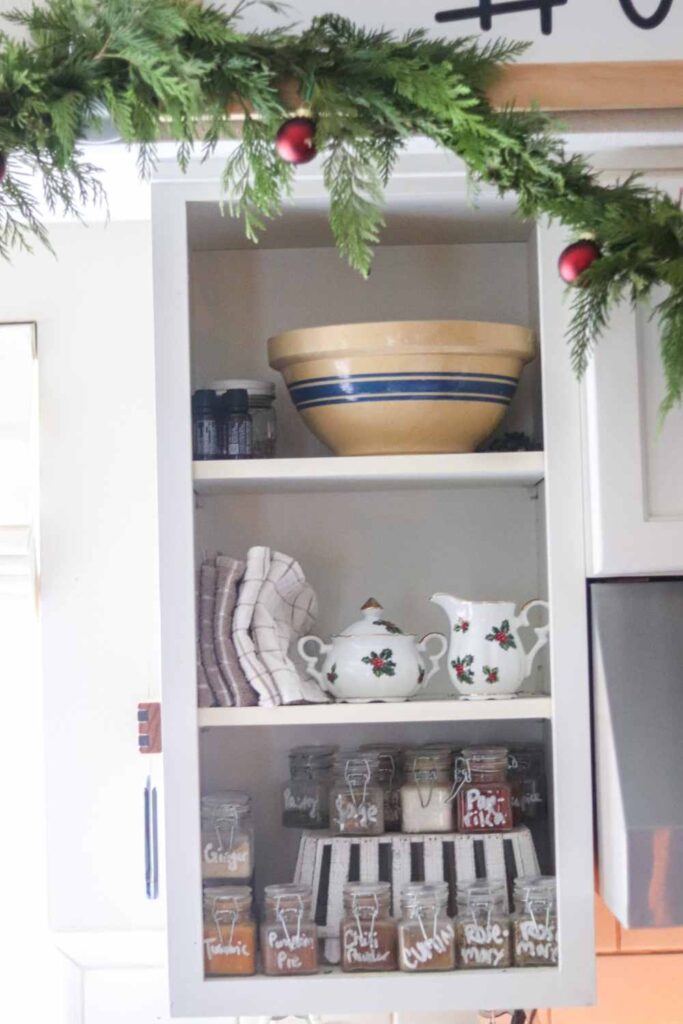 I picked up this vintage Christmas sugar and cream set this year as well. Couldn't resist.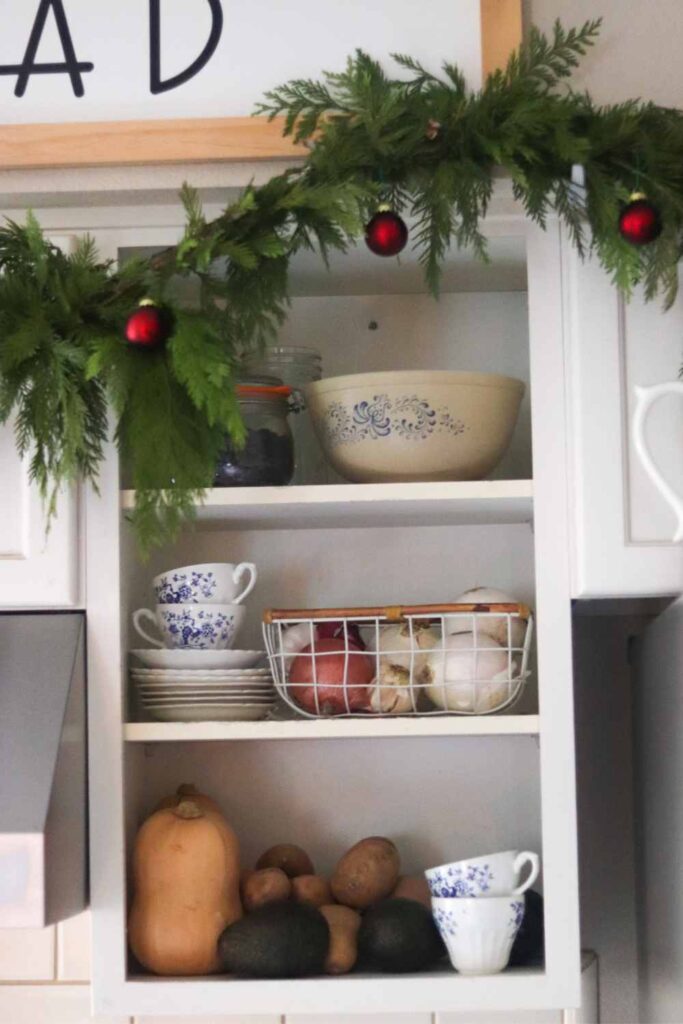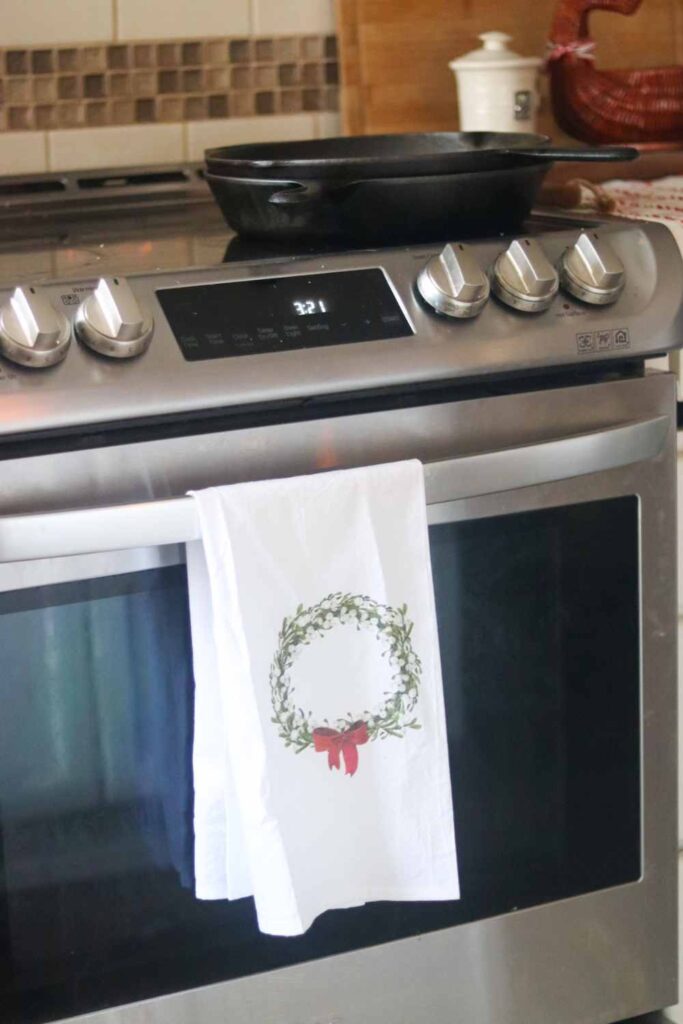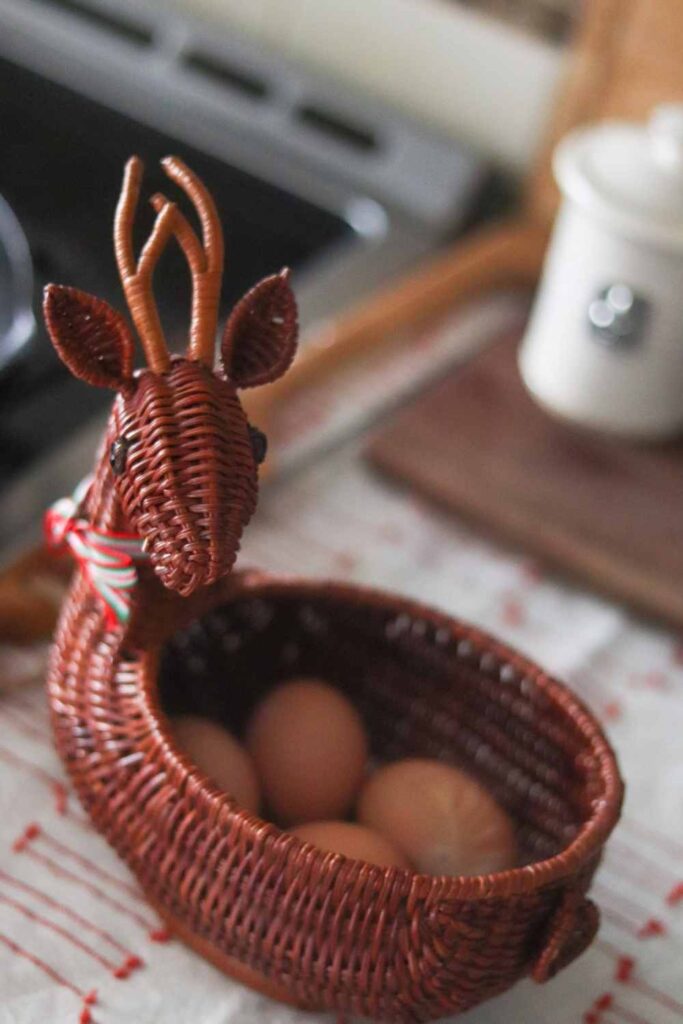 OK, I know I said the brass candlestick was my favorite vintage decor item, but I forgot about this one until writing this post! This is a vintage wicker reindeer basket. I mean, come on!
Originally this was going to hold some of Allison's toys, but it was smaller than I anticipated when it arrived. But one thing it holds really well – eggs! The chicks we got back in spring are laying eggs now, and we get a couple each day.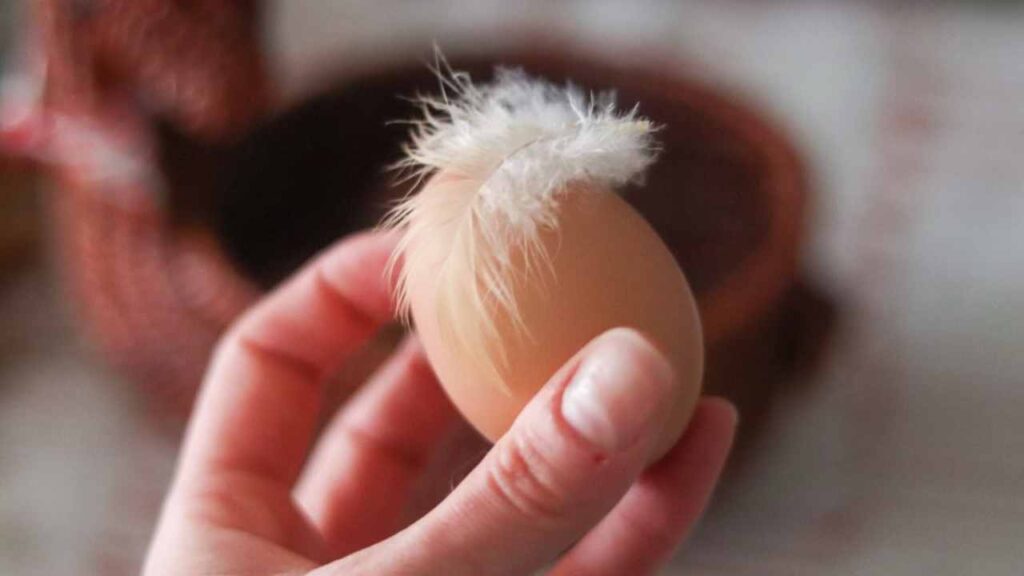 What is more vintage than going out and picking your own eggs out of the basket?! Blushing…
Farmhouse Christmas Bedroom
I didn't get many photos of our bedroom because I was loosing our light during photography, but here are a couple pics of our bedroom.
One either side of our bed hangs a vintage Omish photograph. I picked this one up from an antique store for only $20 last year! It's one of my favorite decor items for winter in our bedroom.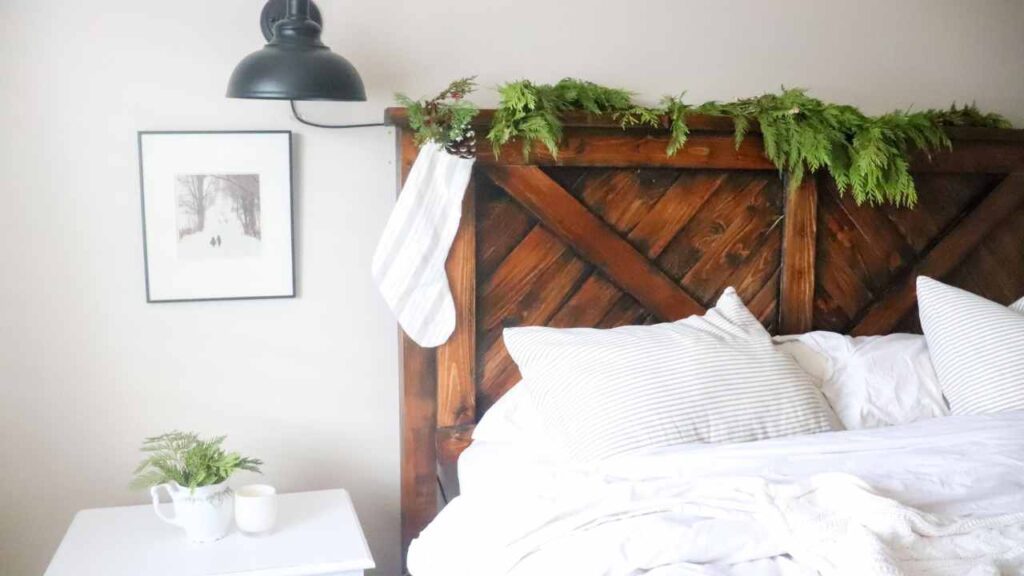 John handmade our bed frame (thank goodness for him) and we talk about our process of "making new wood look old" in this post. This bed was inspired by the Restoration Hardware beds that are thousands and thousands of dollars, only this one only cost us a few hundred. We sleep on an Avocado organic mattress, which I share my review for in this post, and we also have organic Coyuchi bedsheets.
Thank you so much for joining me in this vintage inspired Christmas home tour!
MORE CHRISTMAS INSPIRATION FROM THE HOMESTEAD
Simple, Natural Farmhouse Christmas Home Tour
Rustic Farmhouse Christmas Dining Table + How to Sew a Christmas Table Runner
Old World Farmhouse Christmas Kitchen on a Budget
How to Make a Festive Christmas Mantel Garland with Fresh Greenery
Scandinavian Farmhouse Christmas Home Tour
Homemade Natural Christmas Wreath
PIN IT FOR LATER!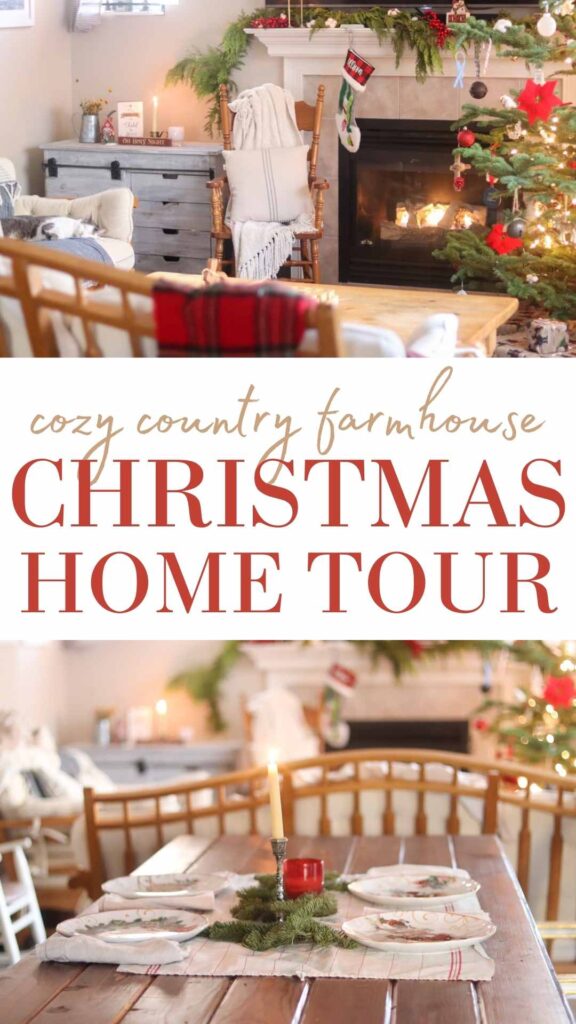 THANK YOU FOR STOPPING BY THE HOMESTEAD!