There is nothing better than a simple, natural homemade Christmas wreath! Stop by your local nursery, grocery store, or maybe even your backyard to pick up a variety of winter greens so you can make your own wreath for Christmas this year. For this wreath, you'll need a wreath frame, cable ties, and greens of your choice. That's it!
Pin it for Later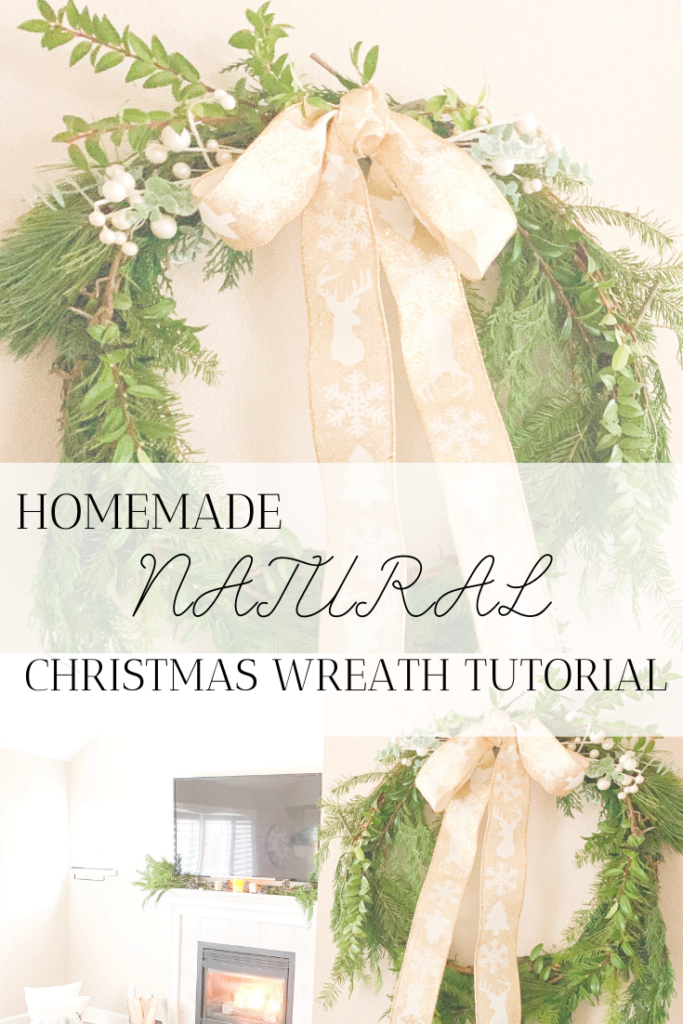 We decided to make homemade Christmas wreaths this year because they are easy, fragrant, and much less expensive than buying pre-made wreaths every season. If you buy a wreath frame and some cable ties, you can create beautiful wreaths every season by taking off the old greenery or decor and replacing it with new decor.
Our Christmas decorating theme this year was a simple, Scandinavian farmhouse Christmas with lots of greenery. This means colors of green, orange, brown, shades of white, black, and simple touches. Nordic Christmas decor includes wooded elements, Christmas trees with minimal or no ornaments, and natural pieces like fresh greens and pinecones. Make sure to check out my Scandinavian Farmhouse Christmas board on Pinterest here for other farmhouse Scandinavian Christmas ideas.
What is Christmas greenery?
There is something about fresh greens that brings a smile to our faces. It must be the imperfect branches, smell of fresh pine, or all of the above. For us it's also the experience of going outside and cutting our own greens. This year I went to our local nursery to get fresh greens, and I also cut some of our own. We only have a couple of pine trees in the back, so I didn't want to cut them down to nothing 🙂
This wreath is just one of many Christmas greens I have around our Homestead for our Scandinavian Christmas this year. I also have Paperwhites, hen & chicks succulents, poinsettias, and an evergreen white spruce. I wrote a blog post about these 5 Christmas greeneries you can include in your home for some green diversity. Take a look at that post below here – 5 Christmas Greenery Ideas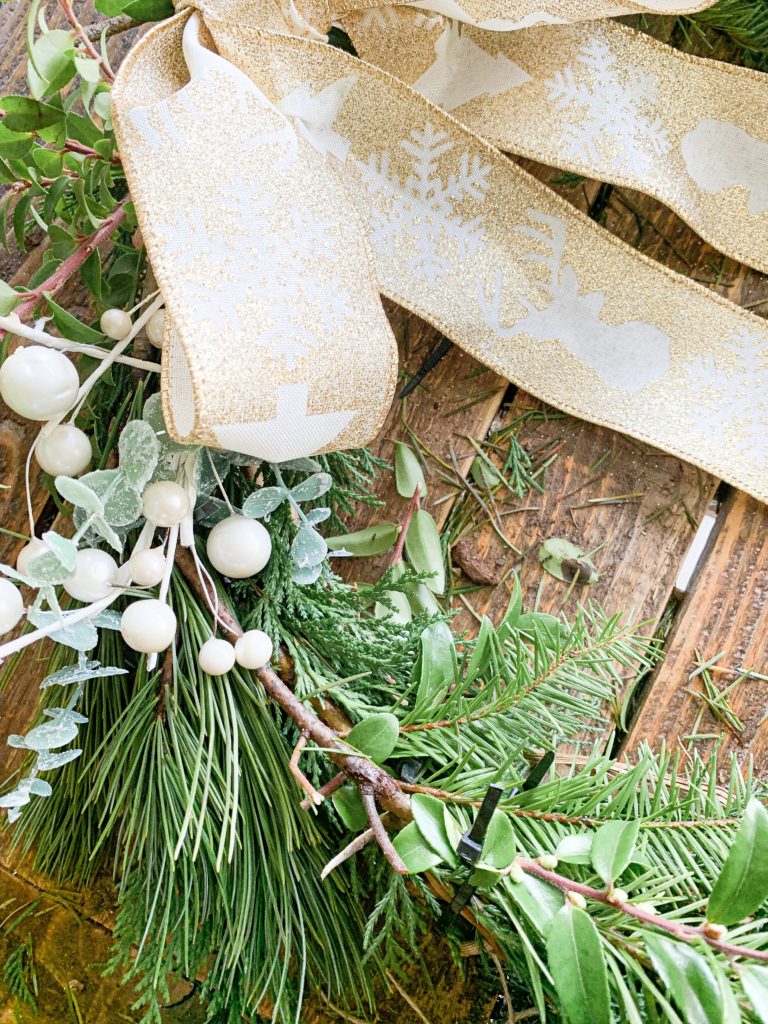 Tools needed to make any Wreath
Making a wreath is actually super simple. Now, if you want to get really crafty and have lots of ribbon, pinecones, sparkles, or other ornaments on the wreath, this will be more complicated. But for me, I like to keep it simple. I just used the following: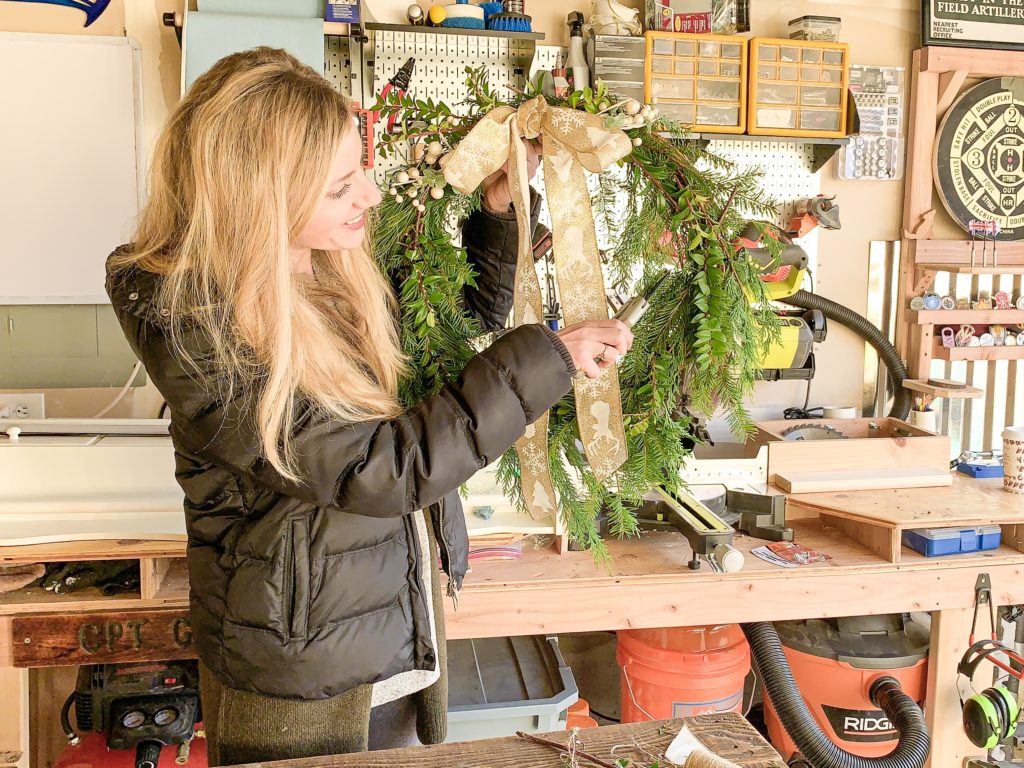 How to Make a Simple Christmas Wreath
Let's get started!
Place the wreath frame on a working bench or cleared table. If you are using fresh greenery, the pine needles will get everywhere. So make sure you give yourself some space!
Decide on 2-4 layers of greenery for your wreath. For example, you can do the first layer with pine branches (these are nice a bushy, perfect for a base). Then the second layer could be Noble fir branches and the third layer could be eucalyptus. Finally, the fourth layer can be dried berries or pinecones (you will need a glue gun for pinecones).
Using the cable ties, tie the first layer of greenery down to the wreath. I use anywhere from 1 to 3 ties per branch, depending on how long the branch is. You don't want the branch dangling too far off of the wreath, but some dangle is really pretty. Pro tip: have a pair of clippers near by to cut any unwanted hanging pieces.
Repeat step three with the remaining layers. Now the greenery part is complete!
Pro tip: Step back and look at your wreath every few minutes. Make sure you are being symmetrical, and make sure you identify which part of the wreath will be the top.
Cut the cable ties down with scissors so you can't see them.
Add the toppings you like. For my wreath, I added a ribbon bow and some white faux eucalyptus pearls from Michaels. Pro tip for the bow tying – bows can be tricky! I tied the bow separate from the wreath first, and then used a cable tie to secure it to the top of the wreath. Then I had to play with it for a bit to get it to look just right. Check out the video below to see how I made my wreath from scratch!
Video Tutorial: How to make a Christmas Wreath
If you're new around here, make sure to sign up on the right to receive the Duvall Homestead weekly newsletter. Every week I post farm-to-table recipes (always organic, local if possible, and most definitely delicious), homesteading ideas from chicken keeping to home decor, and healthy living inspiration with at-home workout videos every single week. Make sure to subscribe on Youtube, too!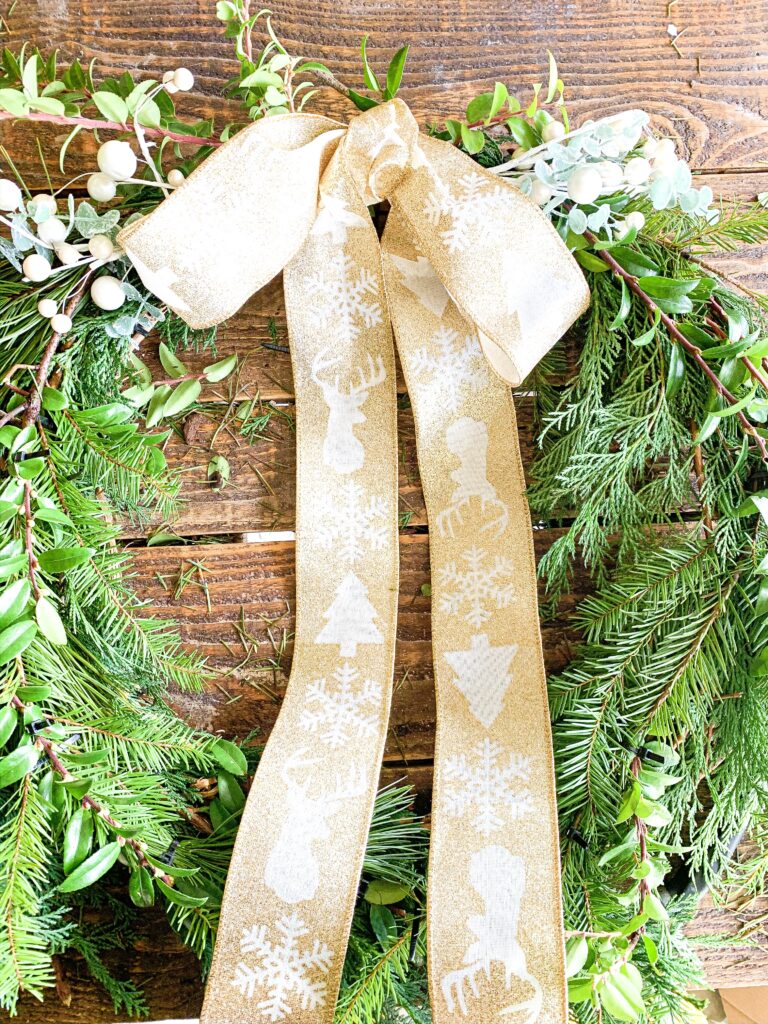 Thanks for stopping by our Homestead!