This year we went with a Scandinavian Christmas theme full of fresh greeneries, cloved oranges, rustic wood, and an antique farmhouse feel. Being from Sweden, Germany, and Italy, John and I have a lot of European culture in our families and home. So to bring some of that in this year for Christmas was the perfect combo. Come see what we did in our Scandinavian Farmhouse Christmas Home tour.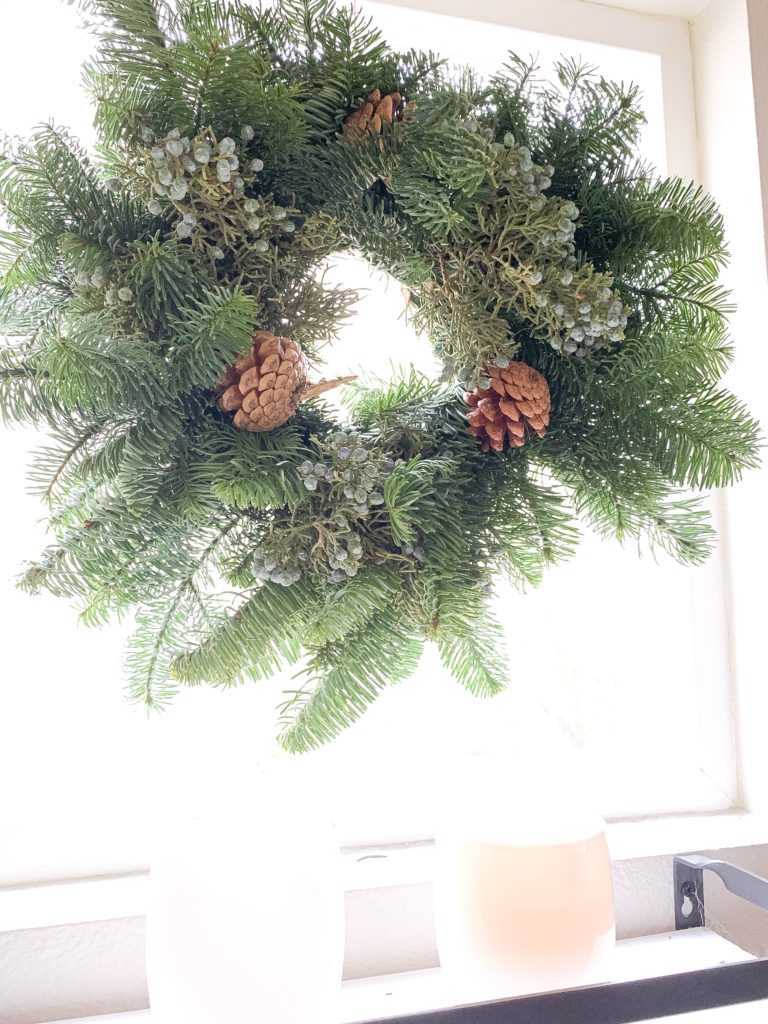 In years past we have always kept our Christmas decorating pretty simple. We cut down our own Christmas tree, buy fresh garland and use greeneries from our yard, and wrap presents with brown and white craft paper. I use firewood for decor and pull out all of our woven baskets for blanket storage. This year, I wanted to do the normal traditions, but I also wanted to bump it up and add some true Scandinavian touches.
In this tutorial I will show the farmhouse entryway, the family & living room, the dining room tablescape, our office, and the front porch. Make sure to check out the video tutorial for the full tour!
Watch: Scandinavian Farmhouse Christmas Home Tour
Pin it For Later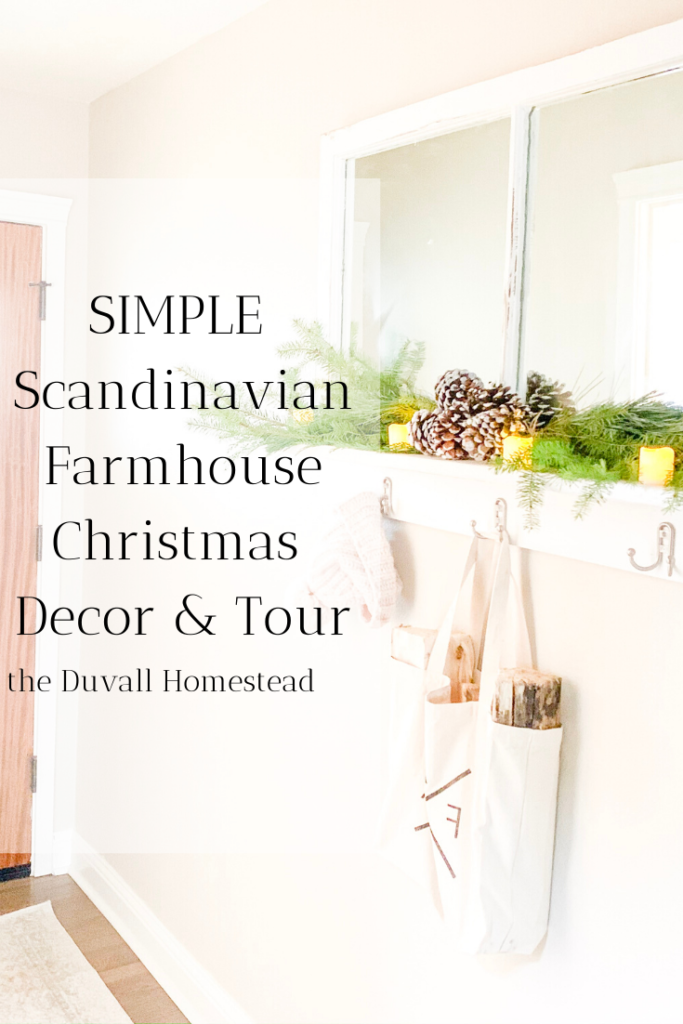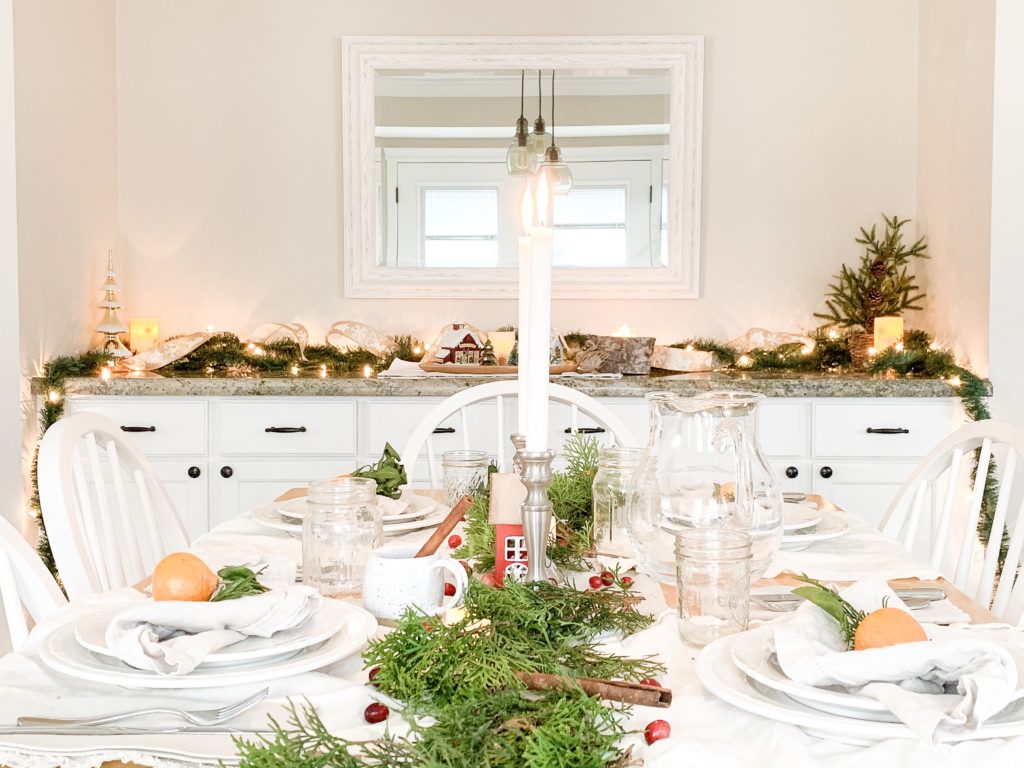 What is Scandinavian Christmas?
Traditionally, Scandinavian Christmas decor is very simple, woodsy, Christmas trees with little or no decorations, and topped with candles, ribbon, or bells. For us, Scandinavian Christmas decor takes us back to our ancestors who are from Sweden and Germany. Simple greenery, natural wooded elements, and antique vintage Christmas toys are just what we like to feel at home this Christmas. I made a Pinterest board for my favorite Scandinavian Farmhouse Christmas ideas, so check it out for more inspiration here.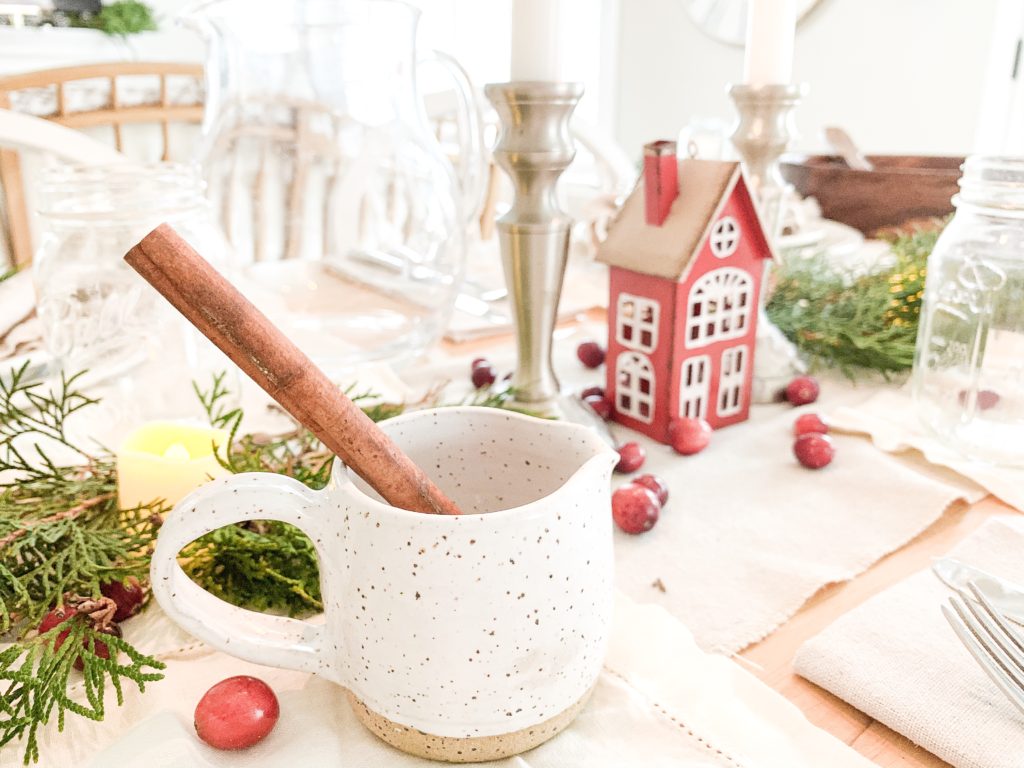 Farmhouse Entryway
Like any room of the house, our goal with the entryway is to make guests feel warm, welcome, and provide them a place to kick off shoes and hang a coat. We have a long hallway after the front door so this handmade mirror with coat hooks is perfect for our entryway. We threw on some fresh Christmas greenery, a few fake tea light candles (no fires wanted!), and some pinecones. That's all you need for a welcoming farmhouse entryway!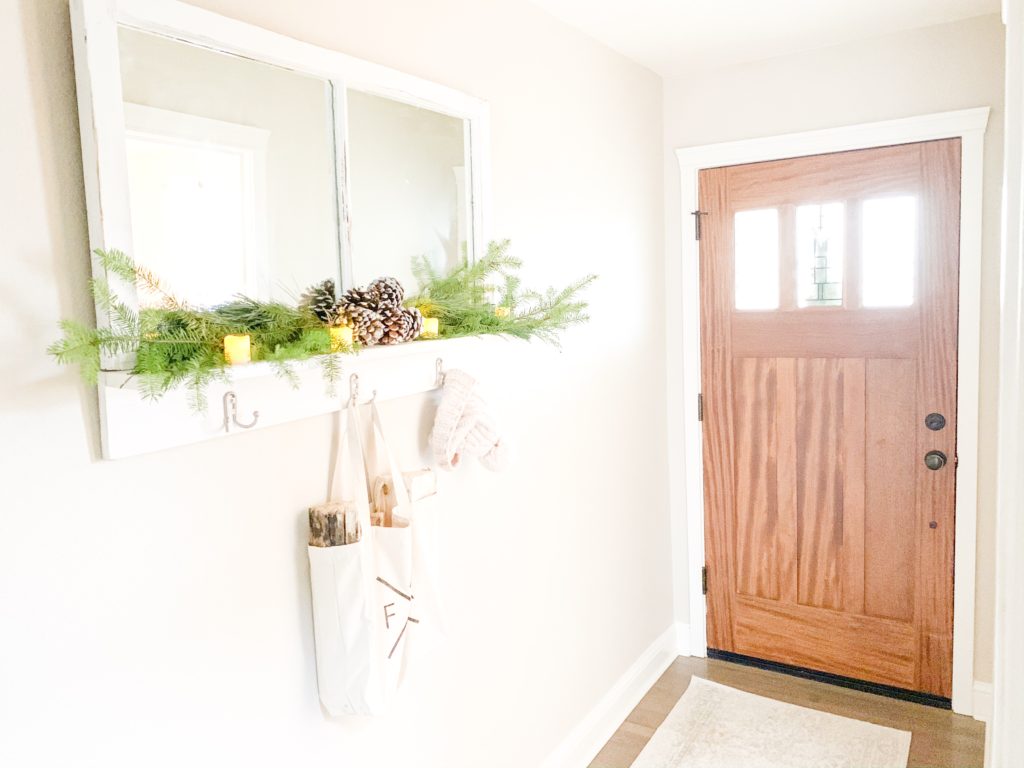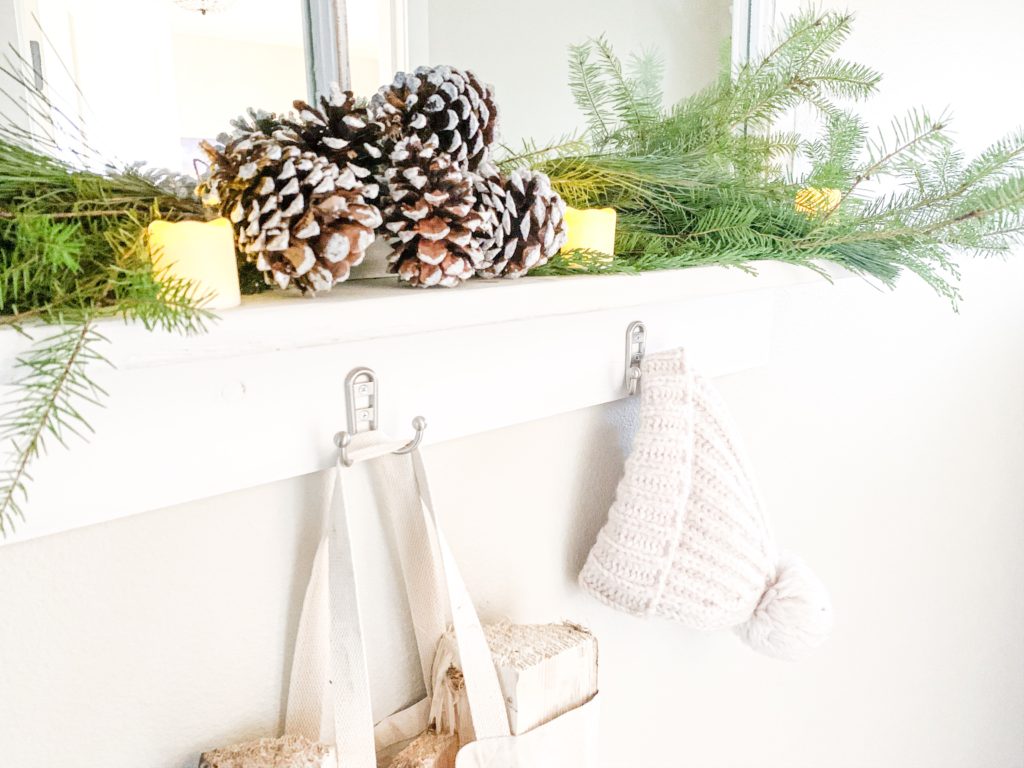 Tips for Decorating A Great Room
Who else has a great room?
We have a "Great Room" which consists of the kitchen, dining area, and living/family room. It is one big rectangle, so everyone can see the whole room no matter where they're sitting. We love this so that conversation can flow while someone is cooking and at the same time they can watch the movie playing on the television. Great for entertaining or a family dinner on the weeknight.
We like to keep decor simple in the great room. As for every room in our house, the most important thing inside of it is the people and the food! So we always try to keep this room easy to walk around and welcoming enough to be able to eat anywhere in the room. What are some of your tips for home decor in your great room?
Christmas in the great room is a big deal because it's where the Christmas tree lives! In this tour, we don't have our main tree up yet, so stay tuned for our Scandinavian Christmas tree tutorial soon. For now, we stuck with the Christmas greenery theme, and added lots of candles, pinecones, and wooded elements. Like many households, our TV is right over our mantle. Some may think this is difficult for decor purposes, but I use to our advantage! I fluffed up the Christmas greenery on either side of the TV, so it almost looks like it's popping out from the back. This makes the TV look sunken in and more like it is in the background than the foreground.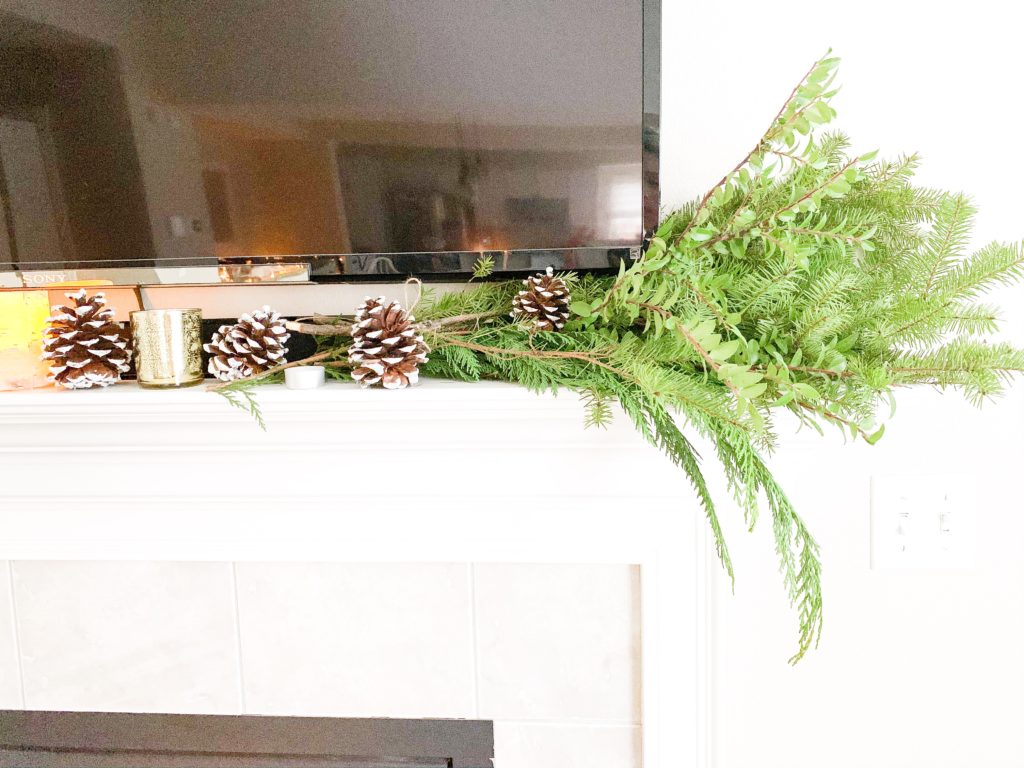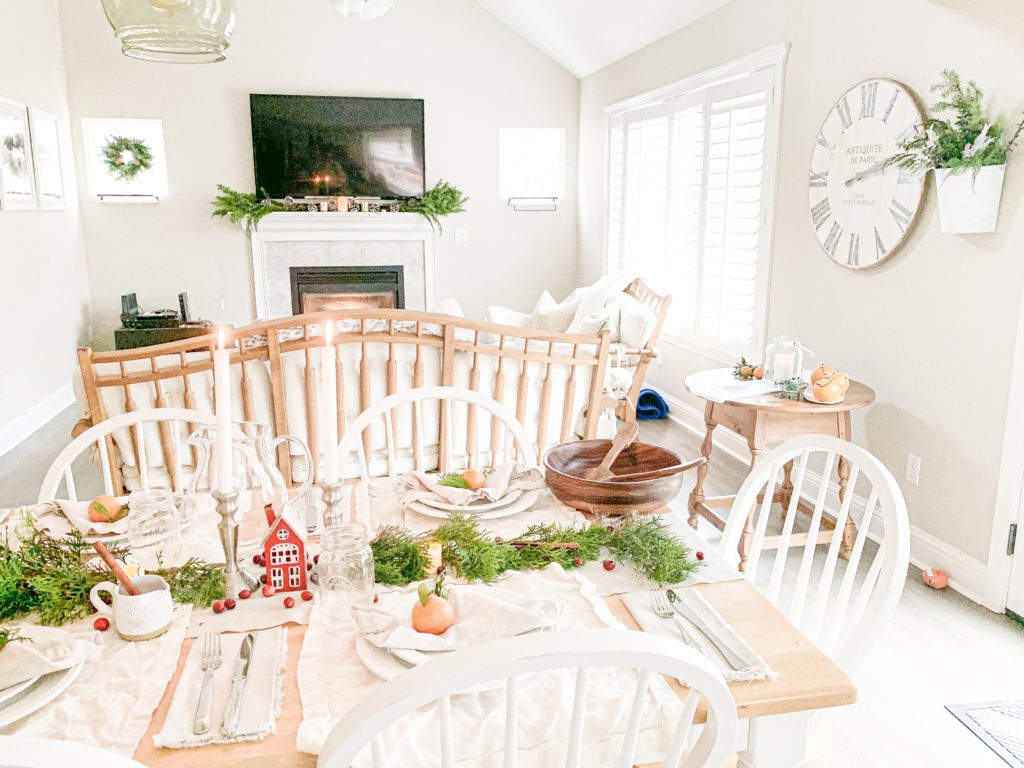 Family Room Christmas Decor
The family room area has a wood farmhouse table and a wood side table. The main family room table is perfect for a woven basket with some natural elements. Here I added some pinecones, a beaded Christmas tree string, and burlap wrapped votives.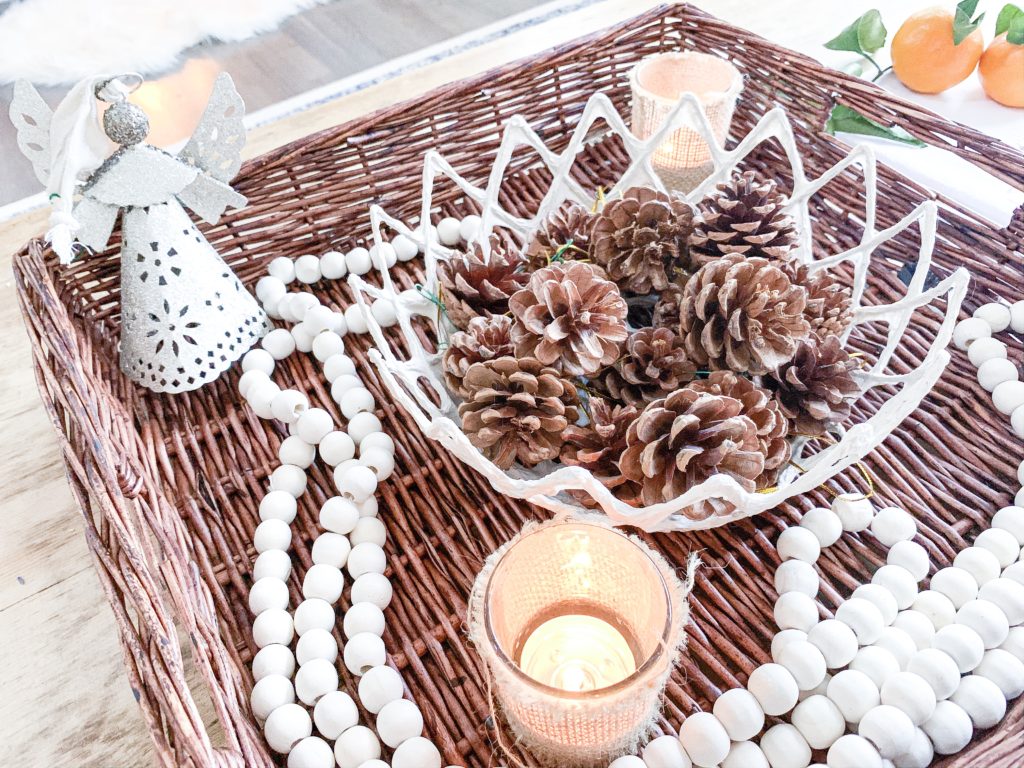 The wall leading to the family room is perfect for hanging wreaths. Here I hung our handmade wreath that I made in my Natural Christmas Wreath Tutorial Video. I love it because it is simple and fragrant. We have firewood by the fire for now, until the Christmas tree goes in this corner. For now I also threw in some cozy blankets in a basket we had next to the couch.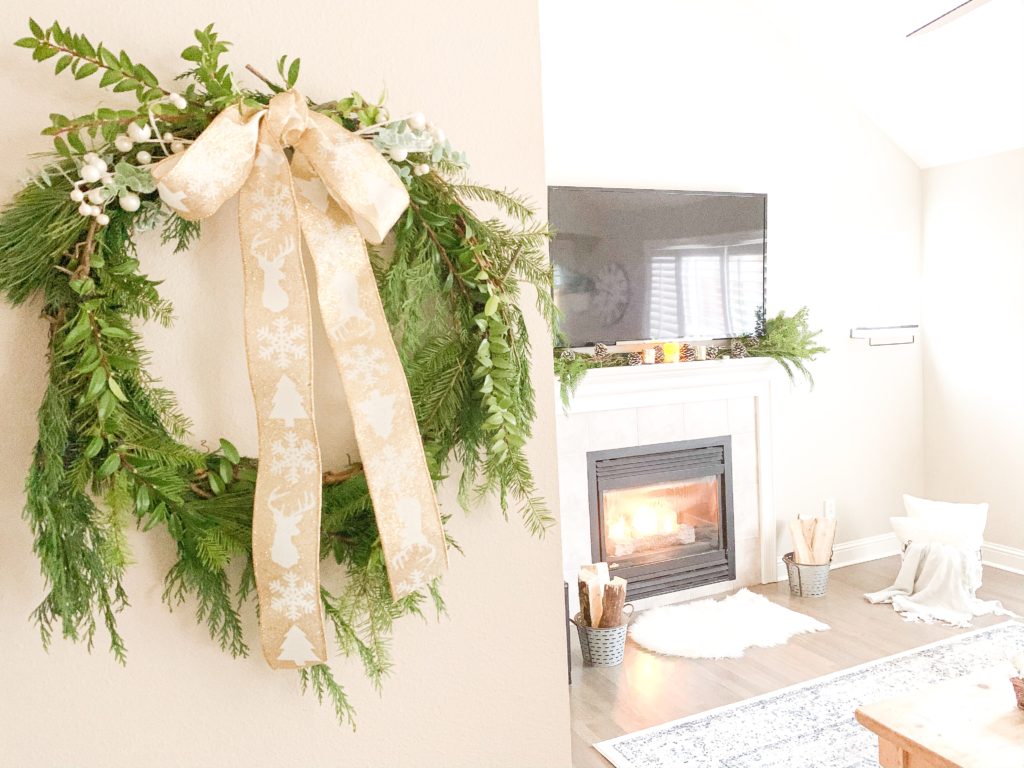 Side Table Nook
The side table nook shown below has quite a bit of storytelling to it, but I'll summarize it for now. First, the oranges. Sticking cloves in oranges is an old European tradition called "Pomander Balls" and is used to as a natural air refresher. They smell incredible and it makes a great family activity to stick the cloves in the oranges in whatever design you like. I like to keep it simple. Watch the video tutorial below to see how I made our pomander balls.
Next, the cotton tea towel. One of my favorite fabrics is cotton. I love cotton! I think cotton provide a sweet, comfortable, classic look to everything. If you layer your kitchen or family room decor items above cotton tea towels, they will have a nice farmhouse feel. I got this tea towel from our location farm Carnation Farms, and we love it!
Also shown below is the hanging white basket I painted in my Christmas Greeneries tutorial. I added a few faux white Christmas sprigs from Michaels for a sweet wall accent. This is great for us because our kitty gets into any flower vase with water, and we love the look of greenery on the walls!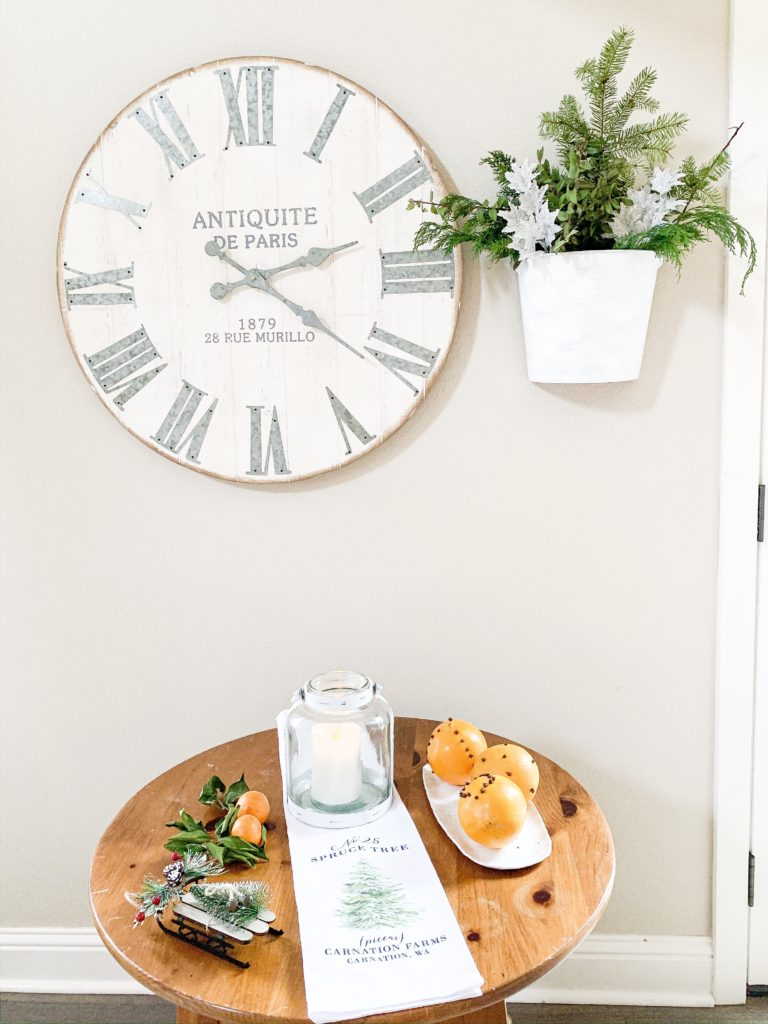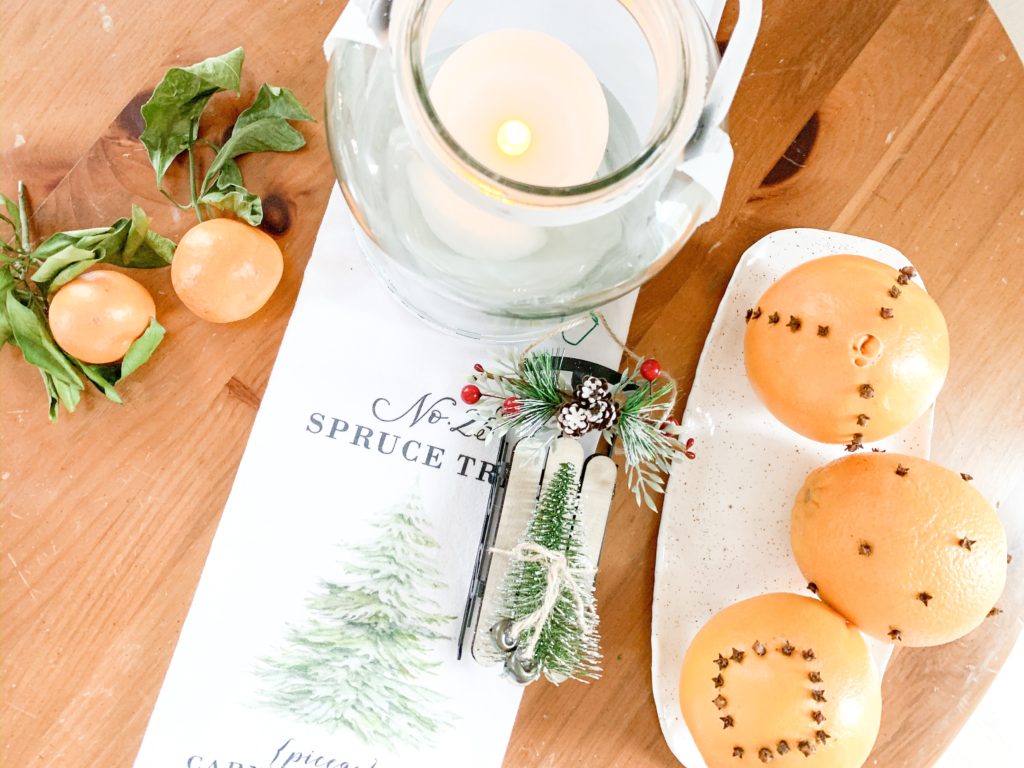 Scandinavian Christmas Tablescape
Any table can be made ready for Christmas by adding a few layers of Christmas greenery in the center of the table and lighting pillar candles. So, that's basically what we did! We also added cranberries and an old red farmhouse toy ornament. On each plate I put an orange as an appetizer or pallet cleanser for dinner. We also laid some cinnamon sticks down for some natural scents. Welcoming, warming, and fragrant!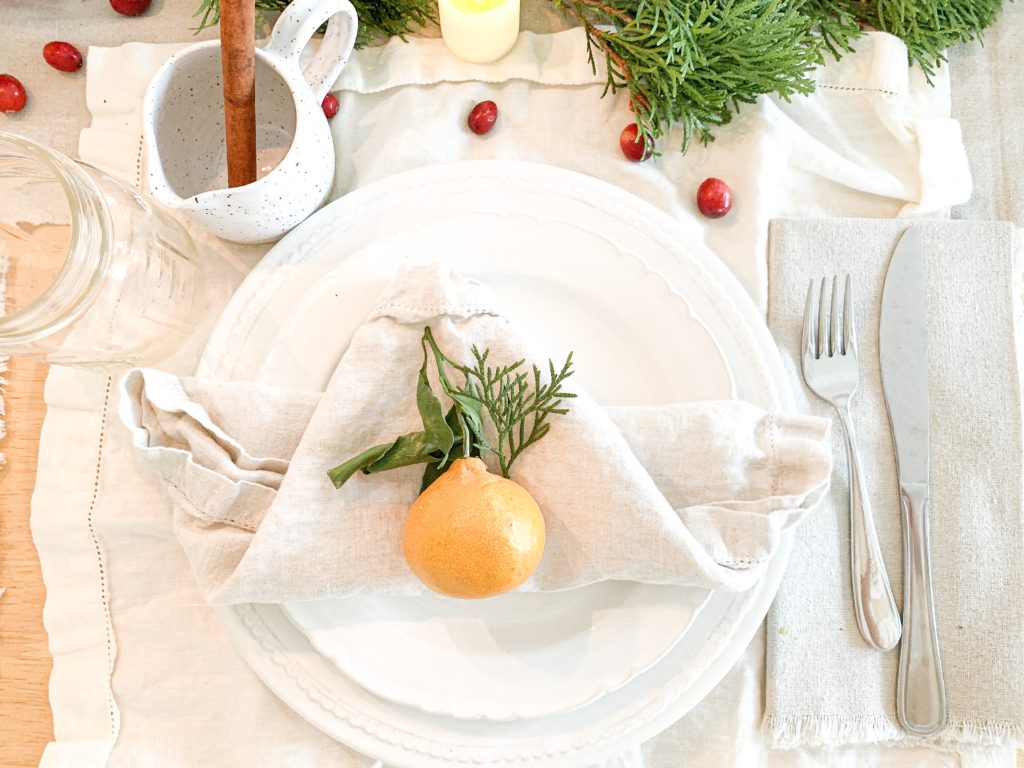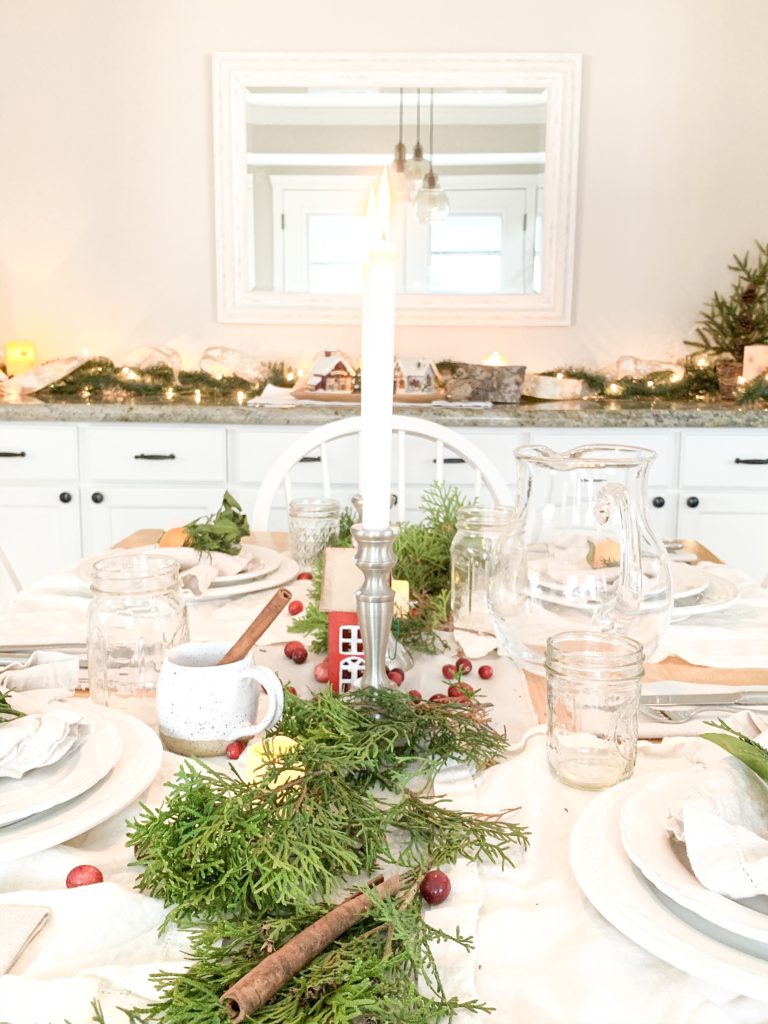 For water glasses we used simple mason jars. We layered the plates with cloth napkins and linen place mats. Did I mention how much I love cotton and linen?!
Behind the table is our long bar countertop. We use this mostly for decor. With the wooded framed mirror behind it, this is a focal point of the great room. (Definitely taking advantage of the whole, mirrors make your room feel bigger idea!) And it really does work. For this counter, we made a simple Christmas scene with a few old houses, garland with twinkle lights, and a Scandinavian Christmas tree. One day when we have kids, this will be their counter to decorate. But for now I get to keep it clean and simple 😉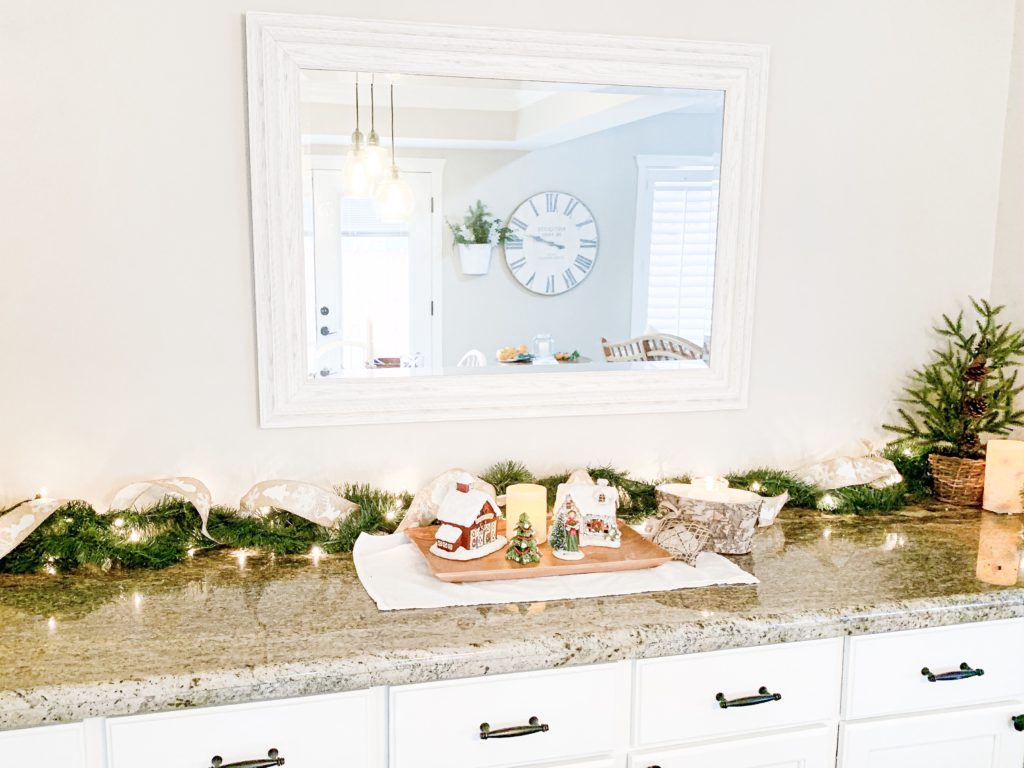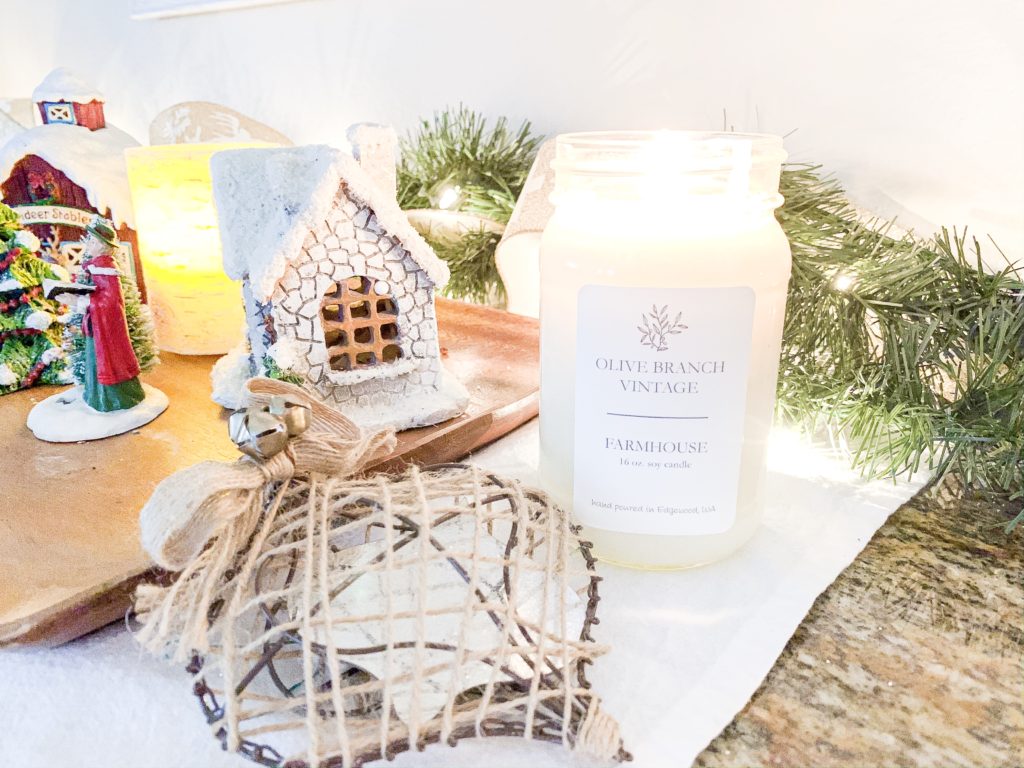 Farmhouse Office
Yes, there is such a thing as a farmhouse office! When you live 60+ minutes away from your office, working from home is a much more viable option. John and I love working from home, especially since we made our office into a cozy nook for focusing!
The office includes greenery with a leafy palm plant and the hen & chicks succulents I talked about in my Christmas greenery tutorial here. Of course, we also have an Olive Branch Vintage candle in here for a peaceful, calming scent. The mini trees are my favorite, and I actually feel like this room as a desert-y vibe. Perfect for a focused work day, if you ask me!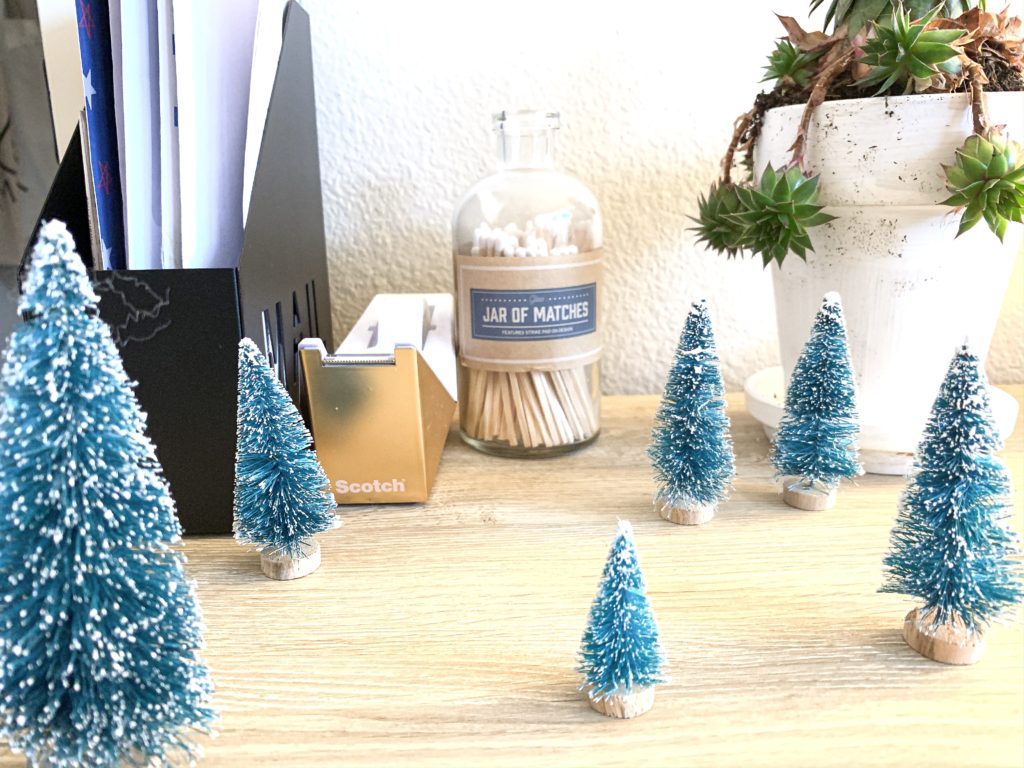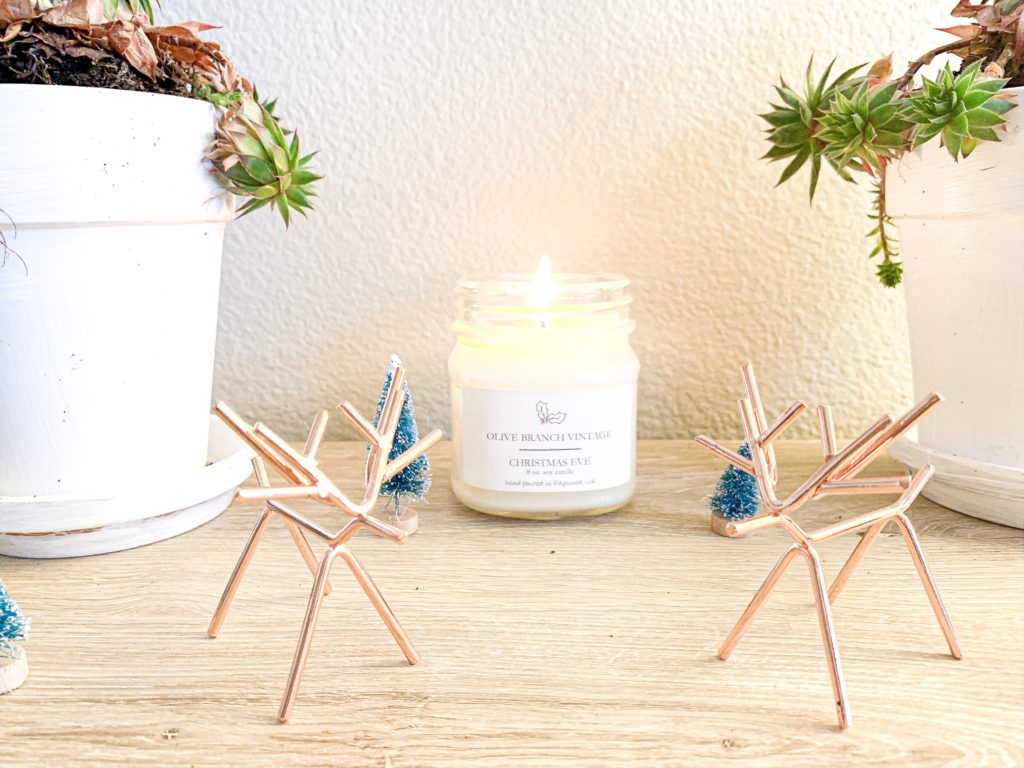 Christmas Porch
I shared more about how I decorated the front porch in my Christmas Greeneries Video. Keeping it simple and green, I added some Christmas greens to the front door, poinsettias, and two small white spruce trees that look like mini Christmas trees. I also added sparkly mini string lights to the trees that are battery operated, so that we can turn them on and off easily when we want to.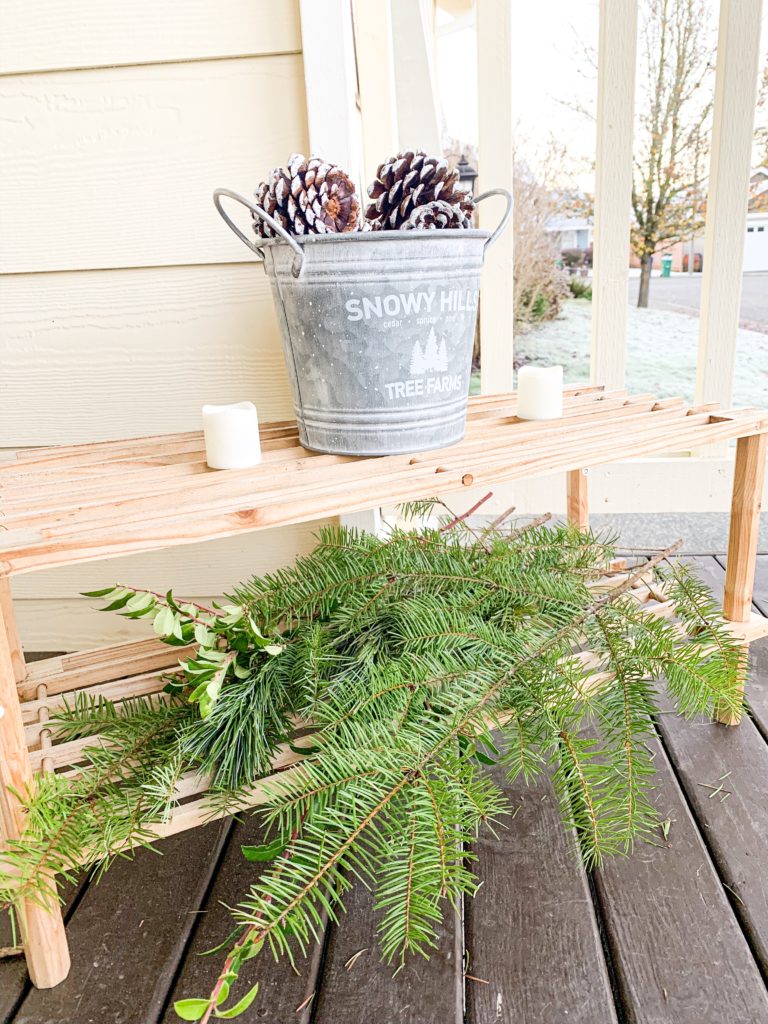 Want more inspiration?
I got together with two other bloggers who are also sharing some great Christmas inspiration. Jayden from Back Road Bloom is sharing old-fashioned Christmas decor and Samantha from Tiny Cape Cod is showing budget friendly Christas ideas.
Budget Friendly Christmas Decor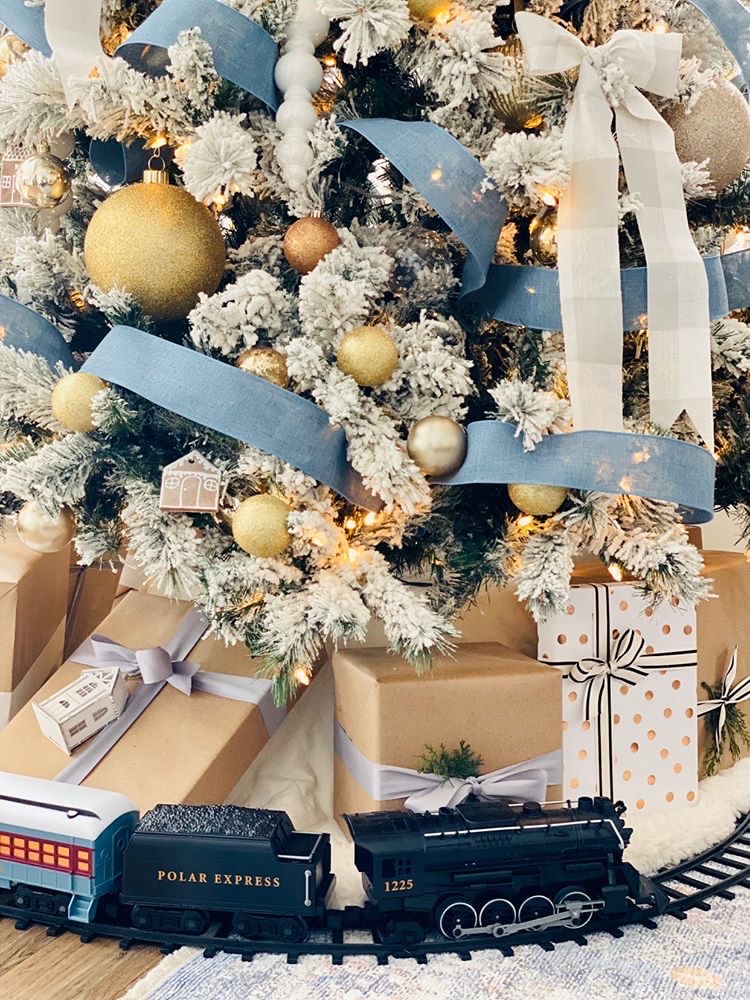 Old-Fashioned Christmas Decorating Ideas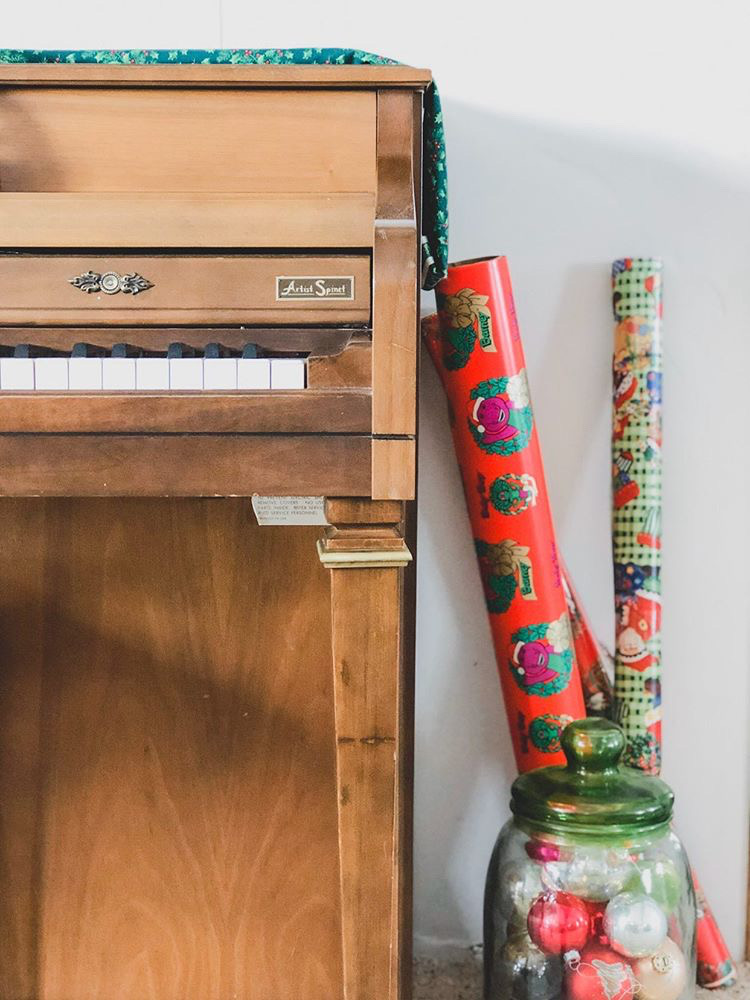 Thanks for sharing in our Homestead!