This natural, handmade summer farmhouse home tour combines elements of nature with vintage touches and some easy DIY ideas. Learn about simple summer farmhouse decor you can incorporate into your own home while keeping things easy, functional, and best of all, beautiful.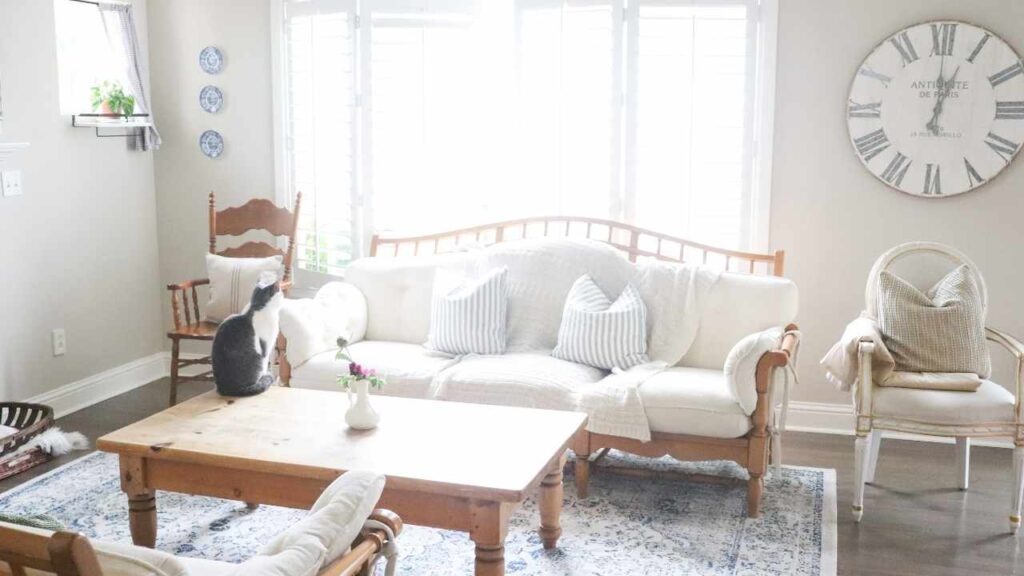 This post contains affiliate links, which means I may make a small commission off items you buy at no extra cost to you. As an Amazon associate, I earn on qualifying purchases. See my full disclosure here.
PIN IT FOR LATER!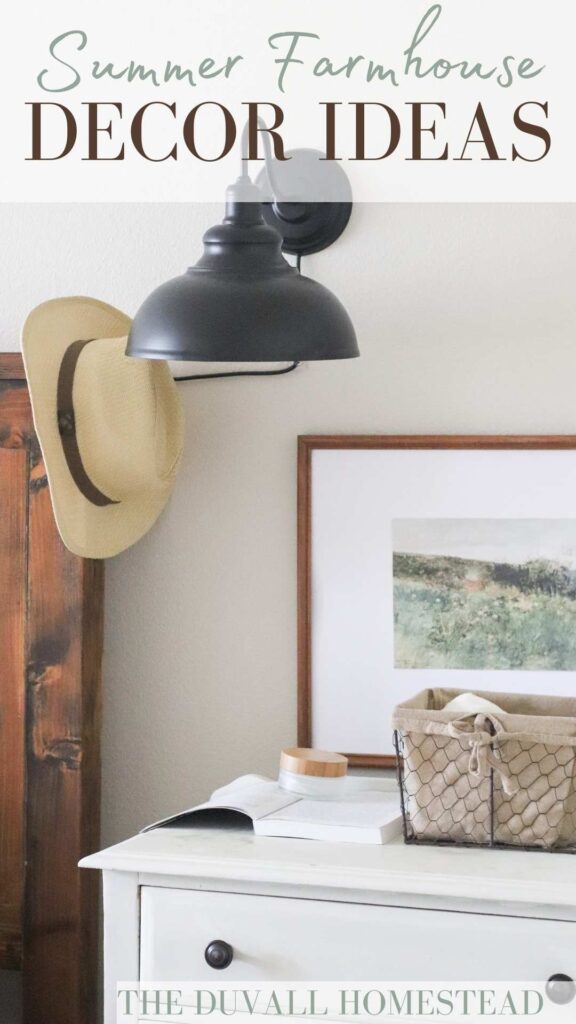 CRUISE CONTROL
The summer rush is here. It always hits me like a wave. It goes from being quiet, cold and peaceful in the mornings to waking up at 5am with the sun bursting in the bedroom.
Suddenly John and I are looking at the calendar and seeing weddings, vacations, and birthdays! Before you know it, every weekend is booked until fall. It's like getting onto the highway and then hitting cruise control. Just sit back and enjoy the ride, I say!
If you're a fan of the Duvall Homestead blog, you know that I always say fall is the best time of year. Don't worry, for those of you who agree with me, I still think it is. But for now, let's sit back and take in all that is summertime.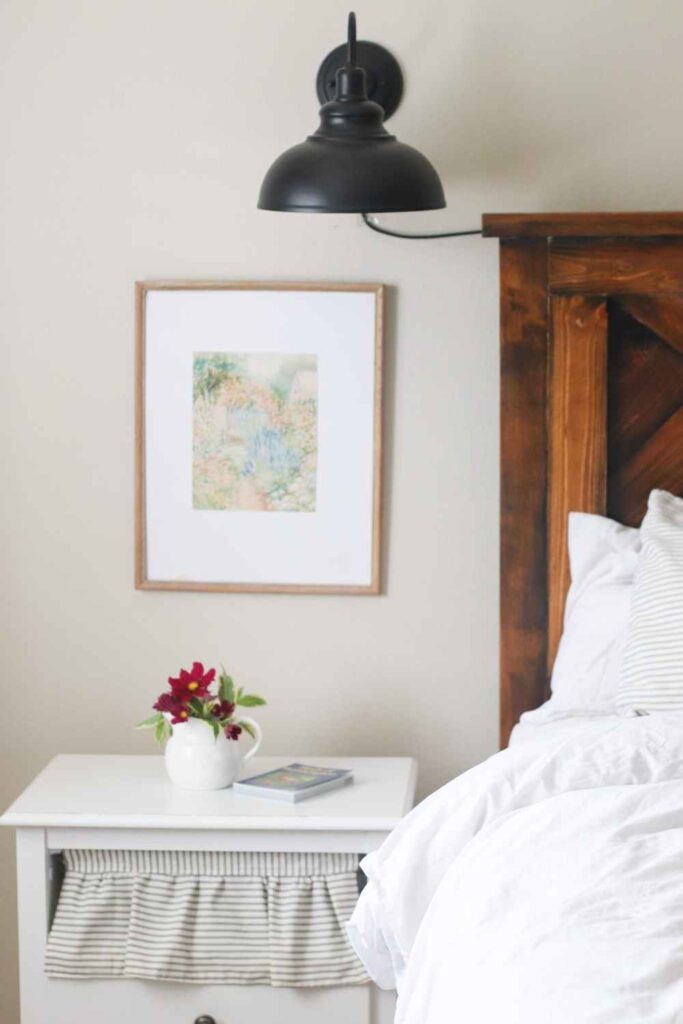 MOTHER NATURE DICTATES
It's mid-June as I'm writing this and we have had the rainiest, coldest summer that I can recall here in the Pacific Northwest. Our local farmers sent out an email (we participate in our local CSA) saying that their crops are flooded and we still don't even have the fruit crop, which we should have at this time of year.
So I guess this is the kind of situation where we just let Mother Nature do her thing. We planted our tomatoes, flowers, veggies, and herbs, but it's all going to be a little late to bloom this year considering we have had very little sun.
Luckily, this natural, handmade summer farmhouse tour caused me to think of ways to bring summer inside the home even if you don't have a blooming garden. Follow along to find out how!
A NOTE ON STYLE
In this home tour you will see simple decor, natural elements, and handmade touches. I don't really go to home decor stores, other than an occasional thrift store. And homemade is always best in our home, so you'll see lots of DIY elements. Sit back, relax with a yummy drink of your choice, and enjoy this natural, handmade summer farmhouse home tour!
SUMMER FARMHOUSE BEDROOM DECOR
To bring in summer I added fresh flowers from the garden on the night side table. I always enjoy dressing up our bed ever since we invested in an organic mattress last year. And then when my husband built this bed frame I immediately enjoyed decorating this space with each new season.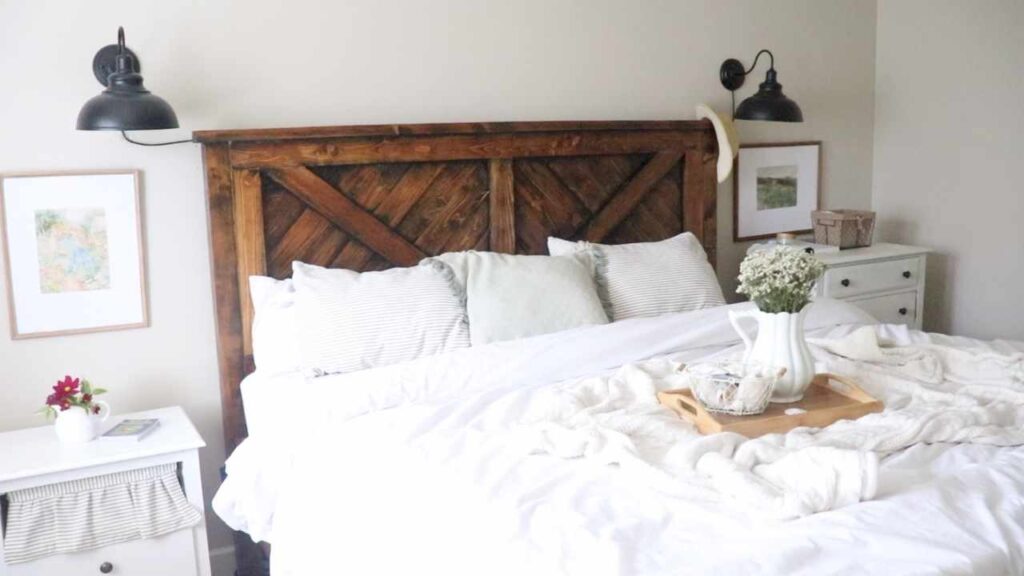 The photos on the wall were an easy and inexpensive DIY. I just found a few vintage frames for $3 at an antique store, then I bought matte paper from Michaels and cut it to size. Next I purchased this downloadable photo from Etsy which I then printed and placed on the matte board. This was such a simple project, and I love how it looks next to the bed.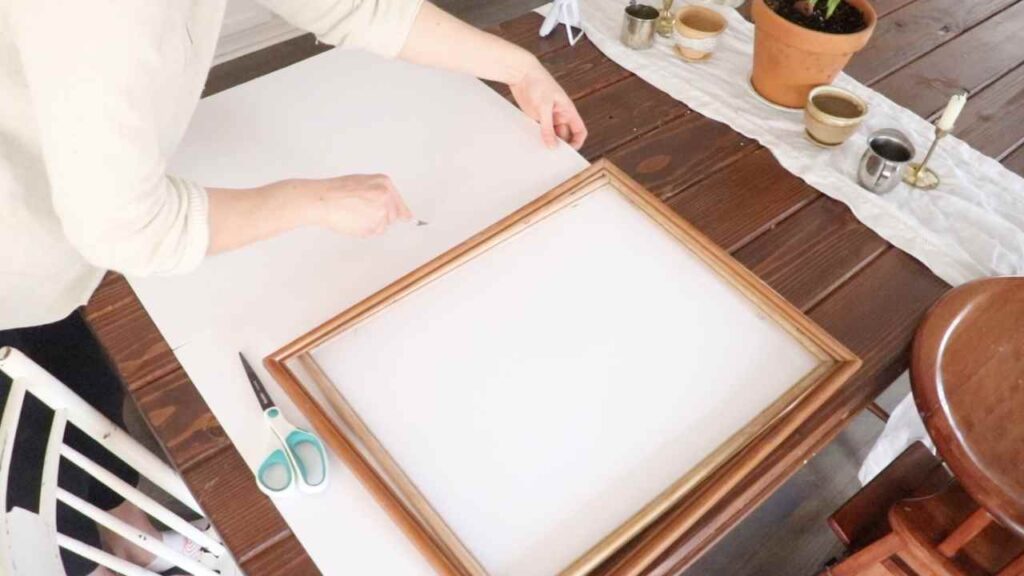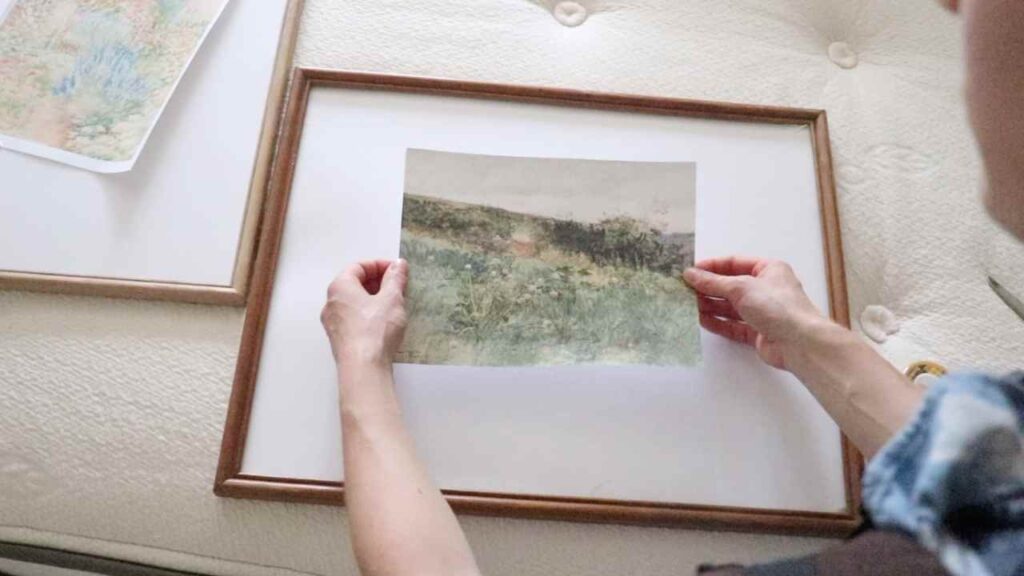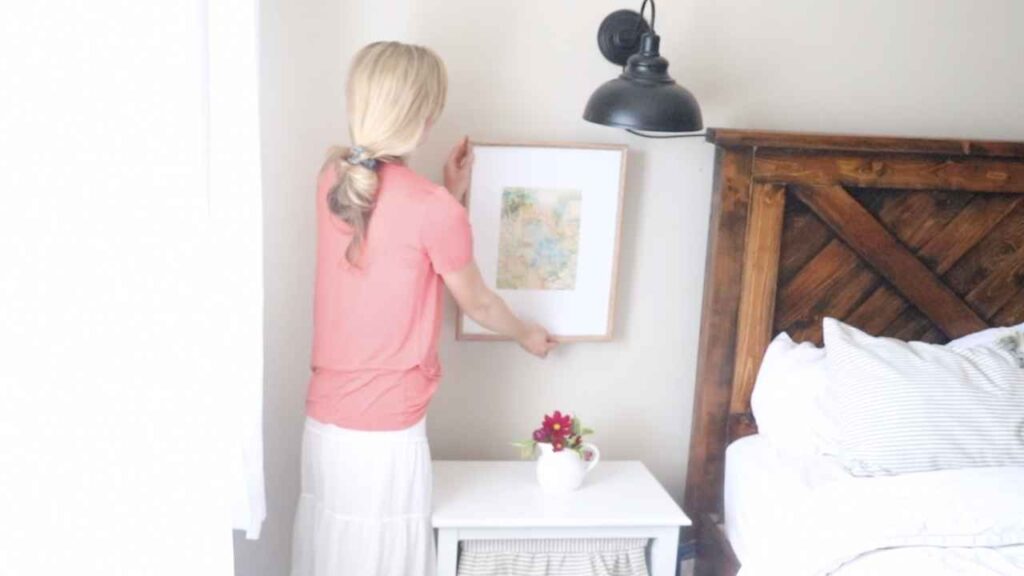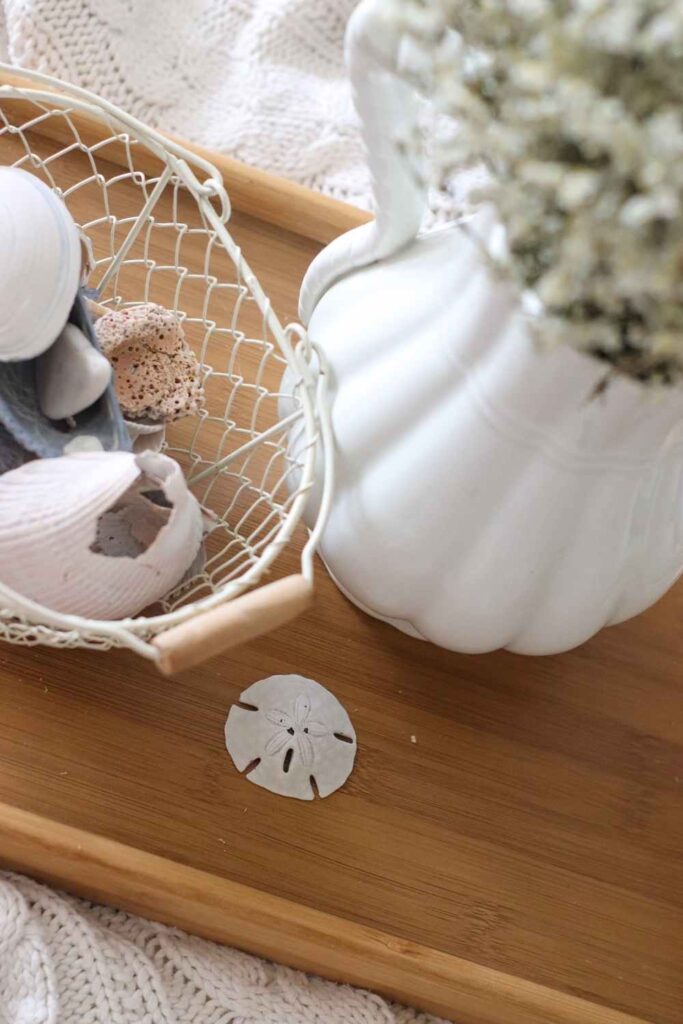 Lastly I added a few beach-y touches. Couldn't help myself. We found these on a beach at the Outer Banks, NC on vacation a few years back. Somehow through all the decluttering we do over the years these have managed to make the cut each time!
SUMMER FARMHOUSE KITCHEN DECOR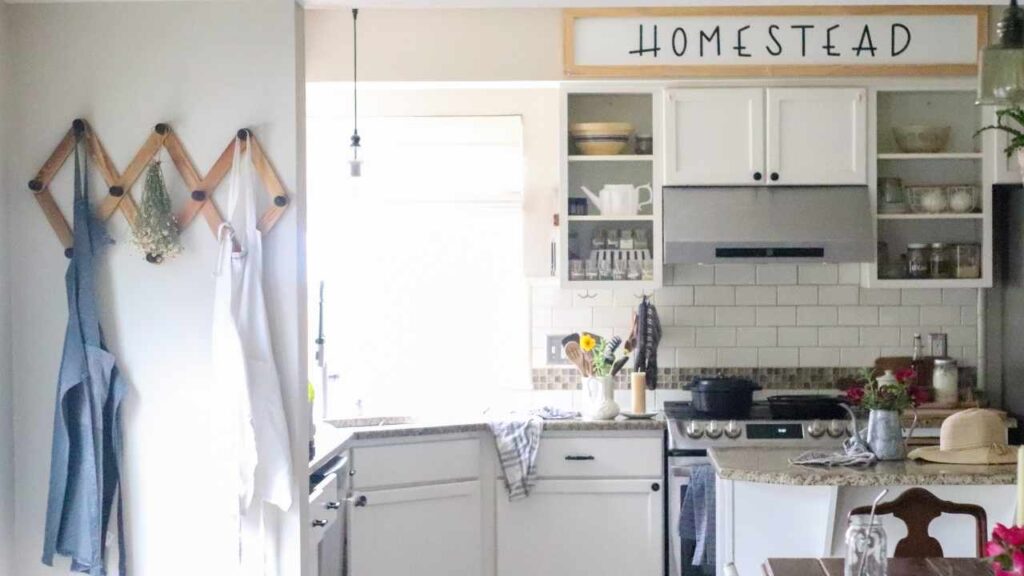 My husband and I DIY'd these open shelves a few years ago (we actually just took off the cabinet doors) and ever since, I've loved filling them each season. Open shelves are great for keeping staple items like spices at your fingertips, but also the occasional thrifted tea cup or vintage plate. I have been pretty into vintage kitchenware lately, which you'll see soon in the living room.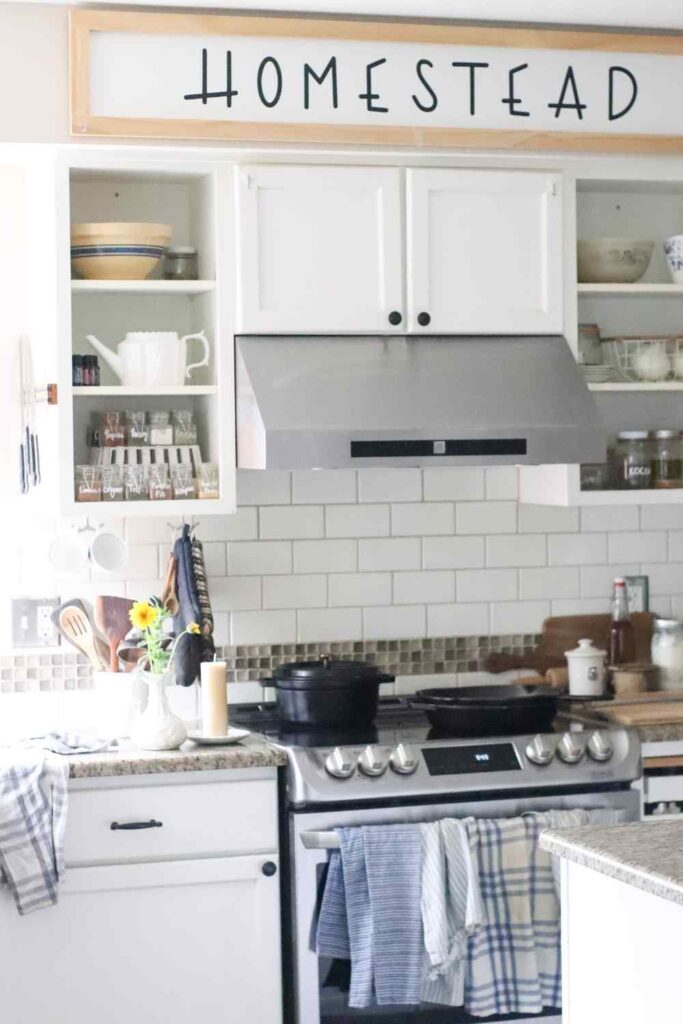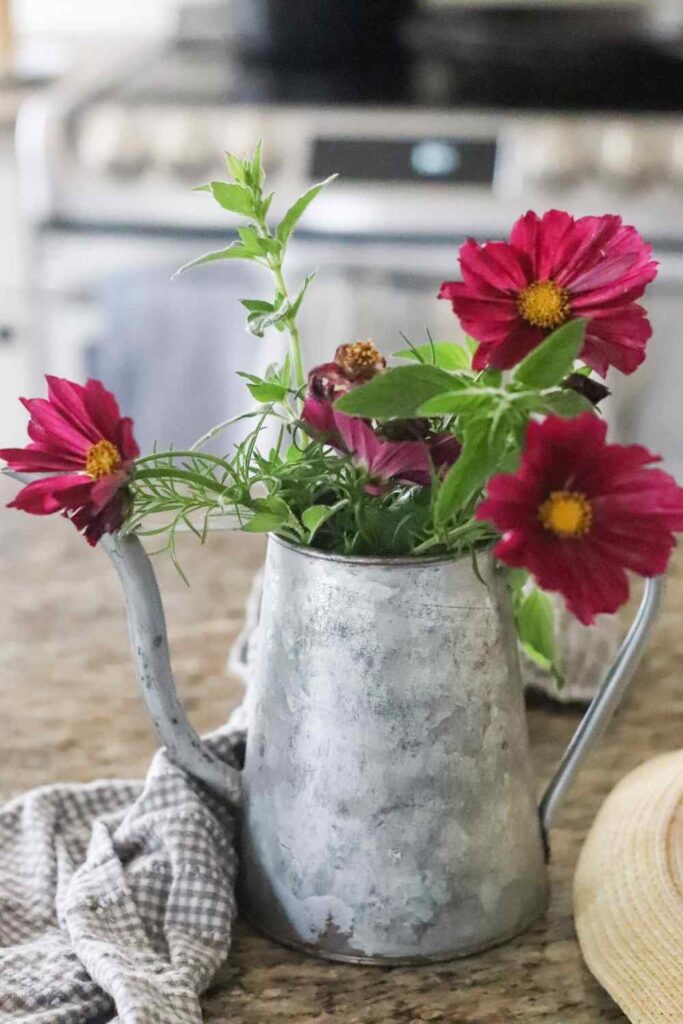 Summer is also the time for fermenting. This year I'm trying my hand at ferreted garlic scapes, garlics, and peppers. So good! These small mason jars are perfect to ferment leftover summer veggies that you don't want going back out to compost.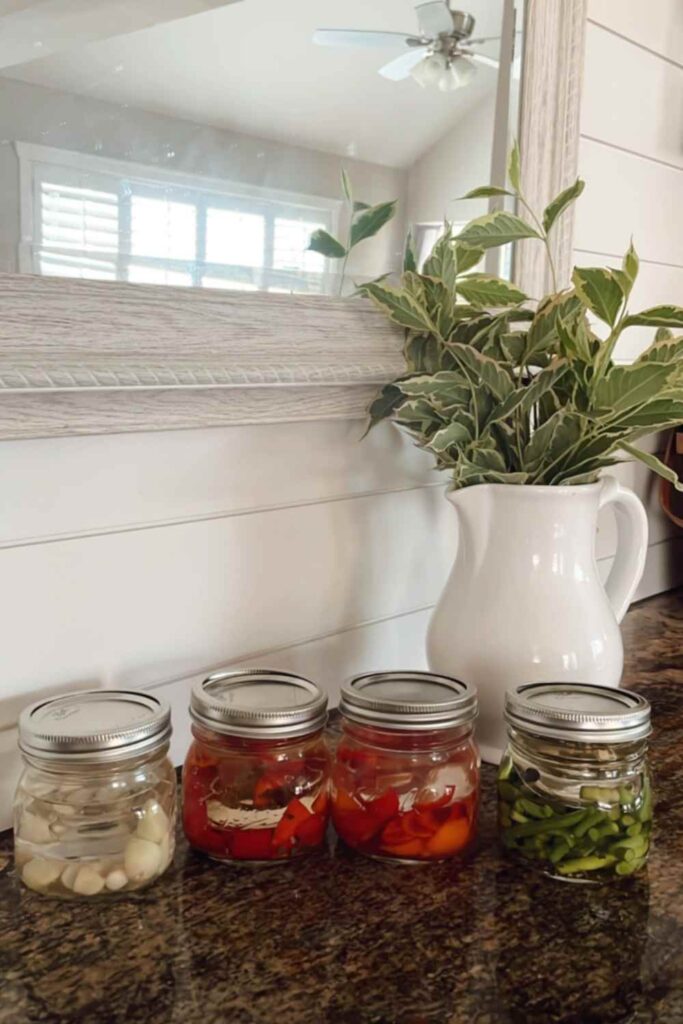 SUMMER FARMHOUSE LIVING ROOM DECOR
Cleaned and freshened blankets, pillows, and fresh flowers is all our living room needs for summer. I was happy to take photos with this coffee table in it, because for the last few months this has been Allison's playroom, which means no coffee table for the time being. For just a few brief minutes this view was nice!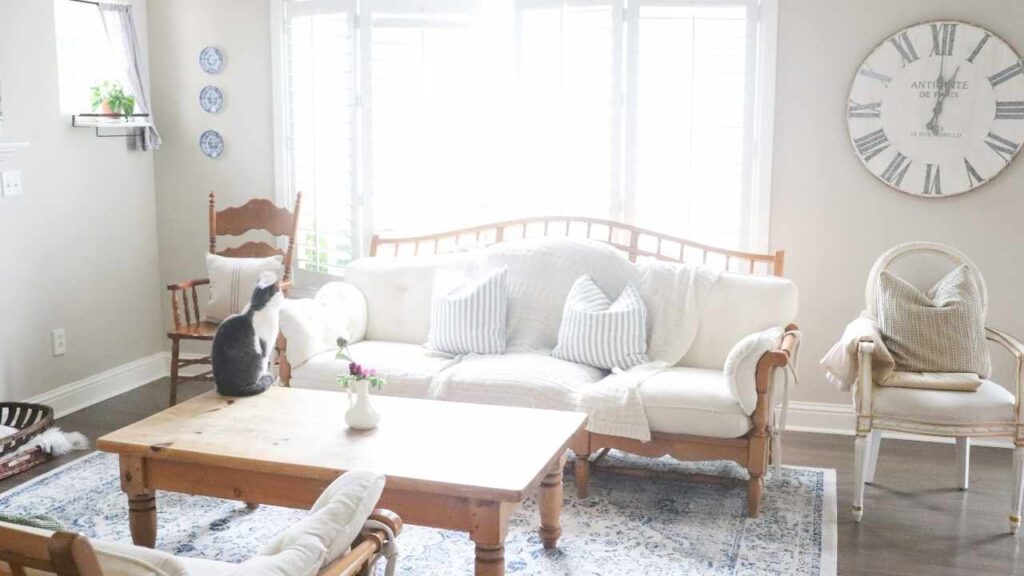 I finally got these plates hanging on the wall. Did you ever think hanging plates would be difficult? I went through several iterations of Command hooks and plate hanging hooks before finalizing on these ones. They are still not perfectly hung, but there is a certain amount of imperfection I can live with, and they look beautiful in most of my view anyway!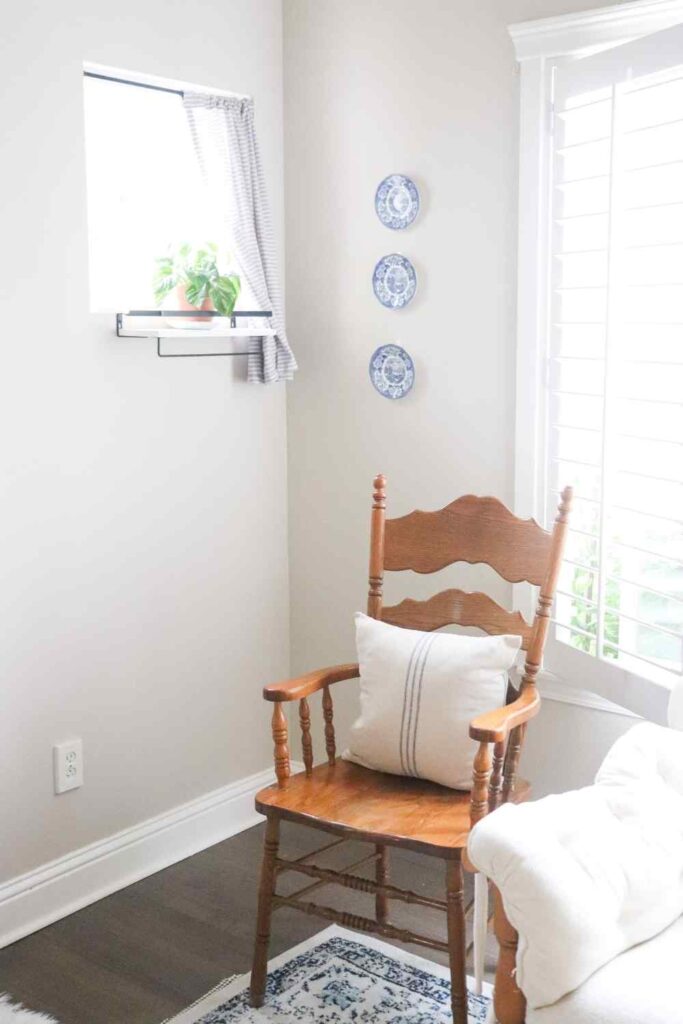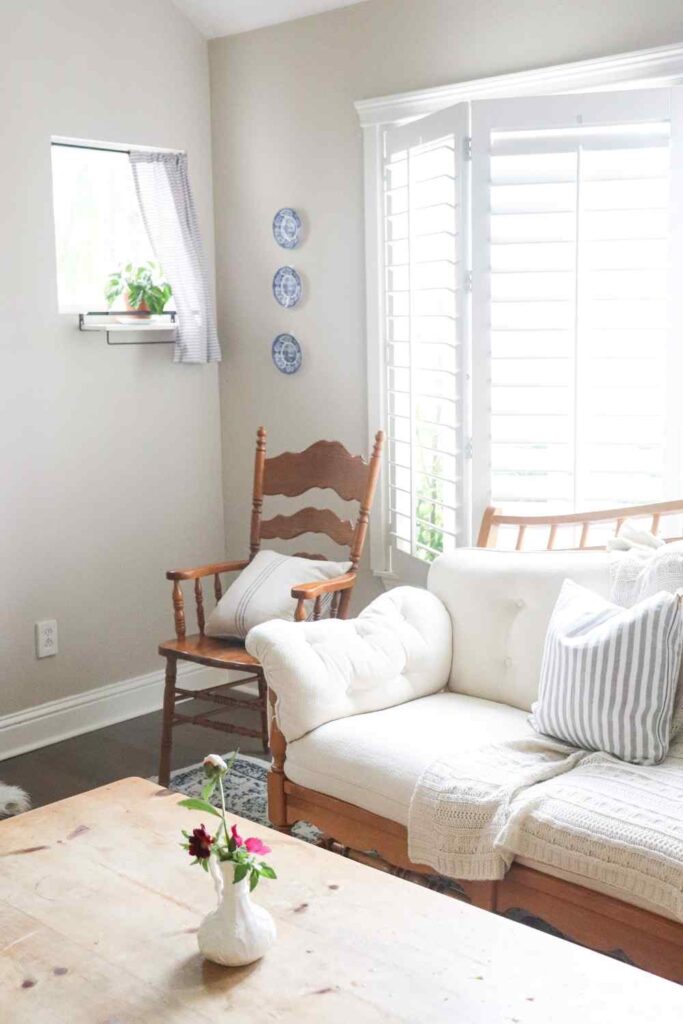 Here's my hack for filling vases when you don't have a huge garden. As I said before, our plants are growing super slow because of the cold summer we've had so far. But the show must go on! So I went outside and grabbed several branches and leaves from non-flowering plants. Then I noticed I have a ton of oregano in the herb garden and cut a bunch of that. Turns out, oregano is beautiful in vases, and it smells great too! I clipped my few flower blooms and filled in the rest with various branches and oregano.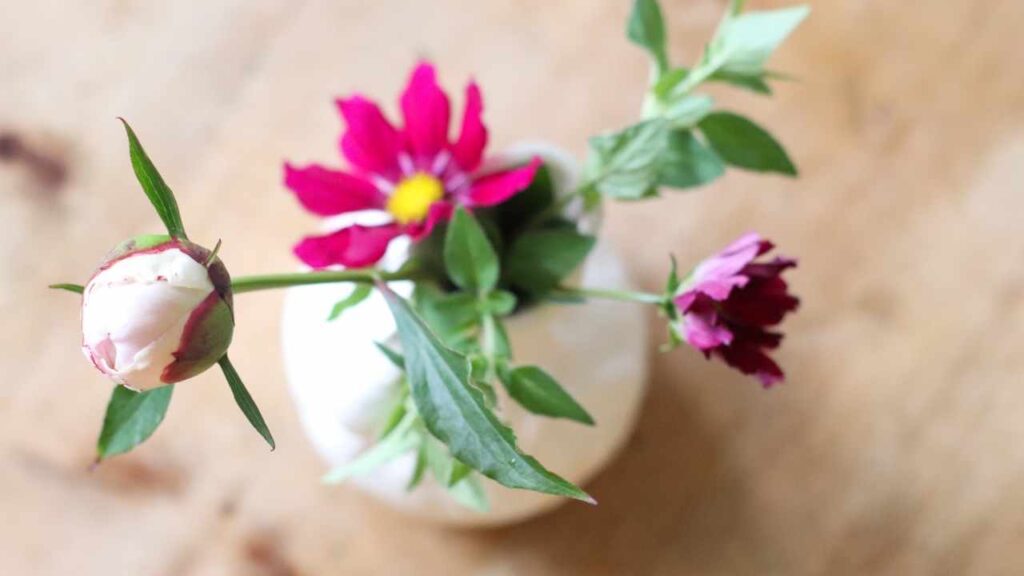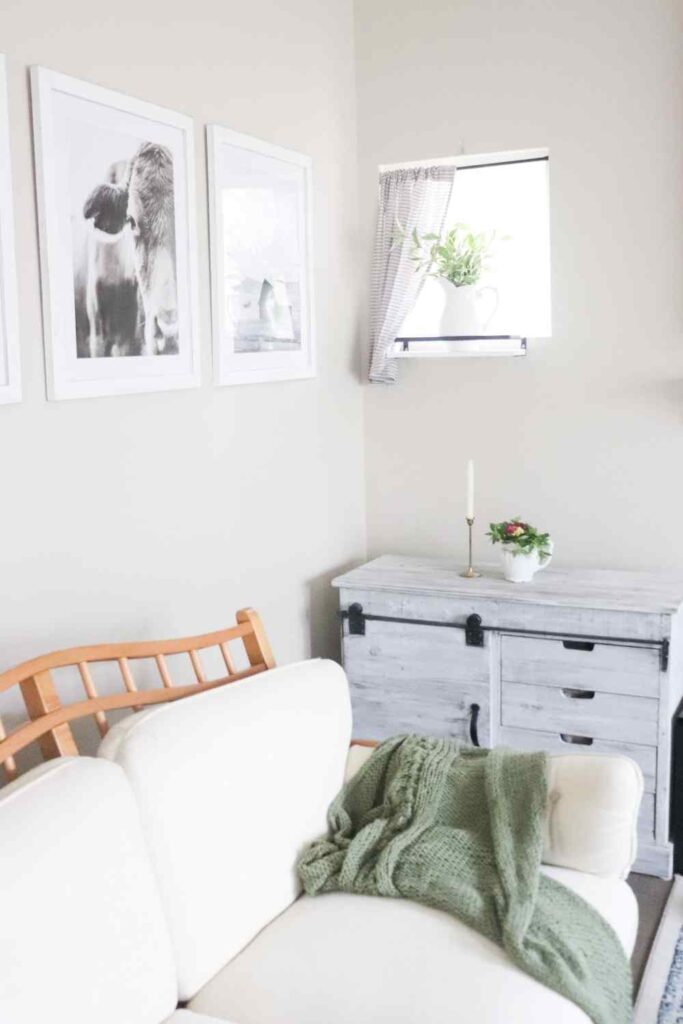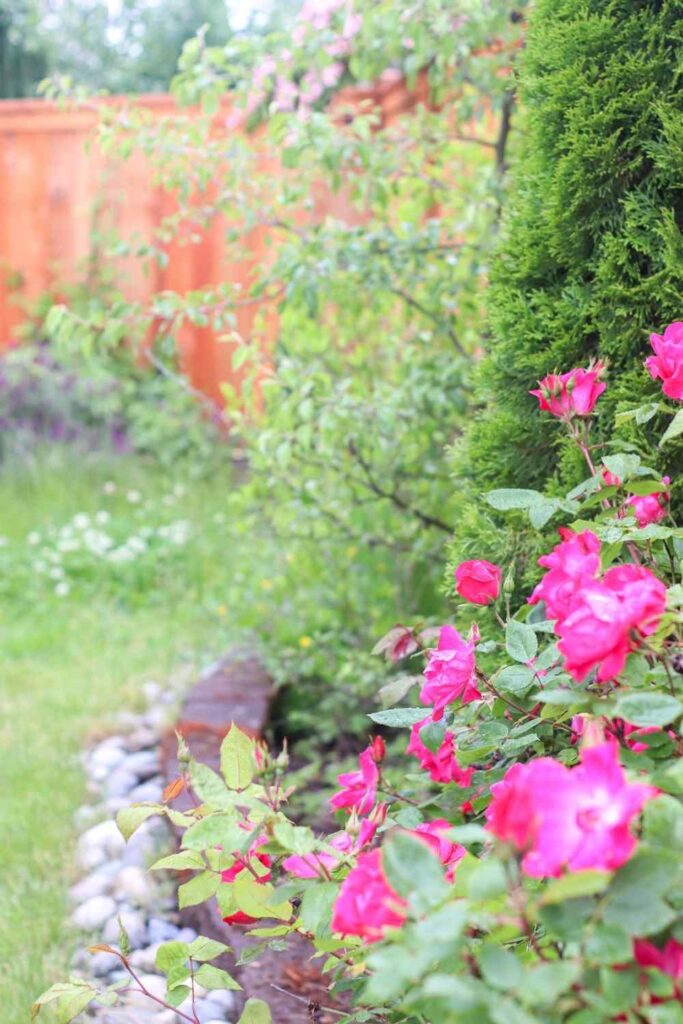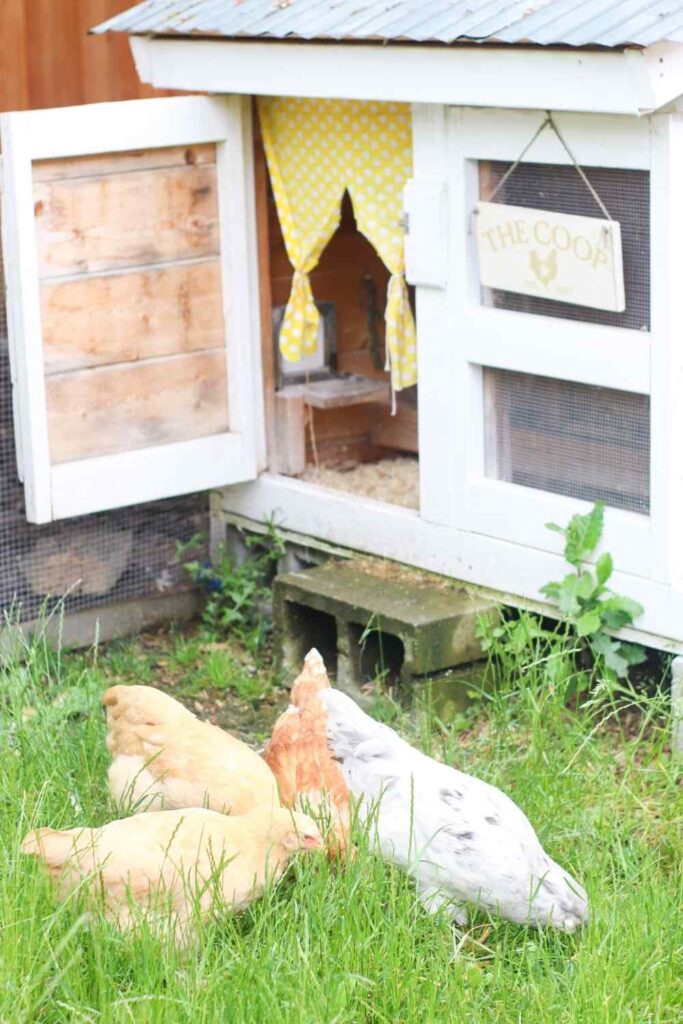 SUMMER FARMHOUSE DINING TABLE
Remember how I told you I like handmade touches? The dining table is a place where handmade does well. During a quick naptime I made these double sided napkins with summer fabric. I used floral fabric on one side and this blue fabric on the other. Although I have to confess for those who want to make something like this: the floral fabric is actually not cotton like I thought it was, it is upholstery fabric. So it still works, but it doesn't feel the same as the blue cotton fabric, which is not ideal. Try find vintage peony COTTON fabric if you can! 😉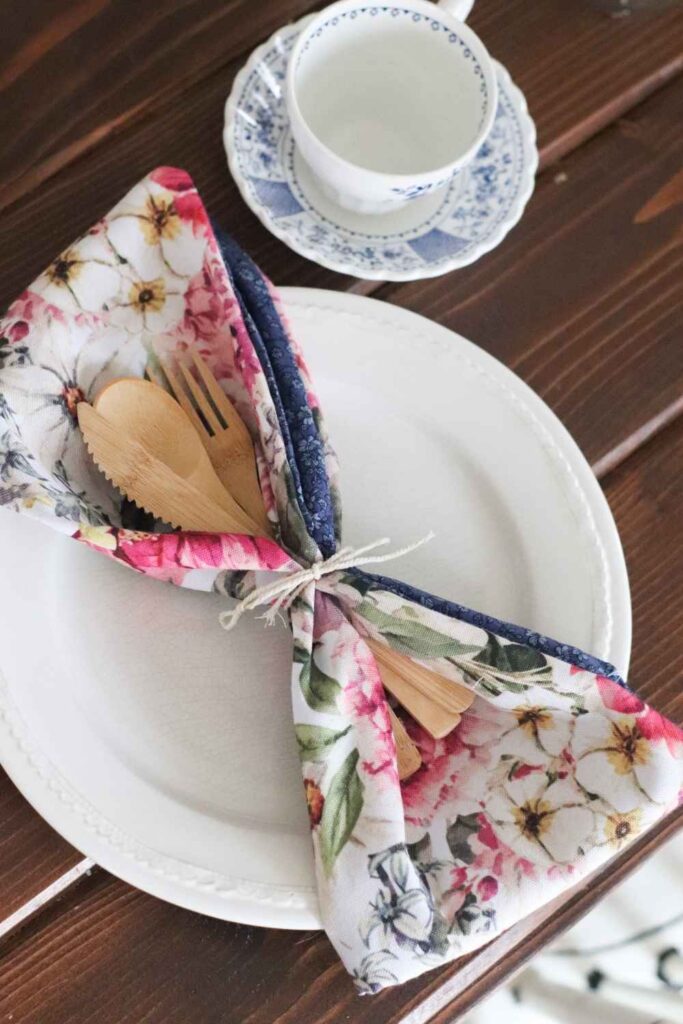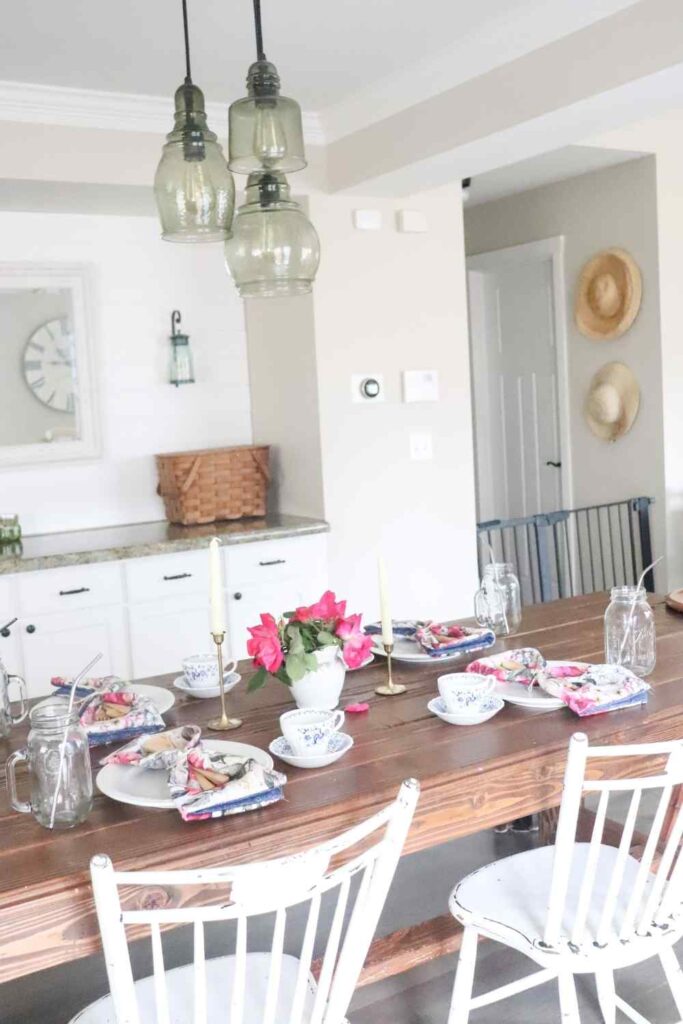 I just love these vintage tea cups and saucers; they are perfect for summer. Believe it or not, these are thrifted from Instagram! Yes, there are people on Instagram who buy thrifted items and sell it to you. You do pay shipping, but even with shipping sometimes the items from other parts of the country are still cheaper than if I bought it myself in our area. The shop I purchased these from is called Fleurish Vintage.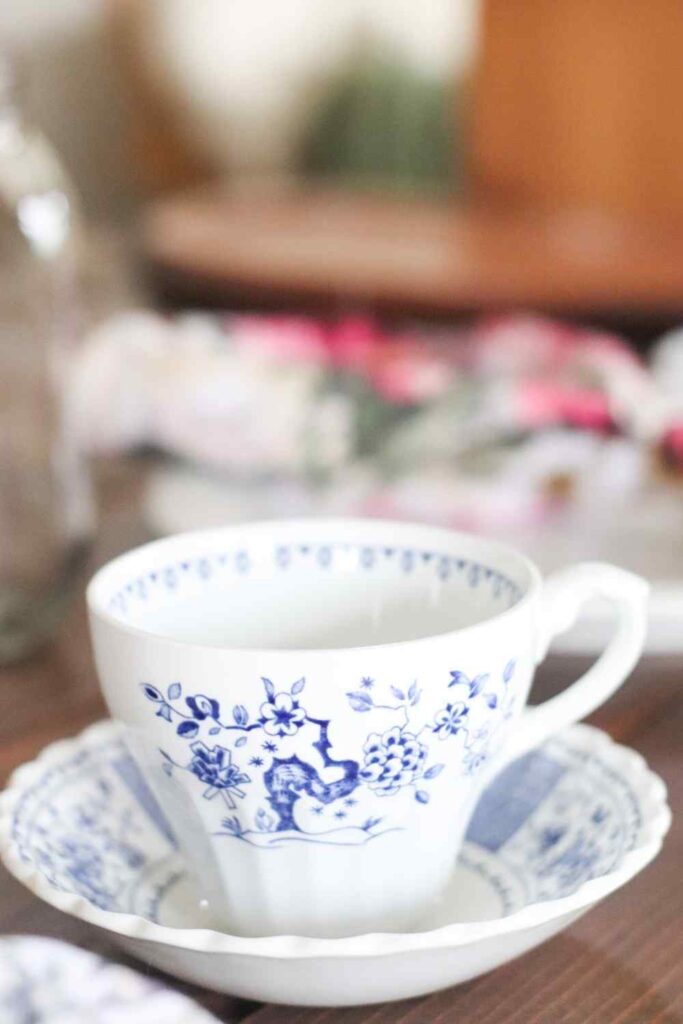 SUMMER FARMHOUSE FRONT PORCH
We actually redid the decor on this porch! You might remember it looking differently if you saw last year's summer home tour. Gosh, to be that pregnant again…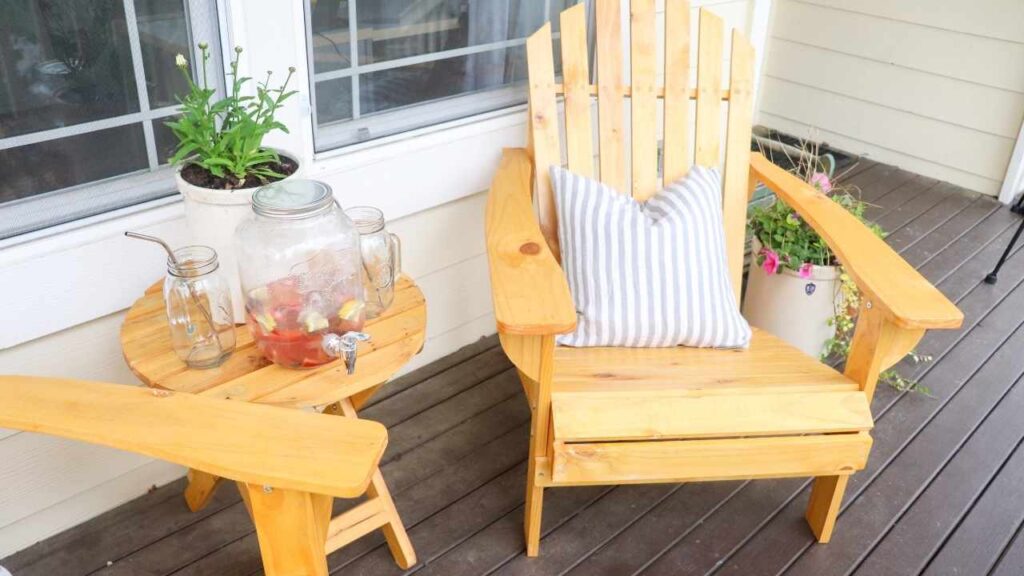 So my husband built these unfinished Adirondack chairs from Home Depot and added a stain. We love sitting in them and drinking "sun tea". Have you heard of this? John requested it and I had no clue what it was. Little did I know sun tea is definitely a thing! Just put your tea and some lemon in a pitcher and let it sit out all day in the sun. Enjoy your freshly brewed sun tea in the evening on your front porch!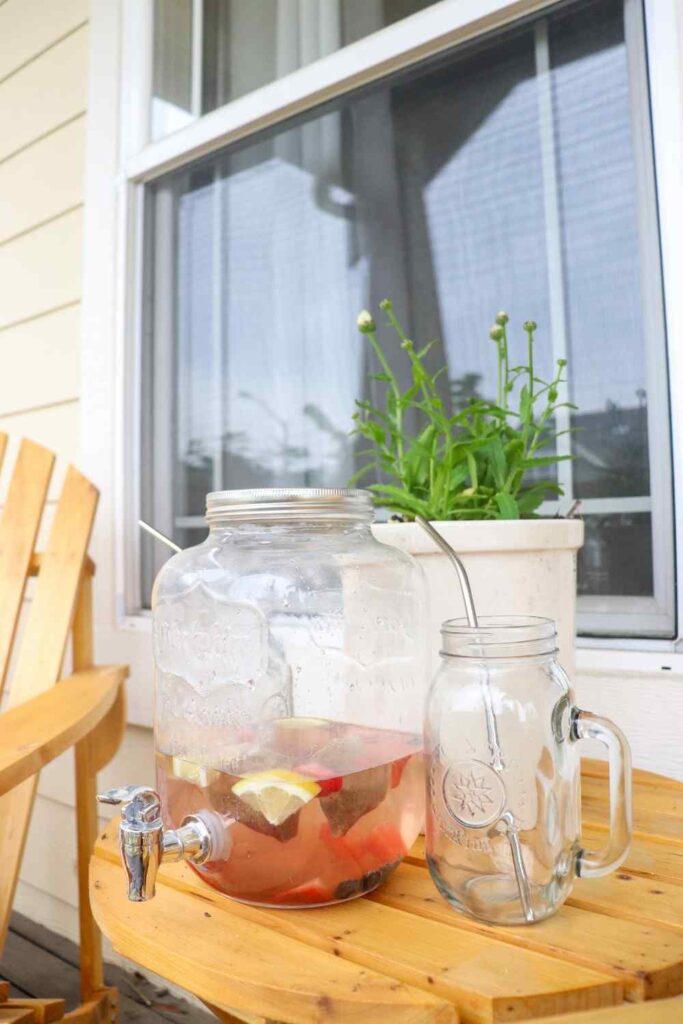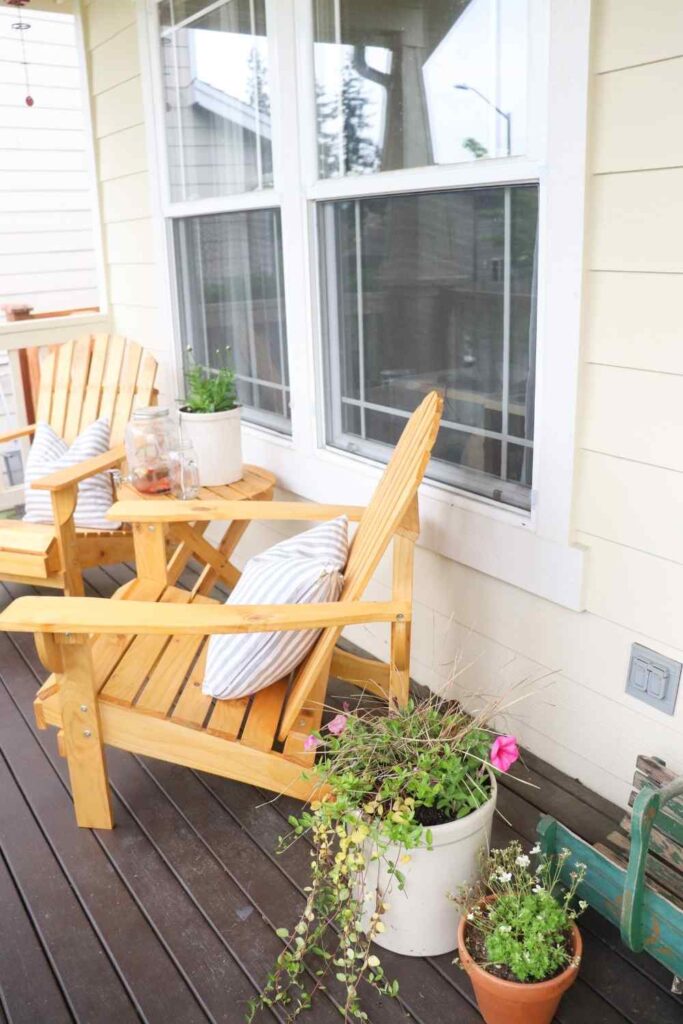 I hope this natural, handmade summer farmhouse tour inspired you to look around your home and find a few ways to bring the outdoors in this summer.
SHOP THIS POST
Matte Paper for homemade picture frames
Downloadable summer photos from Etsy
Mason jars for fermenting
Floral fabric for napkins
Blue fabric for napkins
Unfinished Adirondack chairs from Home Depot
MORE SUMMER FARMHOUSE HOME DECOR
Summer Farmhouse Floral Dining Tablescape
Top 10 Summer Kitchen Essentials
DIY Summer Farmhouse Home Decor Ideas
2020 Summer Farmhouse Home Tour
PIN IT FOR LATER!
THANK YOU SO MUCH FOR STOPPING BY THE HOMESTEAD!