Last week, I decided it was time to totally redo our spice cabinet organization. We cook a lot at our homestead and I was finding that the spice glass jars and containers were taking up so much space in the cabinet and looking so unorganized. Also, we spend a lot of money on spices because you have to buy the little glass jars. Instead, I wanted all of our spices in a reusable glass jar so I could order more in bulk. Also, I wanted plastic totally gone. In this post I show how we took everything out of our spice cabinet and reorganized it so that we can cook, make smoothies, take vitamins, tea, and essential oils. Enjoy!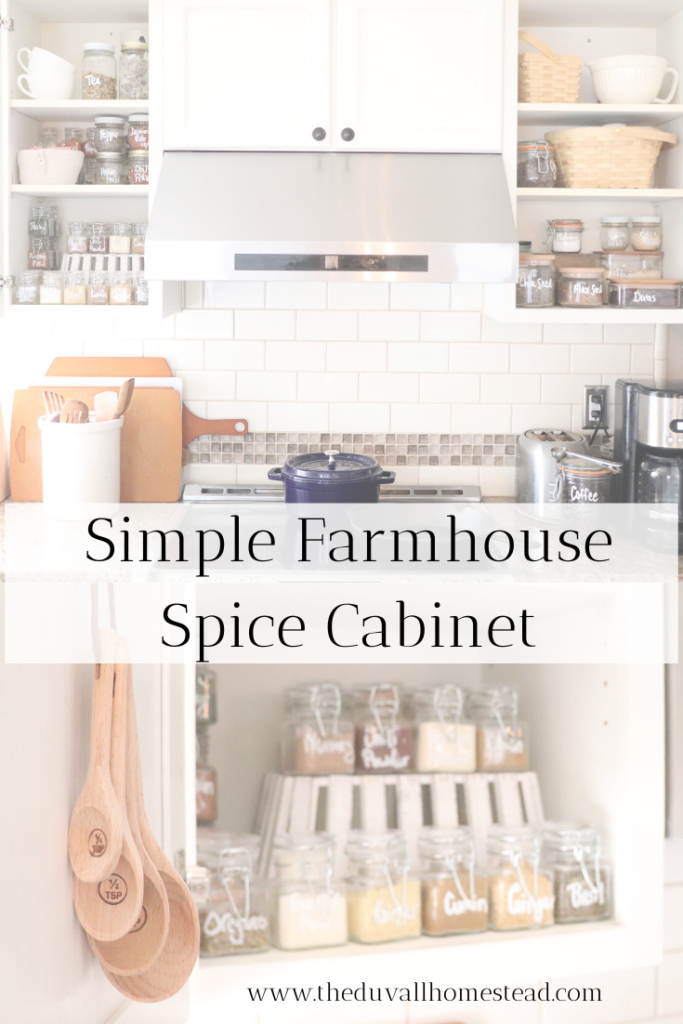 This post contains affiliate links, which means I make a small commission at no cost to you.
I don't know about you, but I am constantly thinking of ways to make things work better, easier, faster, and just to make things more enjoyable. We have busy days whether it's going to work or working on the home, so in the evenings especially I really like to cook and relax before diner! Usually on weeknights and weekend mornings I look forward to dinner with my husband and breakfast on weekends. I was inspired by a blogger friend Lisa from the blog Farmhouse on Boone who did a complete redo of her spice cabinet, and I just thought it looked so sweet, beautiful, and functional. A perfect combo if you ask me!
Benefits to Organizing your Spice Cabinet:
Taking out the mystery and having control of the spices in your home. When I did this project I found three different jars of garlic powder and pumpkin pie spice that I didn't even know I had. I really didn't want this happening anymore. Instead I wanted to know exactly what I had and how much of it had left.
Shopping less at the grocery store for spices. Spices are expensive! I hated when I would run out of a spice unexpectedly and then have to go buy it at the store for almost $10 (yes, that's how much some spices cost here!). When I could have ordered ahead on Amazon or another online bulk market if I would have known. So long story short, I hate shopping for spices!
Saving money. When you buy spices at the store, you're paying for the glass container too! And I don't want more plastic in our home so that leaves me with paying big bucks for spices. It is so unnecessary especially when we just recycle the glass jars after each use.
Wanting to cook more and own MORE spices. I figured if we had a way to store more spices more efficiently, we could own more too. Because now there's more space in the cabinets!
It looks so pretty! I feel very accomplished after organizing the entire spice cabinet. Everything looks so pretty now and it makes me motivated to keep it that way. Otherwise you fall into that trap of "well it's already a mess so…"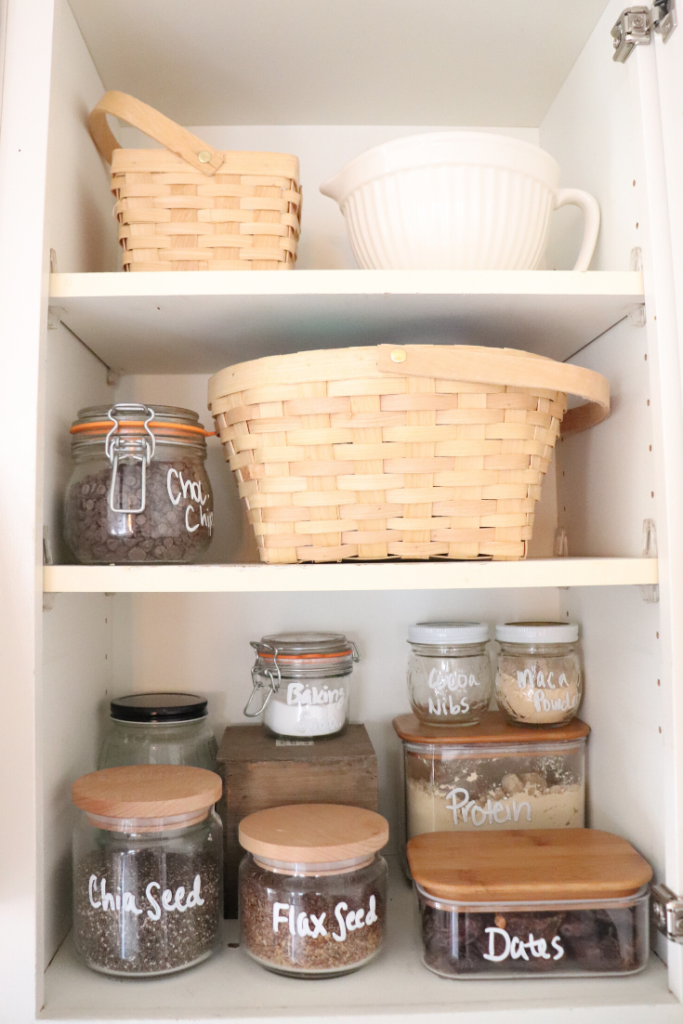 Other Items you can put in your Spice Cabinets
You might think spice cabinets are for, well, spices! And that might be true for you. My mom over at Lemon Grove Lane has a really neat pull-out spice cabinet that is only big enough for spices; so that's what she uses it for! In our case though, we have two big cabinets surrounding the stove and oven. So I wanted to organize every item that I use on the daily basis to be in these cabinets. For us, that includes:
Spices, herbs, and seasonings
Essential Oils
Vitamins
Tea – Nothing I hate more than loose tea bags and opening a box of tea only to find that it's empty. No more of that for us!
Smoothie Ingredients (protein powder, maca, turmeric, chia seed, flax seed, etc)
Baking staples (for us, we are on a huge sourdough kick right now so I keep baking soda, coconut oil, and chocolate chips by the oven to make sourdough pancakes every week)
Coffee beans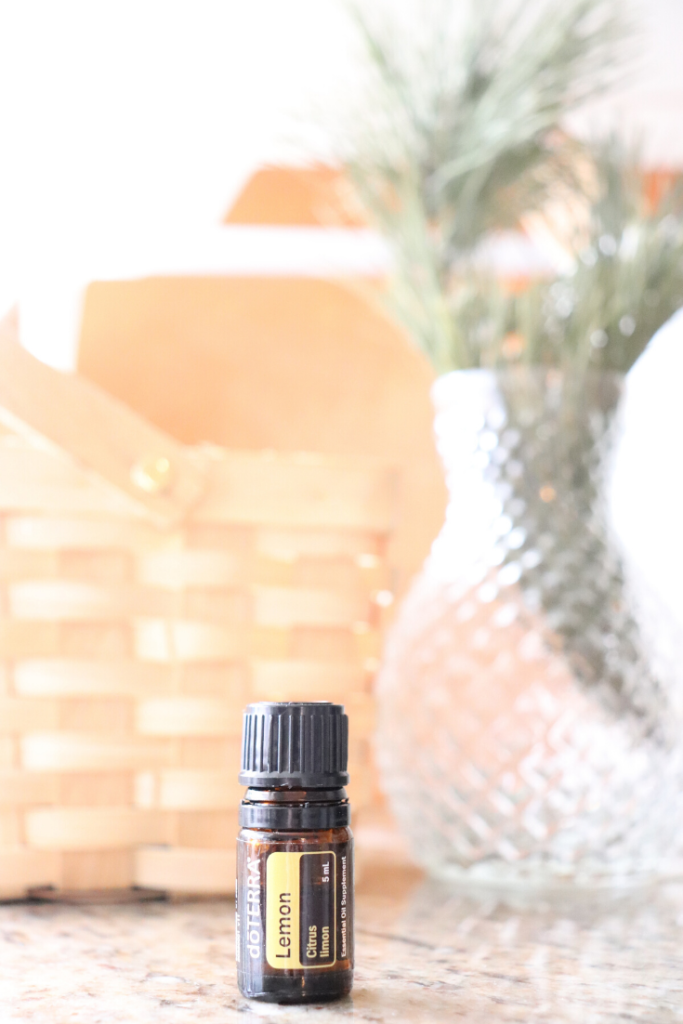 Tools Needed for Spice Cabinet Organization
Here's what I used to organize our spices:
Large Glass storage containers with airtight bamboo lids. The ones I used in this video are sold out now, but these are similar.
Small wooden measuring spoon set
Various baskets – woven and straw. I've had mine for a long time and am not sure where they came from, but Amazon has some similar Seagrass storage baskets that I really like.
Remember, it is really not about what tools you use or buying fancy baskets. I just looked around my house and found some baskets that would work. The one thing I am really glad I bought was the spice containers and washable sharpie. I don't like to spend money on things that I don't absolutely need. But this organization was definitely worth the dime for us.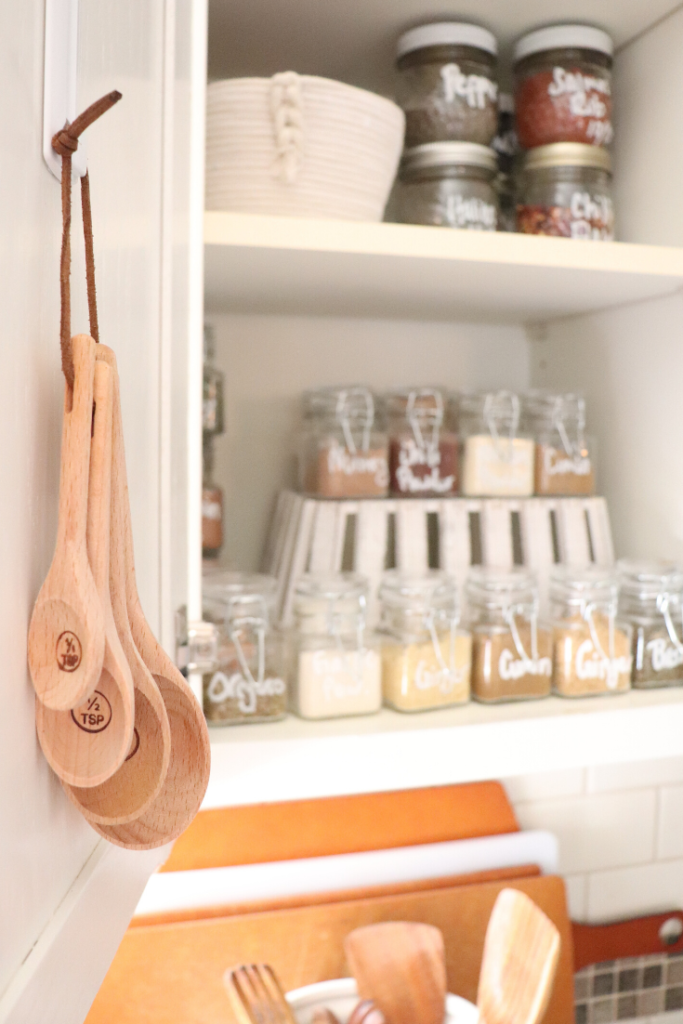 How to Organize your Spice Cabinet
First, clean out your spice area. Maybe it's a cupboard like we have, or maybe it's a pull out spice rack. Whatever you have in your homestead, you can make this work! Just think about what size storage containers will fit best for you, and commit to those.
Next, fill your new spice jars with your spices. Empty out all of the old spice containers and recycle them if possible.
Use larger storage containers for items such as ground pepper, dried Italian herbs, baking soda, protein powder, cocoa nibs, or maca powder.
Before you start filling the cabinet, take a few minutes to plan how you'll organize your new spice cabinet area. Consider if you have multiple small items that need a basket or other storage solution. The goal is to have no one-off items laying around and to have everything sitting inside a permanent home.
Start organizing – this is the fun part. It's also kind of like a game of Tetris!
If you need more supplies or something doesn't look right, keep trying. Commit to having the organization that you need or want. For example, I personally spent over a week on this project. In fact, if you watch my video below you'll see several different shots of the whole kitchen which indicates that I shot the video a few different times. It just took me a long time to make everything fit just right. I'm also not one to show you guys on here what I did but then in reality having it look totally different. So don't worry, this was a lot of work for me too!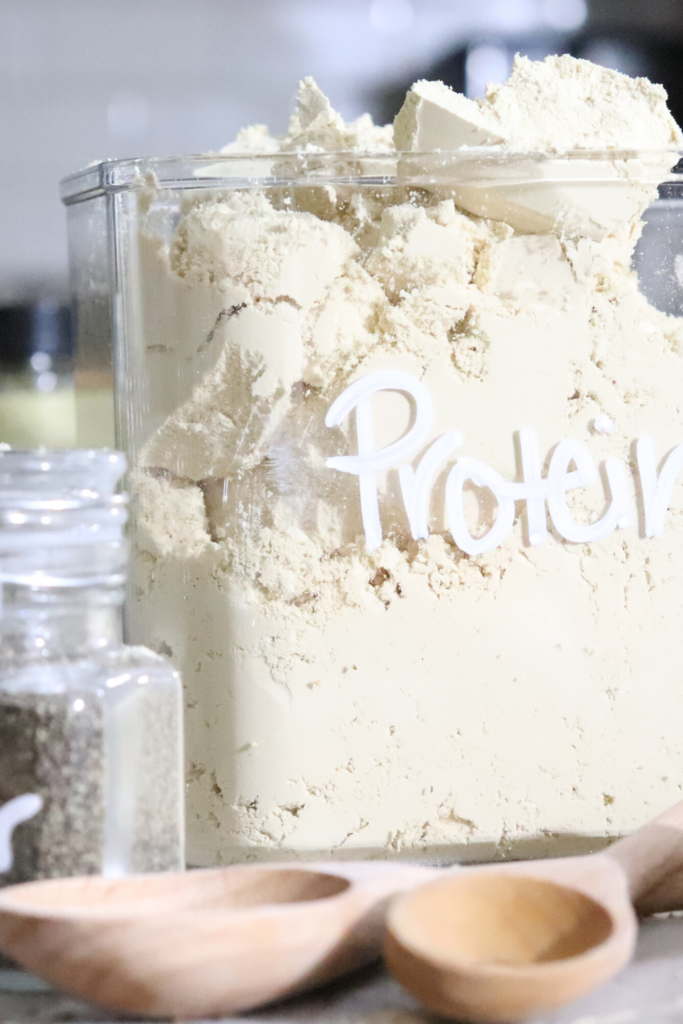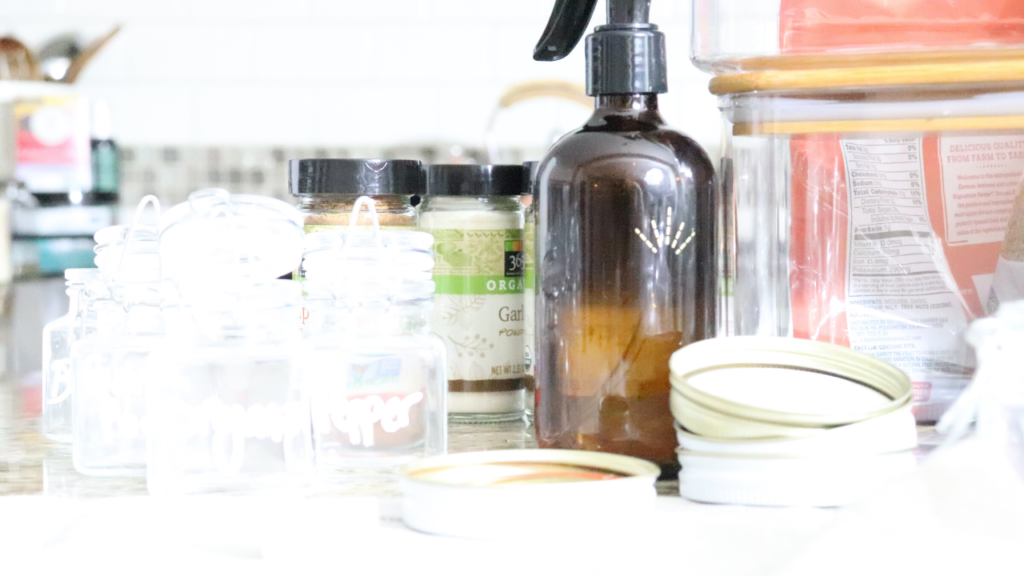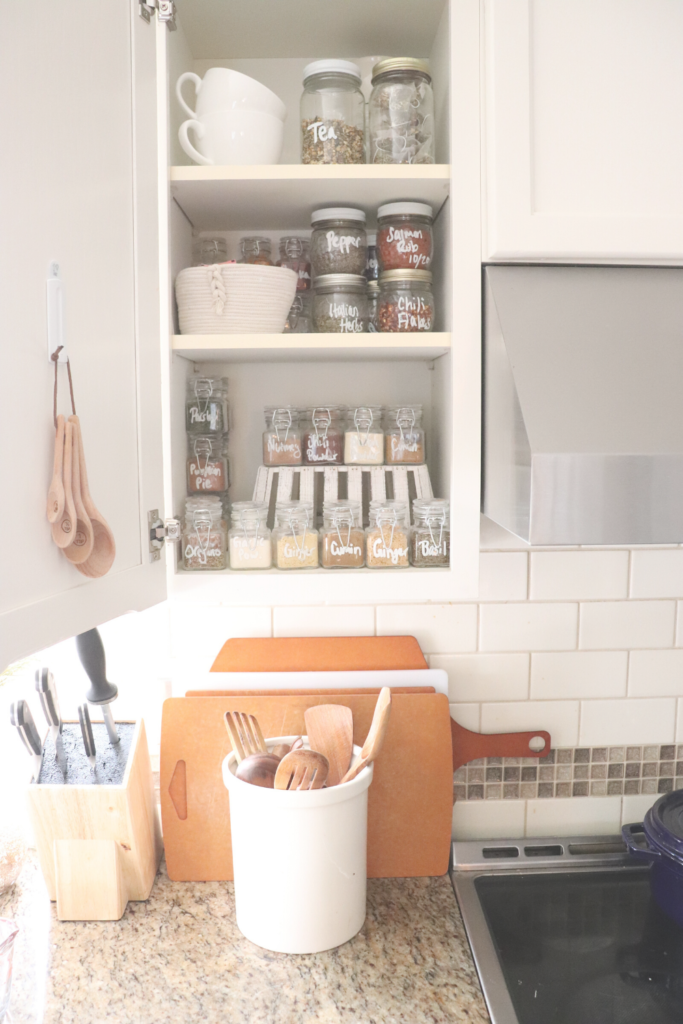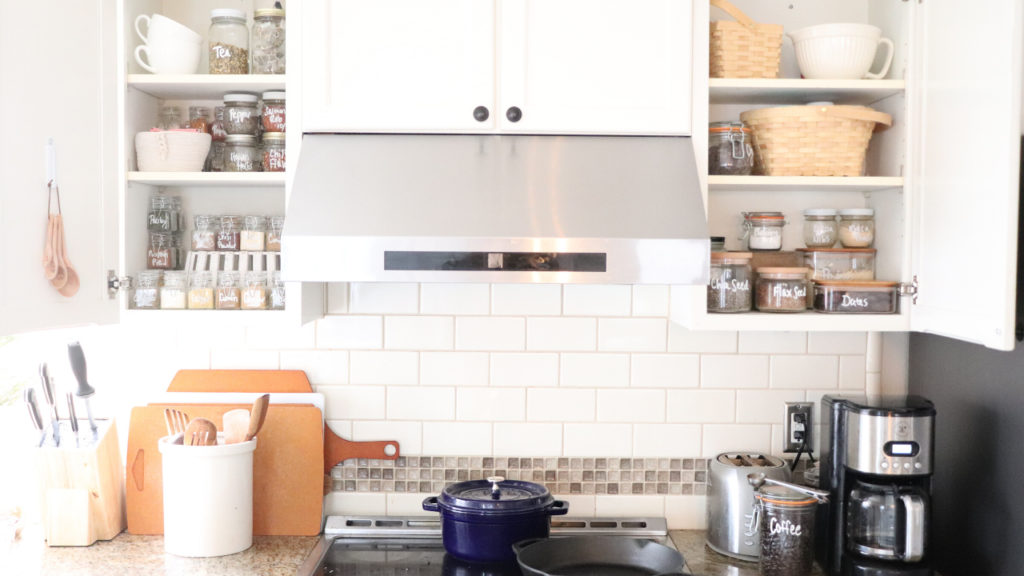 I hope this helps you organize your spice cabinet! I want to hear from you – what organization project are you committed to this year? Let me know in the comments below. Thanks for stopping by our homestead!
How to Organize a Spice Cabinet
Pin it for Later