I have been using a countertop space in my kitchen as a side office for a long time now, so it was time that I organized it as such. Come join me for a simple farmhouse office nook organization where I transform a regular kitchen countertop into a functioning office.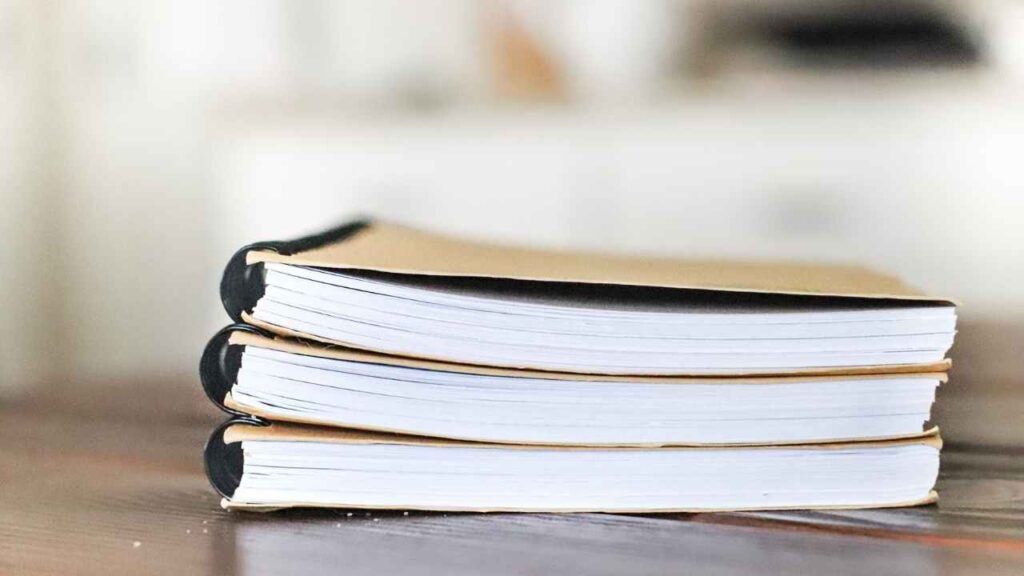 This post contains affiliate links, which means I may make a small commission off items you buy at no extra cost to you 🙂
I want to thank Emerging Green for contributing to this blog post. They are a family owned business and over 70% of their products are recycled and sustainably sourced. They find recycled products for your home, garden, or craft needs and sustainably source them. You can find out more about them here.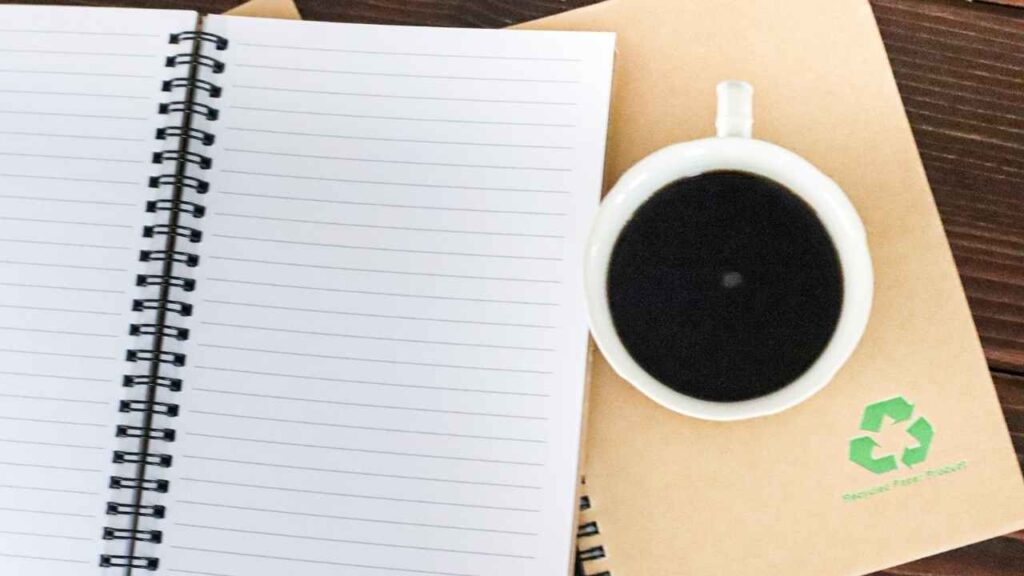 SAVE TO YOUR PINTEREST BOARD!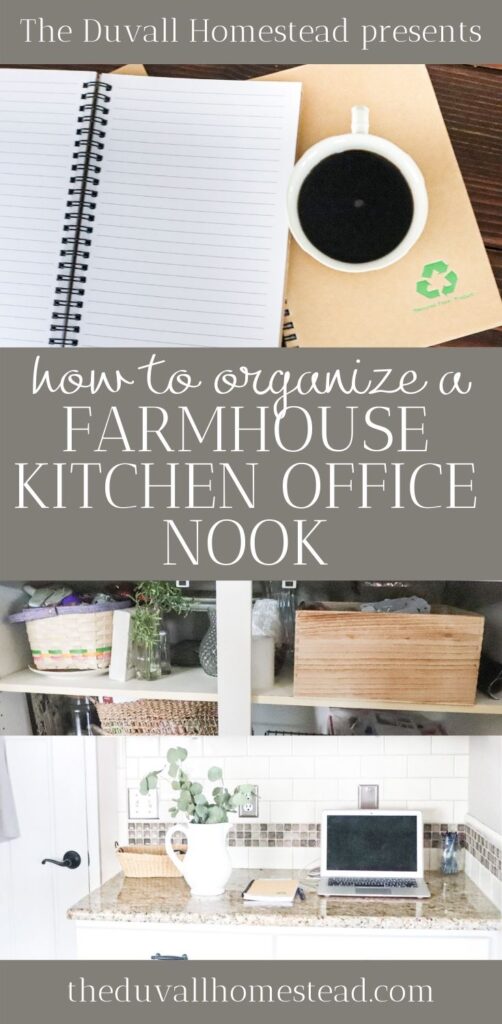 My Multi-Use Kitchen
So, the kitchen is where I spend most of my time. I cook 3 meals a day there, and I run my small little blogging operation from the kitchen too. So that means that at least one of my countertops has to be dedicated to my "office".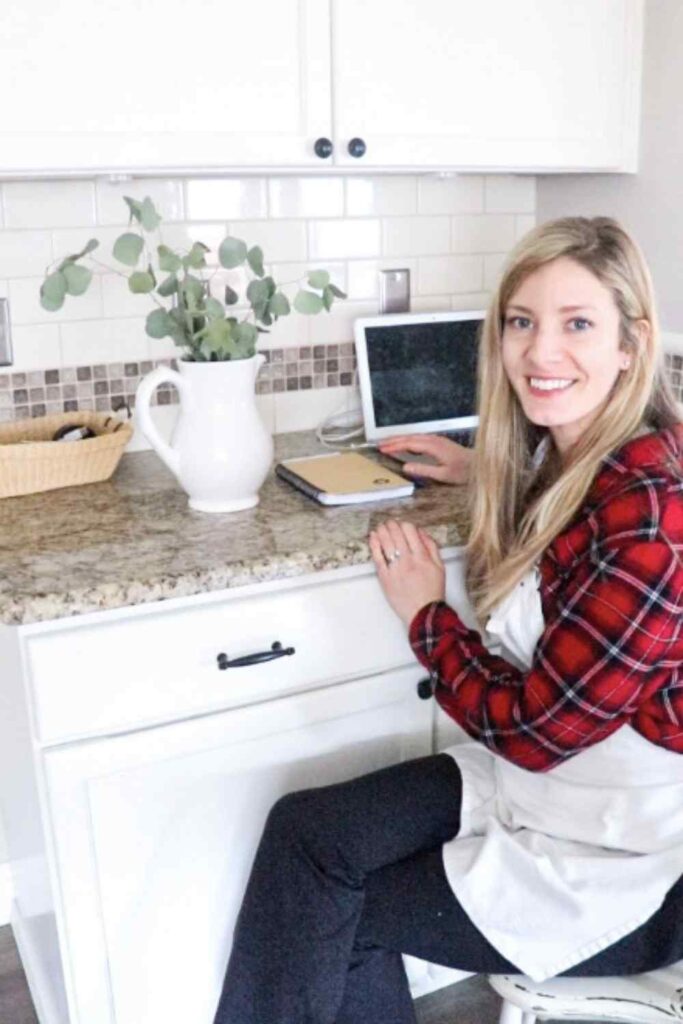 For years I have been trying to find a new spot for my laptop. I kept thinking I should work on this blog in a real office, and I would really like to see the cords and technology out of the kitchen.
But I stopped worrying about that. My favorite place to look up recipes is in the kitchen of course. I have memories during Christmas time when we are baking dozens and dozens of cookies, of my mom and I with our laptops just covered in flour and sugar. It's so fun!
On top of that, I am constantly writing down new recipes and blog post ideas in the kitchen. I come up with some ideas elsewhere, but most of them happen in the kitchen. So often I am trying to make a meal and am out of one or more ingredients. I have to improvise, so I write down what I do and that's how a new recipe is born. It is actually really exciting!
Notebooks for Creating Recipes
I love having my recipes written down. Am I the only one who still does this? Something about flipping through pages of recipes is so satisfying. I think I may be what people call an "old soul".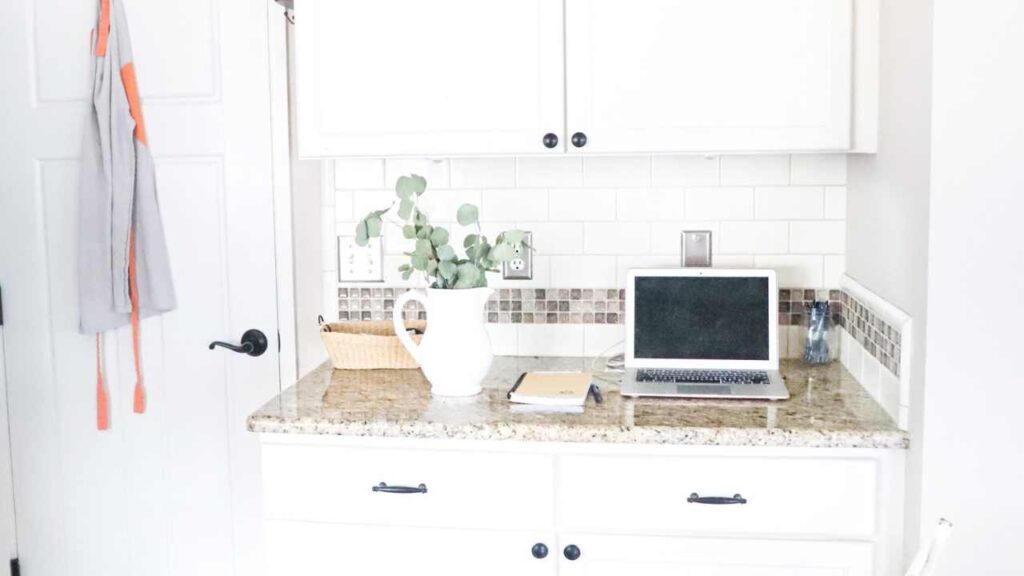 I never had a dedicated notebook for recipes, so I would get scrap pieces of paper, backs of napkins, or printer paper to write them down. As you can see these accumulated over many years and finally, in 2021 I realized it was time to get a bound notebook.
Emerging Green reached out to me at the perfect time and offered to send me these fully recycled, sustainably sourced notebooks. I love that they are lined pages without any words or other content, so the possibilities for writing or creating are endless.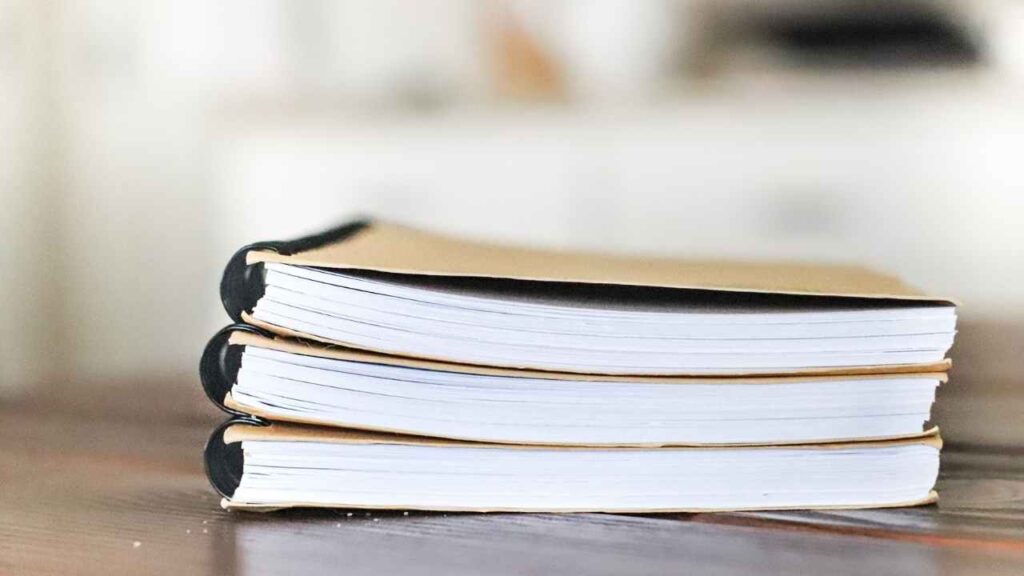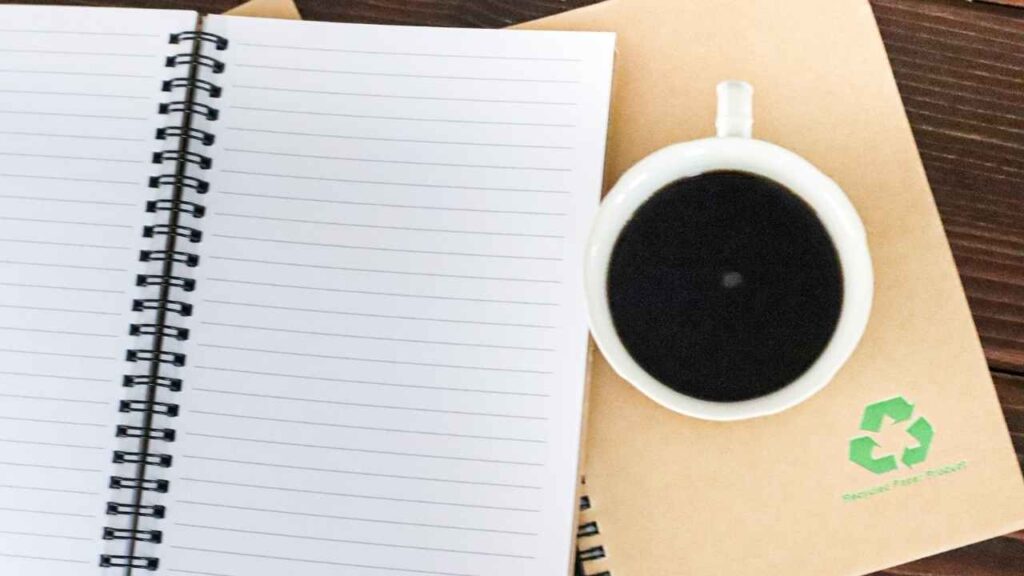 Emerging Green is offering a discount code to my readers! They have recycled and sustainably sourced products for your home, garden, and craft needs. Head over to their Amazon store and don't forget to use the code DUVALLHOME10 for 10% off an order!
HOW I CREATED THE KITCHEN OFFICE NOOK
On the top of the counter I have my laptop, my recipe notepad, and a basket to catch what comes in from the garage. Usually we walk in with mail, keys, a package, etc. I like to have a place for these things to go so they don't end up somewhere else or lost.
In the drawers under the counter I have common kitchen staples. Since this office nook is in the kitchen, it's also functioning as some kitchen storage space. I put rubber bands, tacks, paper, pens, and the like. Before I did this, the drawer was full to the top with stuff. This is just never ok. I would so much rather have things organized!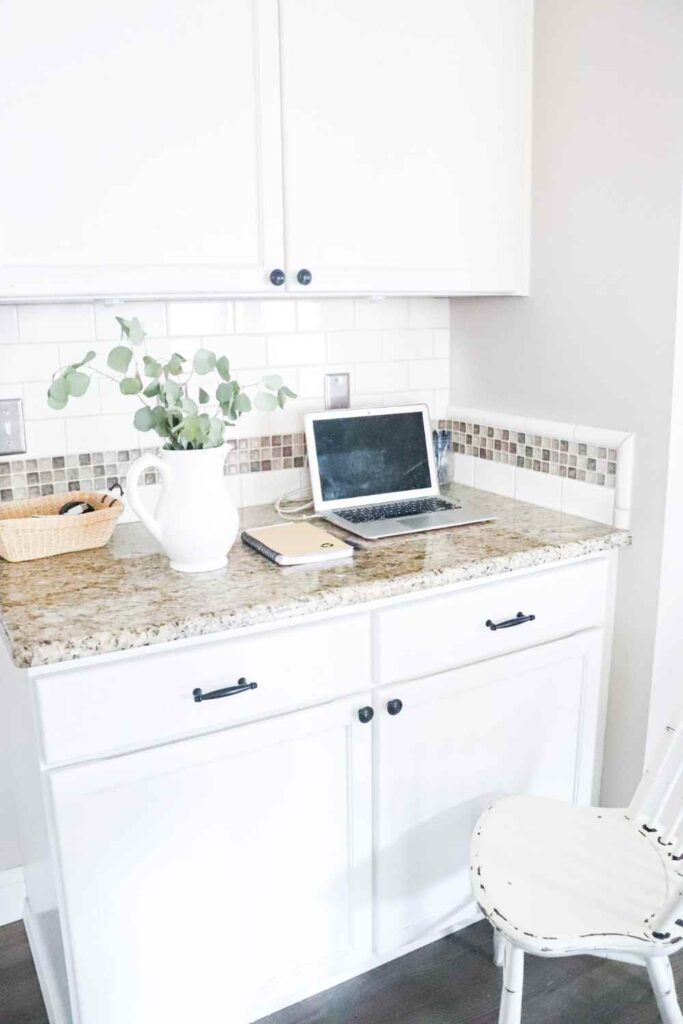 In the counter space below, I keep small seasonal decor items such as an Easter basket and a 4th of July flag (things that don't need their own bin in the garage like Christmas does). I also have a basket of good books, and a wood crate for craft supplies. You never know when you'll need the glue gun, craft paper, tape, or ribbon.
Home Office Organization Tips
First, decide which items you need to function properly and effectively. Allow some or all of those to be on the top of the desk space, or at least closely within reach.
Next, collect baskets, bins, and crates from around your house. If you don't have any, you can find them on Amazon here.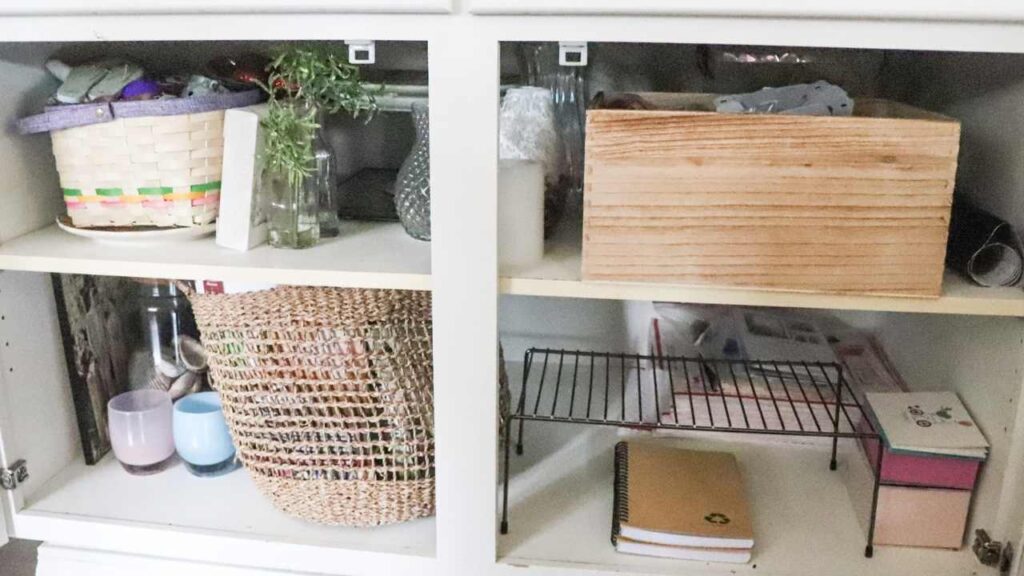 Place similar items together in the baskets or crates. I forgot one step – of course, throw out/sell/donate any items you don't need or use. The general rule is if you have forgotten about it for 1 year, you probably don't need it.
Some ideas for items that can go in baskets and crates are:
Books
Pens/pencils
Home Decor
electronics such as extra power cords and hard drives
Important or sentimental memorabilia
rubber bands, thumbtacks, and other small office equipment
craft tools like glue guns, ribbon, and tape
Stationary like thank you cards and stamps
scissors and/or measuring tap
Of course, this list will vary depending on what you need in your office.
Don't forget the catch-all basket
Always have a "catch all" basket, especially if your office is the kitchen. If it's all the way upstairs you probably don't need one. But for us, our kitchen is next to the garage. So we frequently walk in with mail, keys, packages, etc. I like to have a designated place for these items.
Add a little color!
Lastly add a touch of color with some fresh flowers in a vase! My go to is eucalyptus at this time of year because you don't even need to water it and it's so pretty for months at a time. Until we have fresh cut flowers I will keep enjoying these greens on my desk 🙂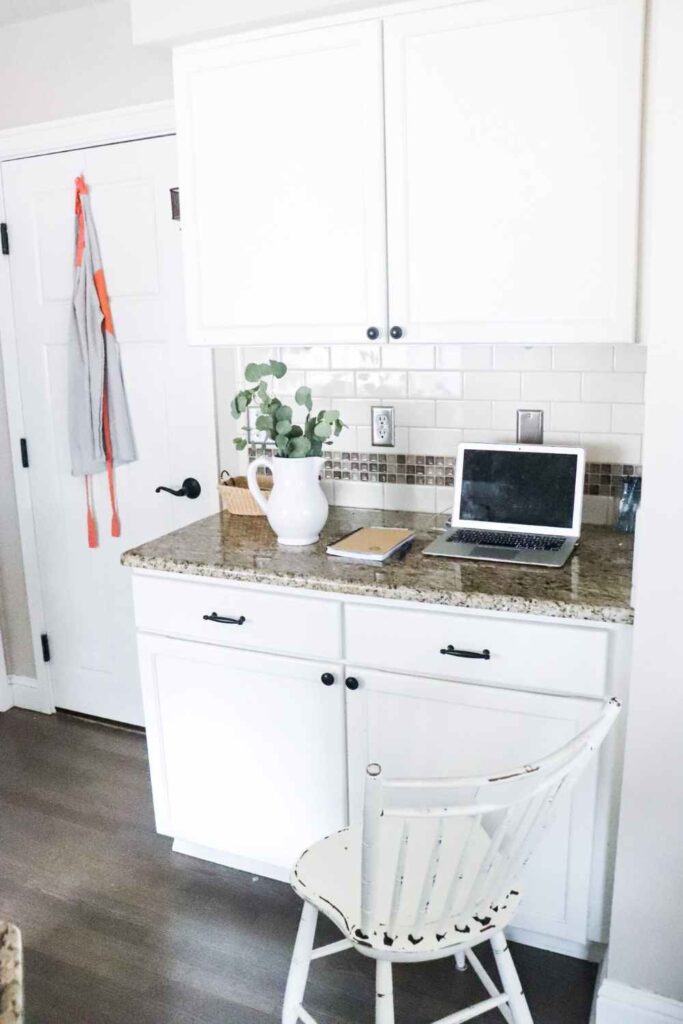 Watch: Farmhouse Office Nook Reveal!
More Farmhouse Organization
See how we organize our farmhouse pantry
Simple Spice Cabinet Organization
How to Build a DIY Custom Garage Shelf for extra storage
Pin it for Later!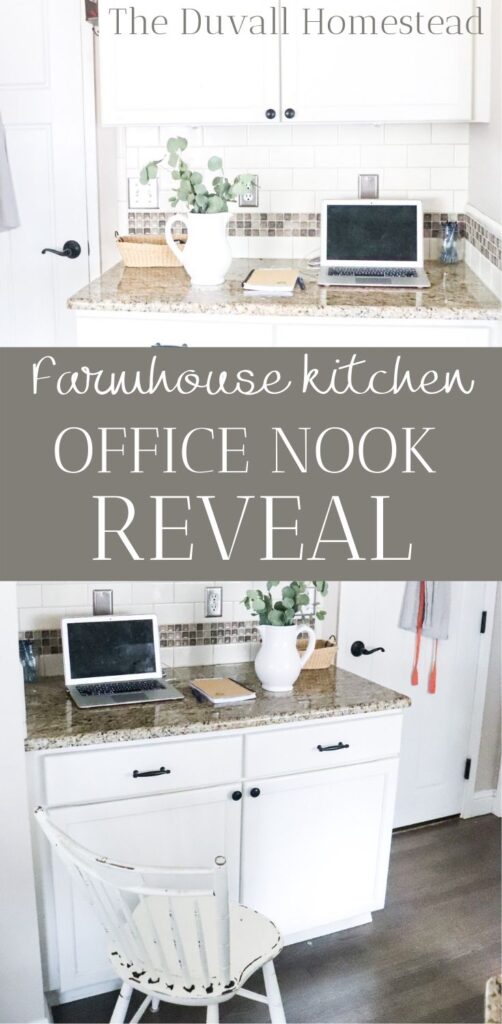 Thanks so much for stopping by the Homestead!