Come see our minimalist farmhouse kitchen pantry organization. I spend all day in the kitchen cooking breakfast, lunch, and dinner (okay so John helps sometimes too). But we both loving having a clean and organized pantry, because being home full time means lots and lots of eating! After organizing the spice cabinets, I was really excited to tackle the pantry. Now, I am so proud of how our pantry looks and functions, that I want to show it off to friends and family! These tips for how I achieved minimalist farmhouse pantry organization at our farmhouse will have you cooking better and faster in no time.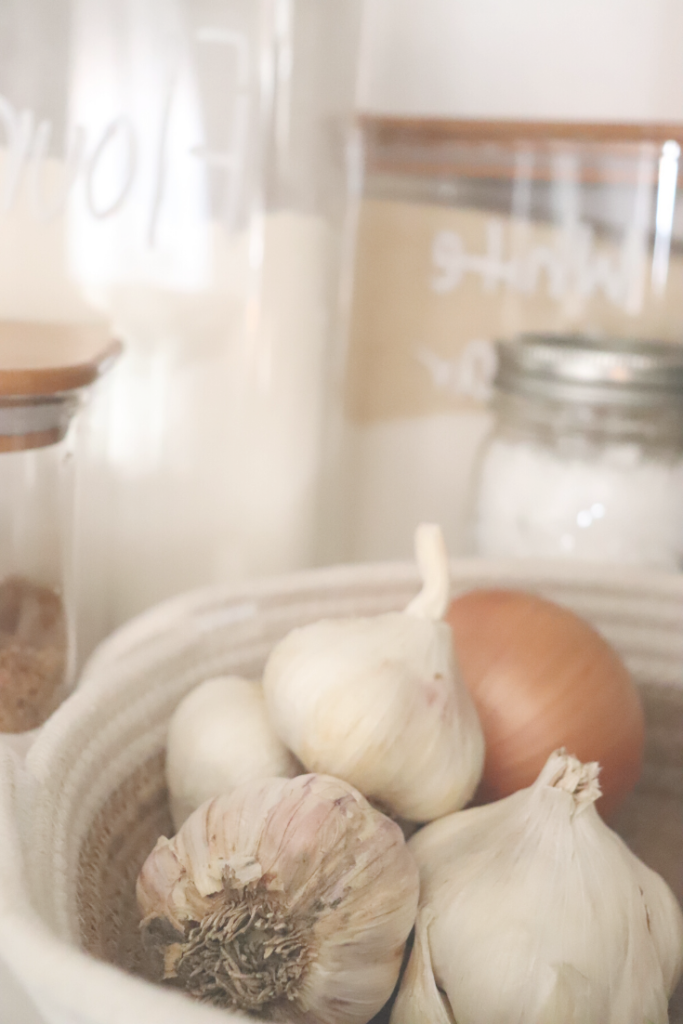 This post contains affiliate links, which means I may make a small commission of items you buy at no extra cost to you 🙂
How to optimize pantry organization
I really wanted the pantry to make my life easier when making meals. (I know, obvious right?) But the truth is I had never really thought about it like this before. I had always thought of it as a place to store food. But why not make it more of like a kitchen caddy – something that is designed specifically for your or your family's needs in mind? You can "store" extra food somewhere else. No need to sift through storage to find an item that you use almost every day.
Here's how I organized our farmhouse kitchen pantry:
This post contains affiliate links, which means I make a small commission off items you buy at no cost to you.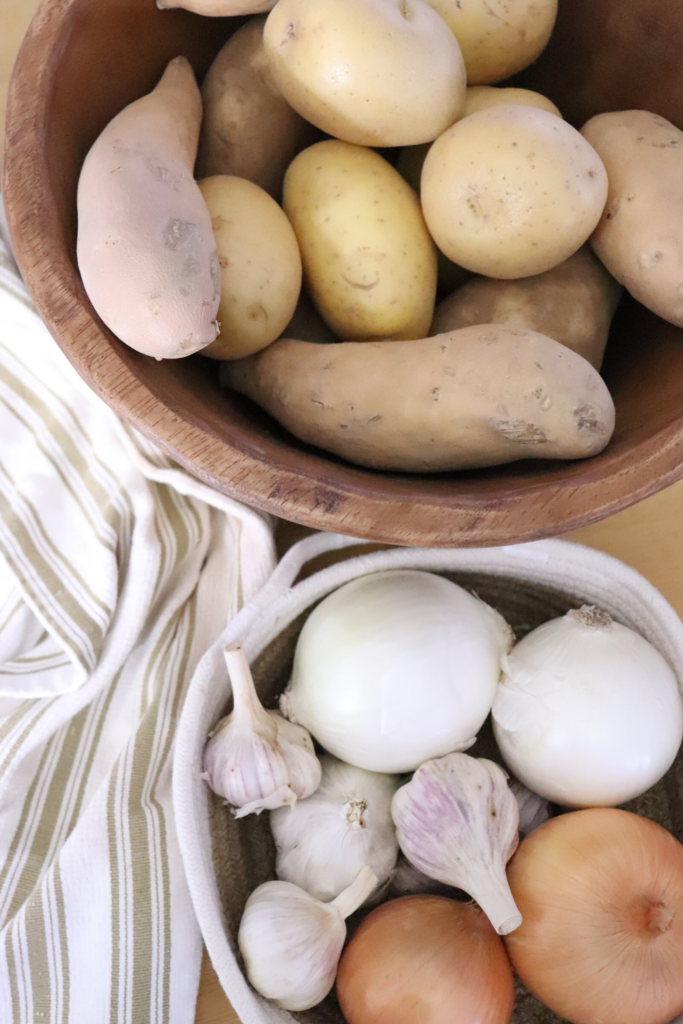 Decide on your priority food items
Decide what dry food items you reach for the most. What items are always sitting out on the counter because you use them so often? Maybe it's peanut butter for a PB&J you make every day for lunch. In our case, it was potatoes, onions, and garlic. We also use flour and other baking essentials several times a week. In our salads every night, we top with a variety of seeds so I wanted easy containers for those. Then there was the chicken and cat food (it's true, these are the things I need every day!). I wanted a place to store other items or overflow bulk items, so that when I came home from the store and something didn't have a spot yet, I had a place to set it. Lastly, we needed a place for trash & recycle bags. All in a days work!
Gather storage materials for your pantry organization
Look around your countertops for unused baskets or bowls. Traditional salad or mixing bowls can be used for storage if you're not cooking with them daily. We were given a beautiful wooden salad serving bowl (two, actually) for our wedding and one of them was sitting on the counter with bananas, potatoes, onion and garlic in it. So I decided to move the bowl into the pantry to create more space for myself on the counter and make more designated storage in the pantry.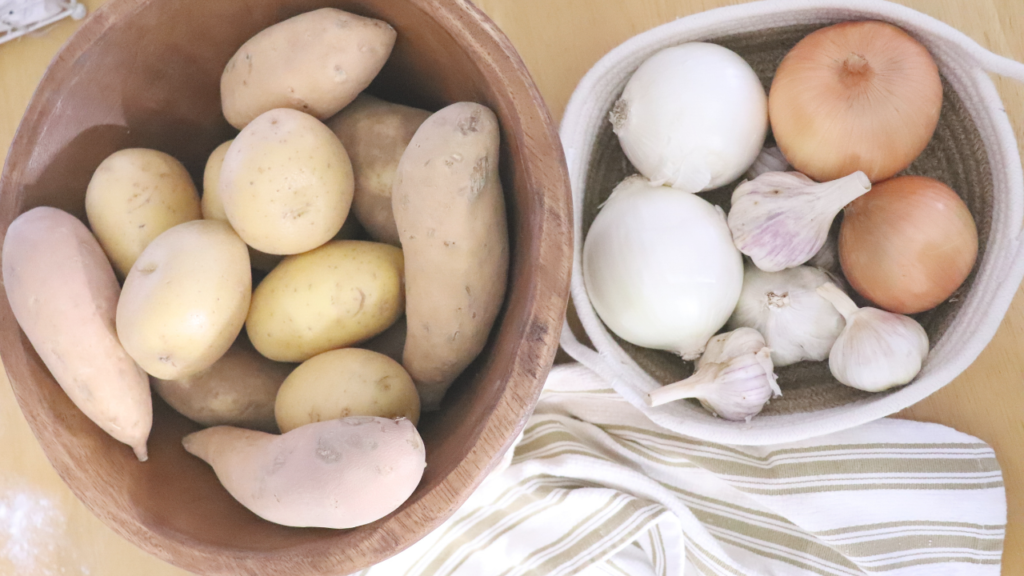 How to shop smartly and keep less on hand
Don't buy more food until your current food is gone. Now, obviously I don't mean totally gone. We keep a good amount of food on hand in the winter in case we get snowed in for several days. But other than that, do not let your food sit around for months on end!
I used to buy these Rice Pilaf packages that I thought were such a good side dish to my dinners. But over the years I have tried to eat less and less boxed food and more homemade food, but the habit of buying this Rice Pilaf never died. I found myself buying it at the grocery store until recently. When I had to throw some boxes away for being expired, I realized we never even ate Rice Pilaf anymore. So, don't buy food at the grocery store unless you're really planning on making it.
Buy food that's going to last. Like beans, for example. You can buy dried beans that will sit in your pantry until you're ready to soak them and then cook them. Look down at the photo below this text and consider how many cans of beans is inside of these jars. Probably enough to take up this whole pantry shelf (cans are huge!). So buy more dried food – like nuts, seeds, grains, and beans, that can last a long time before being cooked. It's healthier for you, too!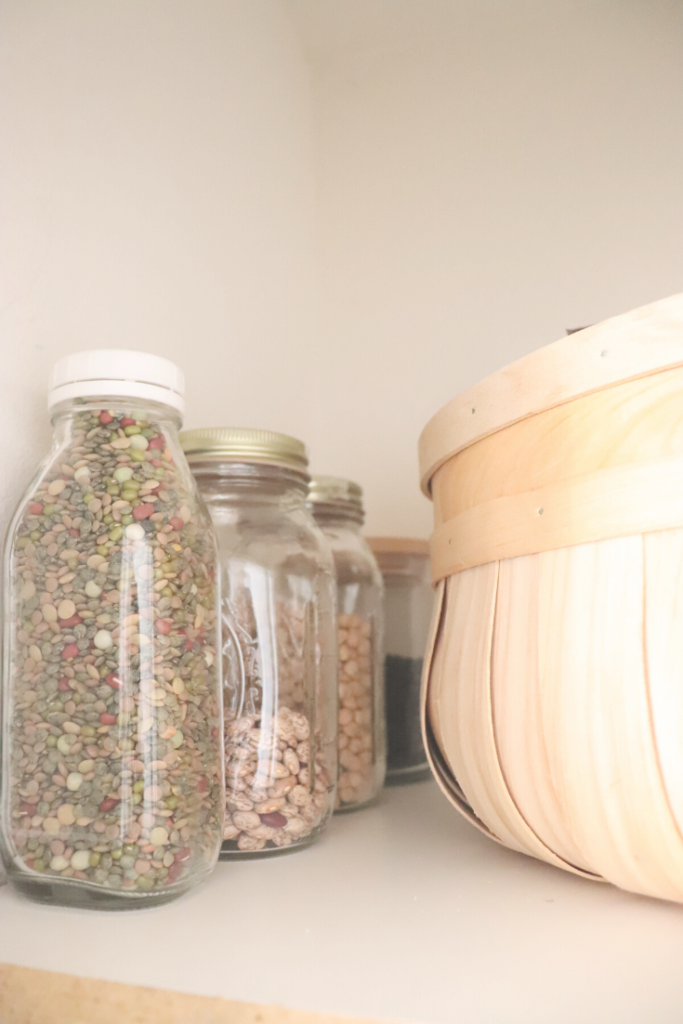 What to do with extra "stuff" in your pantry
Designate an overflow spot. Seriously, do this for yourself. Otherwise, you'll have so many loose items everywhere and you'll think, well I guess I have to throw all this away! No, not necessarily. It's okay if not everything fits in a mason jar or you have extra stuff. As long as you're going to use it within the next year, then you can keep it. Consider getting a woven basket off Amazon to store "overflow" items. This is your extra flour, sugar, and your backup taco seasonings, chips, bone broth, almond milk, etc. That way you're not stressing when you get home from the store and think, I have no place to put this!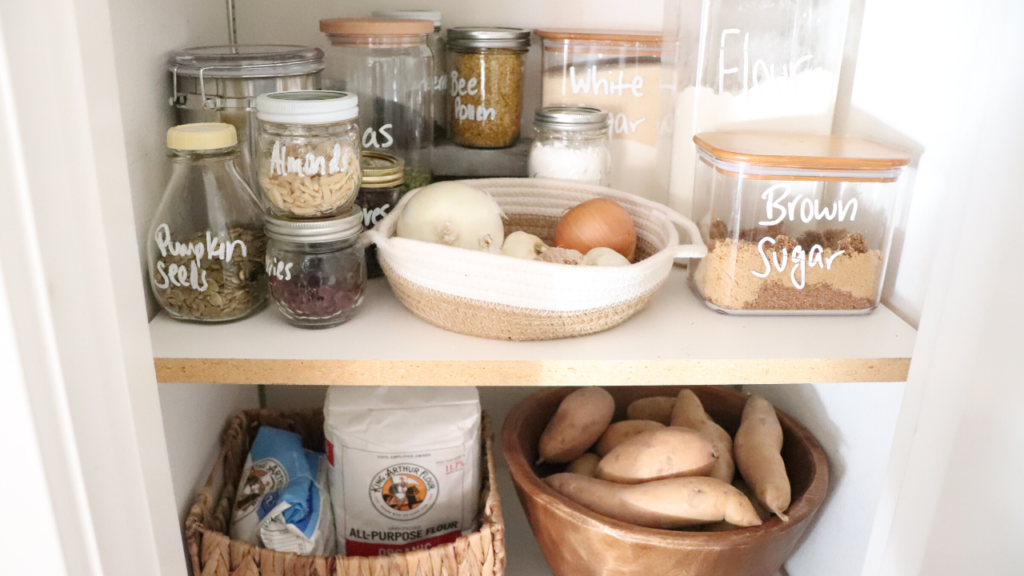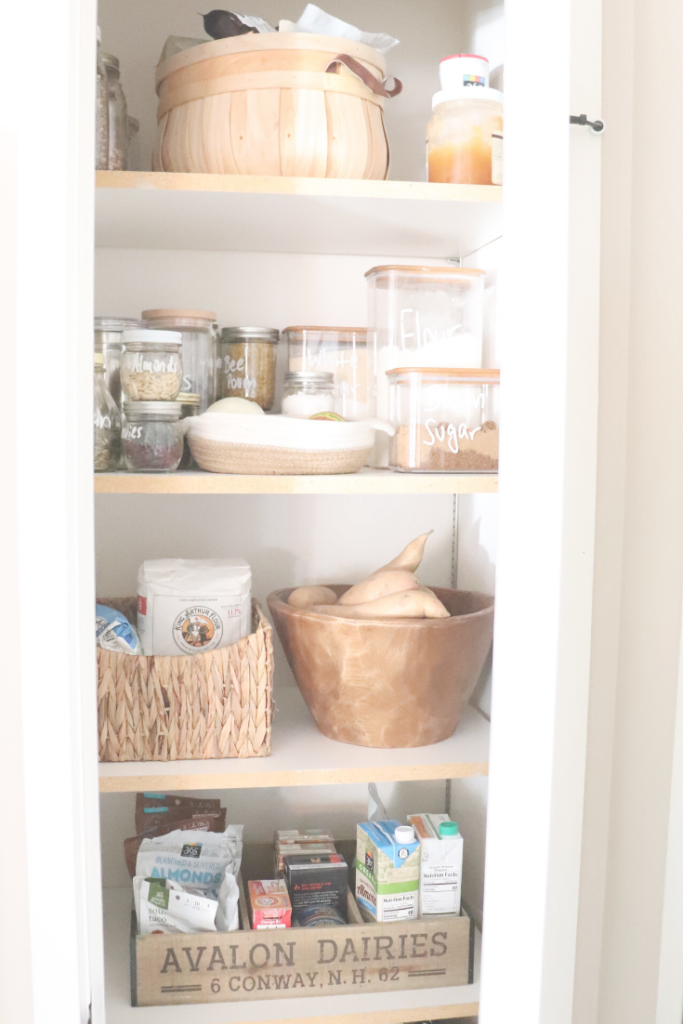 Storing food in the garage pantry
Use your garage to store food. In my experience, I use about 90% of the food in the pantry on a weekly basis when cooking. Prior to organizing it however, I used more like 40-50% of the food on a weekly basis. So where's all that stuff now? I didn't just throw it out. I put it in the garage.
Now obviously, if your garage is far from your kitchen this may be less idea. But ours is right next to it, so John decided to build us a DIY custom garage shelf to store food that we didn't need in the kitchen all the time. You can find the tutorial for that here.
Basically, we had a narrow section of our garage that was wasted space, so we built some shelving! I moved all of our canned goods, dried pasta, chicken and cat food, and items that I didn't want in the pantry out there. We really don't eat canned goods often. But like I said earlier, if we get snowed it or we have unexpected guests, then it's good to have extra food on hand ready to go.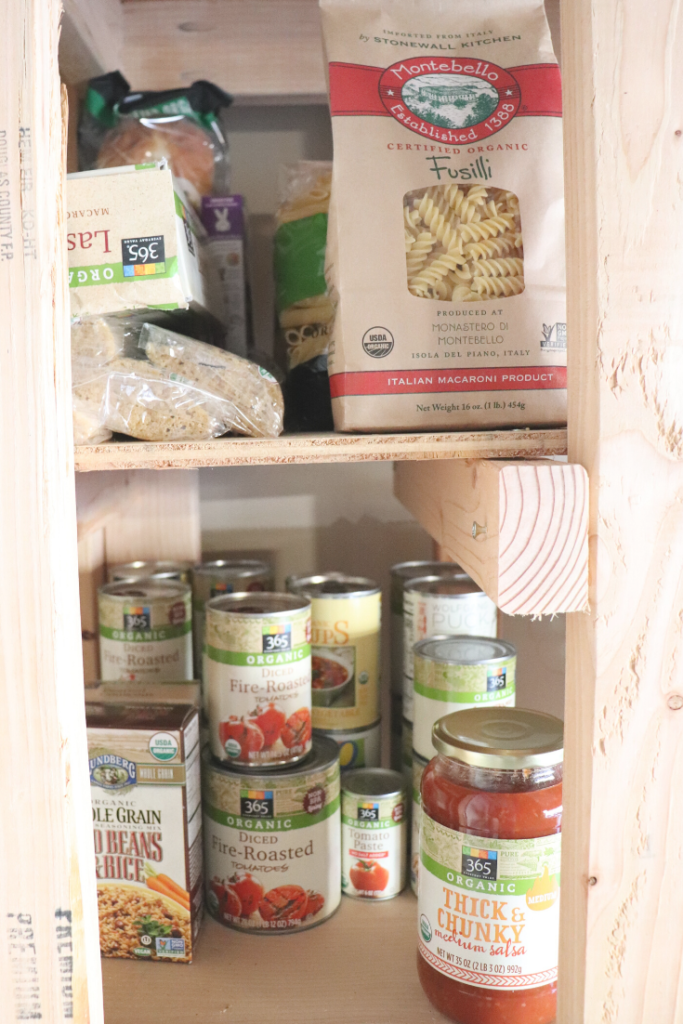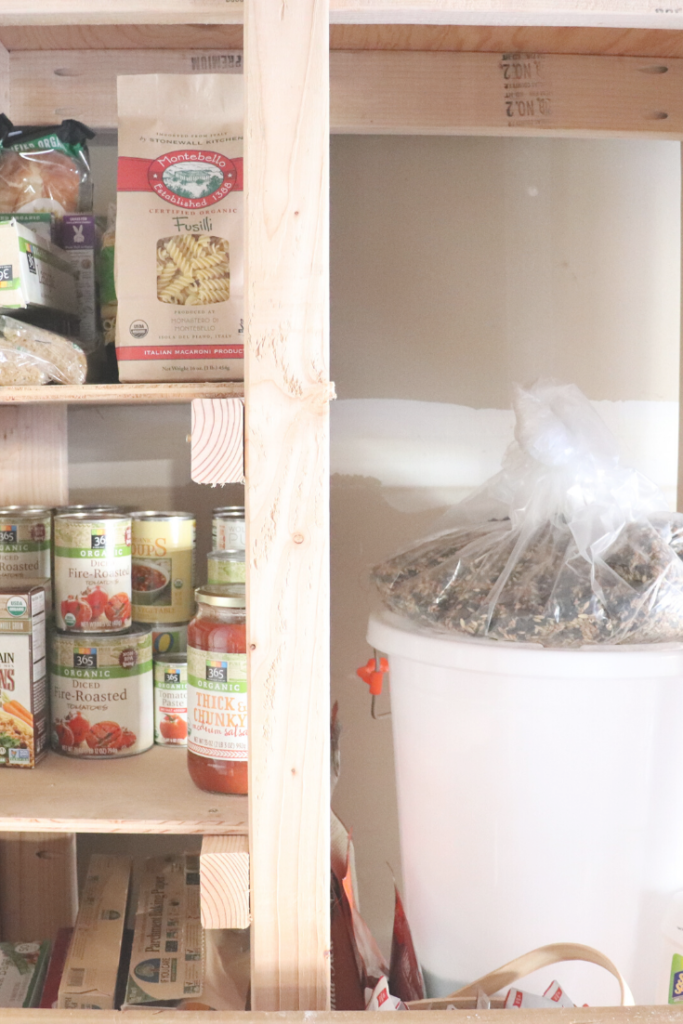 How to stay motivated and clean
Commit to making your pantry efficient and organized, and don't look back! You may need a few tools to help with this, but the most important part is to step back and look at your pantry and visualize the most important items in the front. You might need to take everything out before you can do this.
For us, we started with one shelf at a time. Have you ever heard the saying, if the gym isn't close by, you'll never go? Basically, the idea is you have to make things easy on yourself if you want to be able to use it. The pantry is no different. Maybe you're tired of seeing so much junk in the pantry – so now is the time to find a new spot for it, or it gets donated/thrown out.
How do I know I'll keep it up? This might take a little bit of dedication, but try playing "hot potato". We all played this game as a child, so now it's time to remember the rules. If your'e cooking, getting home from the store, or putting something back, it has to go in a designated spot. Whatever is in your hand is a "hot potato". It can't touch the pantry shelf or the kitchen counter top. Consider those places "lava". And if something isn't working for you, change it! The whole point is creating a pantry that works for you.
I am laughing out loud typing this, but you get the idea. Force your hand to find the right spot for something and create a habit. As soon as you break the habit, you have to start over. And we've all been there so I get it – but just don't do it! It's just so much easier to commit to putting things back where they belong rather than letting them pile up. That is why I love finding baskets or cute wooden storage boxes for the pantry. It's the designated "safe zone" for my food so it doesn't become a "hot potato" in "lava"!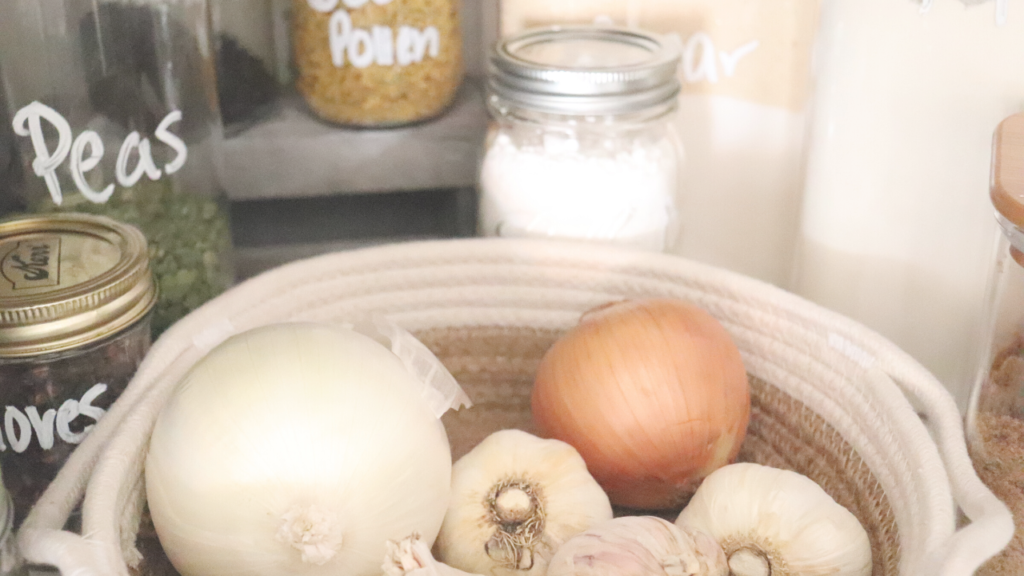 Watch: Kitchen Pantry Organization with me!
Related Pantry Organization Topics:
Farmhouse Spice Rack Organization
Items used in our farmhouse pantry organization:
Woven storage baskets for backup soups, broths, and seasonings
Large glass storage containers with bamboo lids for flour, sugars, coffee beans
Wooden storage box for overflow items like leftover flour, sugar, etc
Small rope storage baskets for small items like garlic, onion
Small mason jars for nuts, seeds, dried fruits and veggies
Large wooden bowl for potatoes
Washable Glass Paint Pen for labeling jars
Pin it for Later!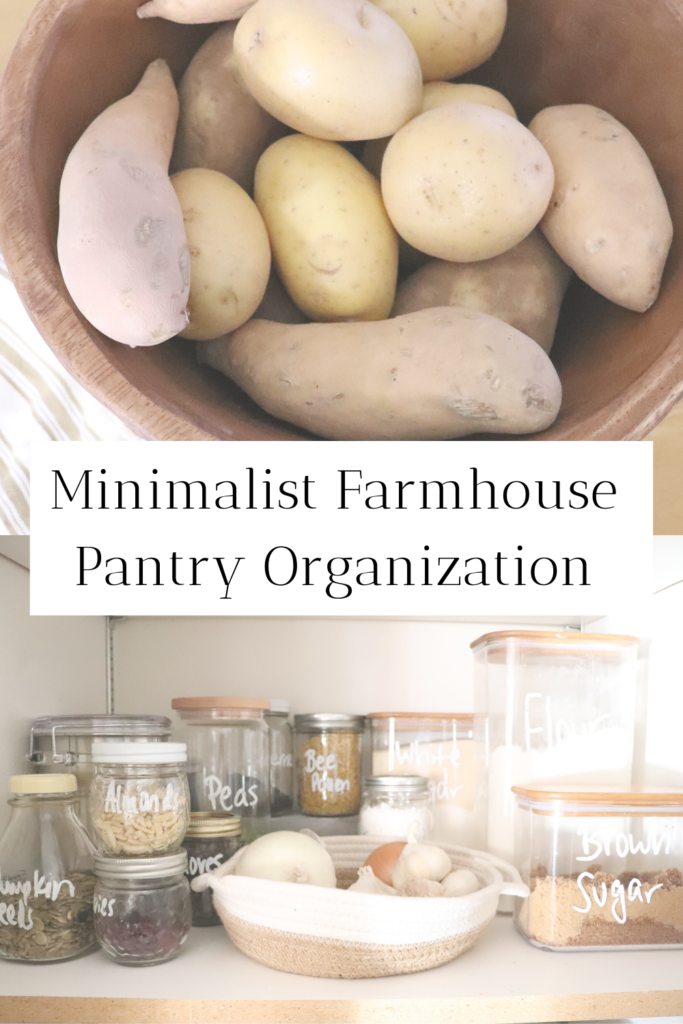 Join the farm to table newsletter!
Thanks so much for stopping by the homestead!