It's easy to forget about winter after all the Christmas decorations get taken down. So today I am cleaning up the pine needles and taking you along for a winter farmhouse home tour.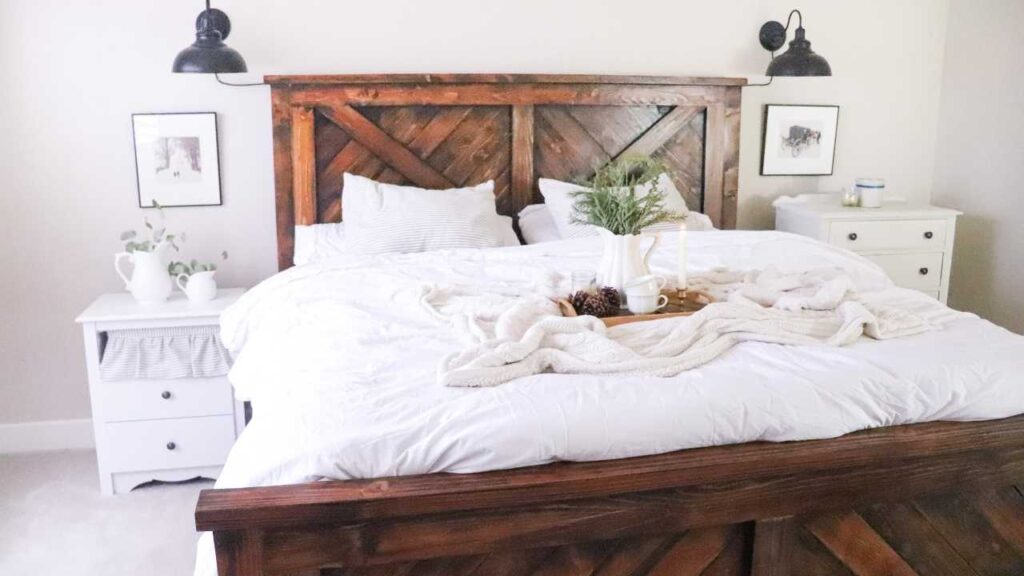 This post contains affiliate links, which means I may make a small commission off items you buy at no extra cost to you. As an Amazon associate, I earn on qualifying purchases.
Save it for later!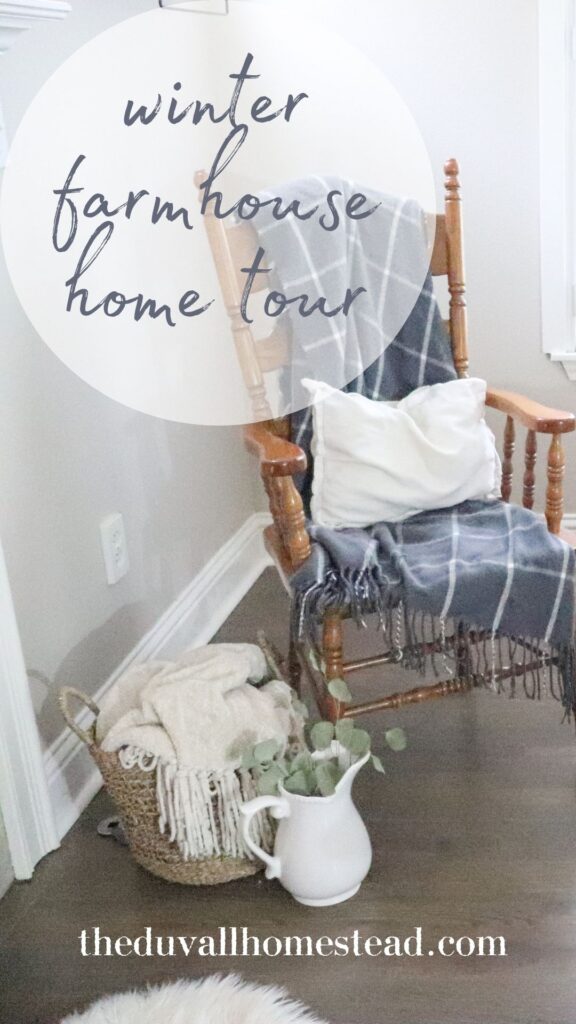 It's winter at the homestead!
It seems like depending on whomever you're talking to, winter is either considered a dreary dark time or someone's favorite season of all.
I land somewhere in the middle of that. Each season that comes and goes is a season I enjoy. There are always pros and cons, easy things and difficult things that each season brings.
For me the best parts of winter are the cold, crisp days. I love the late sunrises and sleeping in until 7am. When the sun comes out and it's 35 degrees, I just love it. I'll be outside in a light hoodie, and if we're hiking, I'll strip down to a tank top. The cold doesn't bother me!
That being said it's not like it's 0 or negative temps here in the Pacific Northwest. So for the people who live in those areas, I gotta hand it to you!
So while yes, it gets dark before 5pm and we have a lot of grey, rainy days, there are still so many things to enjoy in the winter. We get to eat butternut squash soup and roasted pork shoulder. We get to watch movies and light candles. There are so many things I crave and enjoy in the winter. And come February and March I'll be looking forward to what the next season brings!
Winter Bedroom Decor
We've made a lot of updates to the bedroom recently. First of all my husband built this new bed frame out of wood. We stained it black, and then brown, to create this rustic effect (I talk more about that process here).
Then we added this black gooseneck lamps. Under those are two Amish paintings of winter scenes that I got at a thrift store, I just love those.
You can't see it really well in this photo but I sewed the little curtain on the left bedside table, and I used the same fabric to sew the two pillowcases on top of the bed. Any time I can get the time to sew something for the house I truly love doing it!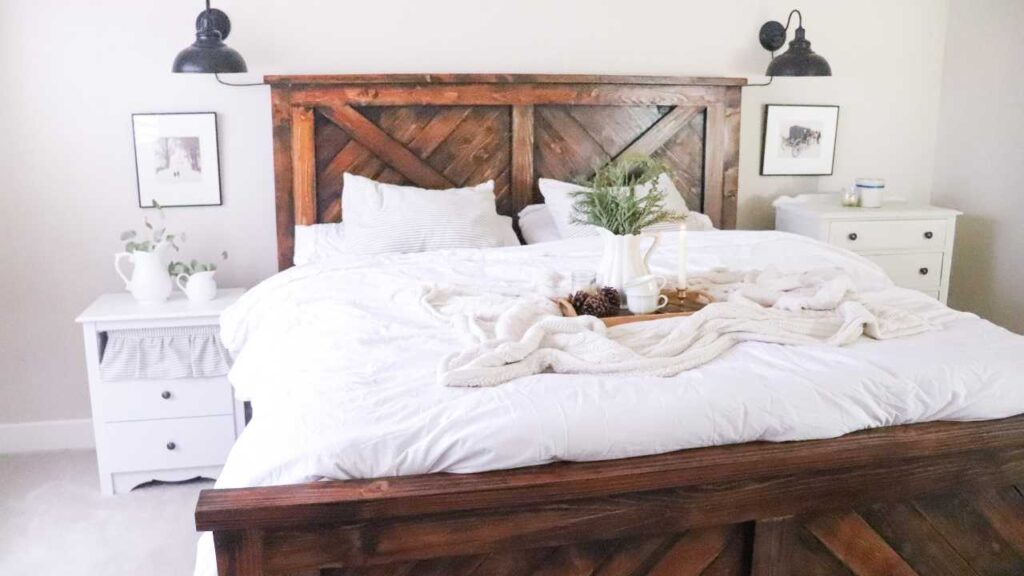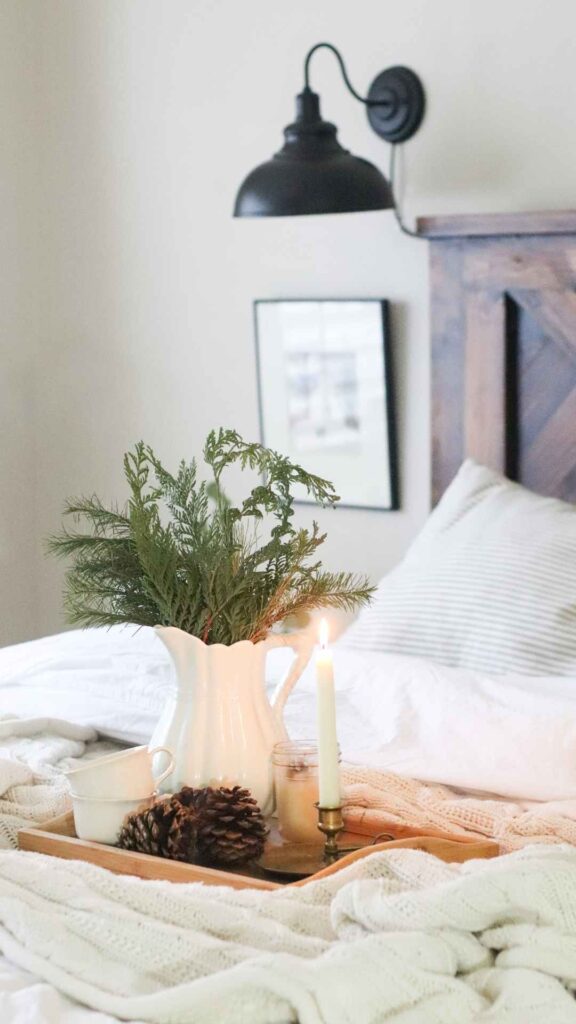 One way to decorate your home is to think about creating "moments" or "scenes". For example, try curating a selection of items that all go together and displaying them in a corner of your house. You could do this on a chair, a stool, a table, or a bed like I did here.
On the bed I curated a little cozy winter scene on top of a food tray. Some pinecones, fresh greenery, a candle, and two coffee mugs made for the perfect bed top decor. Part of the beauty of winter is staying inside, so I wanted to make it as nice as possible 🙂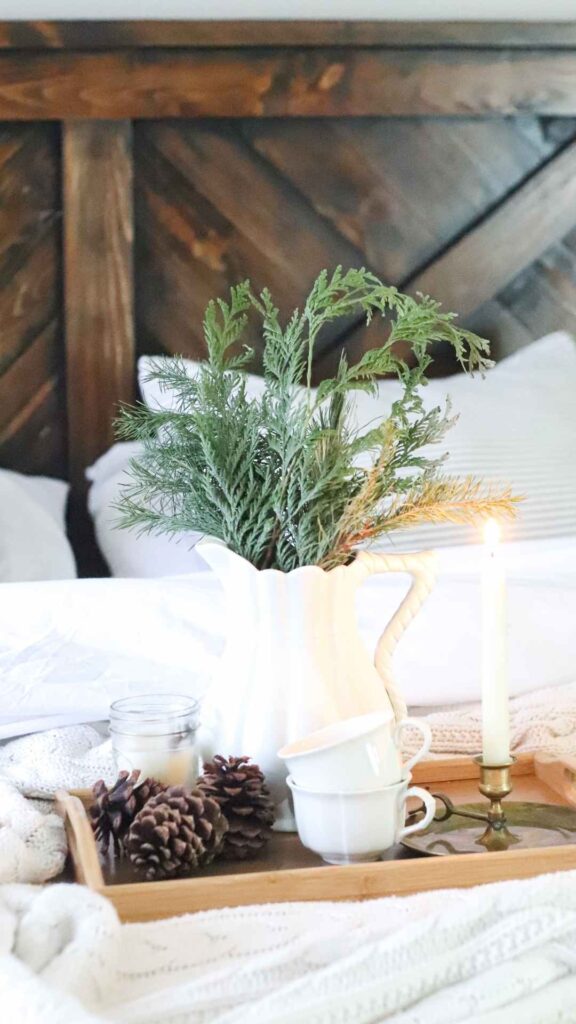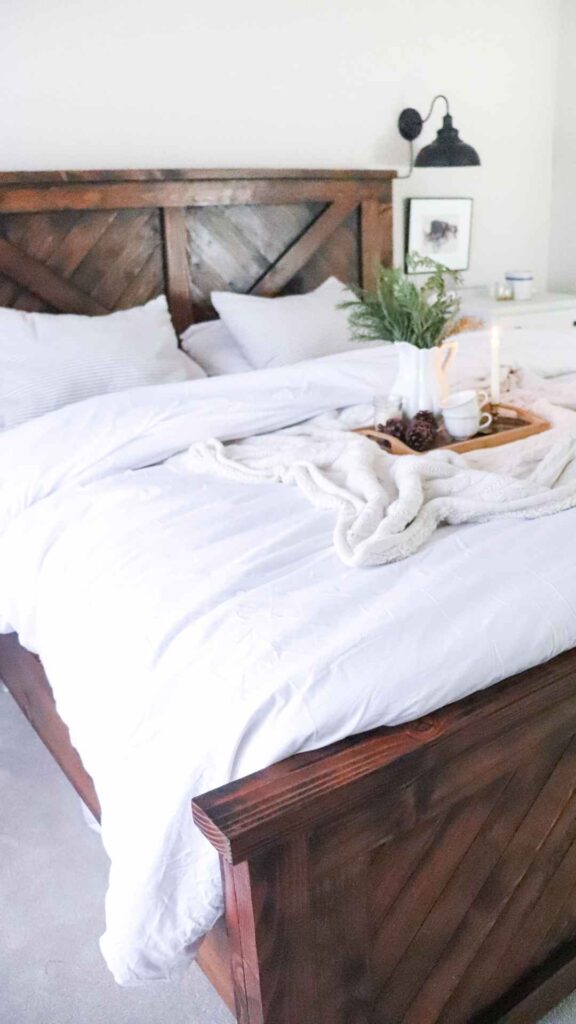 How to make new wood look old tutorial (here)
Black gooseneck lamps from Amazon (here)
Food Tray table (here)
Beeswax candlesticks (here)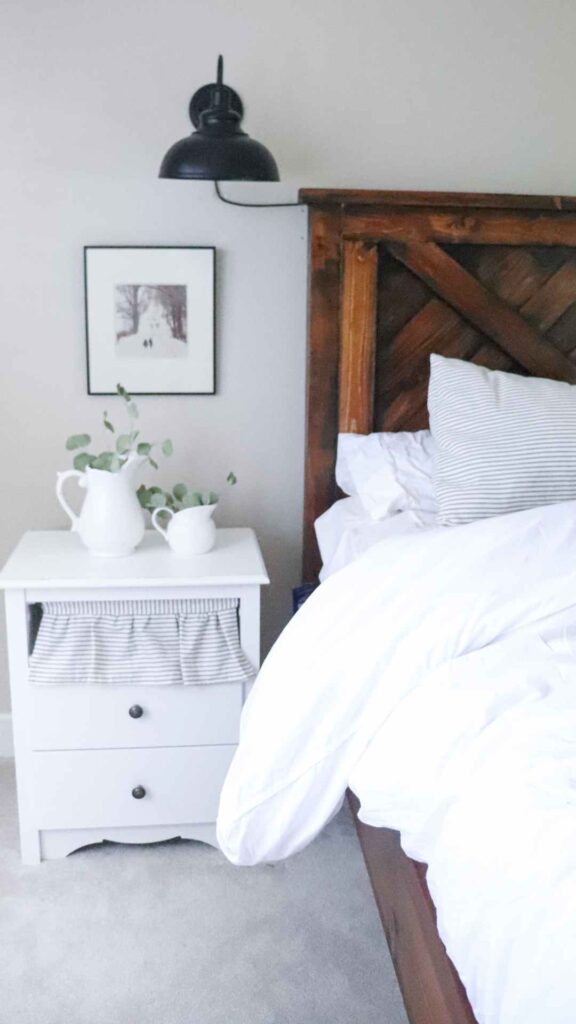 Switching to an Organic Mattress
John and I decided that, since we were buying a new mattress anyway, we were going to switch to an organic mattress. This decision wasn't an easy one in our household though. If you have never heard of an organic mattress they are quite expensive. After all, to make a mattress without polyurethane, flame retardants, and plastics costs way more, and that's why it's not done very often nowadays.
And we are naturally frugal people. But the thing about being frugal is that you have to chose what you spend your money on. For example, just because we're frugal doesn't mean that we're going to go buy fast food for every meal and not purchase multivitamins. We just choose to spend our money on things that will make our lives better. Like organic food, pasture raised meats, and then the organic mattress made the list.
Plus after having Allison the decision was a no brainer to me. I certainly didn't want our newborn baby sleeping on a toxic mattress.
What is an organic mattress?
This post is not sponsored. We purchased these products for our own use and I am just sharing my feedback with you all here 🙂
We purchased the Avocado Green Organic Mattress. The mattress is made of organic cotton and organic wool. You have to be careful when you see companies that say "natural" or "organic" materials used. Sometimes, only a few materials are actually organic and the rest aren't. You want to look for the Global Organic Textile Standard certification. These renewable and sustainable resources are independently verified and always ethically and responsibly sourced. They're better for you as well as the people that grow it.
A non-toxic mattress is made without the use of toxic chemicals that can be harmful to the health of the people who use it, the folks who made it, and the environment. To bring costs down, most mattresses today are made with petrochemicals, chemical adhesives, chemical dyes, and flame retardants with known toxicity. A non-toxic mattress will never use polyurethane foams, memory foams, flame retardants, or fire socks, and will be needle-tufted rather than glued.
EPA research shows indoor air is 5 times more polluted than outside air. That's because most mattresses are made with petroleum-based polyurethane foams and memory foams. These are often paired with chemical adhesives and flame retardants, which together can emit chemical odors (known as "off-gassing") and volatile organic compounds (VOCs).
Mattresses sold in the U.S. must meet federal flammability safety standards. The idea is good. But to pass, most mattresses use chemical flame retardants, which can cause cancer, fertility issues, genetic defects, hormonal imbalance, and reduced thyroid and liver function. Other brands use synthetic fire socks made of kevlar, low-melt polyester, or fiberglass. These flame retardants and synthetic materials contribute to unsafe volatile organic compounds (VOCs) and polluted indoor air. (Source)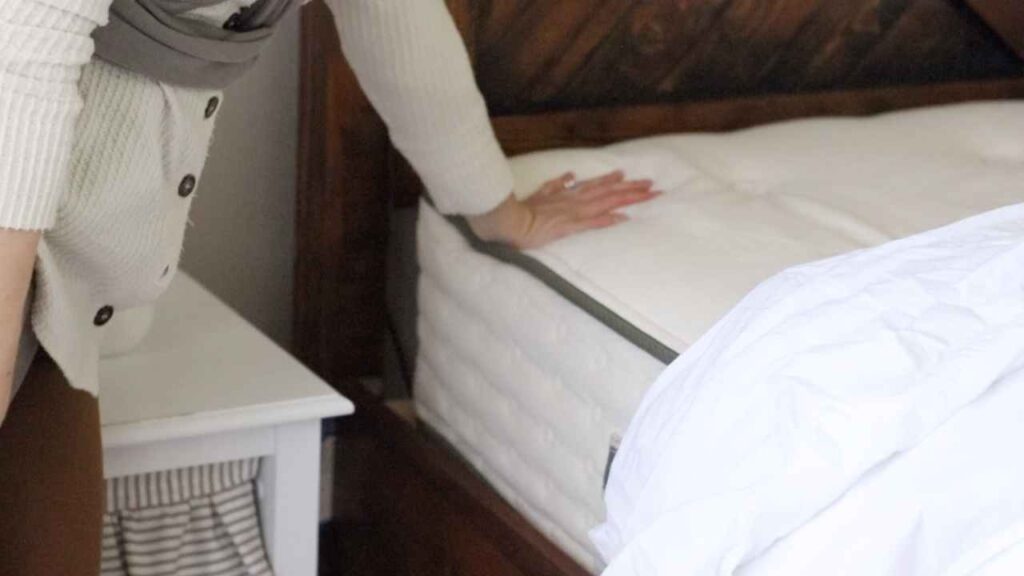 Avocado Green Organic Mattress (here)
Adding Warmth to the Bed
We are staying extra warm these days with 100% Alpaca wool stuffed pillows and duvet. I don't know if you know the feeling of a warm, heavy duvet on your bed. You know the feeling of being tucked in tightly in bed, with a sleeping bag all around you? It's like that but better because, well, it's not a sleeping bag. The alpaca wool keeps us warm and I love that it's 100% all natural and organic.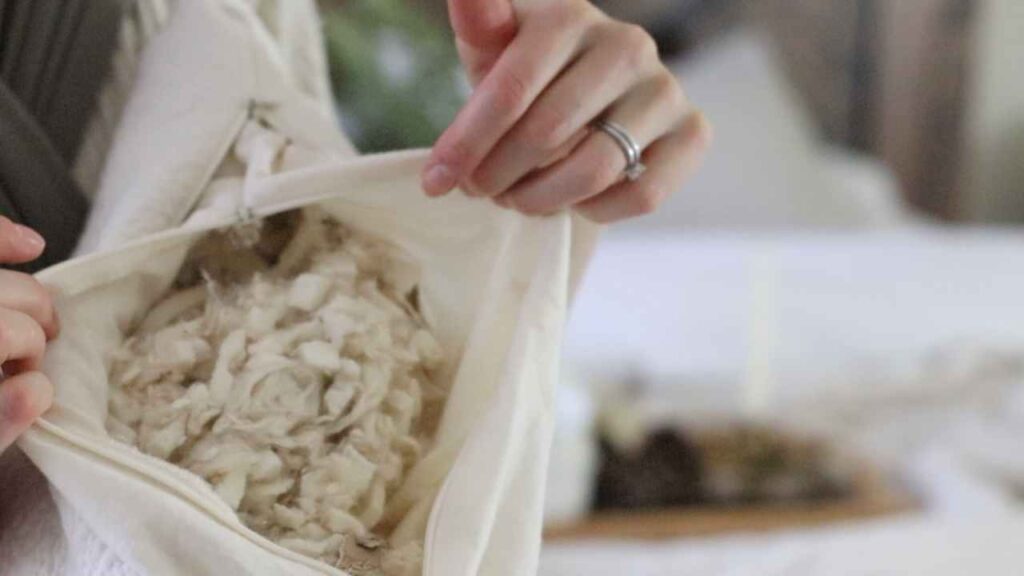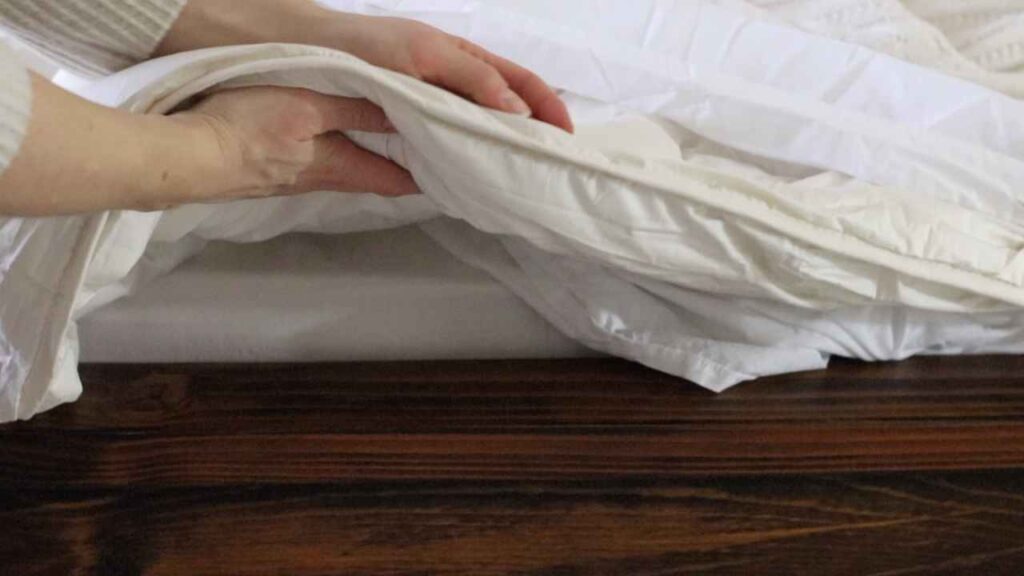 Alpaca Wool pillows (here)
Alpaca Wool duvet insert (here)
Winter Farmhouse Kitchen
I left the greenery on the windowsill over from Christmas. It might be dried and a bit messy, but it still looks pretty and the poinsettia is thriving. I couldn't take a thriving flower down.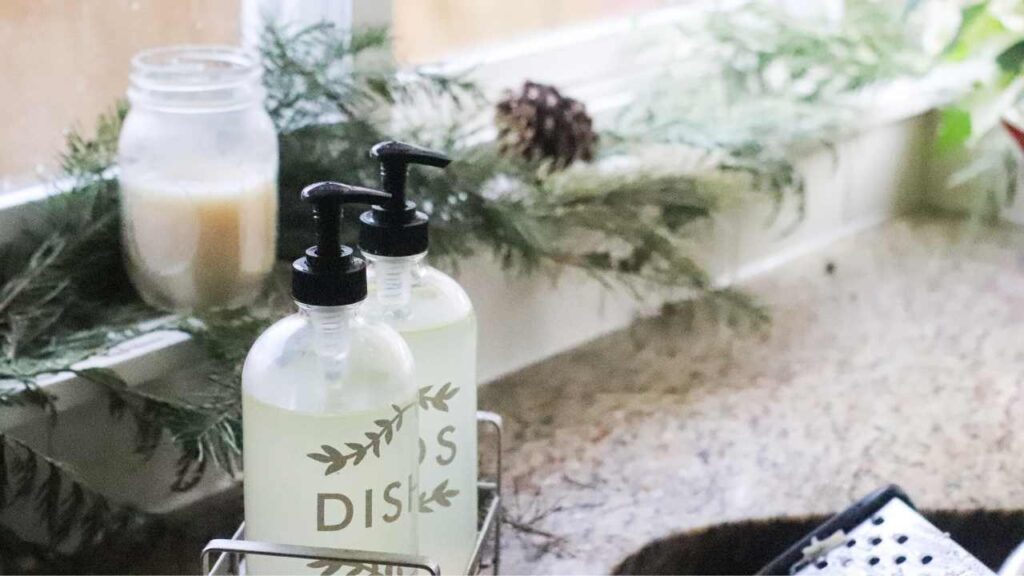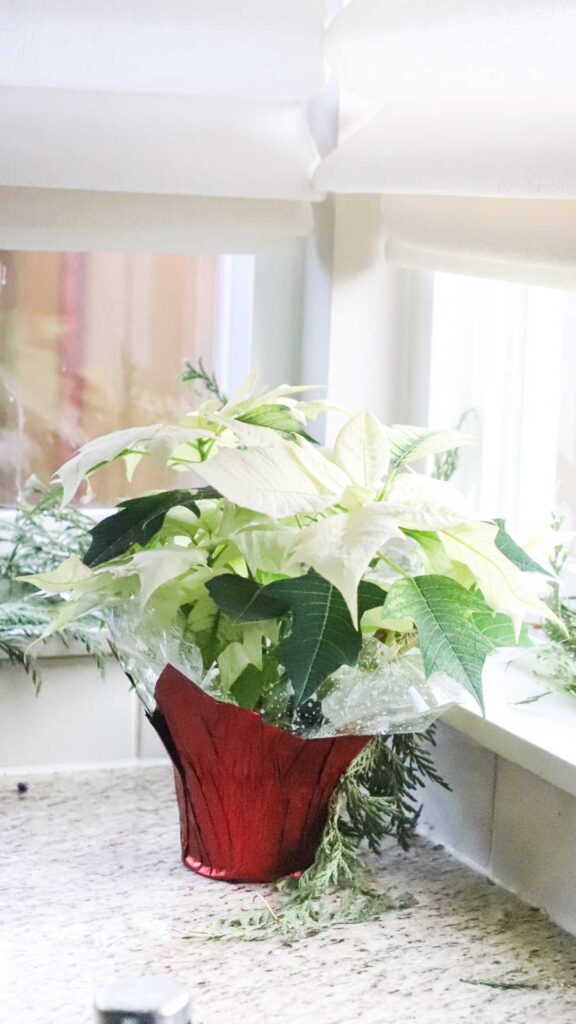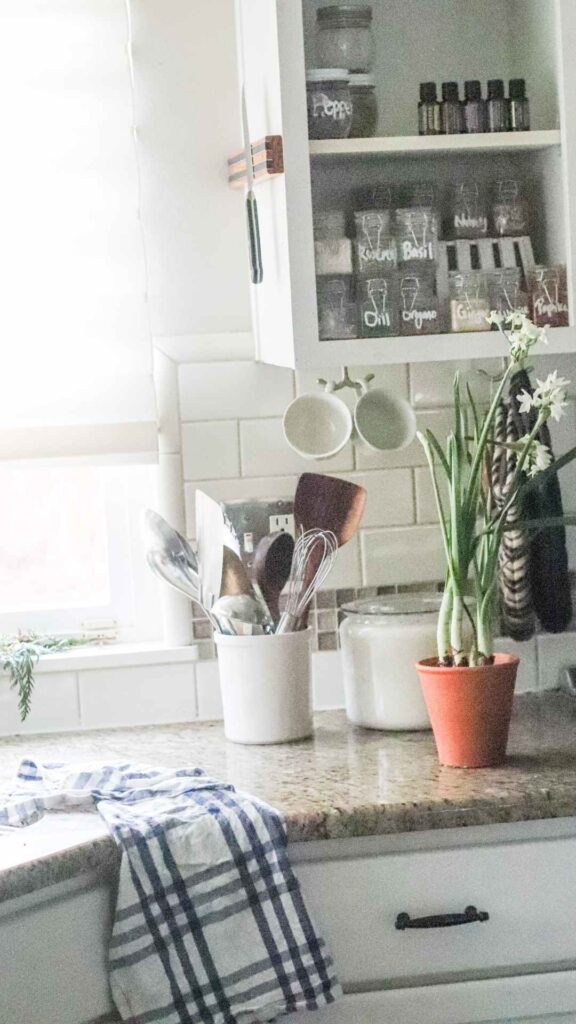 The pinecones, candles, and greenery are all on point for winter decor. The open shelves were looking a little bare so I put my essential oils and a pitcher to spruce things up.
In the wintertime I like to cook with candlelight. I actually really don't like turning on the artificial lights in our house. I just feel like they are way too bright. In the evenings its so much nicer to light a candle, just like the olden days.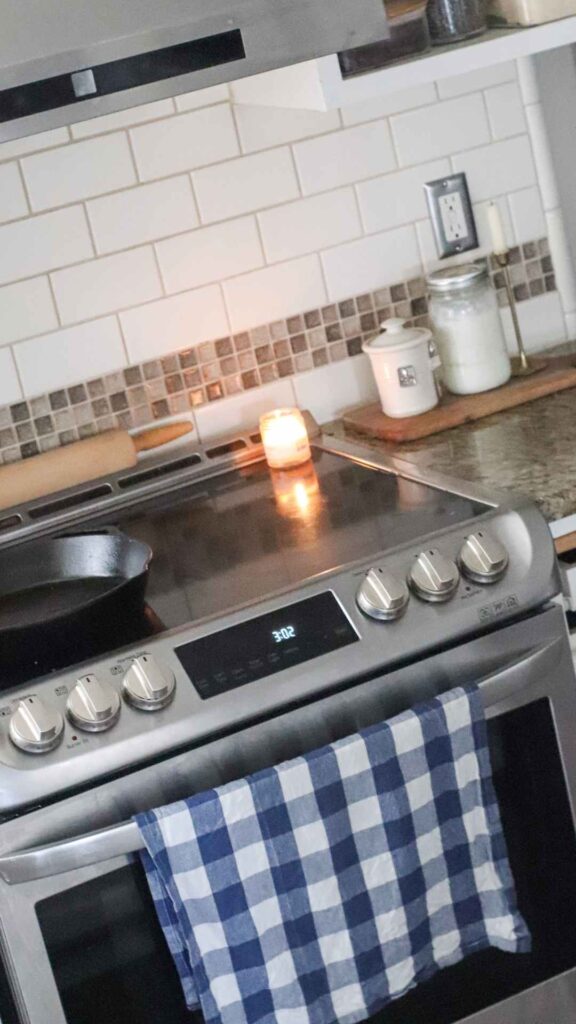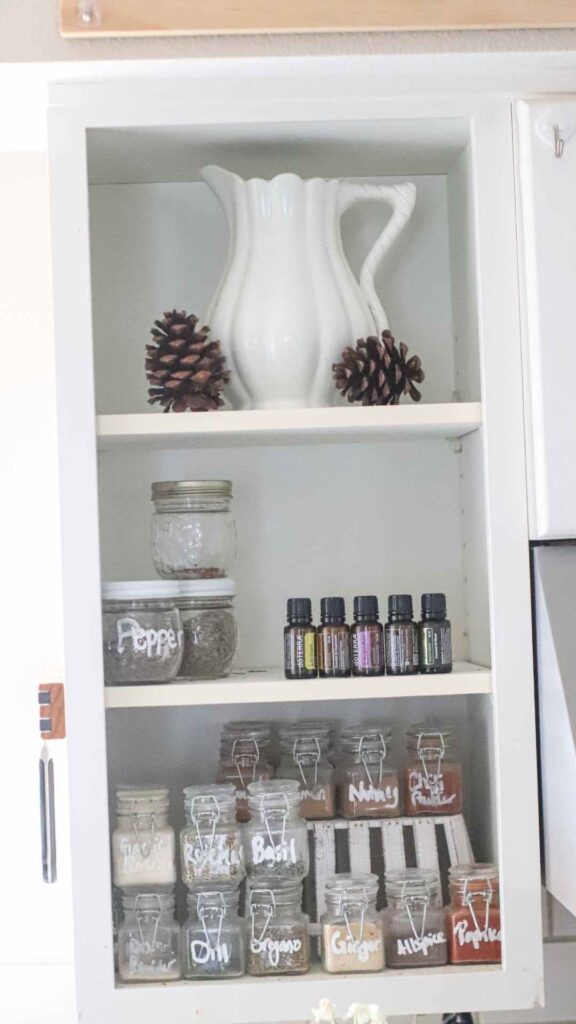 Simple Spice Cabinet Organization here.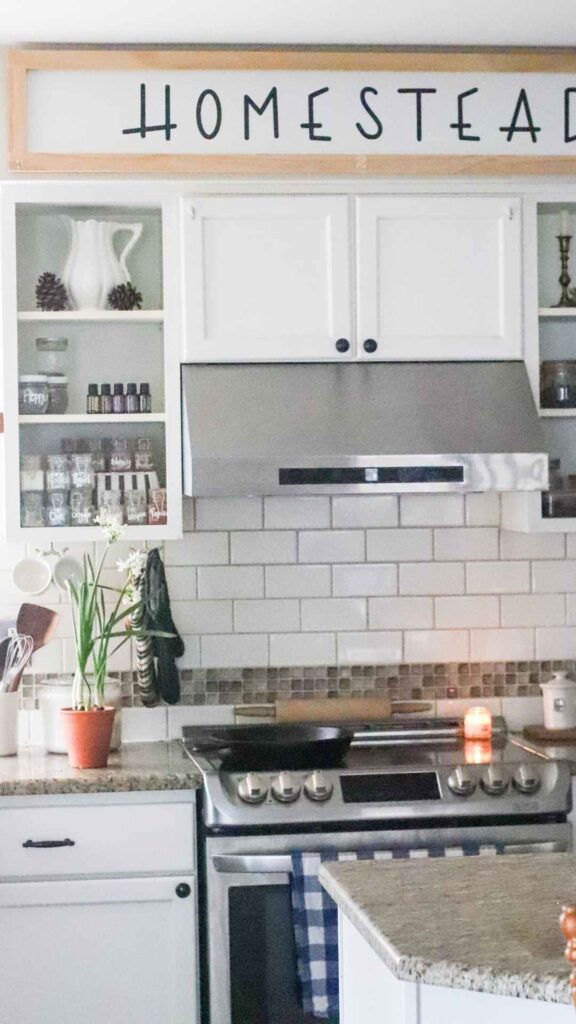 My one small purchase this season was a new set of tea towels. This set I found on Amazon are so great, they are cute and work well too. I bought them in red for Christmastime and blue for the winter. For spring I'll get a new set! They're so cheap 😉
Winter Living Room Decor
Sometimes just shifting the furniture around can make a room feel new. I especially like doing this after Christmas, because we usually have to move the couches around to fit the Christmas tree anyway.
I found a hanging green plant at my local grocery store and put that next to the clock. It's a little dose of spring for me to enjoy on the particularly rainy days 😉
And yes, that's our kitty Winter on the couch. I just realized her name is the same as the title of this home tour 🙂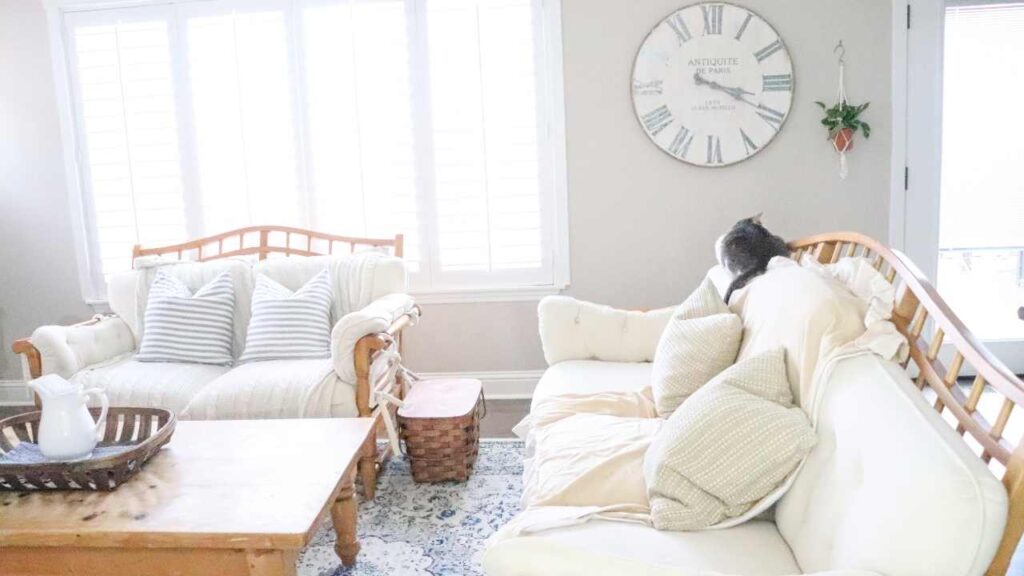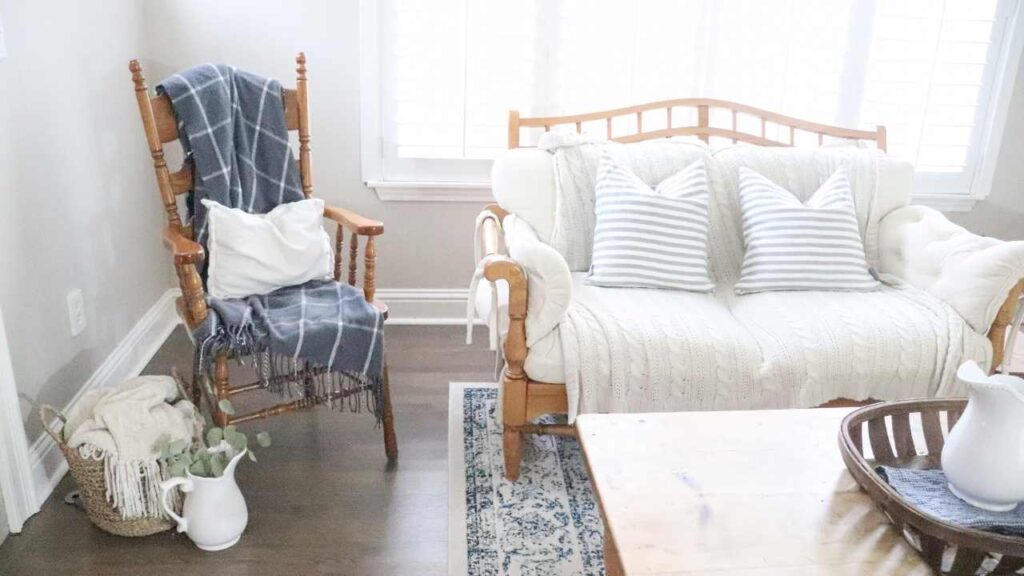 See that vase with the greenery in it below? It's actually covering up our Apple tv and our wifi modem. You can even see the apple tv device sneaking its way out behind the vase. I don't really have a better place for these items so for now I'll disguise them behind something so they're not as obvious…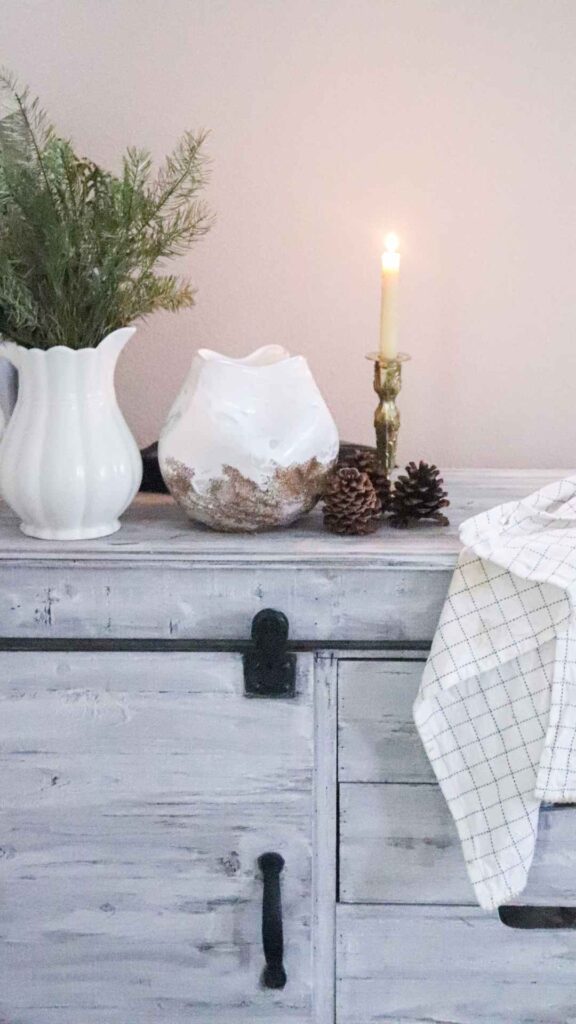 Farmhouse Winter Front Porch
For the front porch, I added a green blanket, an old pillow I sewed a couple years ago, a candle, and a vase with greenery. It's just cozy and nice looking. You really don't need much to bring some winter charm on the front porch.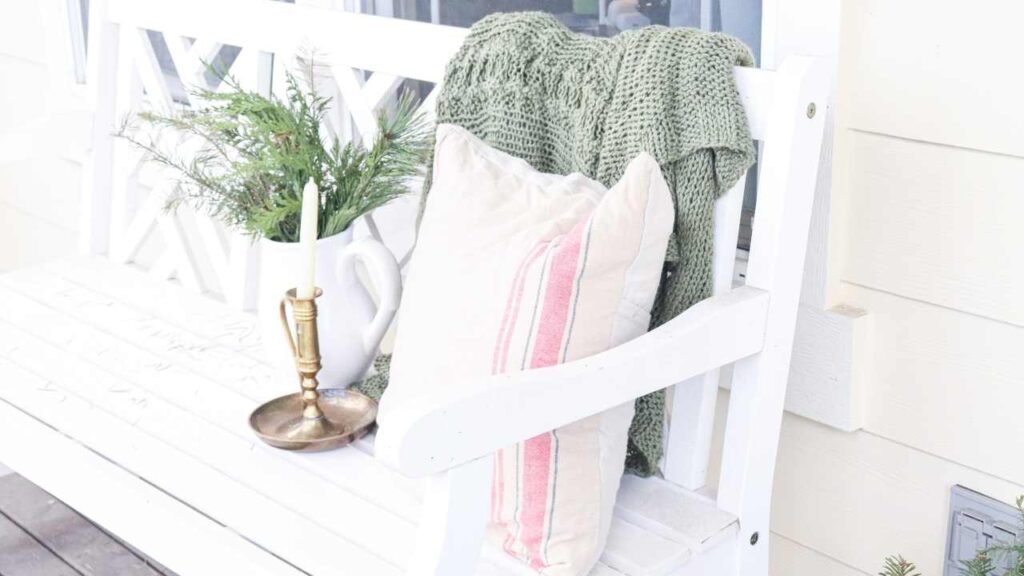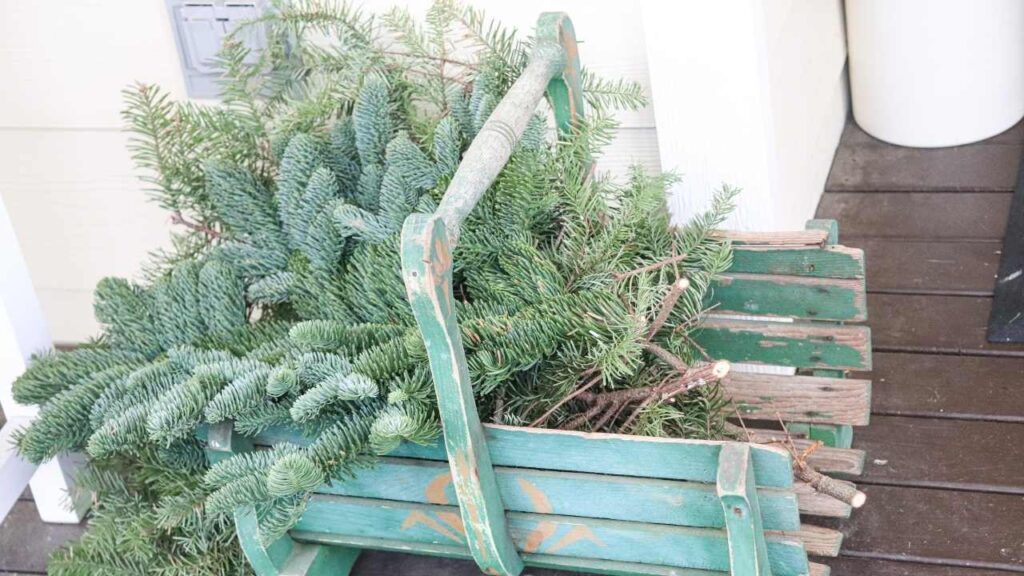 I got this old firewood basket from an antique store a few months ago. We don't have an indoor fire, so placing the Christmas greenery in it for now looked perfect. Maybe for spring or summer I will paint this white. Or just leave it, that's part of the fun of an antique 😉
What's nice about the winter greenery is it still smells good even when dried. The smell dies down a little, but I can definitely still smell the sweet smell of pine when I hold it up to my nose.
So I kept a few of these for the front porch. I put some in a small crock by the front door and more in a vintage fire wood basket.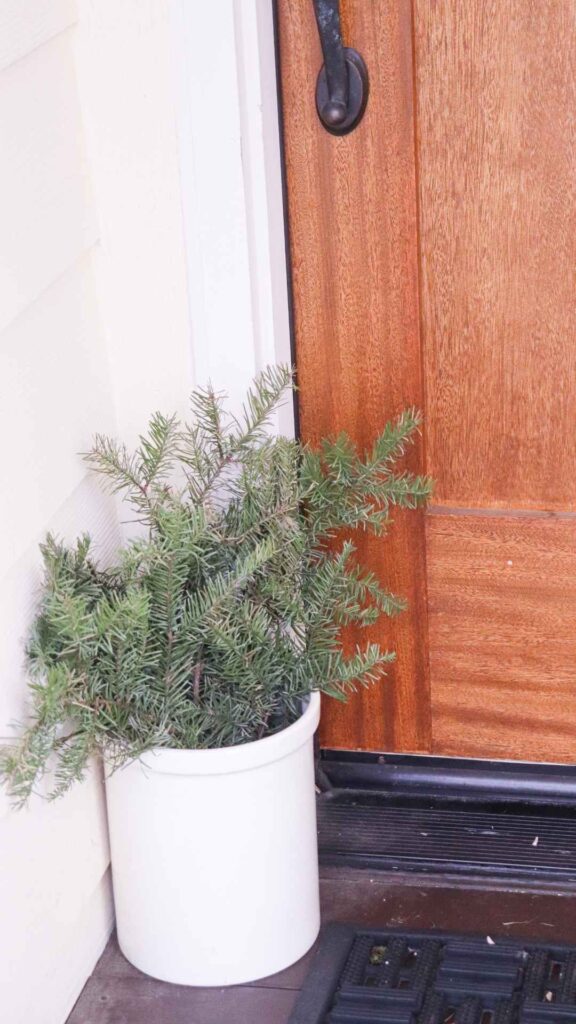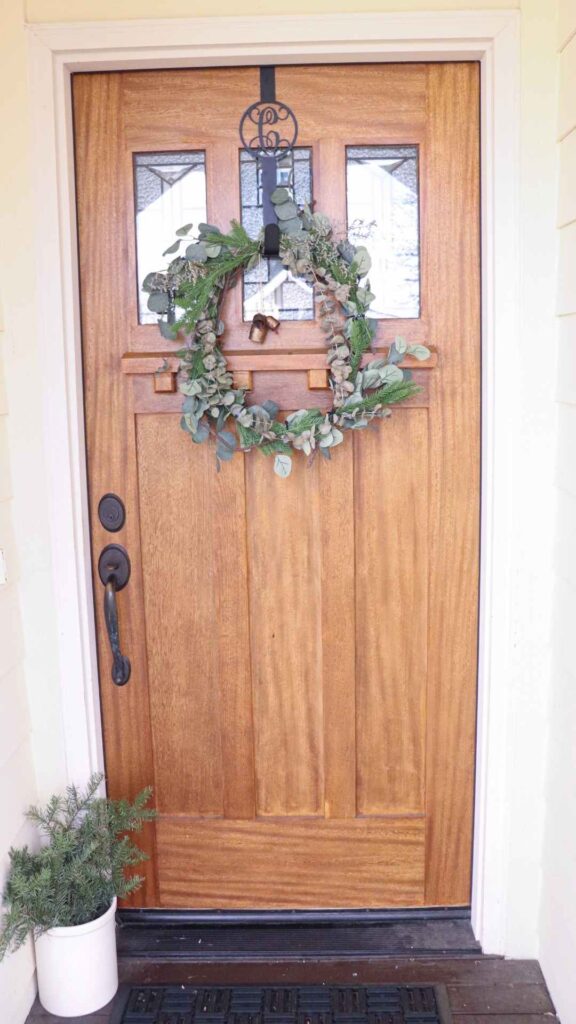 I made this simple eucalyptus wreath with a few dried branches I bought from Michaels.
Well I hope you enjoyed you enjoyed this simple, warm winter home tour.
More from the Farmhouse…
A Simple Natural Farmhouse Christmas
How to Refinish an Old Dresser with Milk Paint
How to Winterize a Chicken Coop
Getting Ready for Spring: 5 Spring Brunch Recipes
Pin it for later!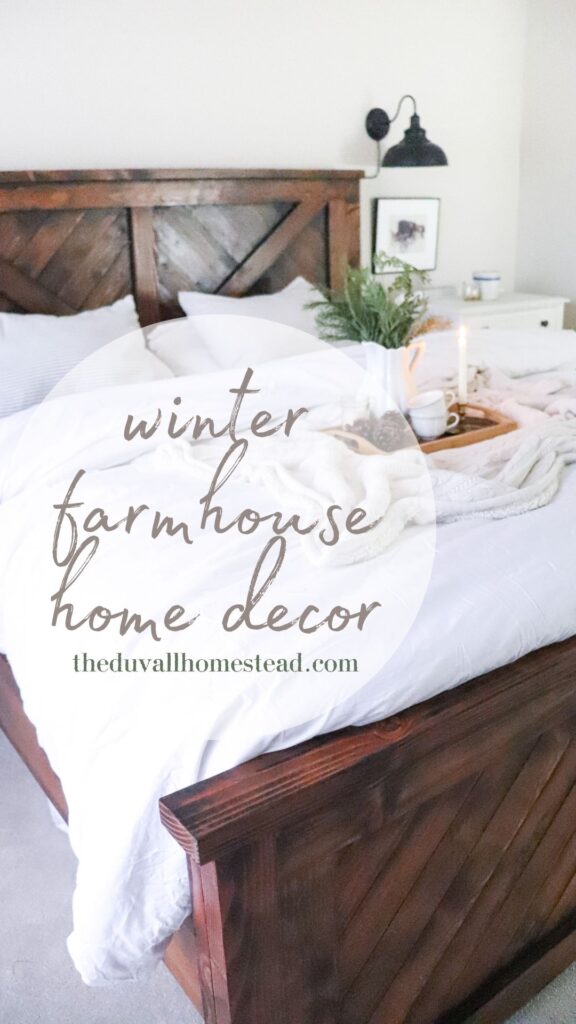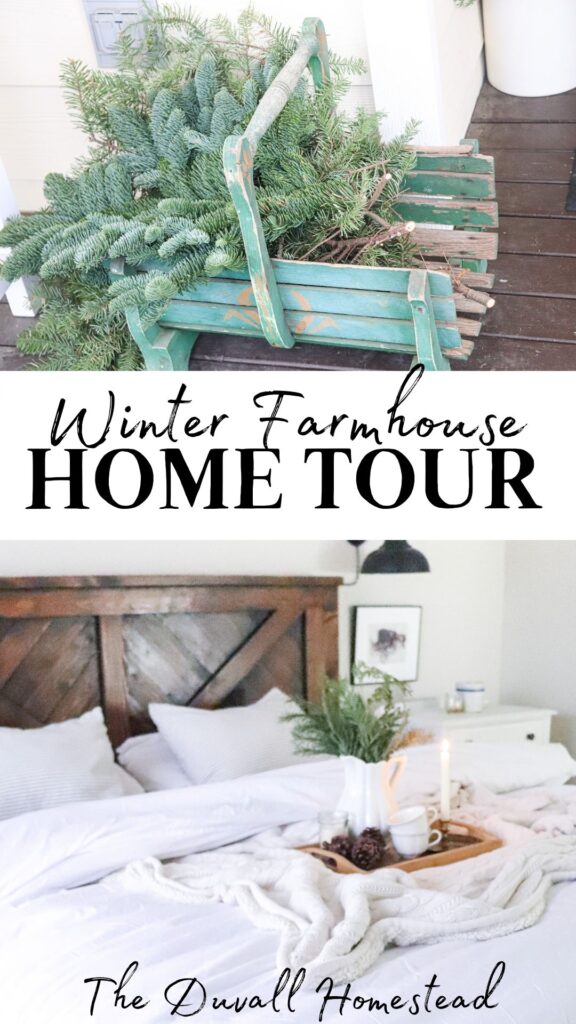 Thank you so much for stopping by the Homestead!