Join me for a simple natural farmhouse Christmas home tour. Fresh greenery, natural elements, and handmade touches are a few of the goals I had in mind for this year's decor. I hope you find some good inspiration for your farmhouse Christmas with this post!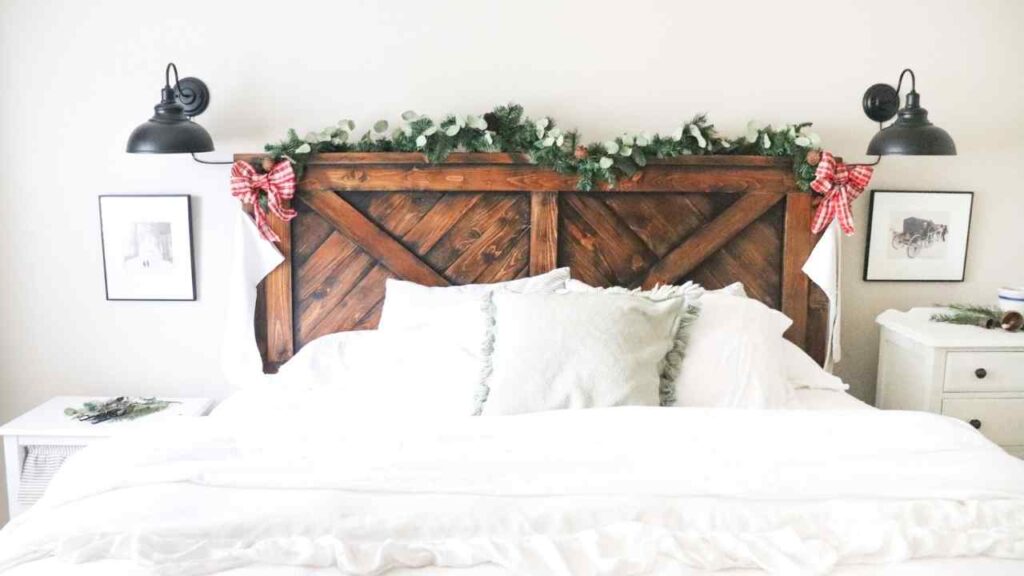 This post may contain affiliate links, which means I may make a commission off items you buy at no extra cost to you 🙂 As an Amazon affiliate, I earn on qualifying purchases.
Pin it for Later!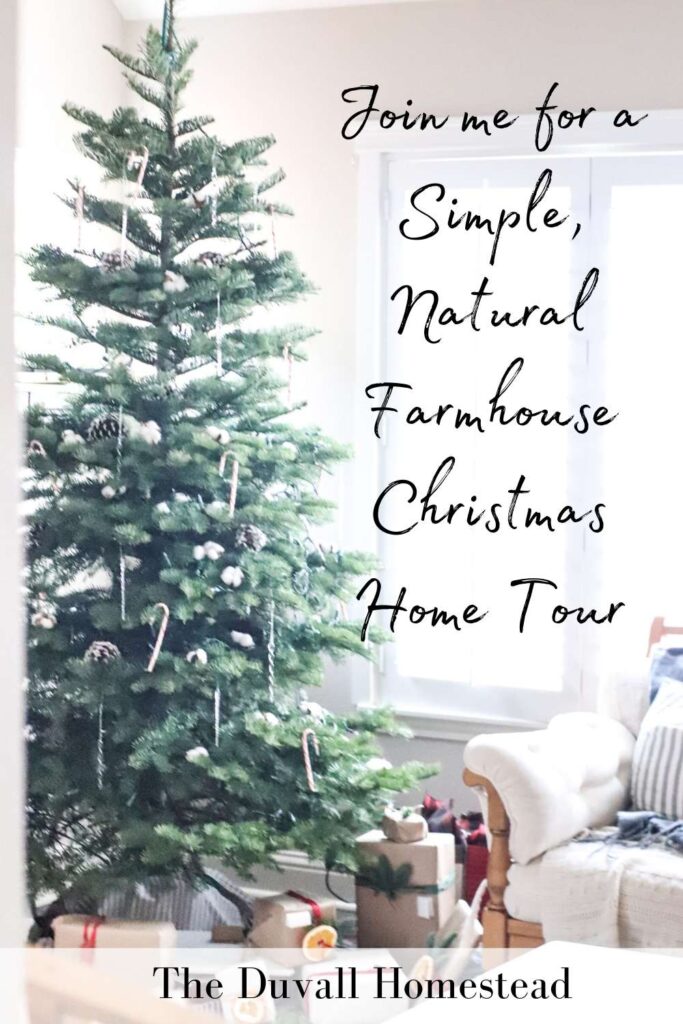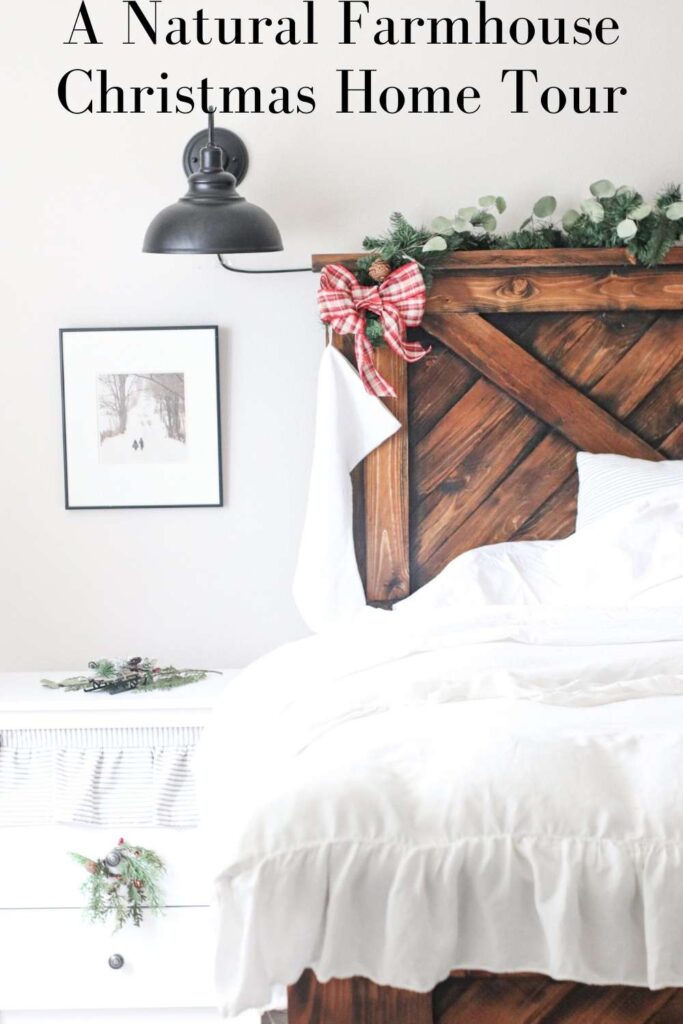 A Natural Farmhouse Christmas
This year, I went from wanting lots of bright colored decor to only sticking with the naturals.
I purchased several faux Christmas flowers on Amazon only to put them up and take them back down.
When I went to our local hardware store down the street, they had garland for $1.50/foot and large packs of greenery for $5. I mean, you just can't beat that. Why would I decorate with faux florals when the real stuff is cheaper?!
So after debating whether or not I should use the faux florals (just because I bought them) I came to a realization. First, just because you own something or used it last year, doesn't mean you HAVE to use it again. And second, creating "simple" decor is harder than you think. It takes actual strength to REMOVE decor items that aren't needed, because our natural tendency is to ADD MORE to make things look more beautiful.
So lesson of the season: less is more. Don't put stuff out just because you bought it or feel like you want to use up all your decor. Say no to some items so you can say yes to the good stuff. Plus, those faux florals won't go to waste. I'm sure next year I'll use them for a DIY wreath or handmade garland. The possibilities are endless!
My Favorite Part about Christmas Time
Christmas time is just too short in my opinion. The month of December looks like this for me:
Thanksgiving – the Christmas kick off. Get our tree from the local farm and pull out all the Christmas bins. Attempt to get some decorating done, but in reality we barely get lights up on the tree. Feel overwhelmed at all the work that lies ahead.
1st week of December – busy, but no plan. Trying to figure out how to decorate the house that year. John is working on the outdoor lights and deciding whether or not he needs a new ladder. I'm knee deep in the Christmas bins. Still no ornaments on the tree
2nd week – I've committed to a decor plan and now I have lots to do. I'm sewing something and figuring out what finishing touches (if any) are still needed. Maybe ornaments are on the tree now. Oh, and I'm thinking about how I'm almost out of time and need to switch gears to Christmas cooking baking now.
3rd week – Everything is done and I'm getting the home tour out on the blog and youtube. Now its bake, bake, bake. Family is arriving and this is when the fun begins.
4th week – the dust is settled, the magic is happening, and we reflect back on another year. We count our blessings and are reminded of the true meaning of Christmas. And… we eat Christmas cookies.
I mean, what other month out of the year looks like that?
What does your December look like? Is it similar?
Finding Peace in Chaos
For me, when I think of the chaos during Christmas time I also reflect on the peace.
Chaos isn't always a bad thing. Everyone running around decorating and getting ready for family visits, parties, dinners, shopping. It's busy, but it's not bad.
And the thing is, when it's all said and done, and all the work was put in, the reward is magnificent.
Getting to sit by the tree on Christmas morning, homemade mocha in hand, with family is the most beautiful thing. It's beautiful because there's no more work to do. It's just one day where at that very moment everyone has the same agenda – to celebrate Christmas.
Now for us this magic happens actually a few days before Christmas too. Personally, I start to feel it at church during the Christmas Eve service. We used to go to a service with a candle lighting ceremony and I remember thinking this is it, it's all done now. Another magical year.
Okay, that was all very sentimental so thanks for sticking with me. Now on to the home tour!
The Kitchen
This is our DIY open shelving. Just a simple fresh garland here with twinkle lights make the shelves look warm and festive. I also added a faux tree and candle on the cutting board. Of course, on the left you can see a fresh loaf of sourdough bread.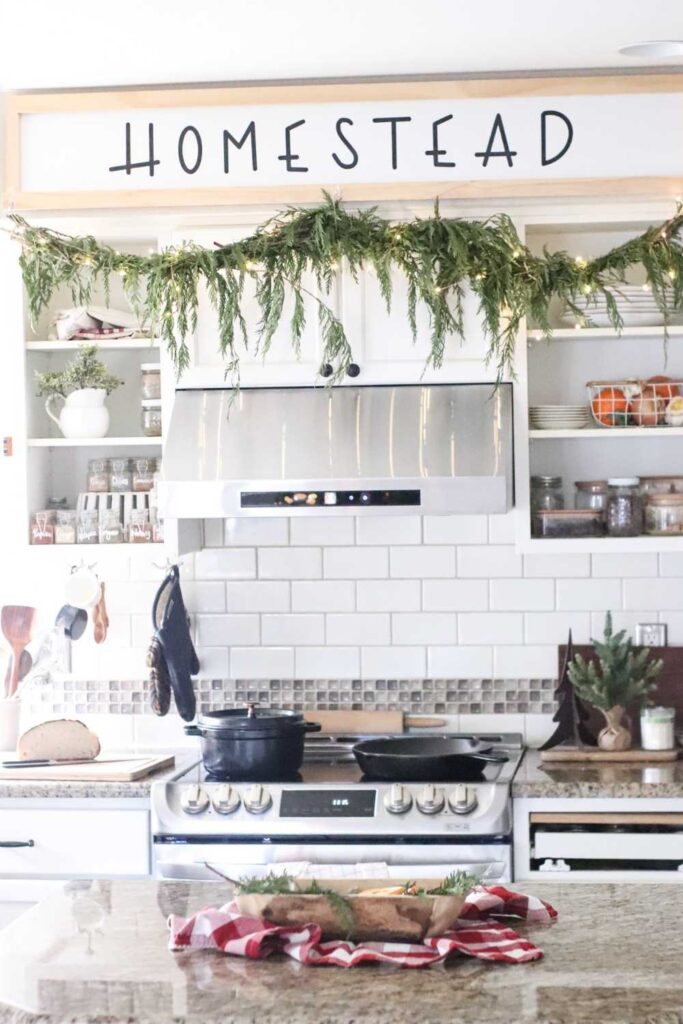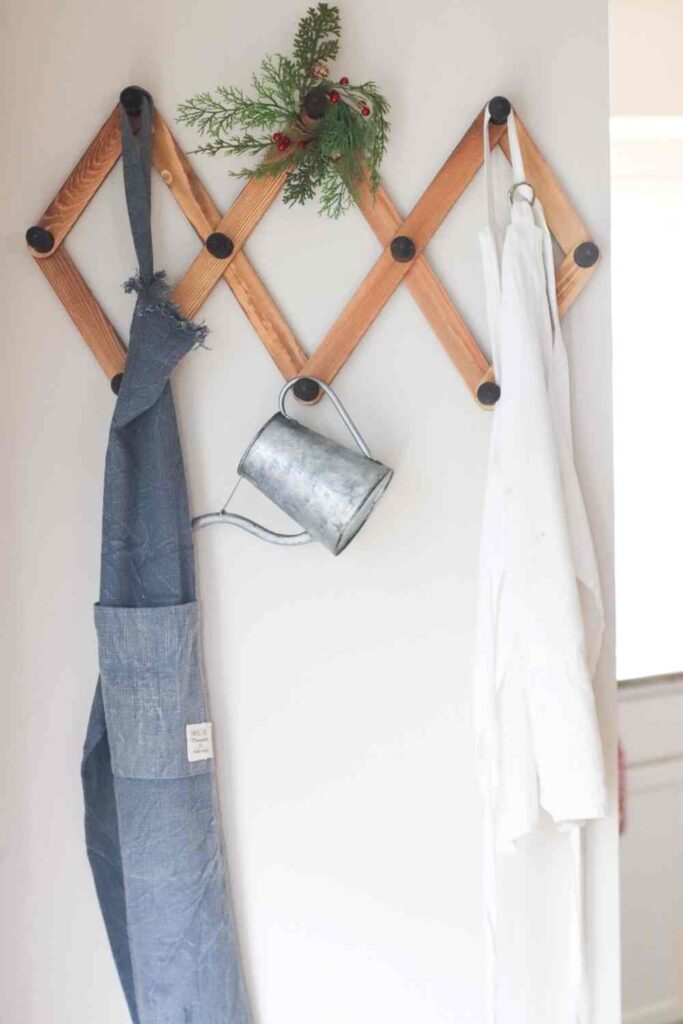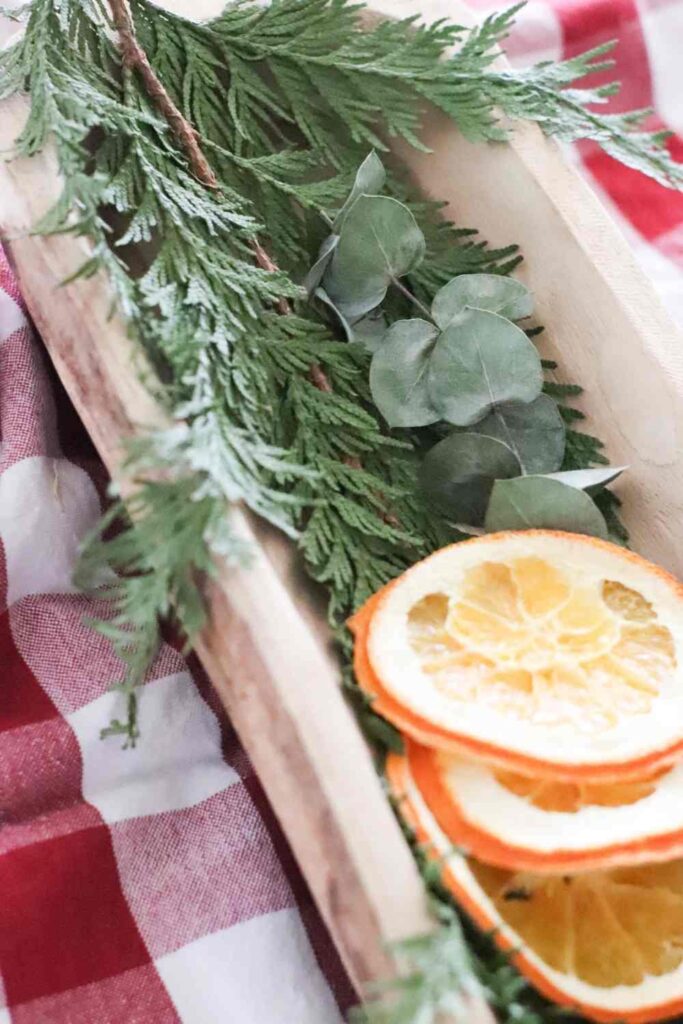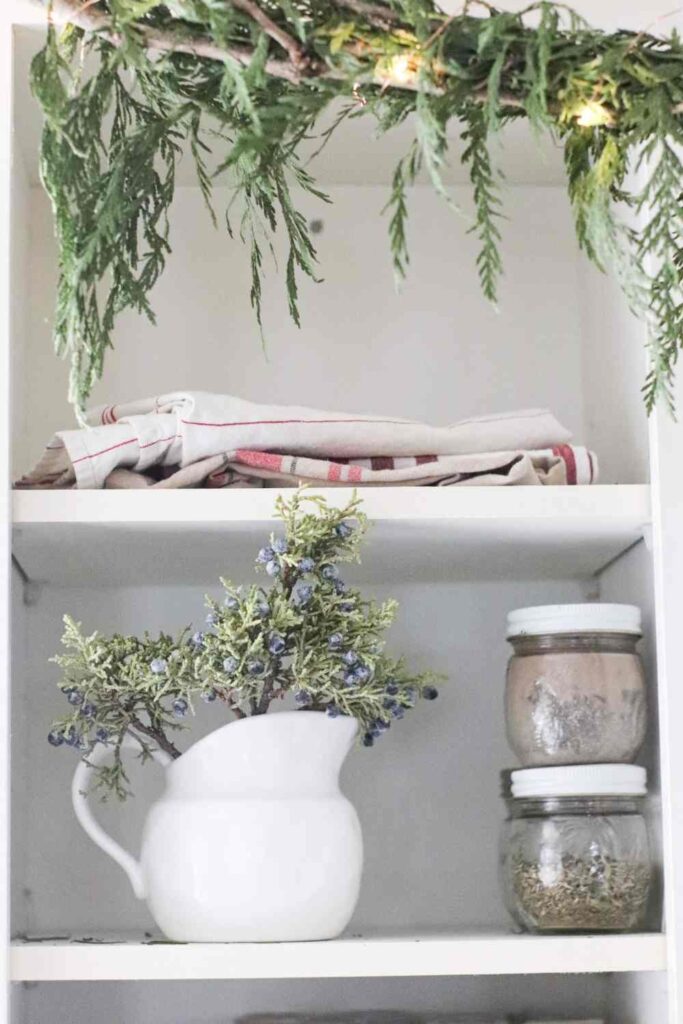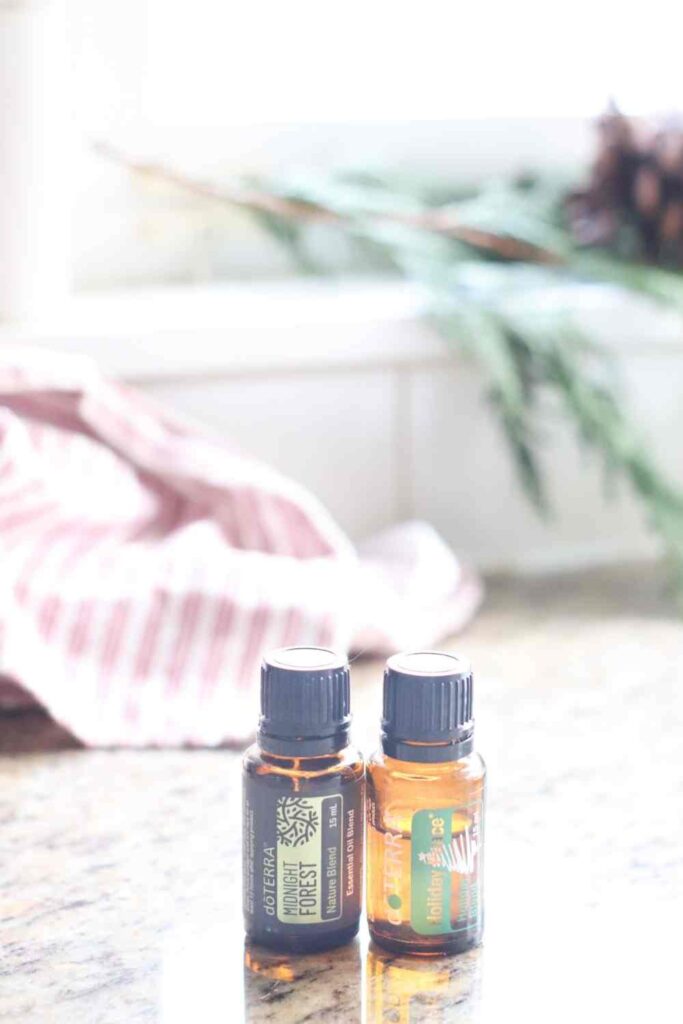 My favorite essential oils to diffuse during the holidays. Midnight Forest and Holiday Peace are both blends that smell like a natural Christmas tree and remind me of the holiday season.
The Family Room
This year I tried to keep things all natural. This is our natural Christmas tree, a noble fir that we bought from a local farm. I love the way it smells all month long. We strung lights around it and added a few natural looking ornaments, like cotton, pinecones, icicles, and candy cane.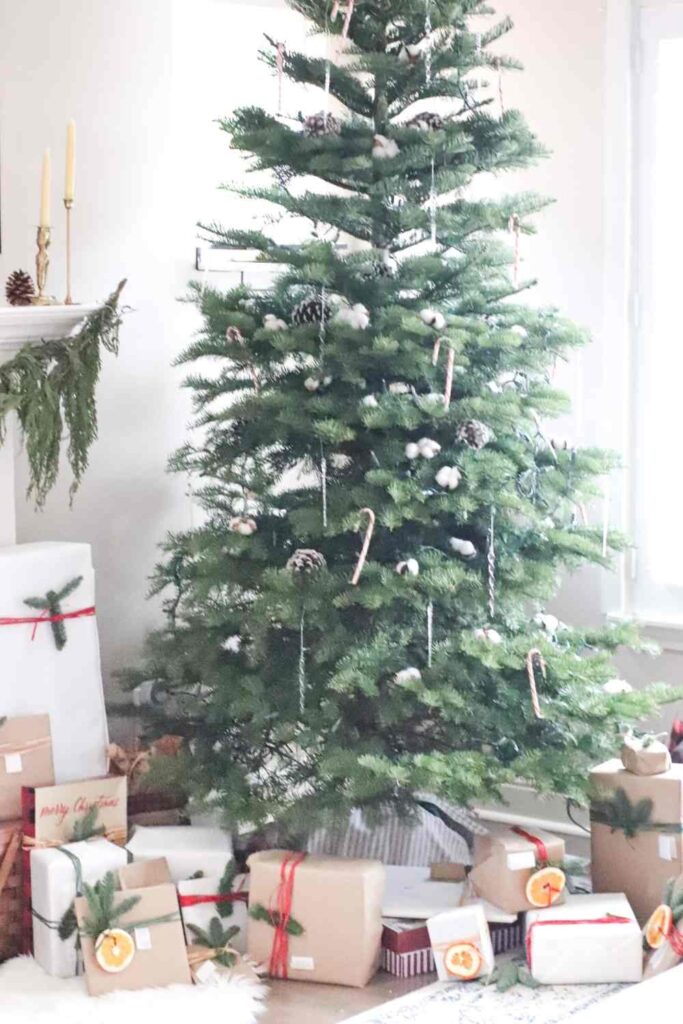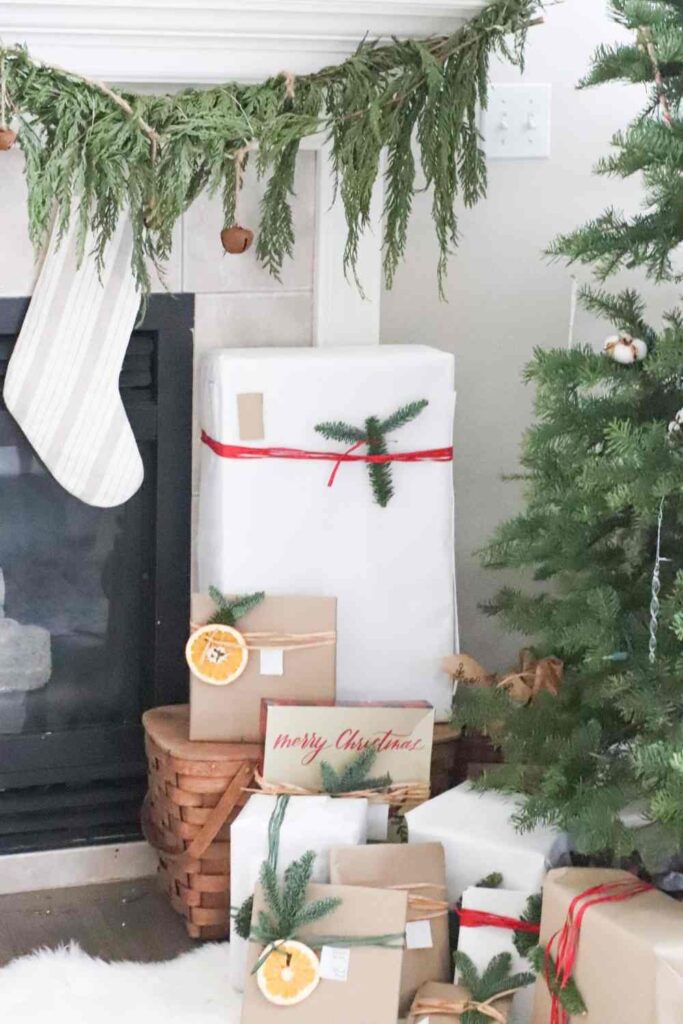 I have a minimalist approach to wrapping Christmas presents. All I did was cut off a branch of the Christmas tree and distribute it amongst the gifts. I then dried some oranges in the oven and adding those with twine on white and brown craft paper. Simple is the way to go.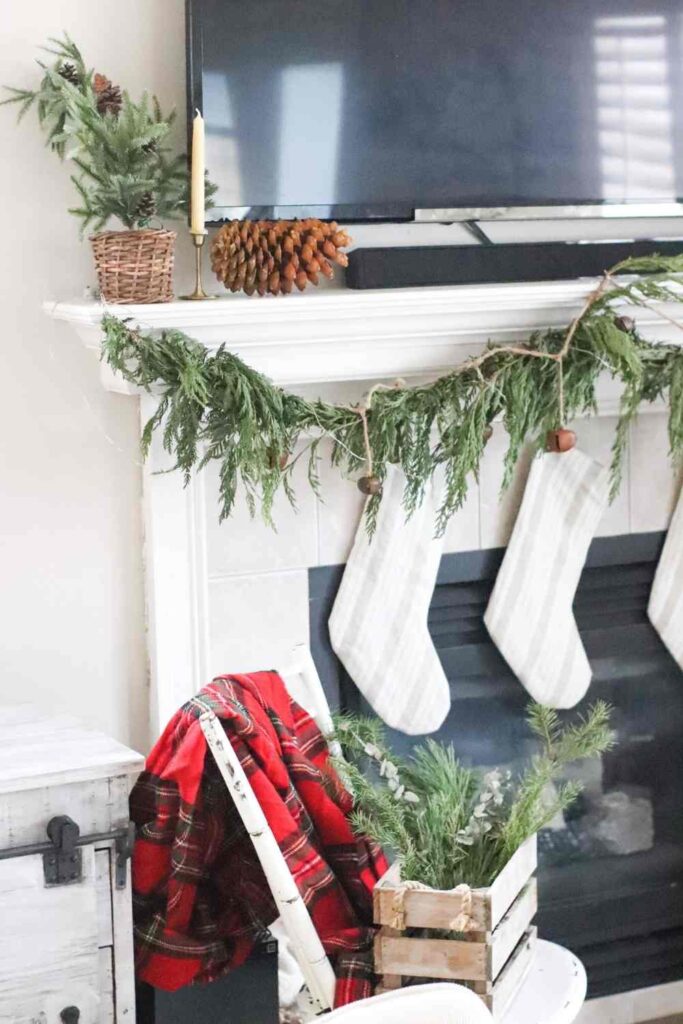 I hung the stockings by the fire, and put this fresh greenery on top. Nothing beats fresh greenery! You can find out how to make your own fresh greenery Christmas mantle here.
Then I brought this chair in from the dining table, because we sit around the Christmas tree more than the table at this time of year. The red blanket and basket of greens make it look extra cozy.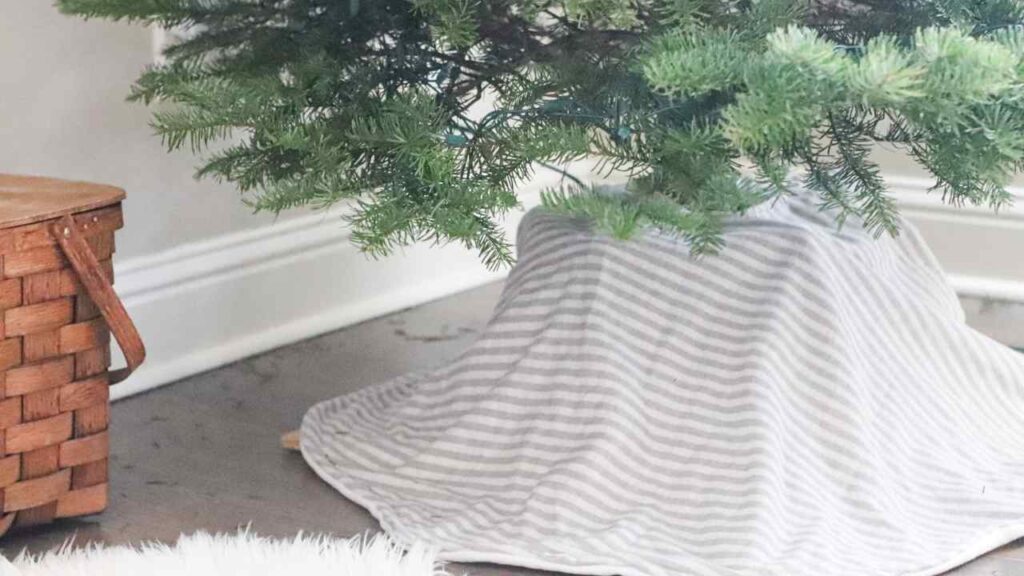 This year my sewing project was how to sew this tree skirt! If I can get around to typing it up, I'll let you know.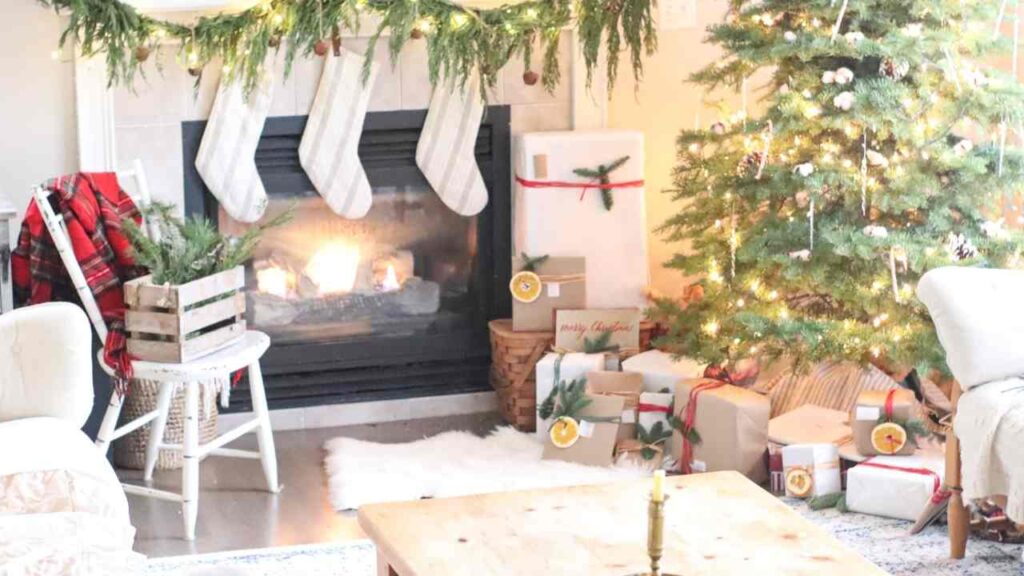 And there it all is with the lights on. I actually found it really beautiful with the lights off, too. But as Christmas gets closer, I keep adding more and more twinkle lights…
Shiplap Accent Wall
I love this shiplap accent wall by our farmhouse dining table. It's the perfect spot for decor! I strung a string of bells here (same thing I did over the fireplace) and found a spot for our Santa. Then I added some fresh greens to a plate with a Christmas tea towel (I found this really cheap set on Amazon here and I love them!)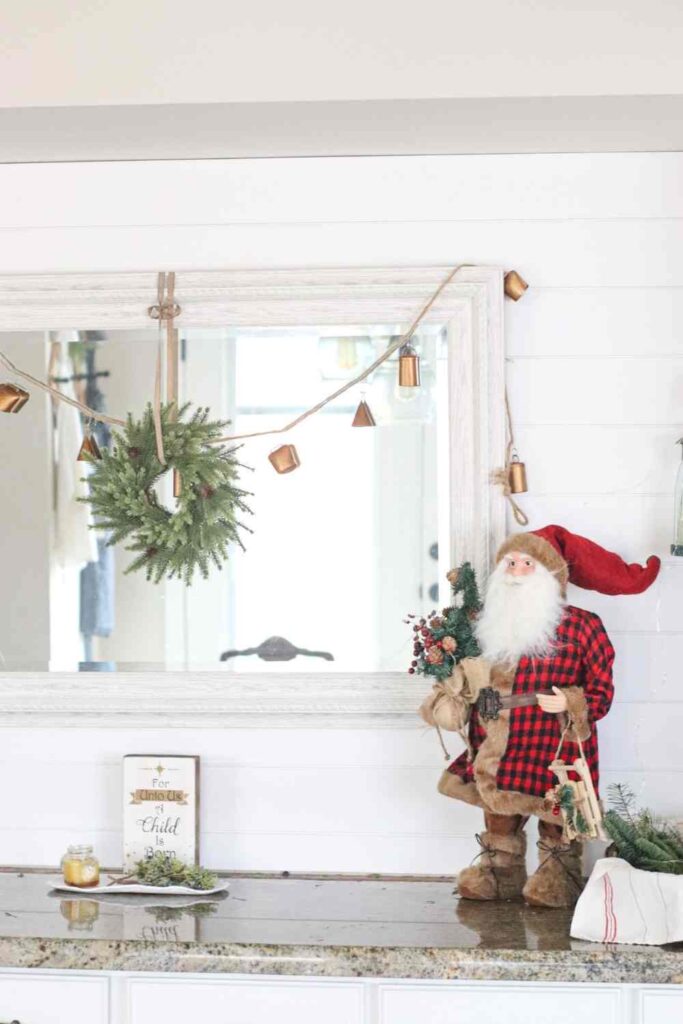 This shiplap accent wall was one of my favorite DIYs. Find out how to install one here.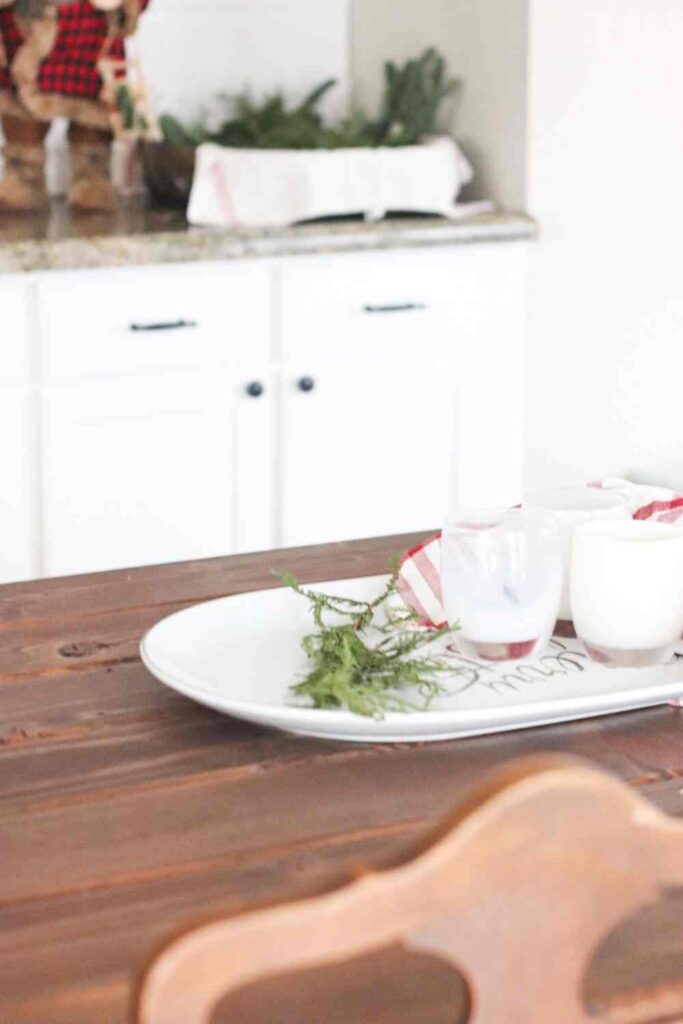 See more about the farmhouse table and how we built it here.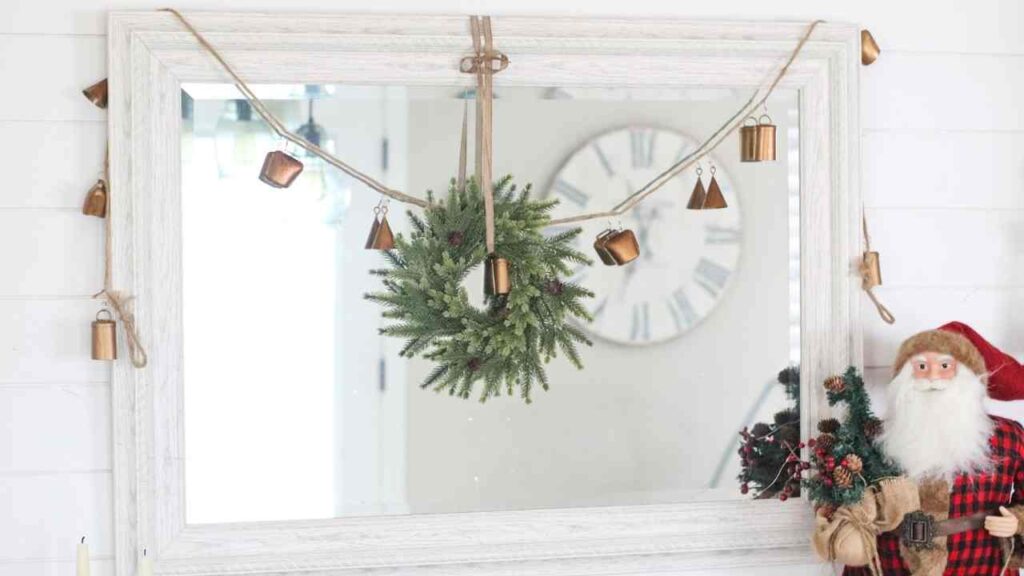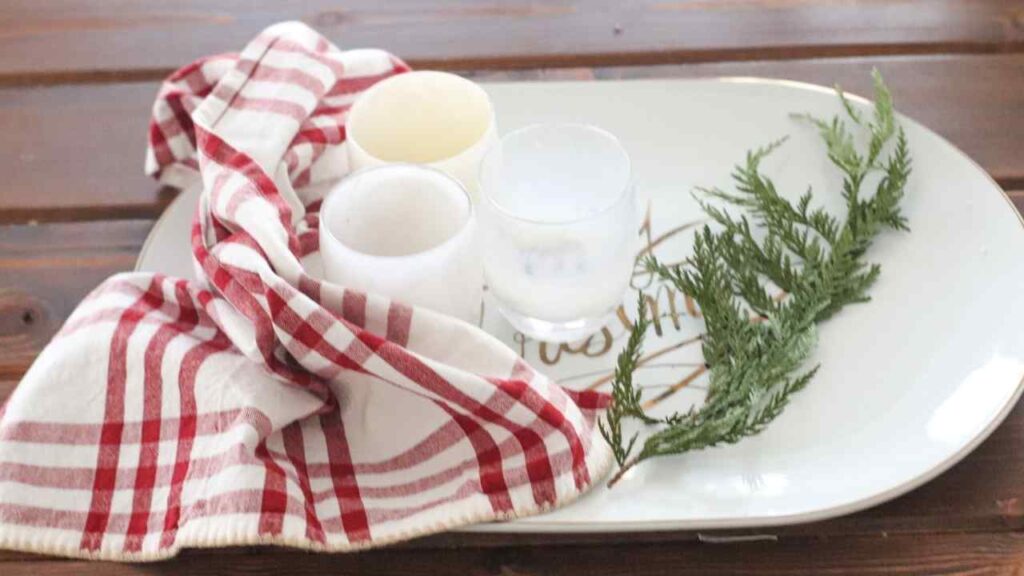 Master Bedroom All Decked out for Christmas
I have way more to share about this bedroom because we completely redid it (see how it looked last year here). But for Christmas time I lined the headboard with a faux garland mixed with real eucalyptus branches.
Then I went to the antique store and found two original paintings from an Amish community. One is a snowy winter scene and the other is a man with a horse drawn carriage. Each for only $20 frame included. Such a good deal. And perfect for on either side of the bed. I think I'll replace these in the spring / summer with a different picture.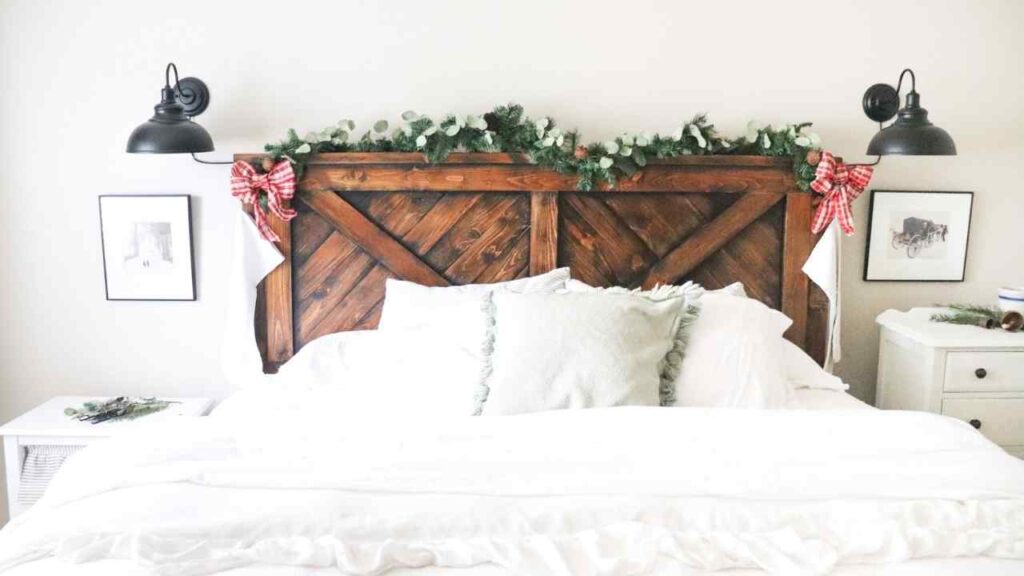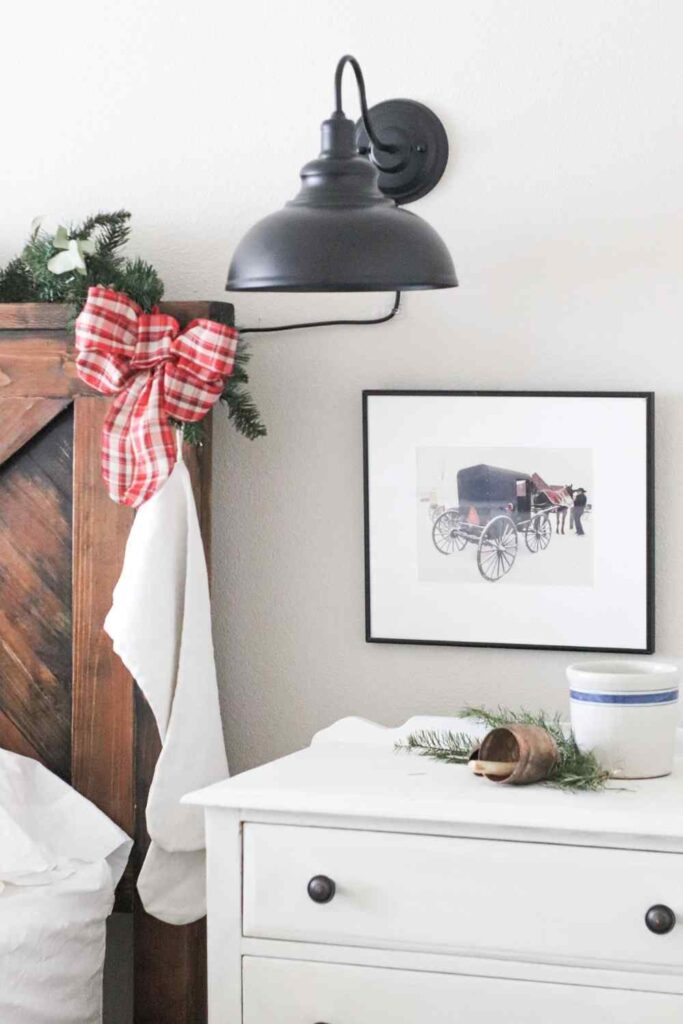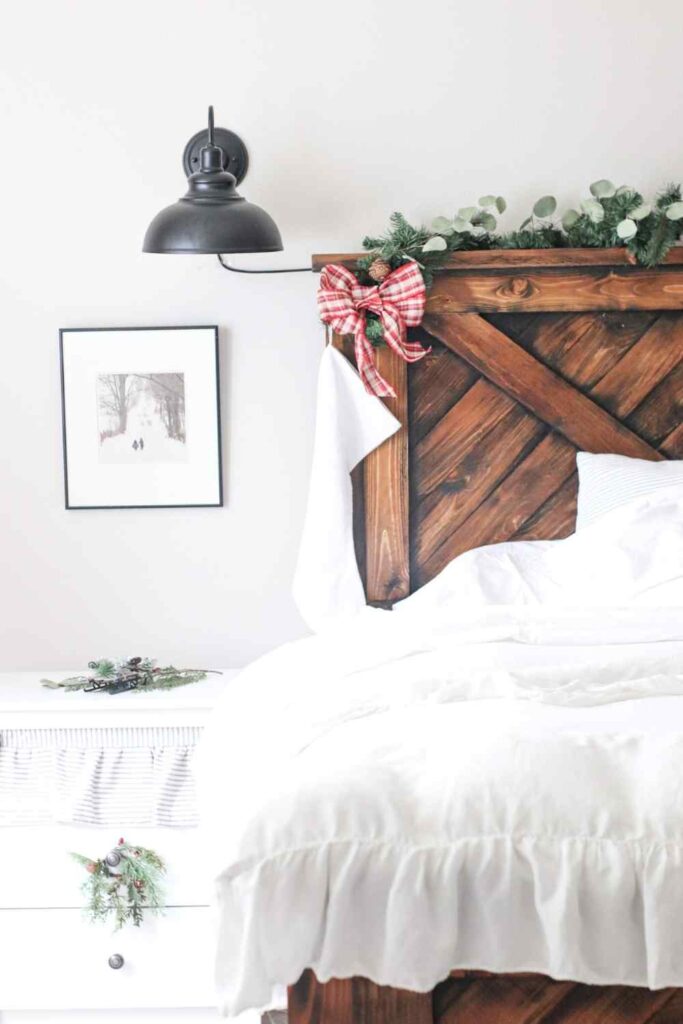 We found the black lamps here. They're perfect for us because we needed lamps that plugged in to the wall. We hid the cord with some command hooks and it turned out great!
Shop this Home Tour
Holiday Peace Essential Oil Blend
Thanks for joining me!