With each passing season I feel like life goes faster and faster, and each day feeling shorter and shorter. All the more reason to stop and appreciate the new seasons upon us. So join me on this cozy fall farmhouse home tour, where I used fabrics and natural elements to create fall farmhouse home decor.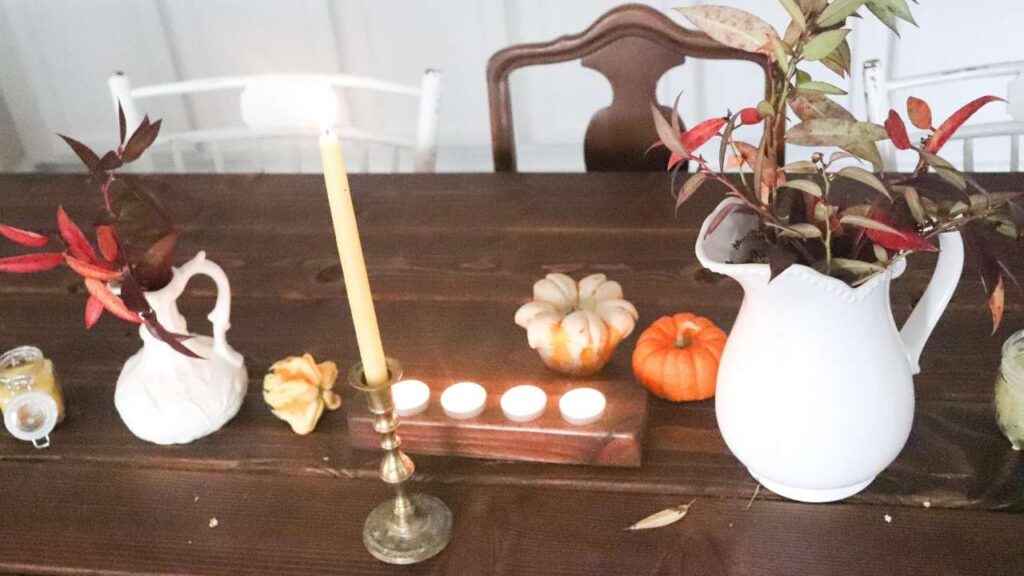 This post contains affiliate links, which means I may make a small commission off items you buy at no extra cost to you 🙂
Pin it for Later!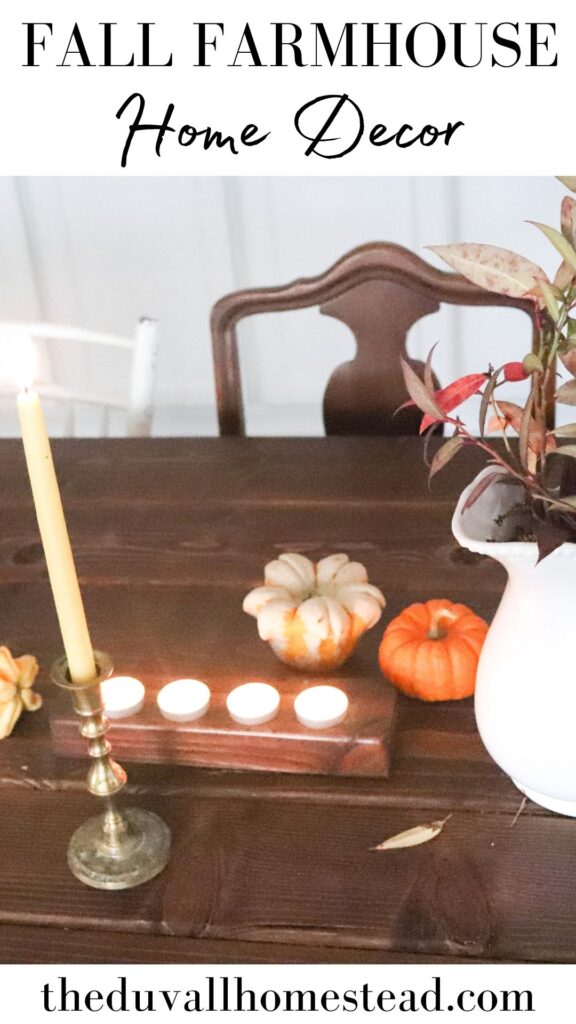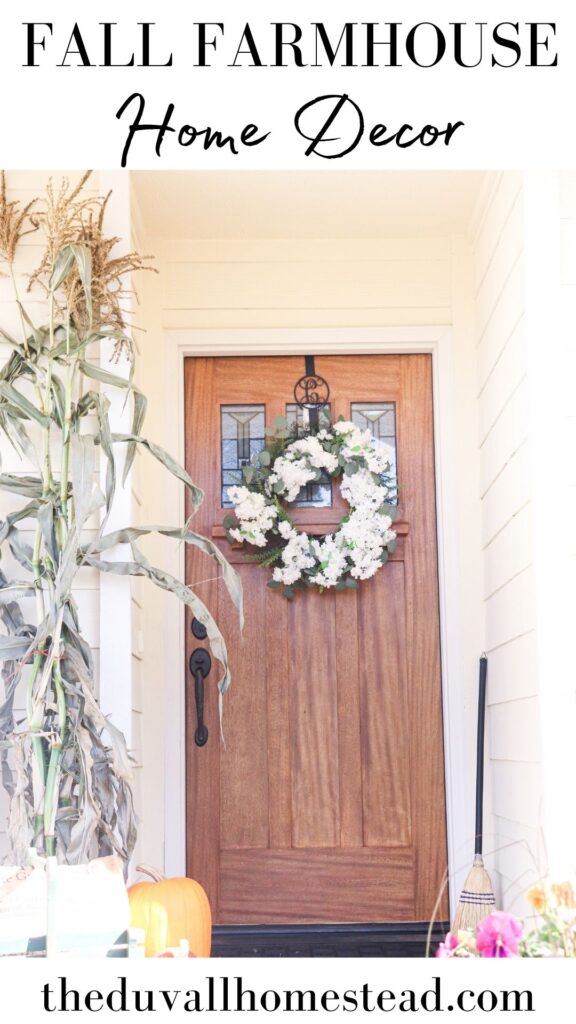 Welcoming Fall
This year fall came a little differently. We had our first baby, Allison Marie, who is now almost 3 months old. As I'm typing this she is actually sleeping on her own in a pack-n-play, which is a new thing for her. Usually she likes to sleep in my wrap, but recently she's enjoyed sleeping on her tummy on her own. Only for afternoon naps of course. At night she's all cuddled up next to me.
Since she was born in the summer, it felt like it was all the sudden fall just the other day. The first couple months with the newborn flew by, and we were so distracted that I didn't really notice the seasons starting to change.
Fall is my favorite season though, always has been. So when I look around and see the red leaves on the trees, the oranges and brown, and feel the cold crisp air at night, I know what time it is.
Do you ever feel like fall is the start of a beautiful season? The season where everything slows down, is quiet, and people come together? I sue do, and I'm looking forward to it!
Fall Farmhouse Home Decor Ideas
I never really like going to the home decor stores and buying decorations. Obviously if you had a big decor budget then I can see enjoying it. But even then, you still have to store everything and bring it out the next year. And would you still like it then? Who knows.
So that's why I keep things pretty simple around here. You can never go wrong with florals, fabrics, fall patterns, and other natural decor.
Here are a few simple fall decor ideas that you could try around your home: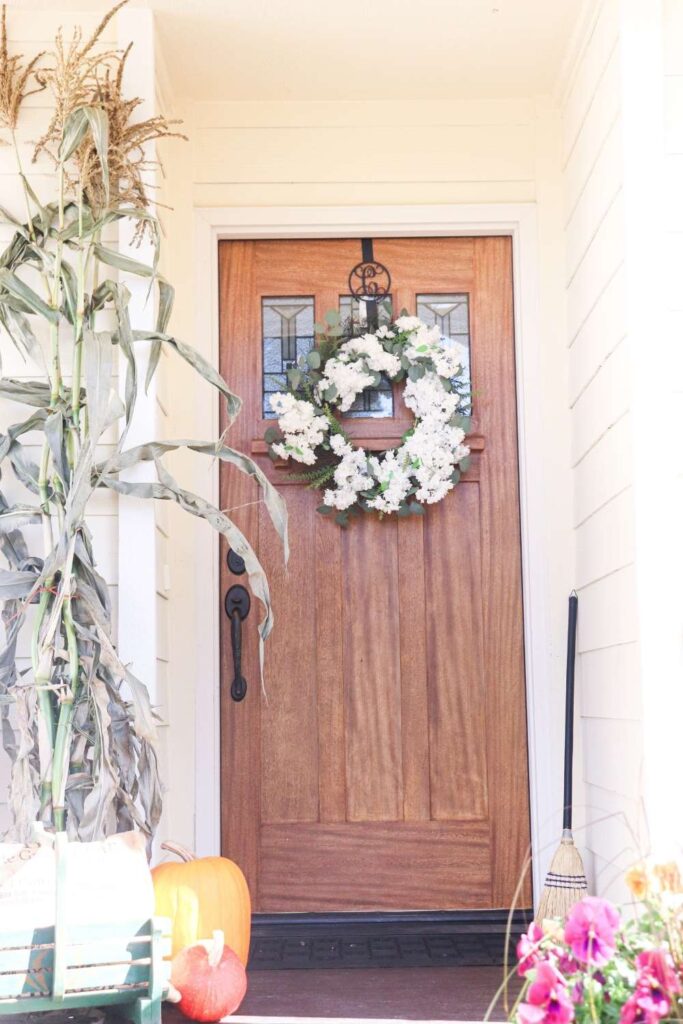 Unique Natural Fall Farmhouse Decor Ideas
This year when we went to the pumpkin patch I also found this corn stalk! I think it was like $4 🙂 And how convenient that it is exactly the height of the door?!
Another good find was that red pumpkin in front. Having different color pumpkins like green, orange, white, pink, red, really brings the fall colors out.
I also went to the nursery to get some flowers. What I didn't know was that the nursery employee was going to be so kind to actually make an arrangement for me! (I think she noticed how fast I was trying to go with a baby in my arms). So I walked away with this: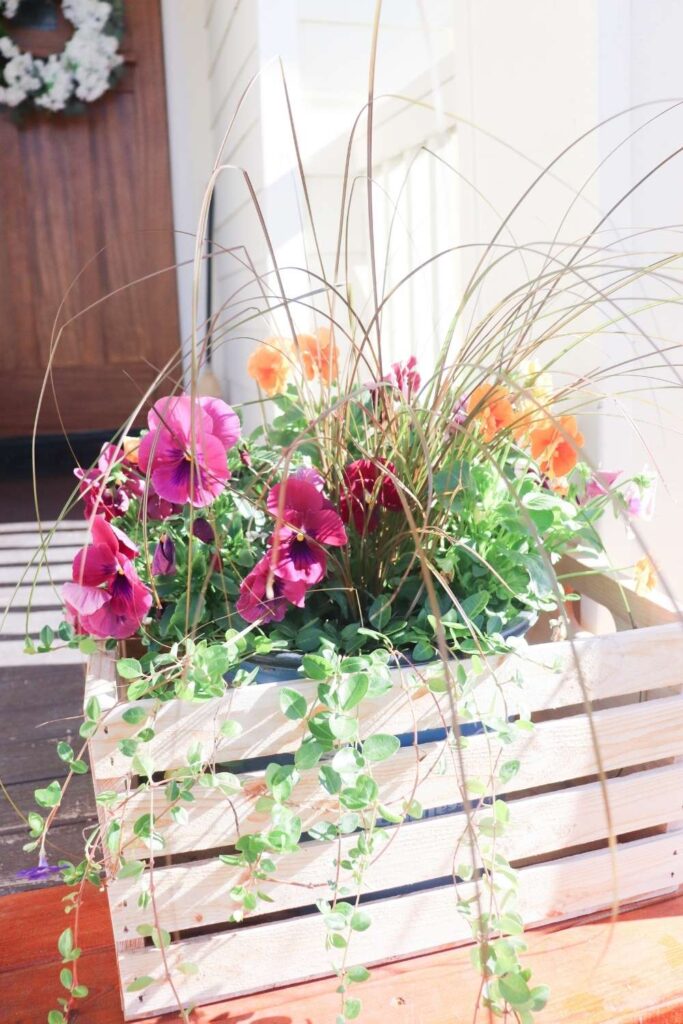 Wreaths are also a classic item. The wreath I have on our door in the photos above was a hand me down from my parents. But if you're looking for a DIY, check out my DIY Olive Branch Wreath tutorial. I made this last year just in time for fall season.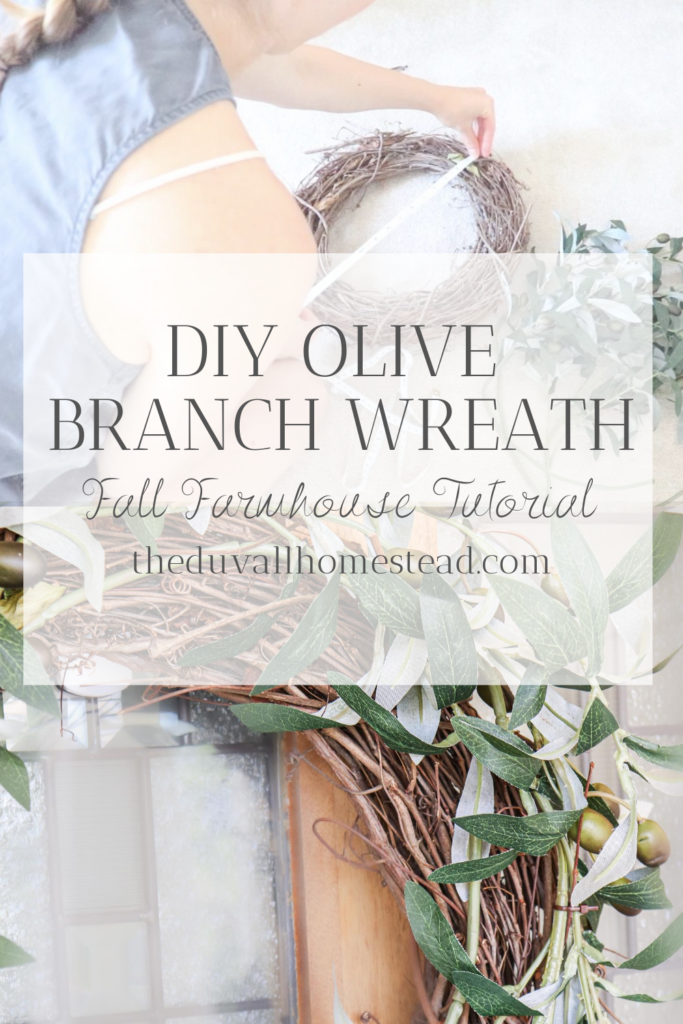 Farmhouse Fall Table Centerpiece
I was trying to decide whether or not to do a full blown tablescape tutorial or just create a simple farmhouse centerpiece. The latter was the winner.
That way I can keep it up longer. When I make a tablescape and actually set the table, it only stays up a few days.
So for this centerpiece I went with a mix-and-match style with natural fall elements. These gourds from our local farm were so pretty to me. Don't you think this one looks like a flower?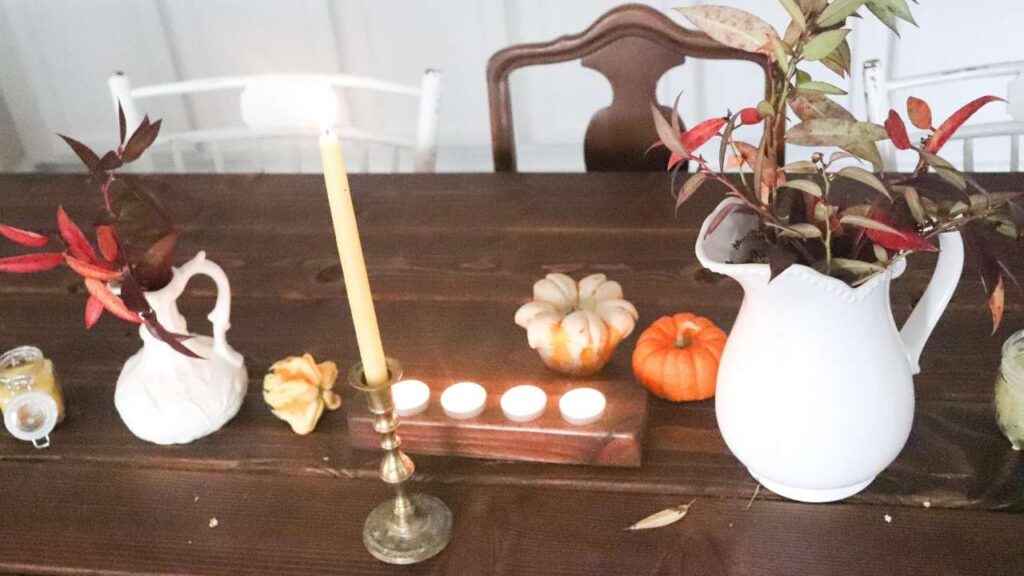 And for the floral piece I went with some natural branches from a plant outside that was turning colors. My hope is that these leaves simply dry out and stay pretty, so I can keep them here all season. I'll be honest I don't have as much time to go get fresh flowers anymore. But with these leaves I can keep them here longer, as opposed to flowers which you take down after about a week.
Tell me, do you like fresh flowers even though they don't last? Or are you more of the faux floral type?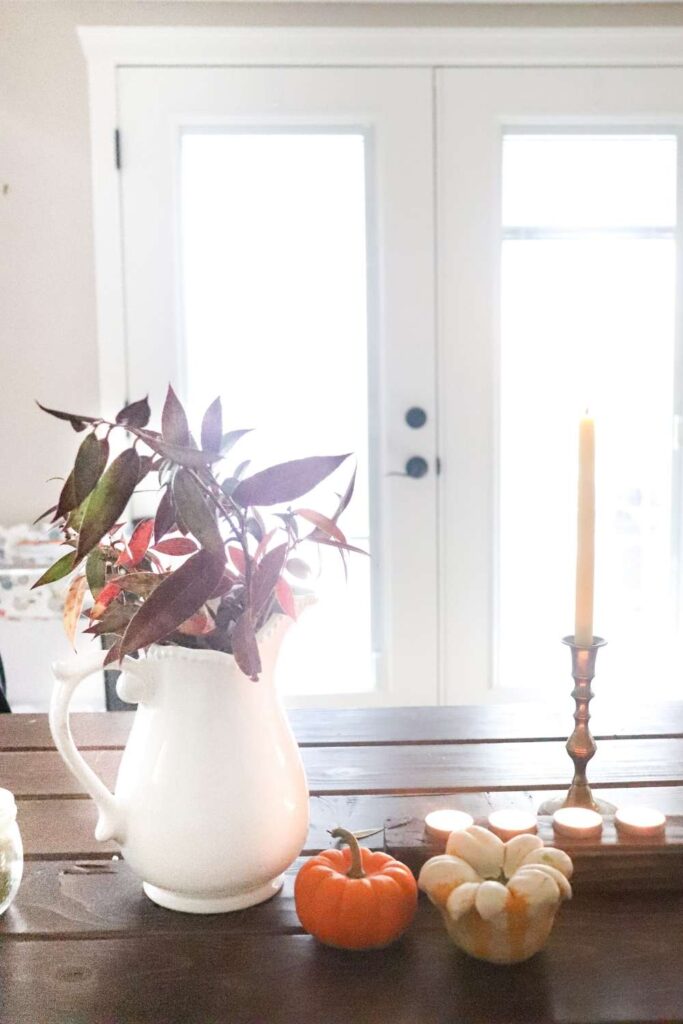 Of course candles are a must.
If you can see the wooden block with little tea lights in the center, that was a gift from my husband John. He made that with some scrap wood in our garage and stained it the same color as our homemade farmhouse table.
Ohhhhh fall, when candle season really begins. I shared a homemade candle tutorial last year that I'll be looking at again soon. I love lighting everything up when the days get dark early!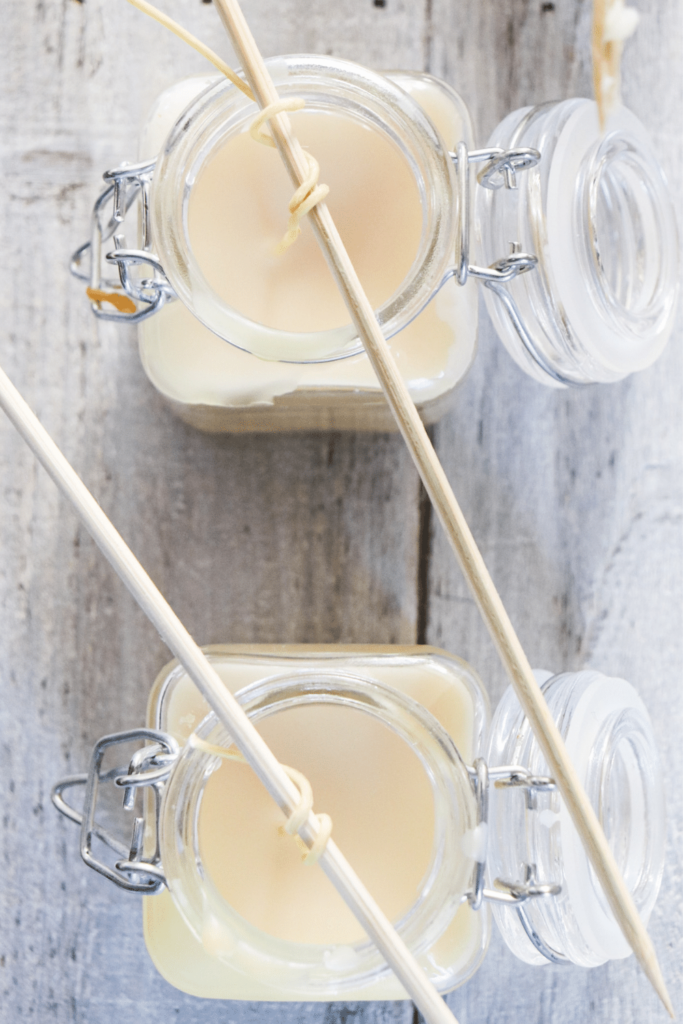 Farmhouse Great Room Ideas
We have a great room, which means the kitchen, eating area, and "family room" are all one.
On the one hand I don't like the great room because it feels so… modern, to me. I sometimes crave the traditional boxed room houses.
But on the other hand, being able to cook, eat, and watch a movie in the same room is totally worth it!
Now the only thing I don't like about our fireplace is the big TV above it. Love it for watching movies, but the big black box ruins my pictures. One of those reality vs. blogger moments I think 😉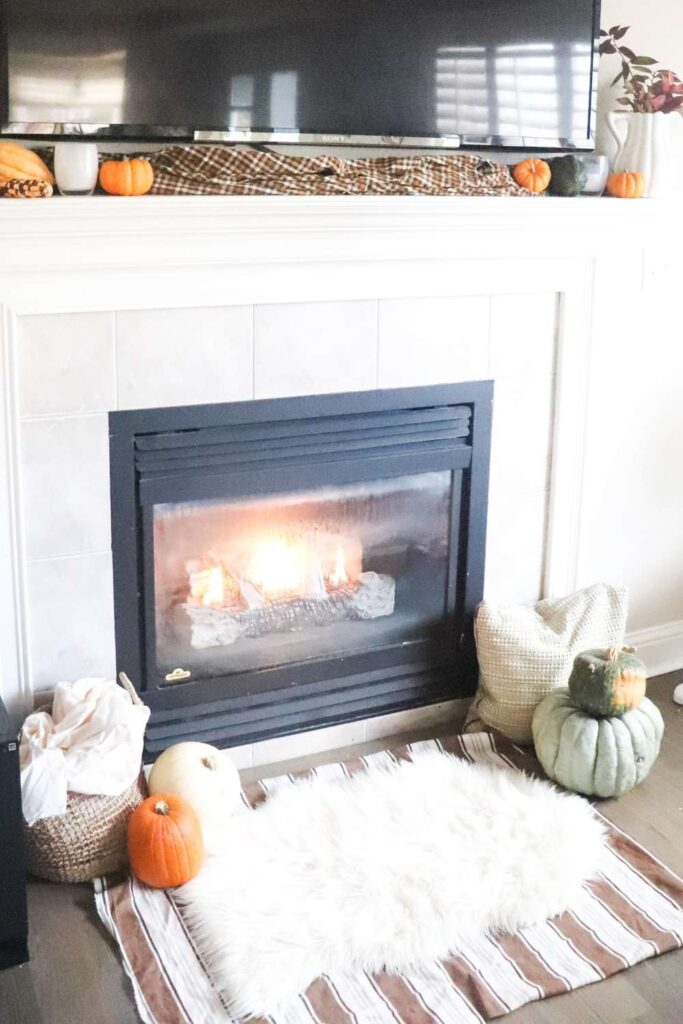 Believe it or not, the fabric on the mantle and then below this faux fur rug are just scrap fabric! I haven't even sewed them. I planned to, but never got around to it. Turns out having fabric on hand is handy even if its not finished!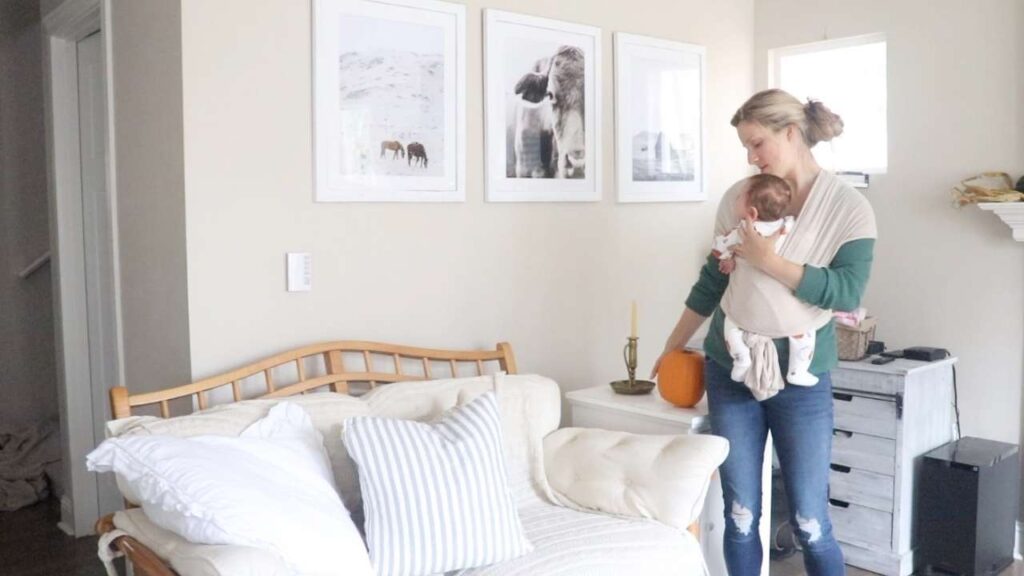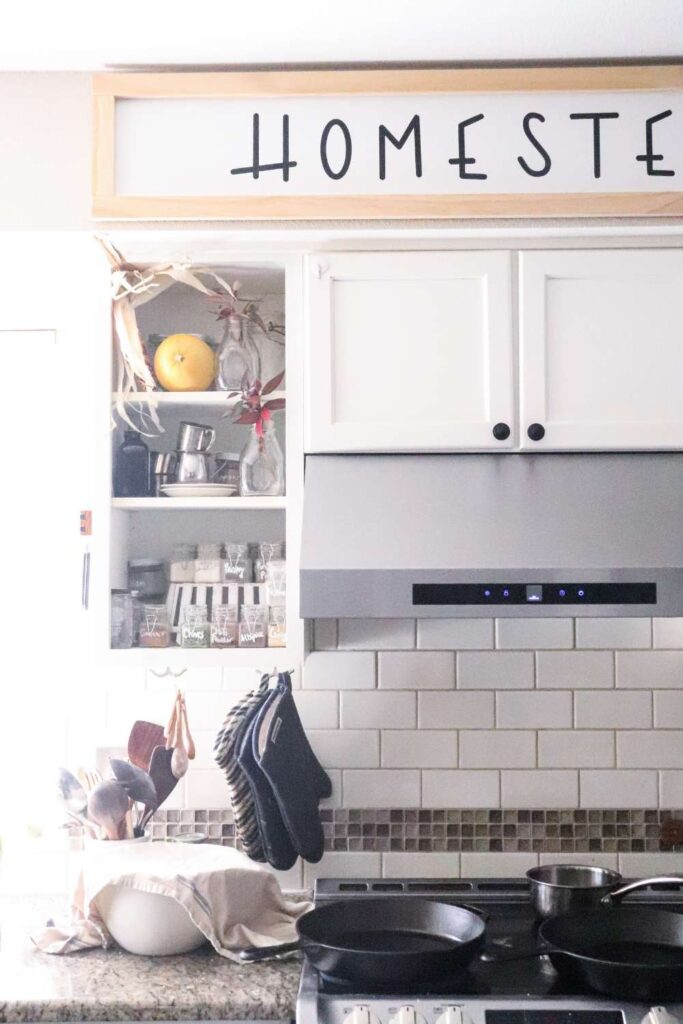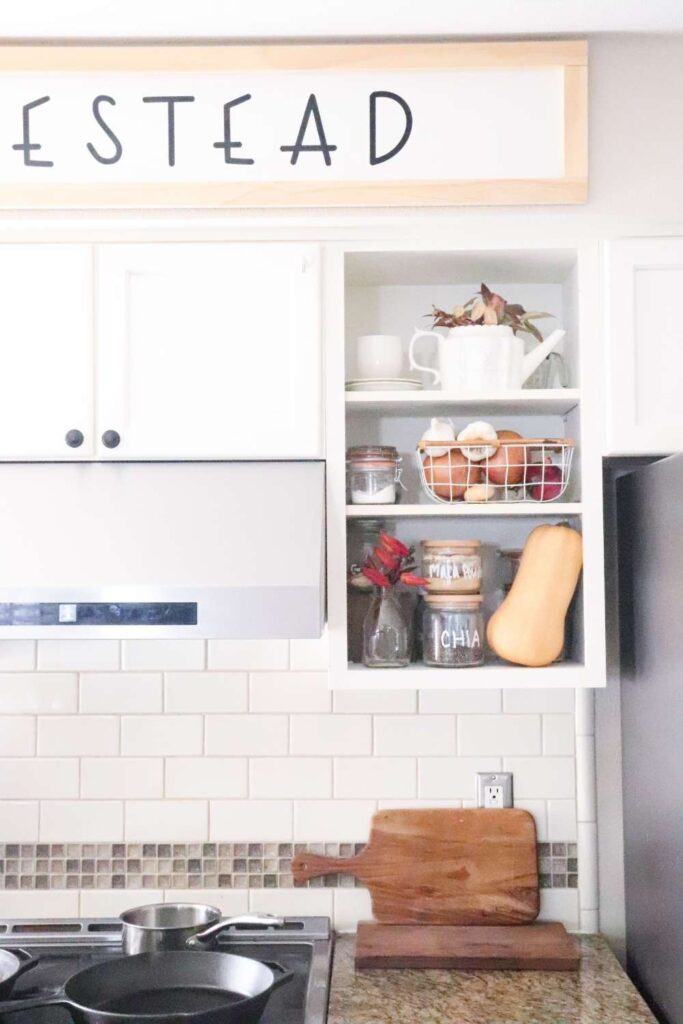 I talked about these farmhouse kitchen open shelves in this post here. A quick little DIY secret between me and John.
Fall Farmhouse Bedroom
We are actually in the process of redoing this bedroom, so I'm going to keep this brief. I brought in some of the leaves from outside and placed them in little vases by our bed. That adds a nice pop of color.
Then I sewed this creamy beige blanket. It's half cotton and half fleece and is the perfect addition for the colder nights. Plus nothing better than a hand sewn blanket 🙂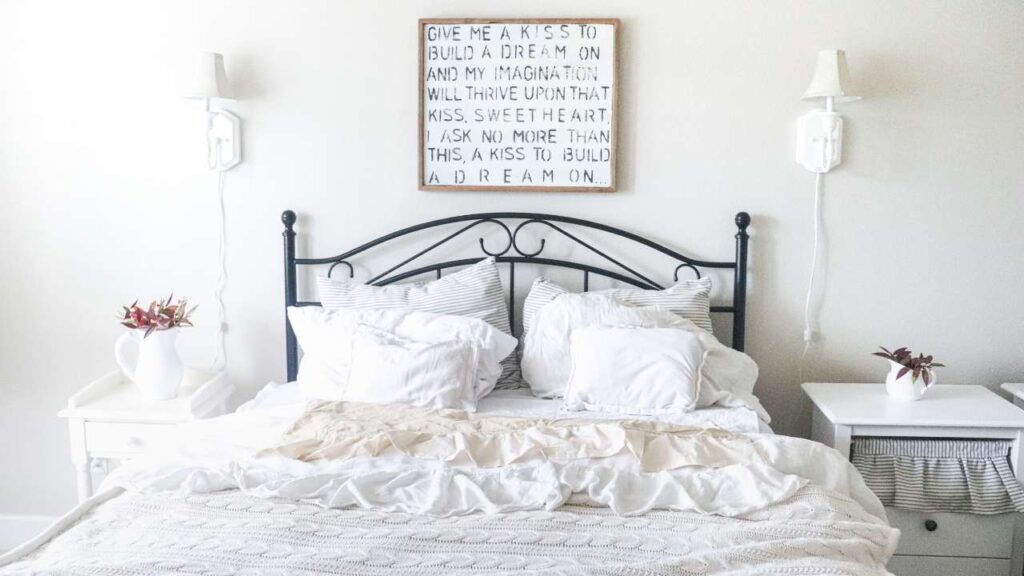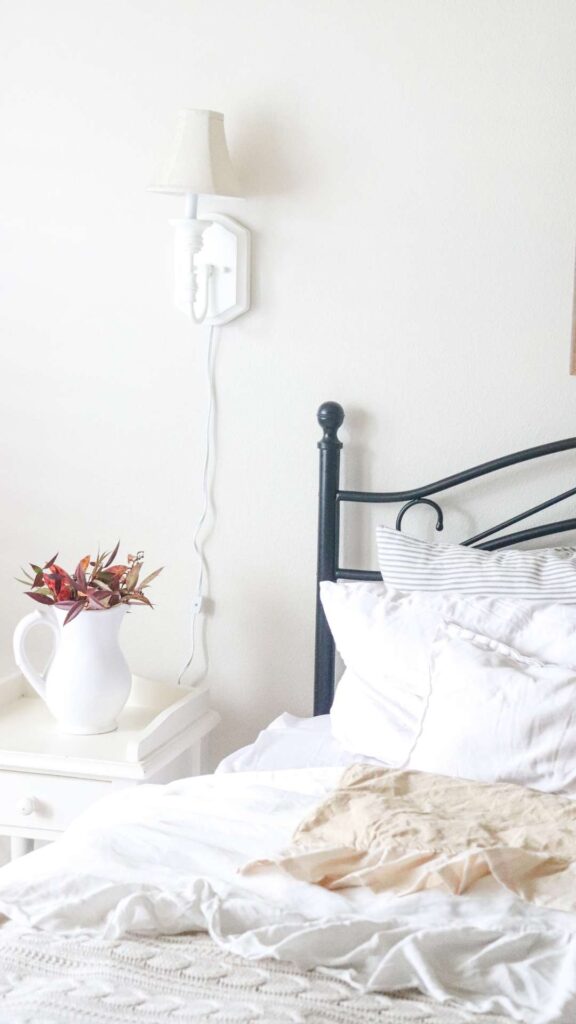 Join me for the fall homestead tour here!
Pin it for Later!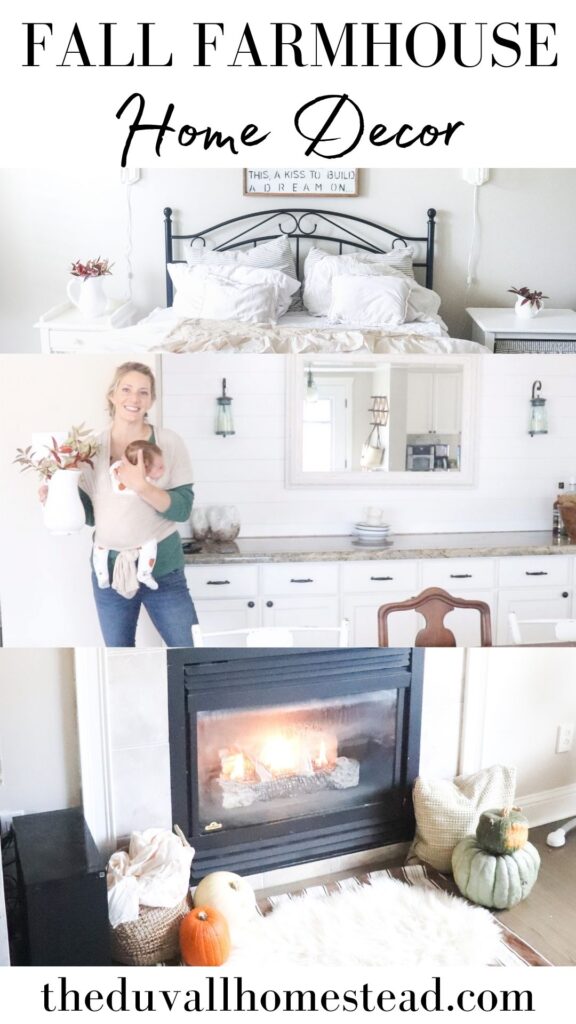 Thank you so much for stopping by the Homestead!