Today I'm sharing with you my top 10 or so summer kitchen essentials. Every season in the homestead is different and you have to adapt to different weather, different food, etc. When the kitchen is too hot to bake in the oven, I use other tools and methods to keep cool while still cookin' and running my little farmhouse.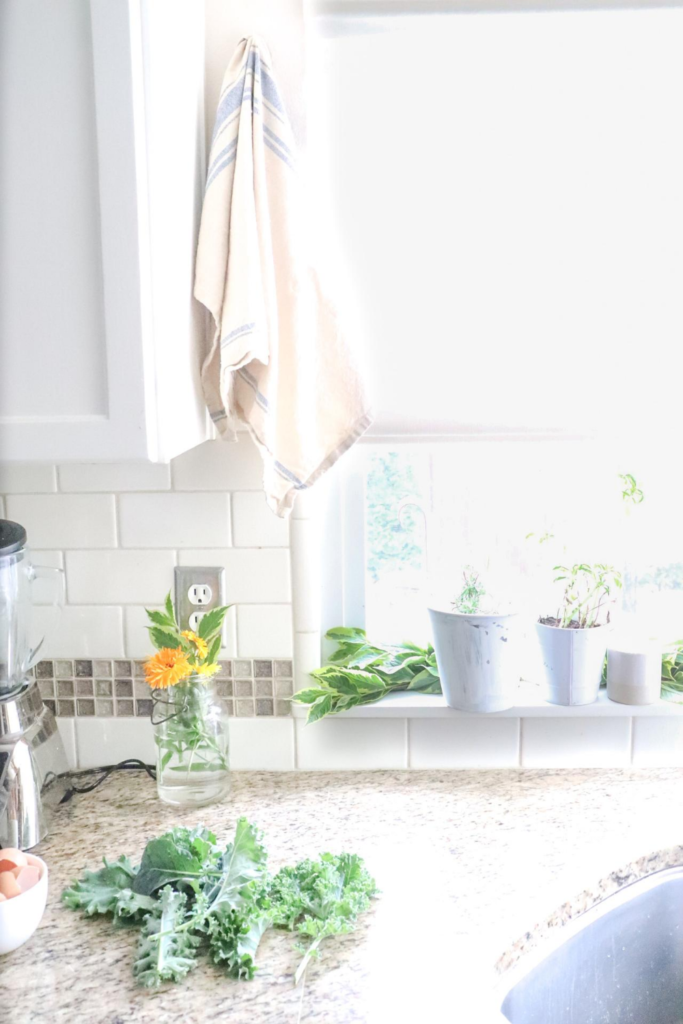 This post contains affiliate links, which means I may make a small commission off of items you buy at no charge to you.
Summer at the Farmhouse
I enjoy every season, but summer is particularly fun because we have lots of sun, heat, fresh veggies, and flowers.
If you haven't already, come see my summer farmhouse garden and home tour.
There is one small thing I don't like about summer, and that is that our house gets over 80 degrees F in the kitchen. We don't have air conditioning in our home, and actually most houses in Washington state don't have it. Instead we rely on good old fashion window opening and a portable AC unit in our bedroom.
I came up with this list of my top 10 summer kitchen essentials because without them, cooking would be much more of a chore for me in the summer.
As I am writing this I'm sitting on our bed in our AC controlled bedroom, while the rest of the house is 82 degrees since we're having a heat streak this week. Yikes! I already have pumpkins running through my head but for now, I'm going to enjoy summer and keep cool the best I can in the kitchen.
Even though obviously, if you can't tell, I'm ready for fall 🙂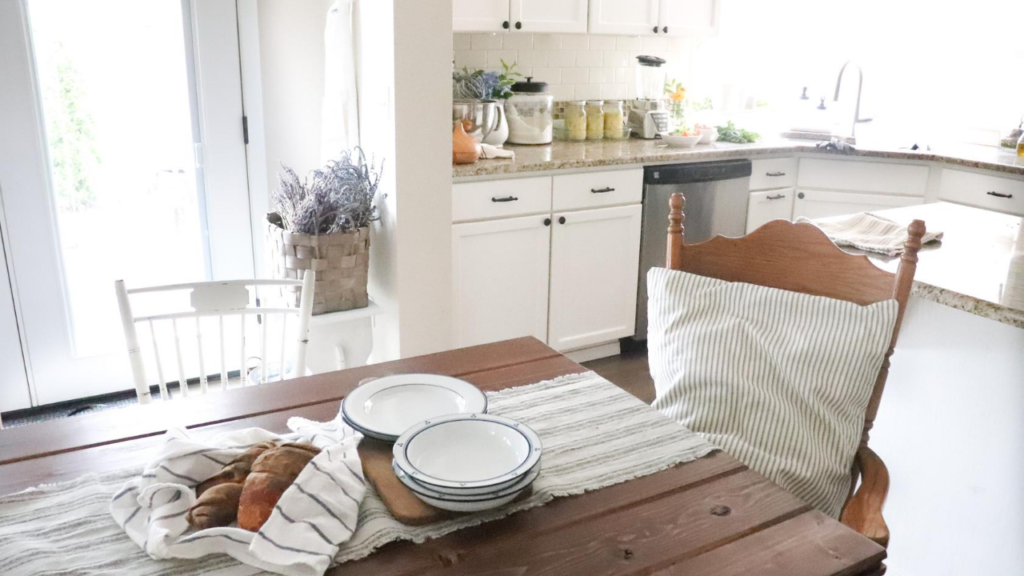 Watch: Summer Kitchen Essentials
Food Storage Necessities
With the kitchen a little warmer, I can't keep things like bananas out on the countertop for very long in the summer. They will go bad almost instantly.
I've been using these freezer bags for bananas for a long time now. Perfect for pulling out in the morning before making a smoothie.
Various size mason jars are a must all year round, but I use them for fermented cabbage (sauerkraut) and dried flowers in the summertime.
Check out how to make your own calendula oil here.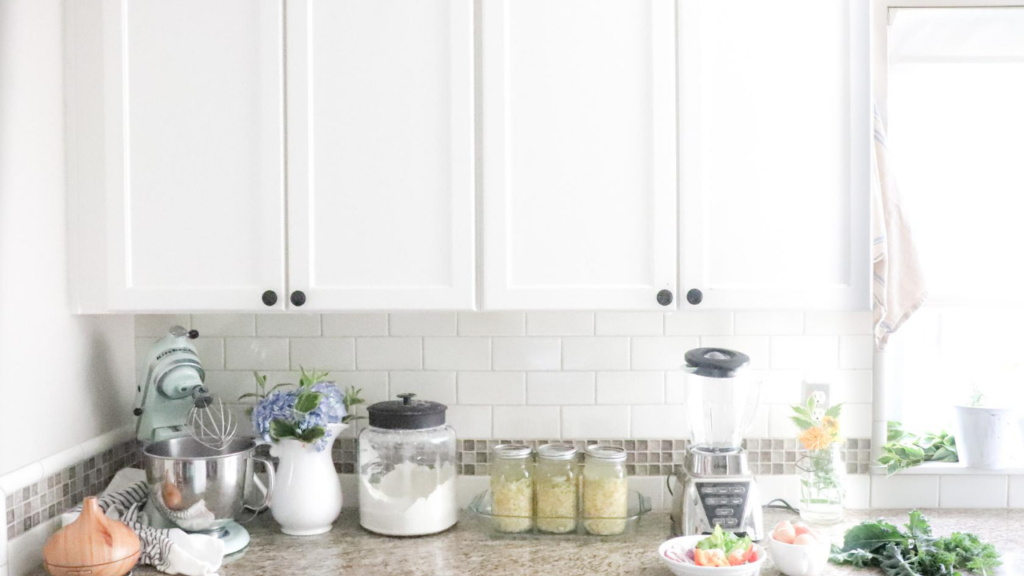 Another countertop staple is a bowl for composting. Nothing fancy about this one folks. But did you know that you can compost almost everything you're putting in your trash?
Things you CAN'T compost would be meat, milk products, plastic, baked goods, oil, grease, things like that. But don't throw out your veggies, coffee beans, and egg shells. They are perfect for composting or just sprinkling in your garden for added nutrients!
Best Cooking Utensils for Summertime
It's funny because in the fall and winter I absolutely love cooking in my dutch oven to make roasts and whatnot. But something about March/April time and I really start wanting other food. It's like my body know what food is in season and when to start cooking it.
I'm always using my KitchenAid stand up mixer, which I am so happy I have after years of hand mixing.
I think if I didn't have this I probably wouldn't make pizza crust, tortillas, and most bread products just to spare myself the cooking exercise routine LOL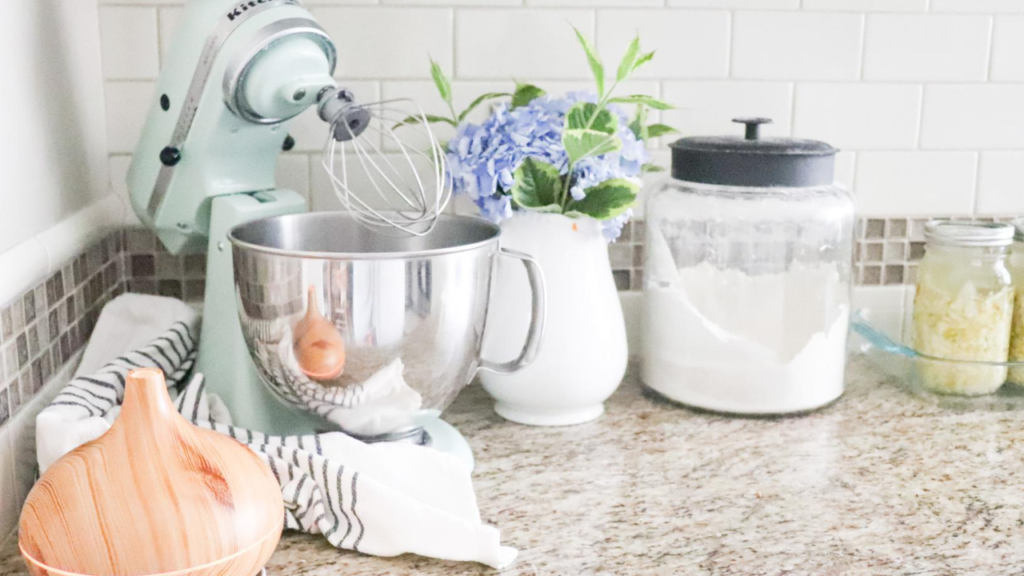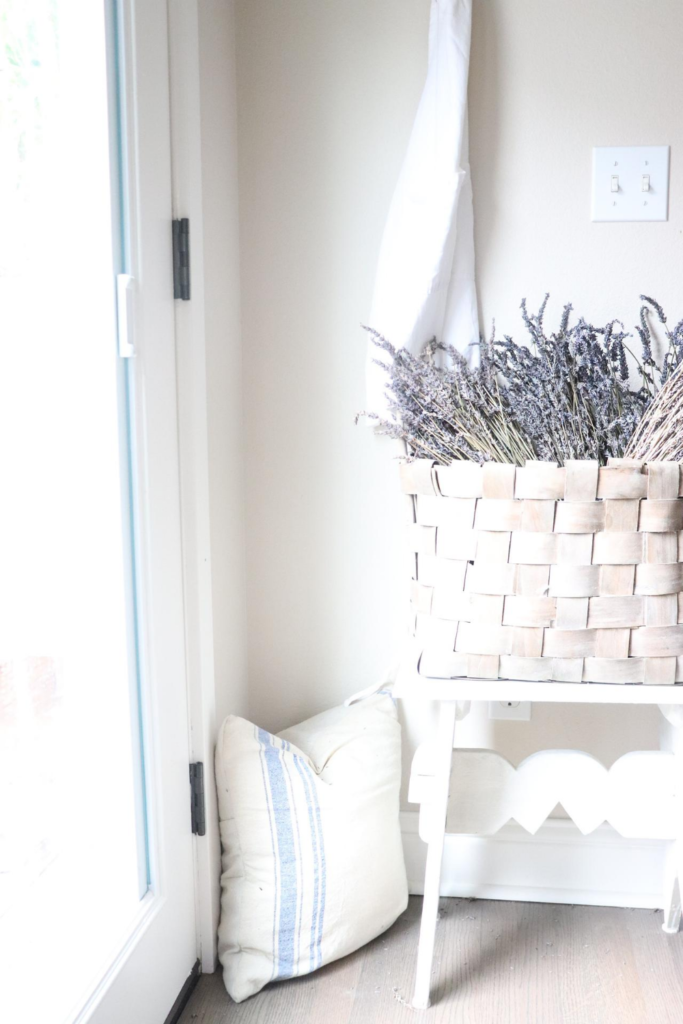 The Instant Pot is especially nice to use in the summer because it doesn't generate any heat. An instant pot is a pressure cooker, so unlike a stove all of the heat is held inside so none of it gets throughout the kitchen. So worth it to me!
My Oster Blender is relatively new, and I was hesitant to buy it after years of successful use of the NutriBullet. I just wanted to be able to mix more and for it to be hands-free. So with this, I can put my smoothie ingredients in, set the lid on, and press "on" and walk away. I'll take it!
Don't forget to use your wire cooling rack as much as possible. Every time something comes off the stove or out of the oven, place it on this rack to cool faster. No need to keep things hot for longer than necessary in the summertime!
Summer Kitchen Decor
I couldn't complete this post without sharing with you some of my favorite summer decor items to have in the kitchen.
Sometimes I feel like I don't want any decor in the kitchen because I really like clean countertops, but then I bring down a homemade ticking stripe pillow and I love it immediately 🙂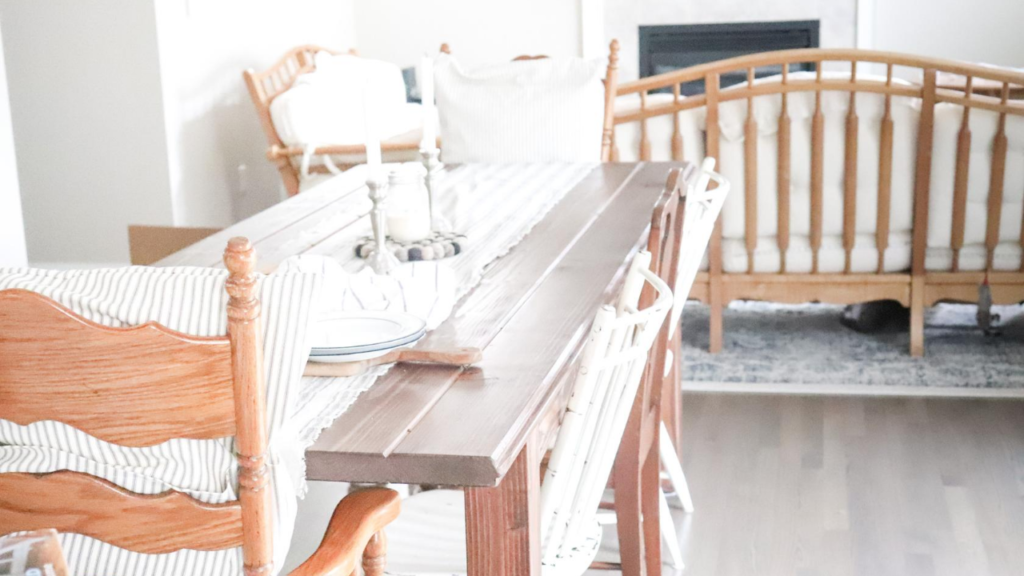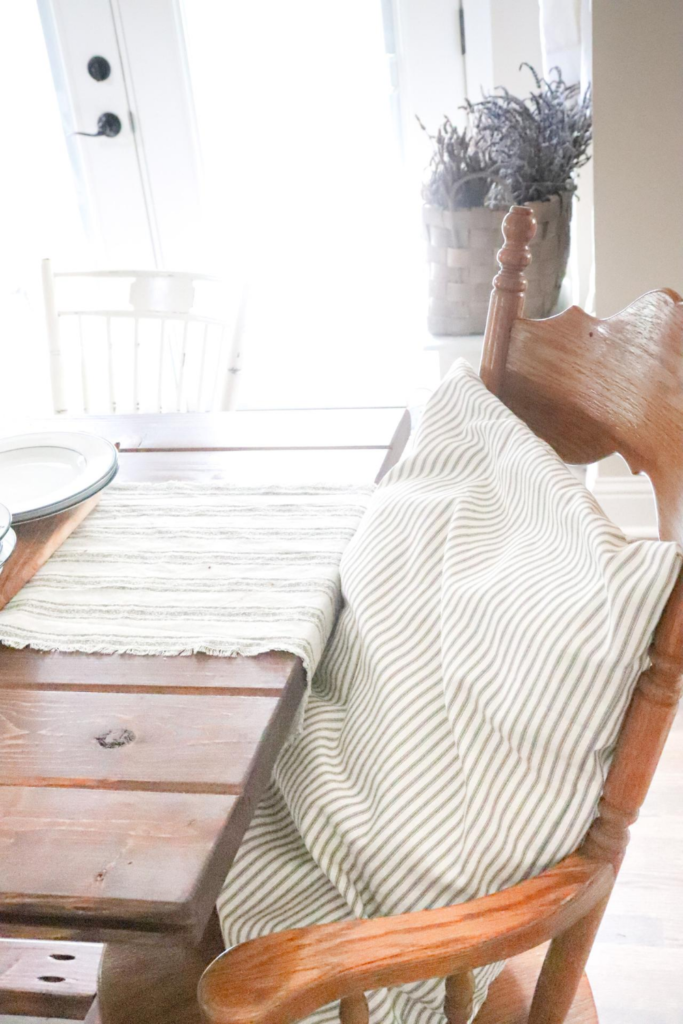 If you are a sewer, you can bring some easy ticking stripes into your kitchen with this ivory charcoal ticking fabric. Perfect for pillows.
If you're not a sewer, you can grab these cute grain sack ticking flour sack tea towels and use those for the summer. I promise, you'll love them!
Another staple in the kitchen right now is my sourdough chalkboard as I call it. I love dough making recipes with my sourdough starter, which basically just combines starter, flour, and water in different amounts. So I jotted down my favorites on this board which lives on the counter so I don't have to keep writing my recipes down on scratch paper.
Kitchen Decor Essentials, cont
We diffuse essential oils all year round, but in the summer I have this one in the kitchen because it's actually used as a bug repellent. Diffusing tea tree oil and citronella deters the mosquitoes, which you know are excited to join our dinners every night while we have the windows open. I also use those oils in my homemade wood floor cleaner.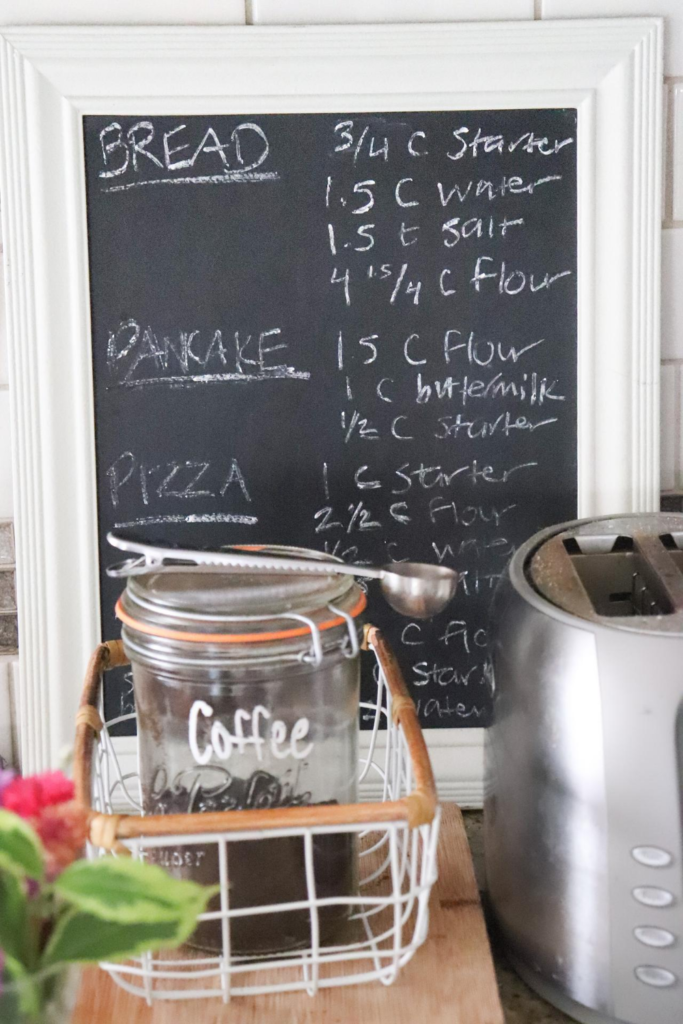 If you are just starting essential oils and want to start removing toxins from your home, grab this healthy starter kit. It comes with my top 10 oils we use in our farmhouse!
Don't forget to have cooking twine and vegetable trimming scissors on hand. Yes, vegetable scissors. Maybe I am a stubborn person but I always thought a scissor was a scissor and I should just use everyday scissors for everything.
Well, I was gifted these veggie cutters and my life was changed. It's now my favorite tool for cutting vegetables and flowers!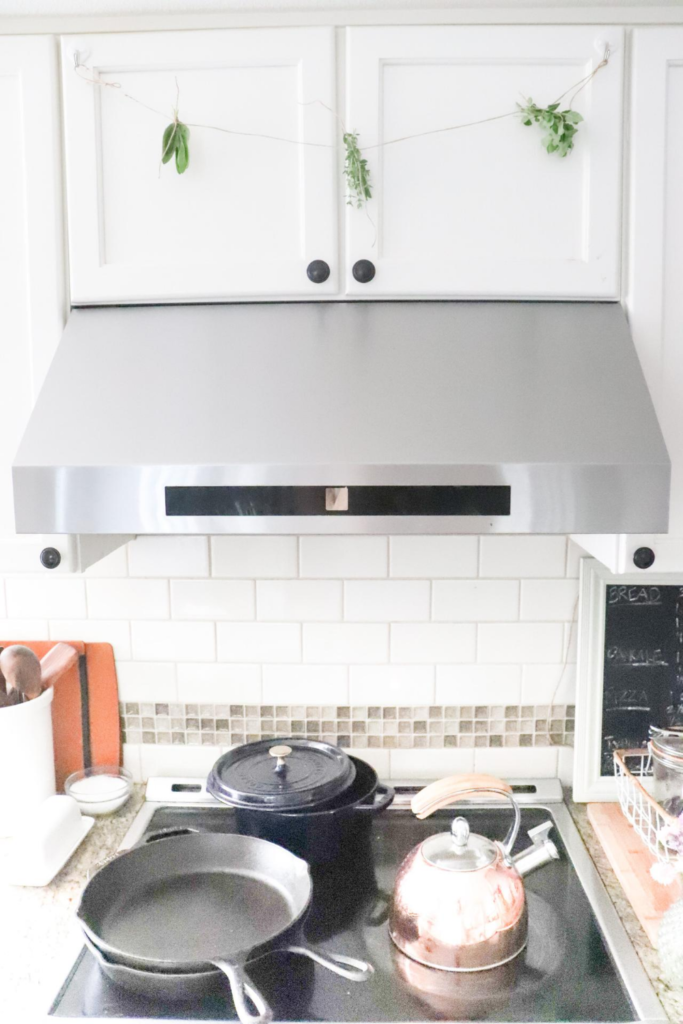 Cooking twine is great for hanging those herbs to dry. I like hanging mine right above our stovetop so they are warm and dry.
More from the Homestead
Don't forget to check out some of my reader-favorite posts:
How to Make Sourdough Starter from Scratch
Homemade Rustic Sourdough Bread
Please consider subscribing to the Duvall Homestead farm-to-table newsletter:
Thanks so much for stopping by the Homestead!
Pin it for Later