The perfect pot roast falls off the bone, is juicy and tender, and melts in your mouth. We love roasts here at the homestead. There is something so satisfying about putting your meat, veggies, and bone broth in one pot and letting it sit for several hours while you work or do other errands. And then coming back to a delicious meal. It's almost like you did no work at all! This perfect pot roast recipe has everything you need to get that fall-off-the-bone, tender juicy meat for you and your family.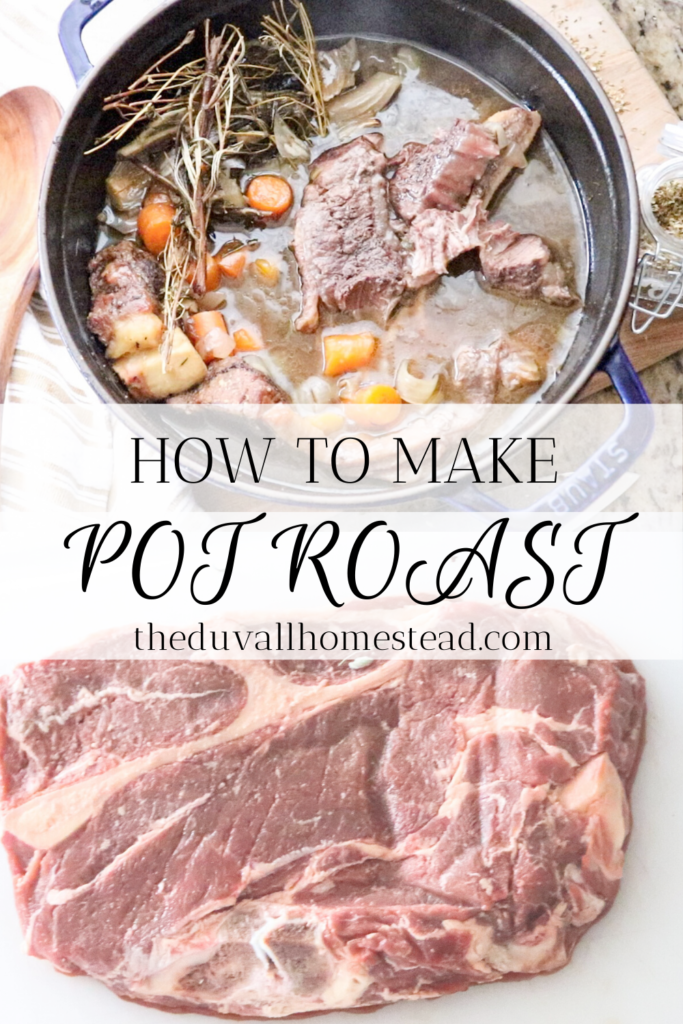 Note: this post may contain affiliate links, which means I make a small commission off of items you buy at NO cost to you.
We bought a 1/4 cow!
It was our first time buying this much beef at one time. We were so excited! So, I am a farm-to-table girl at heart. I even asked the butcher if we could go see the cows, and he responded that yes he can arrange that. I even wrote another post about unloading the meat! It's all so exciting.
Does your family order meat in bulk? Some do not have access to that. We didn't for many years, or at least we didn't know about it, until we moved out to the country after we got married.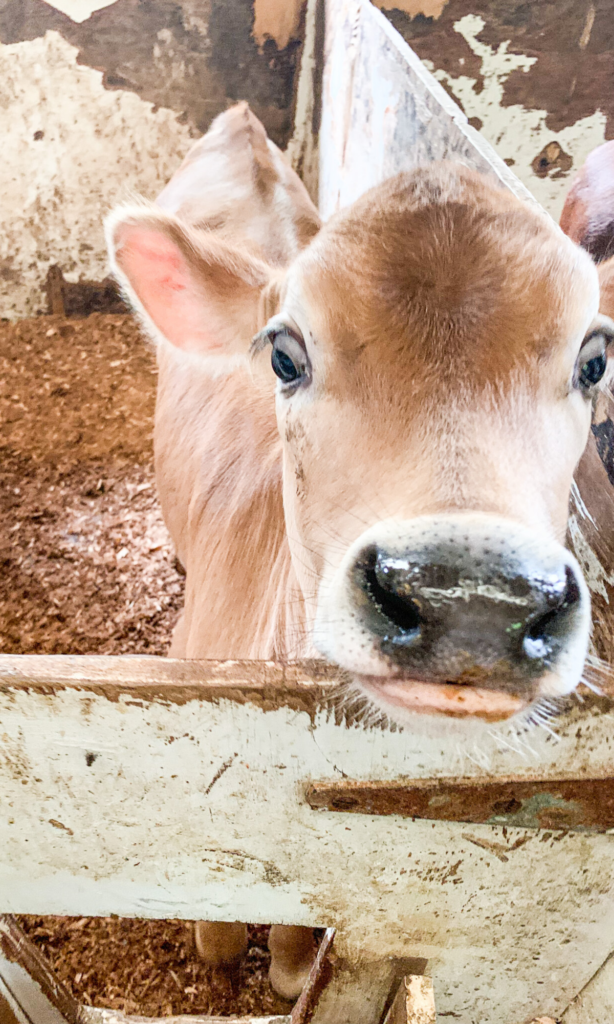 Why we Pay More for Grass-Fed Beef
The best part about buying local meat is getting to eat grass-fed beef from grass-fed cows. Basically, cows that are eating the grass that's in your backyard. The micronutrients and microbiome of the cow are all made up of all the nutrients in the soil of your area. So if you're eating meat that was grown in Texas but you live in Washington – totally different pasture! I love knowing that we are getting meat that was cared for, never fed antibiotics or hormones, and got to pasture on grass that grows in our backyard.
Did you know that beef that isn't grass-fed organic could be fed antibiotics, steroids, or other hormones? These can be carcinogenic, increasing the risk for cancers in our future. No thanks, we'll stick to the grass-fed! I'd rather pay more money on food now than on medical bills later.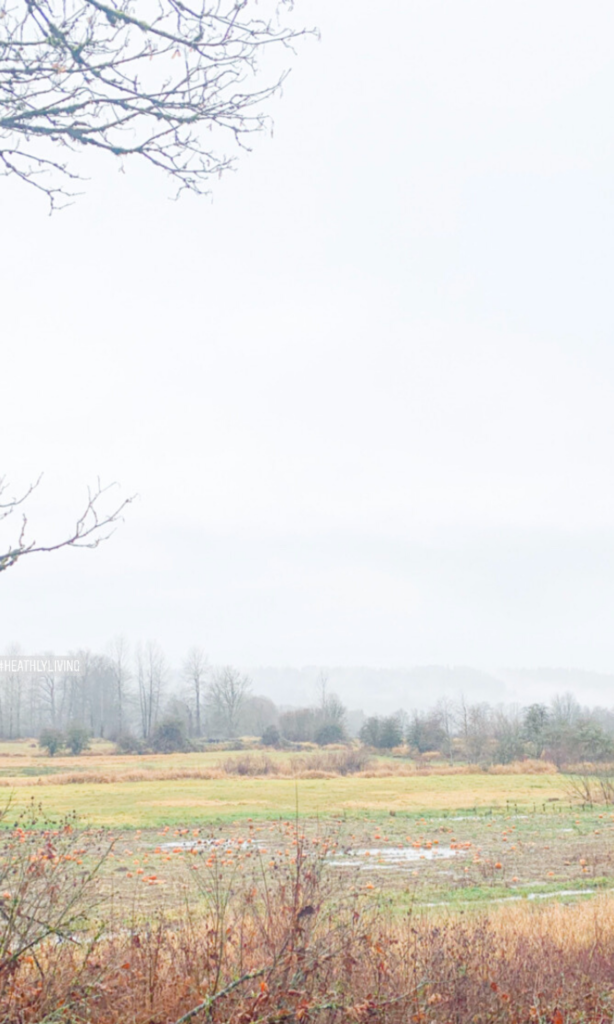 What meat is best for pot roast?
Pot roast can be made with several different kinds of beef. Before roasting, your beef cut should be at least one inch thick and should be big enough to serve the whole family. Smaller, thinner cuts of meat could instead be seared on a cast iron pan or made on the grill. A chuck steak is ideal for slow cooking or in a pot roast.
This is our first pot roast with this specific beef. I was actually a little nervous because I'd always buy the same beef for our roasts from Whole Foods. But luckily, our dreams came true and the local, grass-fed beef turned out even better.
Whatever meat you end up with, make sure the cut is well marbled. Look for pockets of fat that will add that juicy flavor, but not so much fat or bone that the dish ends up greasy.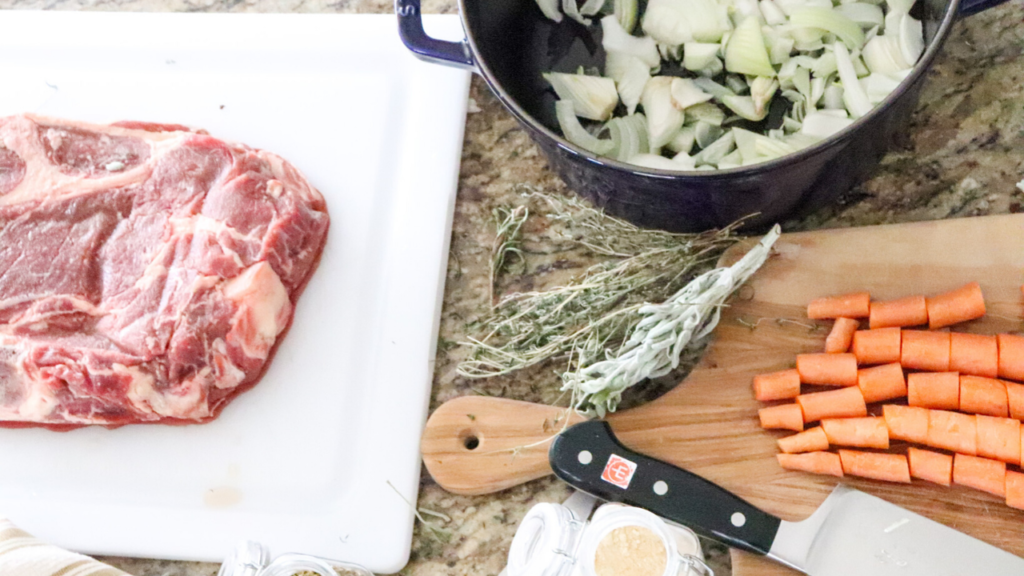 Where can I find local grass-fed beef?
A question that I've always wondered being a meat-loving family but never actually owning a farm is how do I know where our beef is coming from? I realized that it's really not too difficult to find locally sourced beef if you spend a little bit of time searching.
One resource I found is localharvest.org. You can type in any city in the US and find out where your closest farmer's market is. That's always a great way to start, because you can actually meet the farmers there and they have all the connections in the area.
We moved out to the countryside almost 2 years ago now. When we found our first farm stand down the street we were so excited, I remember taking a picture of the farm fresh eggs. My husband John and I were both raised in organic, healthy eating families so getting to live somewhere where we could meet our own farmers is perfect for us.
Now that we found a local beef farmer we have grass-fed beef for days (and months). Our freezer is way too full, but we'll go through it in no time!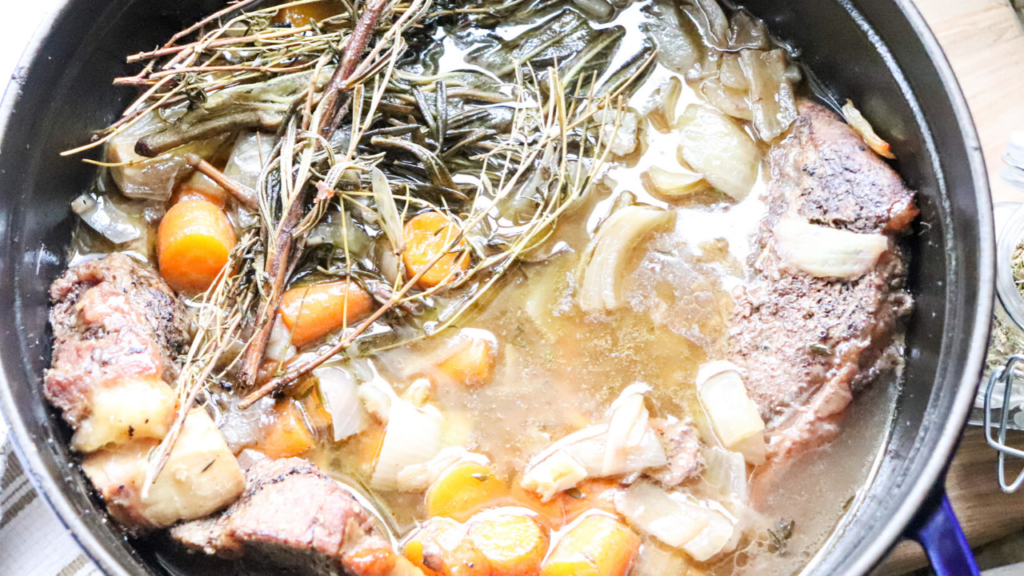 Watch: How to Make Perfect Pot Roast
Tips for Making Perfect Pot Roast
De-thaw your meat so that it is basically room temperature before cooking. Frozen meat will take longer to cook and doesn't come out as well. It's just not as tender and juicy in our experience. And that's what you want, right? That meat that falls off the bone and drips on the plate.
Use a nice dutch oven or similar pot. These baking pots are a bit more on the pricey side, but there's a reason. They distribute heat more evenly and will not burn the bottom of your pan. This allows you to caramelize your veggies and scrap the bits off the bottom, which adds great flavor.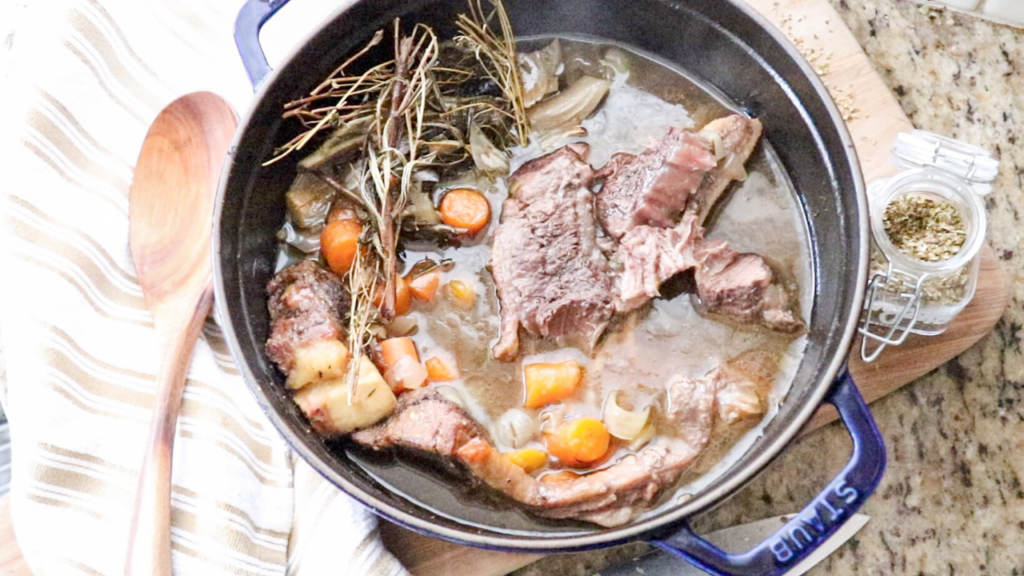 Brown the meat before you cook it. This gives the outside of the meat a nice BBQ-like texture without cooking it all the way through. Then, you stick it in the oven on low to finish cooking.
How to Cook the Roast Perfectly
My biggest tip: check the meat every hour. The meat is done when it reaches 145 degrees F. This will prevent the meat from over cooking. While I can tell you how long I cooked my meat, it will not be the identical cut or thickness as yours, so use a meat thermometer to continually check it.
Cook for several hours at a low temp. Some articles I've read suggest no higher than 350 degrees F. In this recipe, we roast at 275 degrees for about 3 hours, then leave on warm for a couple hours after that.
Plan ahead. Put the roast in the oven during the morning or early afternoon if you want to enjoy it that night. The best part about this is you can go on about your day and suddenly it's dinner time and you have a delicious meal ready to go! Almost like you didn't even prep it.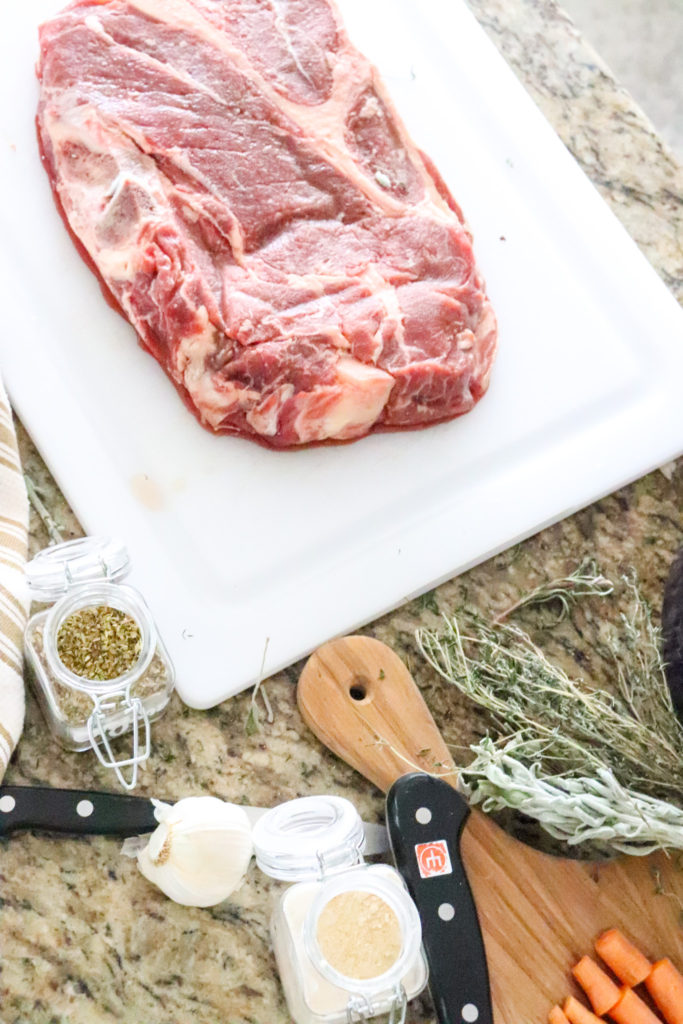 If you made this recipe, I would love if you give it a 5 star review below! I also love when people share their meal pics with me on instagram at @theduvallhomestead.
How to Make Perfect Pot Roast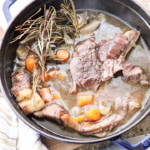 Learn to make perfect pot roast that falls off the bone every time. Extra juicy and made with bone broth, this pot roast is healthy and delicious.
3 lb Meat, like a chuck roast
Extra virgin olive oil for sautéing
1 onion (chopped)
3 cloves garlic (chopped)
4 carrots (chopped)
1 bundle fresh or frozen herbs (sage, rosemary, etc)
2-3 cups bone broth
Dried herbs for topping
salt & pepper
1/4 C red wine
Preheat the oven to 275 degrees F.

In a dutch oven or similar pot, drizzle with olive oil saute the onions, remove from the pot, then the carrots, and remove them from the pot. Chop up garlic and keep on the side, it will be added to the roast later.

Generously salt & pepper your meat on both sides, which should be at room temperature. Sear the meat in the dutch oven on medium high heat about 1 minute each side, pressing into the pan so that you get a nice cooked texture on the outside, but not the inside.

Pour wine into dutch oven and scrape any bits that are stuck in the pan.

Place the roast in the pot, and cover with onions, garlic, carrots, and herbs. Pour bone broth so that the roast is about half way covered.

Place the lid on the pot and roast for about 3 hours, or until meat reaches 145 degrees F. NOTE: check your meat temp every hour. While I can tell you how long I cooked my meat, it will not be the identical cut or thickness as yours, so use a meat thermometer to continually check it. This will prevent the meat from over cooking.
Note: Make sure your meat is totally thawed and at room temperature. Not saying I've never put in a frozen meat before, but you have to cook it longer and it won't taste nearly as good! 
Another tip: check the meat every hour. The meat is done when it reaches 145 degrees F. This will prevent the meat from over cooking. While I can tell you how long I cooked my meat, it will not be the identical cut or thickness as yours, so use a meat thermometer to continually check it.
Other recipes you may enjoy:
Bone-in Beef Stew from scratch
Roasted Chicken dinner for the whole family
Shop this Post
This recipe wouldn't be the same without a nice dutch oven pot. The dutch oven, similar to a cast iron, distributes heat evenly around your meat and doesn't stick to the bottom.
Pin it For Later!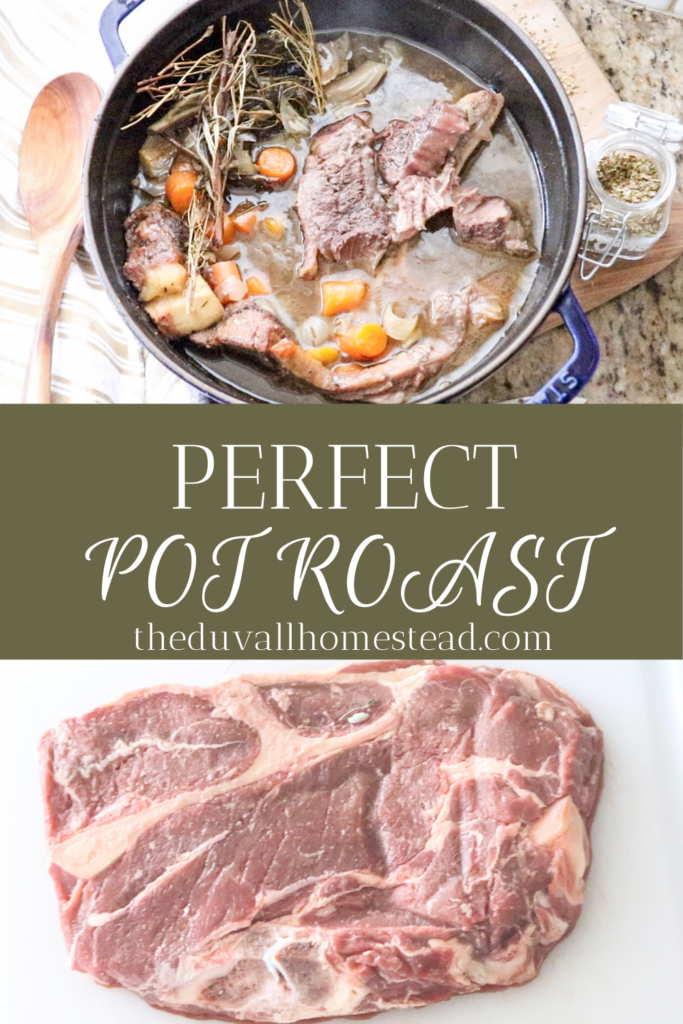 Thanks for stopping by the homestead!