John took out the air conditioner units this week and bought a new lawnmower, so it must be summer! Every few months I have this tradition where I like to make a new tablescape for the upcoming season. Even if it stays up only for a week, there's something about it that marks the start of a new chapter and season for me and John. And this summer, it means the start of the season when we have our first baby. So join me as I show you how to style a summer farmhouse table and other ideas for summer farmhouse decorating. Enjoy!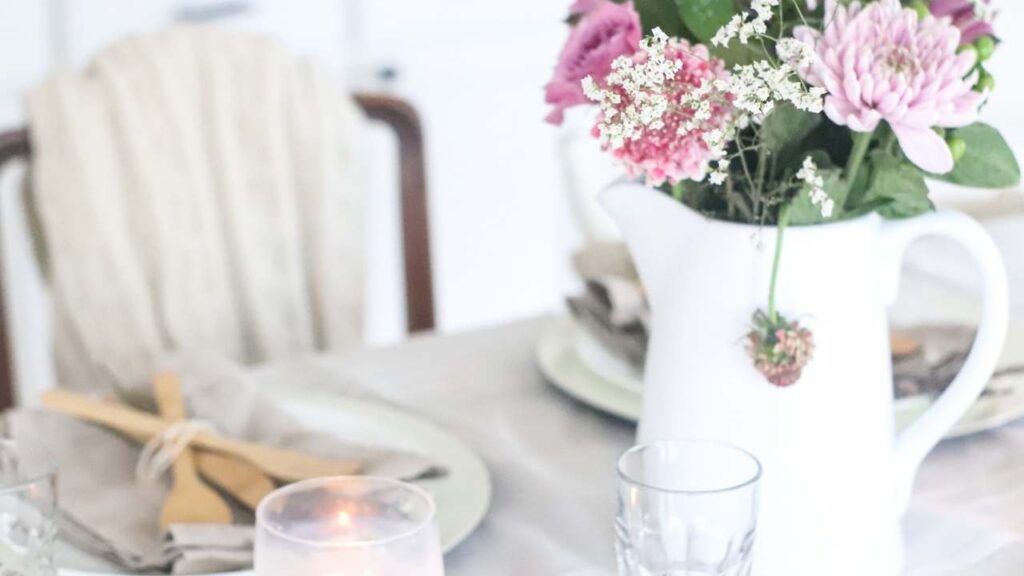 This post contains affiliate links, which means I may make a small commission off items you buy at no extra cost to you 🙂
A New Season is Coming
Wow, it's already summer!
Spring seemed to fly by. I can't wait for summer because it's going to mean warmer weather, gardening food and flowers, and of course the season we welcome our first baby!
When I first found out I was pregnant last November, I remember thinking about how excited I was to wear dresses all summer when I had my big belly. I pictured myself laying by the beach near our house and just soaking up the sun while we waited for the baby to get here. And that's exactly what's happening now! I can't believe that I'm already to summertime. Because to me, summer means baby. And all the other things I love about summer, of course 🙂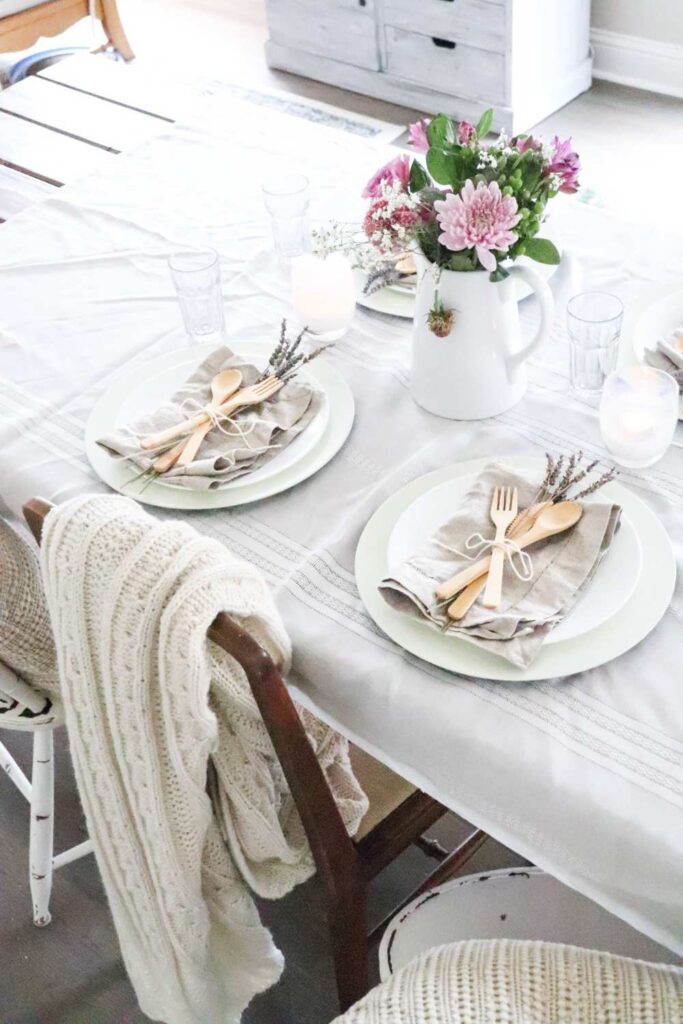 Save it for Later!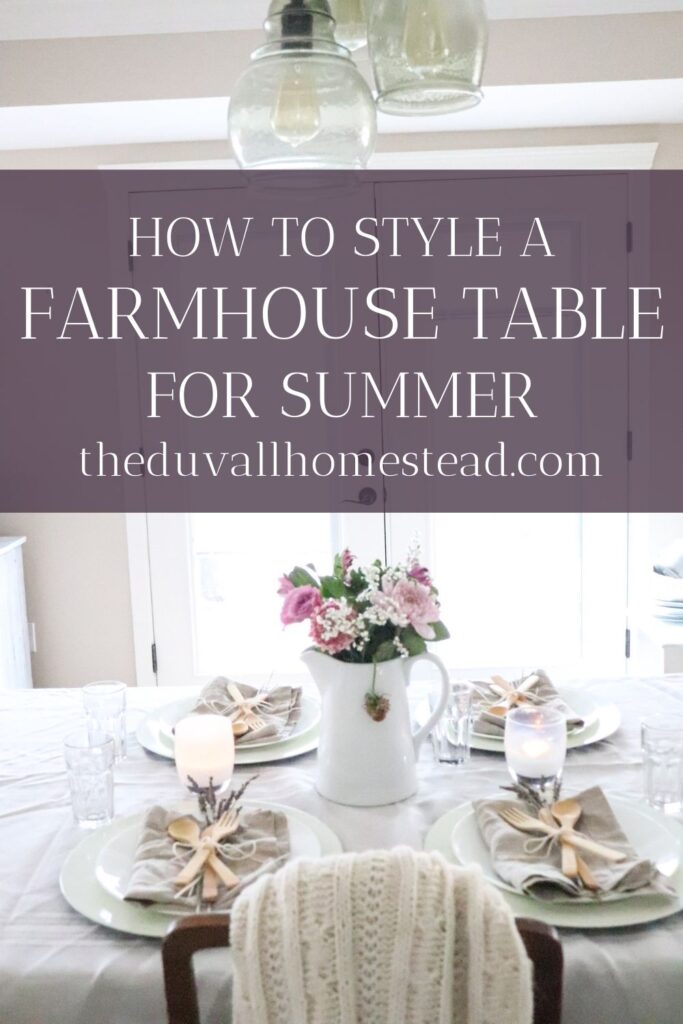 How to Create a Summer Floral Farmhouse Tablescape
Now usually I would wait until we had fresh cut flowers in our yard to bring them in and put them on the table. But the nice thing about living near farmers is they have produce and flowers long before I do. So personally I can't help but buy the flowers as soon as they hit the market, even if they are about $10 per bouquet.
Here are some ways you can create a summer floral farmhouse tablescape:
PS – I collected some of my favorite summer tablescape ideas on one Pinterest board, if you are over on Pinterest!
Just a Simple Bouquet in the Center
This is one of my favorite styles. All you really need to make any table beautiful is a simple bouquet in the middle. Add some candles and you've got a gorgeous and welcoming table.
For this tablescape I used some purple, white, and green florals in a white farmhouse pitcher vase. What I like about this is I could leave it by itself and it would make the table look beautiful.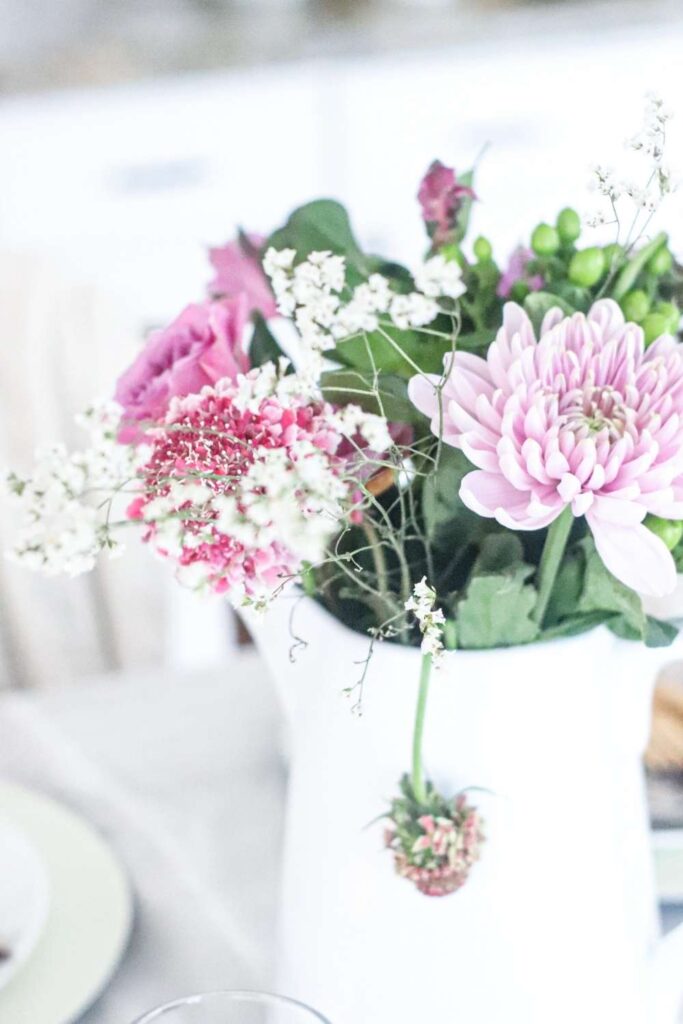 Add some Flowers on the Plates
My mom is the best host I know. She loves having people over and is so good at making people feel welcome and taken care of, from the moment they walk in the door. One of the ways she does this is by paying close attention to what's on the plate the guests will sit at. Make them feel pleasantly surprised by what's on their plate. Maybe it's something they can eat, or a gift to take home, or in this case some dried lavender.
For my table I pulled some dry lavender from the lavender I kept last summer. It still smells great and looks beautiful, that's what I love about lavender. 🙂
On the plates I put a neutral linen napkin, then the lavender, then my bamboo cutlery, then tied it all together with some kitchen twine. It's simple but so charming to sit down to that.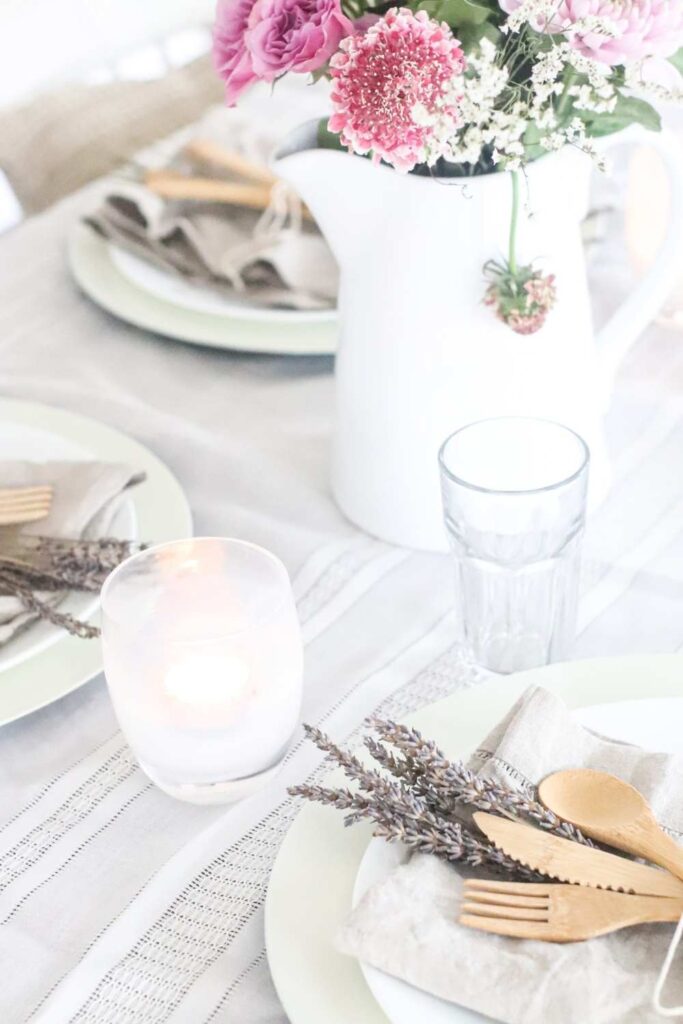 Bring in Something Vintage to Add Character
I always try to make sure my house or a room has "character". One way to do this is to bring in something vintage, antique, or homemade. You could sew a table runner (see my tutorial for a Christmas runner here), or maybe some napkins. Or try some homemade candles for a natural fragrance during dinner hour.
For this table, I found this antique table cloth a long time ago and have never found a good spot for it. Turns out, it looks beautiful on our farmhouse dining table.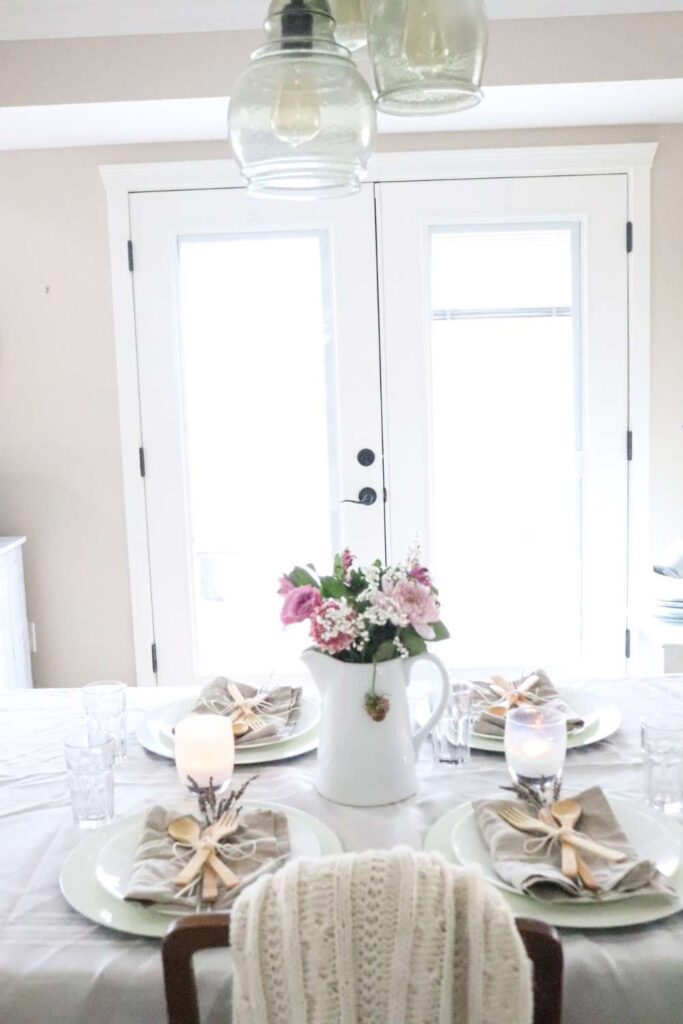 Offset with Neutrals or Naturals
Whenever I am decorating a room or space, I always start with bright and white. I love a white backdrop.
But too much white doesn't look good either. So one of my favorite ways to compliment white is with something natural. I love using wood for this, but anything brown or even green can make the space feel like nature is being brought inside. See my tips for other DIY ways to add rustic farmhouse style to your home.
For this tablescape I used these bamboo eating utensils. I love the light brown for summertime.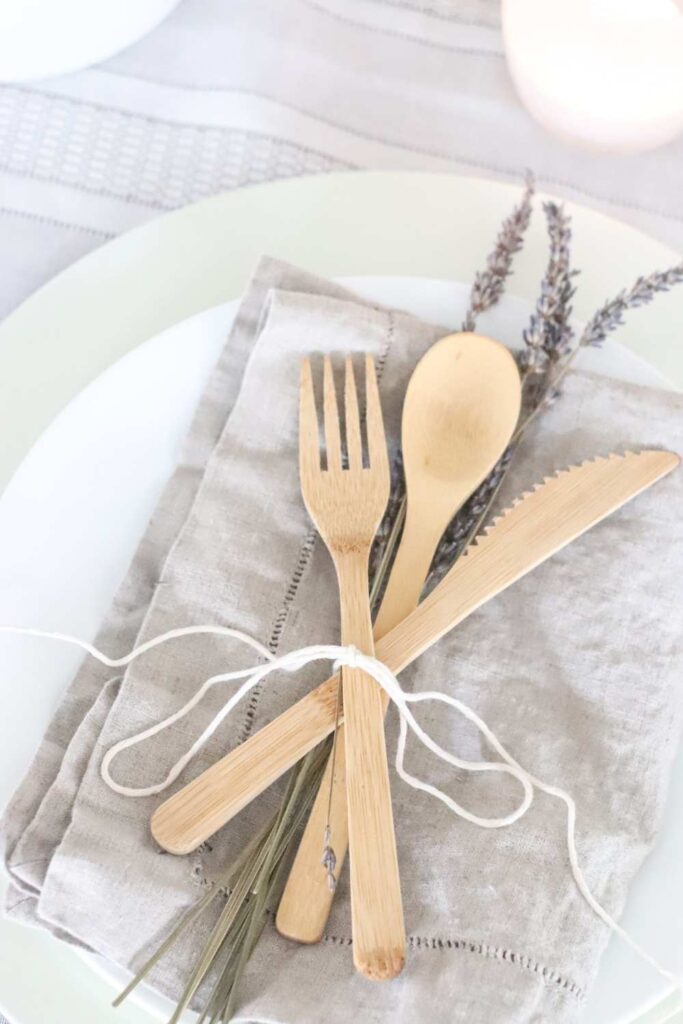 Candles, Candles, Candles
For summertime, I love tea light candles. These are the teeny tiny candles that go in votives or candle holders. They just give off that romantic, mystical, or beachy summer vibe that I love so much. You can also place several of these all over the house and it's just so pretty.
I use the glassybaby candle holders, which are handmade local to me. You could use any votive holder here, or go for a more classic and tall taper candle like this one.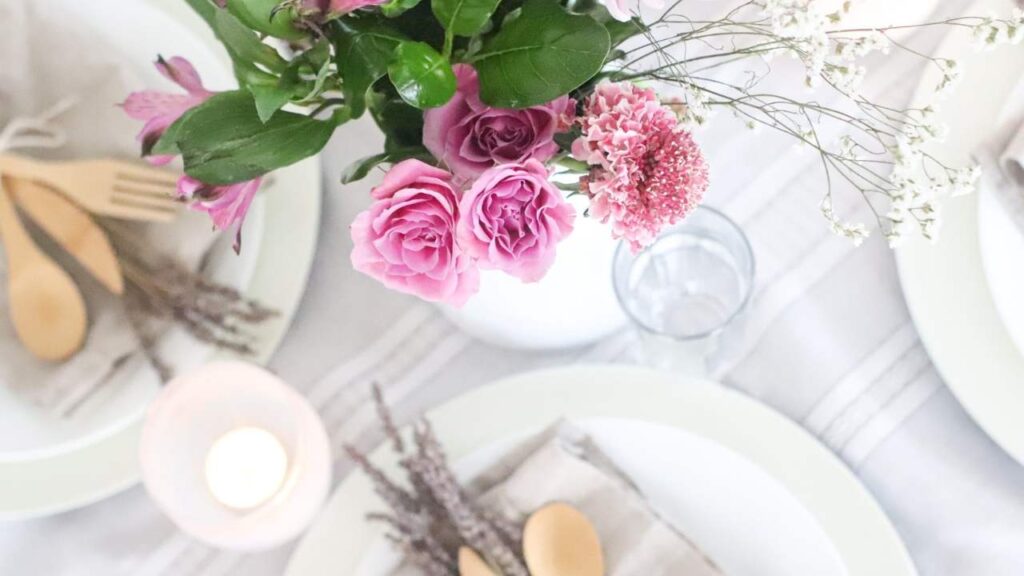 FAQ:
How do you set up a farmhouse table?
A farmhouse table is usually a wood based, large square or rectangle table that can seat many people. It often comes with benches on the side or chairs. It has a traditional look and is typically made of all wood.
We built our farmhouse table ourselves, and shared the plans and process in this blog post.
What I love about this table is that it's the centerpiece of our kitchen/great room. We use the table for a countertop for projects, cooking, or anything we need it for. And then we eat on it in the evenings or the weekends.
To set up a farmhouse table, follow these plans. Once the table is built, you can buy matching chairs, build a matching bench, or buy chairs that are mismatched but all look good together. That's what we did.
Then you can get decorating! Try sewing a long table runner or adding fresh flowers in a pitcher to the center.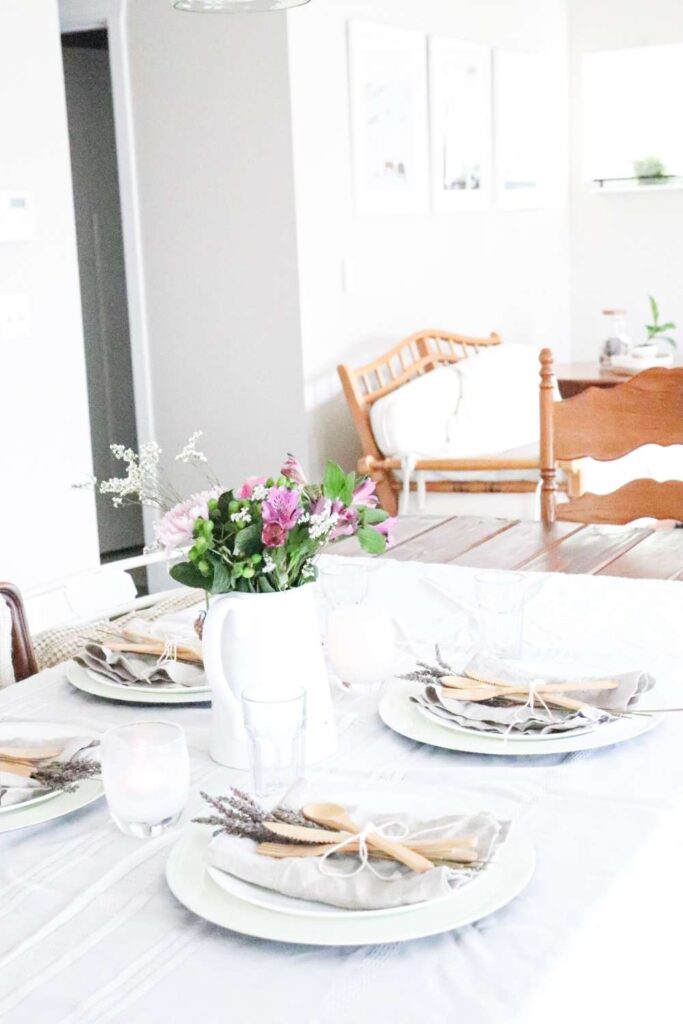 What chairs go best with farmhouse table?
Today you see farmhouse tables with benches or with chairs. Many of the chairs that go with farmhouse tables don't match, in fact they are often all different. For example you could go to an antique shop and buy 6 old wooden chairs, all different makes and designs, but all wood so they match.
At our table, we have a homemade wooden bench on one side, and on the other side we have 2 white wood chairs and 3 brown wood chairs. It all comes together perfectly!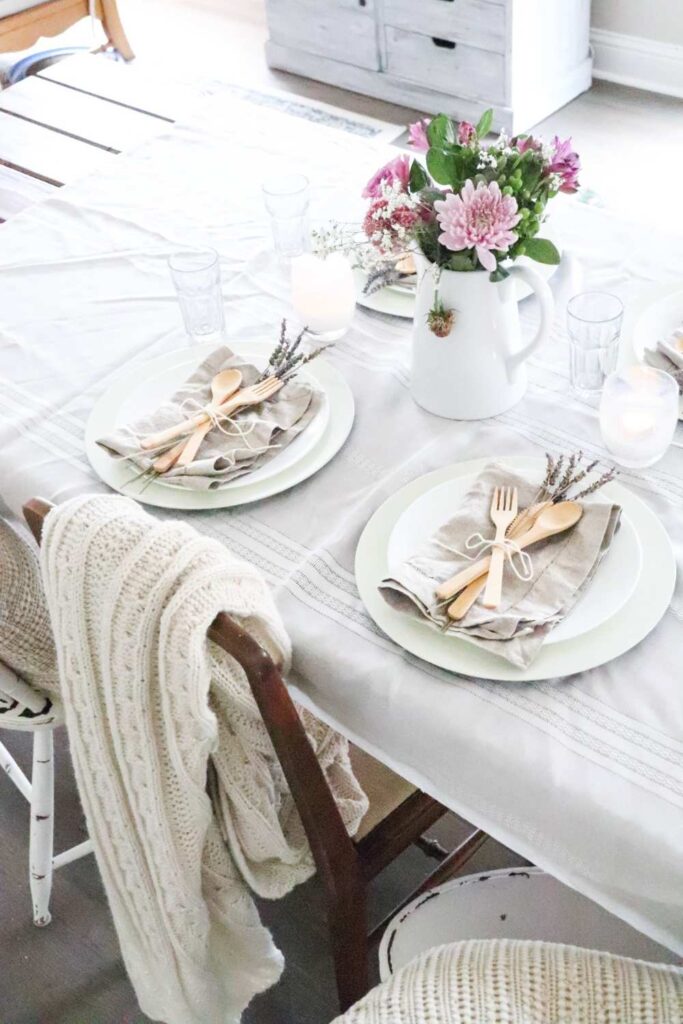 What do you put in the middle of a farmhouse table?
My favorite farmhouse table centerpiece is an antique pitcher vase with fresh cut flowers. Especially if they come from your own garden. There is nothing quite like the look of fresh flowers in the summertime on a farmhouse wood table.
But if you don't have flowers, you still have some good options. You can do a votive candle collection, or homemade beeswax candles. You can also do taper candles, choosing different heights to create different levels of decor on the table. Pair the candles with a homemade table runner or tablecloth for a classic farmhouse table dining setting.
Another great option is food! I now allow myself a budget for flowers and candles, but back in the day I really didn't have the money for it. Instead I would take whatever fresh produce from the store and use it as a centerpiece. Some of my favorites are oranges, apples, pears, and lemons. Find a wooden or antique bowl to put them in and it looks beautiful (and smells good too!).
Watch: How to Style a Summer Farmhouse Table
I would love if you would sign up for my newsletter! I occasionally send out farm to table recipes and homemade natural living so you can get new blog posts straight to your inbox.
Add it to your Pinterest Board!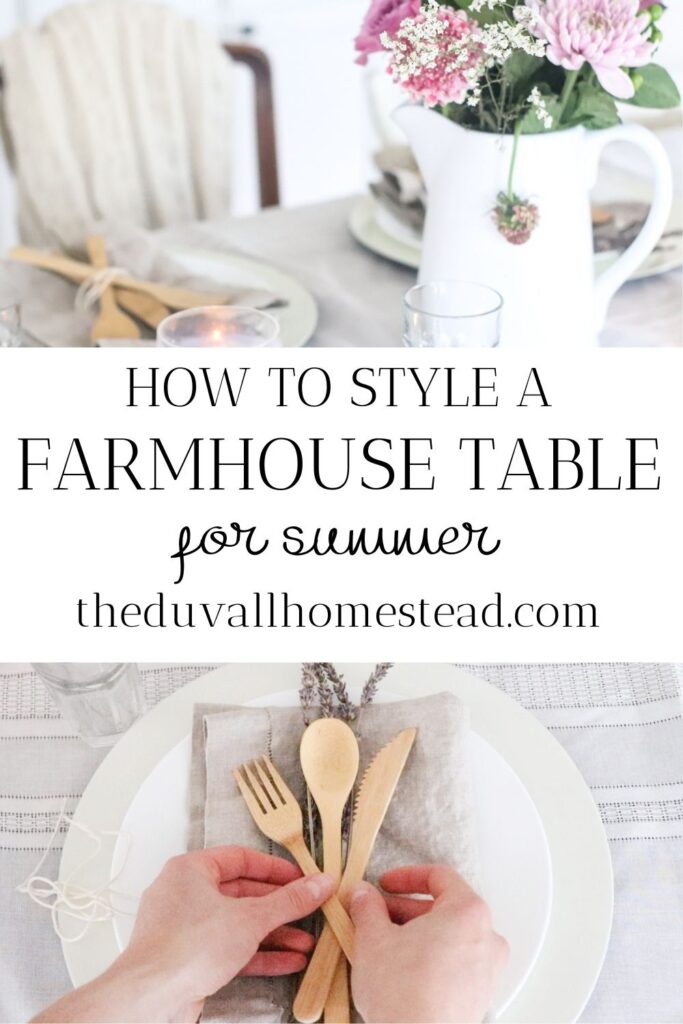 Thank you so much for stopping by the Duvall Homestead!