This post is a little different from my regular scheduled programming, but for a good reason. Surprise! I'm pregnant, and today I'm sharing how I've spent my first trimester of pregnancy. In this post I'll share all about my healthy first trimester and some natural pregnancy tips I've learned along the way.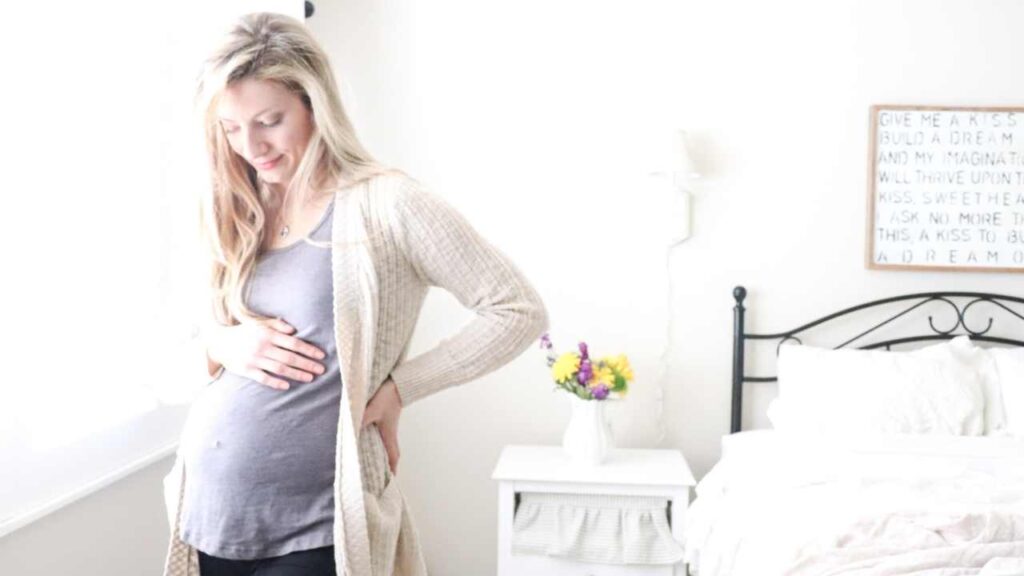 This post may contain affiliate links, which means I may make a small commission off items you buy at no extra cost to you.
Pin it for Later!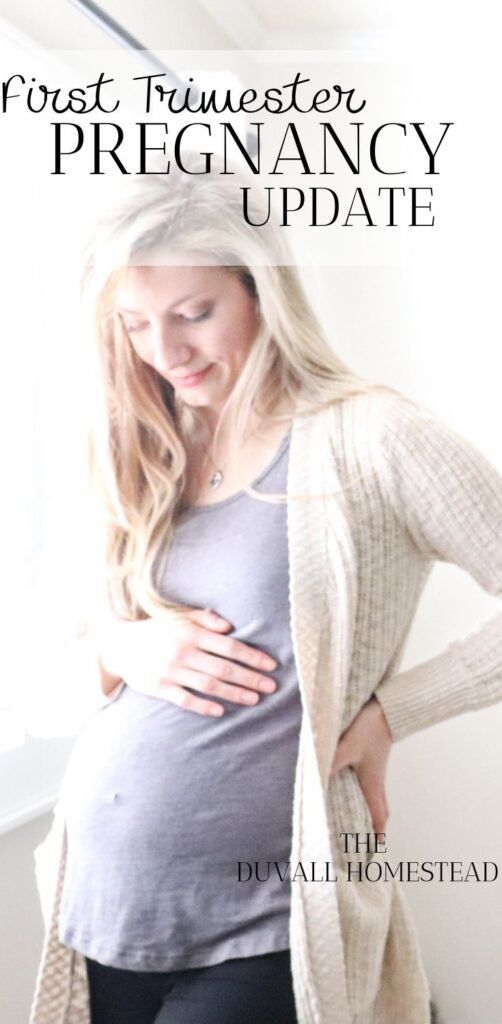 Today I wanted to share an exciting announcement.
This isn't my normal farm to table recipes and homemade natural living content, but it's exciting and something that you may have already noticed if you follow me over on youtube.
I am currently pregnant! I am 16 weeks along as I write this post and am excited to welcome our first baby in August.
Also, it's exciting to finally talk about the pregnancy because it must mean I'm feeling better. You may have noticed a lack of new recipes and that is because during my first trimester I didn't really feel like thinking or talking about food.
But now that I'm in week 16 things have gotten a little bit back to normal. I wanted to give you a pregnancy update for my first trimester and also some natural pregnancy tips I've learned along the way.
First Trimester Update
The first trimester has been beautiful, of course.
I did have mild nausea at the beginning of the pregnancy that is common. But as I was doing research, I learned that the "morning sickness" feeling (which was actually in the evening for me) is usually caused by not enough food or water. This is because your body is using so many resources to make the baby.
So with that knowledge, I just ate as much as I could, whenever I could, and that always helped. While I haven't gotten sick per se, I just haven't felt like my normal energetic self.
Medical Update with the Midwife
I am seeing a midwife and she comes over to our home which is really nice.
There isn't much to update on in the first trimester other than that there is a strong heartbeat.
I can also tell that the baby is sitting on my left side, because I can feel some tension there and sometimes even a little butterfly kick.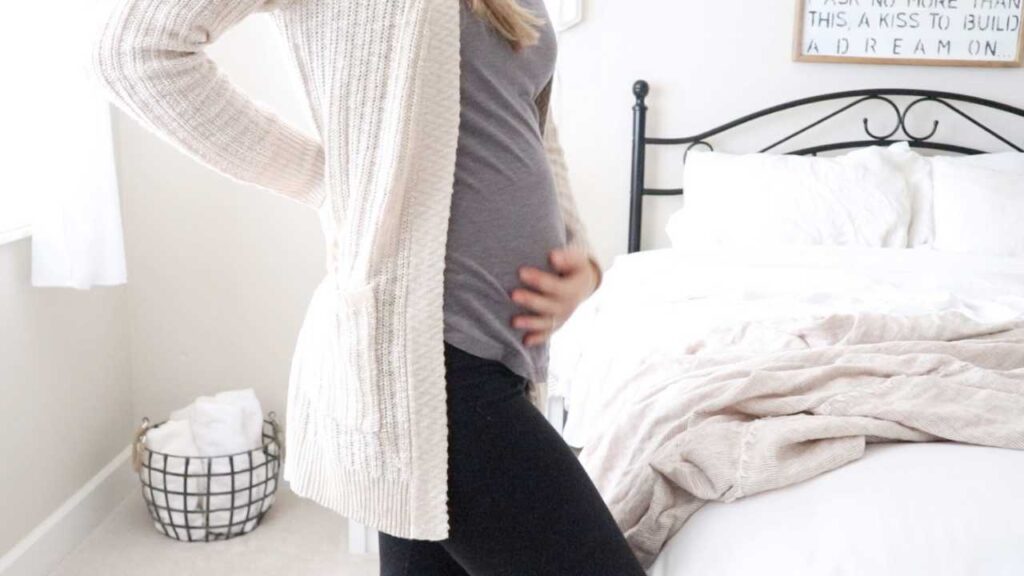 For only being 16 weeks, I feel like I am really big. There really is no right size to be during pregnancy because everyone is different, but I really like being "big". During the first few weeks of pregnancy you have so much going on but don't see anything, so having this belly is really exciting for me.
The only problem is I don't have any clothes that fit anymore! I'm excited for the spring and summer time when I can just wear a dress and call it a day.
Pregnancy Nutrition
I've spent the couple years (well really my whole life but especially the last couple years) preparing to be pregnant. Making sure I'm eating grass fed butter, grass fed meat, pasture raised eggs, fermented vegetables and kefir, etc. You can read more about our homestead lifestyle here.
I wanted to make sure I did everything I could to create a healthy ecosystem inside of me before getting pregnant. And I can tell that my body is handling the pregnancy well, at least I think it is 🙂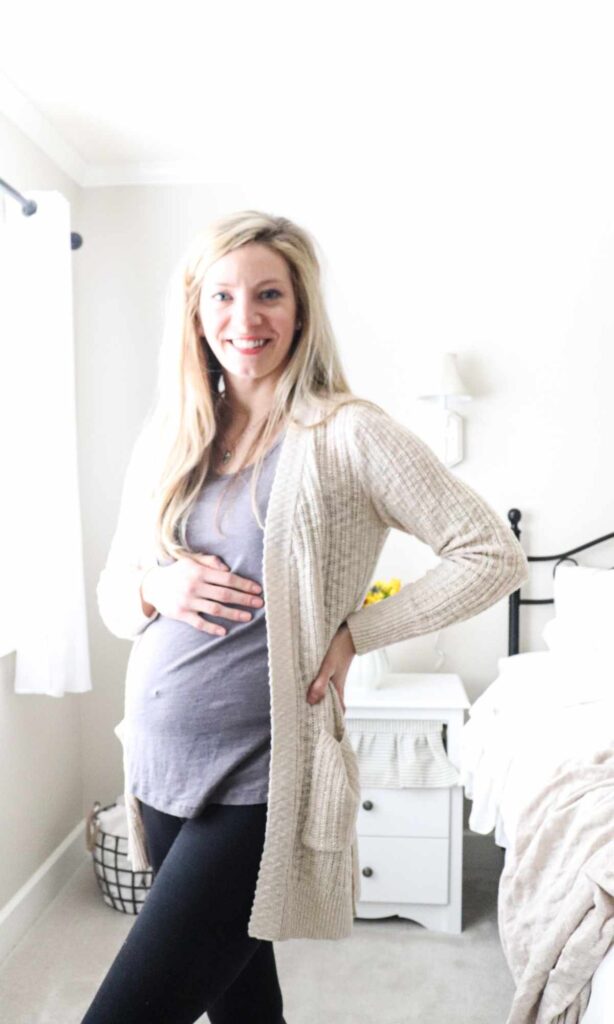 The only thing that I did not do well was my water. My widwife took a urine sample and said I was severly dehydrated. Whoops! It was actually shocking to me, because I only drink water throughout the day. I thought I was drinking enough.
So I doubled my water intake and that actually made me feel a lot of better. Thank goodness for midwives!
Healthy First Trimester Symptoms
Personally I was very terrified of the so called first trimester, but after going through it I have more to say. Hopefully this helps you if you are a newly pregnant mom or looking to be pregnant in the near future.
I knew that my body would handle it and that we could get through it, but for some reason just the thought of being sick all the time freaked me out. I don't get sick often, if ever, and when I had food poisoning last year it was a really bad experience for me.
The first thing I learned is that when you hear the words "morning sickness" – you are not actually sick. If you have food poisoning or the flu, you may need to throw up to feel better. Or you may have to only drink fluids and bone broth for a day until you heal.
While the symptoms might be the same, the treatment is way different. Although there were days that I didn't feel like eating, the only way to get the nausea to get away was to eat! Imagine that.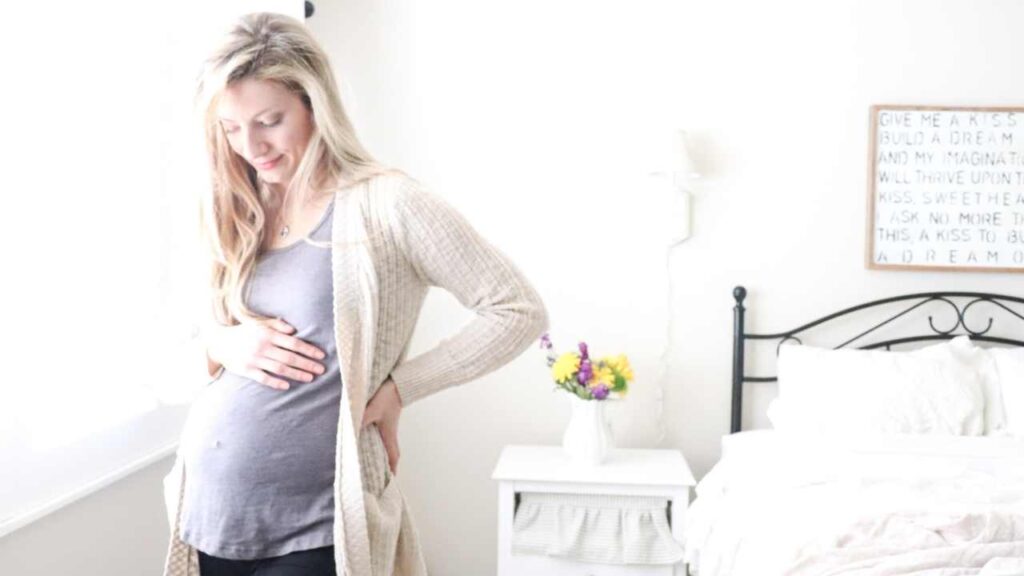 My other advice is don't listen to horror stories because it'll just scare you. I watched all the videos on YouTube and read lots of stories, and it doesn't really help. No matter what your friend or mother tells you, your pregnancy will be different! There are some commonalities, though.
For example, everyone who is pregnant is using up so many resources to make that baby. So it's very important you eat anything you can, whenever you can, and drink lots of water. Double the amount of water you think you need (my midwife said half your body weight in ounces is a good start).
Best Parts about the First Trimester
I would say the best part about first trimester is you are creating the home for your baby. And that is just really exciting.
Some other things I'm working on during pregnancy are preparing for the baby! I've made all homemade lotions and soaps (I share some of those recipes in this ebook) because I am focused on keeping toxins out of my body from the inside and outside.
I also ordered fabrics to sew homemade diapers and inserts. I've ordered diaper covers and am also planning on making a breast feeding cover too.
Another favorite part about the first trimester is all the time to read! I've been studying all sorts of natural pregnancy and birth books, such as the Bradley Method of Birthing, how to sleep with the baby, natural breastfeeding techniques, and books about overall health. I'll leave links below to what I'm reading.
Bradley Method Husband-Coached Childbirth
The Womanly Art of Breastfeeding
When I get through the second trimester, I will give you an update then. Let me know if the comments of this post if you'd like that.
Keep Reading…
Second Trimester Pregnancy Update
Third Trimester Pregnancy Update
Spring/Summer Maternity Capsule Wardrobe
Protein Pregnancy Muffins for Maternity
Share it to Pinterest!