Today I show you how to make a maternity capsule wardrobe after being very reluctant to buy a single pregnancy clothing item whatsoever. I have to say, best money I ever spent! Here are my tips for how to make a maternity capsule wardrobe for spring/summer: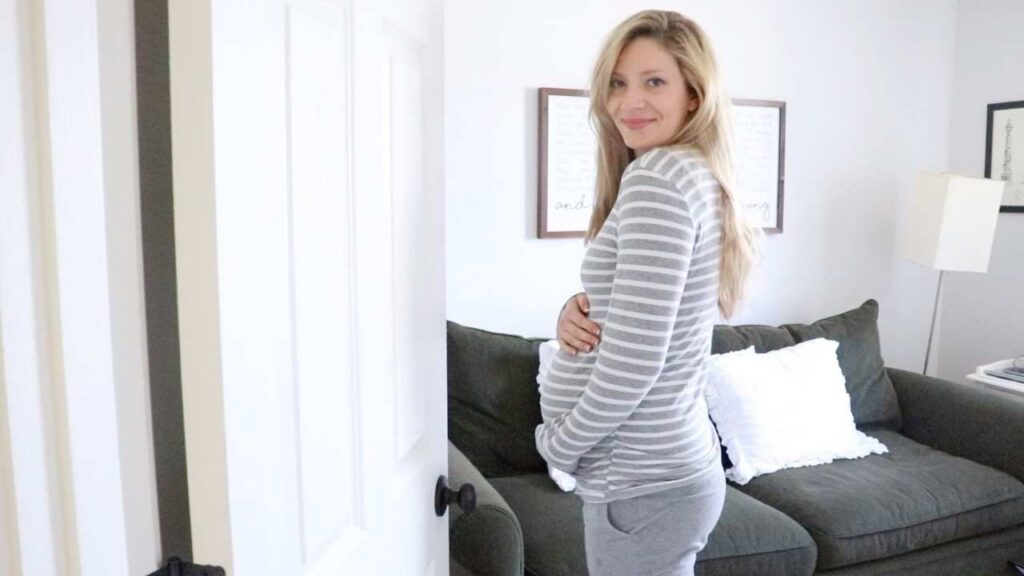 Save it for Later!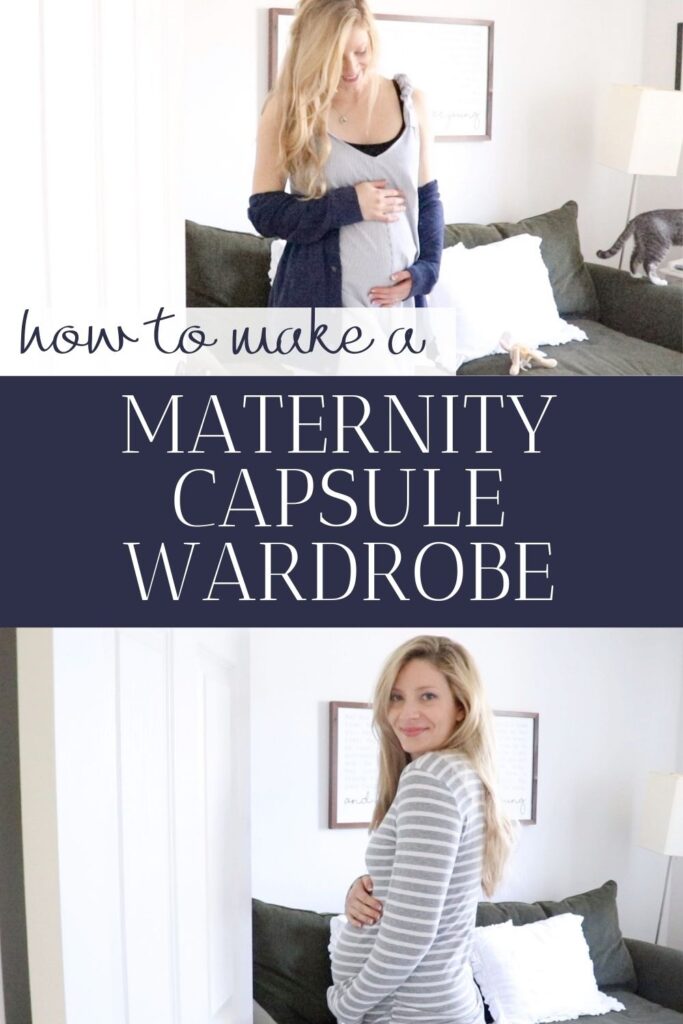 Who needs maternity clothes, anyway?
Back in my first trimester, I figured I wouldn't need maternity clothes for a WHILE, at least until week 20 or so.
But one Friday night John and I were out to dinner at a winery/restaurant (I was very lucky he was up for going out to eat on Fridays because I really didn't feel like cooking!). I remember looking around at all the people dressed to the hilt (it was a popular spot on a Friday). And I was wearing baggy snow pants and a huge sweatshirt. And the snow pants weren't even buttoned. That's all that fit me even in my first trimester!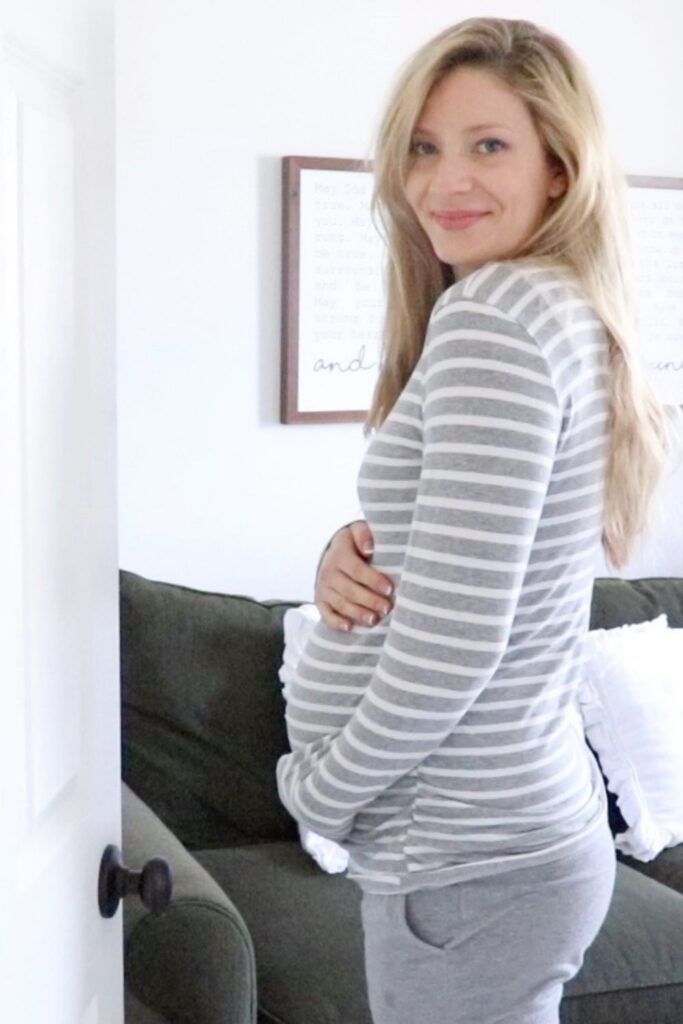 That's when I realized I NEEDED maternity clothes.
I had put off buying anything because I was like, "do I realllllly need to buy new clothes". Can't I just wear sweat pants all day? There aren't many things I dislike more than spending money on things I don't need. I just couldn't get myself to buy anything.
But boy, am I glad I did. 8 months or so is a long time in your life to wear a single pair of sweatpants. I say, go out and get a maternity wardrobe. You won't regret it! It'll also last you this pregnancy, postpartum, and your next pregnancy too (if you have one).
So don't think that just because you're in your first trimester you don't need clothes. Looking back, I would have bought them as soon as I found out I was pregnant! So I hope this helps if you're expecting and looking for a new wardrobe without breaking the bank.
Note: This post contains affiliate links. As an Amazon affiliate I earn on qualifying purchases at no cost to you.
What maternity clothes do you really need?
I would recommend first getting the basics. A good pair of pants and some shirts go a long way. I liked buying a pack of 3 shirts on Amazon and these joggers in 2 colors to start off with. That way I had at least something to wear to the store. Then, you can start thinking about how you want to dress up or whatever else you need.
Another thing I forgot to add to the list below and in my try-on video (and that I would definitely consider essential) is socks. I was always one to wear small, tight ankle socks (the kind that feel good when you're walking or running). But these socks became uncomfortable throughout my pregnancy. I got these ones instead and wear them every day now.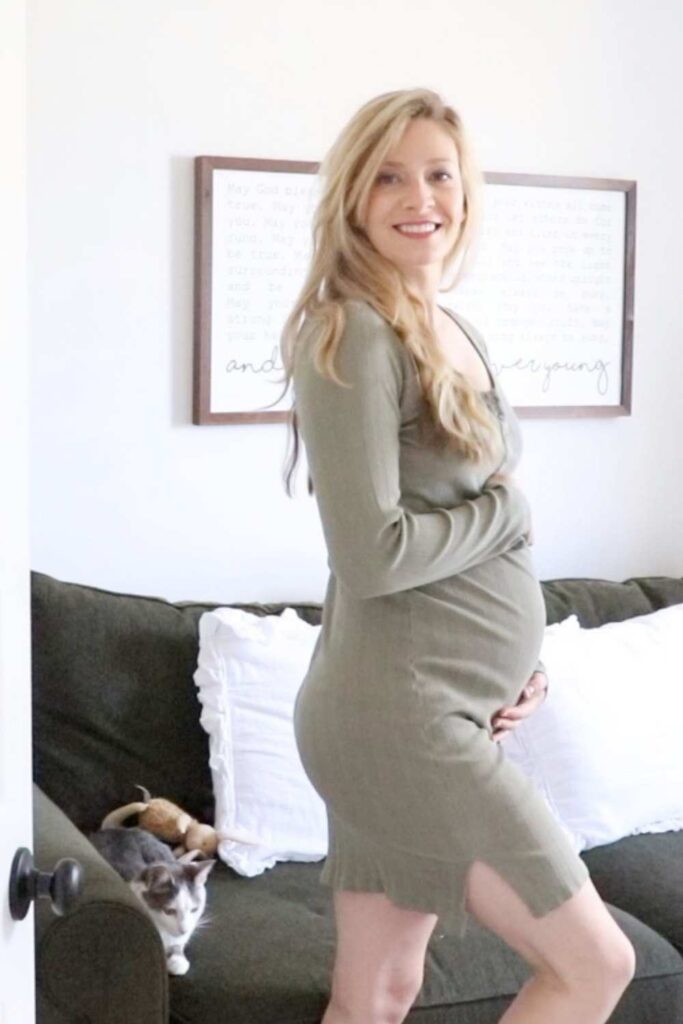 Tips for Creating your Maternity Capsule Wardrobe
Definitely start making your wardrobe in your first trimester. Even though you think you may not need the clothes, you'll grow faster than you think! For reference, I started seeing a tiny baby bump around weeks 10-11. You can see my full first trimester pregnancy update here.
Go for the loose items. There's nothing worse than a tight waistline on an already tight and itchy pregnant belly. Luckily if you buy maternity pants or shorts they have a stretchy belly part that feels perfect and doesn't cut into you.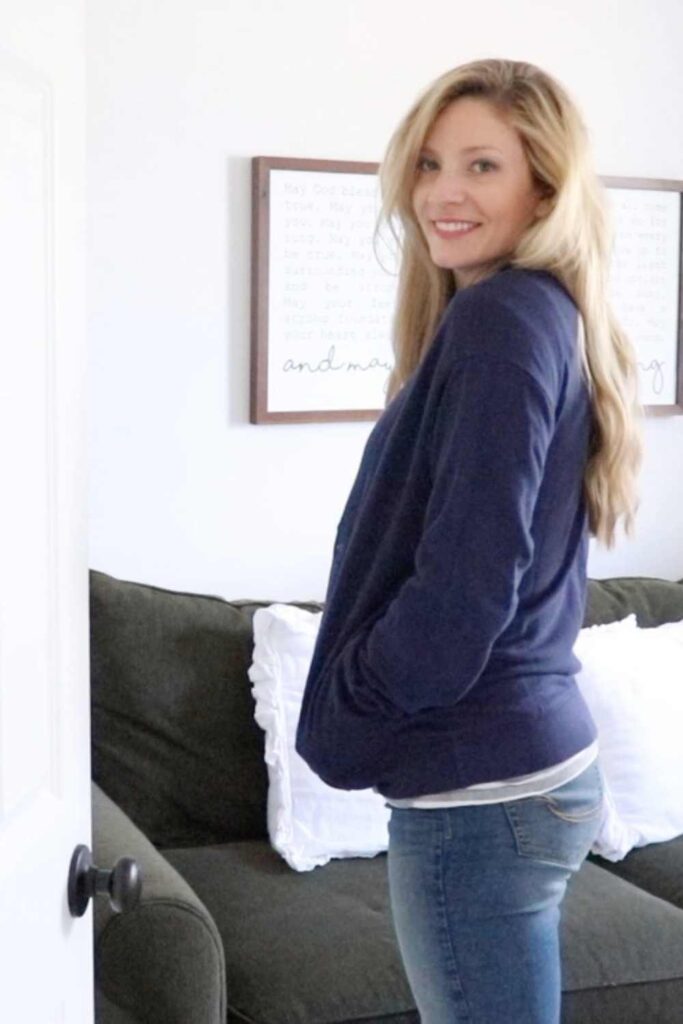 Consider the seasons and temperature. And remember, pregnancy tends to make you feel warmer than normal! So if you're going to have a big belly in the summertime, might want to load up on dresses so you can feel cool and breezy. Or try a jumper like this one, which I wear almost every day right now during the warmer months.
Lastly, you actually don't need to buy everything in "maternity". What you should buy in "maternity" are things like shorts, pants, or tight t-shirts. But there are some things you can get away with buying in a larger size now, and still enjoying it even after pregnancy. Here are my top items you can buy in just 1 or 2 sizes bigger than your normal size:
Bras. Invest in some good soft, stretchy triangle or camisole bras for pregnancy – and beyond! I don't think I'll ever go back to wear cup bras. They just don't compare to these ones 🙂
Dresses. You can buy body-con dresses, maxi dresses, or just regular sun dresses at one size up from your normal size. They'll fit you just fine!
Jumpers/rompers. I was never a fan of jumpers or rompers until pregnancy actually. Now this jumper is one of my favorite things to wear. They are great for those bigger-bump months.
My Spring Maternity Capsule Wardrobe
The more I think about this, the more I realize how good of an idea it was to buy all these clothes. Not only am I wearing them now during pregnancy, but then I'll have them post-baby, and then for the next pregnancy too if I have one. I feel a lot better knowing that I'll be comfortable for months/years to come!
You can see me try on these clothes in this video. Between the time I filmed the video and writing this blog post, I purchased a few more items (I keep needing more clothes!) which are also included in the list below.

Cotton t-shirts (everyday staple – soft, stretchy, cute)
Long sleeve shirts with cross back front
Pink maternity blouse (when you want to look a little more dressed up or going out)
Blue and white polka dot casual dress (perfect for cooking/gardening)

Lounge shorts (perfect for working out, walking, or gardening on a summer day)
Light Grey joggers – (a lounge pant, exercise pant, and yoga pant, going to the store pant. They really go with everything!)
Jean maternity shorts (stretchy and long enough to feel covered and comfortable out and about)
Blue "boyfriend" maternity jeans with cuffs

White organic cotton triangle bra
Black organic cotton bralette (these are the only 2 bras I wear now!)
Olive Rib-Fit Dress (this dress is so soft and stretchy, it is one of my favorites in pregnancy!)
Blue zip hoodie (note – this is not the exact hoodie I try on in the video, because the one I try on is no longer available)
Black and white stripe pregnancy / postnatal jumper (I can't wear this one enough! I plan to sew my own version too, that's how much I love it)
FAQ:
How much does a maternity wardrobe cost?
You can spend however much you want to spend. At a minimum you'll want to buy some new pants and shirts, and if that's all you wear then you can easily come in under $100 or maybe even under $50. I personally chose to buy more than that, because I wanted a going-out dress, a bigger jacket, workout shorts, jean shorts, etc.
If you're really wanting to not hit the bank and you know how to sew, try taking an existing large tank top or shirt and just recreating it with your sewing machine. This works particularly well with tank tops. Just make them a little bit longer than one you already own and you have yourself a maternity shirt!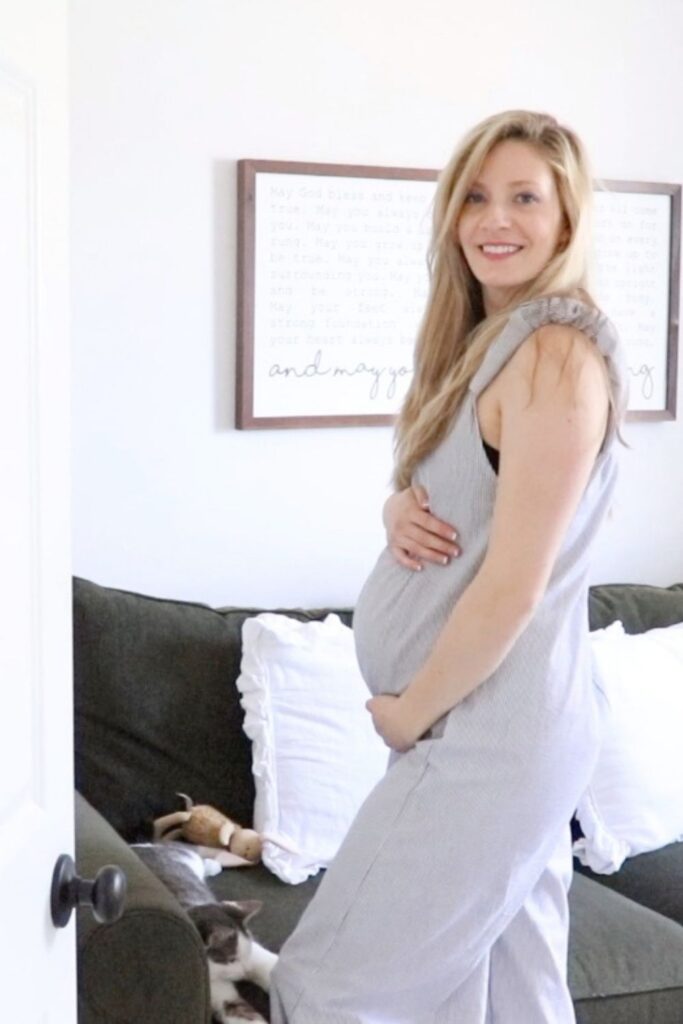 What week do you start wearing maternity clothes?
This will of course be different for everybody. But I started needing new clothes around week 10-11.
What size should I buy maternity clothes?
This is just my opinion: order your regular size in your first and second trimester, and one size up in your third trimester. This is because most "maternity" labeled clothing is already a bit bigger than normal and has room for your bump, so you don't need to size up. But some items are meant for a regular size 20-30 week bump, so if you're buying a dress for a wedding that happens to be around your week 35-36, you might want to go 1 size up. Also note: if you want to buy a non-maternity labeled piece but just have it be big enough to fit your bump, I would order 1 size up for a small bump, and 2 sizes up for a bigger bump.
Watch: Maternity Clothing Try-On HAUL
Pin it for Later!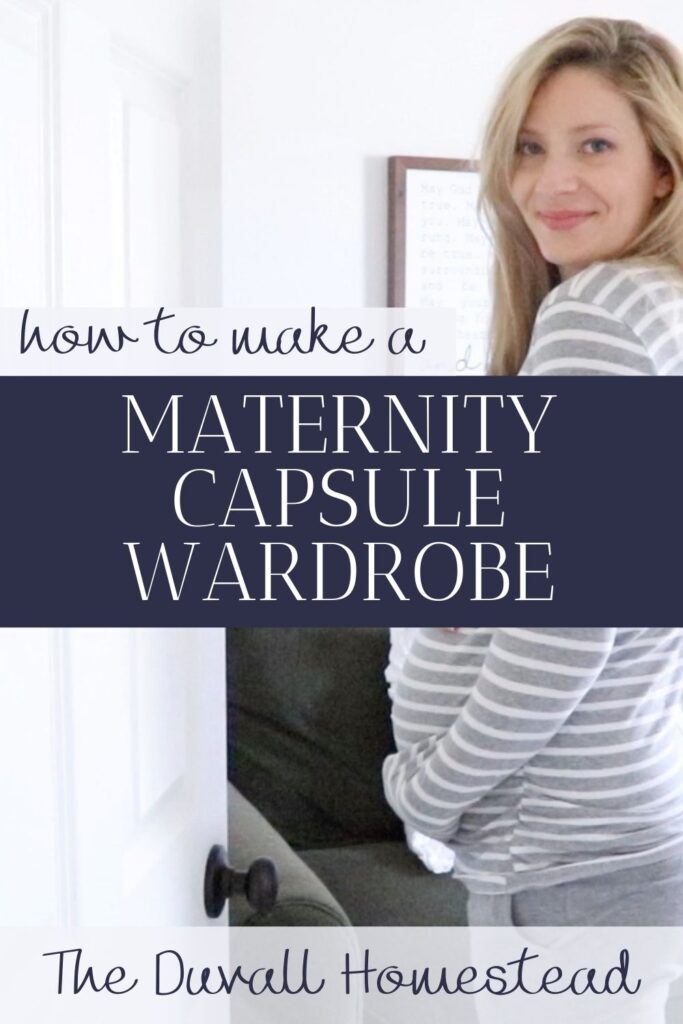 Thank you so much for reading!