I never knew how easy it was to start composting in your own backyard. Once we got chickens, I realized it was time to do this whole "composting" thing because apparently chicken poop is great for the soil. But you don't need chickens to start your backyard compost. Composting is free, easy, better for the environment, and saves you money when you want to plant a garden with good soil. Learn how to start composting at home in this simple tutorial.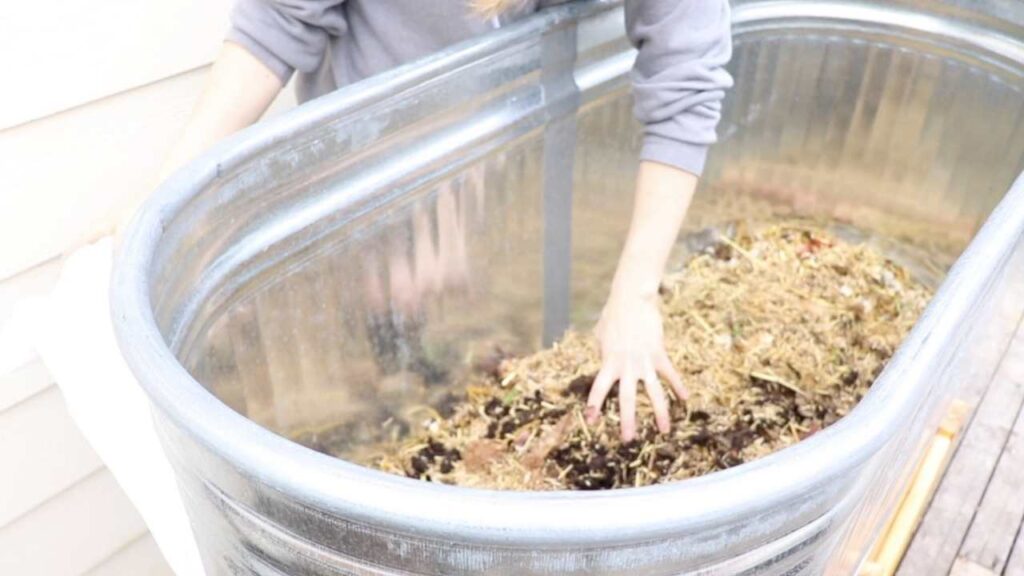 This post contains affiliate links, which means I may make a small commission off items you buy at no extra cost to you.
What is composting?
Composting is returning used nutrients back into the soil. Here's a simple example: When you peel an onion or chop the end off of a carrot, the nutrients found in the skin and the carrot top can be added back into the soil to fertilize it. Then with that new soil, you can grow more onions and carrots.
So is it possible to grow a garden WITHOUT composting?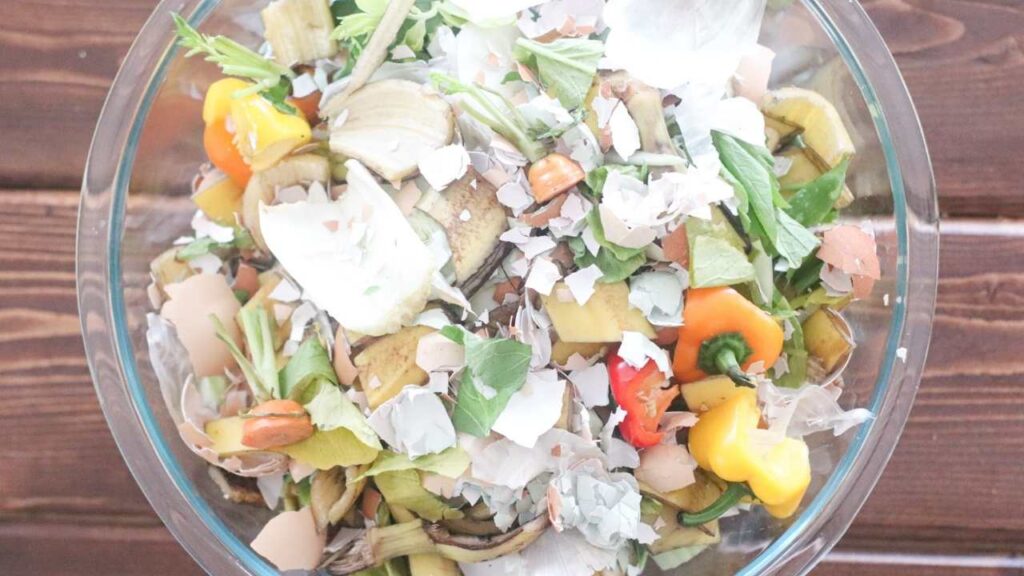 Well, the answer is yes, assuming the dirt you already have contains adequate nutrients. But once you plant a garden in one year and then another, the seeds and plants eat the nutrients in the soil and eventually it needs to be replenished.
So, you can either buy compost from your local hardware store or nursery. Or, you can create your own! That's where this tutorial comes in.
Pin it for Later!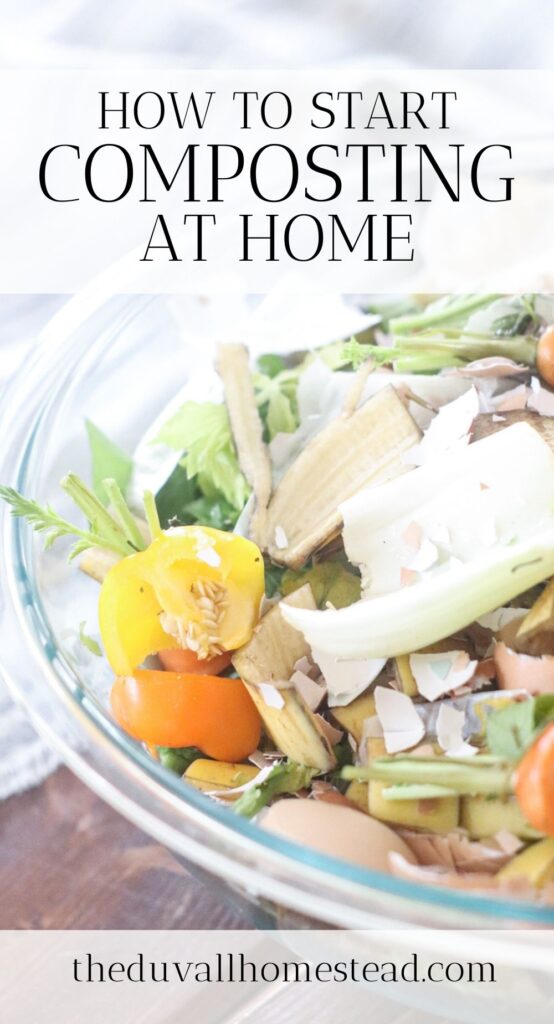 Benefits of Composting at Home
Composting at home saves money (buying organic compost is expensive) and space (use less trash bags!)
Less waste. When you chop veggies, you usually throw those scraps out, right? Now you can keep them in a compost bin. By the way did you know you can also put those items in homemade bone broth? You may also feed them to your backyard chickens. So there is always a good use for leftover veggie scraps.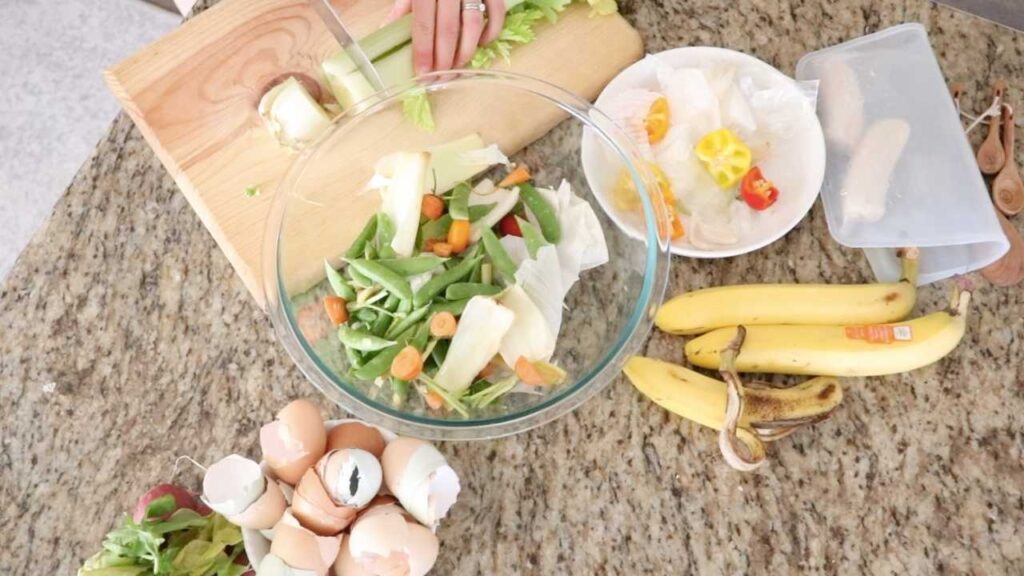 Also there's the feeling of growing your own food, with your own soil. I never used to look at egg shells and onion skins as plant food. Now when I compost them, and then put them in my garden the next year, watching that garden thrive is just so… satisfying. I don't know how else to describe it.
What Food Scraps can be Composted at Home
Vegetable Scraps
Egg Shells
Fermented Food like kefir grains or sauerkraut
Pumpkins and squashes
Vegetable skins like onion, garlic, potato, etc.
Coffee beans
Fruit
Banana Peels
What am I missing on the list? If you have more items you like to compost, let me know in the comments!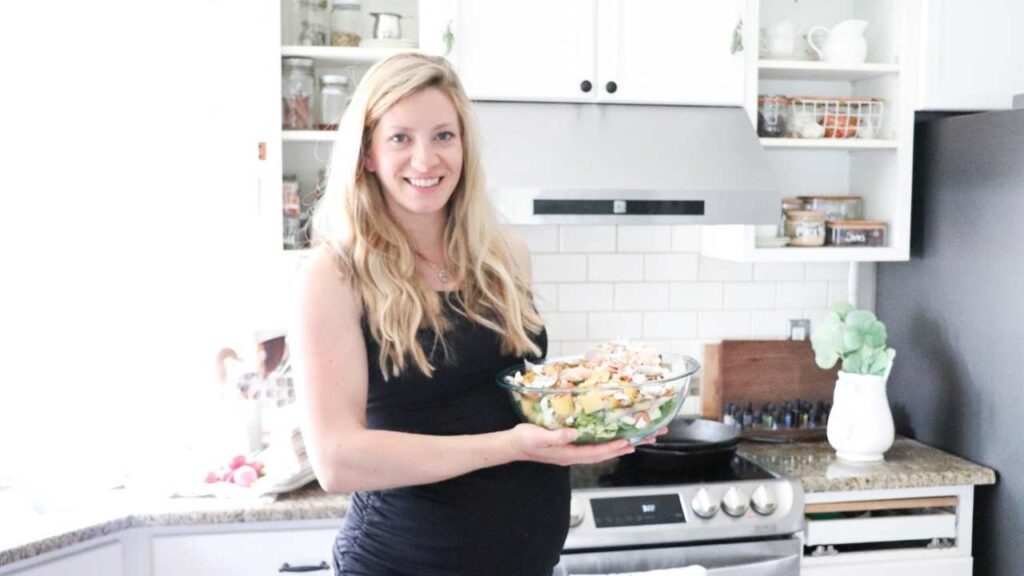 Other Non-Food Items for Composting
Paper napkins and bags
Grass Clippings
Chicken Poop
Fallen leaves
Old Plant Parts
Tools Needed
Small kitchen food waste bin (optional – you can also collect the scraps in a gallon size bag in the fridge until you're ready to bring them outside)
Compostable bags – these are for the kitchen waste bin and can be put directly in your compost pile
Outdoor compost bin – this is the one we have. But I have to be honest, I wish we would have gotten a tumbling compost bin like this one to make mixing the compost easier.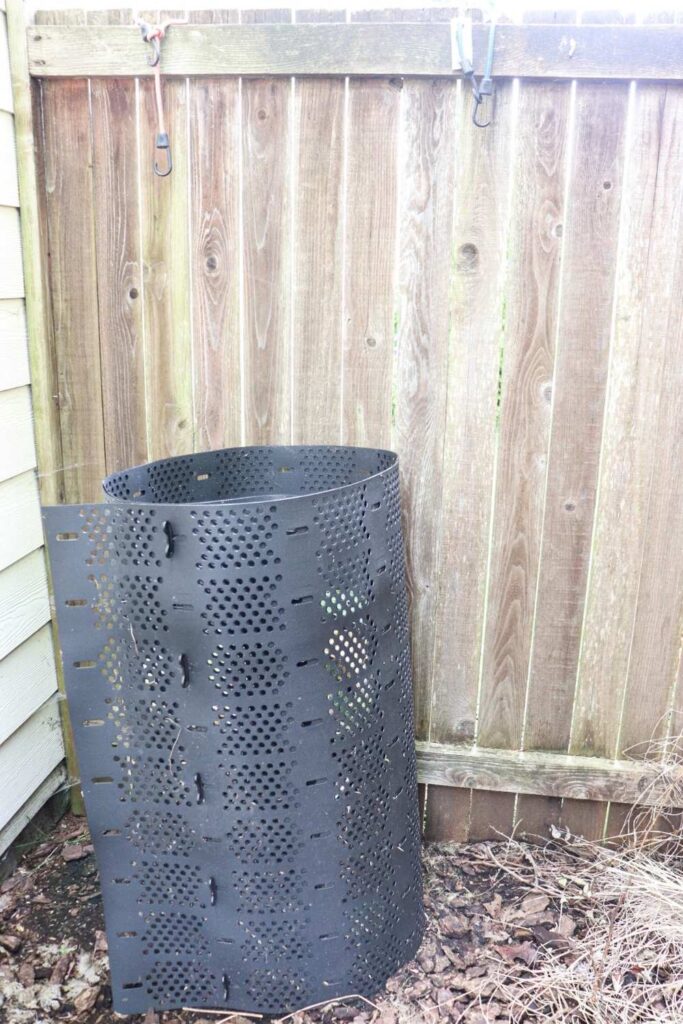 Composting Step-by-Step for Beginners
Step 1: Gather your household compostable food scraps in a bin or covered bowl throughout the day. You can also keep them in the fridge. At the end of the day or end of the week, transfer your compost items outside to your compost bin.
Step 2: In your compost bin, add dirt, household food scraps, and outdoor compostable items such as fallen leaves, grass clippings, chicken poop, etc. Every week continue adding food from your kitchen – such as veggie scraps, coffee beans, egg shells, etc. Stir the bin after each add. Now, you want to have a good mix of compost materials for optimal soil. You want to have the right carbon to nitrogen ratio. Check out this article on how to achieve optimal carbon to nitrogen ratios in your compost.
Step 3: If you are ready to plant your garden now, but your compost items haven't fully composted yet, you can use the materials at the bottom of your soil. They will continue to compost throughout the year. See how we did this in a planter box in this tutorial here.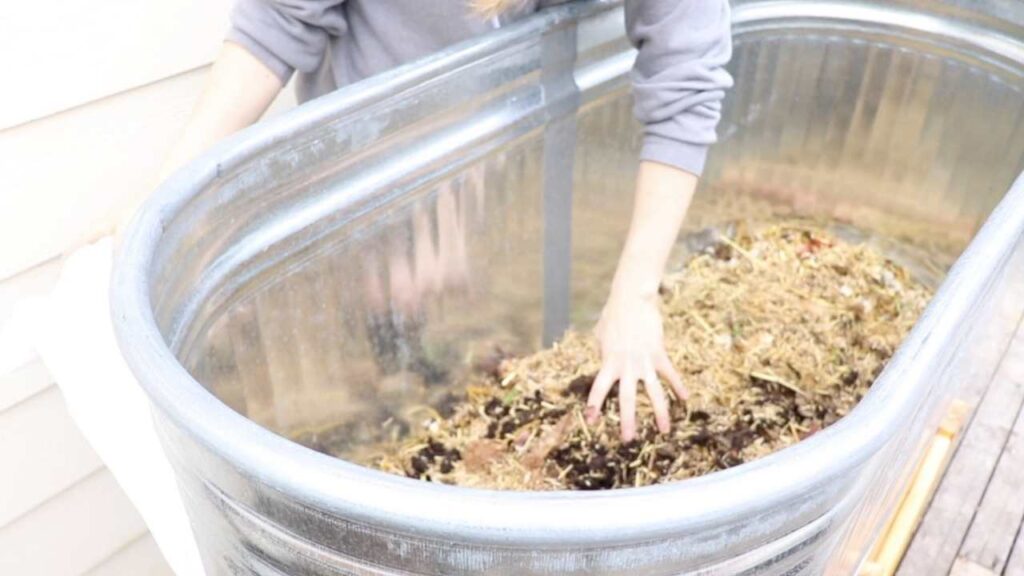 Step 4: Throughout the year, keep adding to your compost bin with items like old plants, grass clippings, and fallen leaves. Make sure to continually stir the compost bin.
Step 5: Next planting season, you should notice your compost is all or partly decomposed! You can now use this in your garden to feed your soil and grow healthy plants.
FAQs:
What foods should you not put in a Compost Bin?
Items like meat, dairy, or dog/cat poop should not be put in a compost bin. Also, avoid putting plants with disease or insect problems, because those can spread. Here is a list of items you should not compost:
Meat
Dairy
Dog/cat poop
Diseased or insect-ridden plants
Fats like oils or peanut butter
Any other garden scraps that have been treated with chemicals or fertilizers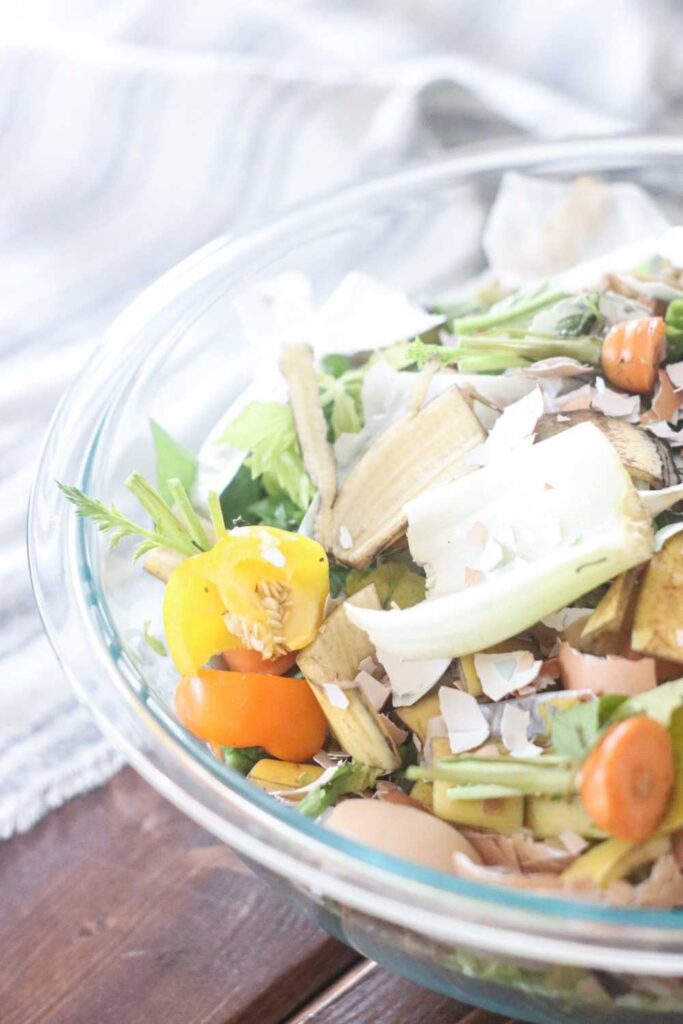 How do I start a Small Compost Bin?
Get a small kitchen compost bin or just throw your leftover veggie scraps in a bag in the fridge. Collect your scraps from eggshells, coffee beans, tea bags, vegetables, and paper plates or napkins throughout the week and take them to your outdoor compost pile regularly. Stir the pile and add dirt, paper bags, fallen leaves, grass clippings, etc. and keep stirring throughout the year. This pile will decompose and create rich soil you can then use for your garden the next year. If you don't want to wait a full year, simply put your food scraps at the bottom of a garden bed, with top soil on top. The compost will keep feeding the soil as it breaks down throughout the year, like you can see in this post.
What Materials Do you Need to Start Composting?
You really only need a compost bin for your backyard. If you have more property, some people choose to just make a large pile of compost and let their chickens scratch over the top. This mixes the compost naturally and their poop adds nutrients as well. If you don't have the space for that, try a large compost bin or a tumbling bin to keep the compost more contained.
Can you Plant Directly into Compost?
Yes and no. If your compost isn't fully decomposed, you want to add proper soil before planting your garden. One thing we did that worked well was put the compost at the bottom of a garden bed with topsoil on top. This allows the compost to keep adding nutrients to the soil while the plants are growing on top. If your compost is decomposed fully you are ready to plant. Just make sure you have the proper carbon to nitrogen ratios so you have optimal soil for planting.
Save it for Later!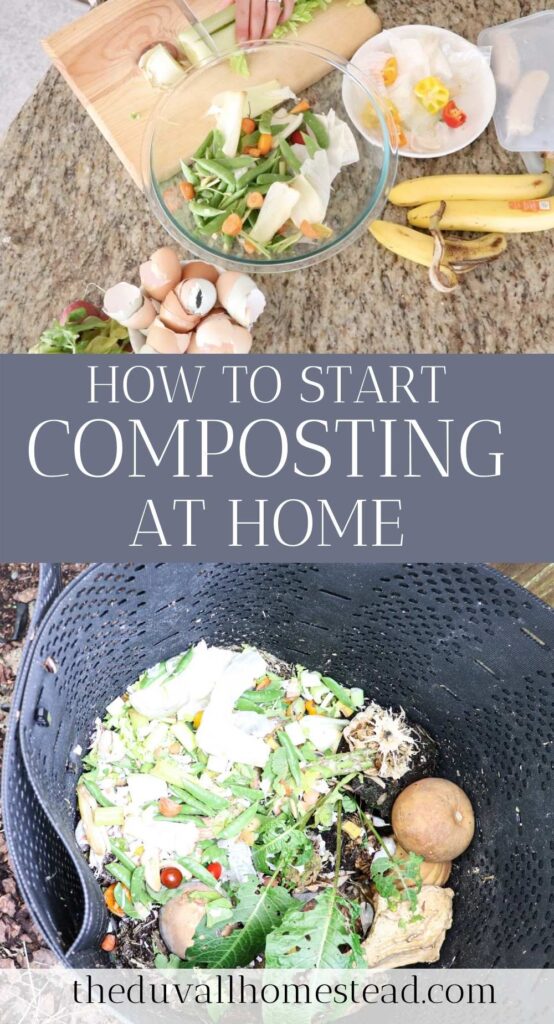 Thank you so much for stopping by the Homestead!