It's spring time! Learn how to start a garden from seeds in this simple tutorial for beginners. I was always pretty scared of gardening, worrying that I would make a mistake and months would go by without a single bloom. But what you have to remind yourself is this is nature! Seeds are meant to grow in nature, all you have to do is encourage and foster them. So I wanted to share my collection of tips on starting your first garden indoors from seeds. It's really easy, so grab some dirt and your favorite shovel and let's get gardening!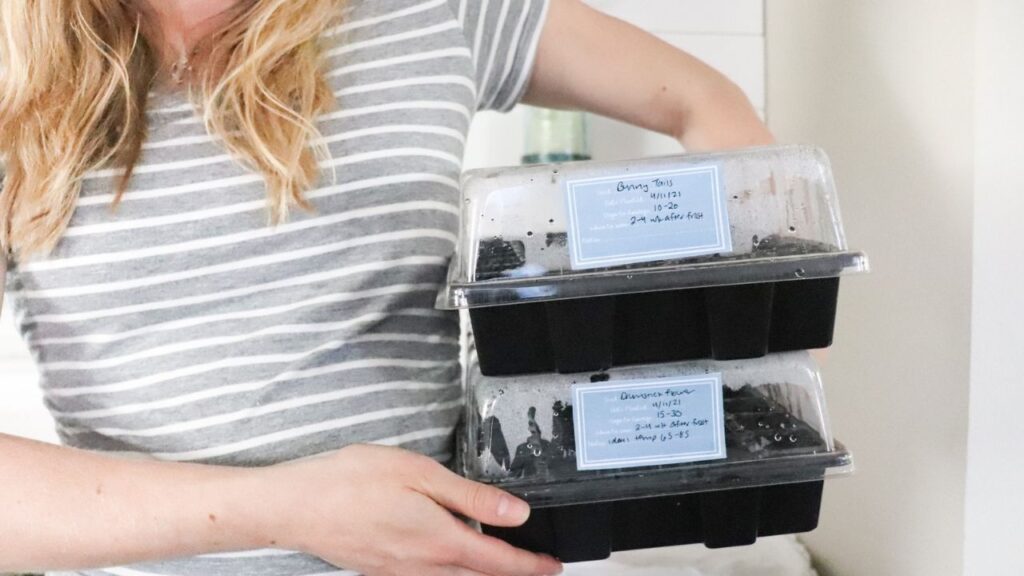 This post contains affiliate links, which means I make a small commission off items you buy at no extra cost to you. As an Amazon affiliate, I earn on qualifying purchases 🙂
Save it for later!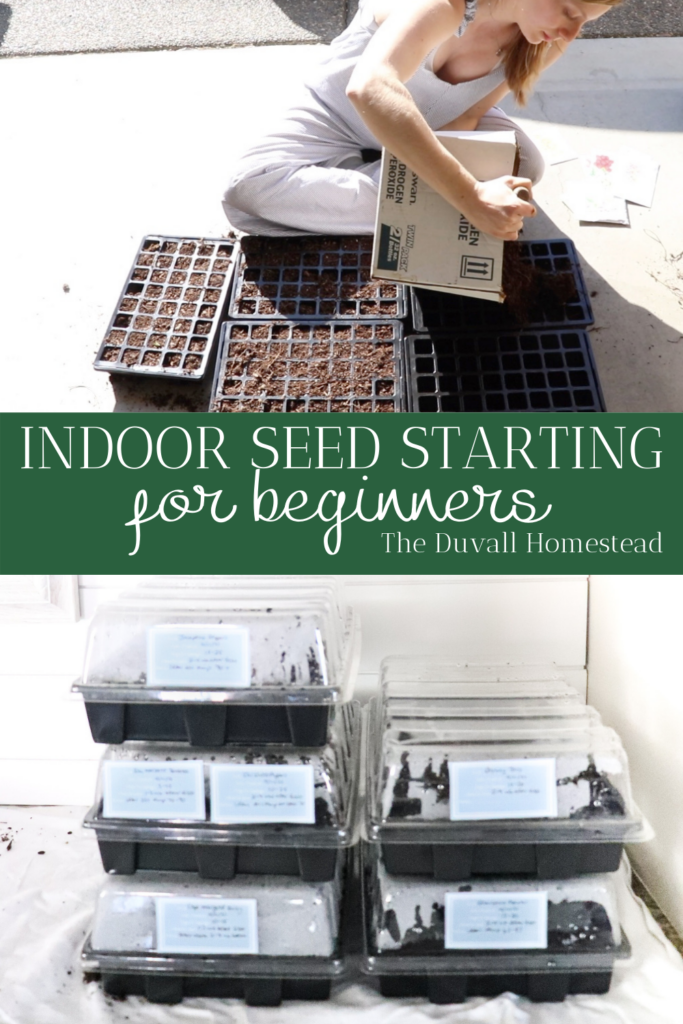 Gotta Start Somewhere…
I always dreamt of having a flourishing garden, full of veggies and flowers. When I was living in a city apartment, I would grow plants by my windowsill. It was west facing, so it got intense sun/heat in the second half of the day. I even grew jasmine there! Something that you normally wouldn't find in the PNW (Jasmine like heat and humidity). Oh, the days when my apartment smelled like jasmine…
I also grew rosemary, basil, chrysanthemums, and basically whatever I could fit on my one windowsill while I was living there. Growing plants on a windowsill is actually way easier than being outside. You have a controlled temperature, no predators, and lots of sun and heat.
When John and I bought our current home a few years ago, the first thing I thought was how excited I was to start a real, outdoor garden.
We spent the first summer observing what garden surprises we already had. After all, we were more concerned about the inside of our house and getting settled after moving in, that a garden wasn't really the first priority.
Watch: Seed Starting Indoors for Beginners
On to a Bigger Space
The next couple of summers we curated the garden that already existed and started thinking about how to grow it. I learned that some flowers only show up once per year and then never again, while others come back year after year. Also I learned you can't plant flowers or veggies before the last frost date because the seeds will freeze. I also learned about the biggest enemy of the PNW… slugs! Also, weeds. Sigh.
We bought a trough and built a cedar planter box stand for it, and started composting (made easy with our 3 backyard chickens).
So now, our goal is to "fill up" all of our garden space. I heard from one of my favorite gardener YouTubers, that the best way to get rid of weeds is to plant flowers! Weeds won't grow, and if they do you won't see them, because you have so many thriving plants. Weeds only grow when you have unoccupied dirt. Makes a lot of sense to me!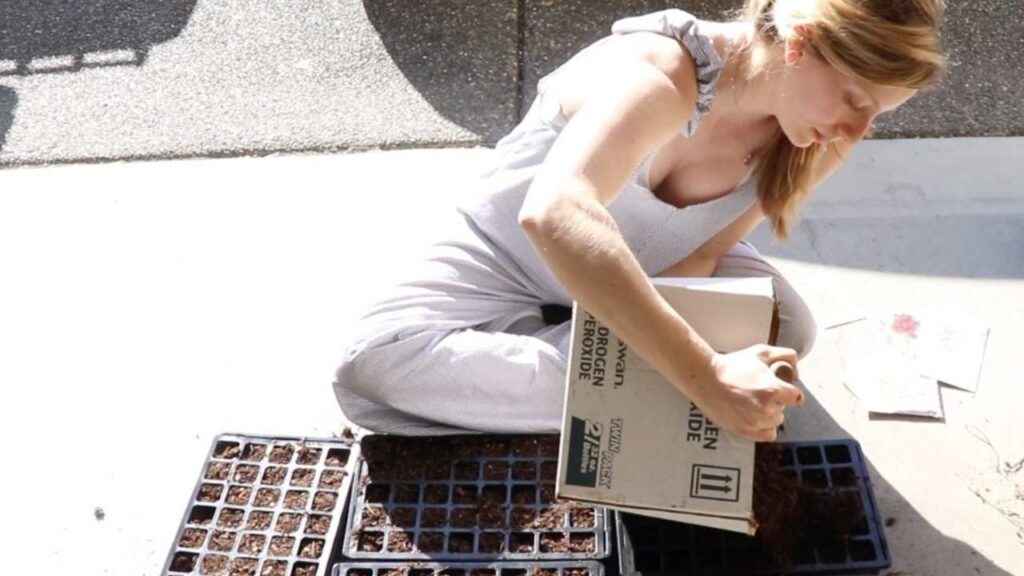 How to Start a Garden for Beginners
First, find out what zone you're in. This is called a USDA hardiness zone. Go here and type in your zip code to find out what zone you're in. You can then look up on google "best plants for zone 8b", for example. If a plant is best grown in high heat and humidity (i.e., somewhere like Florida) but you live in Washington state with mild, dry summers, you probably don't want to get that plant. So finding out your zone is key.
The key topics you want to know are:
When is the last frost date in your growing zone?
How long is your growing season?
What is the temperature of your soil (when will it heat up)?
What predators exist in your location?
Second, plan to plant 2-5 seed varieties per planting space in your yard. Now, this will vary depending on your space. But it is hard for a beginner gardener to not over-plant (meaning, too many seeds or varieties in too small of a space). We do this almost every year LOL. So if you have 3 distinct areas to grow (say, 3 cedar or trough planter boxes), estimate that you can grow anywhere from 6 to 15 varieties depending on their size.
Buy your seeds at the end of winter (say, February or March). Most places have a last frost date somewhere between March and May, so you just want to plant your seeds about a month or so before the last frost date. You will find more information specifically on when to plant seeds indoors on the back of each seed packet you buy.
Lastly follow the instructions on the seed packet, and plant seeds in indoor trays as described below.
Where to buy seeds?
The best place to buy seeds is from your local farmers. Then you know you're getting fresh seeds that are coming from plants that already thrive in your area. Check out a local farm stand or even post in your community Facebook group asking for seeds. Most likely people in your area who grow ever year have tons of seeds left over, you may even get them for free!
If you can't find seeds locally you can also get them online from Amazon or a speciality seed website like SimplyGro or The Living Seed Company.
TOOLS NEEDED
Seed Trays (I got this one)
Organic soil
Shovel (or you can use your hands)
Seeds
Spray Bottle
Label paper (if you want to print seed labels. Download my free template here!)
HOW TO START SEEDS INDOORS
First, gather dirt from your existing garden or compost. You want rich, organic soil that will foster your little seeds. So if you don't have good soil or aren't sure, go to your local hardware store and buy and a bag of organic soil mixture.
Lay the dirt into your seed tray, filling it about 3/4 of the way to the top.
Use your finger to poke a hole in each seed pocket, pressing only about half way down to the bottom.
Place the seeds into the holes you created. Now, make sure you check the instructions on the seed packet and be careful not to drop too many seeds in each hole to prevent over crowding.
Next cover the seeds with the remaining dirt so the pockets are filled to the top now.
Using a spray bottle, spray the seed trays with water generously. Little seeds need LOTS of water! Make sure your seed tray has a drain system built in, like this one.
Place your seed trays in a sunny location and water them twice a day with the spray bottle. I like this seed tray because it comes with a lid, which is super important if you have indoor cats like we do 😉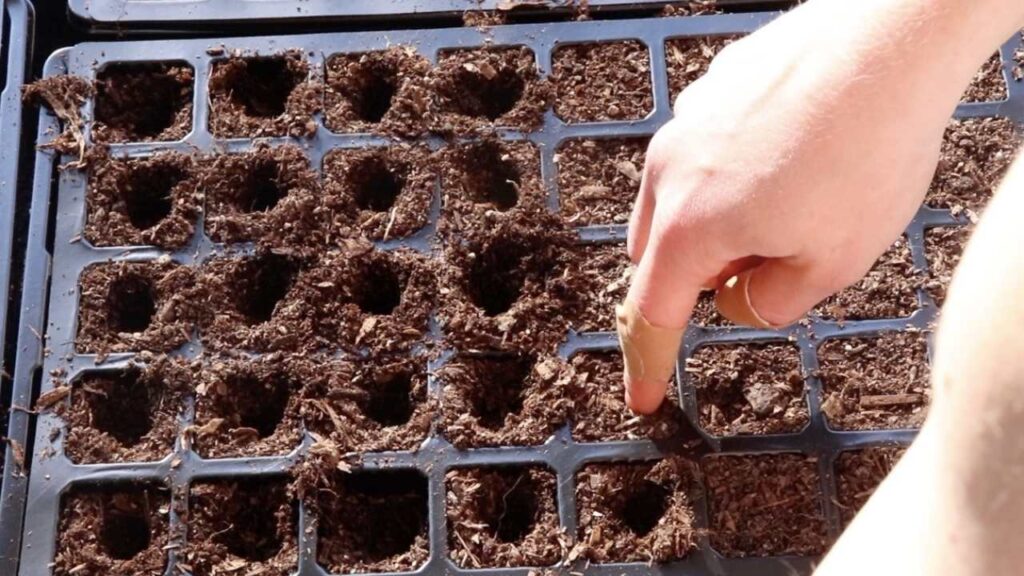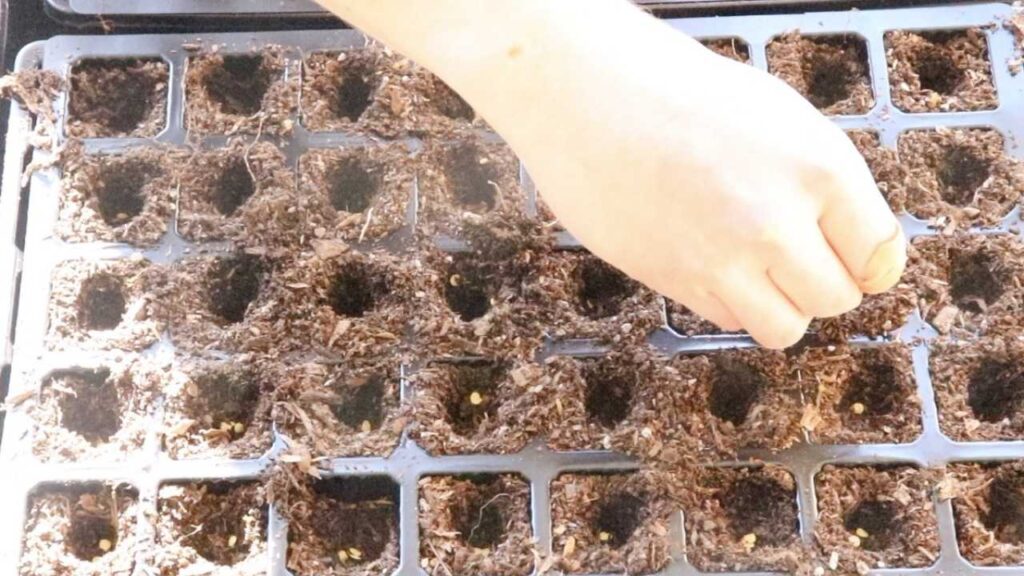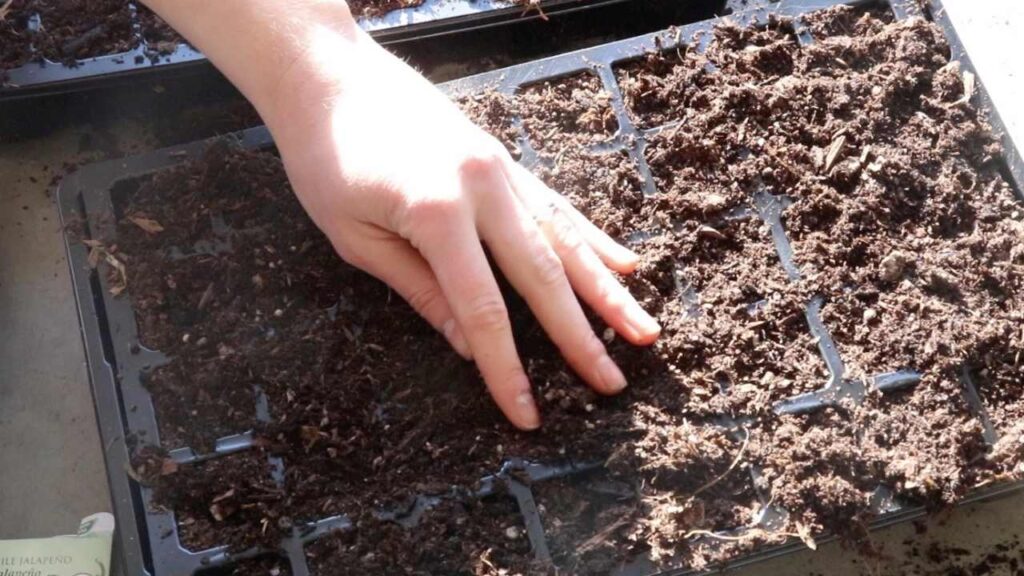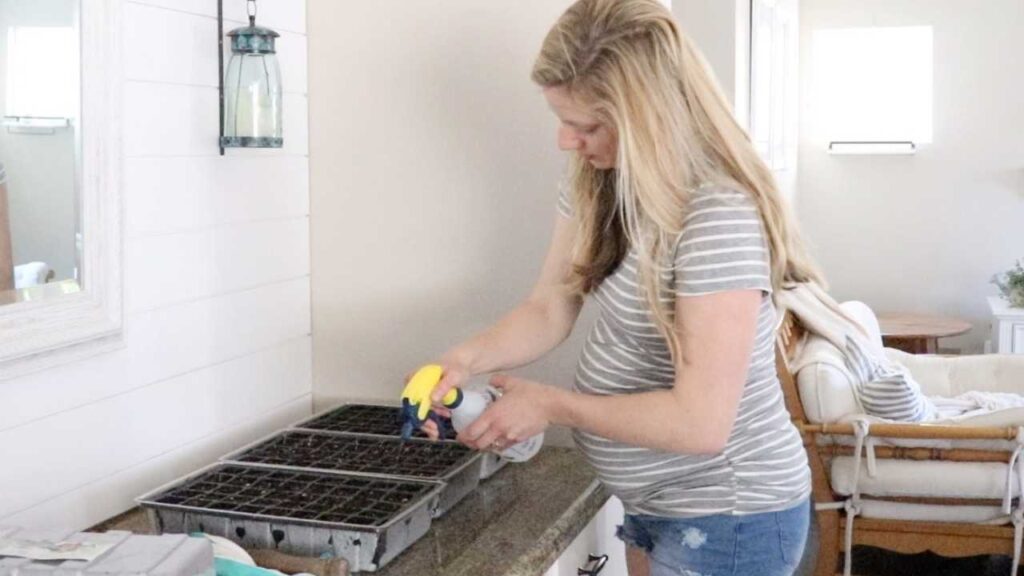 Don't forget to label your seeds!
NOTE! Don't forget to label your seeds! You might think you'll remember which seeds you planted where, but trust me, you will not! You can use BBQ skewers, popsicle sticks, or just plain sticky notes to label your trays. I almost always forget which seeds I planted, which is why this year I made printable labels for each box. You can download these labels free at the link below!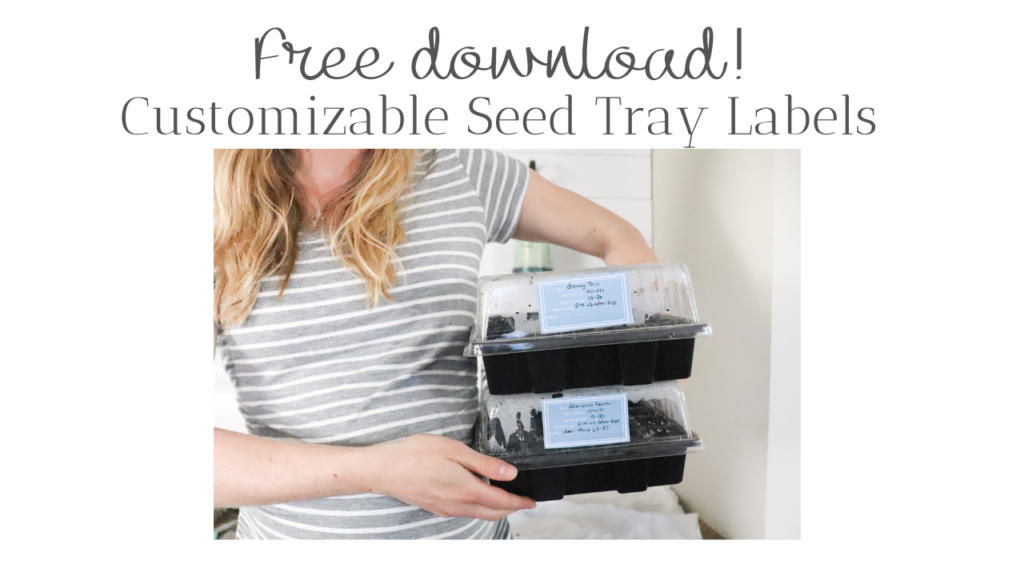 CLICK HERE TO DOWNLOAD YOUR FREE PRINTABLE SEED TRAY LABELS
Need label paper? I like this one, it's easy to use and goes right in the printer. Plus it's cheap.
FAQs:
Can you plant seeds directly in the garden?
Yes, some seeds should be planted directly in the garden. These are root vegetables like carrots and potatoes, and some flower varieties. Just read the back of the seed label and it will tell you whether or not the seed can be started indoors.
How do you start a plant from a seed?
First buy an indoor seed tray starter kit. You can get them pretty cheap on Amazon. You could also use leftover egg cartons or small pots you have from last year. Get some good organic soil, and place the seeds into the pockets of the trays. Keep the trays indoors until the chance of frost has passed in your area. Once the seeds are 2-4 inches high, you can transplant them into your garden and watch them bloom into the summer.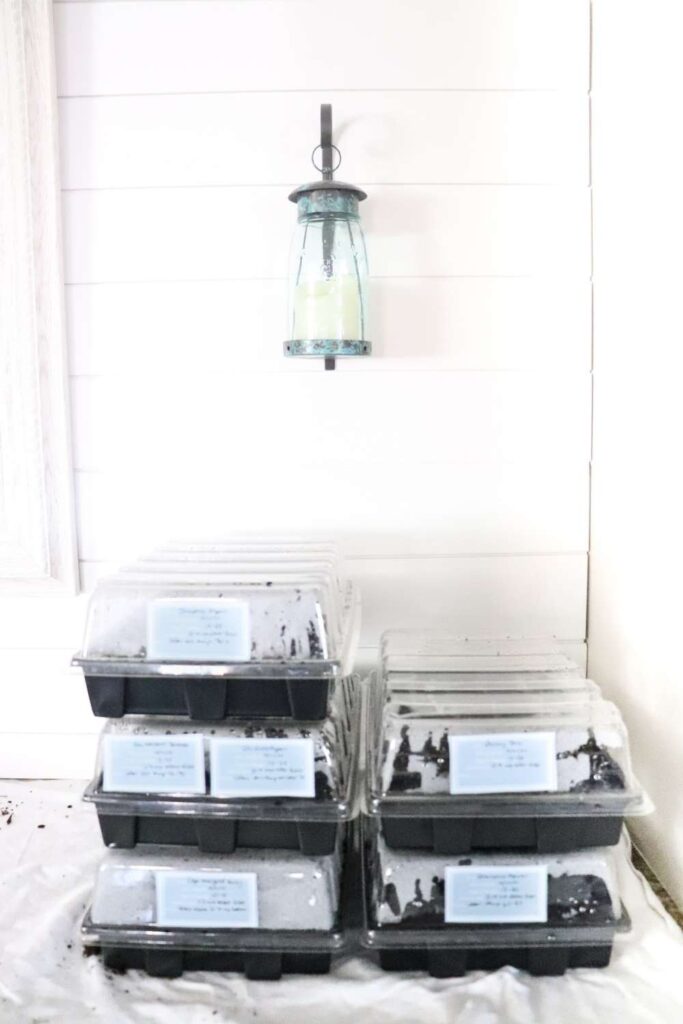 When should I start planting seeds for my garden?
If planting indoors, you should start about 4-6 weeks before your last frost date. But don't worry if you missed this date. You can start seeds anytime, there is really no rulebook, there are just ways that work better than others. If planting directly outside, you want to wait until the chance of frost has passed, and your soil is warm enough for the seeds to thrive.
Do you need a grow light to start seeds indoors?
No, you can just put your seed tray in front of a window in your house. We have never used grow lights, but I've heard you can use them if you want to start seeds in the winter or in your garage. The bottom line is your plants need light even if they are just seeds, so you want to either give them natural light or you can buy a grow light.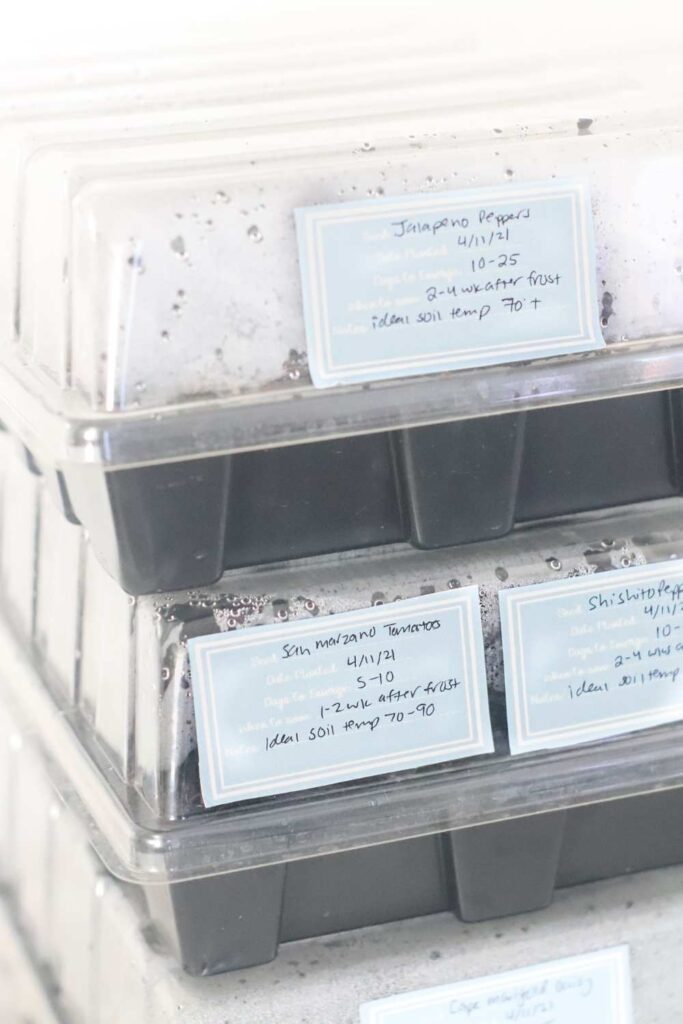 More from the farmhouse
DIY stand for trough planter box
How to Start Homesteading without being a Farmer
How to Build a Small Backyard Chicken Coop
Homemade Fermented Chicken Feed
How to Winterize a Chicken Coop
Top 9 Homesteading Books to Start Living Simply
Watch: How to Start Seeds Indoors
PIN IT FOR LATER!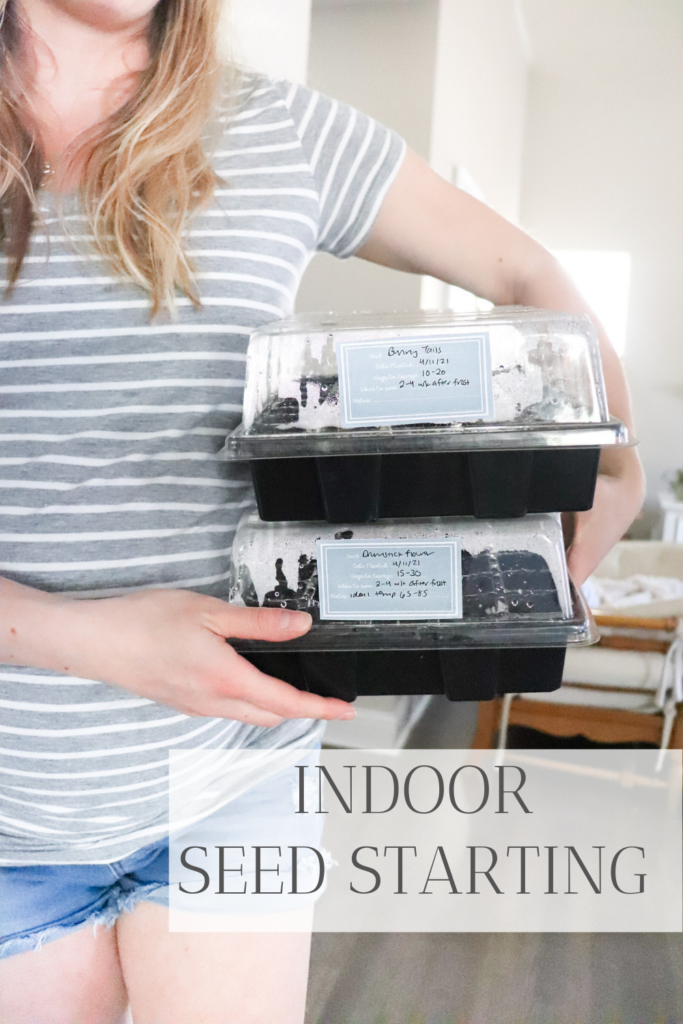 Thank you so much for stopping by the Homestead!