Come see how I made our old world farmhouse Christmas kitchen on a budget this year. The other day I was looking around our home and thinking, I love our home so much. And I always have! We bought our house because it was almost totally perfect. But more and more I feel the urge to make things look more our own, and less like the house when we bought it. I also want to bring some old world traditional farmhouse touches in, because I have just been loving that style lately. And with the holidays around the corner I figured it was the perfect time to decorate for Christmas, in the kitchen at least. We'll get to the rest of the house later LOL 🙂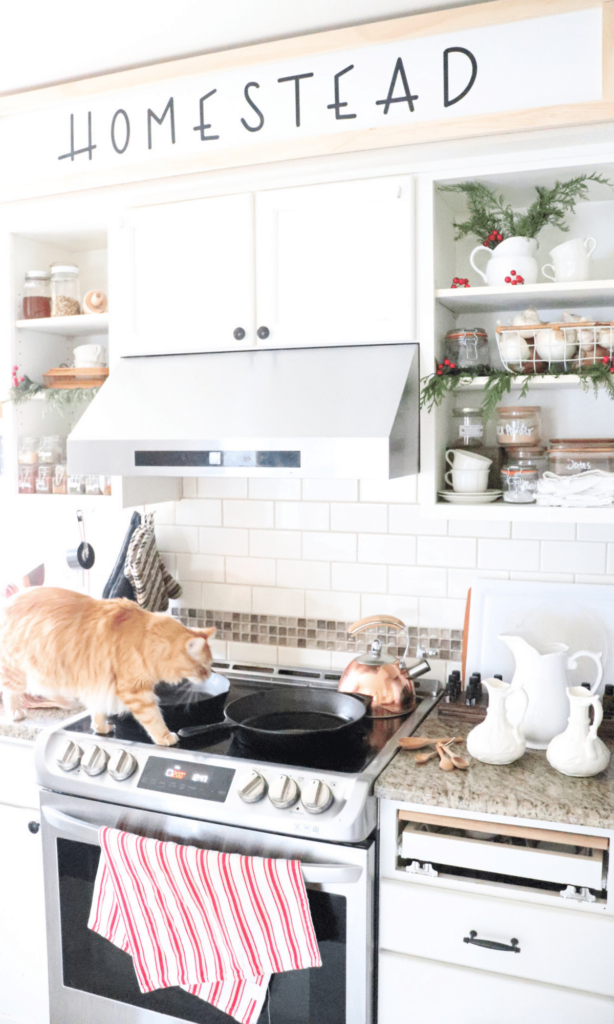 This post contains affiliate links which means I may make a small commission of items you buy at no extra cost to you 🙂
SAVE IT FOR LATER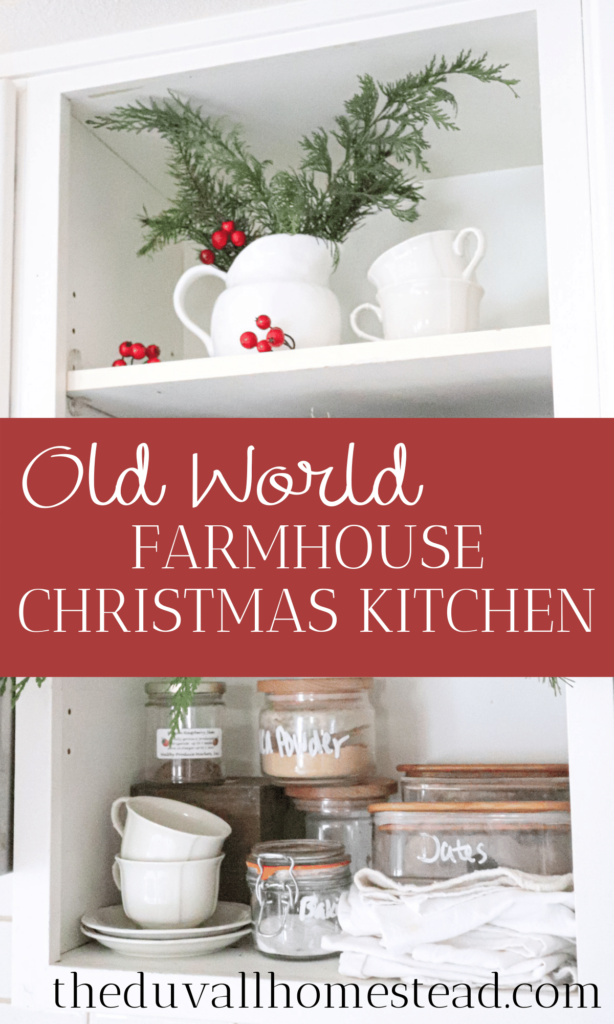 A little Background on our Homestead
When we first saw this house a few years ago before we bought it, I remember thinking the kitchen was perfect and that was one of the reasons we bought it (with me spending SO much of my time in the kitchen, it's probably the most important room!).
At that time, we really wanted a turn-key house. Meaning, you walk in and you don't have to do anything! But we knew that'd be hard to find given that we have a specific style, but it was pretty magical walking into this home and it was about 90% perfect.
But now after a few years of living here we are looking around and thinking, how could we make this house more of our own style, and not that of the previous owners?
Before we moved in, the previous owners had the house freshly painted and with new floors, cabinets, and doors. So nothing NEEDED to be done.
The house was totally charming and pretty, but it just wasn't our own, you know what I mean?
Old World Style in a Modern Homestead?
We live in a modern neighborhood in a modern home. But I have really been wanting to bring this home back past its birth day and give it more of an old world, farmhouse feel even though it is a modern farmhouse.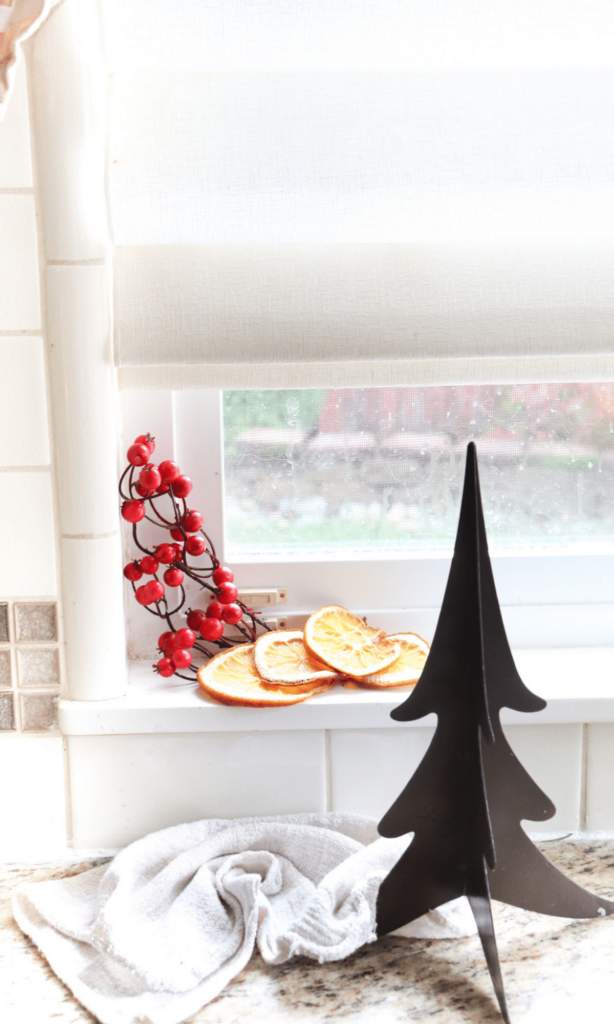 But here's my question – is it even right to do that? Because I don't want to put pieces in places where they really don't belong. I don't want things to look fake or like they don't fit in. So how can I create the feelings of old world, hygge home, farmhouse, all those things, but still stay within the boundaries of my home and bringing out the best of it?
So without intentions to completely demo and redo everything, John and I have come up with several unique ways to make this house more our style, and add a little old world charm while we're at it.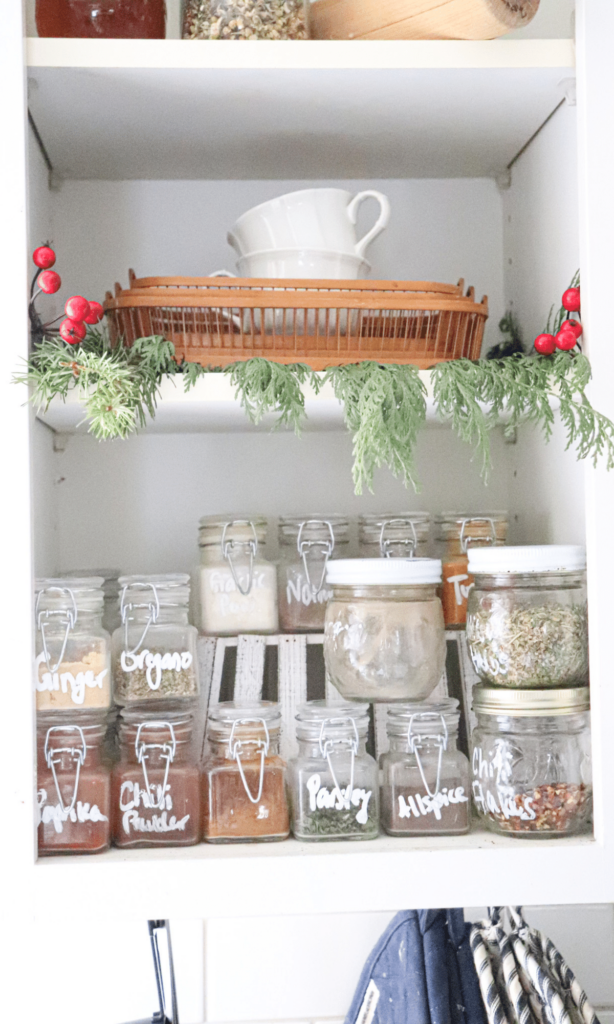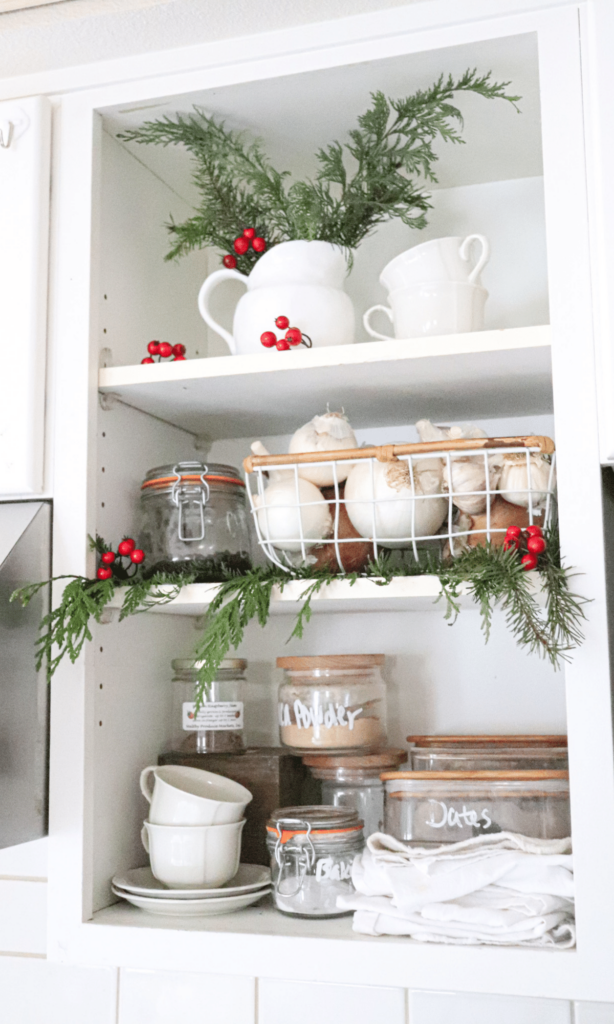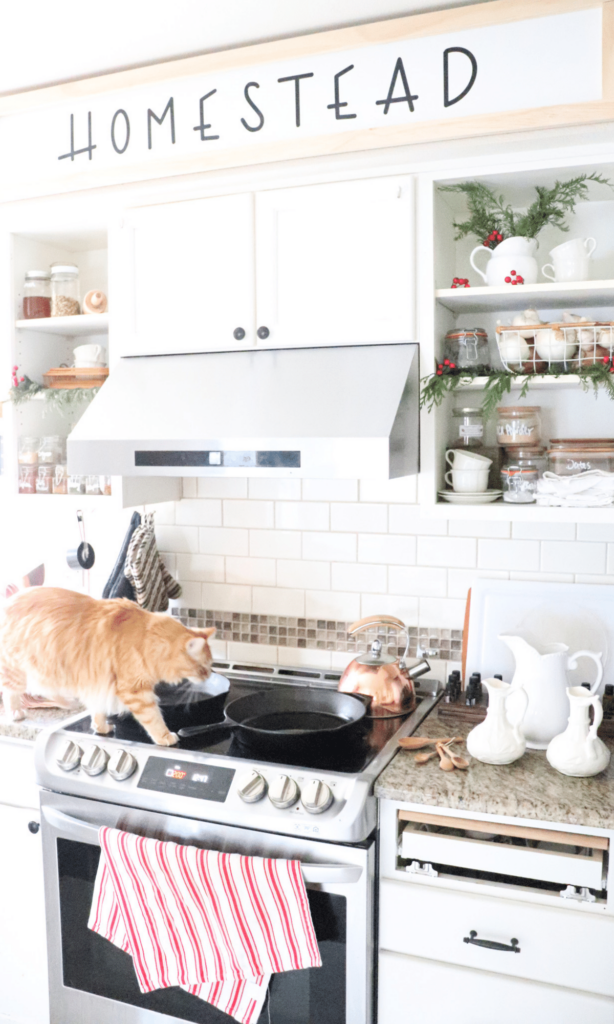 We added this "HOMESTEAD" kitchen sign right above the stove. I love it because it's got all that white in the background, which is one of my favorite colors for the home and kitchen. The walls are more of a warm, tan color, so any way to add more white is something I'm interested in.
The sign is made from Annalise over on Etsy. She is offering anyone who is reading this post a 15% discount on anything in her shop! Go use code DUVALL15 in her Etsy online shop while the discount code is still valid!
I started decorating early this year…
I decided to go ahead and start decorating in November this year. It's nice to start early because it takes the stress off of getting all done quickly in December. Anyone else feel that way? Plus I am becoming kind of a blogger now so gotta get that content up early… 🙂
I have another post that talks about our open shelves, you can find that here. In the shelves I brought in some antique tea cups and plates, which are more for decor than for actual use. But again.. blogger.
Then I added some red faux grain sack cotton tea towels. I have plans to sew these into pillow cases, but for now I like seeing them as towels.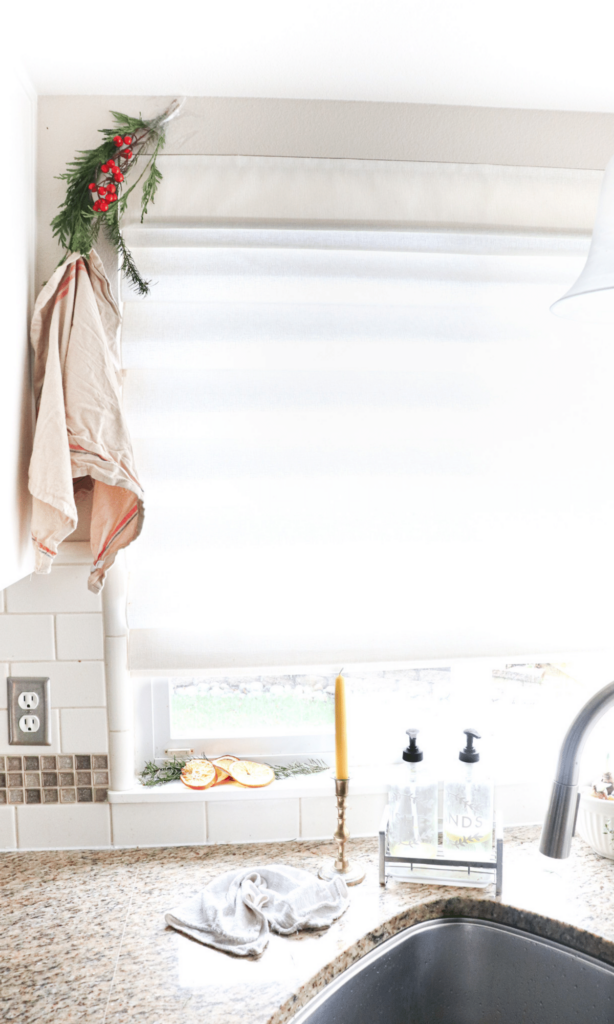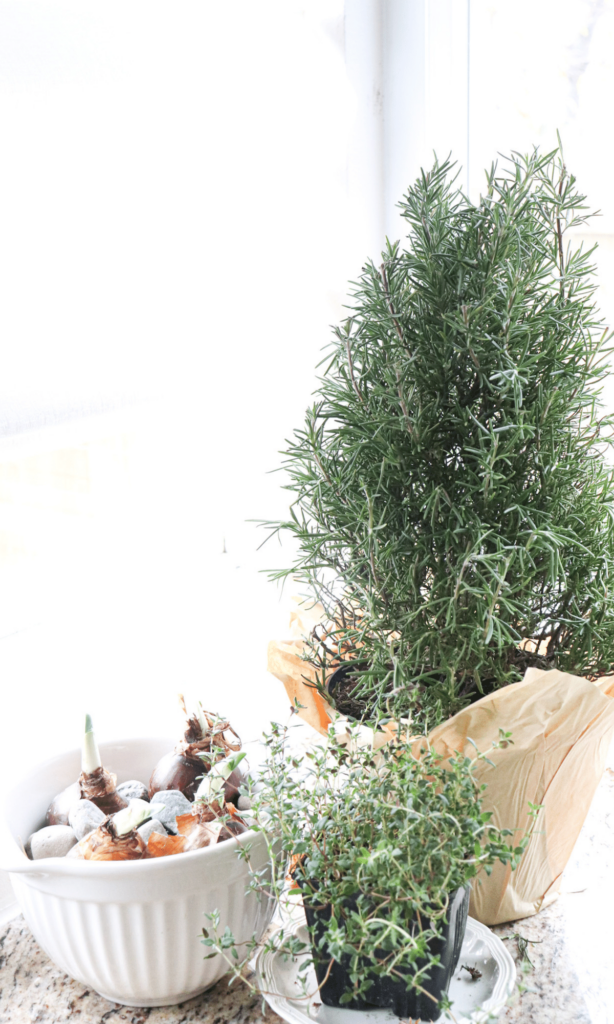 Learn about my top 5 DIY Christmas greenery ideas in this post!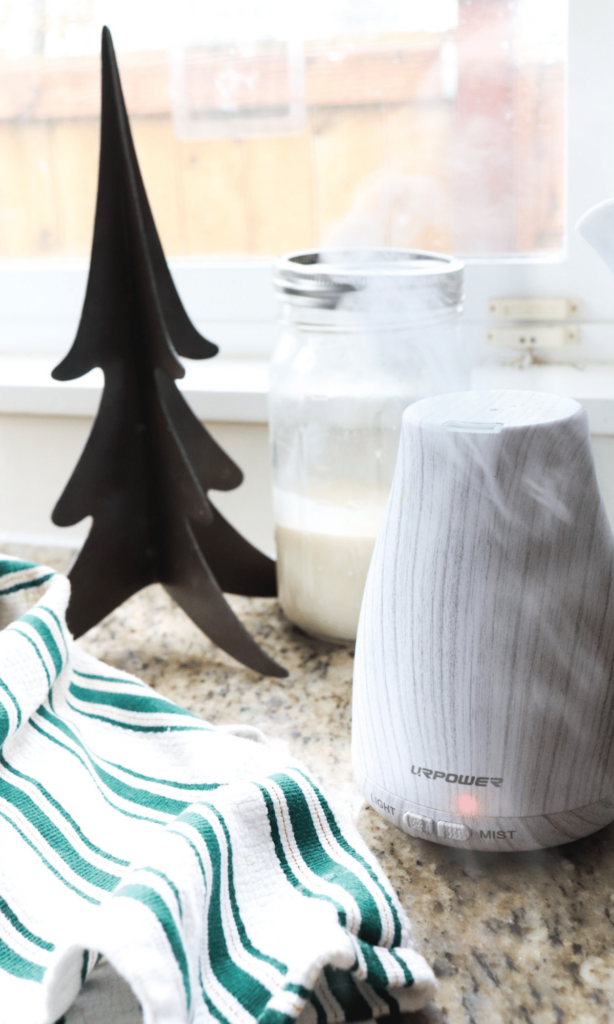 Of course I have my essential oil diffuser, which I use to diffuse oils every morning. Right now we are gearing up for the holiday season, so I'm diffusing Holiday Joy. It just makes my house smell like what I think an old rustic cabin in the woods, with firewood and a chimney, and hot cocoa on the stove and cranberry garland, would smell like.
Bringing in the old world charm
So I am loving the old world charm idea. It's probably because we've been watching Outlander at night recently, and I just love everything in the background of that entire show. It's just… drool-worthy.
To bring in that old world charm, I added several brass antique candle holders with these beeswax taper candles around the kitchen. If you like these candles, you will love my Christmas home tour that's coming up because I was able to pick up several of these from online Instagram thrifts, so they're all over the place right now!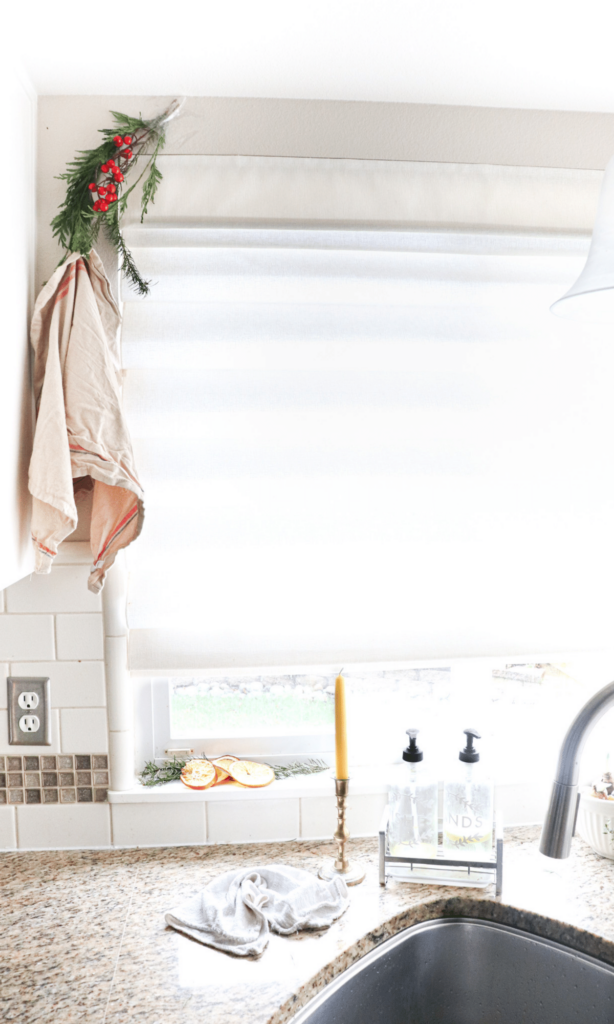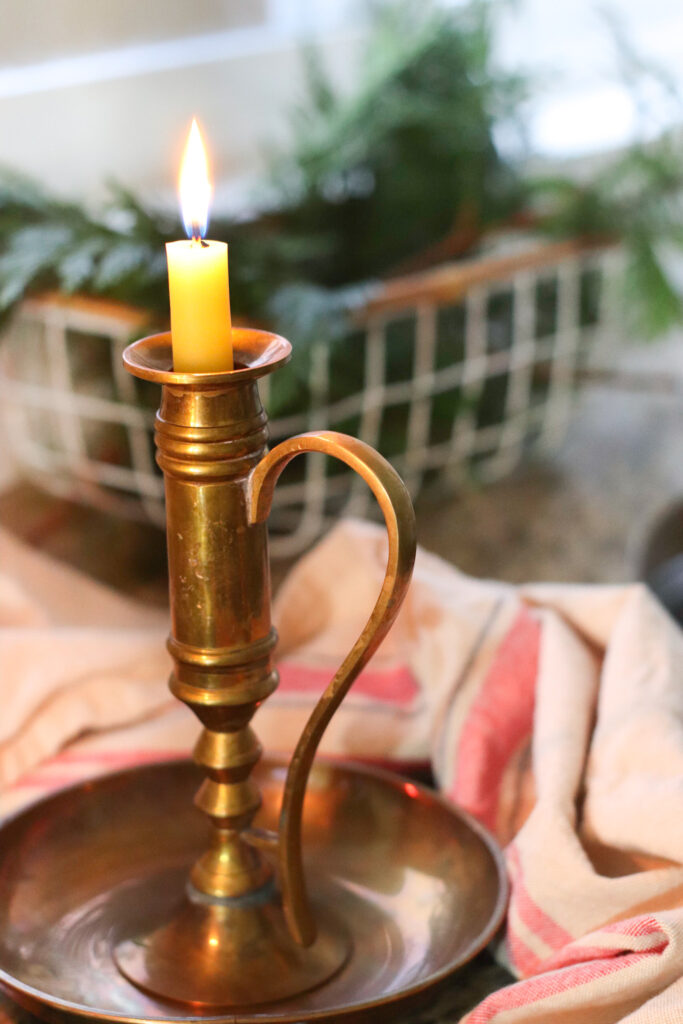 I have recently discovered that there are accounts on Instagram that do thrift shopping for you and then send you stuff in the mail. It's the same price as most thrift stores, but you do have to pay for shipping. So while you can buy an antique brass candle holder for $80 or more online, you could also find someone on Instagram who found one for $5 and is selling it for $10 plus $5 shipping = $15. I'll take the latter!
Especially because I'll be honest, I don't love thrifting. I like the idea of thrifting, but the reality is I really don't like spending my day doing it. I would rather be doing other stuff. Especially if I go and end up with nothing. So I'm a big fan of this new Instagram method!
Using Natural Elements to Decorate for Christmas
You don't need to spend a lot to bring in some old world farmhouse Christmas charm.
I always love adding fresh greenery to the house. So I went outside and cut down some pine branches from our neighborhood walking trail. I put them in vases with water for a few days before I had a chance to make a garland and some small arrangements for the kitchen with them. I find that real pine lasts about a month and then dries out. But it smells so good!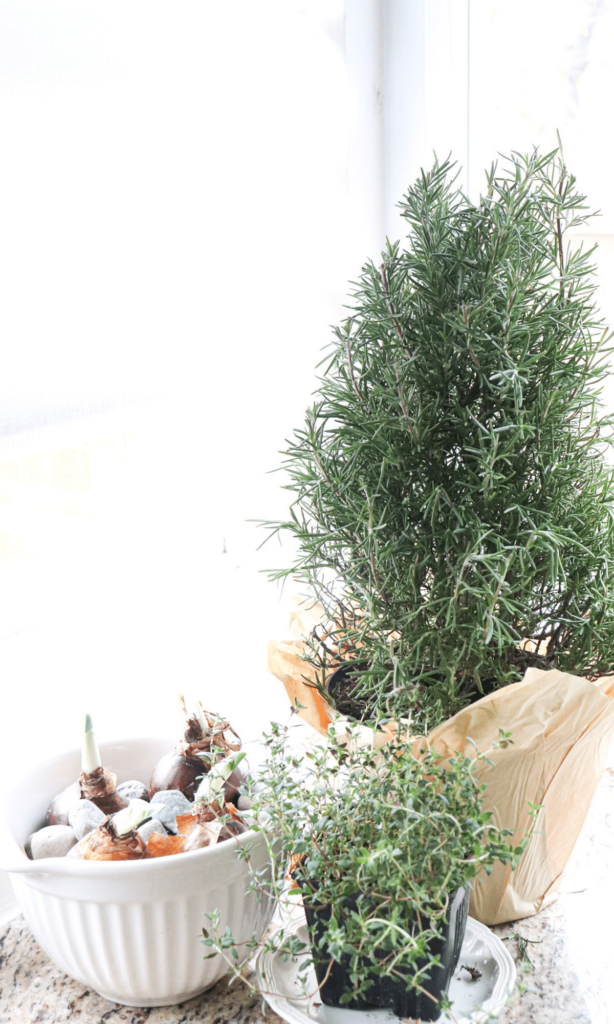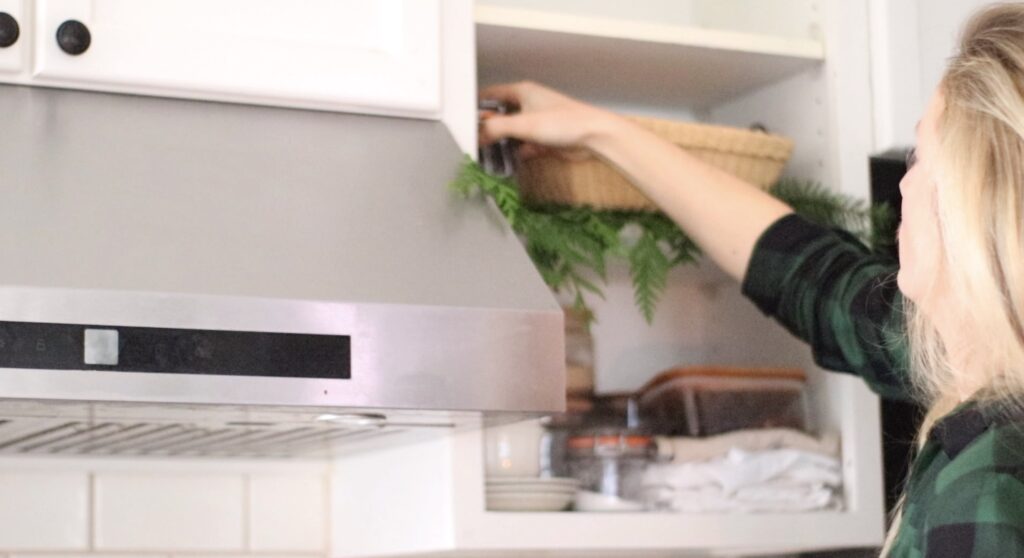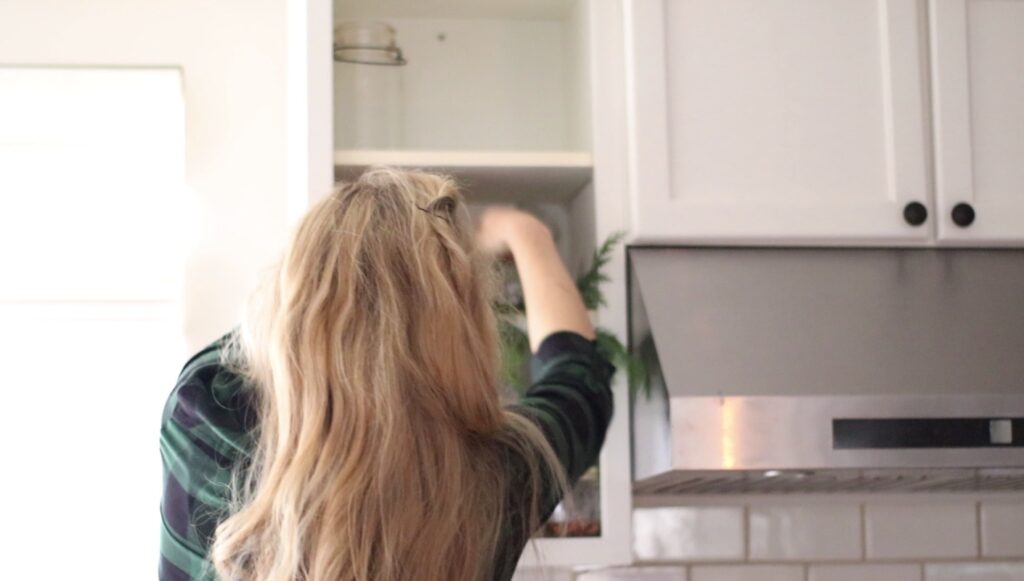 Homemade dried oranges was a first for me this year! I followed the tutorial over at Lemon Grove Lane and found it to work well except my oranges seemed really juicy so I ended up drying them in the oven for almost an entire day.
I got some small red faux berries to add to the decor this year from my local grocery store. Between the greenery, the oranges, and these berries, everything is just so charming and festive. I love the color combo too. And, this whole thing cost me maybe $5 for the oranges plus $4 for the faux berries. So, I'm pretty excited about that.
Keep reading…
Scandinavian Farmhouse Christmas Tour (2019)
How to Make Sweet Chewy Lemon Bars
Naturally Sweetened Homemade Apple Pie Recipe
How to Make Rustic Sourdough Bread
PIN IT FOR LATER!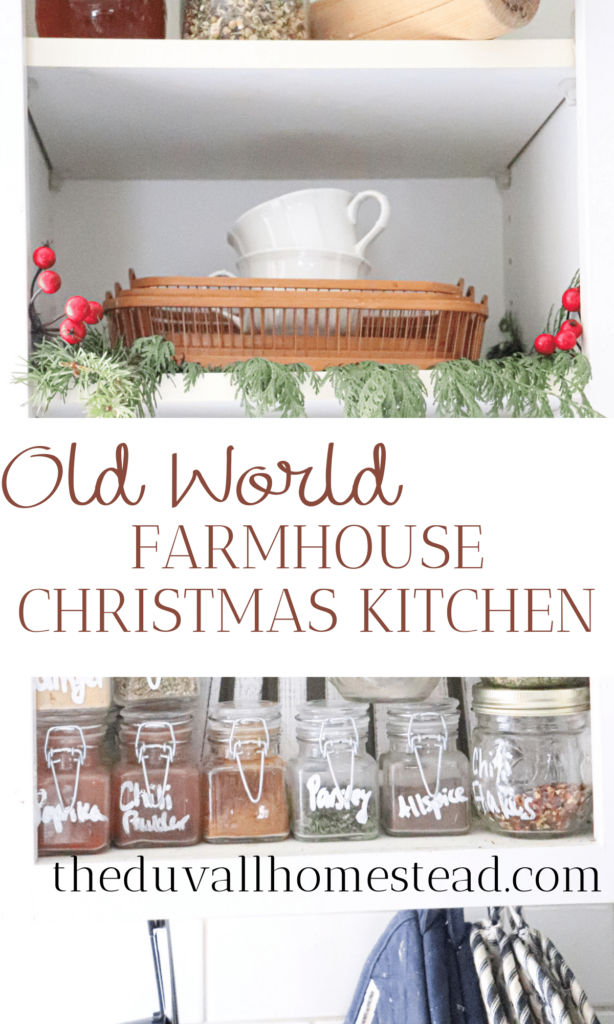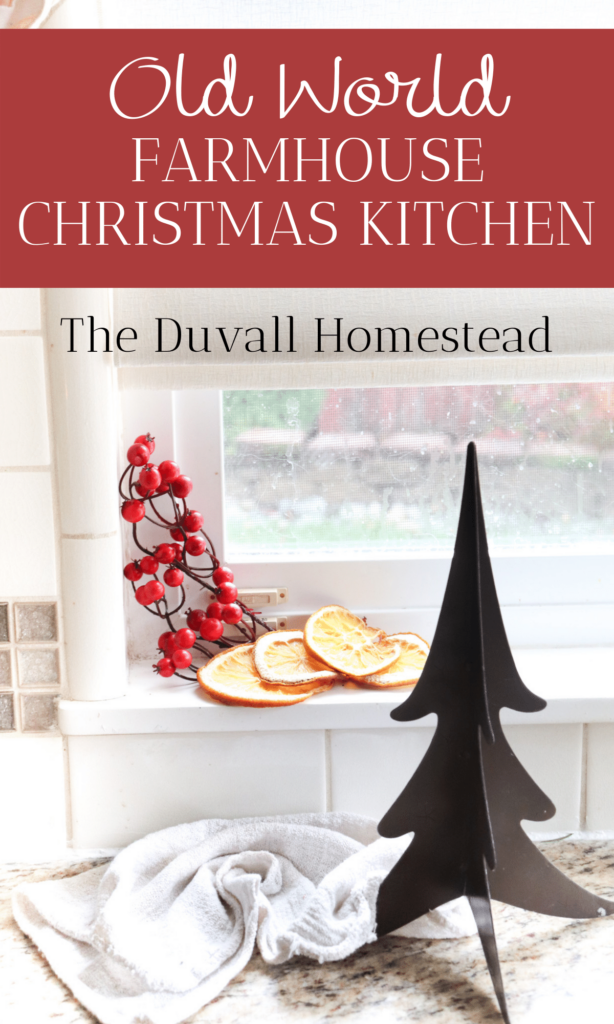 Thank you so much for stopping by the Duvall Homestead!