Cozy knit patterns, apple cider, red leaves, pumpkins, and a cool breeze at night means fall is here! Join me for a tutorial on 6 ways to create a cozy fall farmhouse front porch. I always keep things super simple, with farm fresh pumpkins and a little DIY grain sack pillow. Because what else would you need?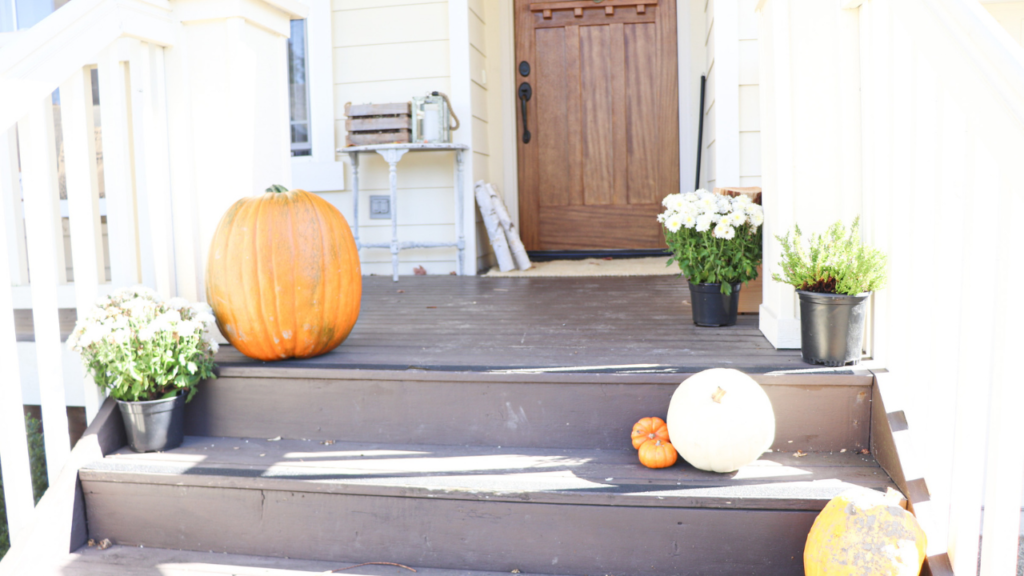 This post contains affiliate links, which means I may make a small commission off of items you buy at no extra charge to you.
Fall is Here!
Cooler nights, bright sunny days, red leaves, and a pie in the oven. Fall is here!
Right now as I'm writing this I'm listening to kids play outside on our street. They always ride their bikes around and sometimes they wear costumes and play games. Especially this time of year, I feel like kids are all about wearing costumes for the whole month of October 🙂
The leaves are starting to change color and fall off the branches now. I made a homemade leaf garland from foraged leaves and decorated the inside of our home with neutral colors and fall touches.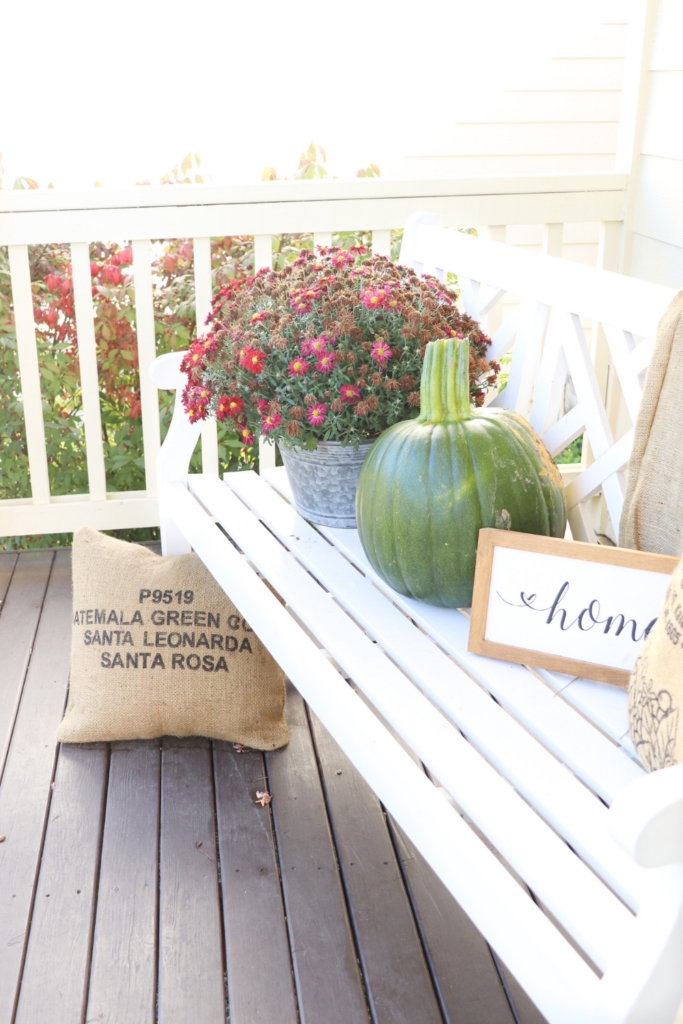 Now it was time to get on the front porch. We always wait a little bit to decorate the outside of the house so that we have time to get farm fresh pumpkins. And actually we're not even done with this porch.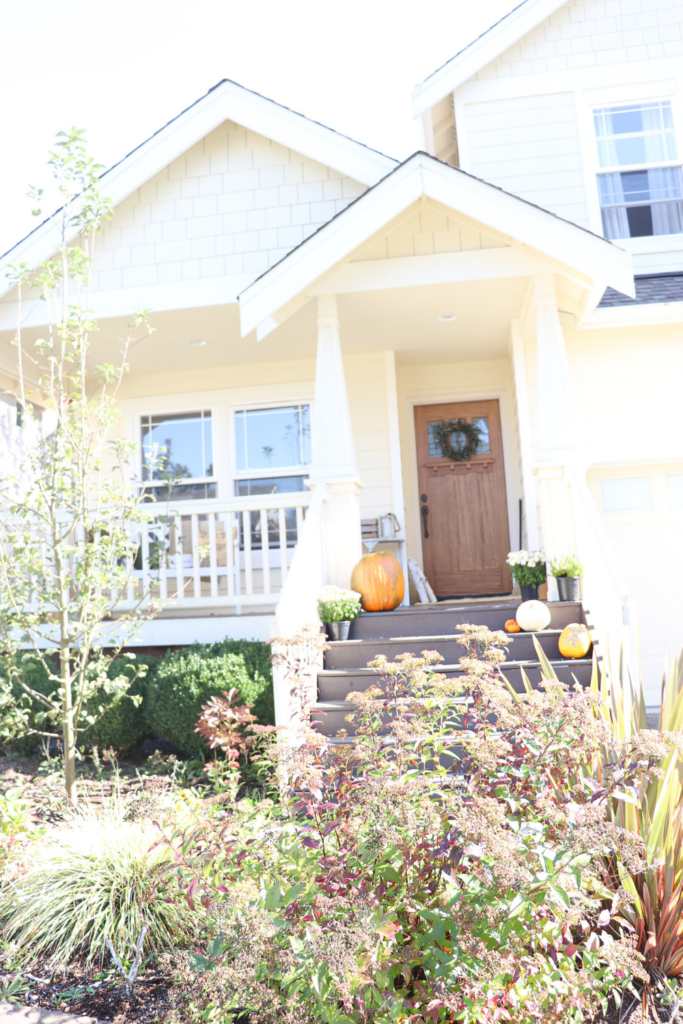 We still need to add the "scary" stuff. That is my favorite part actually, but I didn't include it today for this blog post. Maybe you'll see it on my Instagram later, if I can remember to take a picture of it.
Here are 6 ways to achieve that cozy fall farmhouse front porch look:
Get yourself some Farm Fresh Pumpkins
Make Something Handmade
Showcase a Welcome Sign
Make a Wreath
Forage Fresh Greenery or Leaves
Put out firewood or blankets for that cozy look
SAVE TO YOUR PINTEREST BOARD!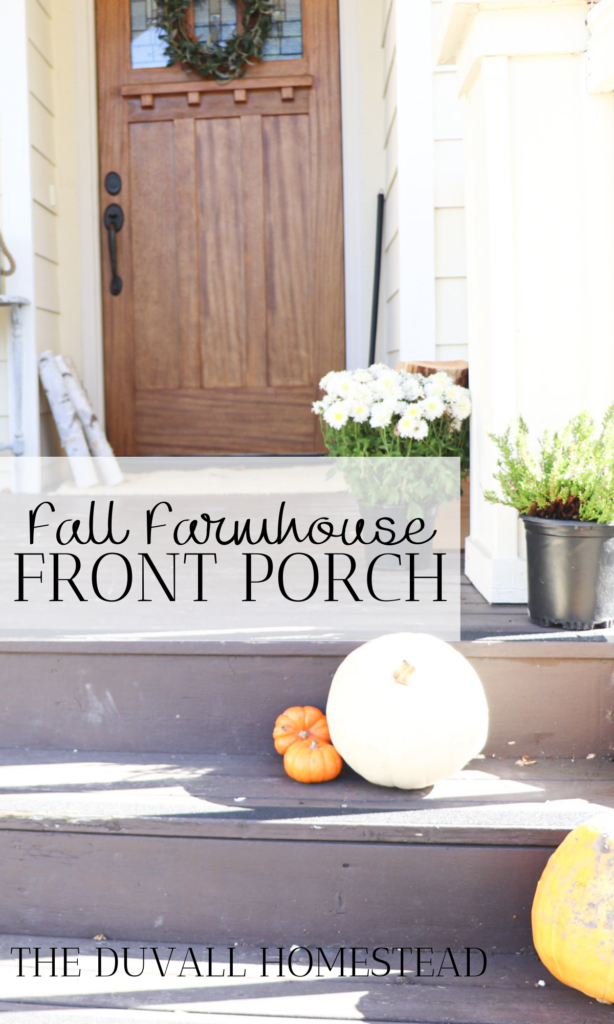 A Note on my Decorating Style
If I am being totally honest, I am not really a professional decorator over here. I don't have the fanciest house or biggest decorating budget. But that actually allows me to be creative when it comes to home decor.
I always think about ways to create a cozy and natural looking home. Like something you look at and you think is beautiful but you also think it's usable and ready to be lived in. Hopefully that makes sense.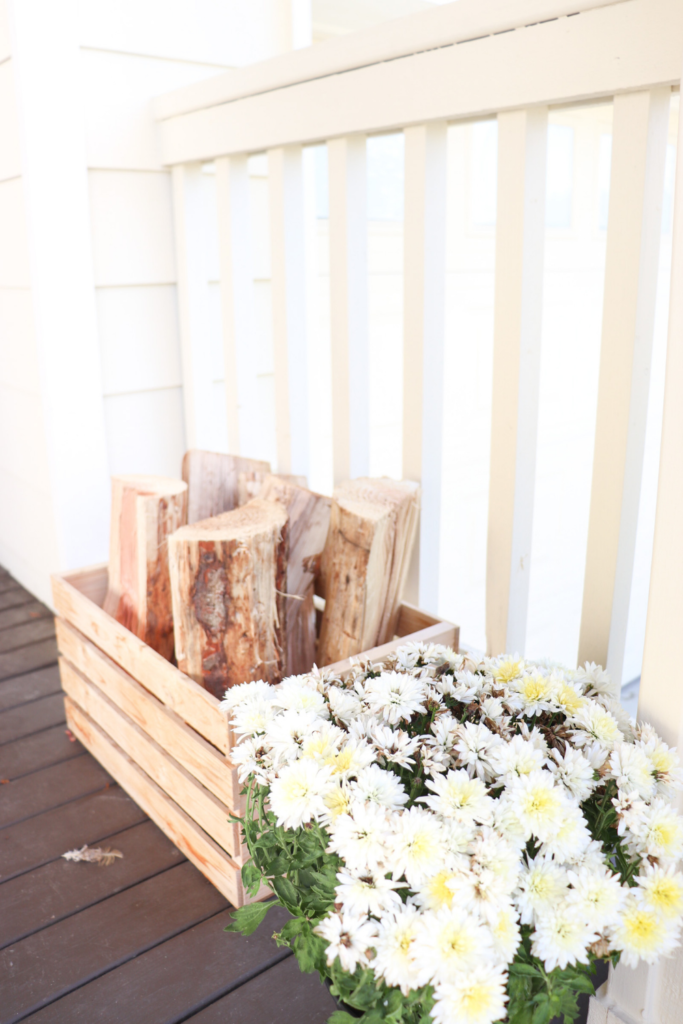 When I look up fall porch inspiration on Pinterest, I sometimes see these massively decorated porches with what looks like a hundred pumpkins on it. I mean, it's beautiful, but it's definitely not my style. I have never wanted decorating to be overwhelming. Instead I want it to be simple, cozy, welcoming, homemade, and just natural
Get some Farm Fresh Pumpkins
This year I tried to grow some pumpkins in our yard, but that proved more difficult than I expected. I did get one little gourd pumpkin though.
Next year when I try again I will give them more space. Pumpkins are a vine after all so they like to grow horizontally.
Luckily we have farms, farms, and more farms nearby with pumpkins. Here's a pic of John and I picking out pumpkins this year.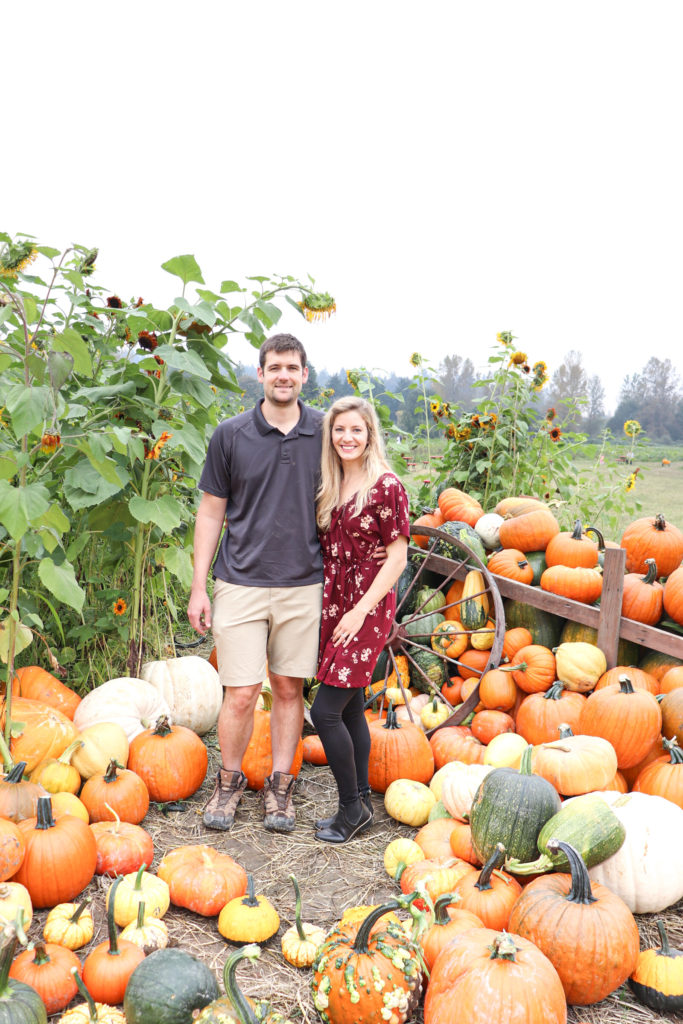 For the steps leading up to the porch, I put out a few pumpkins, a green plant, and some white mums.
Then I put some firewood in a wooden crate to create some texture and cozy-ness. So, so cozy.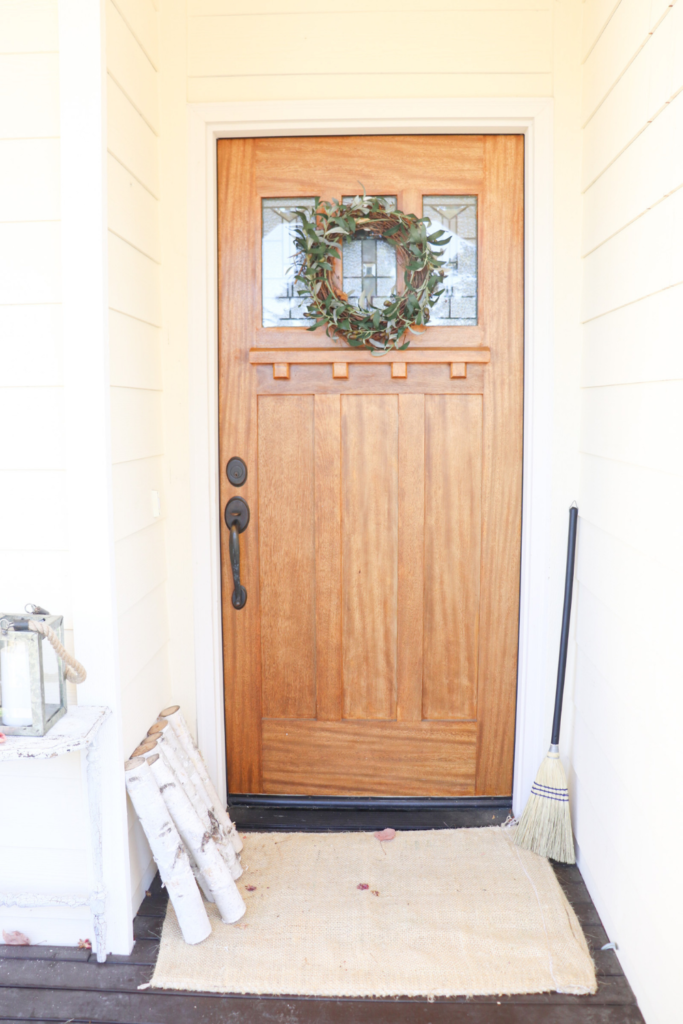 On the front door I have this handmade olive branch wreath which I talked about how to make in another blog post. This was easy to make and cost less than the store bought ones. It's simple and natural, perfect for our fall front porch this year.
Make Something Handmade
There is something so special about a handmade item. You can always tell it's not store bought because it just has that authentic, real feel to it.
You may know this if you've been following my blog for a little while, but I just started sewing a few months ago and am loving it!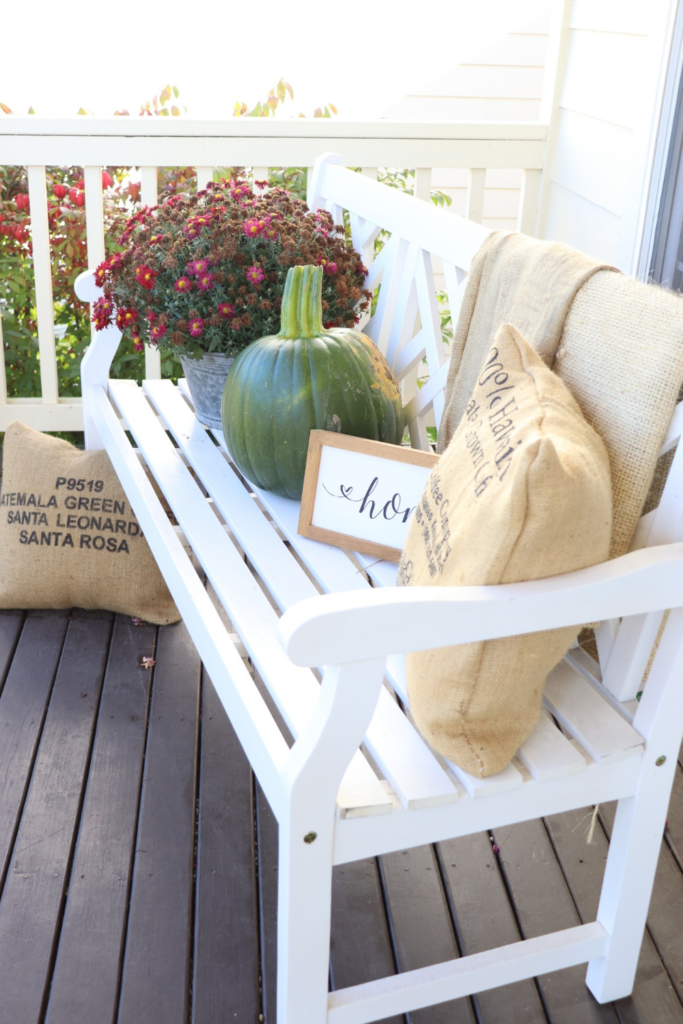 I have plans for curtains, bedsheets, throws, and more but for now I wanted to get some fall pillow cases done.
This is authentic grain sack that I found from a local farm on facebook marketplace. I just think this is so cool. These sacks were used to carry coffee beans, and there were even leftover beans falling out of the grain sacks as I was working with them.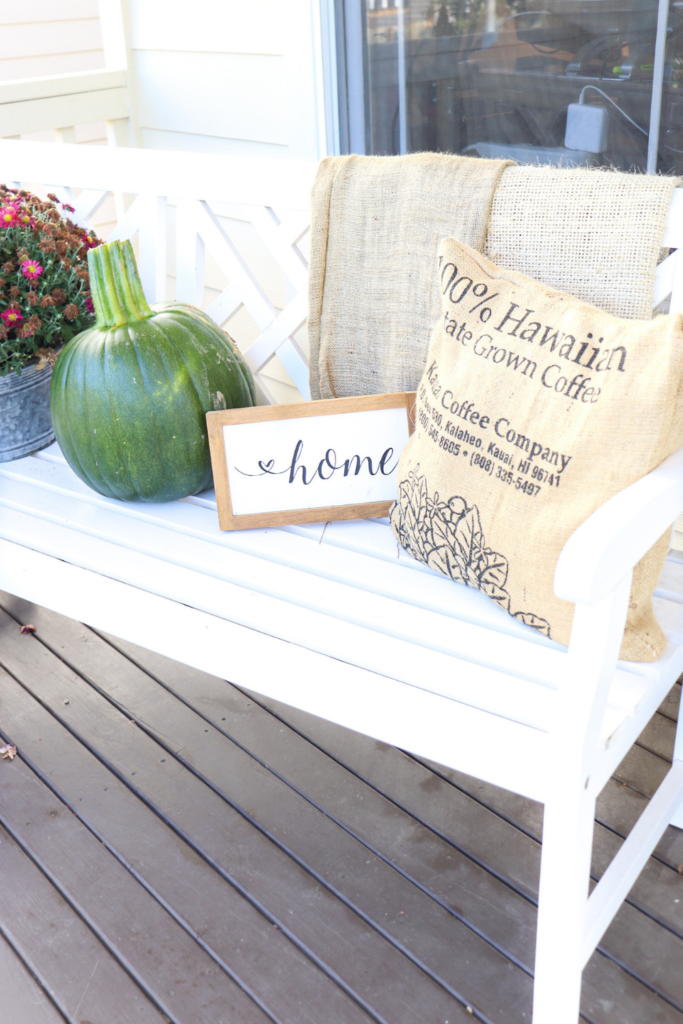 If you ever get some authentic grain sack, make an outdoor pillow case! I'm also using a sack underneath the front door as a foot mat, and draped over the sitting bench to add some texture.
I'm not going to lie though, sewing with authentic grain sack wasn't easy. It was messy (the grain sack sheds) and I broke a few needles because it's so thick and tough. But what do you think, was it worth it?
Showcase a Welcome Sign
Have you seen an outpour of "WELCOME" signs in your area? We have several on our street. People love putting signs in front of their door!
I don't think I could handle such a bold sign, but I did snag this small "home" sign from a friend over on Etsy. She and her husband harvested this wood from their own backyard!
And, she generously offered all of my readers a discount code to her shop. Just use the code DUVALL20 for 20% off an order 🙂
Forage some Fresh Greenery
If you saw over in my fall farmhouse home tour post, I made a simple DIY garland with foraged fall leaves. Simply go gather some leaves and press them in a book to flatten them. Then tie them together with cooking twine and create a warm beautiful garland (for free!)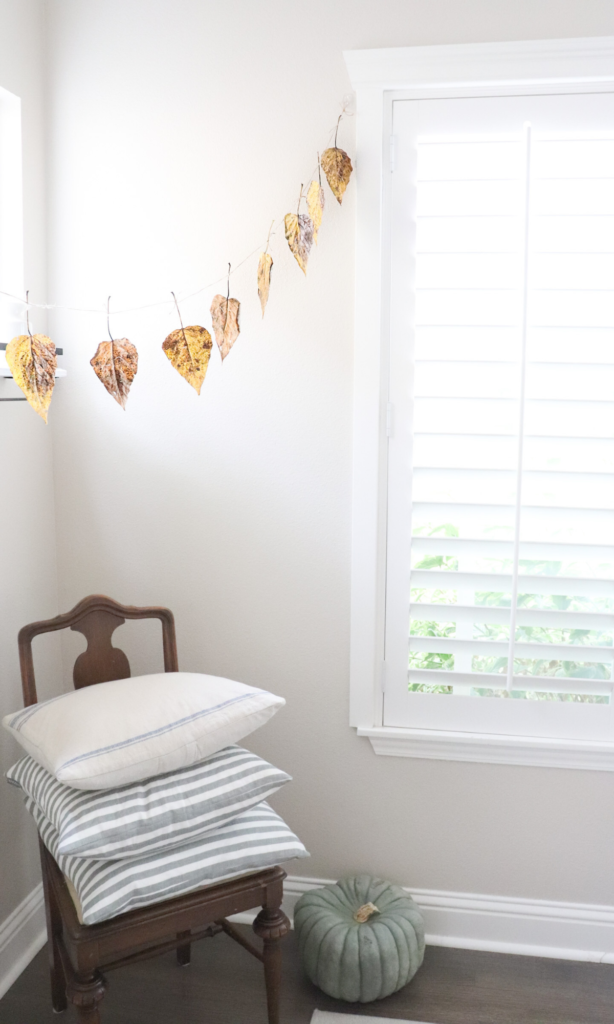 See more from the Farmhouse
Come see fall at The Duvall Homestead. Grab some apple cider and watch the fall farmhouse home tour, or learn how to make a pumpkin pie from a real pumpkin.
I hope your fall is full of colored leaves, cool nights, and the smell of farm fresh pumpkin. Happy fall!
Shop This Post
These are affiliate links, which means I may make a small commission off items you buy at no extra charge to you.
The white bench is from Home Depot. Here's a similar one available now.
Custom "home" sign (use code DUVALL20 for 20% off!)
In the photo at the pumpkin patch I am wearing some ankle height rain boots I got from Nordstrom probably over 5 years ago. They simply have not gotten worn out in all this time despite all of our rainy fall and spring weather. Here are some similar ones I found online.
Watch: Fall Farmhouse Front Porch
PIN IT FOR LATER!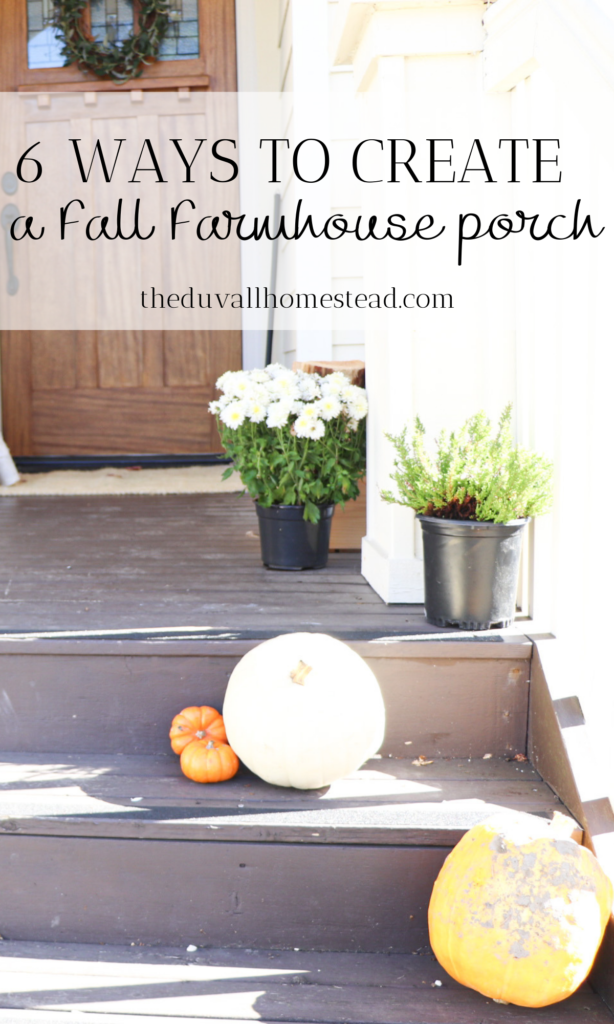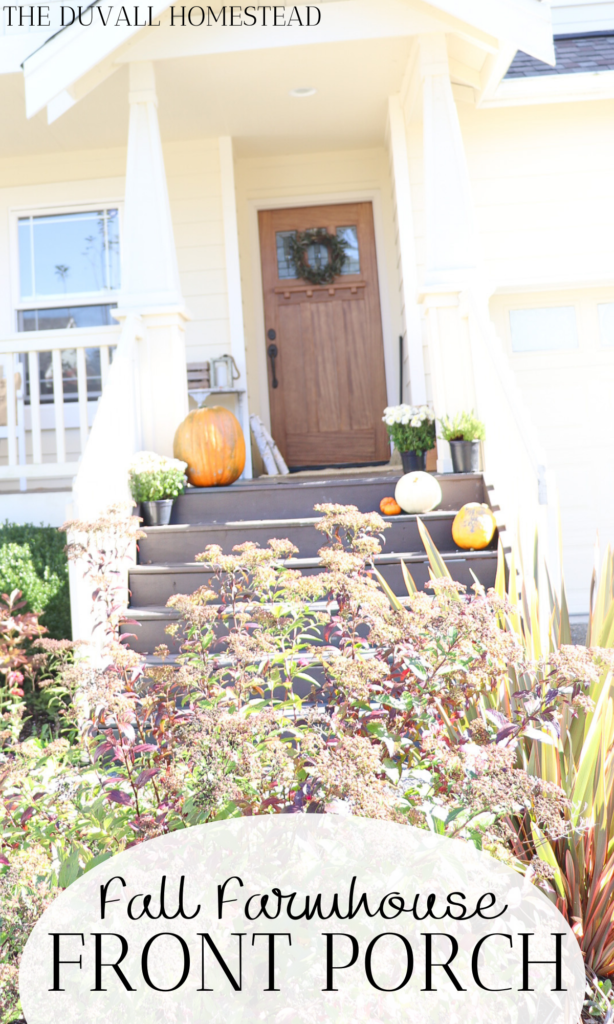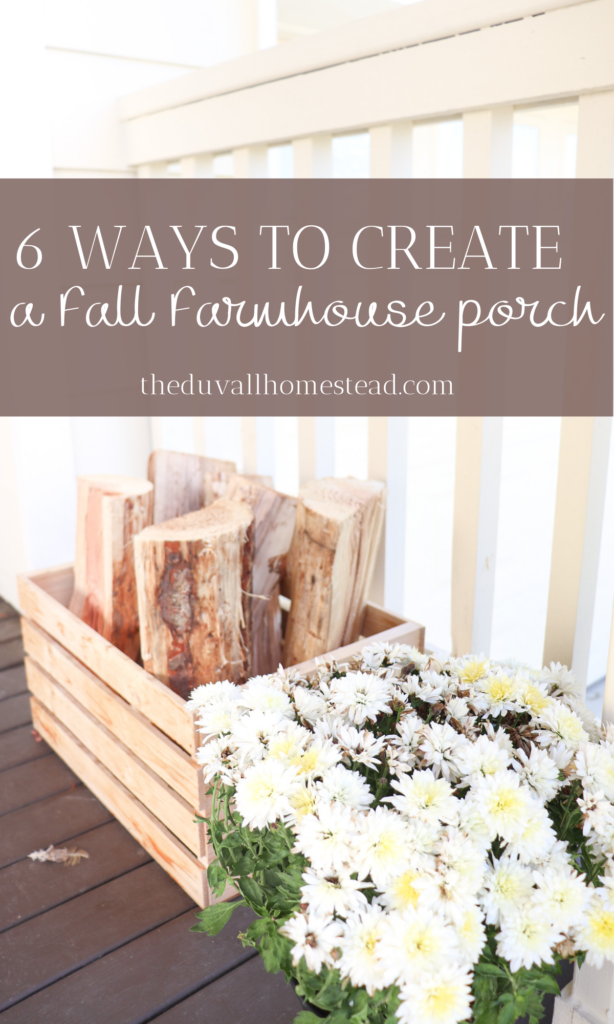 Thank you so much for stopping by the Duvall Homestead!