Keeping the chickens safe and happy, without having to open and close their door every day, is a huge success in my book. Learn how to set up the best automatic chicken coop door for your backyard ladies.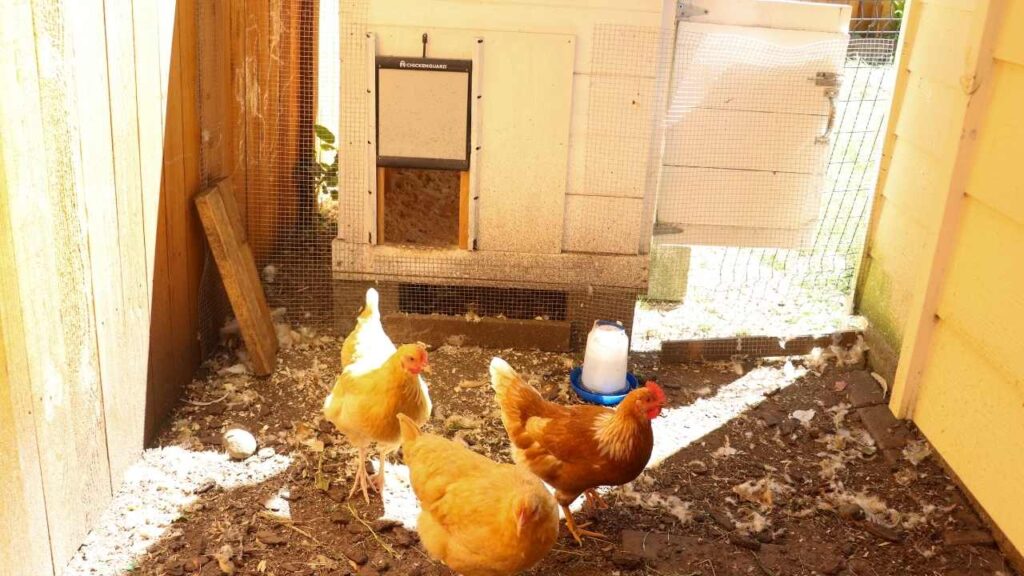 This post contains affiliate links, which means I may make a small commission off items you buy at no extra cost to you. As an Amazon associate, I earn on qualifying purchases. See my full disclosure here.
PIN IT FOR LATER!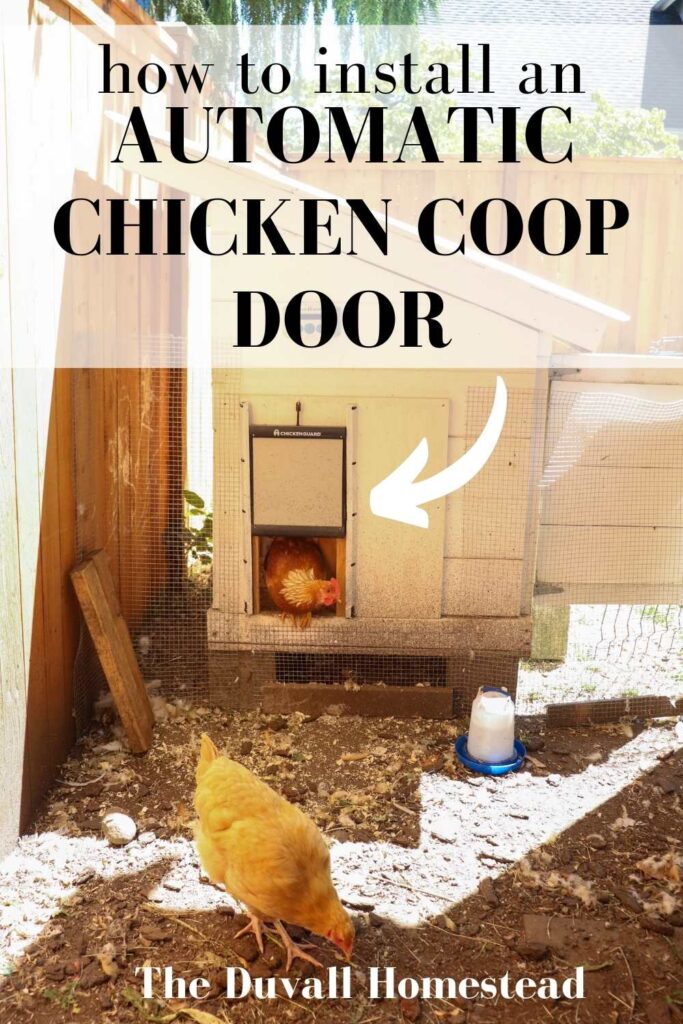 Summer at the Homestead
It's summer at the homestead. I love the birds chirping, the plants thriving, and the chickens finding all the worms in the backyard.
The chickens are wandering all over the place. Sometimes my husband questions our ability to keep them in our own yard (we have neighbors) but I am confident in my ability to catch them, lol.
I love keeping chickens. But the one thing that I don't love is how loud they can be when they're waking up and they're hungry.
Sometimes I enjoy getting up early and letting the chickens out, or going out there and saying goodnight as I close the wooden coop door. But other times I'd really like some peace and quiet, or for them to just be safe without me having to help them.
And enter… the automatic coop door!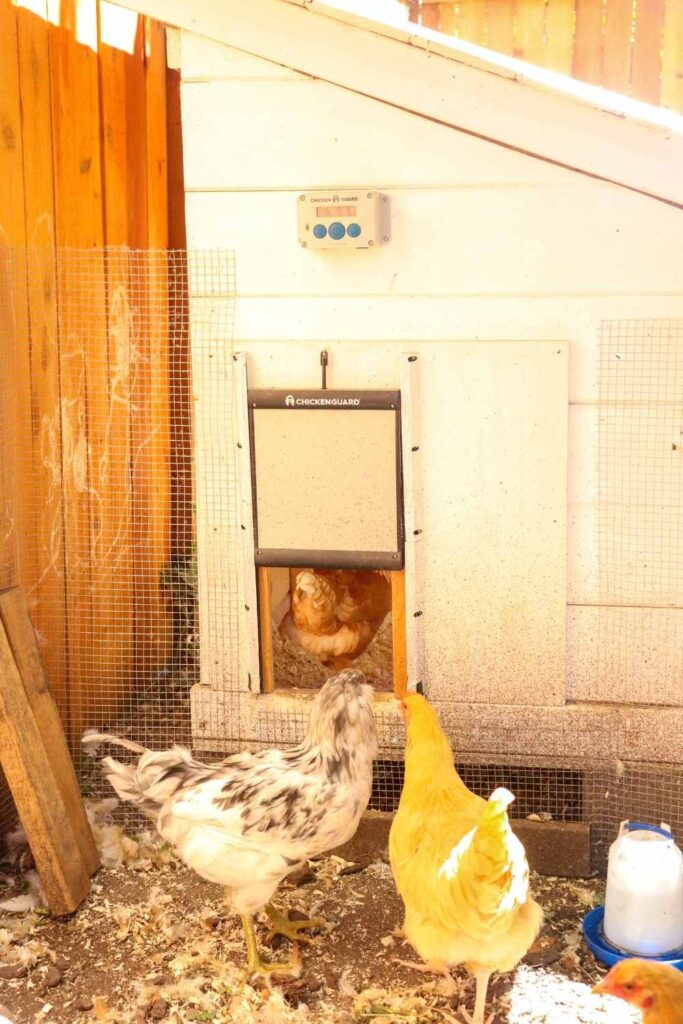 Why You Need an Automatic Coop Door
It's pretty simple really: no more waking up at 5am to open the coop door, or going out at 10pm to close it in the summertime. Same goes for the wintertime – no need to walk outside in the pouring rain or freezing cold (check out my post on how to winterize your chicken coop).
A couple years ago we had a hen who was super loud when the sun came up, almost like a rooster. So that's when we realized we needed a way for the chickens to get out and free roam whenever they wanted without us having to get up and let them out.
And the same goes for the evening. I'm recalling all those rainy, stormy nights when it was dark and I would be scrambling to find a flashlight and boots to go close the coop door. I was happy to do it – after all, this is farm life – but if I can make things easier, I'm willing to explore that.
So having an automatic chicken coop door allows you to not have to tend to the chickens morning and night, if you don't want to.
Automatic Chicken Coop Door – worth it? Safe? Controversy?
When I first heard of automatic chicken coop doors I was thrilled. But during my research I also read some negative comments about them, most of them stemming from the general idea that if you have an automatic door you're not paying close enough attention to your chickens.
I don't agree with this, but I'll just address some of the risks with an automatic coop door.
First, it could malfunction or the batteries could die (ours is battery operated). So if you're not paying attention and it breaks, then the door won't shut at night, and a predator could come and get your hens.
Second, it could mess up the time of day, or you could forget to schedule it properly. Maybe it's extra cloudy that day and the light sensor thinks it's night time, so it closes and then later that night your hens can't get in when they need to. Or maybe you have it on a timer and you forget that the sun is setting later and later, and it shuts before the girls are in there. These are all valid concerns.
And actually, the last problem I mentioned happened to us one time. Luckily I could hear the chickens squawking, wondering why their door was shut, and I was able to go out there and take care of it. Hence, why you still need to be available every day to take care of any farm animal really, even if you have a tool to make it easier.
So here are some ways to use the door safely.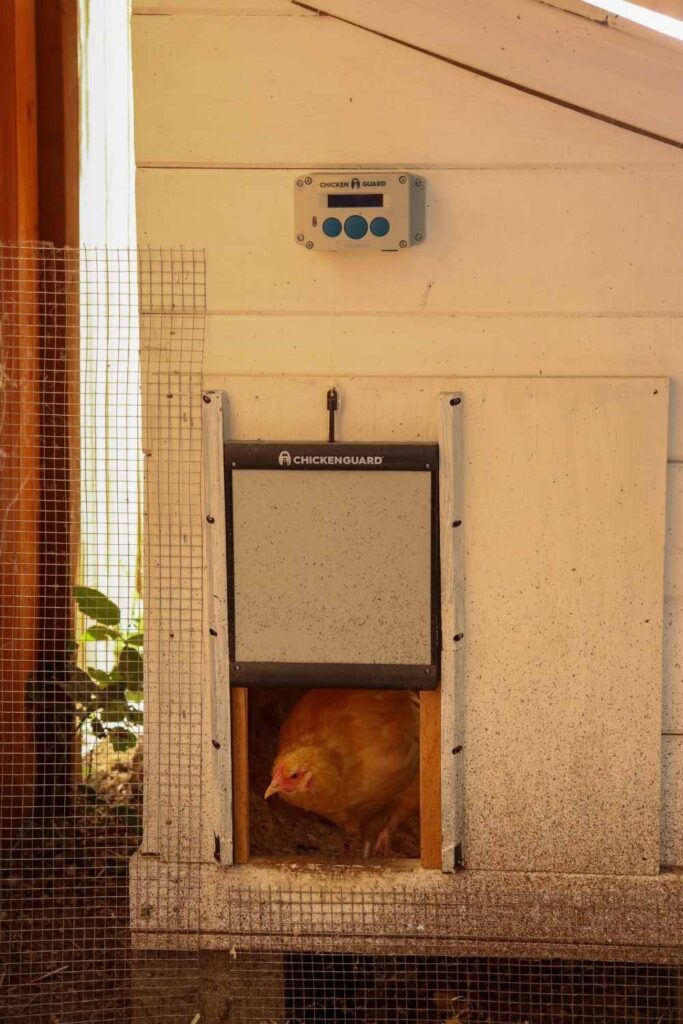 TIPS FOR USING AN AUTOMATIC CHICKEN COOP DOOR
First of all, know that it doesn't replace you as a chicken owner entirely. You still have to go out each day and check on your hens. Additionally, it is also a good idea to test the door out for a few weeks or even months before letting your chickens use it to make sure it's working properly. As long as every morning and night you are still checking on them, they'll most likely be fine.
Could you leave for three days and assume the hens will be safe? Probably yes. But personally, I wouldn't do this. Whenever we leave town we have someone stay at our house and watch our animals. I just really don't want to come home to a problem, that would be the worst end to a vacation ever.
Really, the main benefit of the automatic chicken coop door is it gives you a few hours in the morning and at night to do whatever you want. So you don't NEED to go out to your chickens when the sun rises or sets. It just makes farm life.. a little easier.
What's the best automatic chicken coop door?
We bought the ChickenGuard coop door and the ChickenGuard Standard Opener and it has worked perfectly since we got it, going on 8 months now.
It was relatively easy to set up, doesn't take up too much space (which was a concern for us since our chicken coop is small), and it's easy to maintain with changes in light. We bought the standard version which doesn't have the light sensor, so it's on an automatic timer. There is an easy way to program what time you want the door to open or close.
There are three versions of the coop opener. So if you want one with a light sensor, or one that works in extreme weather, you can upgrade to a nicer model.
For us the standard is just fine, as long as you adjust the clock timer every couple of months. It's mid-summer as I write this, and right now we have it set to open at 6am and close at 10pm. Come fall, I'll change it to 8am and 8pm, or something along those lines.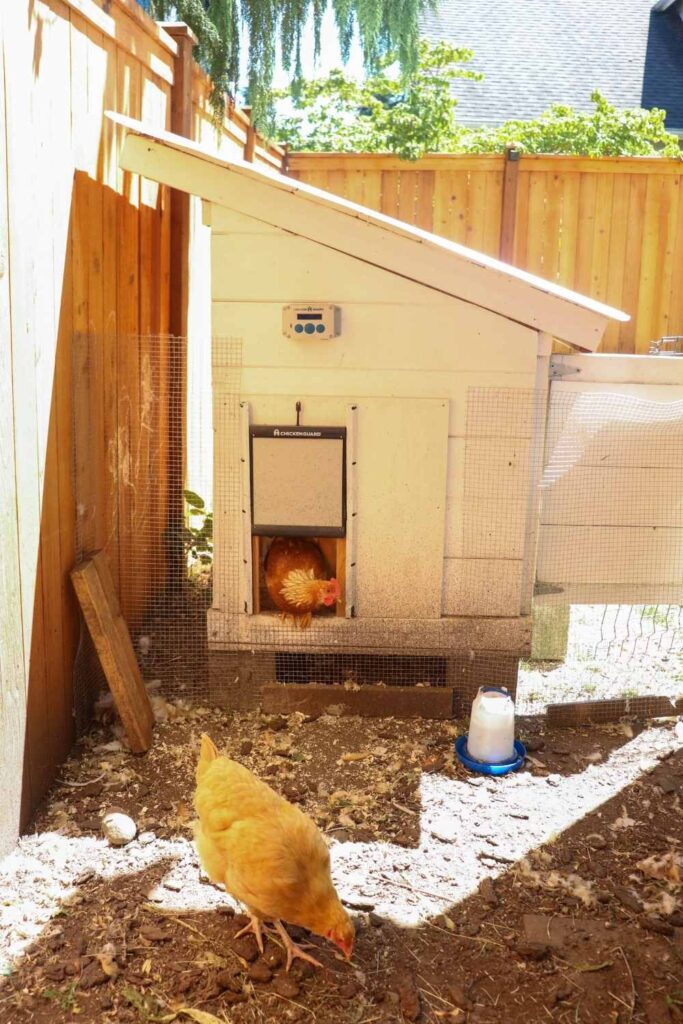 Are automatic chicken doors worth it?
Yes. The $200 or less that we spent on our automatic door is definitely worth it every morning and night when I don't have to worry about our backyard ladies.
What to do if the door doesn't fit your coop
Now, we took the measurements and the hole for the door we had previously on the coop was too big for the ChickenGuard door. So John built a little wood panel that would cover the old door and we secured the ChickenGuard door to that, then drilled that into the coop.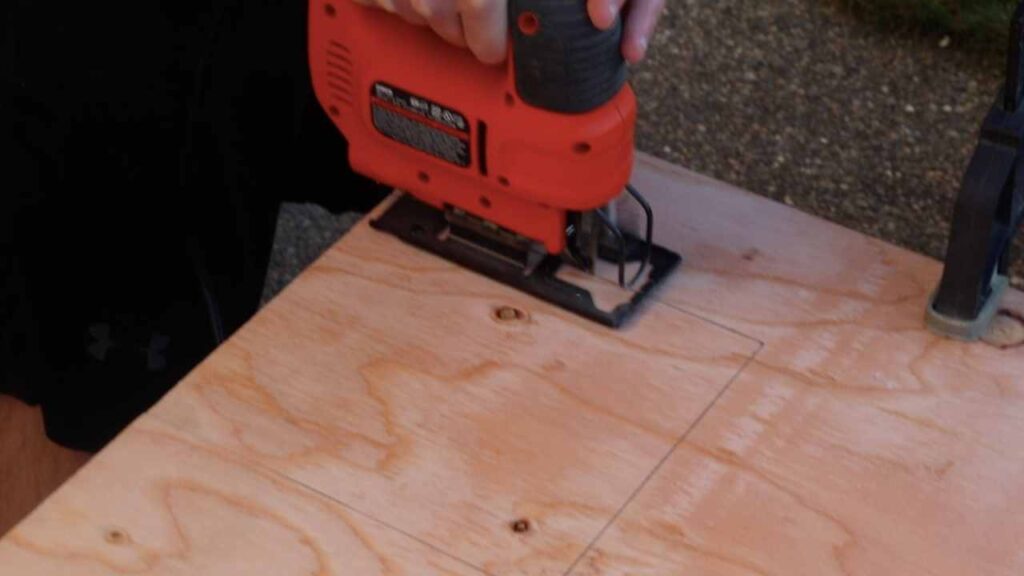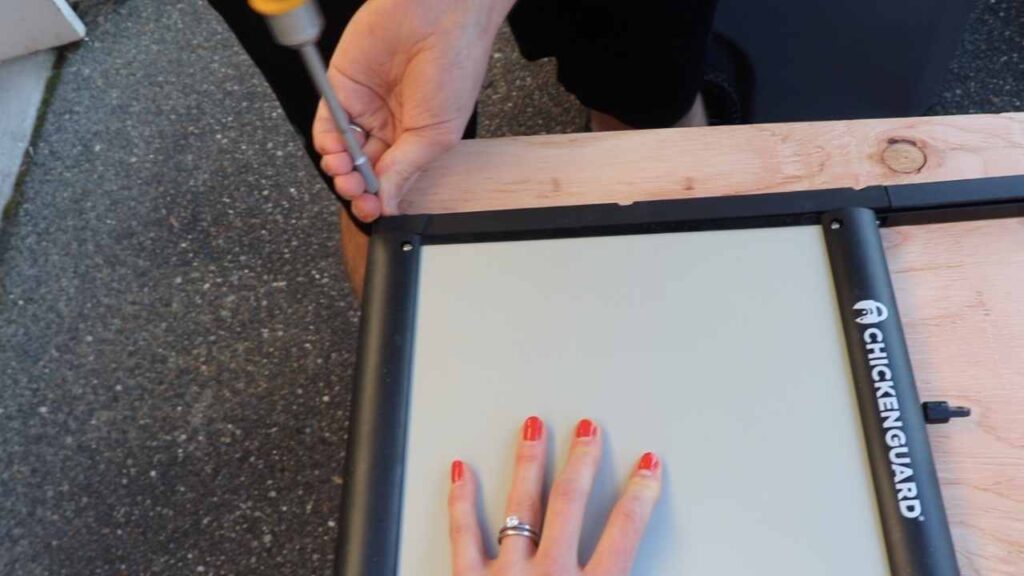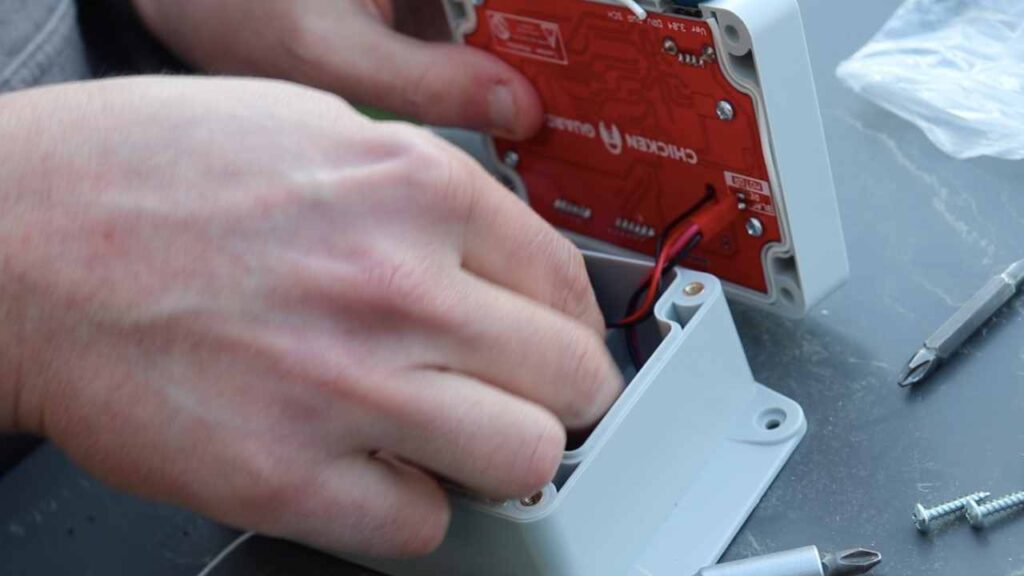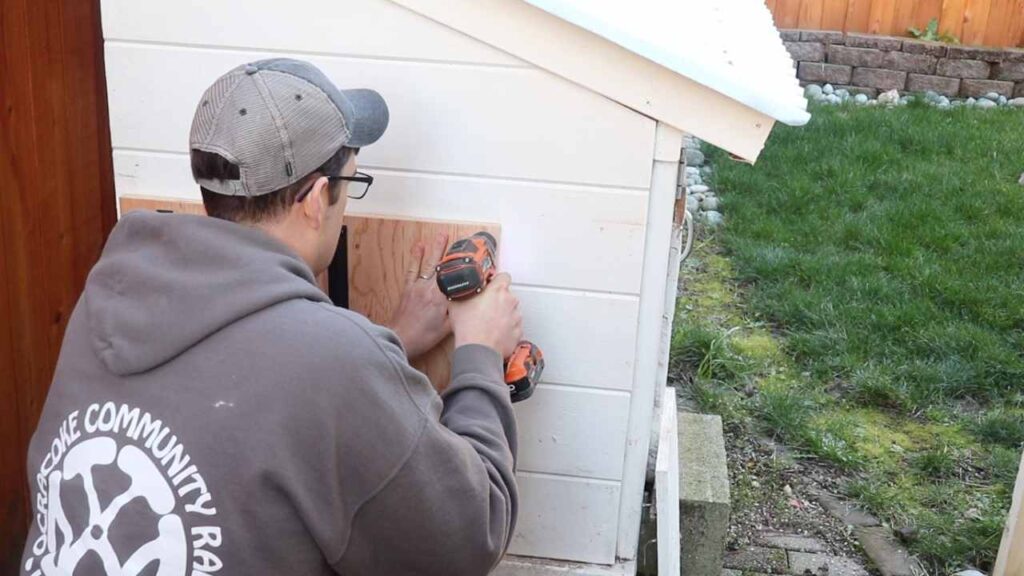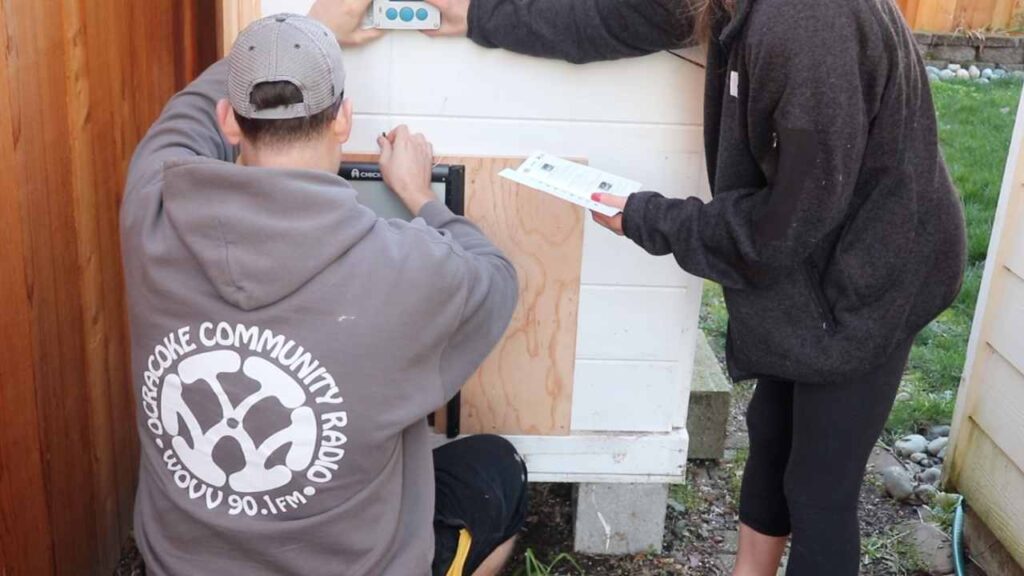 Once we figured out how to get around the door size issue, the installation was quite easy. We followed the ChickenGuard instructions here. Then there was a stark brown wood against the white coop, so of course I painted it to match 😉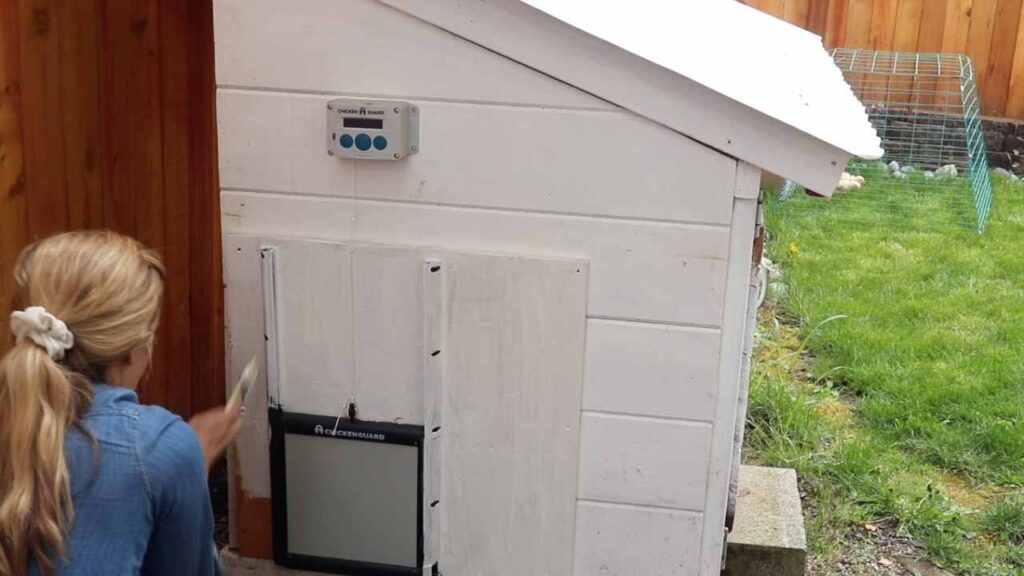 MANUFACTURER'S SET UP INSTRUCTIONS
Attach the Control Box to your Coop
Attach the control box to the inside/outside of your coop. (DO NOT USE A POWER DRILL)
Position the cord centrally to the top of the coop door.
Attach the cord to the top of the coop door (ensuring that you maintain tension to prevent it from unraveling on the spindle).
Note: Allow 3-4 inches(7.5 – 10cm) gap between the bottom of the control box and the top of the coop door, when the coop door is fully open.
Note: If your cord unravels on the spindle, follow this guide.
Place The Seal Into The Front Panel
Remove the silicone seal from the zip lock bag.
Press the silicone seal into the recess around the edges of the inside of the front panel
Start from the bottom left hand corner and work your way round the front panel.
Remove any excess length
Note: The silicon seal helps ensure moisture is kept out.
Install the 4 x AA Batteries
Install the batteries in the battery holder. Do not use 9V batteries.
Attach the battery connector to the battery holder.
Notes:
Always use 4 x AA batteries (alkaline only) for replacements (we highly recommend the Energizer Max).
Do not use lithium AA batteries (alkaline only), 9v batteries, or rechargeable batteries (as their voltage can drop in hot/cold weather conditions). When the batteries need changing, the red LED will be permanently lit (the red LED always flashes every 30 seconds when the door is CLOSED). 
Connect the Front Panel
Connect the red/black lead in the control box, to the prongs on the inside of the front panel (with the black wire on top).
Place the battery holder into the control box.
Screw the front panel to the control box. (DO NOT USE A POWER DRILL)
Note: If the red/black lead is connected the wrong way the UP and DOWN will work in reverse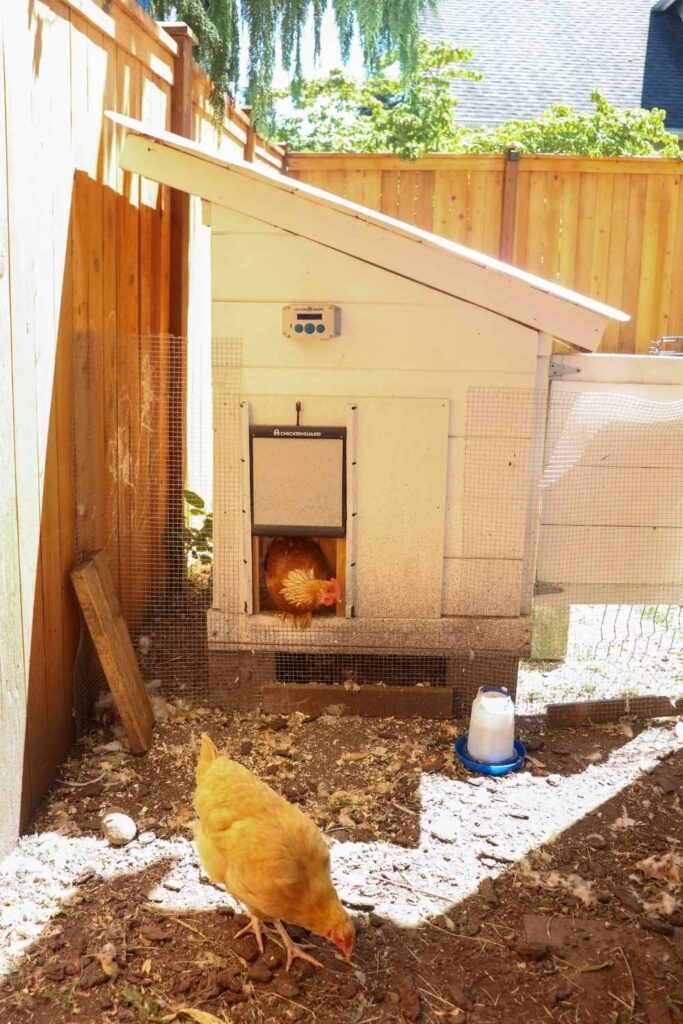 FAQ
Are automatic chicken coop doors safe?
Yes. Despite some people believing automatic chicken coop doors are unsafe, this claim is made false by a trusted automatic door and close attention to your chickens. Of course, an automatic door doesn't replace you as a chicken owner.
To make an automatic door safe for chickens, it should work well (we like the ChickenGuard coop door and the ChickenGuard Standard Opener), and you should be checking on it and the hens every day. If you do this, the door will be predator-proof and allow you a few extra hours of sleep on those early mornings.
Will chickens go through a flap door?
They may, but I don't recommend this. If chickens can get in and out, so can a fox or other predator. Also, chickens have delicate necks and feathers which could get caught in the door. Yet another great reason to invest in an automatic chicken coop door!
Will chickens go to the coop at night on their own?
Yes, the chicken's sleep schedule revolves around the sun. They wake up with the sun and go to bed with the sun. Every night at sunset the chickens will find their way back to the coop. You do not have to tell them to go or chase them back into the coop, they do it completely on their own. If they don't have a coop or can't access it, they'll seek higher ground like a tree with branches, or find some other safe area to sleep.
More Natural Chicken Keeping from the Homestead
How to build a simple, beautiful chicken coop
Make your own fermented chicken feed
How to winterize a chicken coop
PIN IT FOR LATER!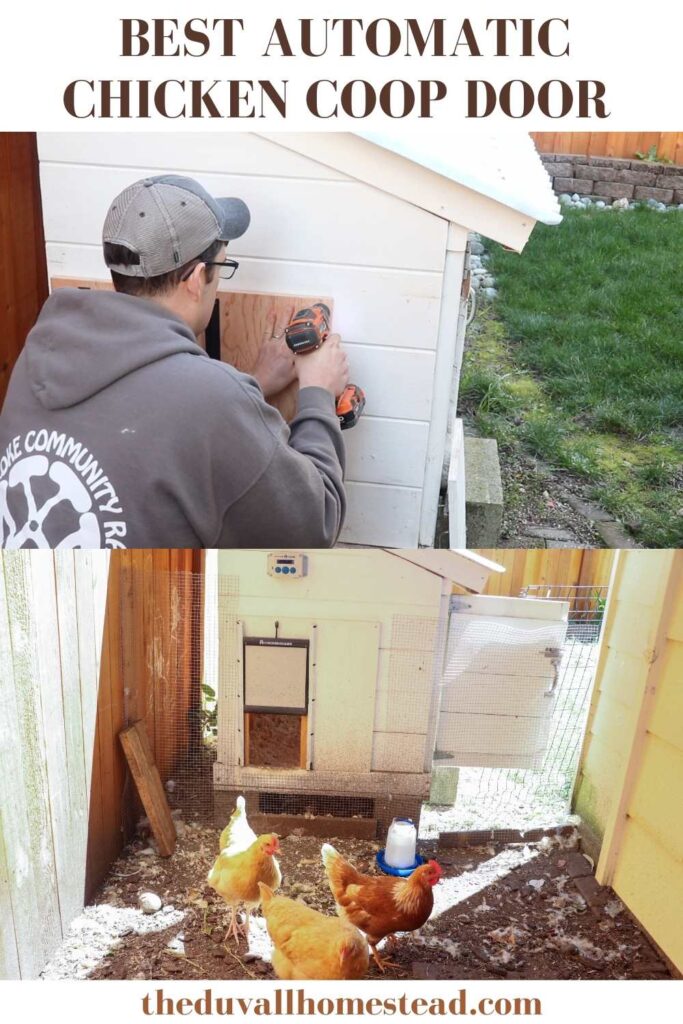 THANK YOU FOR STOPPING BY!