Today at the Homestead I'm sharing how to install a headboard to an existing bed frame. Our new headboard has turned out well, it's classic and was inexpensive. We also already had an adjustable bed frame, so all we had to do was at the headboard and we were done. I love things that are easy!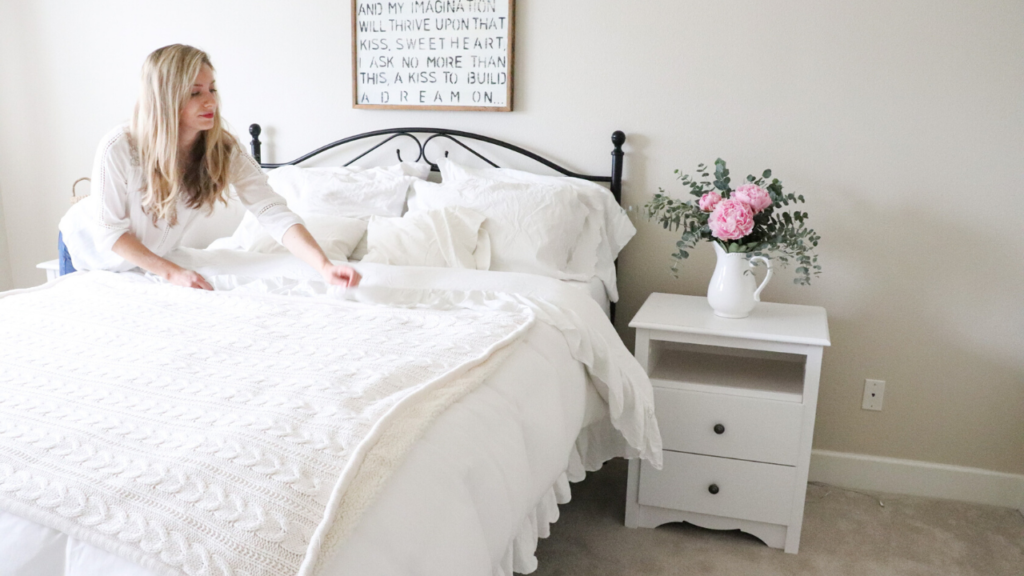 This post contains affiliate links, which means I may make a small commission off items you buy at no charge to you.
How to decorate your master bedroom
When decorating the master bedroom, I try to think of something timeless, classic, and subtle. One time someone told me that your master bedroom should be kind of like a spa – relaxing, calming, neutral, and just subtly pretty.
For example, you wouldn't want to put a bunch of pictures of family and friends everywhere in your bedroom. It's too much personality and emotion in a room that should be just purely relaxing and personal to you and your spouse.
So for us, we only keep a few things by the bed. We have some books, a clock, essential oils-based lotion (that I make myself) and that's about it. I keep it really minimal and certainly no clutter, etc.
One more thing I want to point out is our big window and shutters. I really love these shutters, they are so beautiful. But the only thing is the sun comes blasting in at 5am during the summertime. I'd love to sew our own curtains for this room but I think that'll be a fall project. For now we got these simple light-filtering curtains to help with the sunrise.
We also just refinished an old dresser and painted it white. See all about that here.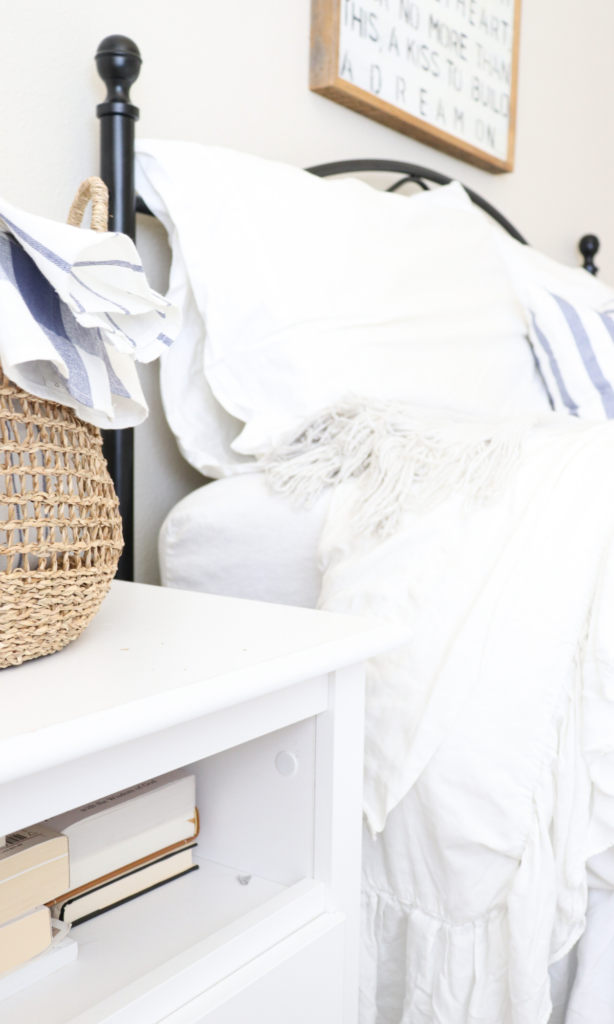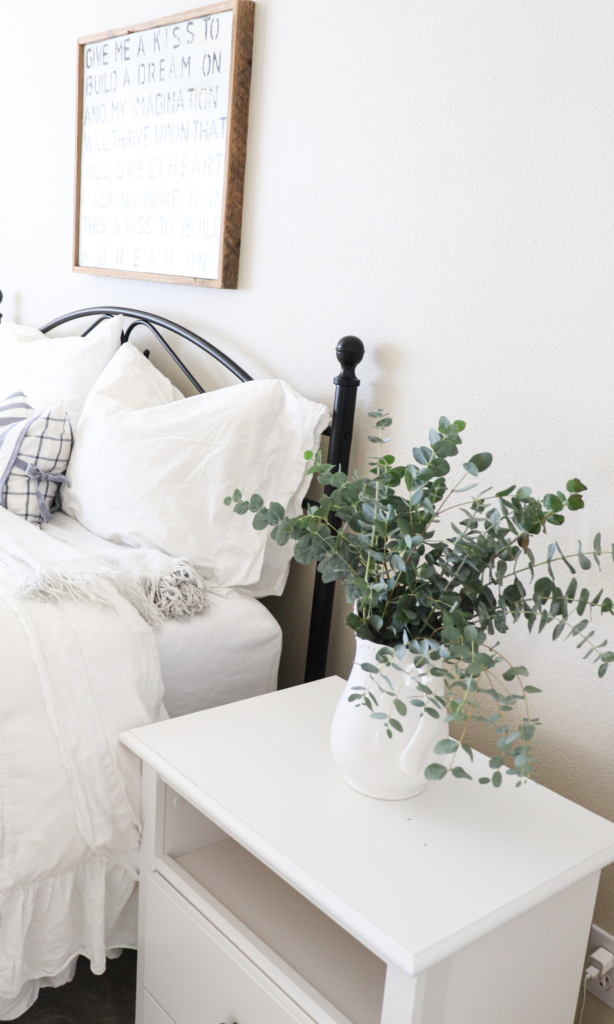 Why we Chose this Headboard
I love this headboard because it's just about as timeless as you can get. We wanted a headboard that was simple to assemble and would attach to our already existing bed frame.
Black Steel Headboard from Amazon
We have an adjustable bed frame that we just got recently and thankfully, we kept the spare parts and instructions for that bed frame to attach a headboard.
Essentially what you will need is a mounting platform (bed frame bracket) that can be screwed into your existing bed frame.
Then, with that you will attached the head board which will come with its own mounting bracket. It is basically a square metal panel with holes in it which allows you to adjust the width and height.
We still had our adjustable bred frame brackets, so we used those. Here are some universal brackets that you could use if you don't have your original ones.
This is just our experience with installing this headboard. I think if you buy a full bed frame, this will look different of course. Why didn't we do that you ask?
Because my husband is quite tall and we don't want his feet to hit the foot board. So we prefer to just have the head board and let the duvet cover fall over the foot of the bed. A lot of explanation for a simple topic but you gotta do what you gotta do 🙂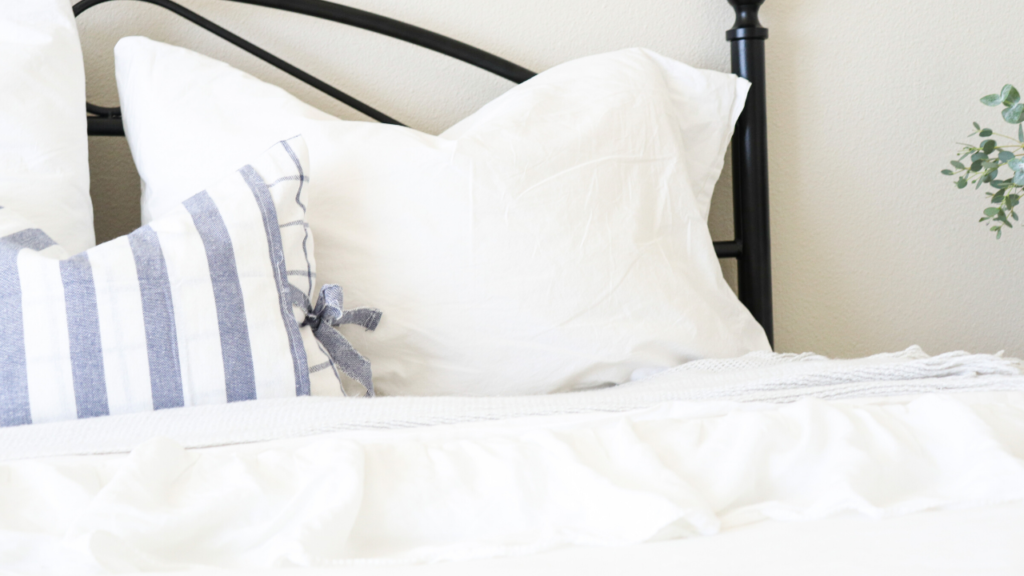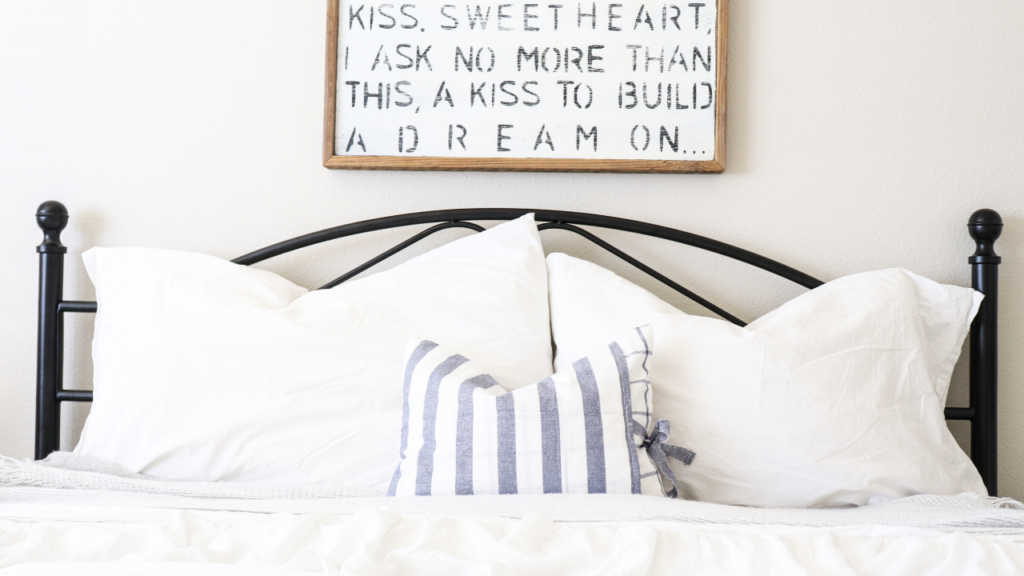 Tools Needed
Existing bed frame
Bed frame adjustable brackets. If you don't have the brackets, you can find them here.
Headboard with adjustable brackets and screws. This one comes with all of the tools you need to install it, except for the ones listed below here.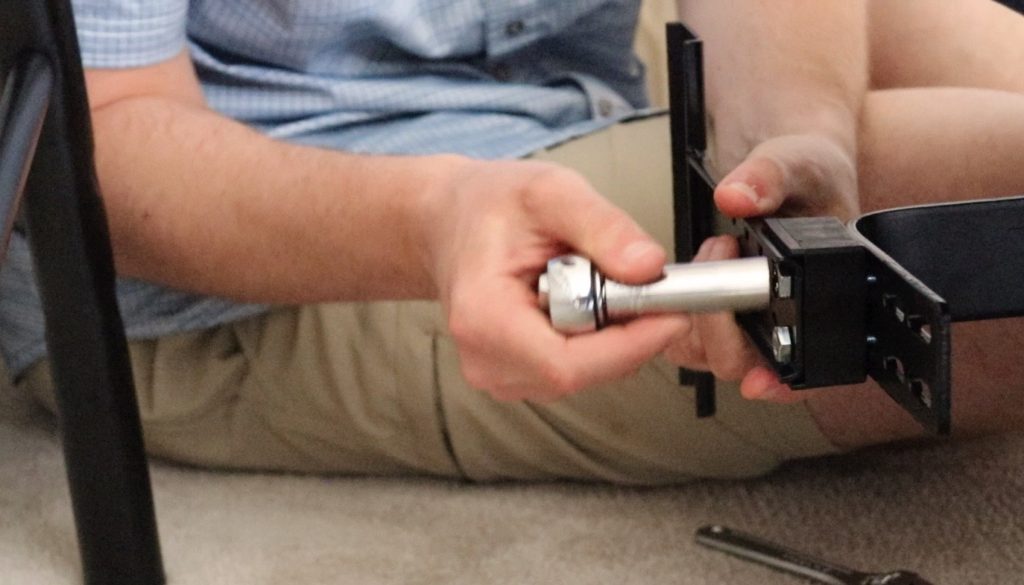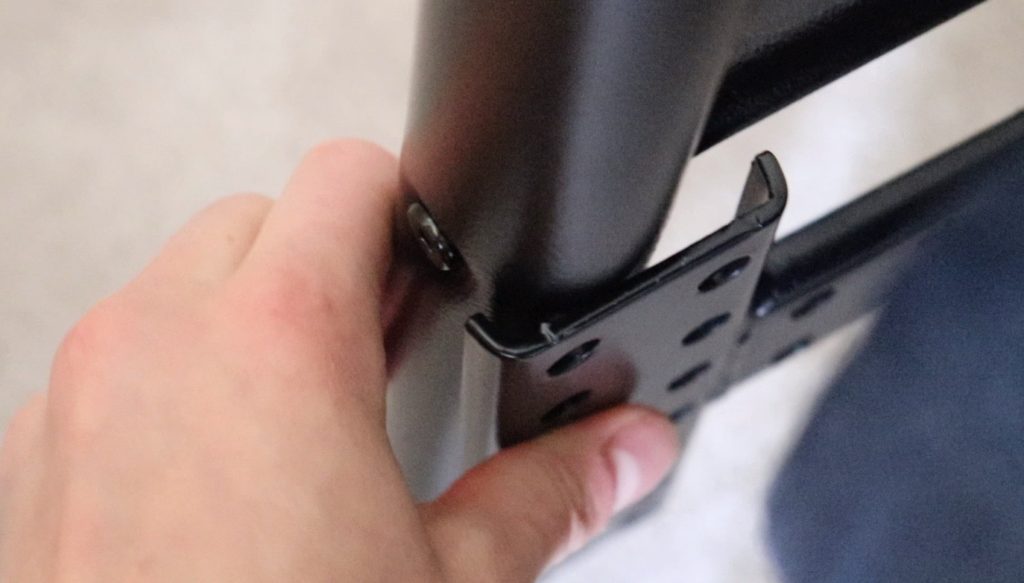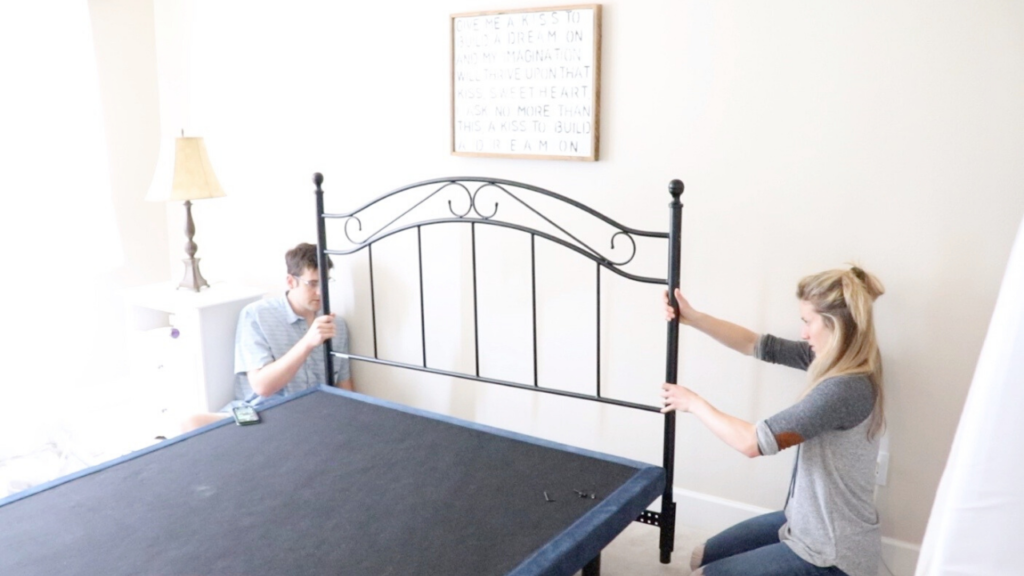 How to Install a Headboard to an Existing Bedframe
First, remove your current headboard or simply slide your existing bed frame about two feet from the wall. This will give you enough space to start working.
Get a good idea of how tall and wide you want the frame to go. It helps to have all of your bedsheets and pillows up on the bed first.
Attach adjustable bed frame brackets to your existing bed frame. Make sure each side is even so that the bed frame will be centered.
Follow the directions on the new bed frame for installation. The black steel frame we have comes with all the tools and instructions you need for installation, including the second set of mounting brackets.
Do one final check with your pillows propped up and sheets on to make sure you like the height.
Move the bed back in place and enjoy!
Watch: How to Install a Headboard
Follow along for more farmhouse updates:
Pin it for Later!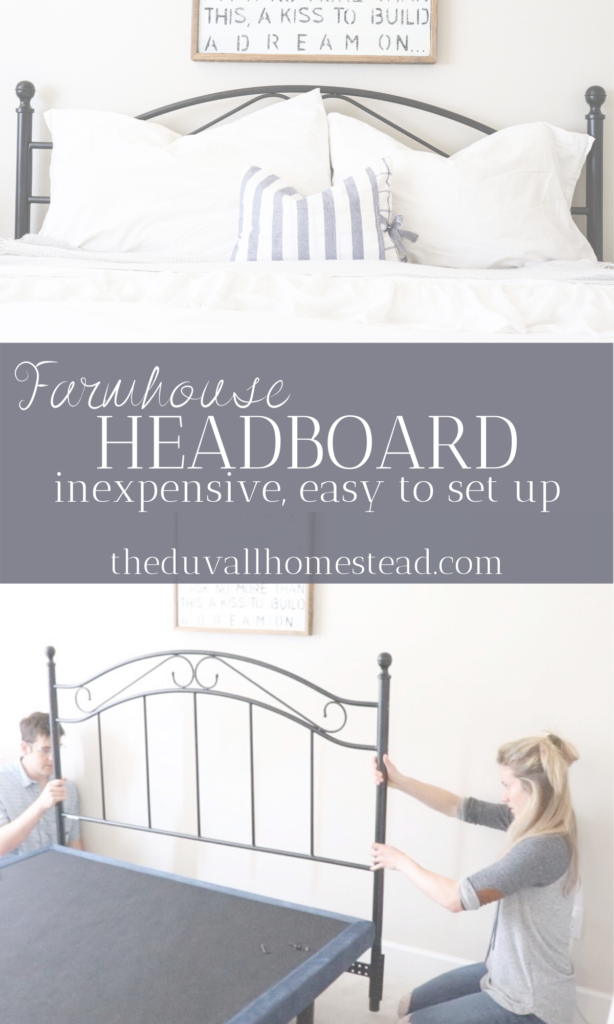 Thanks so much for stopping by the homestead!