During the snow storm we had last week, I got to thinking that our front porch really needed some cleaning up. We still had the greenery up from Christmas. But with the wind and rain storms we've had, it kind of looked like a hurricane had been through. So I decided it was time to give the front porch new life for the winter months. And I'm so glad I did! I am a firm believer that no matter the weather or lack of sunlight, always spend time outside caring for your home. Here I'll show you how I decorated our simple farmhouse winter front porch.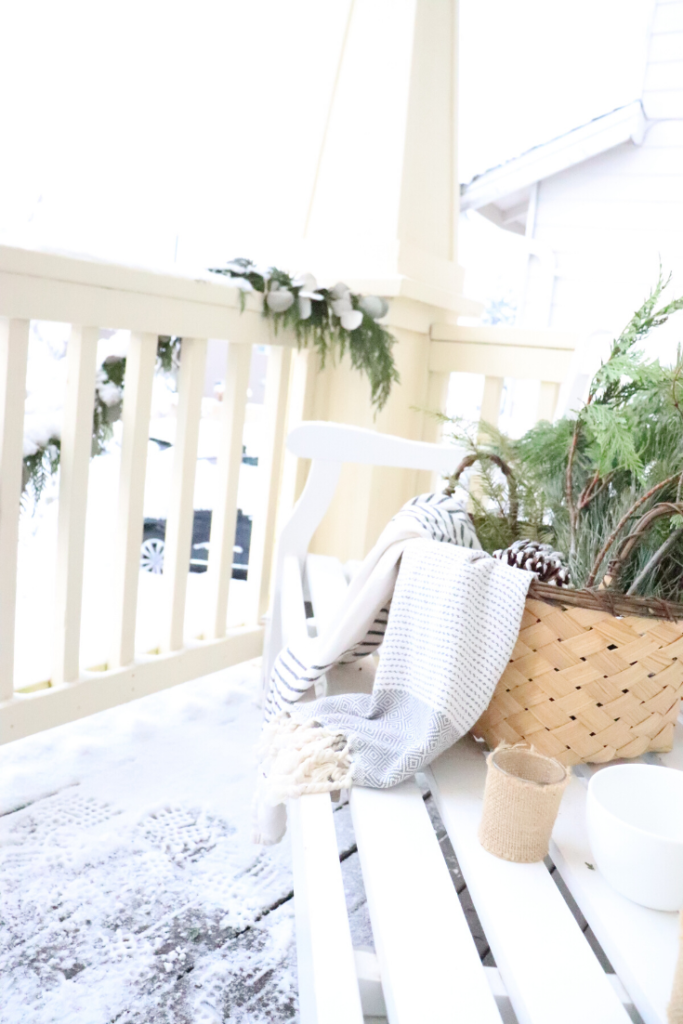 Winter is a time of cold, short days that calls for lots of staying inside the home. Thus, it didn't exactly dawn on me this year to decorate the front porch. Especially because last week we had about a foot of snow outside. Also, for Christmas we put up a lot of Christmas greenery on the porch, and sine we've had so much rain it was pretty easy to just leave those up for the rest of winter. But truth be told, the front porch looked pretty haggard so I went ahead and added some winter touches to make it look extra warm and welcoming.
Watch: Farmhouse Winter Front Porch Decor
Don't forget to add this to your Pinterest Board!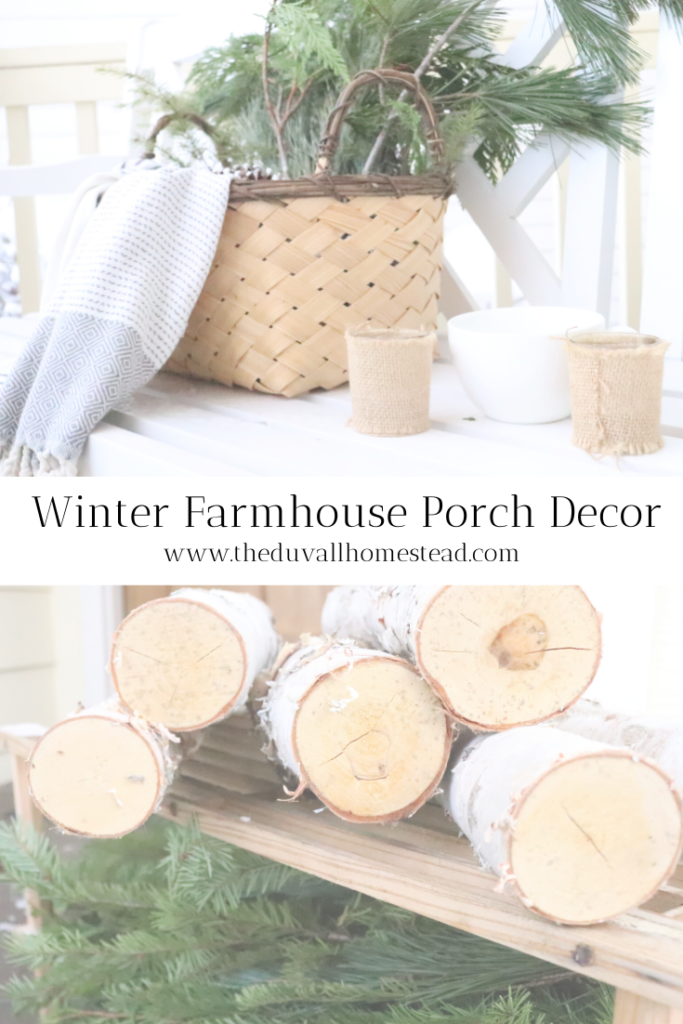 A note on my style of decorating…
If you're looking for the newest trends on porch decorating in the winter, this post may not be for you. Like I said up above, I almost did nothing to our porch but leave up the pine needle arrangements and call it a day. I guess you could say my style is "minimalist", but it's also very "natural". So if something doesn't grow here or if it's made of plastic, I probably won't have it in our house. My favorite materials are wood, cotton, and linen, so that's what I look for when I shop. If it's trendy, or has words on it, I really don't buy it. So, I hope this helps you decorate your porch or home without spending hardly any money, and allows you to create a natural and warm space that your whole family will enjoy!
Leftover Christmas Greeneries
First, I picked through our leftover Christmas greeneries and composted the dead greens and saved the ones that were still thriving. Luckily we had quite a few pines that still looked good. I put all of them into a pile, took a fresh look at the porch to try and decide where I should put them for this new season. We love using whats in our backyard to decorate our home. Try it – you may be surprised at what you find!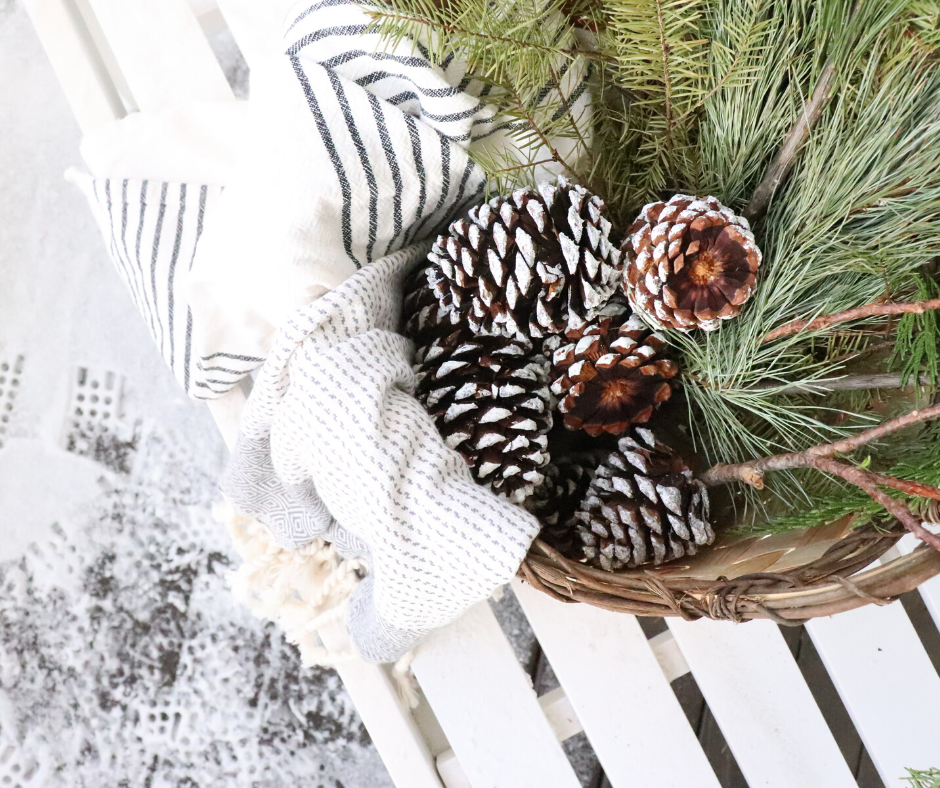 I put some Christmas greens in a basket on top of our white farmhouse porch bench. Then I added pinecones and two soft cotton tea towels from the kitchen. These add some nice texture and warmth to an otherwise very cold porch!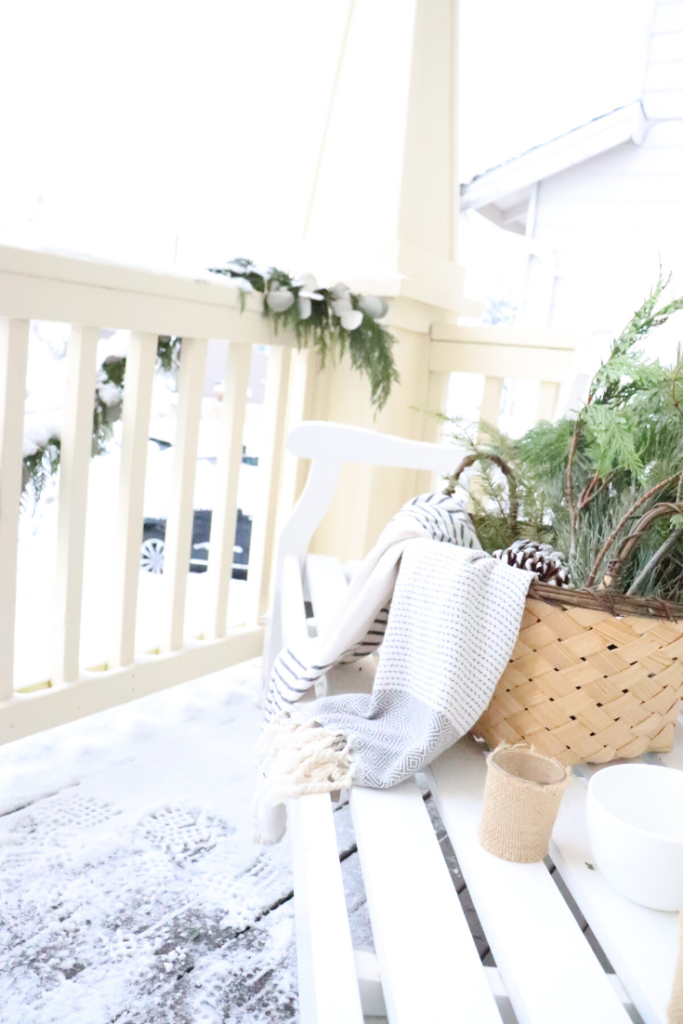 Next I kept the gigantic pine and eucalyptus garland wrapped around the stairs and the banister from Christmas. We got this from helping clean up a friend's winter wedding in December. I know, this is too much! This must have costed a fortune. So we were incredibly thankful to take this home.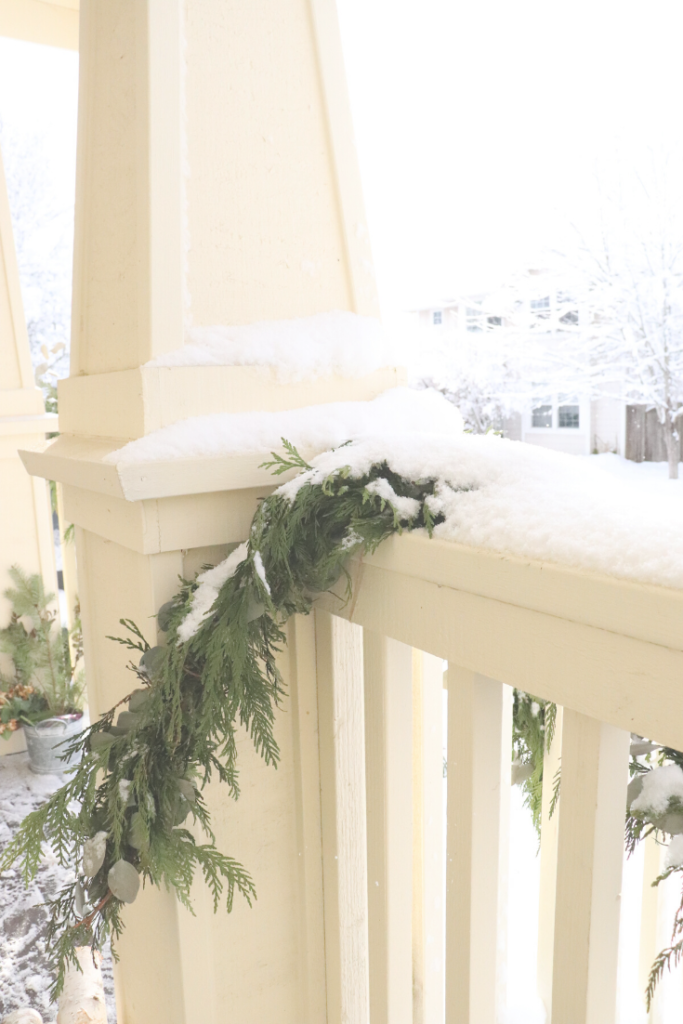 Firewood
Next I pulled out some firewood and put it next to the bench. What better way to make someone feel warm and cozy in the winter than firewood? I also added some old white faux birchwood that I got on Amazon last year. I love the look of the white wood! Of course, I added a nice layer of greenery below the wood. Can you tell we have a mountain farmhouse vibe going on here??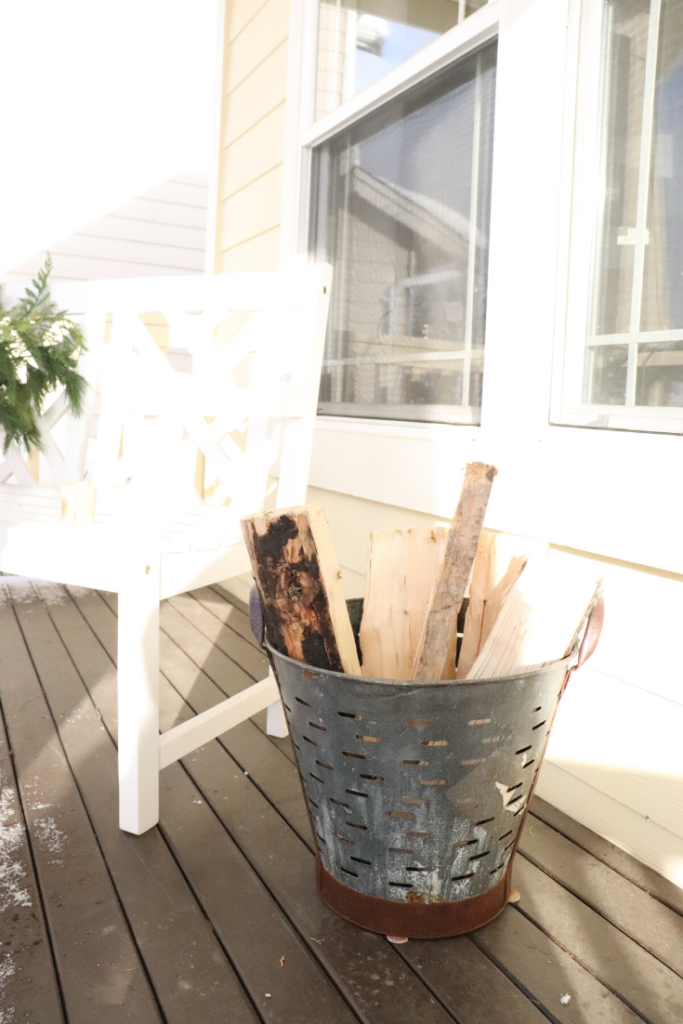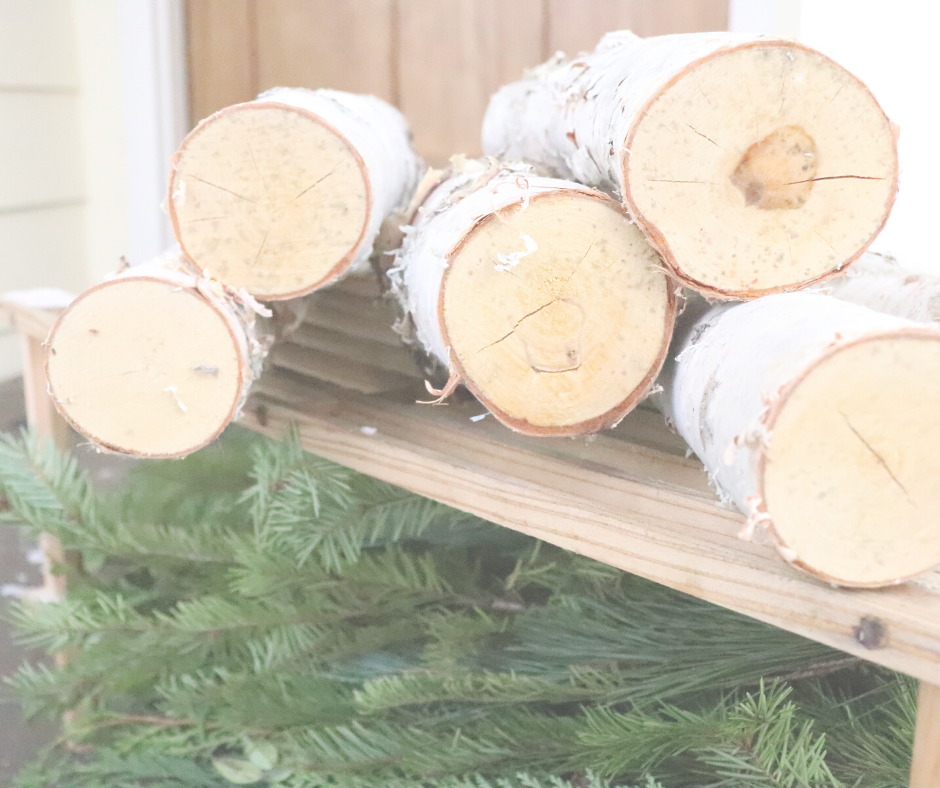 Coffee for two on our Winter Front Porch
This farmhouse bench is my favorite part of the porch! The porch is west facing so in the summer time we like to sit outside with a cocktail and watch the sunset. Come winter though, when it doesn't get light until almost 8am, this is a great spot to sip coffee and look at the snow. And that's exactly what we did today! So I added a few burlap-wrapped tea light candles and a coffee mug. Sure, we won't be out here every single morning, but I had several extra white mugs like this so I don't mind donating one for the general welcoming appeal of the front porch.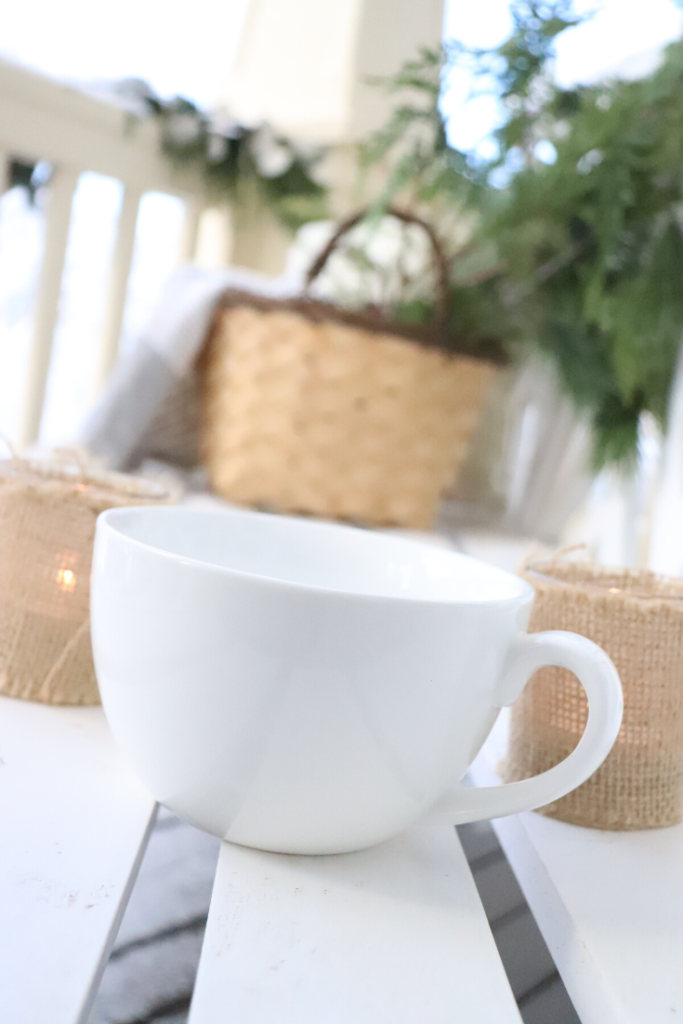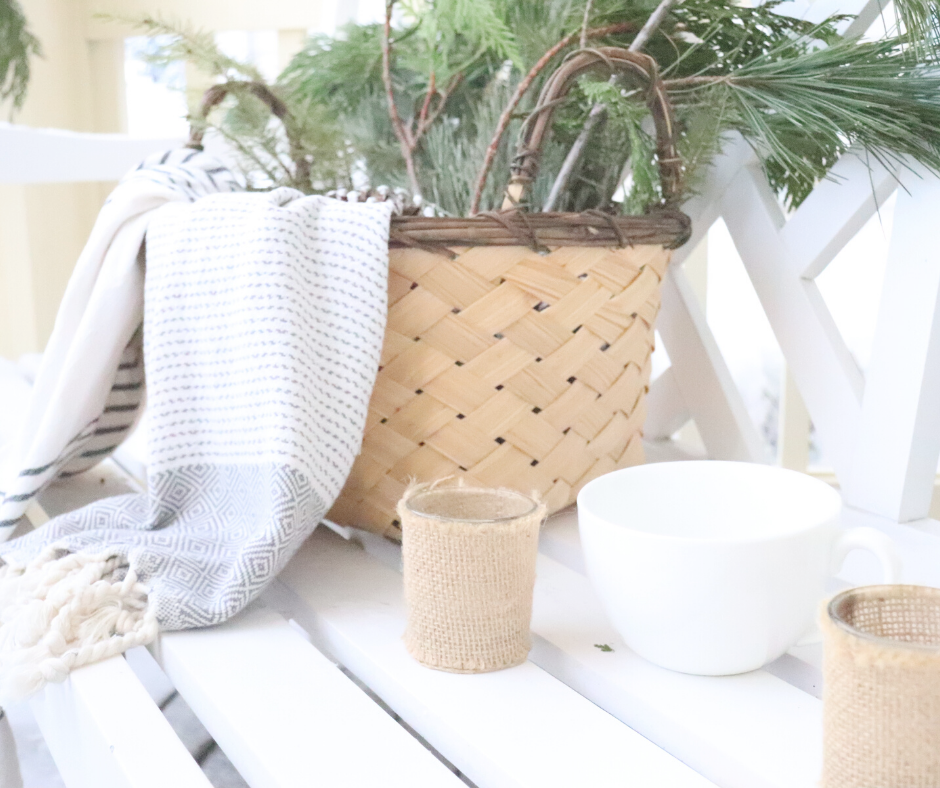 The Front Door
This was super easy! I just threw the Simple Homemade Christmas Wreath that I made last month on the front door. Next I put my favorite farm boots and some faux candles next to the entryway. One of my favorite things to do (once again.. welcoming!) is to buy battery-operated candles and then turn them on before guests come over. That way, they walk into a lit porch and it's really magical. They even have a 4 hour timer so they turn off automatically. I love them!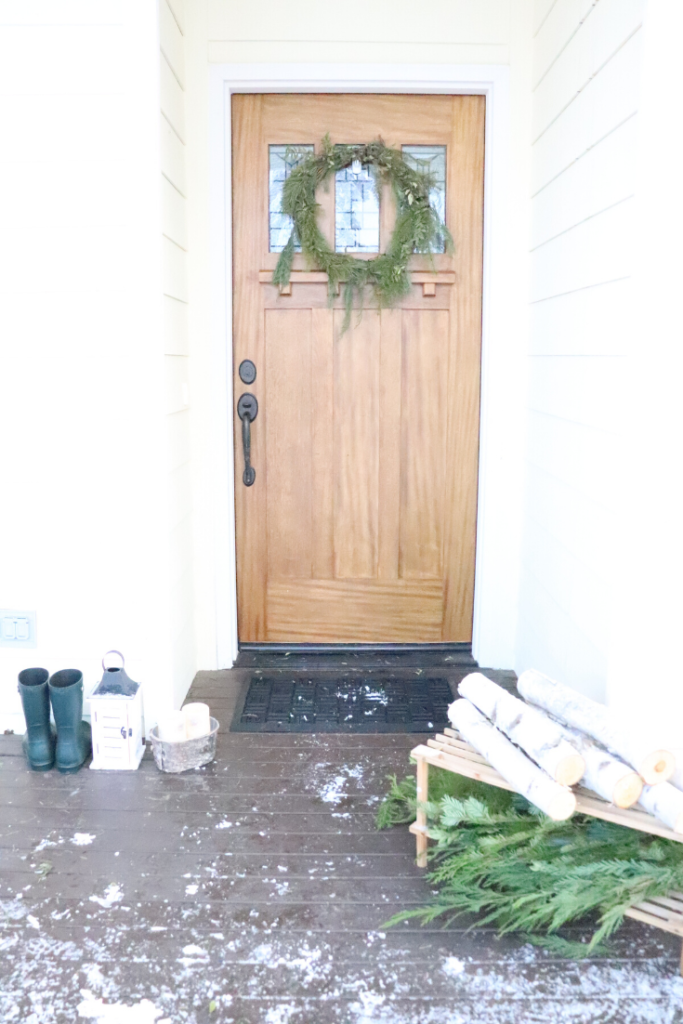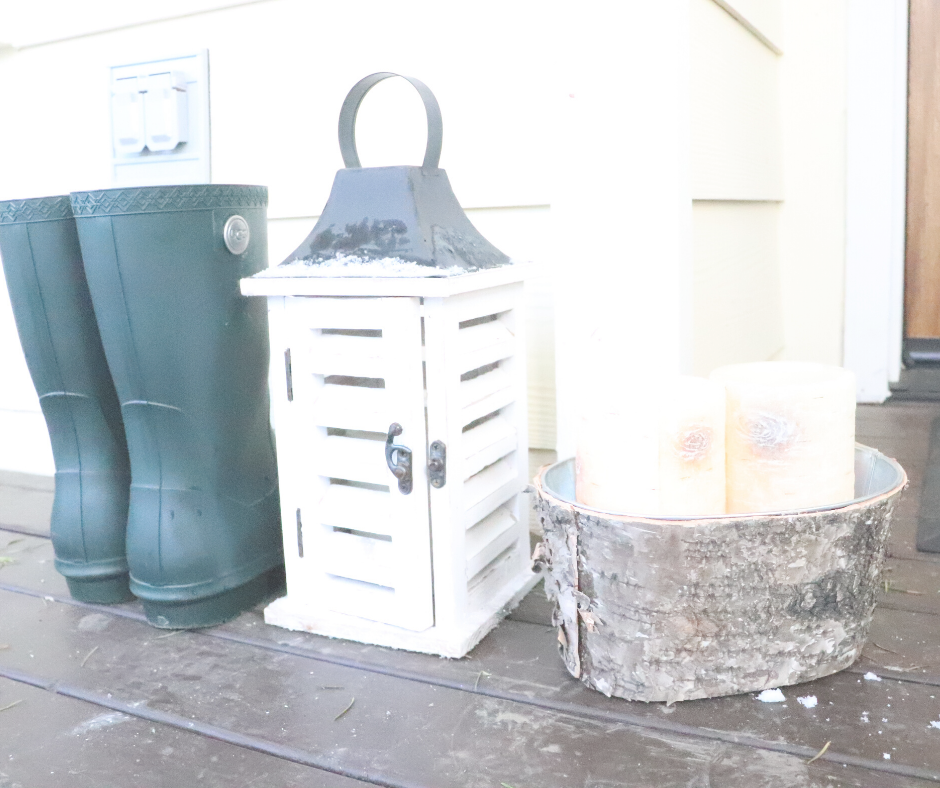 Well that's it! I'm tellin' ya, it really doesn't take much to create a warm and welcoming front porch (even in the winter). I hope this inspired you to go out and cut some branches or even twigs that are in your yard. Find beauty in the every day, it's the best!
Watch: How to Decorate the Front Porch for Winter
Thanks for stopping by our farmhouse!
Pin it for Later!