A week ahead of schedule, Baby Allison Marie surprised us in a beautiful natural Bradley Method home birth this week. She arrived quicker than expected and in a surprising location, but we couldn't be happier that she's finally here. Today I'm sharing her positive natural home birth story and what our first week with Baby Allison Marie was like.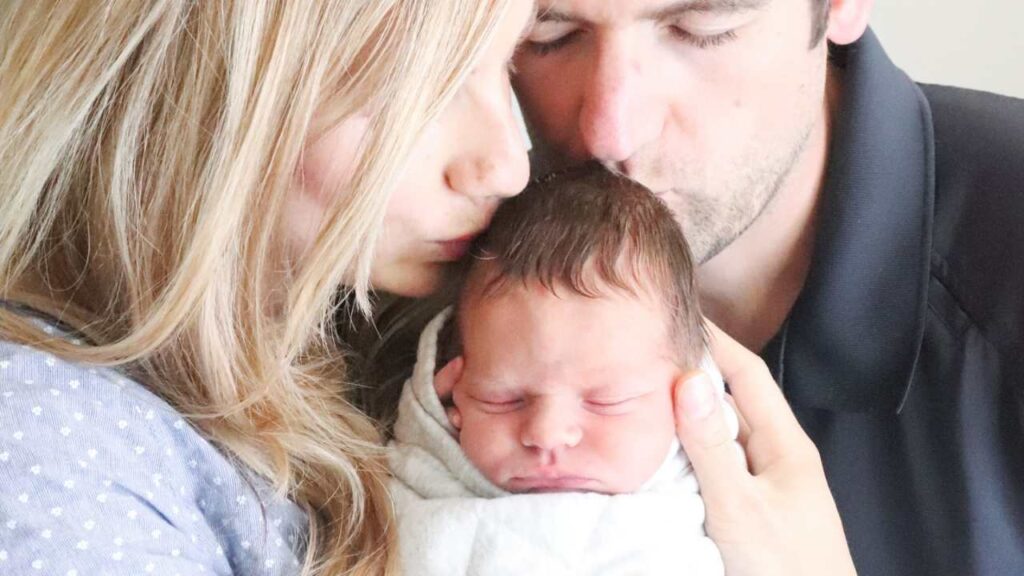 This post contains affiliate links, which means I may make a small commission off items you buy at no extra cost to you 🙂
Baby Allison
Baby Allison was born 7/25/21 at 11:37am. She weighed 8 pound and measured 19 inches long and born one week before her due date.
We didn't know the gender of our baby, and the entire pregnancy we'd been calling her a "he". We'd say things like, Hi Baby, or he's so hungry now. So once "she" arrived, we had to really change our lingo. I think we called her a he for the first few days even. We had a list of baby names for boys/girls, but mostly boys because we were so sure it was a boy.
So about an hour after she was born, John and I sat up in our bed, after just staring at her, and said how about Allison Marie? That's when our baby was officially named.
Her middle name is Marie, as is my middle name, and as is John's mother's middle name. In fact, all of our initials are AMG. Anna Marie Gibbons, Alexa Marie Gibbons, and now Allison Marie Gibbons. I think that's pretty cool.
Pin it for Later!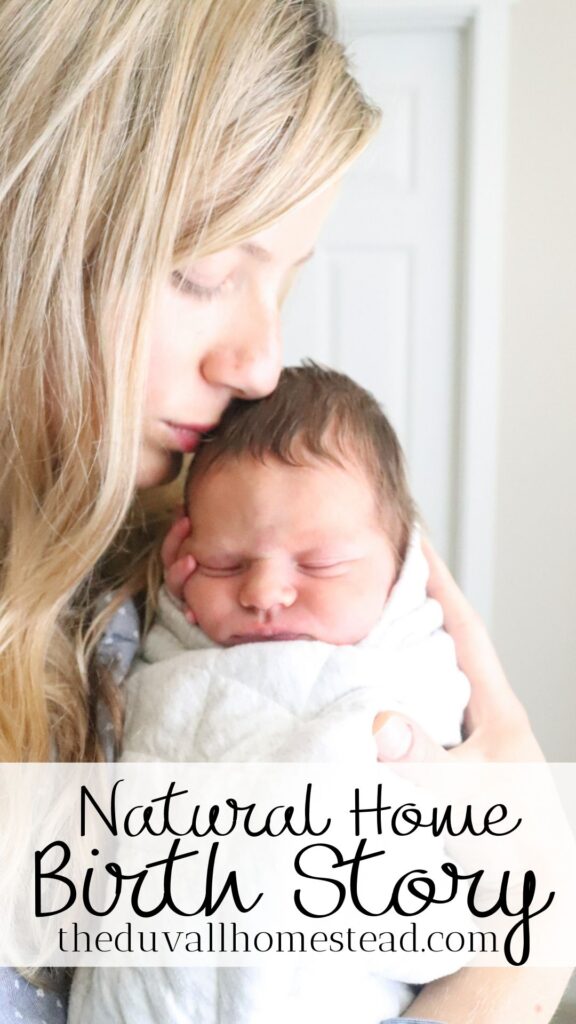 Disclaimer
In this post I am sharing our story of our natural home birth. Nothing I say in this post should be considered medical advice of any kind, so always talk with your practitioner about what kind of birth is best for you.
The Bradley Method
We used the Bradley Method to prepare for this birth, along with several other birth prep such as Spinning Babies exercises and birthing podcasts. You can find a full list of resources I used to prepare for this birth in this post.
The Bradley Method came about many years ago after men were not allowed in hospitals during their wife's births. Dr. Robert Bradley discovered that when women had their husband in the room during childbirth, they were able to stay more calm and relax during labor and birth. This allowed them to have more natural births without interventions, and a happier family leaving the hospital.
The techniques used in the Bradley method revolve around relaxation. The idea is that the more tense you are, the slower your body is able to expand, contract, and the harder it will be for your baby to come out. Dr. Bradley's book, Husband Coached Childbirth, explains ways to work together as husband and wife to completely relax during labor and birth.
When I woke up to contractions at 2am, I honestly thought they were false labor. In hindsight, I was in active labor and didn't know it. This is because I had practiced relaxation so much during my pregnancy and my body was progressing faster than I thought.
Why would you choose a home birth?
Home birth is a beautiful thing. It allows you and your body to birth your baby naturally without any intervention. But, of course home birth is only for someone who has an uncomplicated pregnancy. A hospital has the equipment to assist in an emergency delivery while a home birth does not. With that said, a midwife can perform several emergency procedures if needed and is well equipped for many situations. So after doing lots of research and preparation I didn't have a doubt in my mind that home birth was for me.
Here are just some of the reasons I chose a home birth:
control over the environment including lighting, bedding, who is at the birth, etc.
Ability to eat and drink my own food, whenever I wanted
Not having to drive to/from the hospital or stay the night anywhere
Use of essential oils and homemade natural products during labor, birth, and afterwards
Having control over my newborn after delivery (as opposed to being taken and rubbed down by a nurse)
Ability to move freely during labor and in the positions I chose instead of in a hospital bed
No stress of deciding when to drive to the hospital. Also, I really didn't want to be in labor while driving, or worse deliver the baby in the car (which probably would have happened given how my birth went!)
Most of all, no medications or interventions. I wanted nothing in my body so that my recovery was easy, and that's exactly what happened!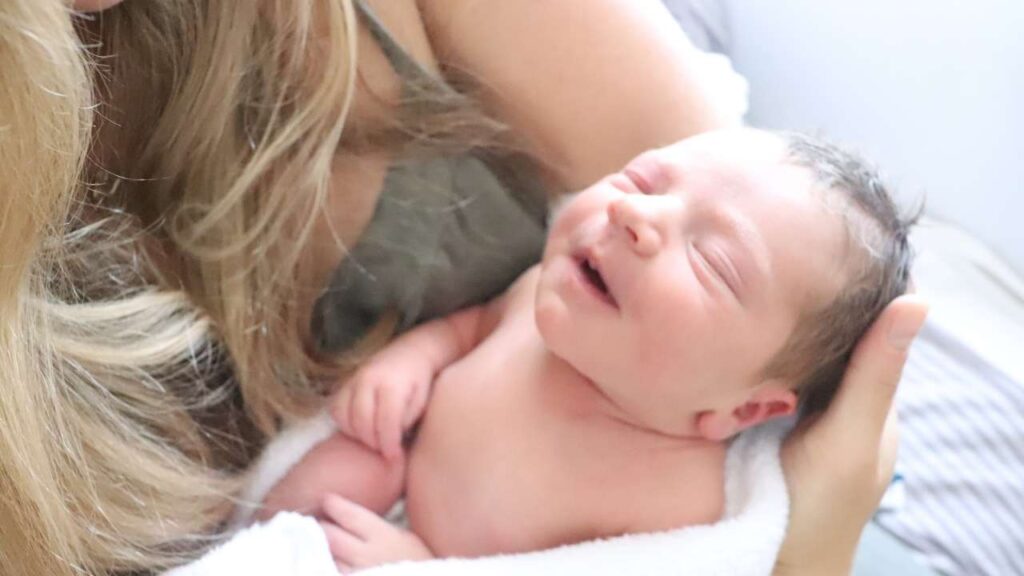 How do you plan for a home birth?
I feel like I should say again that this is not medical advice of any kind but I am just sharing my story to help educate others. Once you decide you want a home birth, find a midwife or practitioner who supports you (it's good to interview several and it's totally ok to change your mind!). Always consult your care provider to decide what's best for you 🙂
Part of the reason I chose home birth was because birth on its own is unpredictable! I had heard many stories of women being in transition in the car, or even giving birth in the car on the way to the hospital. No matter who you are or how many kids you have, your birth could be 3 hours long or it could be 36 hours. You just don't know! So here are some things I did to prepare for a home birth:
Of course, bought all the necessary supplies based on a list provided by my midwife
in early pregnancy, I started doing as much research as I could on how to have an easy, successful birth. I did Spinning Babies exercises every day, went on lots of walks, and my husband and I took a Bradley birth class.
Read books to prepare for a natural childbirth:
Kept up my regular exercise routine of exercising every night. This actually made my pregnancy feel a whole lot better!
Drank tea with nettles, oats, red raspberry leaf, and alfalfa every night
Ate the best diet I could think of – high in protein, fat, vegetables including kale salad every night, homemade bone broth, fermented foods, kefir smoothies every morning, just to name a few. I was pretty crazy about my diet during pregnancy.
Prepared food for after the birth and stuck it in the freezer. I shared all my freezer meal prep recipes before baby in this post!
Early Labor – telling nobody!
I woke up to signs of labor around 2am of the day I ended up giving birth. It was basically just like a menstrual cramp. I had been having these cramps at night for several nights in a row now, and they usually just went away, so I thought nothing of it. Also having studied the Bradley method of birthing, I knew that even if it was labor, the best thing to do was to relax through them and try to sleep. After all it would be a long day ahead if it was the real deal!
Suddenly around 6am I woke up and at this time I realized that I had been having those contractions all night long. Luckily I was able to sleep through the breaks, which were about 4-5 minutes apart at this point. When I felt the contractions at 2am I didn't want to wake John up, but now that he was awake at 6am I thought I would tell him the news. I said I think I'm in labor, but it's still so early, so why don't you do whatever it is you want to do today. He said he would go for a run first and then fix the porch steps which he had been working on. I said, you'd better skip the run and just do the steps, just in case. (by the way, he never finished those steps!)
My goal in early labor was to tell no one, not even John if I didn't have to. I just didn't want any excitement or anticipation in case it just went away. Of course, I was figuring it would be days of early labor, not just a few hours. That's why at 6am I decided to tell John because I couldn't really hide it anymore.
Active Labor – things were picking up
Active labor started around 8am, when I decided to get out of bed. I think the motion of getting up got things going pretty quickly. However, I was still in denial that this was labor, and I still thought that I had at least another day or two of this before delivery. So I had planned to take a shower and to gather the baby stuff in one room. I am still working on the nursery so I wasn't quite organized yet. I thought the baby wouldn't come for another week at least!
Once I hit active labor I went to the bedroom window, looked down at John working on the front steps, and called for him to come up to help me. I felt like I needed some comfort and assistance from him, which was something we practiced in our Bradley class.
For me, I chose to labor in the bathroom and on the toilet. I never would have guessed that my baby would almost be born in the toilet, but that's basically what ended up happening. In all the books I read they talked about relaxing your pelvic floor during birth, and I found that was easiest for me on the toilet.
I have to say that early and active labor for me weren't a big ordeal. With all the books I read, videos I watched, and practice I did before the birth I felt really prepared for labor. Transition on the other hand, that was a different level for sure!
The Delivery – just glad the midwife got there in time
By 10am I finally realized that this was really happening, and I was starting to go into transition. If you're new to birth, transition is the time when you are dilating at the fastest speed, so it can feel like so much pressure in such a short amount of time. So I told John to call the midwife and let our family know that this was happening.
The pushing stage hit me like a freight train! I had no idea that it could happen as fast as it did. My midwife kept saying "reach down and feel your baby!", but I was so involved in the intensity that I couldn't understand how close I was to giving birth.
At this point the midwife suggested I come off the toilet and squat on the ground. With about 5 more minutes and 2 more contractions, baby Allison came "flying" out as I say. She hit the floor (but not hard, don't worry, because I was right above the ground). I remember looking down and seeing her body and being in total shock. I looked at John, and then back down at the baby, and then started trying to pick her up. Newborns are slippery, though, and that was difficult!
At this point the midwife had her phone out and she said "look up!" and got this photo: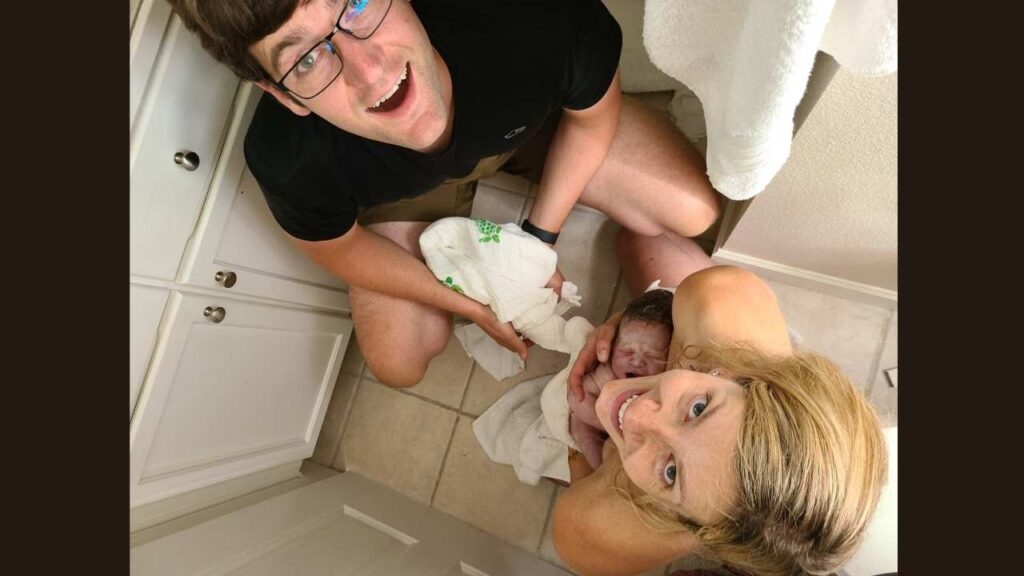 After making sure the baby was crying and healthy, I walked over to my bed and laid down. The rest was history!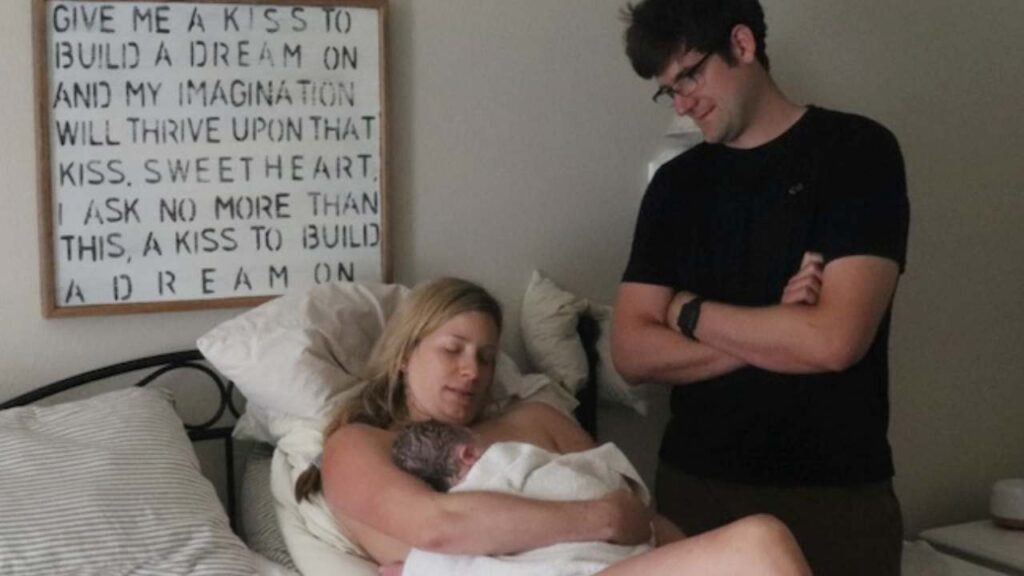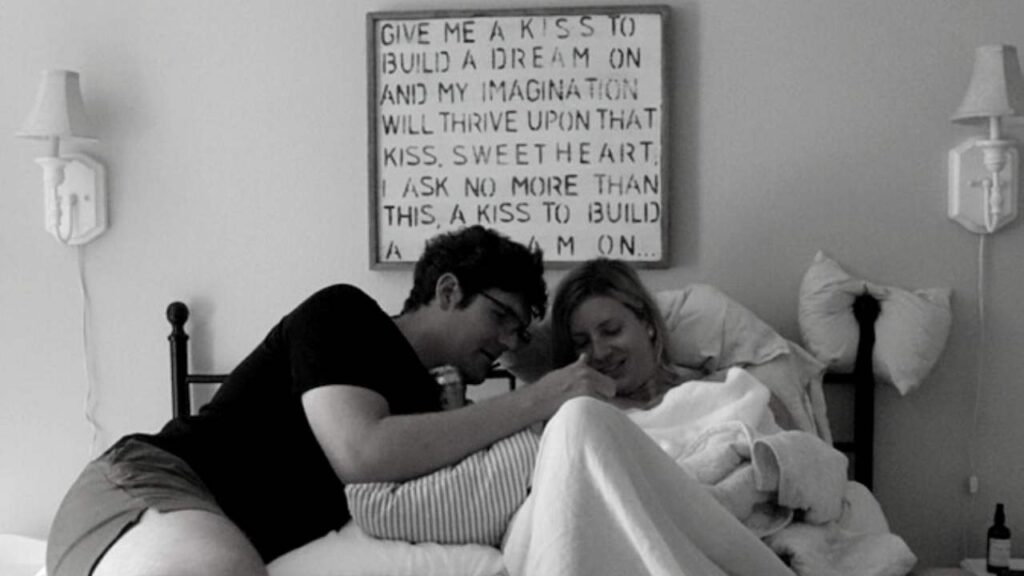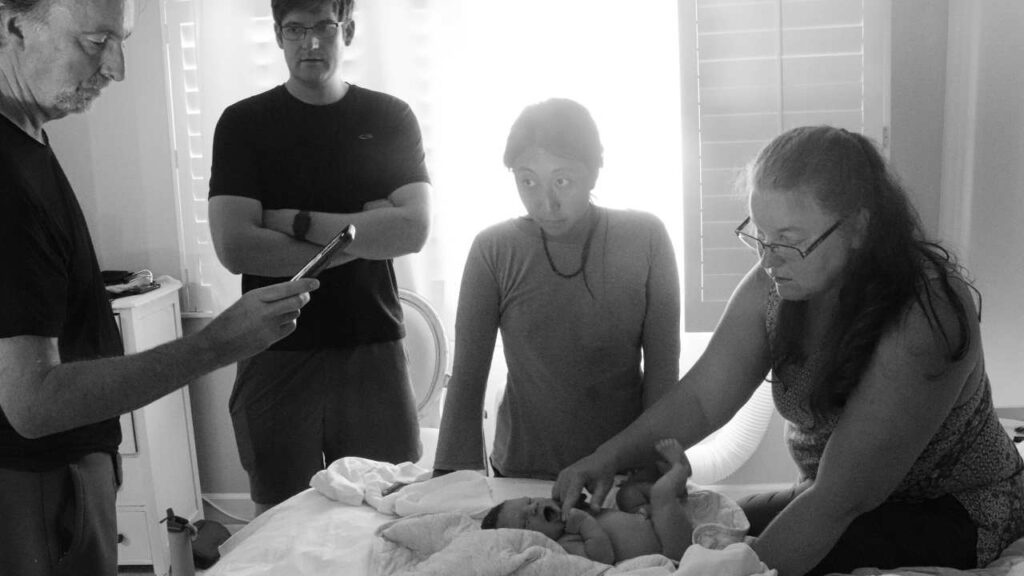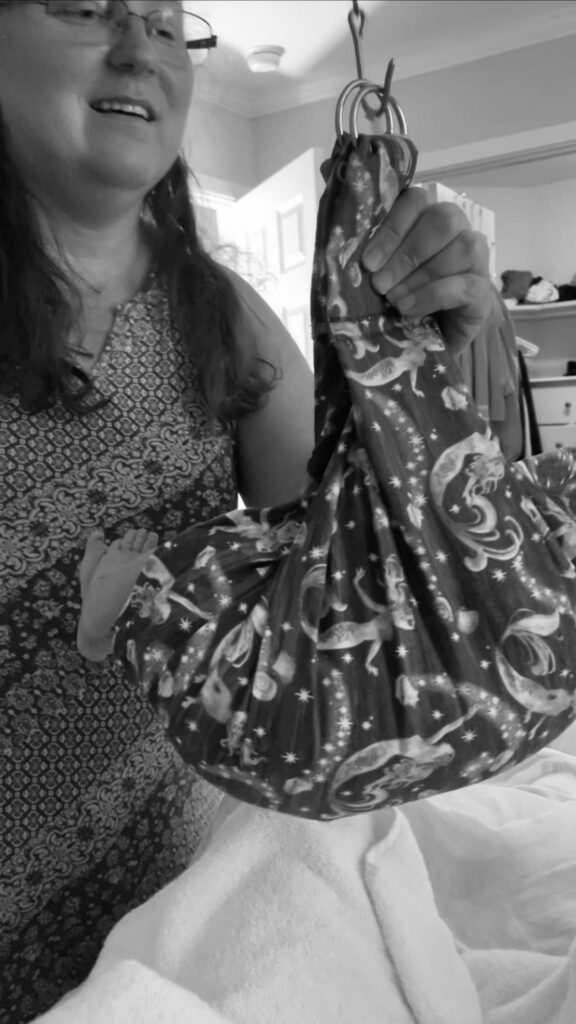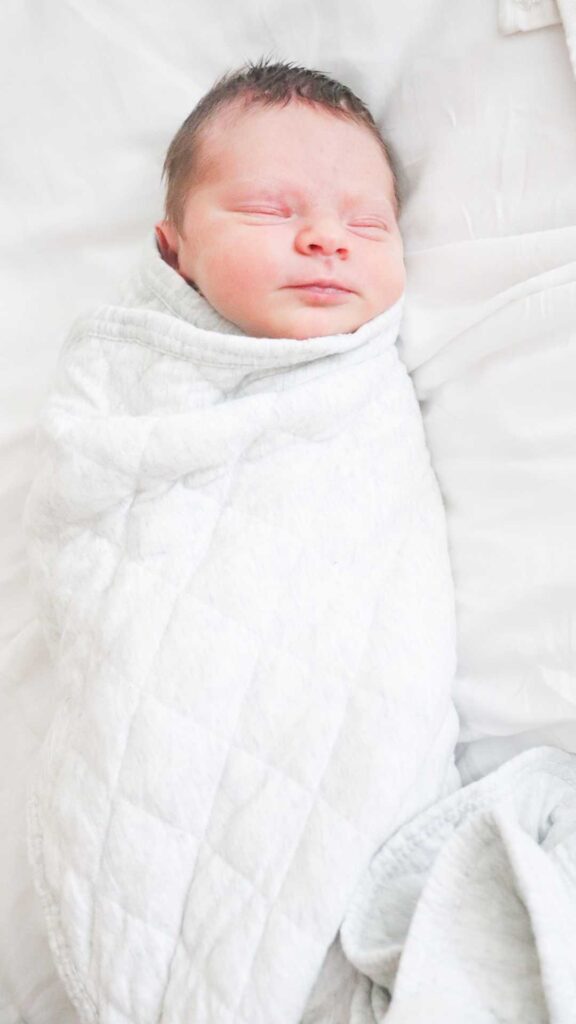 One Week with a Newborn – nothing short of amazing
I have to say that I spent so much time preparing for the birth that the week afterwards was kind of a blur. First there's the recovery of myself (I did have a small tear, so there's that), and then there's learning to breastfeed properly, and then all the newborn cuddles and smells. It's all so good.
Honestly I only had one or two days that I remember telling John "this is difficult". They were the first two days. When I had the most cramping (post labor cramping when your uterus is going back down). And then Allison and I were trying to figure out breastfeeding, which hurt at first until we learned a good latch. If you're newly pregnancy and reading this, make sure you get help with breastfeeding so it doesn't hurt! It shouldn't hurt. I also read The Womanly Art of Breastfeeding which was SO helpful.
One of my goals was to breastfeed while sleeping so that I could get good nights sleep. I tried this right away and it didn't work, but after a few more days of practice with that good latch it started working. Now I'm typing this 7 days later and Allison officially just latches on while I sleep and that makes me so happy. If you are trying to co-sleep and want to master this feeding while sleeping skill, read the book I linked above as well as the book Good Nights and don't give up. Practice makes perfect!
If you follow along on YouTube you probably saw my baby watch video. I had homemade diapers, diaper wipes, diaper cream, perineal spray, diaper wipe solution, and sitz bath all made up and ready for postpartum. I'm so glad I took the time to do all of that! Once the baby arrives you are pretty much around the clock taking care of him/her. Especially as a first time parent. I'm sure this gets a little easier with each baby as you know how to do things. But learning how to do it all for the first time is a lot, but also just so fun!
Having food readily available and help getting it is also key in that first week. I made a bunch of freezer meals so that all John had to do was heat them up and we'd be good to go. I shared my favorite freezer recipes in this post.
More Natural Pregnancy
Surprise! First Trimester Update
Second Trimester Update + Preparing for Natural Birth
Third Trimester Recap & Thoughts from the Heart about Pregnancy and Birth
Spring/Summer Maternity Capsule Wardrobe
4 Freezer Prep Meals before Birth
WATCH: Freezer Meal Prep before Baby
Baby Watch: Day in the Life Preparing for Baby
Share on Pinterest!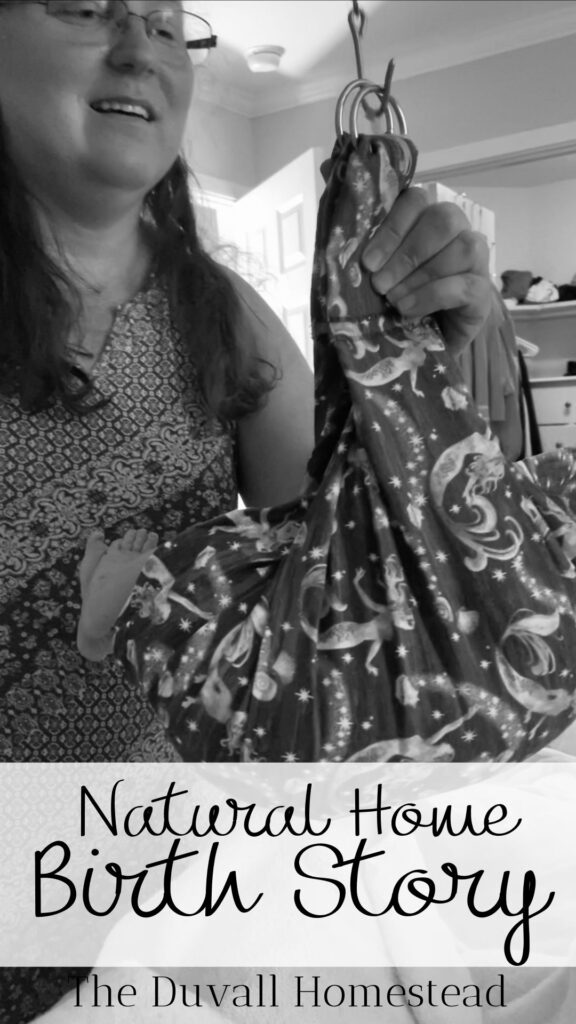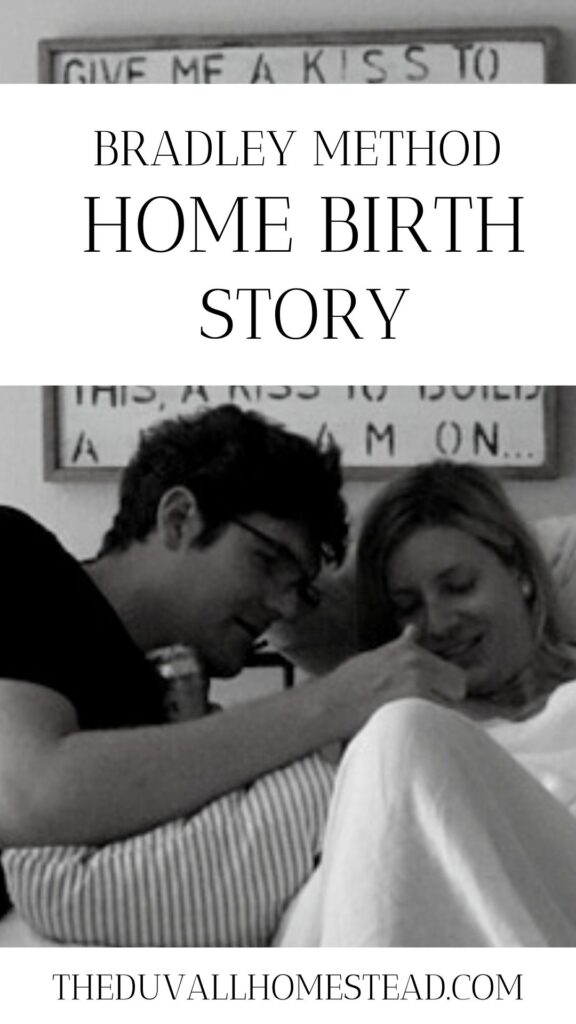 Thank you so much for stopping by the Homestead!