You probably already know how much I like food and of course, desserts. Since I make just about everything from scratch at my house, I try to make it as healthy as possible. That's why this carrot cake recipe uses ingredients I am happy to serve my family. Learn how to make einkorn carrot cake with cream cheese frosting for a delicious spring or dessert.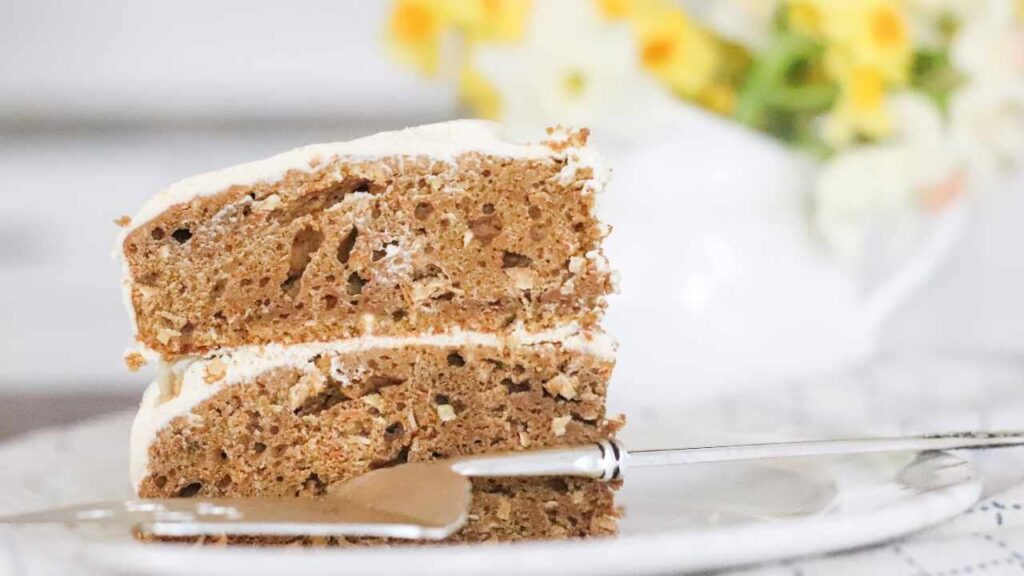 I love making this cake at Easter, it just feels right that time of year. This carrot cake recipe uses einkorn flour and other healthy ingredients to make a sweet treat you can feel good about.
PIN IT FOR LATER!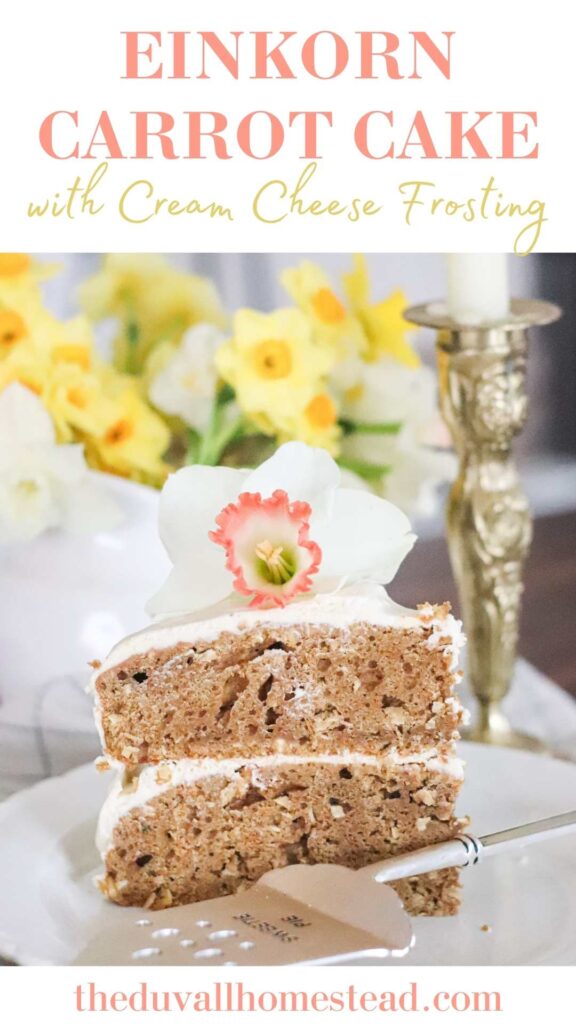 Spring at the Homestead
It is spring at the homestead! We're in full-blown spring mode. I know that because the weather is sunny and 70 one day, and then a chilly 35 the next. Our little flower garden reaches towards the sun for part of the day, and rests during the drizzle for the next part. I shared our spring home tour just a few weeks ago too.
We just got baby chicks and our homestead couldn't be more full of life. I absolutely love having a baby, chicks, and of course our two kitties. There's nothing better than being surrounded by new life and new growth opportunities.
I actually started this recipe after a viewer on YouTube requested it. Whenever I get a request for something, I always write it down and usually end up filming it. Luckily for this request I already had a carrot cake recipe in the back of my mind, so this came quite naturally.
In the spring time at our house, we have so many occasions to celebrate. There are three birthdays (my dad's, my husband's, and mine) all within a two week period. And then, it's Easter. So there are really 4 holidays back to back. So I made this carrot cake a few times and we've been enjoying it for weeks now. Which I am not complaining about!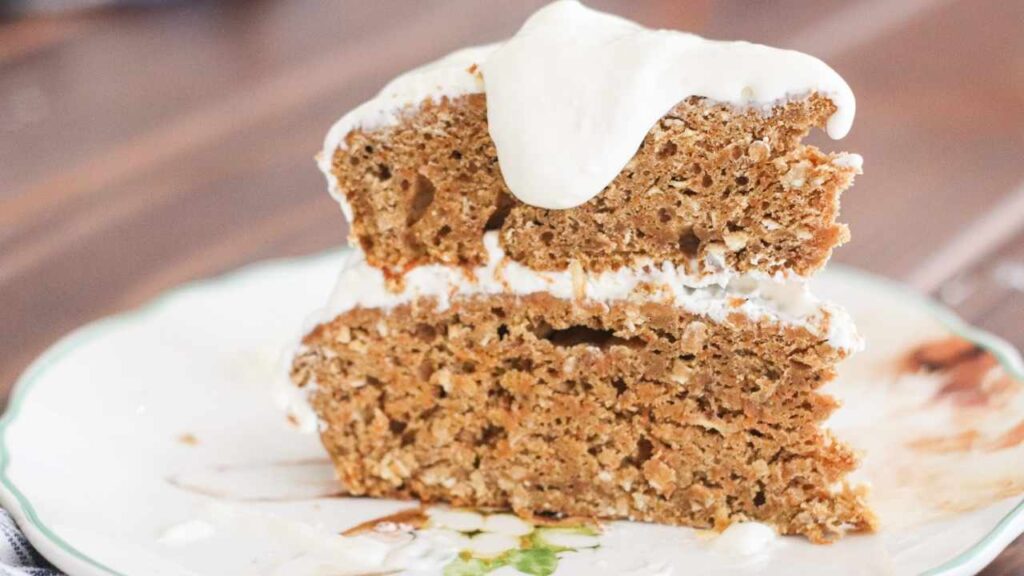 What is Einkorn flour?
I am using einkorn flour for this recipe. This is mostly because I just bought a whole bunch of it so I'm trying to work through it.
But more importantly, einkorn possesses many more health benefits than today's traditional modernized wheat does. We use einkorn flour for most bread products at our house because it is an ancient grain that hasn't been hybridized.
Hybridization is the process of breeding different types of grain to create a grain that can withstand weather ailments and produce a higher yield crop. This modern process allows people to get grain who may not be able to otherwise, but it also jeopardizes some of the original qualities of non-hybridized wheat.
Einkorn has 50% more manganese, riboflavin, and zinc, and 20% more magnesium, thiamin, niacin, iron, and vitamin B. Ironically these are same nutrients that are synthetically added back to enriched wheat flour to compensate for what we've lost in making wheat a high-yield crop. (source)
Einkorn is also higher in protein, making it a much better source of energy for your body.
You can find einkorn at your local grocery store, but if it's not carried there you can get it from Amazon. I like the Jovial brand.
This post contains affiliate links, which means I may make a small commission off items you buy at no extra cost to you. As an Amazon associate, I earn on qualifying purchases. See my full disclosure here.
TOOLS NEEDED
Medium size bowl
Large mixing bowl (or stand up mixer)
Shredder
Cake pans (I use two 9″ round pans)
Frosting knife or rubber spatula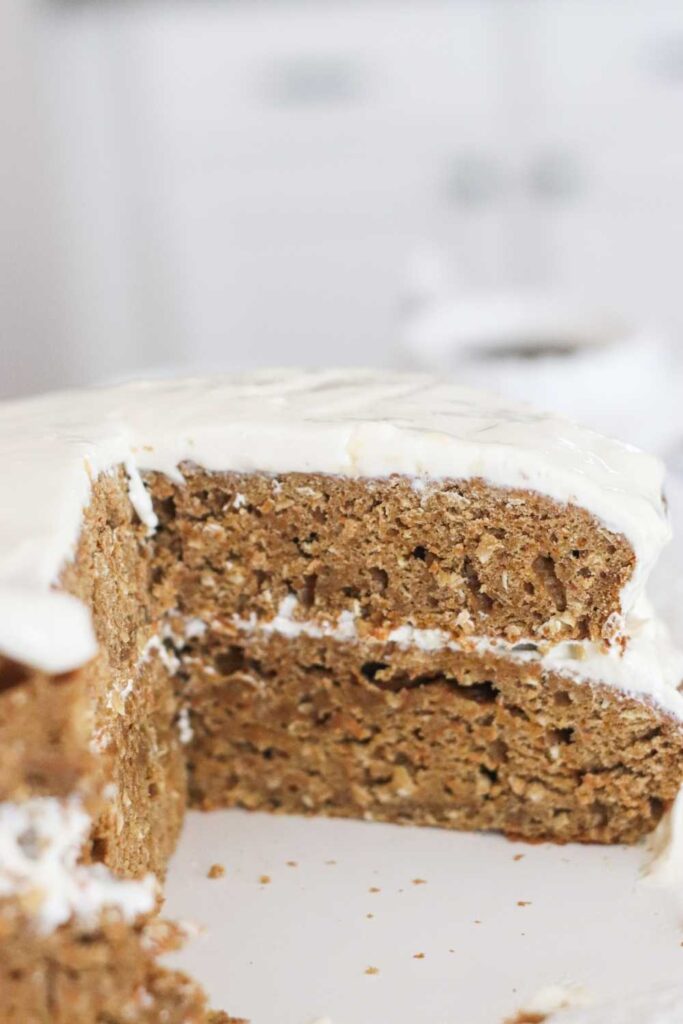 EINKORN CARROT CAKE INGREDIENTS
Dry Ingredients:
3 cups Einkorn flour (we get ours on Amazon)
1 tablespoon Cinnamon
teaspoon Ginger
1 teaspoon Nutmeg
teaspoon Salt
1 teaspoon Baking Soda
Wet Ingredients & Sugar
5 Eggs
1 cup Coconut sugar
3/4 Maple syrup
3/4 Coconut oil melted
1/2 Melted Butter
1 tablespoon Vanilla Extract
Other:
3 cups Shredded Carrots (about 4 medium size carrots)
1 cup Shredded Coconut (optional)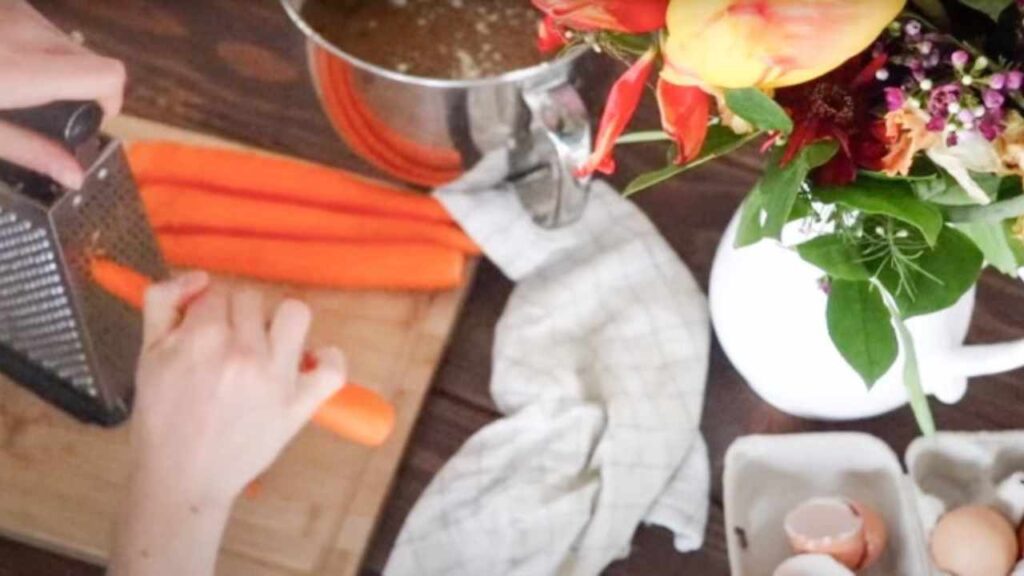 Cream Cheese Frosting Ingredients
2, 8 oz packages of Cream Cheese
1/2 stick Butter, room temperature
1 tablespoon Vanilla
1 cup Powdered Sugar
Milk, 1 tablespoon at a time until desired consistency is reached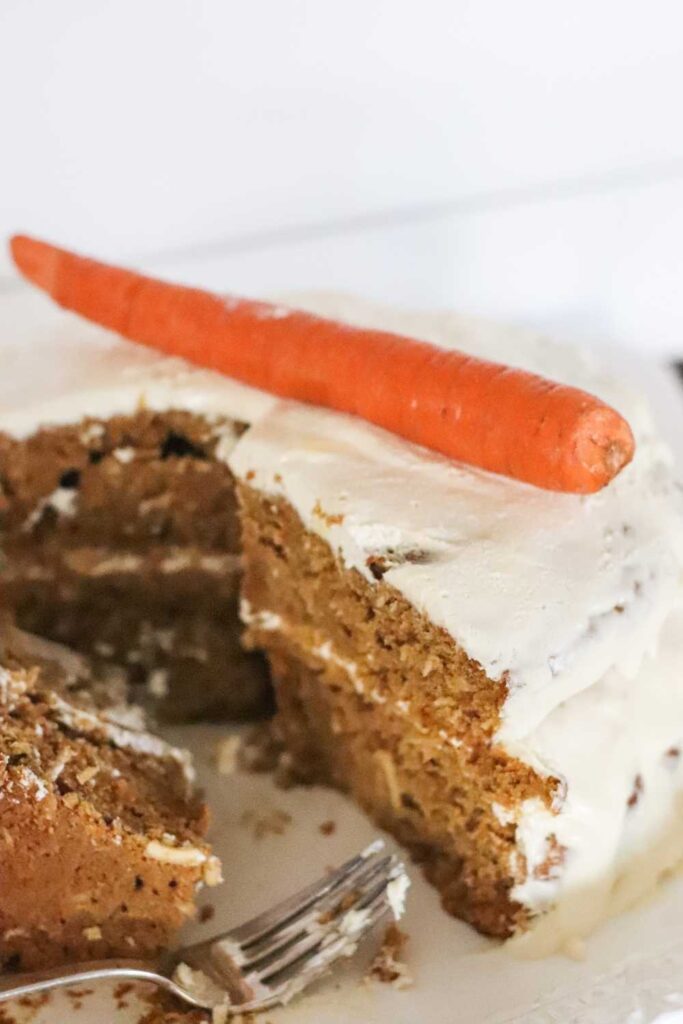 How to Make Einkorn Carrot Cake
In a medium sized bowl, combine the dry ingredients.
In a stand up mixer or large bowl with handheld beaters, mix together the wet ingredients and sugar. Slowly add the dry ingredients to the mixer, about one third at a time, until just combined.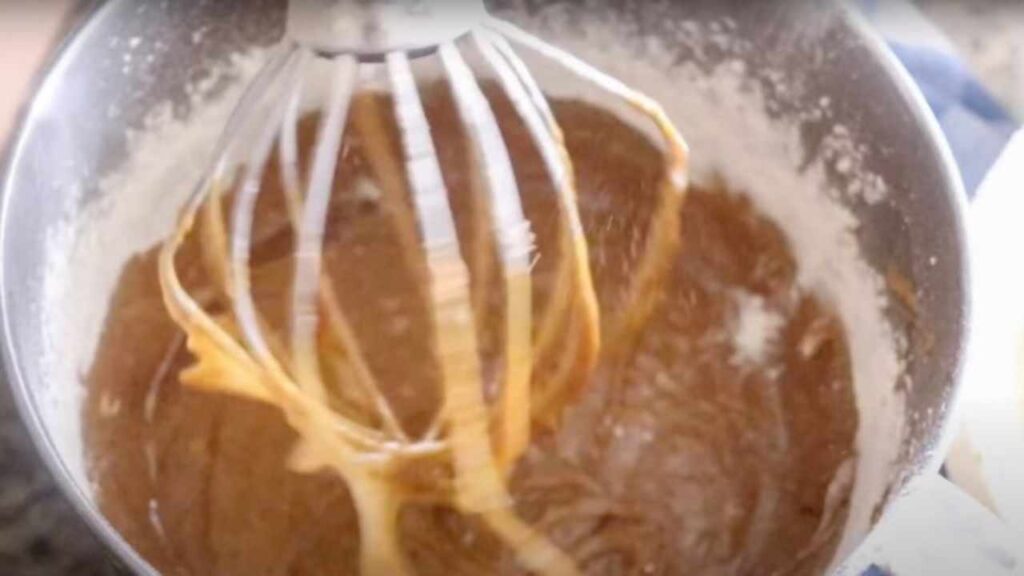 Stir in the shredded carrots and coconut flakes with a wooden spoon.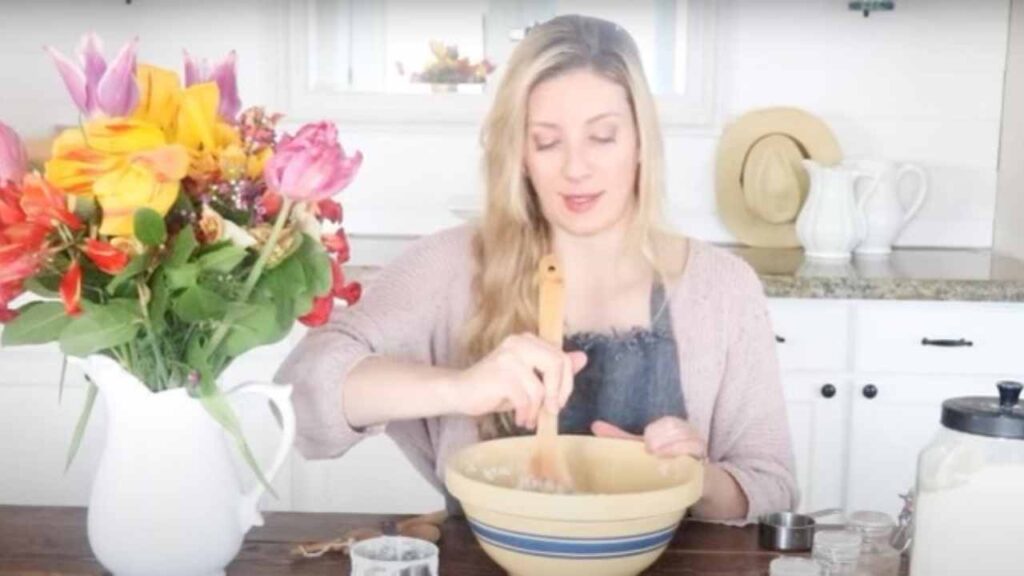 Preheat the oven to 350 degrees F and line two round cake baking dishes with parchment paper. I use a 9″ cake round. Evenly pour the cake batter into the two round cake trays.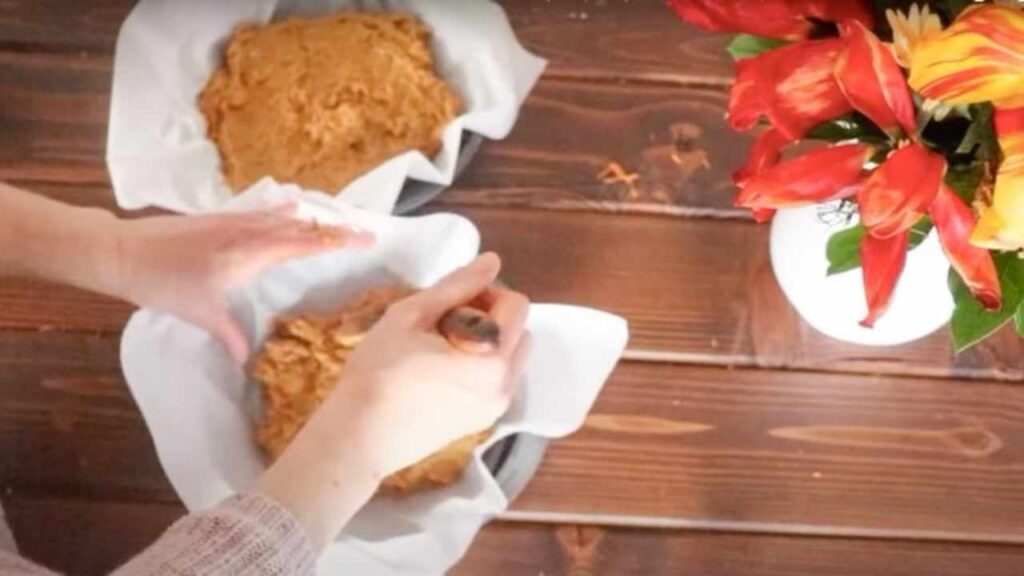 Bake for about 25 minutes or until a knife inserted in the center of the cake comes out clean.
Let the cake cool completely before frosting. For the frosting, combine the cream cheese, butter, vanilla, powdered sugar, and just 1 tablespoon of milk in a stand up mixer. Mix for a few minutes until a thick frosting is formed. You can add another tablespoon of milk if a creamier texture is desired.
Gently spread the frosting on the top and sides of one cake round. Then set the second cake round on top, and spread the remaining frosting on that one. Slice and enjoy!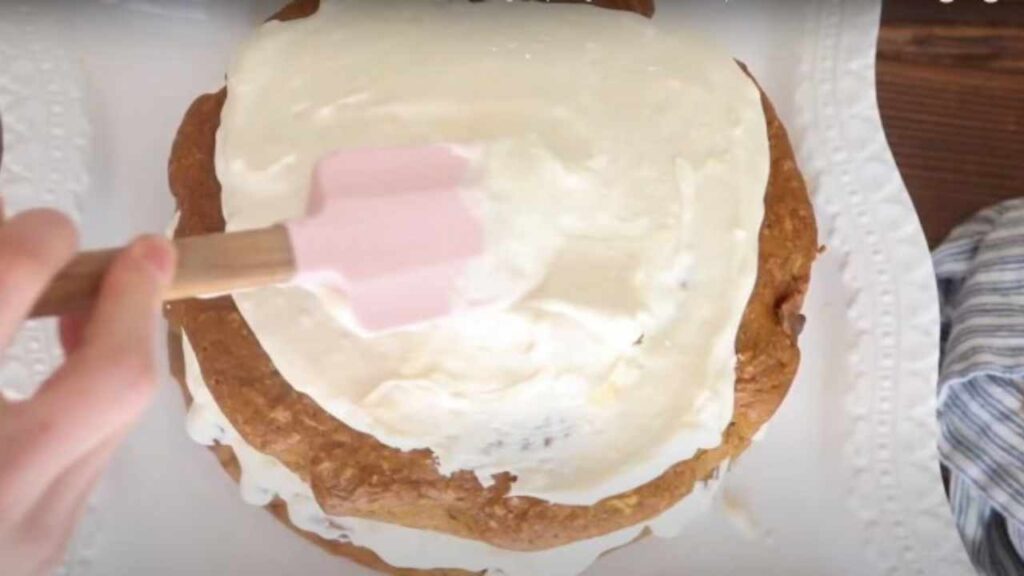 How to Store Einkorn Carrot Cake
Store in the fridge up to 5 days.
You can also freeze this! Just pull it out to thaw before eating.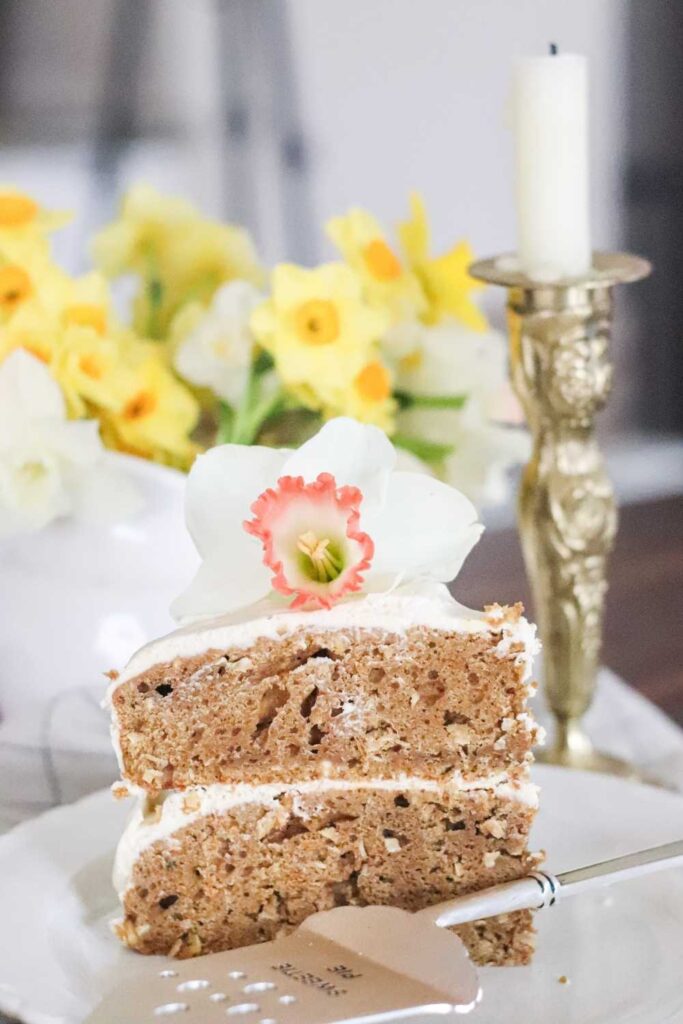 FAQs:
Is Einkorn good for cakes?
Einkorn is good for this carrot cake recipe. I have made this with regular flour, too, and I like the einkorn version better. I also like einkorn in chocolate chip cookies. So yes, you can use einkorn for cake. Einkorn has a different texture than regular all-purpose flour. It is a little more dense and moist, meaning not as fluffy as regular flour. You have to adjust the moisture in the recipe to bake properly with einkorn, which I have done here. But I personally really like it.
Why did my carrot cake come out so dense?
If your cake is dense it may be because you used too much flour or not enough moisture, like eggs, butter, and coconut oil which all help it be more moist. I find that this carrot cake is plenty moist for our liking. With 5 eggs in the recipe, it's pretty chewy to me. But I also find that the cake tastes less dense when you have a double layer, with frosting in the middle. Some cake recipes are a single layer and those always taste more dense to me.
Is carrot cake the healthiest cake?
This depends on the recipe you follow. In this recipe, we use coconut oil and coconut sugar, as well as maple syrup, to sweeten the cake. This is compared to using a hydrogenated oil like vegetable oil, and regular white sugar. The only part about this cake that is not quite as natural is the powdered sugar that is used in the frosting. Other than that, if you're using organic grass-fed cream cheese and butter, there's not much to be ashamed of when eating this carrot cake 😉
More Desserts from the Homestead
Sourdough Discard Einkorn Chocolate Chip Cookies
Gluten Free Dairy Free Sugar Cookies with Coconut Oil
Best Chewy Gingerbread Cookies with Essential Oils
Naturally Sweetened Homemade Mocha with Whipped Cream
How to Make Raspberry Ice Cream Naturally Sweetened
Homemade Chocolate with Flavor Variations
SHARE IT ON PINTEREST!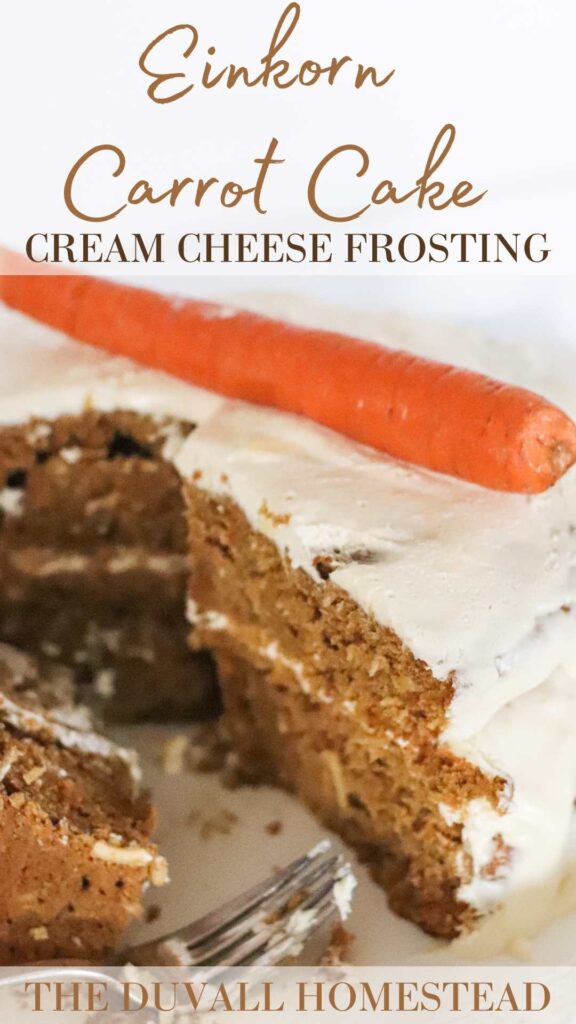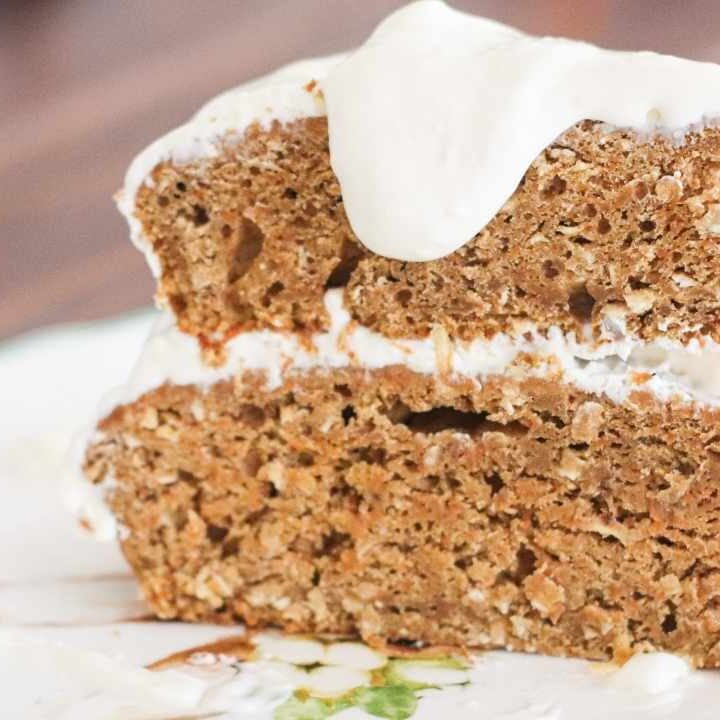 Einkorn Carrot Cake with Cream Cheese Frosting
This carrot cake is moist and delicious. With the coconut sugar and einkorn flour, you don't have to feel guilty about eating this cake. Serve with cream cheese frosting and a carrot on top for a festive spring brunch.
Ingredients
Dry Ingredients
3 cups einkorn flour
1 TB cinnamon
1 tsp ginger
1 tsp nutmeg
1 tsp salt
1 tsp baking soda
Wet Ingredients & sugar
5 eggs
1 cup coconut sugar
3/4 cup maple syrup
3/4 cup coconut flakes (optional)
1/2 cup coconut oil melted
1/2 cup butter melted
1 TB vanilla extract
Other
3 cups shredded carrots (about 4 medium size carrots)
1 cup coconut flakes (optional)
Frosting
2 packages of 8 oz cream cheese at room temp
1/2 stick of butter at room temp
1 TB vanilla
1 cup powdered sugar
milk, 1 tablespoon at a time (as needed)
Instructions
Add all the dry ingredients to a medium size bowl.
In a large mixing bowl or stand up mixer, add the wet ingredients and sugar. Mix on medium speed until well combined.
Slowly add the dry ingredients to the wet ingredients, about 1/3 at a time, and mix until well combined. Do not over mix.
Stir in the shredded carrots and coconut with a wooden spoon.
Preheat the oven to 350 degrees F. Line two round cake pans with parchment paper. Carefully pour the batter into the cake pan, making sure to evenly pour half the batter in each one.
Bake the cakes for about 25 minutes, or until a knife inserted in the center comes out clean.
To a stand up mixer add the frosting ingredients. Add just 1 tablespoon of milk to start and mix on medium for several minutes until desired consistency is reached. You can add more milk if you need it to be creamier.
Let the cake cool completely before frosting. Remove from the cake pan and frost the bottom cake layer first, then the top. Add the top layer and frost the whole thing. Top with a fresh carrot and serve!
Notes
Store up to 5 days in the fridge or freeze it for later.
Thank you so much for stopping by the Homestead!