The other day I was going for a walk with Allison and I heard birds chirping while they make their nests, and I smelled fresh cut grass from our neighbors. It must be springtime! Join me for an early spring farmhouse home tour where I share some simple spring decor ideas.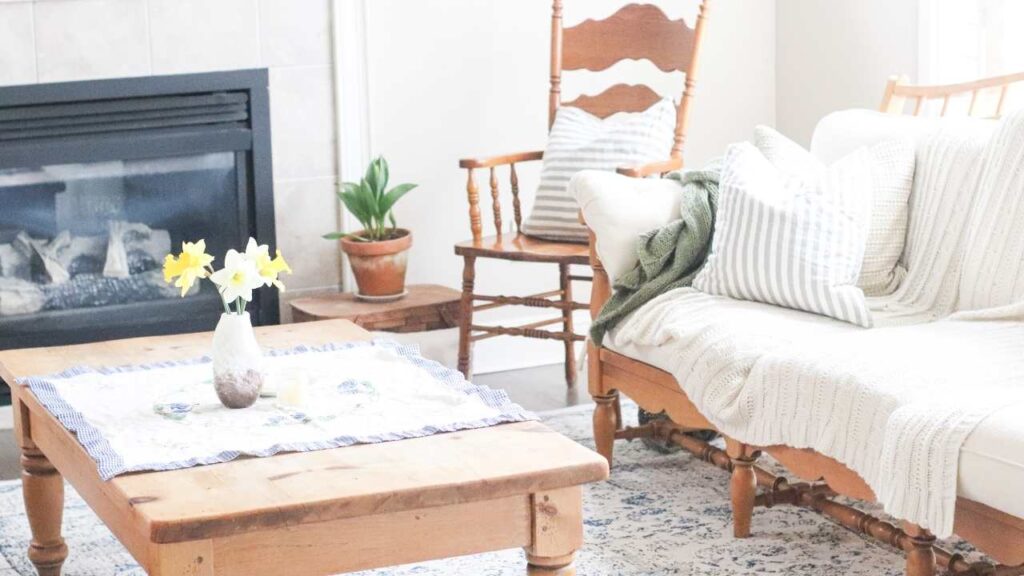 This post contains affiliate links, which means I may make commission off items you buy at no extra cost to you 😉 As an Amazon affiliate, I earn on qualifying purchases. Read my full disclosure here.
PIN IT FOR LATER!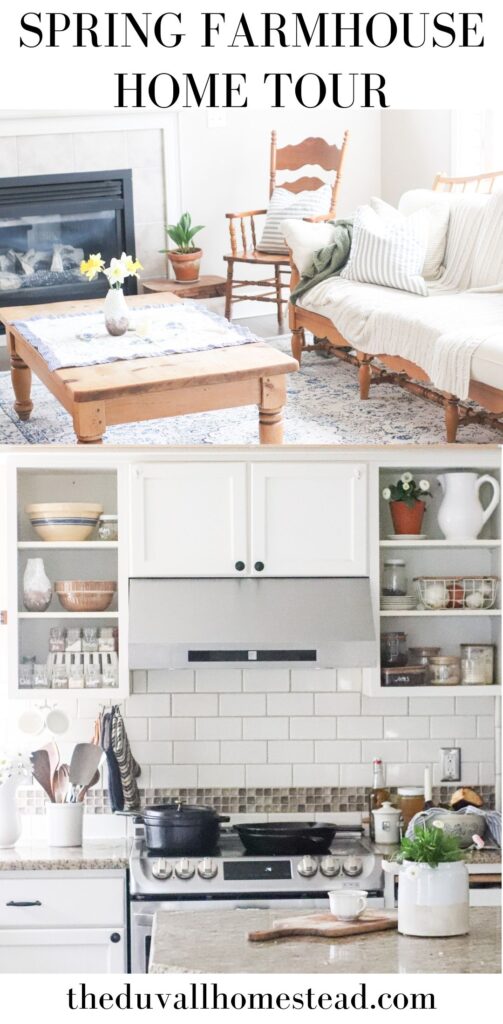 Bring on Spring!
The other day I was going for a walk with Allison and I heard birds chirping while they make their nests, and I smelled fresh cut grass from our neighbors. It must be springtime!
Fall and winter are so fun in my opinion, but when February/March comes around I am just ready for spring. As soon as I see the birds making their nests and the neighborhood cats running around, I know spring is upon us.
Then all of the sudden I'm making brunch recipes and setting the table for Easter.
Speaking of brunch recipes, I will definitely be making my sourdough brioche with chocolate chips this year. The chewy inside with the chocolate, and then you pull-apart the rolls when they are super hot, it's just the best.
A Bustling Homestead this Spring
It is a really busy time for us right now. We are about to get some chicks after not having chickens for the past little while, which I am really excited about. And I'm still getting the hang of this whole mom thing, as Allison changes every day and every week. Which is the best thing in the world, but it definitely catches me by surprise sometimes!
And yet, here I am decorating the home for spring and it reminds me how good it feels to do this. It's always tempting to cave into the side of me that says, "just leave the winter decor up until spring. It'll be fine". But deep down I know in full confidence that I will love to see the spring decor.
Now if you're new around here you know that I don't do a lot of decor shopping. I'm more into vintage or thrifted finds, handmade items, and decorating with food.
I hope you find some inspiration from this early spring farmhouse home tour for your home and family!
Some of my Favorite Homemade Homestead Tutorials
How to Build a Farmhouse Dining Table
Spring Wreath with Fresh Flowers
Double Sided Napkins Easy Sewing Tutorial
How to Sew Farmhouse Rod Pocket Curtains
DIY Countertop over Washer and Dryer
Spring Farmhouse Kitchen Decor Ideas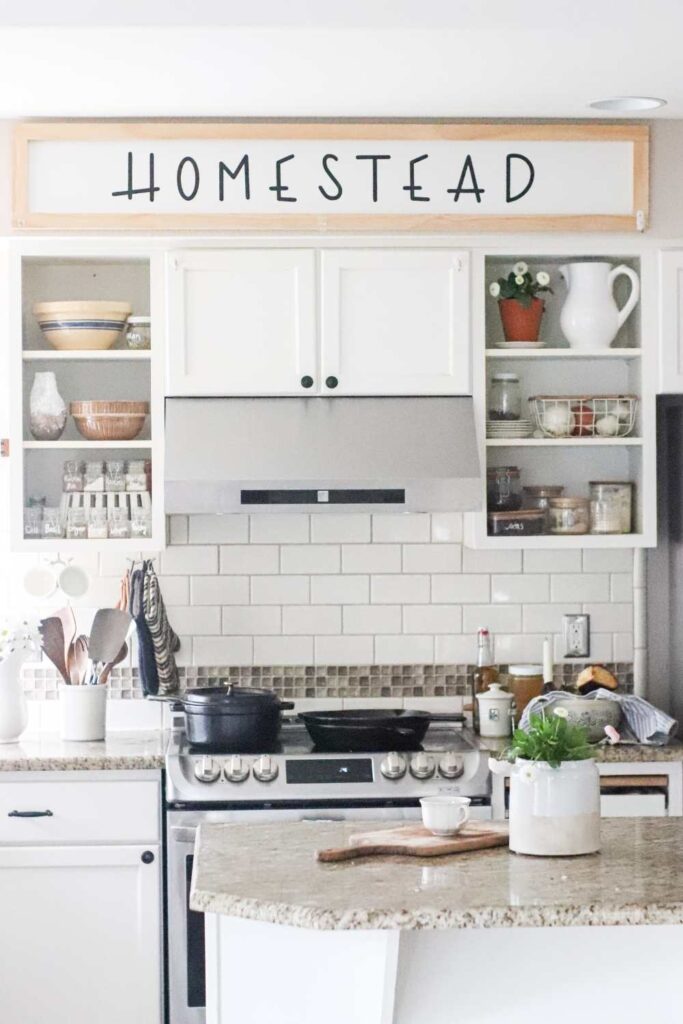 Some of my favorite ways to decorate for spring in the kitchen:
New bowls. I thrifted a few new mixing bowls (see the yellow with blue stripe, and the brown one below it in the open shelving). I was talking to my mom about this the other day but, there is just something about using vintage bowls that I swear makes the food taste better. That's all I can tell you. It is really quite fascinating.
Little flower pots. These cute flowers which I don't know the name of were perfect for our open shelves.
Spice jar organization. I redid all of my spices a couple years ago (you can find the tutorial I did here) and it was one of the best things I did in my kitchen! I love being able to see the spices and again, having them look nice makes them more fun to use too 😉
Vases and pitchers. I have so many vases and pitchers that I put around my house. Even if there are no flowers in them, they still look beautiful on their own. Don't be afraid to use them in different parts of the house too!
Food. In this photo you can see my onions and garlic are in a cute wire basket. And below that on the counter you may not even be able to see them but my chocolate chip sourdough brioche rolls are in a bowl ready to eat.
Stovetop decor. There are a few things I always keep next to the stove. My butter crock, cooking spoons, and a candle or two. Here you can also see I have bread fermenting in the dutch oven, plus vanilla extract sitting in a tall bottle, and lastly a quart of homemade bone broth de-thawing for dinner that night. So yeah, a lot of stuff going on in this photo 😉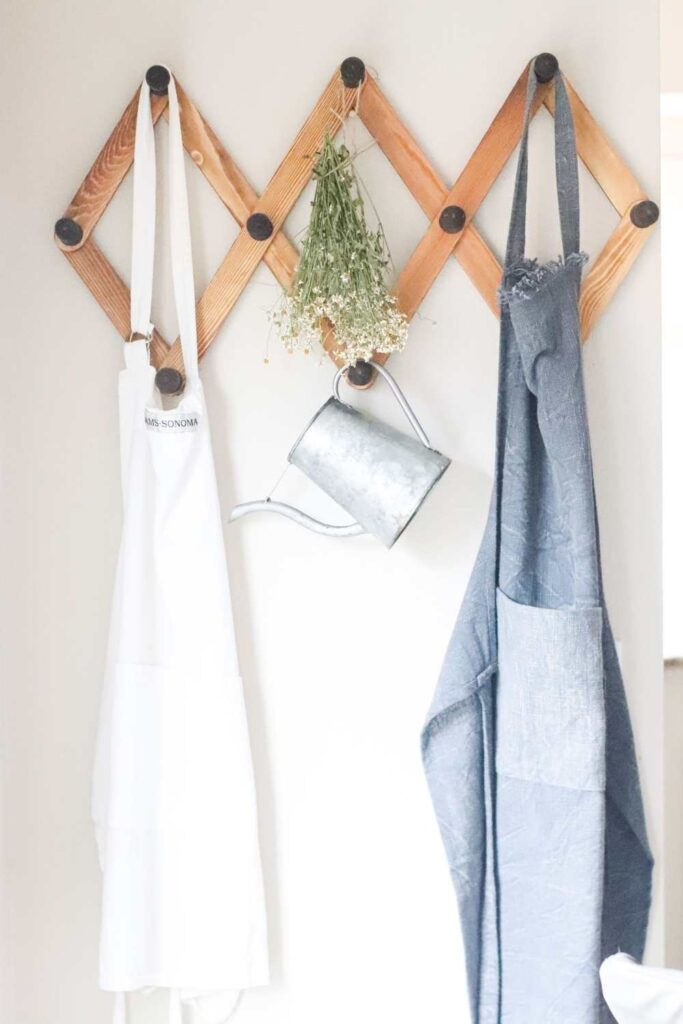 Next to the kitchen I keep my aprons hung on this wood peg rack, with some dried chamomile flowers and a watering pitcher. I use all of these things almost daily (except the flowers).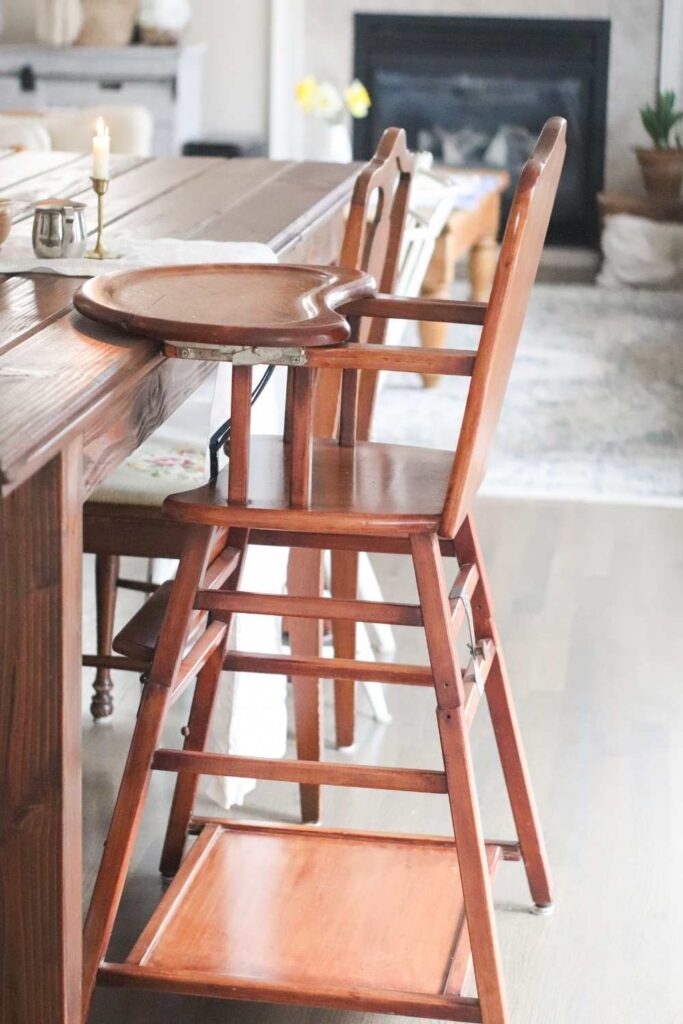 If you're not a mother yet, you may not get excited about this but boy am I thrilled! I have been on the hunt for a vintage wooden high chair since probably before I had Allison. Mostly because I just thought they were beautiful and they also promote good posture. Anyway, I finally found this one on facebook marketplace. It's not exactly an antique but it is handmade by someone local to us and it's sturdy, beautiful, and fits the space perfectly.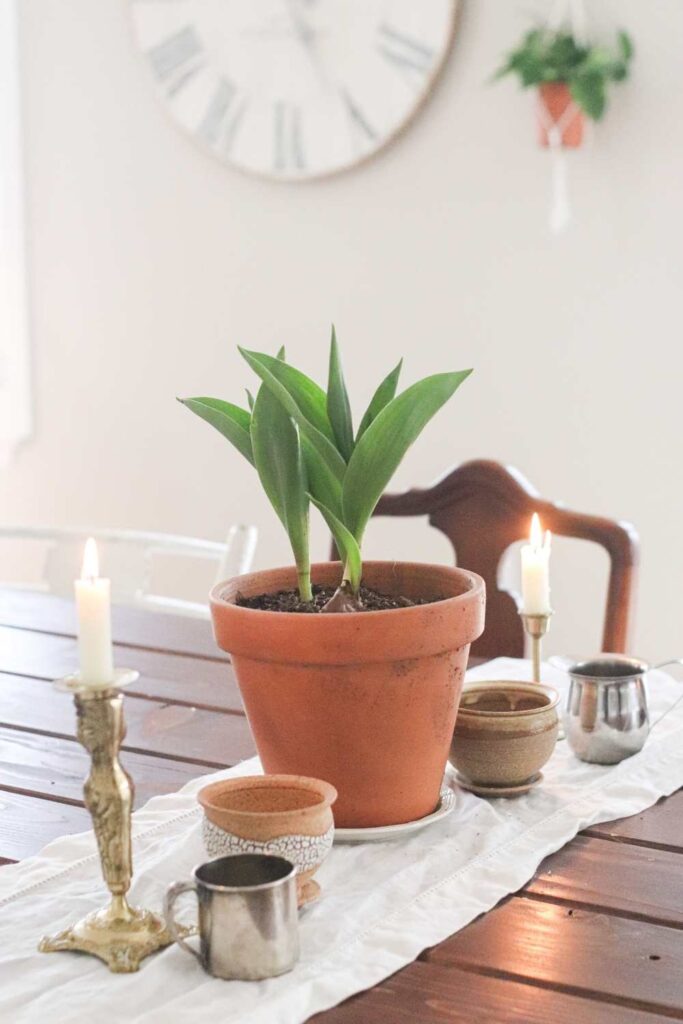 I didn't need much on the farmhouse table to make it ready for spring. I pulled out two candles, potted some tulips, and touched it up with two handmade pottery bowls and some stainless steel creamers. Lately I have been really liking the "small touches" method of decorating where it's all in the details.
Spring Farmhouse Living Room Decor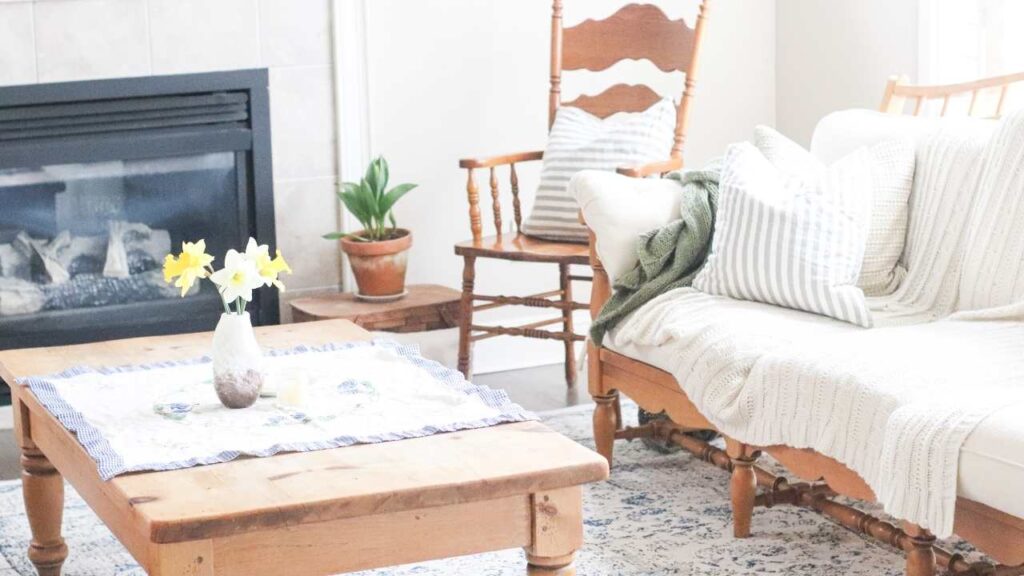 This is our living room and great room, a.k.a. the "main room" where we spend almost all of our time. I usually move this table to the side to do my at home workouts, or to play with Allison on the floor. So it's really a one size fits all room. Also we eat dinner down here all the time. But don't tell our handmade farmhouse dining table that!
By the way, I get asked all the time where these couches are from! I guess they are well liked by many, including myself, but they're actually from my parents. A hand me down from the 80s. My guess is they are no longer sold today!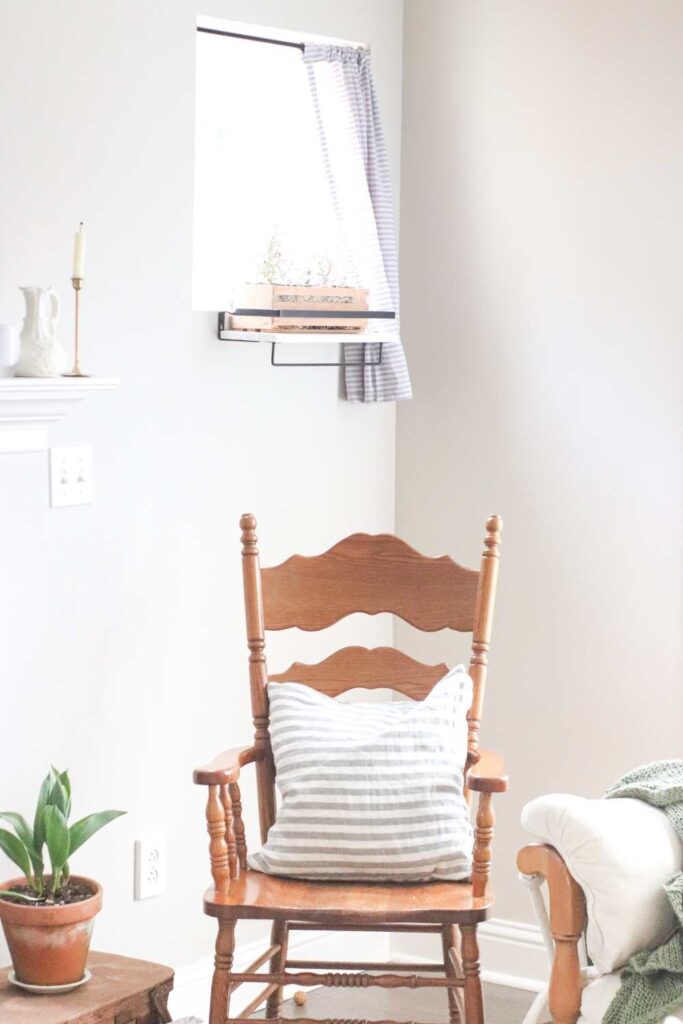 Those curtains are a new addition to that small little window. I've always had a hard time with these windows because they are so tiny, but I figure a curtain can only make them look better. How to Sew Farmhouse Rod Pocket Curtains in under 1 hour (these were a nap time achievement!)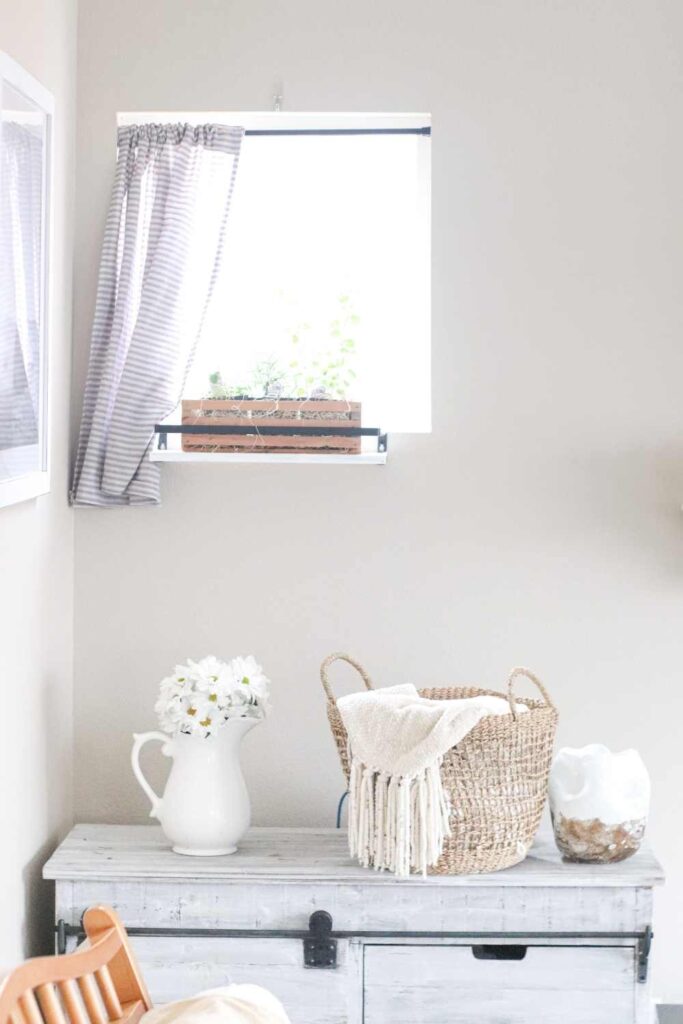 The window on the other side is also graced by my handmade curtains. And this cute little vintage cabinet is actually hiding our wifi modem and cords, so a white pitcher, wicker basket, and vase are the perfect characters to disguise those electronics.
Spring Farmhouse Front Porch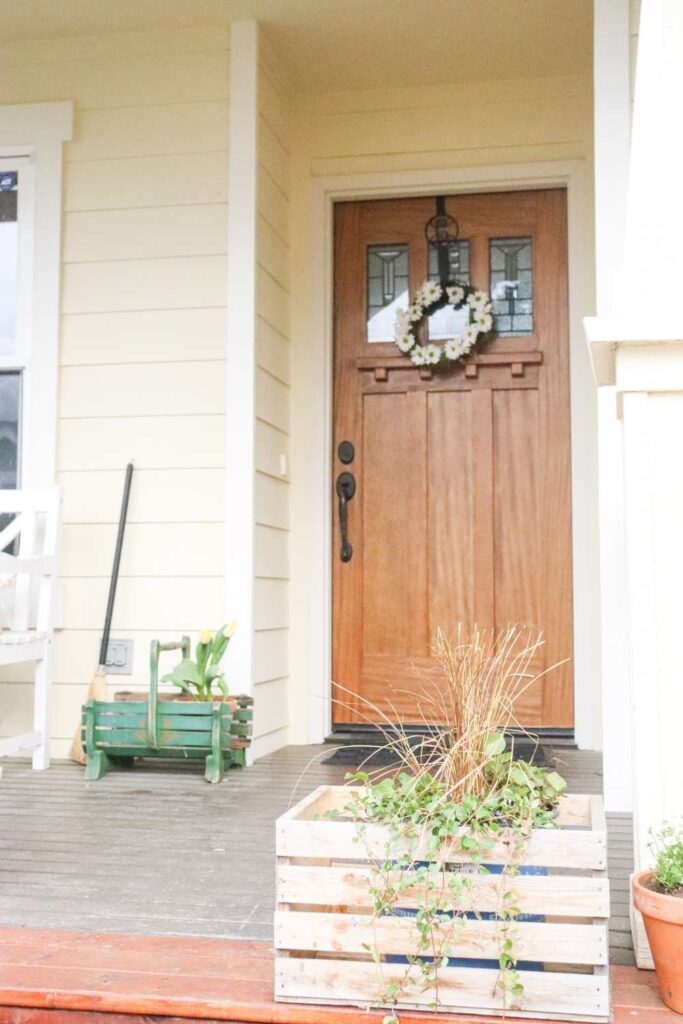 A quick DIY fresh flower wreath and some new potted plants was all I needed on the porch for spring. And look, the tulips decided to bloom for this photo!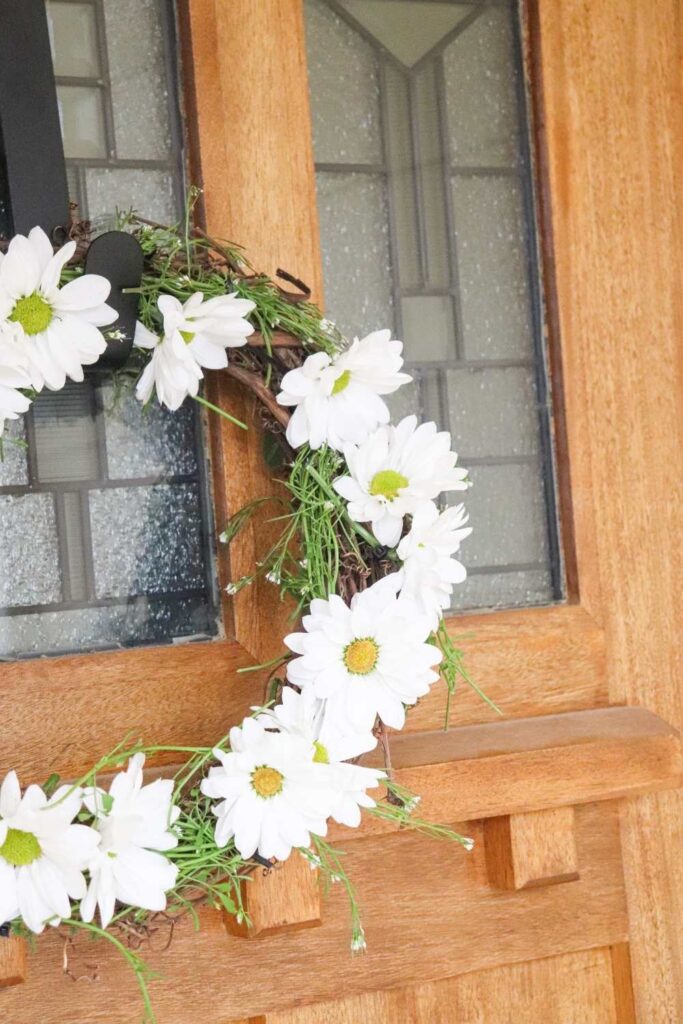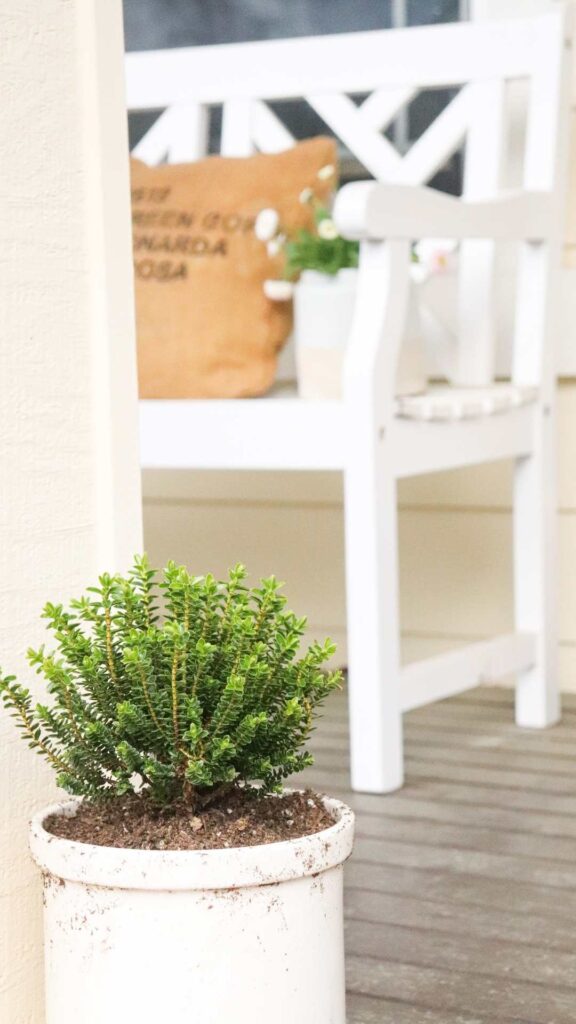 Oh, and I pulled out the grain sack pillows I sewed a couple years ago. These never get old on my white porch bench.
Share it on Pinterest!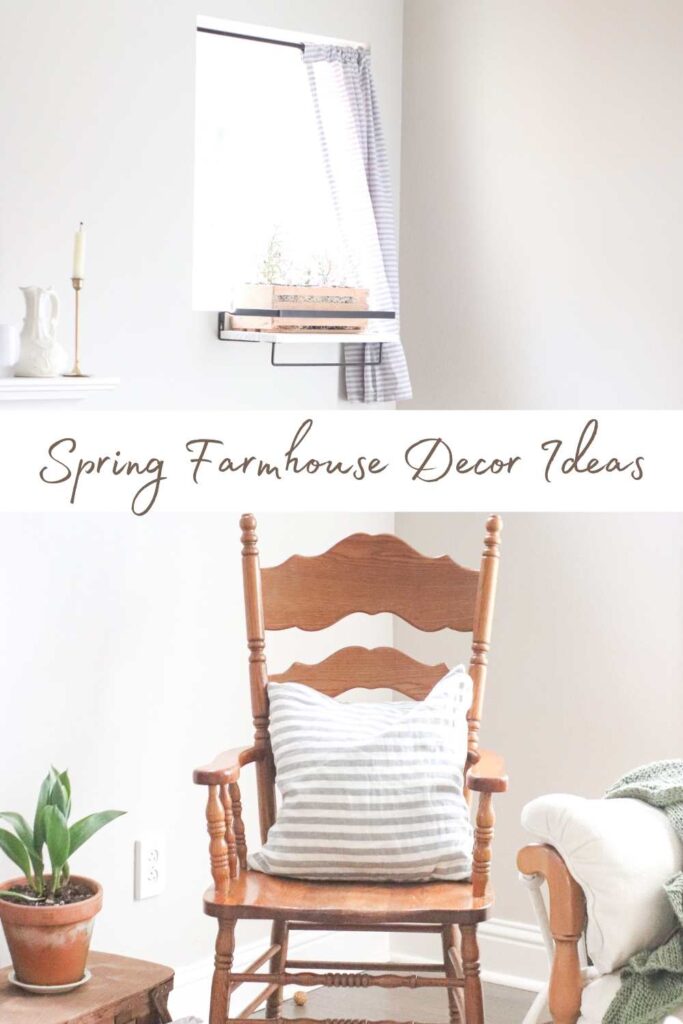 Thank you so much for stopping by the Homestead!