Today I'm taking you with me as I decorate the homestead for spring. I am pretty much a minimalist right now though, being that I'm pregnant and that's pretty much all I'm thinking about. One way or another, it's spring at the homestead and today I'm sharing it all with you. So without further adieu here is my minimalist spring home tour.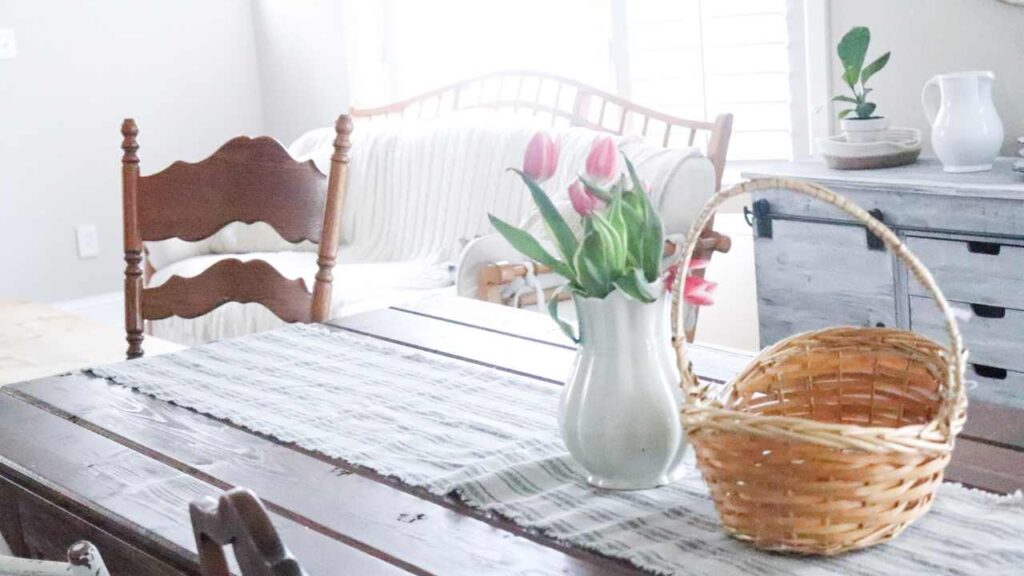 This post contains affiliate links, which means I may make a small commission off items you buy at no charge to you 🙂
Watch: Minimalist Spring Farmhouse Home Tour
Save it for Later!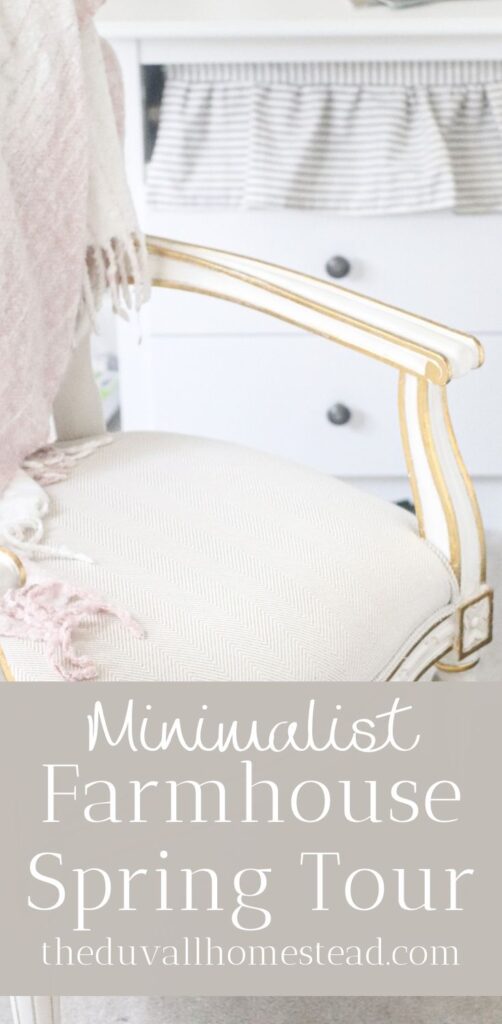 I'm so excited to share this spring home tour with a few other bloggers who are all sharing their spring decor ideas. Be sure to scroll to the bottom of this post and read their ideas after you're done here!
Spring this Year = I'm Pregnant
Usually I'm basking in the new eggs from our chickens, trickles of sunlight coming in the living room, and excitement of summer around the corner.
But, I'm pregnant. That's right. I've got an unknown little angel growing inside of me and I'd be lieing if I said that wasn't all I can think about!
Read about how the pregnancy went here, and the story of Allison Marie's natural home birth here.
So this spring home tour is pretty minimal. My belly is growing and I don't have a ton of energy to decorate. So without further adieu here is my minimalist spring home tour.
Tips for Minimalist Spring Home Decor
Try eliminating all the stuff in a given area first. Like the kitchen, living room, or dining room. Then ask yourself what one item you can put there to make you feel like spring time.
For example, clear off the dining room table and simply add a vase with tulips. All done!
Next get the cheapest plants at your local hardware store or nursery. Nothing wrong with investing in some nice flowers, but I find that in the spring time really any plant will do for me. I just grab whatever small potted plants I could find and place in the our home. Plants are good for the air and make great (and easy!) home decor too.
Third, grab a few large trash bags and raid the house for trash and/or donation items. Gosh, I can never do this enough. It brings me so much joy to take down half my closet and donate it! I love the open space and donating to someone more in need.
Fourth, get the essential oils going. Even one new blend like Balance or Citrus Bliss can change the feeling of the space so much. They help purify the air and provide a uplighting feeling when diffused in the air. I much prefer spending money on oils than decor from the store that I'll probably just throw out or sell one day.
Spring Farmhouse Front Porch
This year I added three hanging baskets. I planted strawberries in each one.
On the bench I have my grain sack pillows, which I sewed last year. Grain sack makes for beautiful decor that goes with really anything all season long!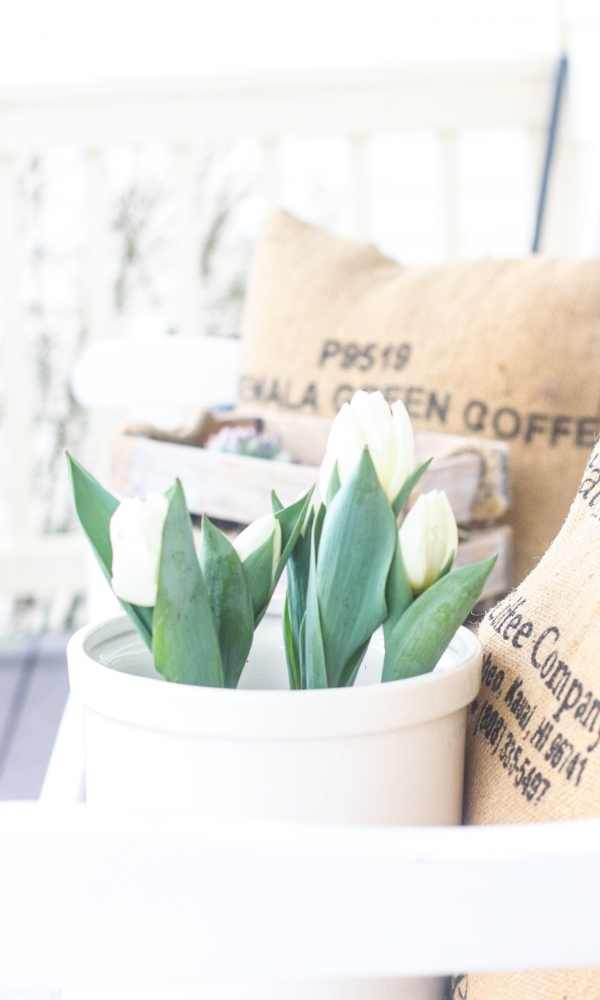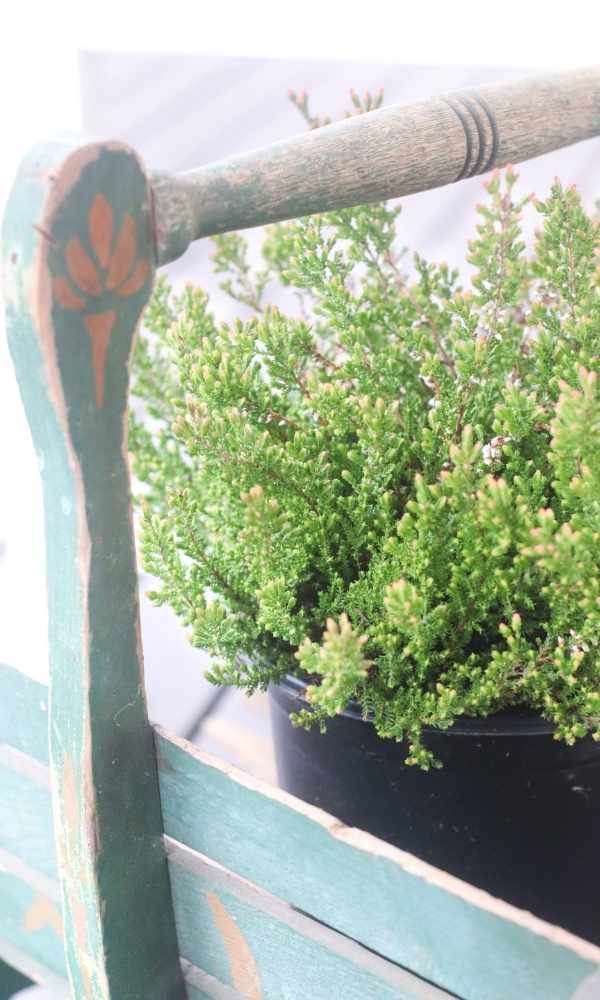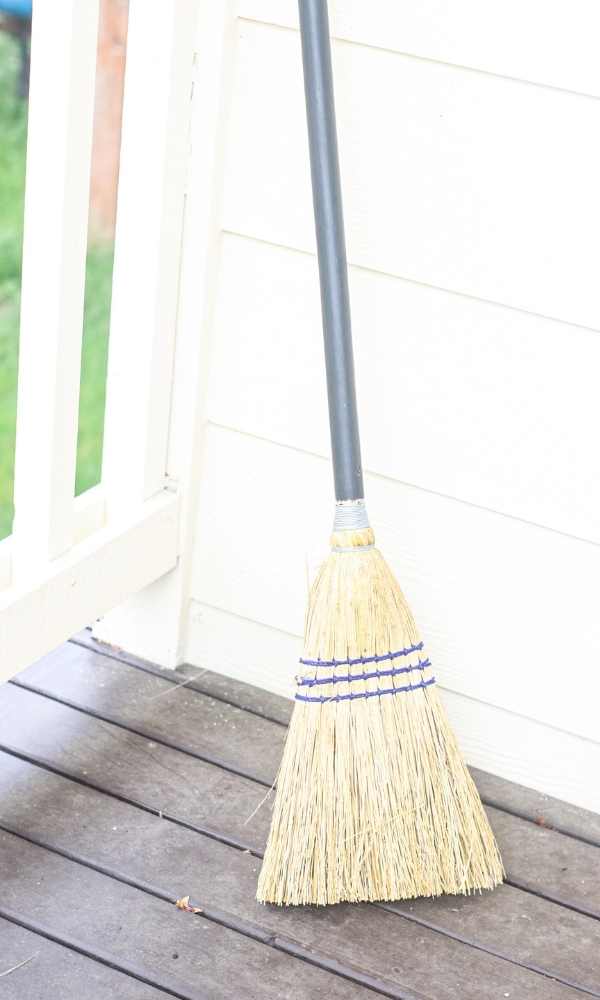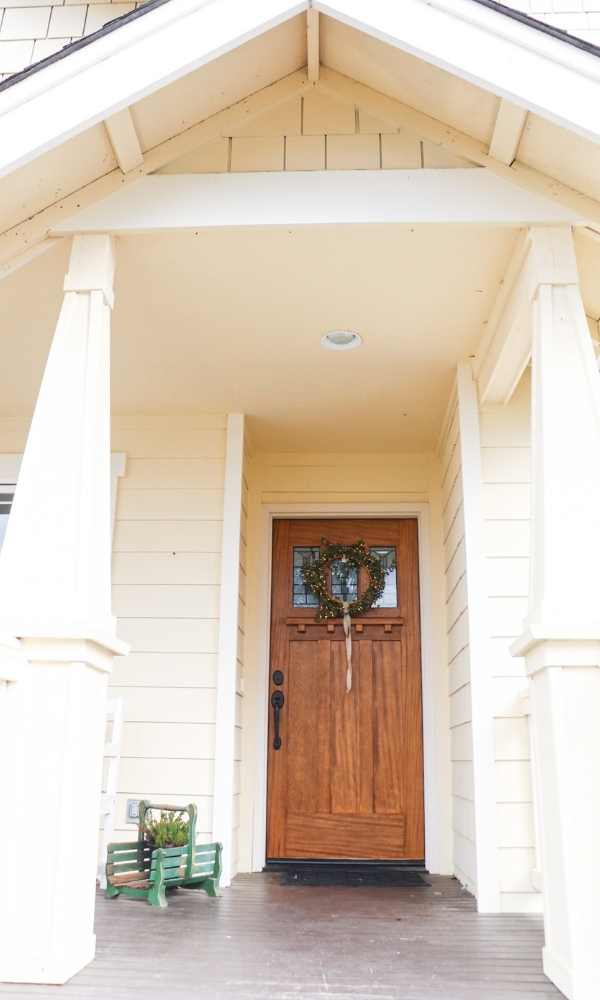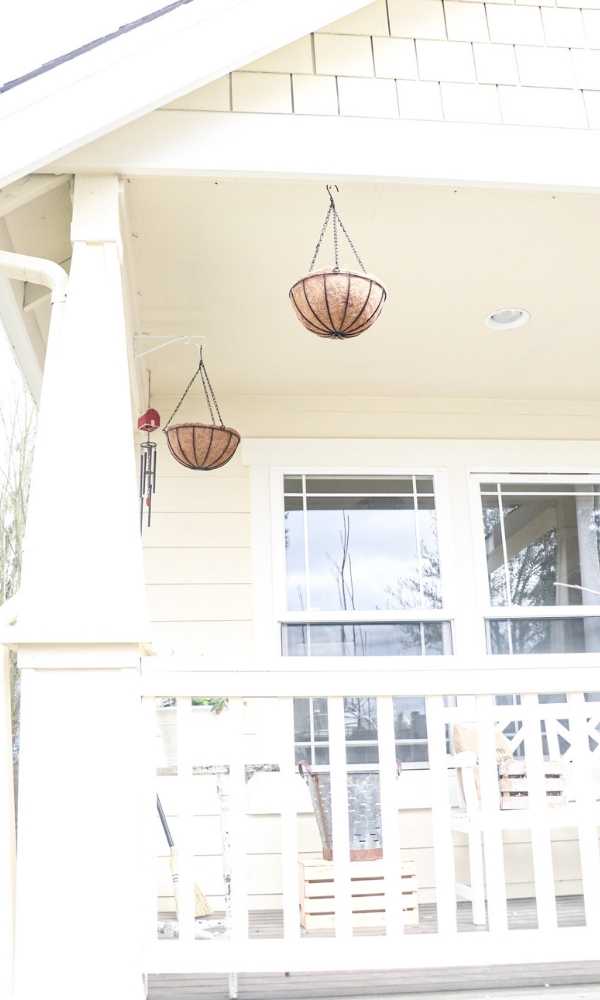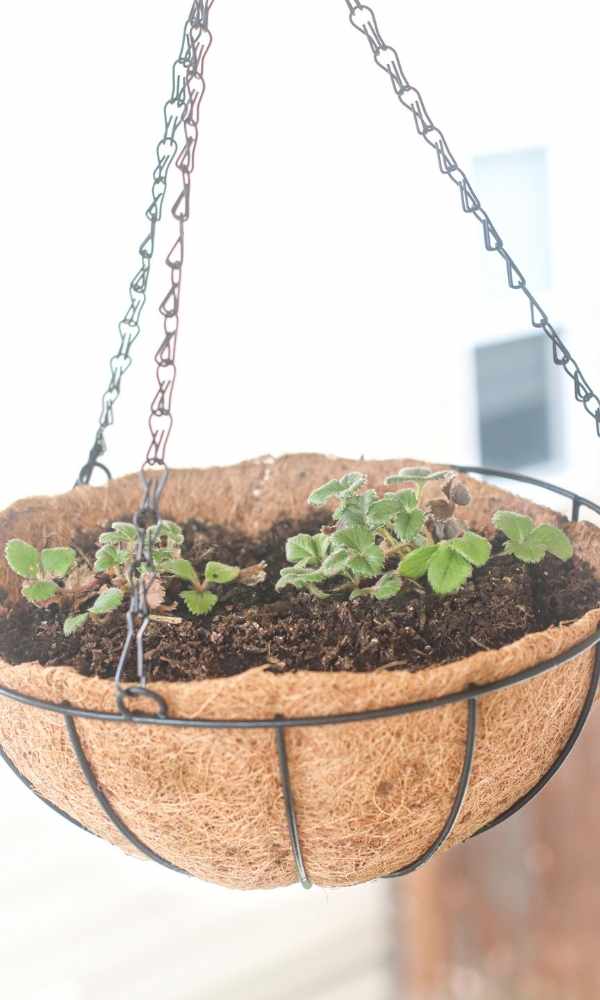 These hanging baskets were sent to us by Emerging Green. I love them because almost all of their products are recycled and sustainable, so it feels good to use them. You can use code DUVALLHOME10 for 10% off anything in their Amazon shop!
Spring Living Room
We reorganized our couches so that there was more walking space.
That's it. Really. I told you this was minimalist 🙂
Then I added some flowers.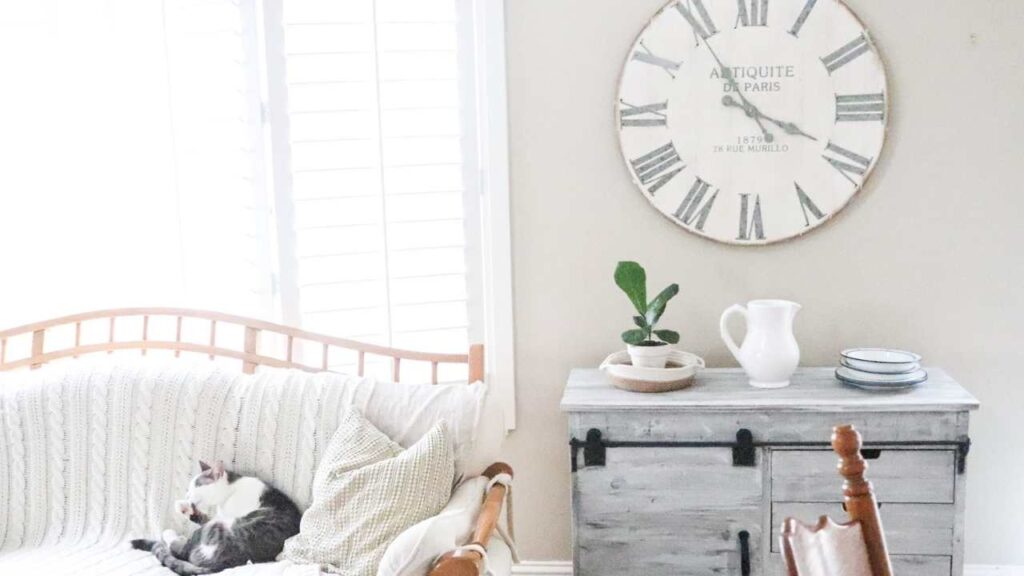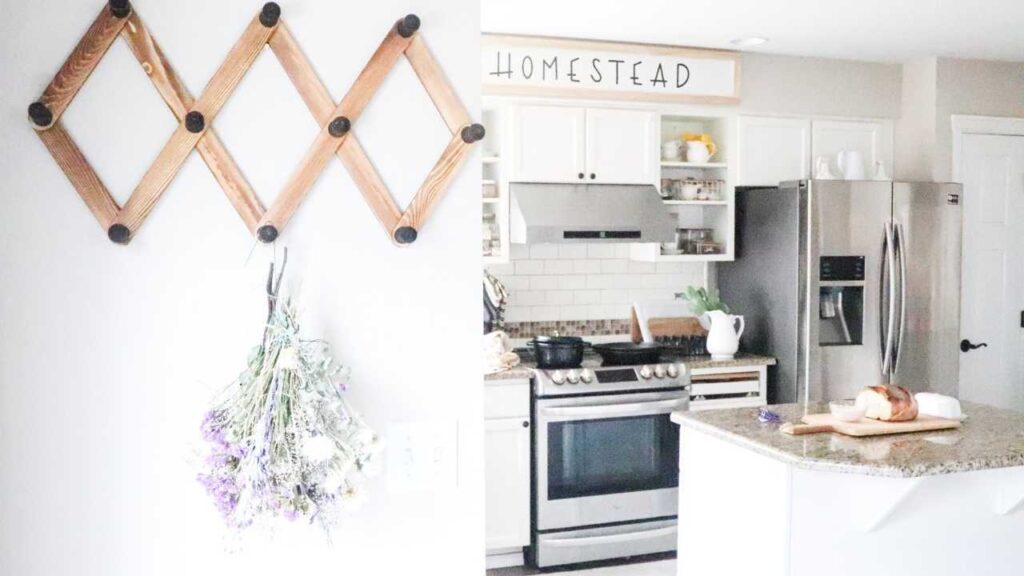 Farmhouse Kitchen
You all see this room almost every week on my YouTube channel where I share my recipes.
The daffodils are my favorite this time of year! I love that even after a snow storm they're the first to pop up.
Sourdough bread is always on my countertop. It's my favorite to go with fried eggs in the cast iron 🙂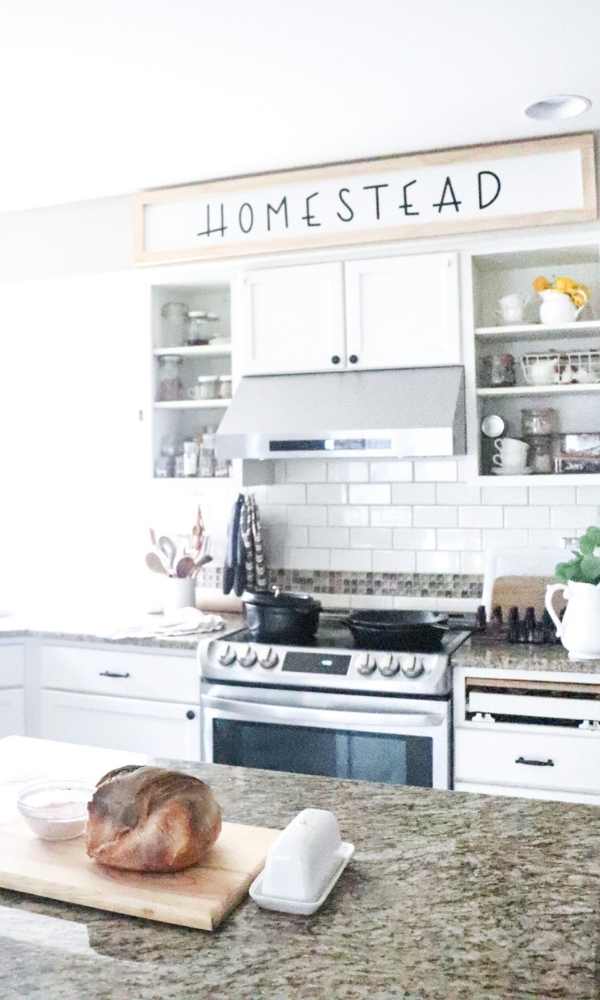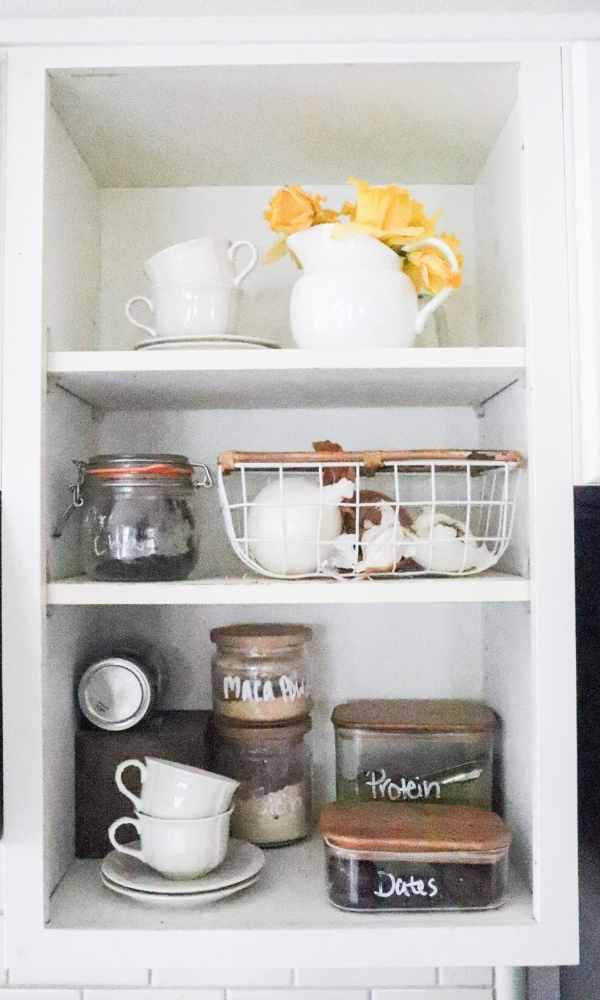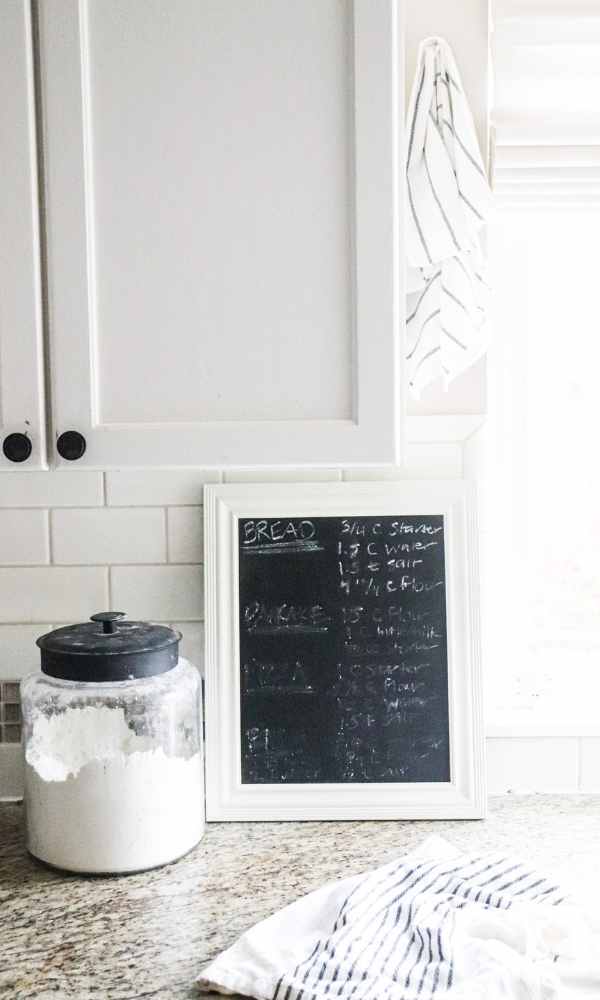 Spring Minimalist Tablescape
This is a pretty minimal tablescape, but it does the job!
A pretty table runner, some tulips, and an Easter basket.
Last year I made a simple farmhouse Easter tablescape using my favorite hard boiled eggs. Ah, the beauty of Easter!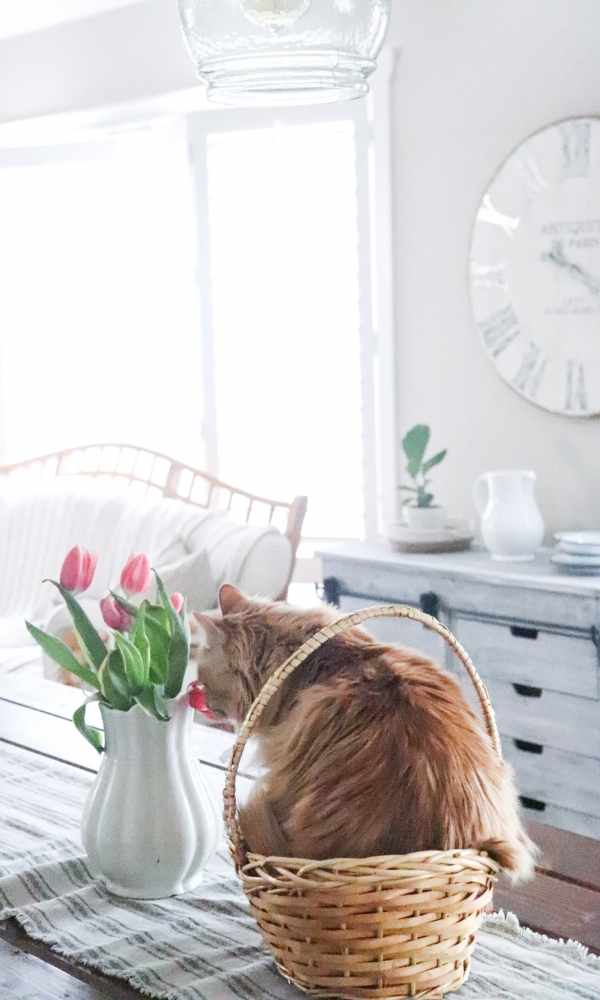 Spring Farmhouse Bedroom
This minimalist bedroom is just perfect for us. I like the bedroom very clean and simple – no clutter or big decorations.
Here's our favorite recipe for DIY linen bed spray we use on our bedsheets:
1/4 cup water
5 drops lavender
5 drops wild orange
3 drops cedar wood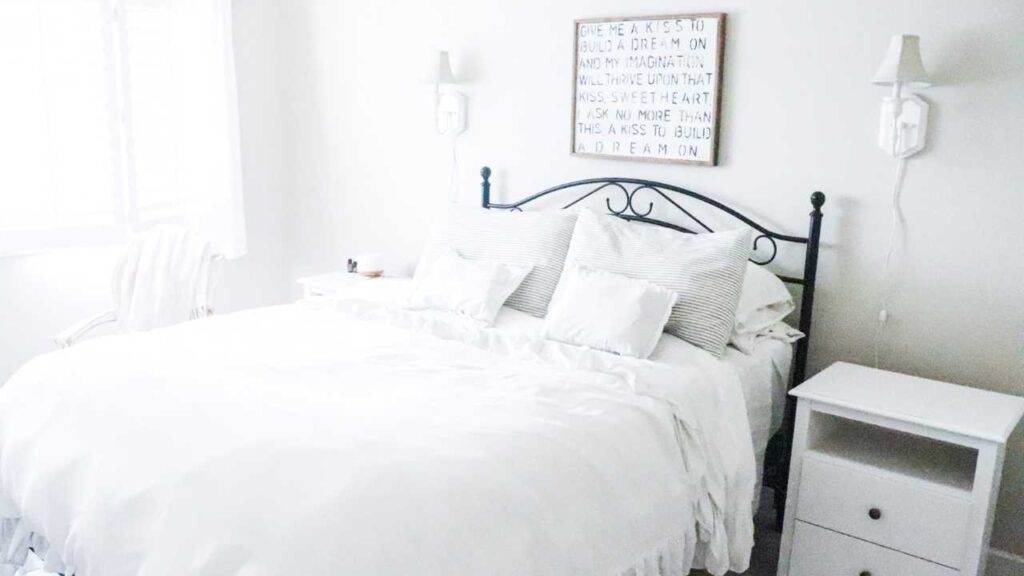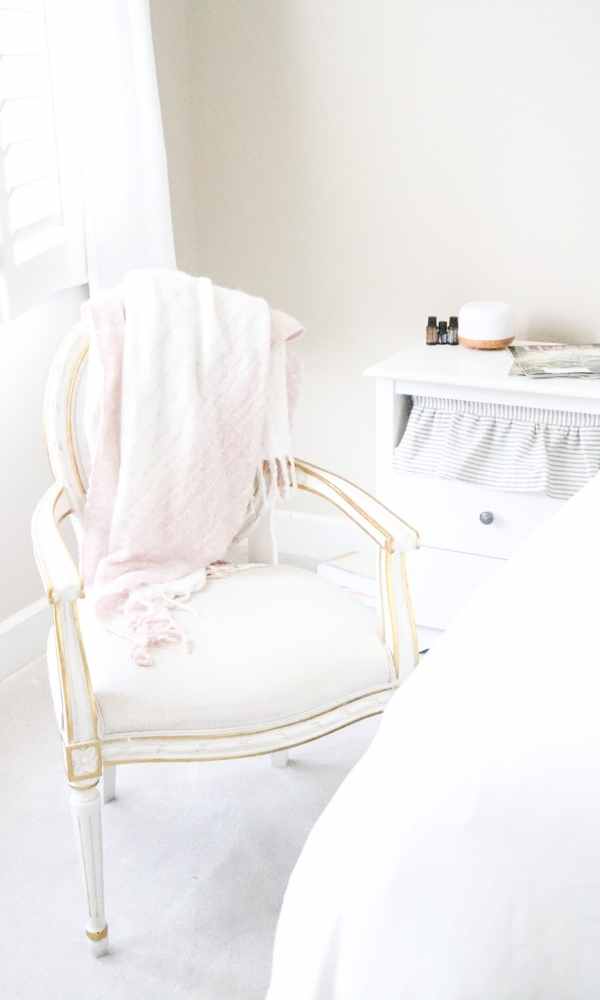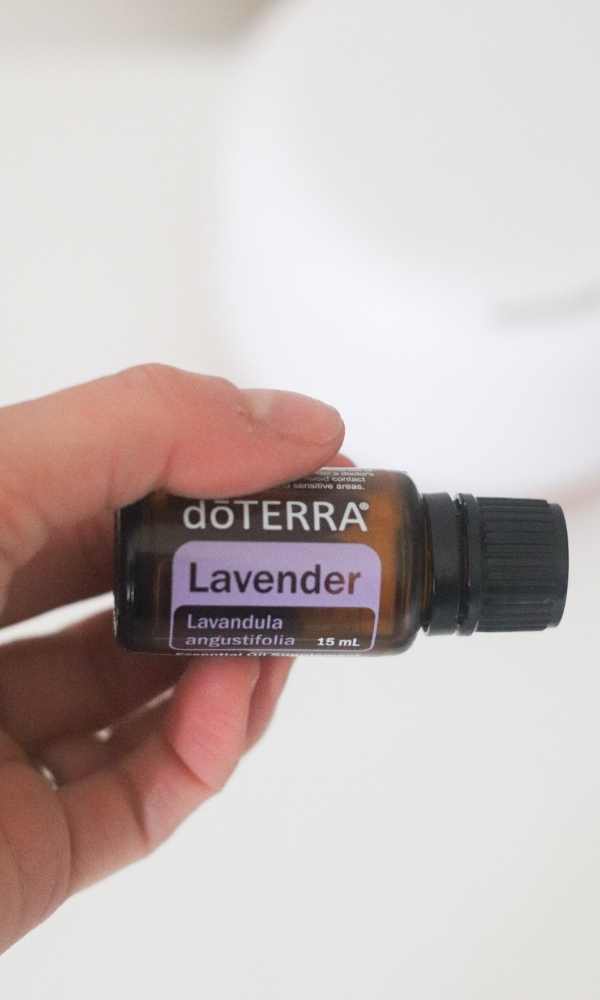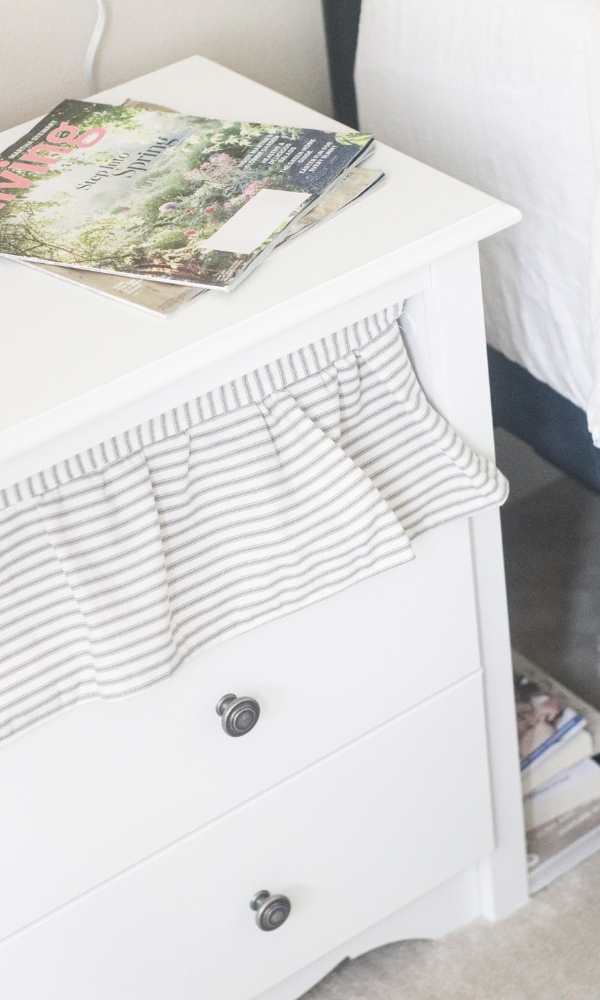 We are actually on the hunt for a new bed and sheets. I want an all organic mattress with organic sheets. In the last couple of years we've been through a few cheap mattresses and mattress toppers, and I've realized that you get what you pay for. But organic is very expensive, so we just haven't pulled the trigger on it yet. Soon, hopefully!
More Spring at our Farmhouse
Simple Farmhouse Easter Tablescape
5 Family-Favorite Brunch Recipes from Scratch
DIY Stand for Trough Planter Box
Spring Home Decor Blog Hop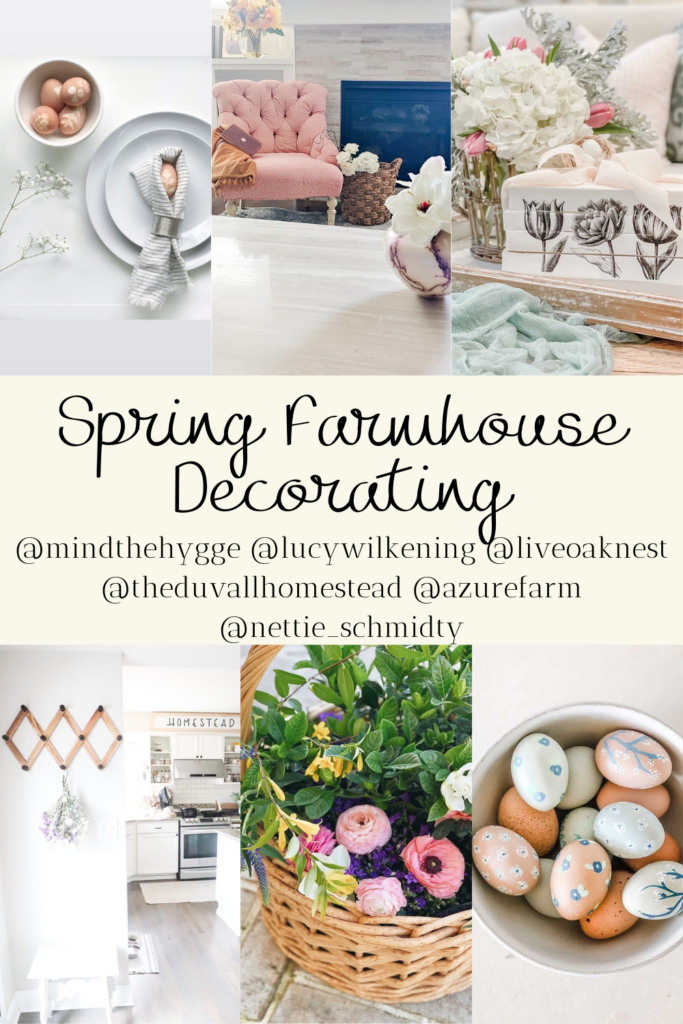 Hand Painted Eggs for Spring Decor
Thrifted Spring Hearth Refresh
PIN IT FOR LATER!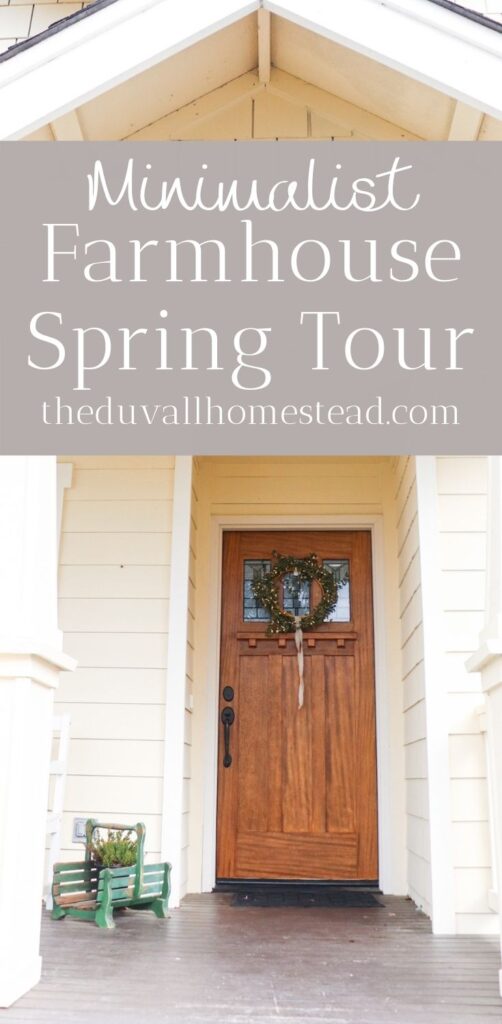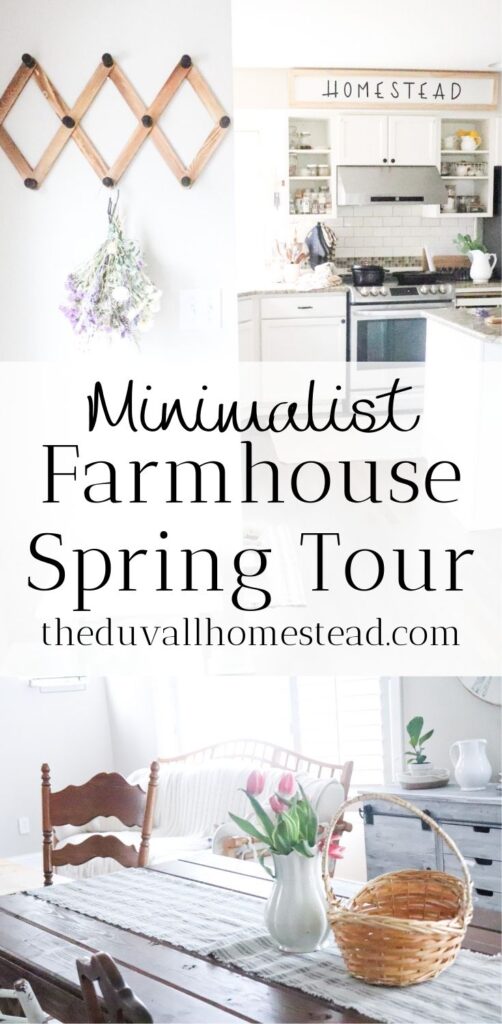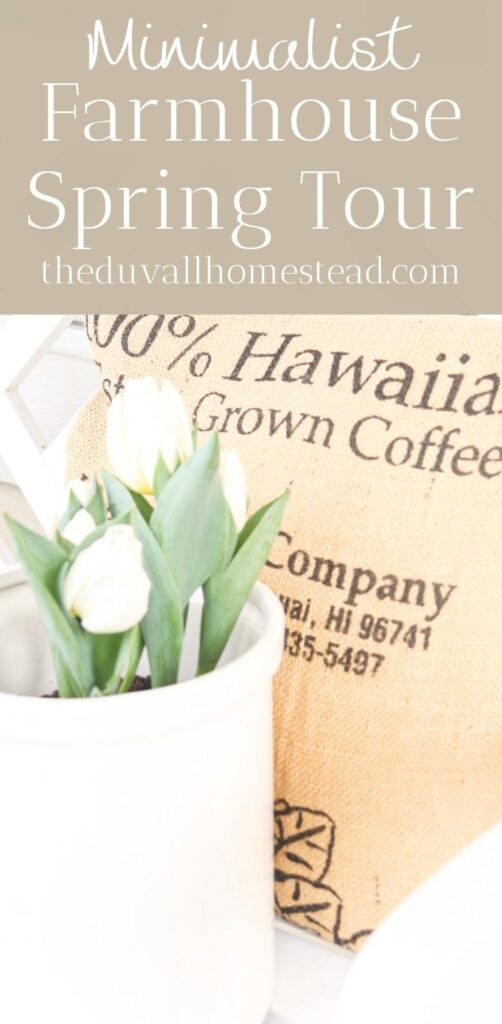 Thank you so much for stopping by the Homestead!