Make perfect farm fresh hard-boiled eggs with this simple stovetop recipe. What I love about this recipe is all you need are eggs, a pot, and a stovetop. With Easter around the corner, these eggs are a fun activity and a healthy breakfast.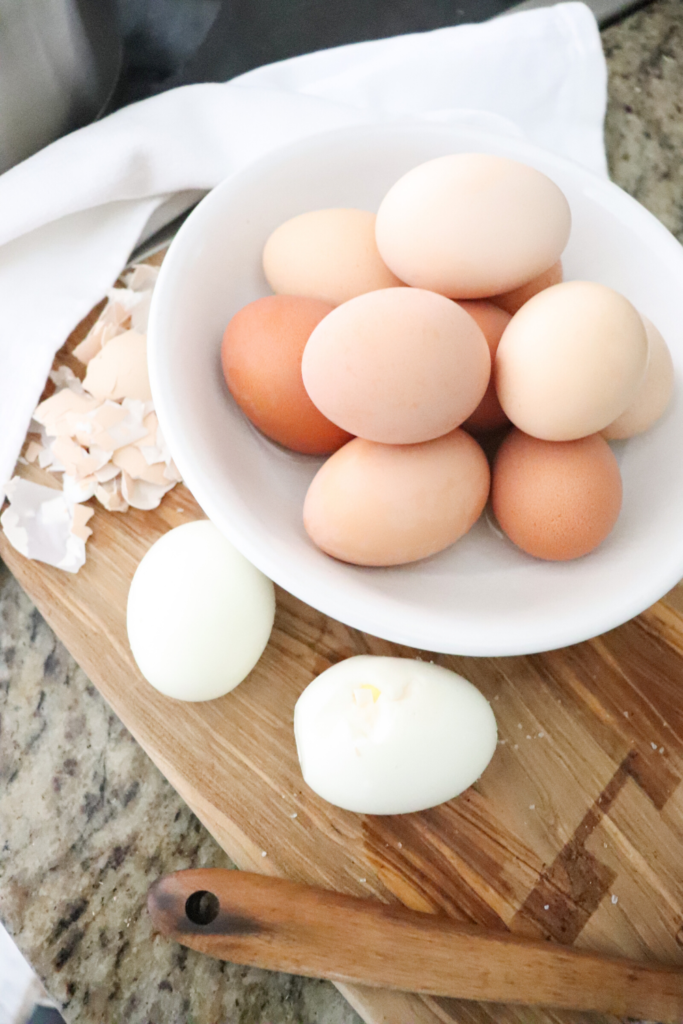 How to make a crackable hard-boiled egg
We've all been there. It's Easter morning, and you're excited to crack open some fresh boiled eggs. Then you start cracking and pretty soon you're struggling to get the shell off and considering giving up all together.
Easter morning in our family is pretty traditional. We go to church, come home and have a huge brunch. Usually a ham is involved, and definitely a lot of hard boiled eggs.
There are a lot different ways to make hard boiled eggs from Instant Pot to stovetop, to baking, steaming, boiling, or simmering. Here is a fun article that breaks down different methods of hard boiled eggs based on how you like the consistently of the yolks.
All I care about really is that the egg is delicious and I can get the shell off. For me, that just means boil some water, add the eggs, set timer for 12 minutes, and you're done! It's really not that hard.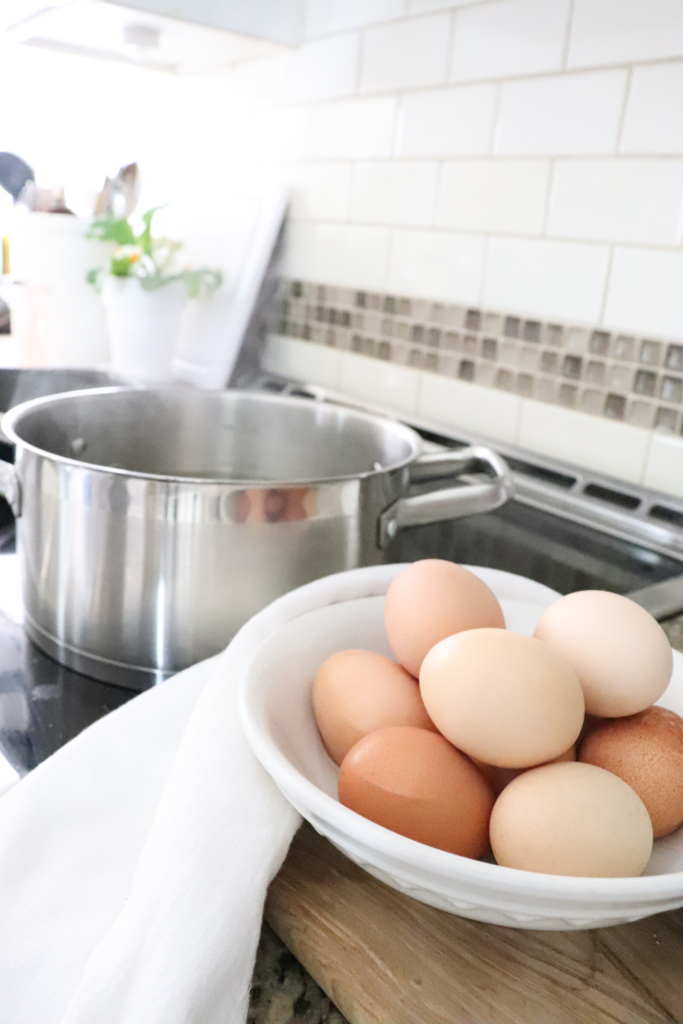 This post may contain affiliate links, which means I make a small commission off of items you buy at no charge to you.
Healthy and Fun Meal Ideas
These eggs are a fun and healthy meal. They are a good source or protein, with about 6 grams in each egg.
If you're looking to lessen the calorie load, you can just eat the egg whites and give the yolks to chickens or save for later. We love the yolks though.
You can serve hard boiled eggs by themselves or add some salt and pepper.
Or, chop up the egg and use as a salad topper. Drizzled with some nice salad dressing, the kids will hardly know they are eating eggs!
Add these eggs to your brunch menu with cast-iron hash browns, homemade ketchup, and yogurt & granola. Grab all these recipes in the FREE DOWNLOAD HERE.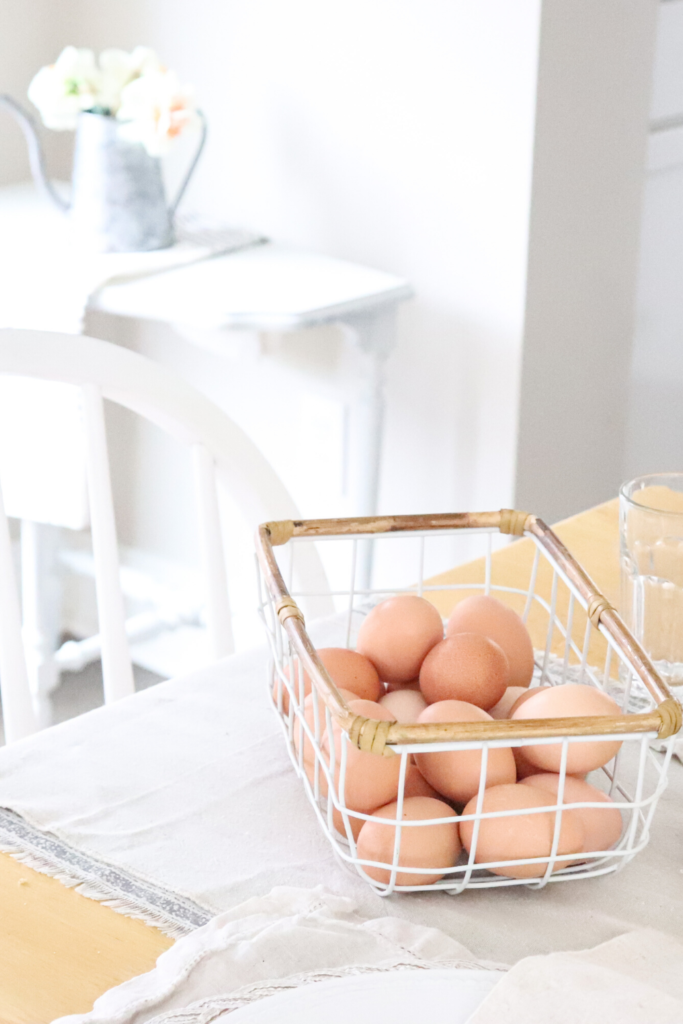 Tips for Making Hard-Boiled Eggs
If you're making these around Easter time, you can die them just for fun. Most of our eggs were brown, and we don't have any kids around quite yet, so we just left them as is.
If possible, bring the eggs out to room temperature before putting them on the stove. The shock of the cold egg in hot water could cause the shell to be a little more sticky.
Drop the eggs in the water carefully by slowing lowering them in with a wooden spoon. Do not just "drop" them, or the shell may break.
After you've carefully taken the eggs out, let them cool completely before opening them.
Save the egg shells! Egg shells make great compost or fertilizer. You can also crush up the shells and give them to chickens as a source of calcium.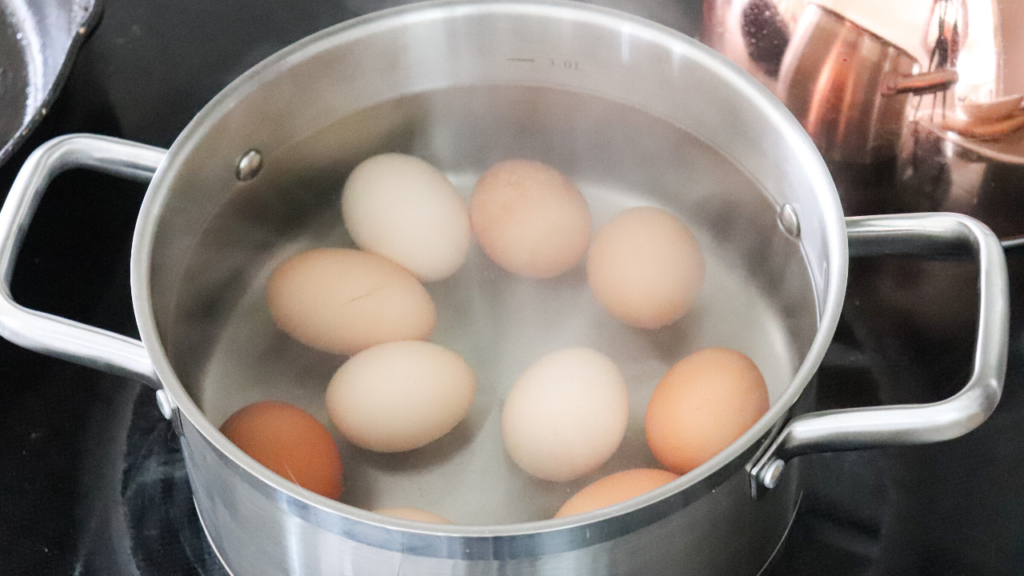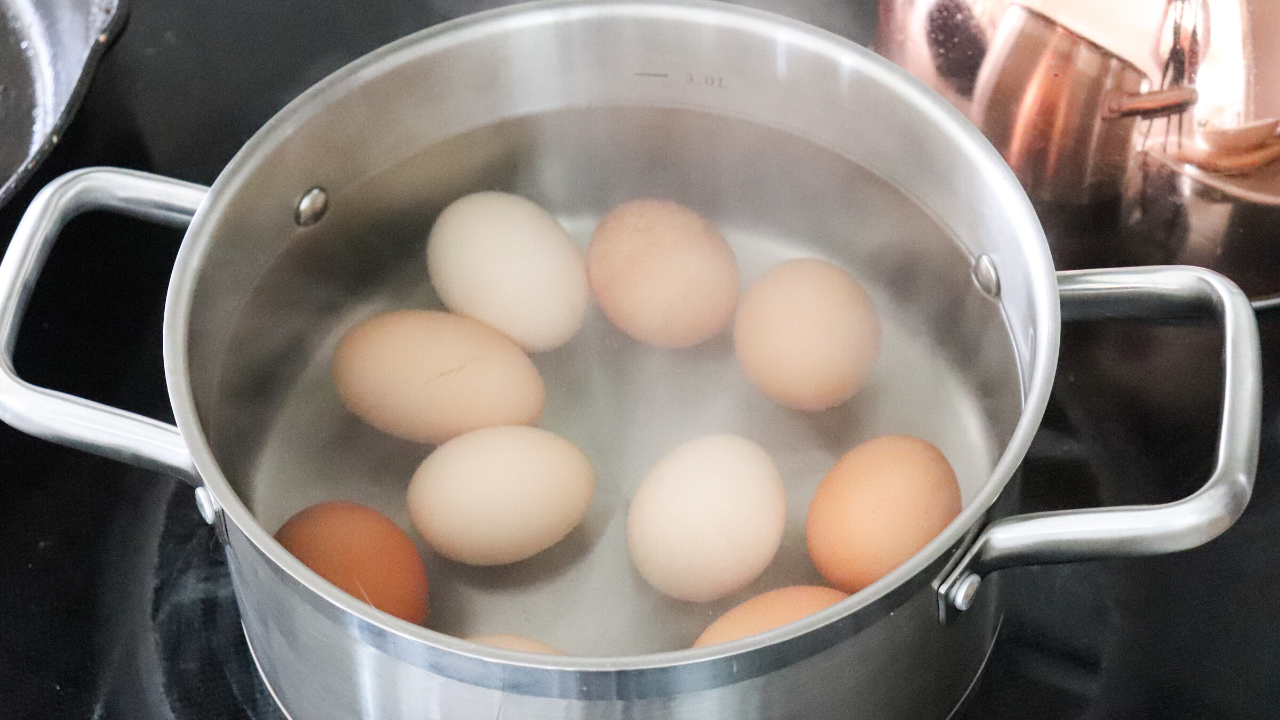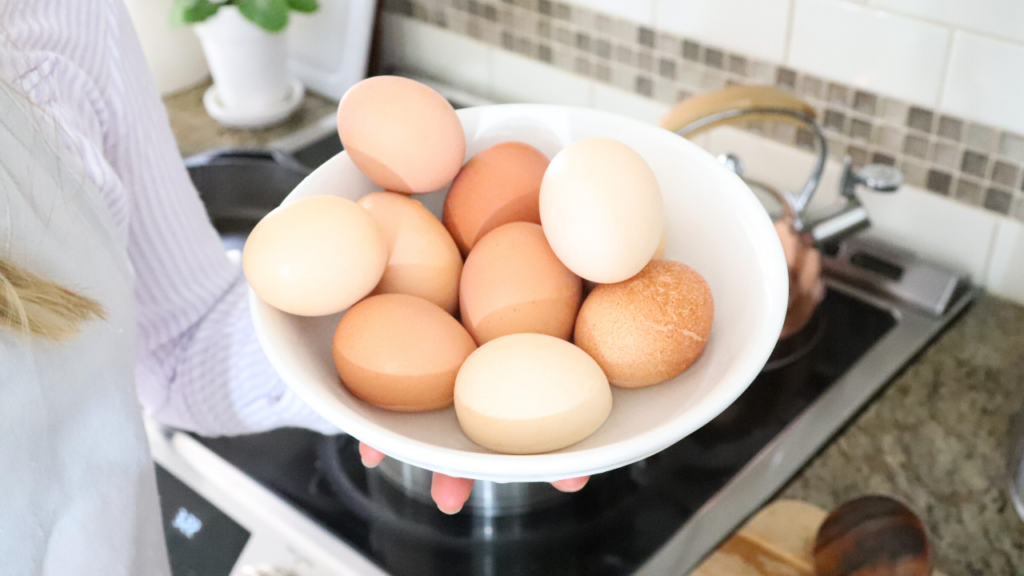 You will need:
Eggs. You can boil one egg or a whole dozen, just make sure they each have enough room in the pot to boil.
Stovetop pot – we like to use stainless steel because it is durable, easy to clean, and has no chemical food reactives
How to make Perfect Hard-Boiled Eggs
Bring water to a boil. You want enough water to make sure the eggs will be fully covered.
Once water is boiling, reduce heat to medium and slowly lower in one egg at a time with a wooden spoon. If an egg breaks, don't worry about it. Just leave it and keep going.
Set timer for 12 minutes.
Once time is up, slowly remove the eggs from the water with a wooden spoon and set on a plate.
Let cool completely. Crack open and enjoy! Best served with salt on top.
Watch: How to Make Hard-Boiled Eggs
Printable Recipe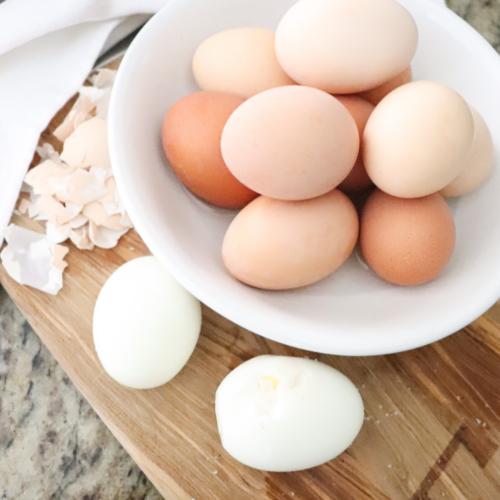 Perfect Hard-Boiled Eggs
Hard-boiled eggs are a fun and healthy treat. With 6 grams of protein per egg, these are great for Easter time on their own, or chopped and put in salad. Simply bring a pot of water to a boil, add eggs and simmer for 12 minutes, and get cracking!
Instructions
Bring a pot of water to a boil on the stove

Once boiling, reduce heat to medium and carefully add eggs one by one to the water with a wooden spoon.

Set timer for 12 minutes while eggs boil.

After 12 minutes, slowly remove eggs one by one with a wooden spoon onto a plate. Let cool and then get crackin!
Pin it for Later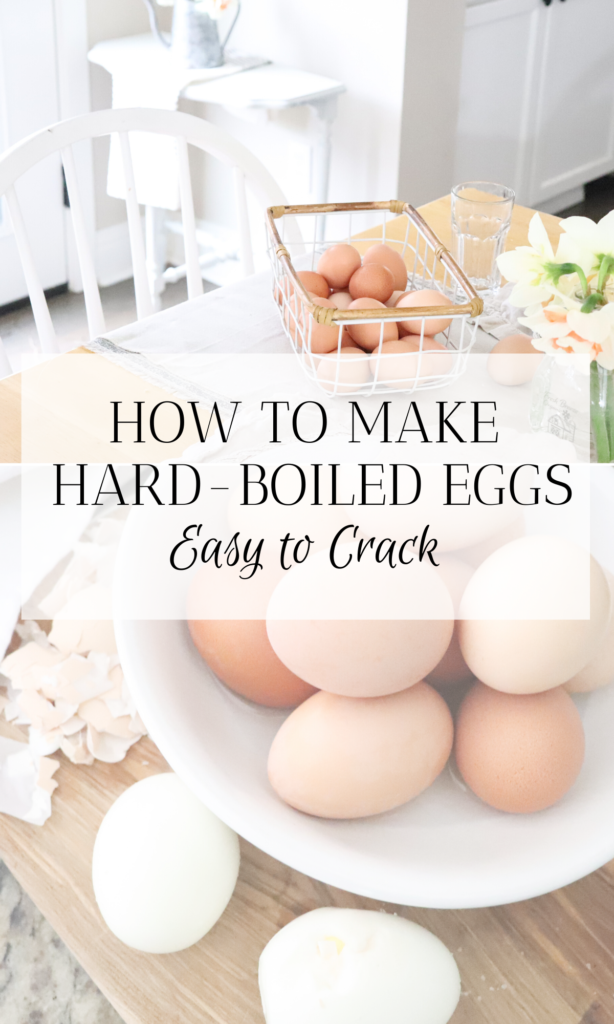 Thanks for stopping by the Homestead!