Join me for a farmhouse laundry room makeover and download FREE printable laundry labels. I spent a couple of days just cleaning out and re-organizing our laundry room and I'm so glad I did. Gather up some mason jars from your kitchen, start buying laundry supplies in bulk, and print off some labels to spruce up your laundry room at almost no cost.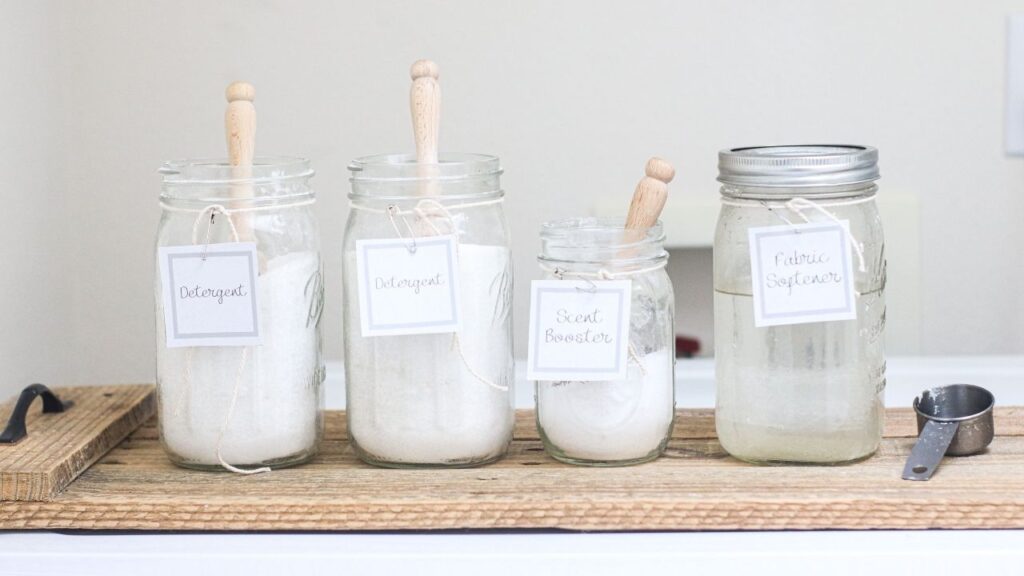 Join me for a farmhouse laundry room makeover and download FREE printable laundry labels.
I spent a couple of days just cleaning out and re-organizing our laundry room and I'm so glad I did.
Gather up some mason jars from your kitchen, start buying laundry supplies in bulk, and print off some labels to spruce up your laundry room at almost no cost.
Save it for Later!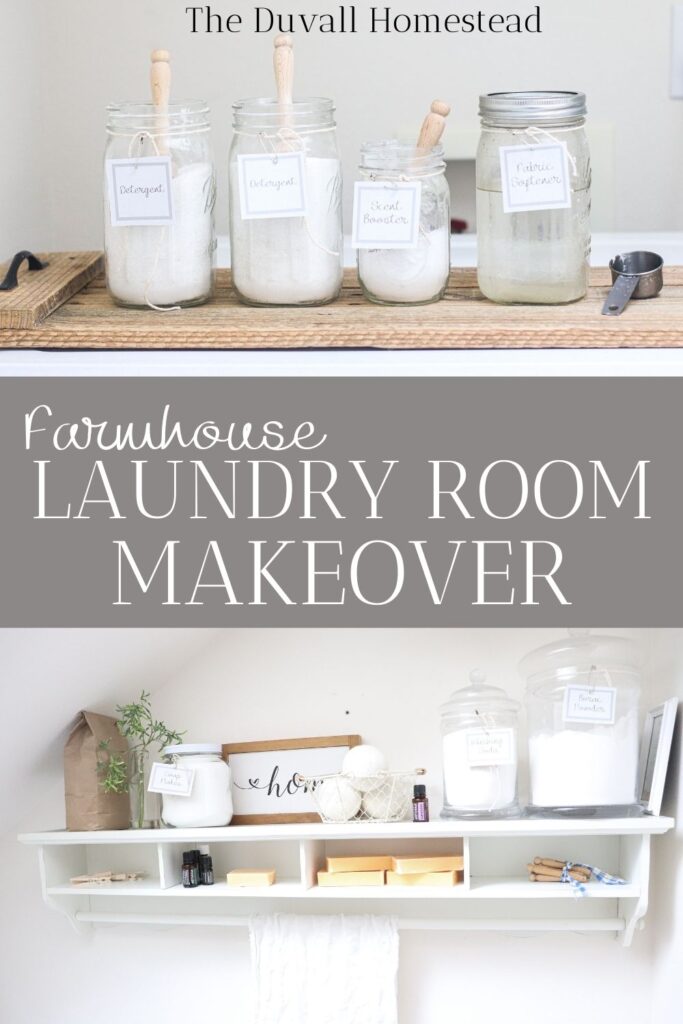 I had been wanting to make over our laundry room for a long time.
But you know those projects that you have on the back burner, the ones you never get around to?
For me it's not even the most complicated or difficult project. I knew the laundry room would be simple. It's not like I had to paint or put in new shelving or anything.
It's the simple projects that just take a little bit of effort that seem to always get pushed further and further out. At least that's it how it goes for me 🙂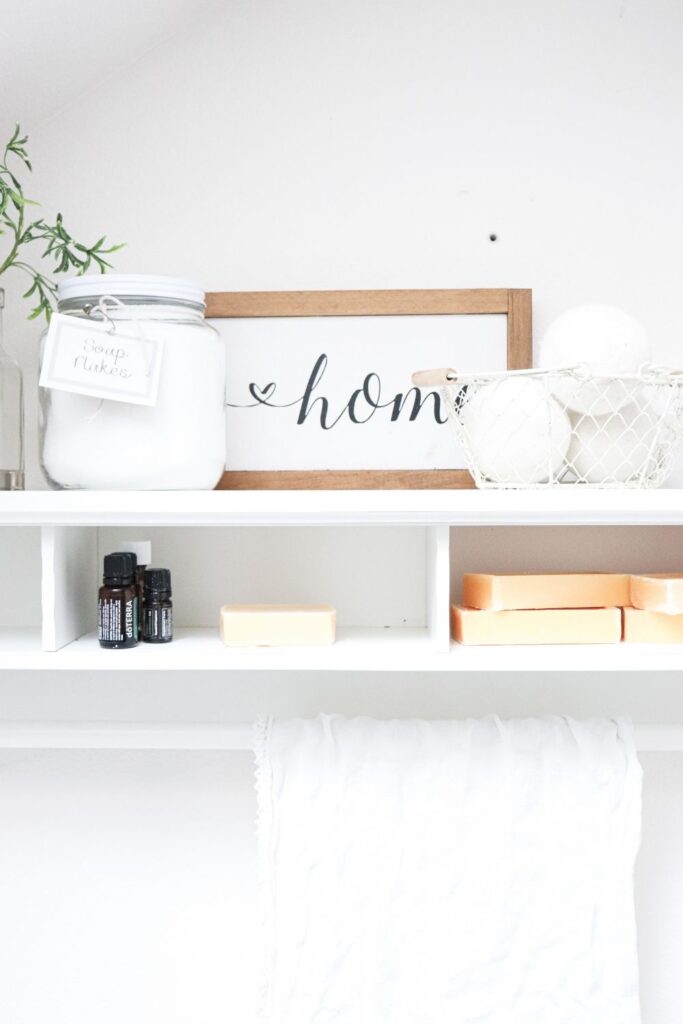 2023 UPDATE:
After organizing this laundry room and also after having our baby, we decided we needed more space and shelving.
So John built a removable countertop over the washer and dryer and it is a total life saver. No more throwing clothes on the floor and folding on the ground. Check out how to build your own for cheap in this post.
This post contains affiliate links, which means I may make a small commission on items you buy at no extra cost to you.
Laundry room vs. Mud Room
I realized how nice it would be to have an actual mud room as soon as I started this laundry room makeover.
First step as always is to clean out the space. Now, our laundry room was functioning before as 1) a laundry room and 2) a cleaning storage area. So we had our vacuum, floor mop, and cleaning supplies in here. We also kept some random things, like my antique brass candle collection.
The problem with this is that there was, ironically, almost no space for the laundry stuff. See our laundry room is actually upstairs, which is great for laundry but not great for storage.
You know how some houses have a mud room downstairs right off of the garage? We don't have one of those, and I wish we did because it would be a nice place to store things like cleaning supplies and shoes.
So my goal was to find a new spot for the cleaning supplies so this could just be a laundry room. And that's what I did!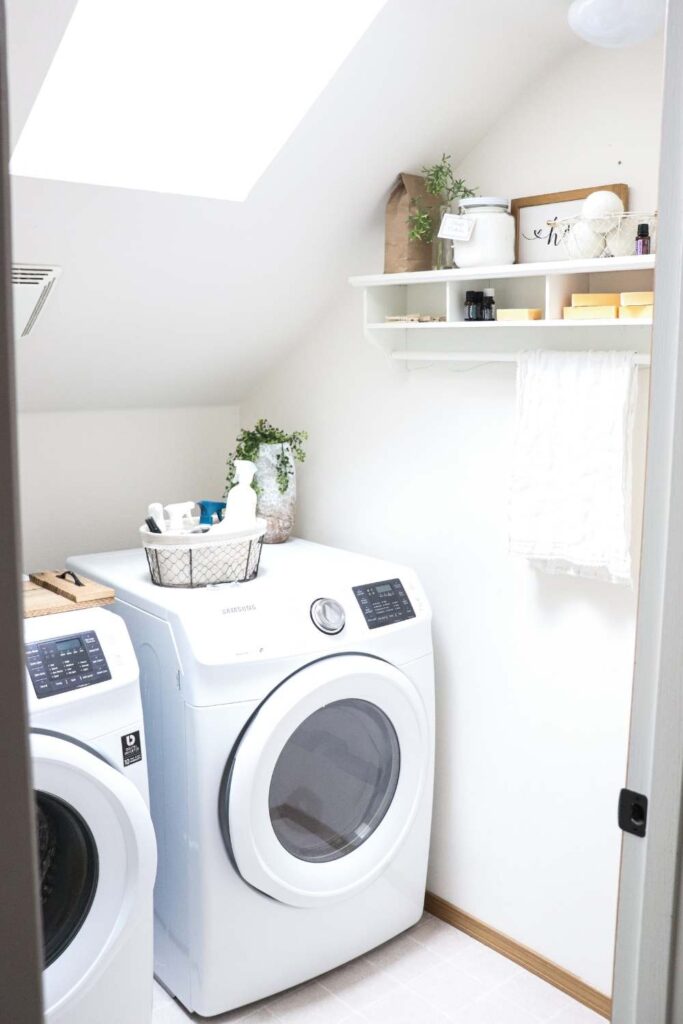 In the spirit of laundry room re-dos, I found another helpful article that will walk you through the key considerations for creating a laundry room and help you select the best appliances for your budget and lifestyle. Check out this article on how to transform your laundry room for more inspiration.
How to Create a Farmhouse Laundry Room
Our laundry room was an unorganized room that you could hardly walk into as you tripped over the vacuum. After just a couple days of organizing, it is now a space I actually stop and look at as I walk by it. Not bad for a laundry room! Here are some simple steps to follow to create a farmhouse laundry room:
First, I just put all of my actual laundry supplies (detergent, scent boosters, fabric softeners) into mason jars and made some quick homemade labels to go on the jars.
Next I organized everything else in the room into categories. For me, this was 1) cleaning tools aka a vacuum and floor mop, 2) brass candles from Christmas time, and 3) random towels and leftover laundry bottles.
Third, decide what is most important for the laundry room. If you have a bigger space, this might mean organizing various items into baskets or drawers. For me since my space is so tiny, it meant I had to get rid of everything that didn't pertain to laundry. I was just done having to bend over the vacuum trying to reach the dryer!
Lastly add some farmhouse touches with a vintage basket, homemade candle, some essential oils, or maybe a linen you sewed or found at a thrift shop. Faux greenery is also a great idea here. I happened to have two faux greenery pieces that I was able to put in our laundry room. It makes the room feel fresh and clean!
If there are three things that can make any room feel farmhouse-y, they are 1) mason jars, 2) greenery or flowers, and 3) something old, handmade, or rustic.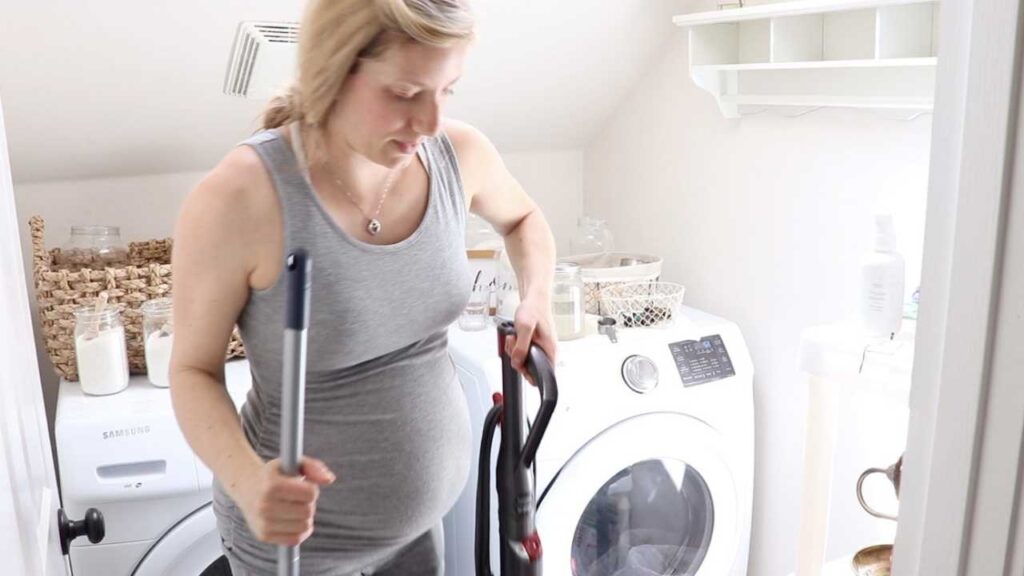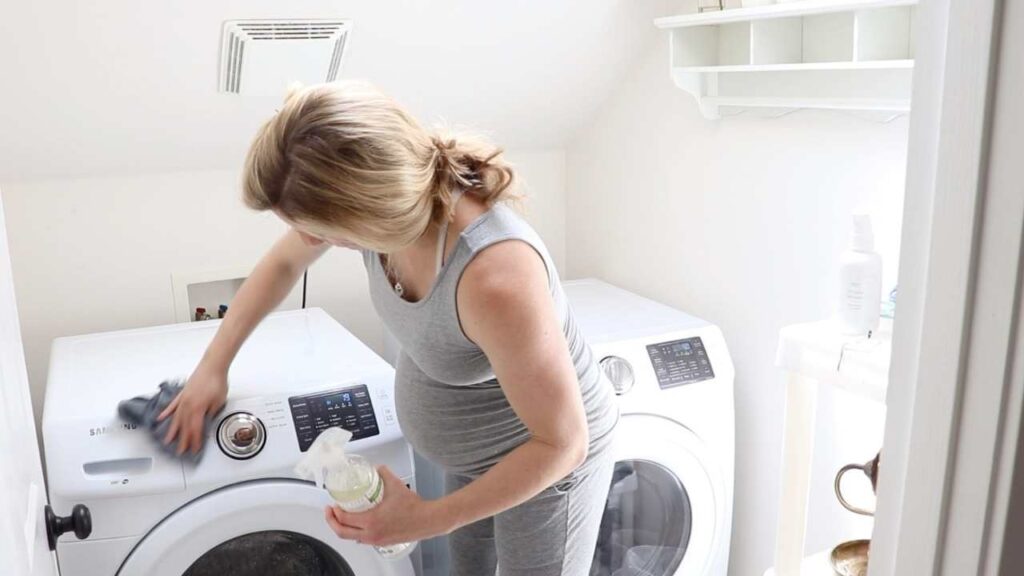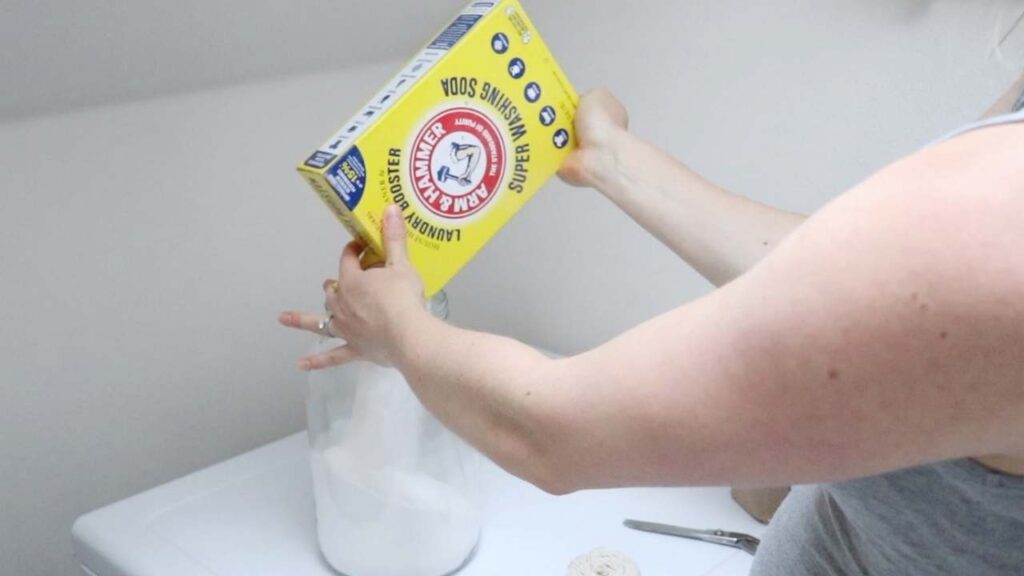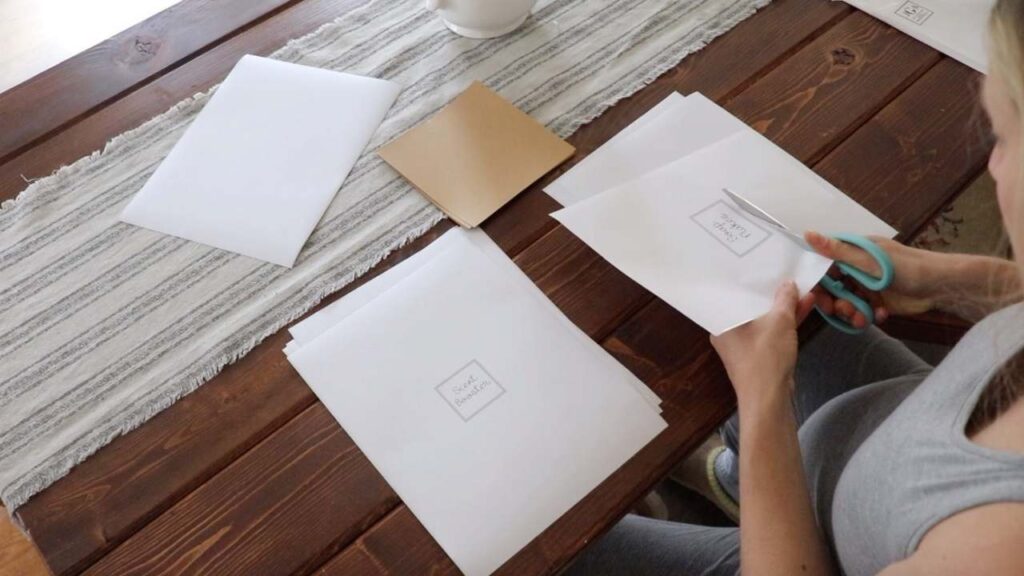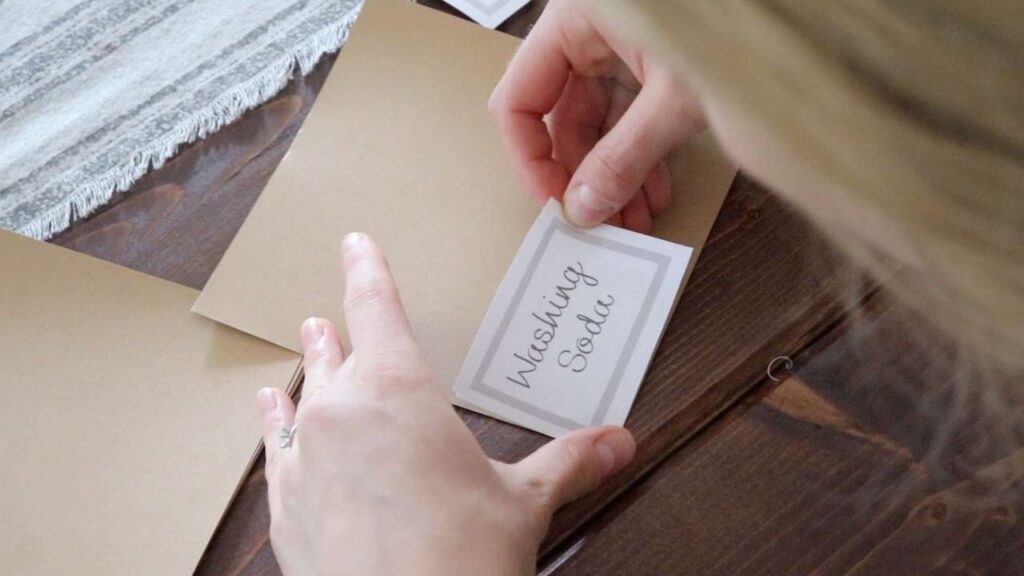 Want to print your own laundry labels? Check out the free laundry label printable here!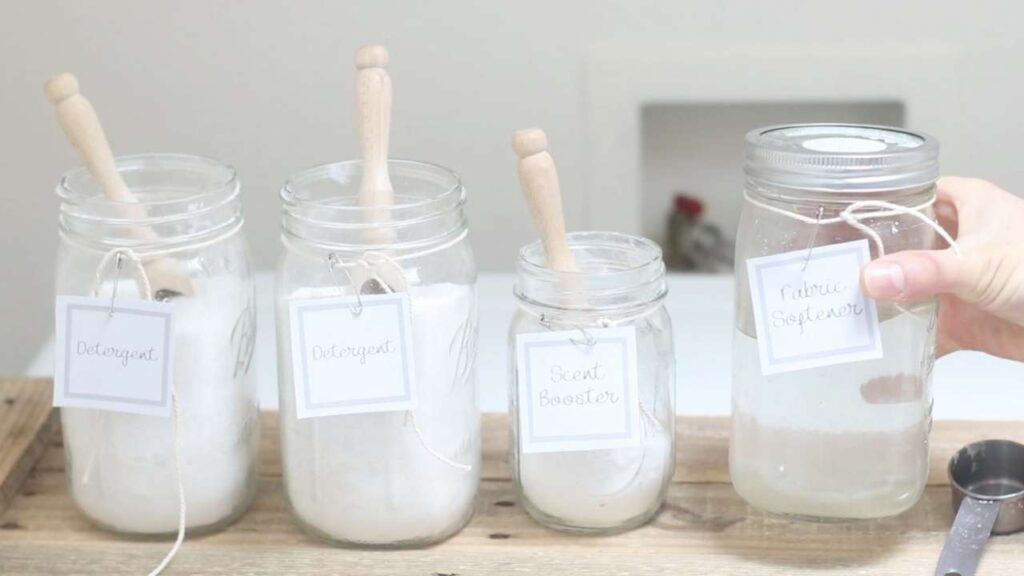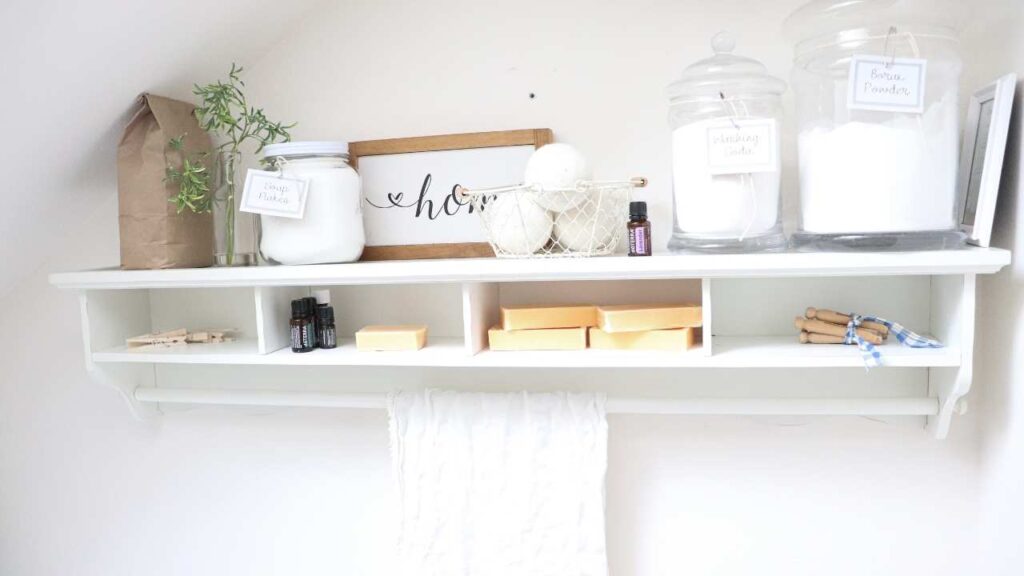 Why I Make My Own Laundry Detergents
One of my main goals after John and I got married was to totally revamp all the products in our home. Remove anything with toxic chemicals and only have natural products.
The best way to start doing this is to go through a company like Grove. I have ordered from Grove for oh.. probably 5 or more years now? It's just a monthly purchase for me that I keep relying on. Although, I buy a whole let less from them now that I make most of my own products.
Grove is offering a free gift to first time customers using this link. If you're looking to get started with natural products you can check out their site and see for yourself!
Then I took it one step further and said, okay, these are a lot better than the conventional brands at the store, but why do they still have ingredients in them that I can't pronounce?
Have you ever seen products at the store that say "just 3 ingredients" and then there are more than 3? Or, "made with essential oils" and then you see "perfume" or "natural fragrance" on the back.
Even if it says natural, that doesn't mean it came from a food or plant. If it was a natural lemon scent for example, why isn't the ingredient just "lemon oil" or "lemon peel extract" or something?
Alright, rant over. But these are the things that keep me up at night.
Replacing Toxic Products in your Home with Homemade Ones
So, all of that to say over the last few years I've replaced almost everything in our home with natural products. I make homemade dish and hand soap, homemade lotions, laundry products, and household cleaners.
How to Make Homemade Beeswax Candles
Top 10 Essential Oils for the Farmhouse
How to Make Calendula Oil for Natural Skin and Health Care
5 Homemade Gift Basket Ideas (Recipes for soaps, lotions, butter, and chocolate)
Basic ingredients for homemade laundry detergent (I got this recipe from Our Oily House):
Soap Flakes (or Fels Naptha soap bars)
My favorite essential oils for laundry:
FREE Printable Laundry Labels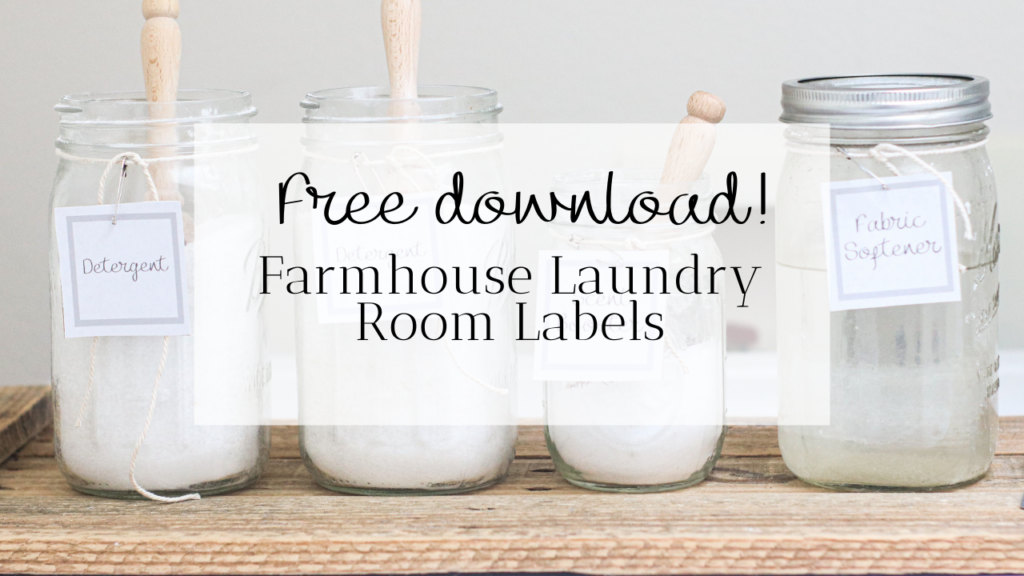 These are FREE printable laundry labels that you can just print out and they are already sized and ready to go. Just put them on your jars. I made these in two different sizes, one that goes better for small jars and a larger one for the big jars.
CLICK HERE to download your free laundry labels! Enjoy!
Note: You will need label printer paper for this if you don't have some already. I put the label print paper on some card stock to create a firm label, then used a safety pin and some twine to fasten it to the jar!
FAQs
How do you update a small laundry room on a budget?
You can update a small laundry room on a budget with just a few easy (and inexpensive) steps.
First, gather all of your key laundry ingredients in one place. If you have any other products that are not totally necessary in your laundry room, consider finding a new place for them. Only keep the essentials.
Clean up the space so that you have a blank slate to work with. I love this part personally!
Get some mason jars and pour the bulk laundry ingredients in those. This gets all of the boxes, bottles, etc out of your space and consolidates them so you have more room! Don't forget to grab these free printable labels to label your jars so you don't forget what's in what!
Decide what else is necessary to keep in that room. For example for me it was dryer balls, essential oils, and some other laundry supplies that I don't make myself. One thing that was big goal for me was to get rid of the vacuum cleaner and floor mop, as they were taking up all the space in our super small laundry room.
Try to find opportunity for a shelf or storage area. I was able to find an old quilt rack on Facebook Marketplace that I put up in our laundry room for a shelf and dryer rack. I also re-purposed a wood bathtub rack caddy and placed that right on the washer to store my detergent jars.
Lastly add some finishing touches. Some faux greenery or wood items can really make the space feel complete and beautiful.
Shop this Post
Half gallon wide-mouth mason jars
Lavender essential oil
Soap Flakes (or Fels Naptha soap bars)
Watch: Farmhouse Laundry Room Makeover
Pin it for Later!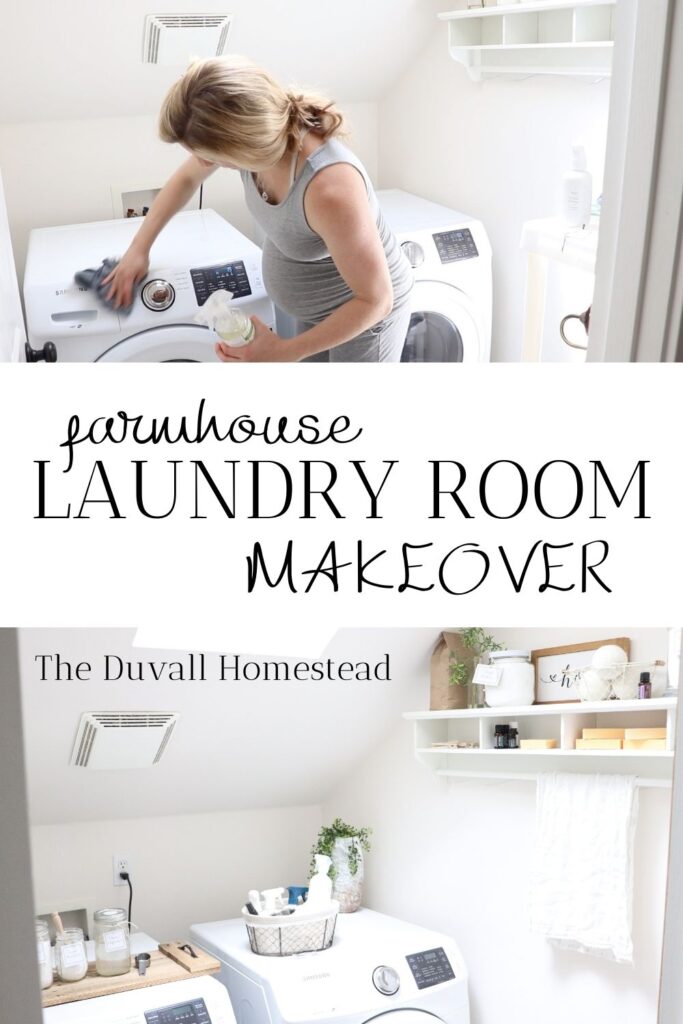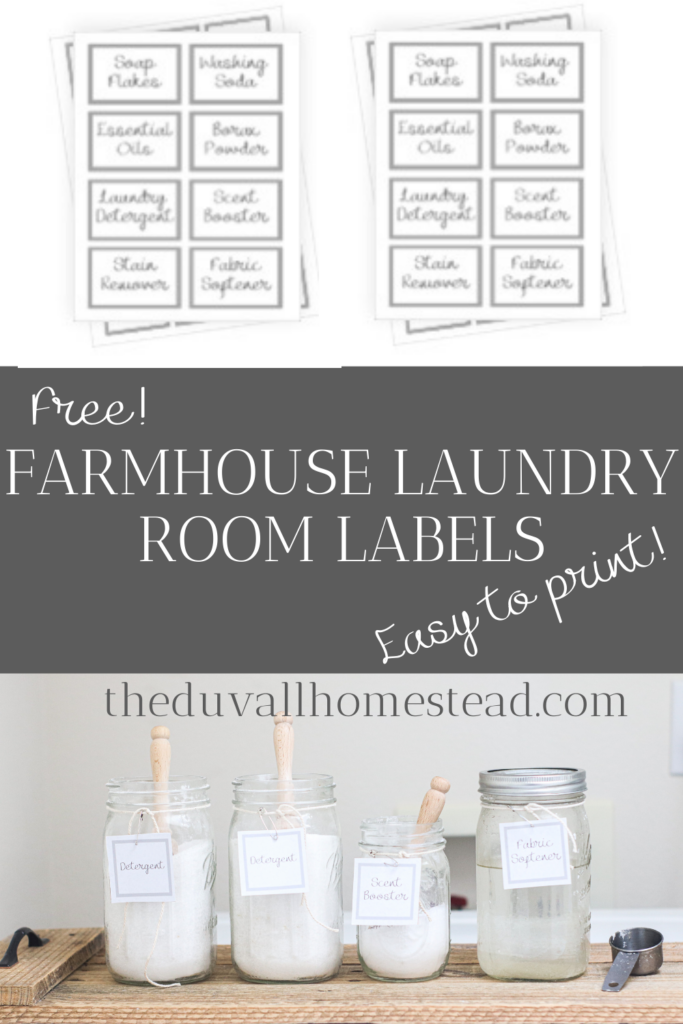 Thank you so much for stopping by the Homestead!