You can use this basic technique to infuse your favorite flower with oil to make lotions, soaps, or salves. This basic tutorial on how to make calendula oil is the perfect thing to do in the summer so you can remember the smell of your fresh flowers in the winter.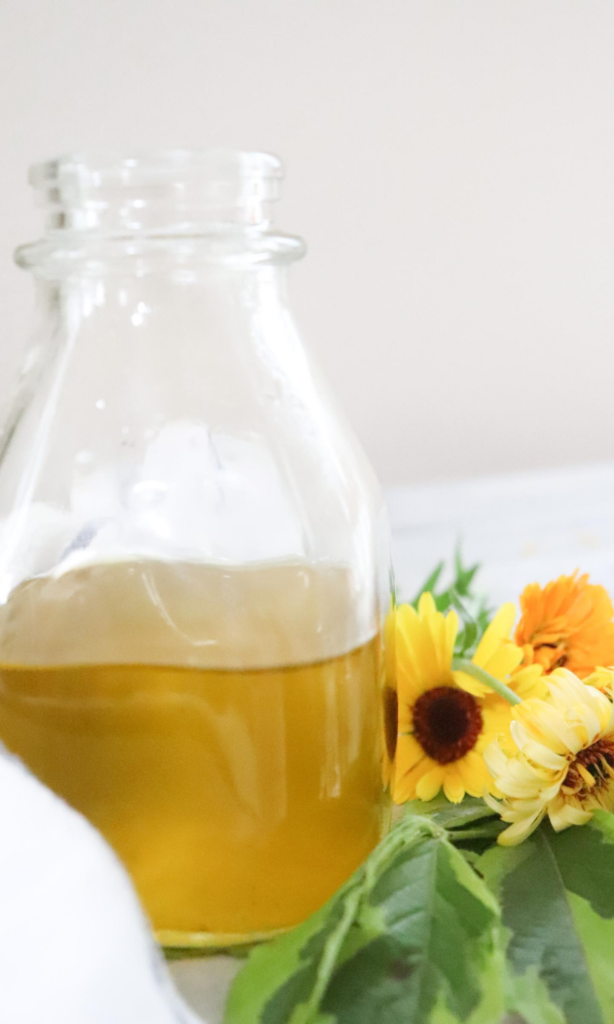 This post contains affiliate links, which means I may make a small commission off items you buy at no extra charge to you.
All things Homemade
If you know me you know that I love all things homemade.
This year, we grew calendula flowers amongst other things but I chose calendula because I heard they are great in oils, lotions, and you can even eat them too.
We got our first flower blooms of the summer the day before we left for a 5 day local vacation. I wanted to make a bouquet so badly, so I did and then I gave it to the sweet girl who watches our home while we're gone. But I was certainly bummed that I didn't get to enjoy them on our dining room table.
When we got back from vacation, I had a whole bunch more flowers! And they just kept on coming. Now I'm to the point where as soon as the flowers start to dry on the dining table I just de-head them and throw them right in the oven to dry.
Or, I make them into an oil. The reason I want to do a calendula-infused oil is so that I can use that oil in a lotion. Lotion is made by mixing oil and fat, like shea butter or cocoa butter. So what better way to get calendula on your skin than to infuse it with oil and then make lotion?
Pin it for Later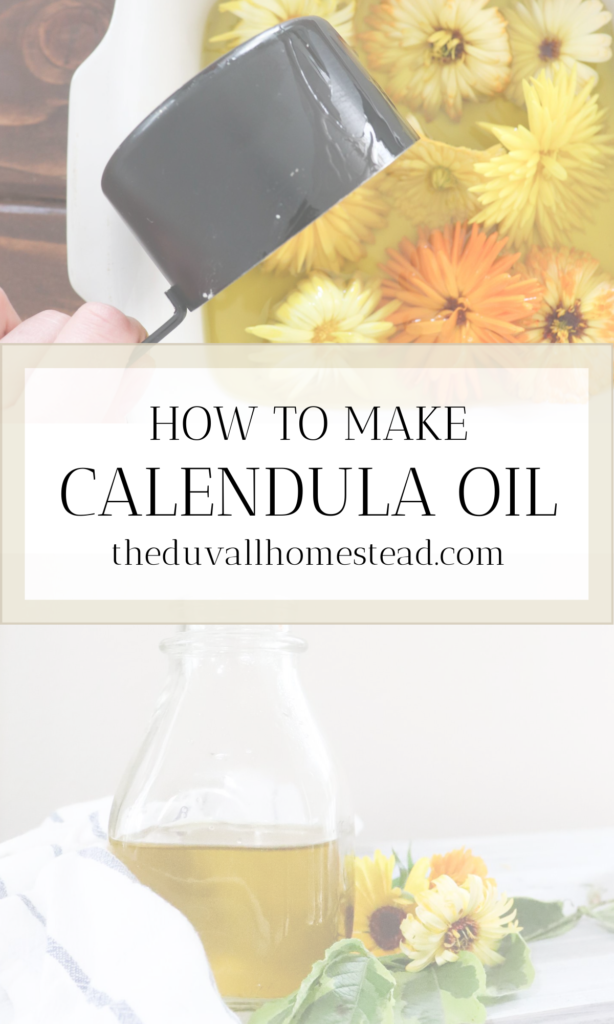 Secret Benefits of Calendula
It shouldn't surprise me anymore when I learn that a product of nature has secret healing powers.
I know that sounds like something a hippie or garden goddess type person would say, and maybe I am kind of a hippie, but it's true! If you have ever used essential oils, you know how powerful it is to add 1 drop of lemon essential oil to your water. It's strong.
Calendula is known for benefitting the skin. It has anti-fungal, anti-inflammatory, and anti-bacterial properties that make it a great candidate for healing rashes, soothing eczema, or healing wounds. (source)
When you think about our great great ancestors who didn't have modern day medicine, think about what it was like to have a wound and no one to turn to but nature. They tried all sorts of leaves, roots, and natural products, some of which probably were a disaster I'm sure.
But the good news is by now we have figured a lot of this out and it is not new news that nature can be healing.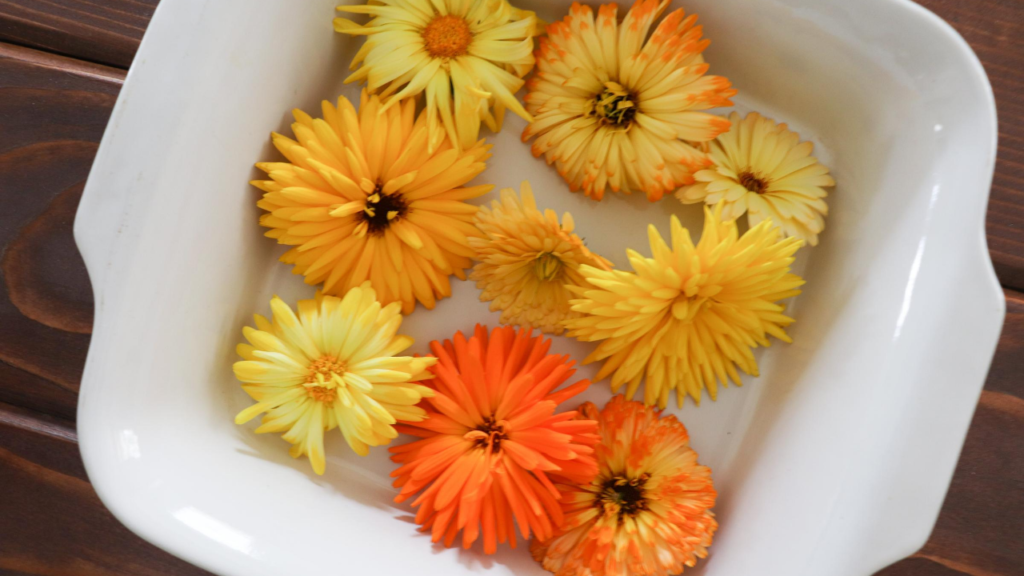 How to Make Calendula Oil
First, grow your calendula. See my tips below for how to grow calendula.
Pick your calendula when it is fully flowered. When picking, snip the flower at the base of the stem before it branches out into multiple flower stems. In other words, you don't want to accidentally cut off some buds that haven't bloomed yet.
Preheat the oven to 300 degrees F. Then fill a 8×8 baking dish with about an inch of olive oil or your favorite vegetable or coconut oil.
Next snip the calendula heads off so you have almost no stem left and place the flowers upside down in the oil. Make sure all the leaves are fully immersed in the oil. Add more oil if needed.
Place the dish in the oven and let steep for 2-3 hours. I just turn my oven off at this point and let them sit for another couple of hours.
Then strain the flowers out of the oil with a strainer. Now you have calendula-infused oil and you can make lotions, salves, and more!
Learn how to make lotion in my FREE Ebook – 5 Homemade Gift Basket Ideas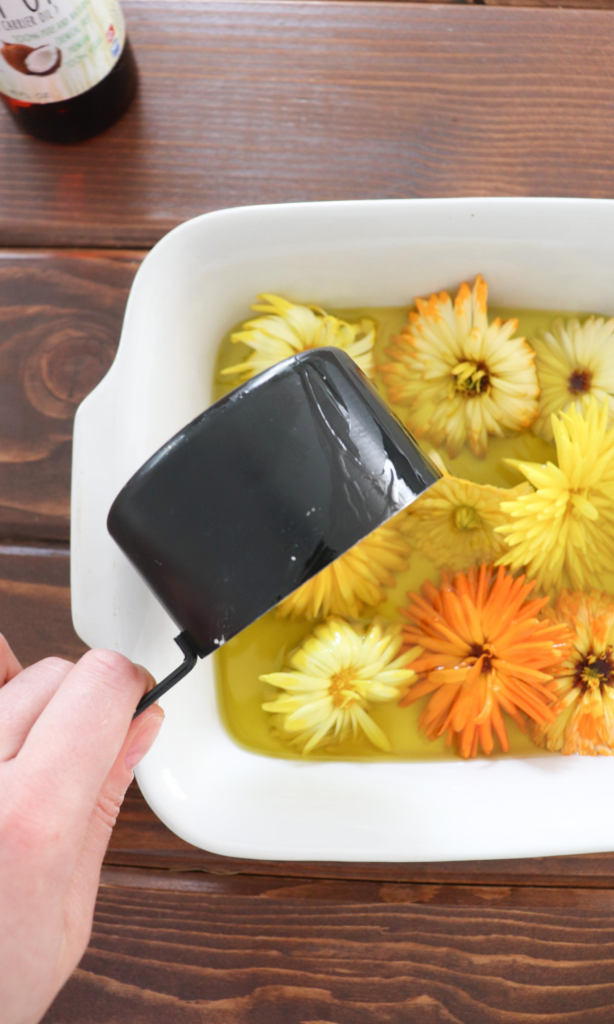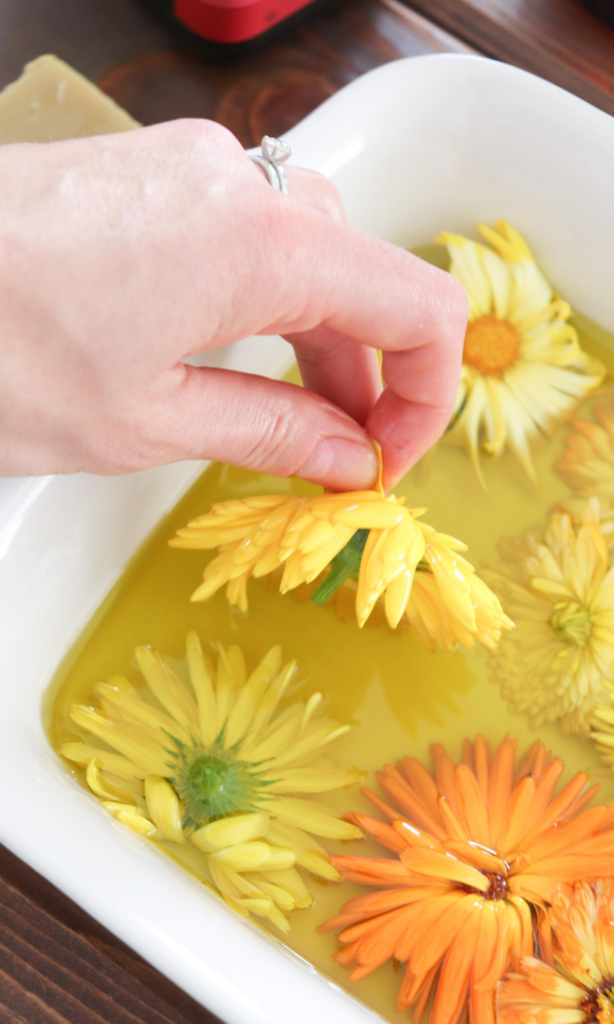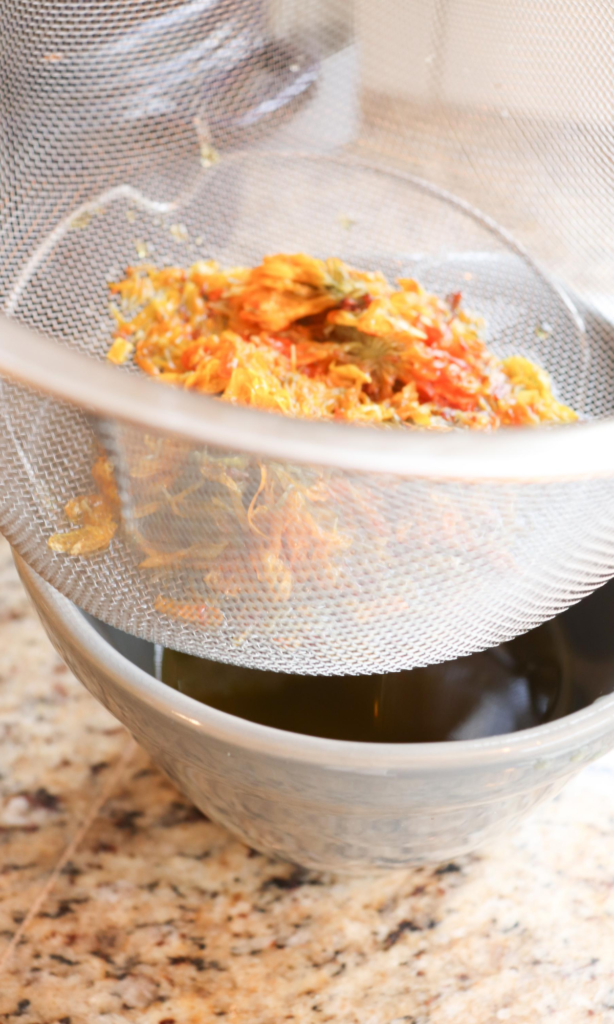 Tips on How to Grow Calendula
I don't think I'm an expert on this topic but we did a few things this year that contributed to an amazing calendula harvest. So I'll share those with you here 🙂
First, plant the calendula in a raised bed or other protected garden area. Calendula are edible so they can attract slugs and other bugs, so we use a raised trough bed for our veggies and flowers to protect them.
Use a combination of drain rock, compost, and organic soil as your garden bed for calendula. They will thrive with healthy soil as with most plants so it is worth the extra effort to make sure the soil is nice and bountiful.
Give your calendula room to grow. They get several feet high and they will fall over if they don't have some support structure. Try a flower fence or simply plant them in a deep trough like we did.
Pick them sparingly. They do not all bloom at one time, so you will have continuous harvest of flowers every week throughout summer. I find they last about 2 weeks on the stem without picked before drying out.
Water frequently and they do not like extreme heat. If you have a heat wave coming, consider picking the open flowers. If they dry out, you can de-head them and save the dried flowers for tea!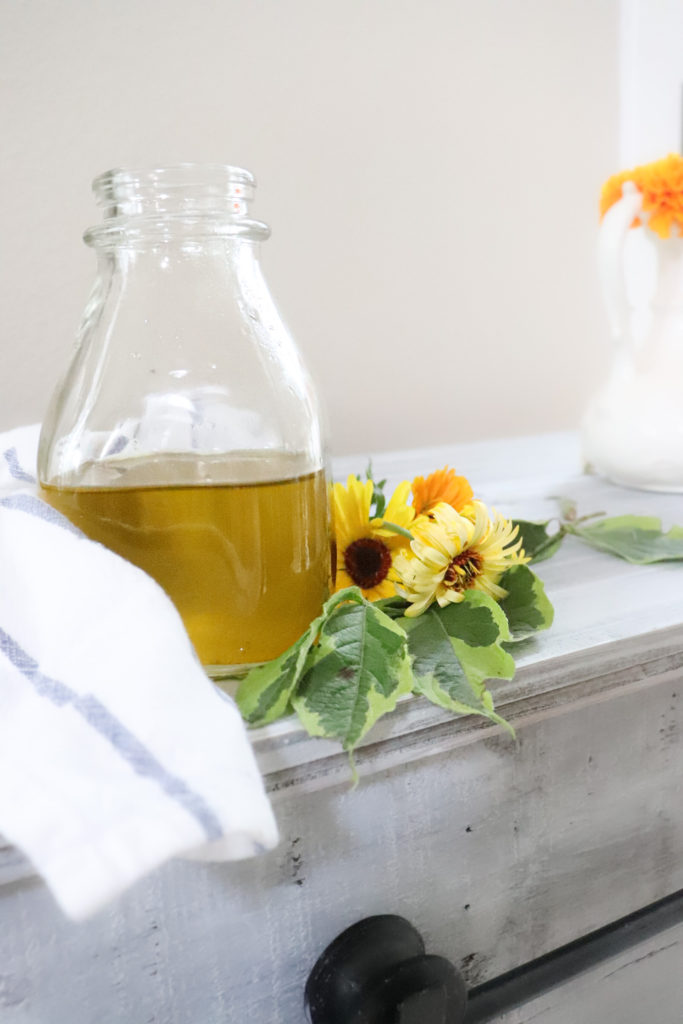 More of our Favorite Recipes this Summer:
Grab my FREE Ebook
I will eventually share all of these recipes to my blog, but I just haven' gotten around to it yet.
Use your calendula oil to make lotion and soaps – full recipe below.
Just click on the picture below or right here and scroll to the middle of the page and grab your free download!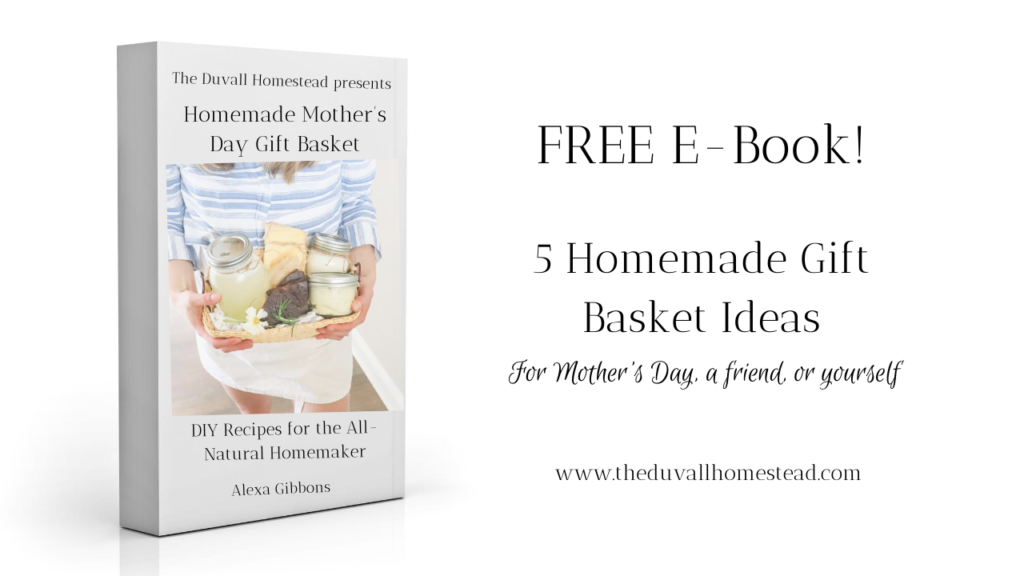 Pin it for Later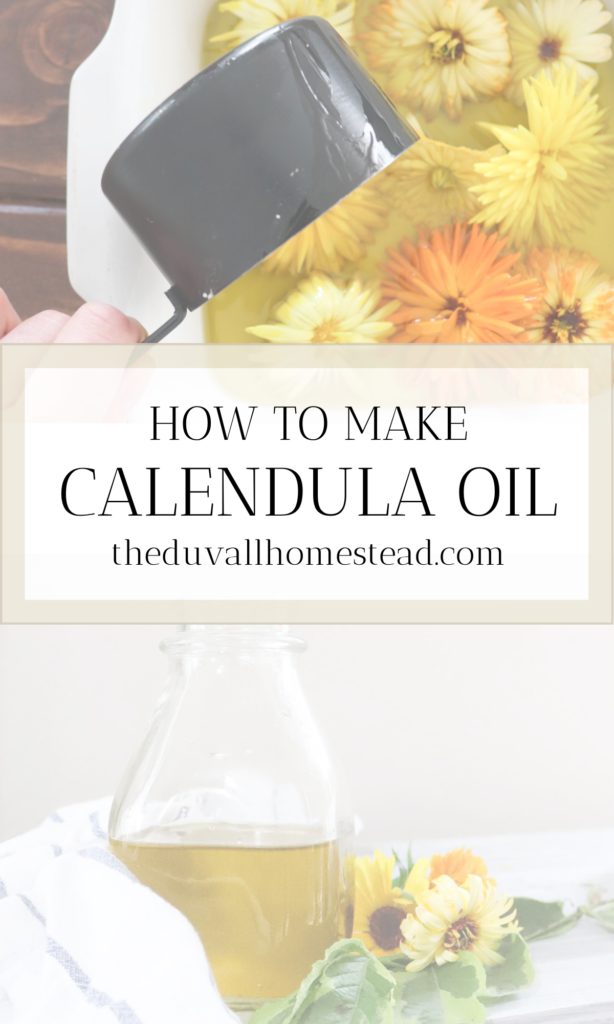 Thanks so much for stopping by the Homestead!