To kick off the spring season, we hosted a family brunch. So I got the table ready in the most simple form, like I normally do. Fresh flowers (tulips!), a beige and lavender table runner handmade by a local farm to us, and a sweet simple plate setting. I have this way of folding napkins that I really like. You basically take a square cloth napkin and fold it in half twice to form a triangle, and then tuck both corners inward (see tutorial below). Then you have the option of adding silverware, small flowers, or in this case I added some Easter straw "bedding" for spring. I couldn't wait for my family to come over and see our spring brunch table!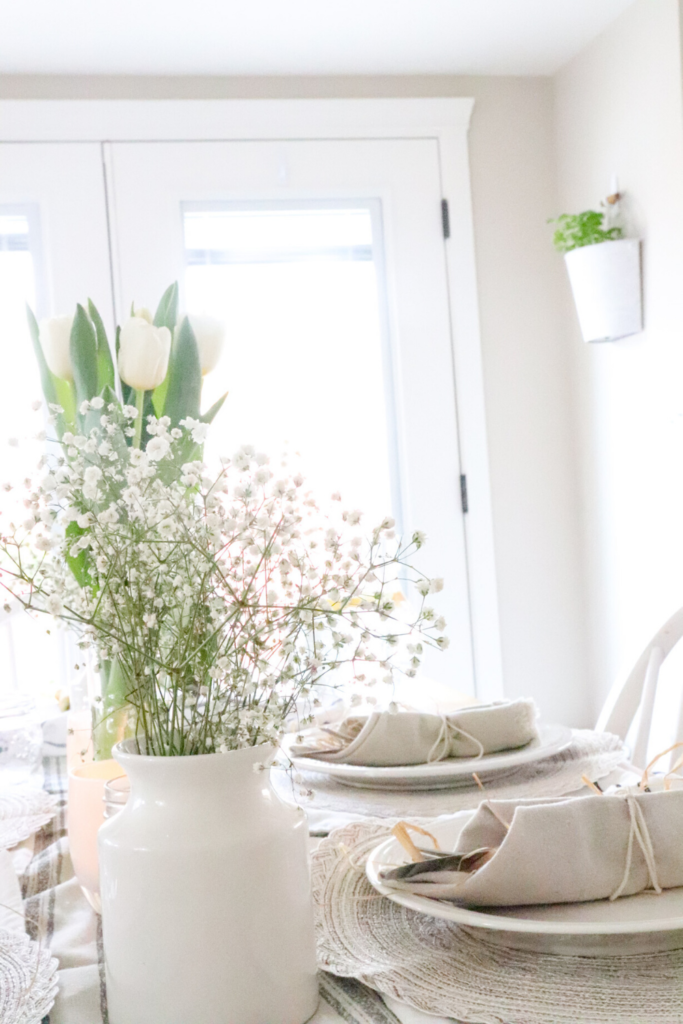 Pin it for Later!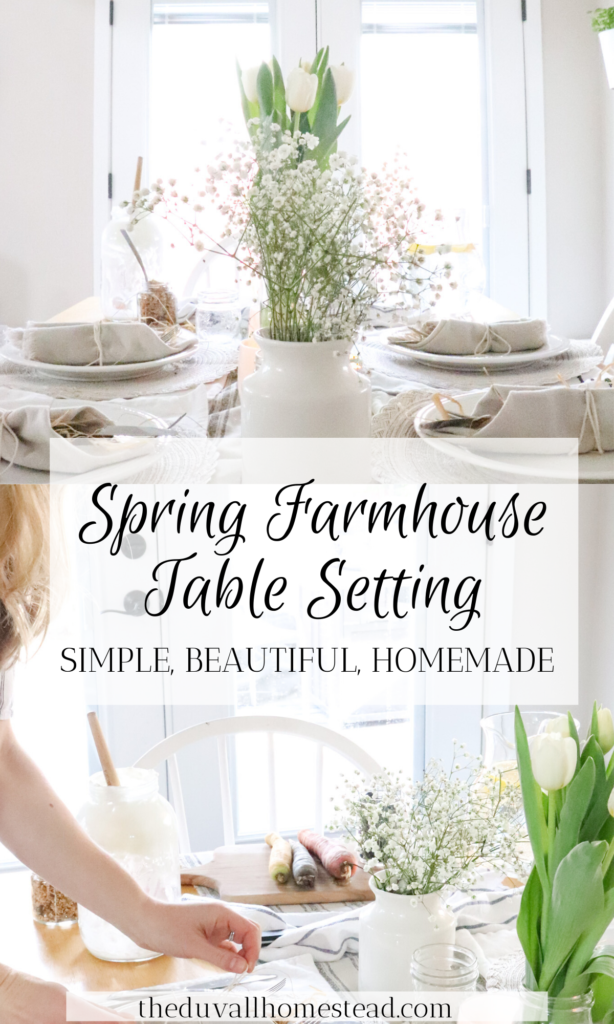 Today I'm collaborating with two of my good blogging friends, Samantha from Little Cottage on the Coast and Jayden from Backroad Bloom. Scroll to the bottom to see their spring table inspiration!
To go with this post, I also made a FREE printable Spring Brunch Menu with our 5 favorite recipes: homemade ketchup for stovetop hash browns, vegetable & egg bake, and homemade yogurt with oven-roasted granola. Grab your copy here.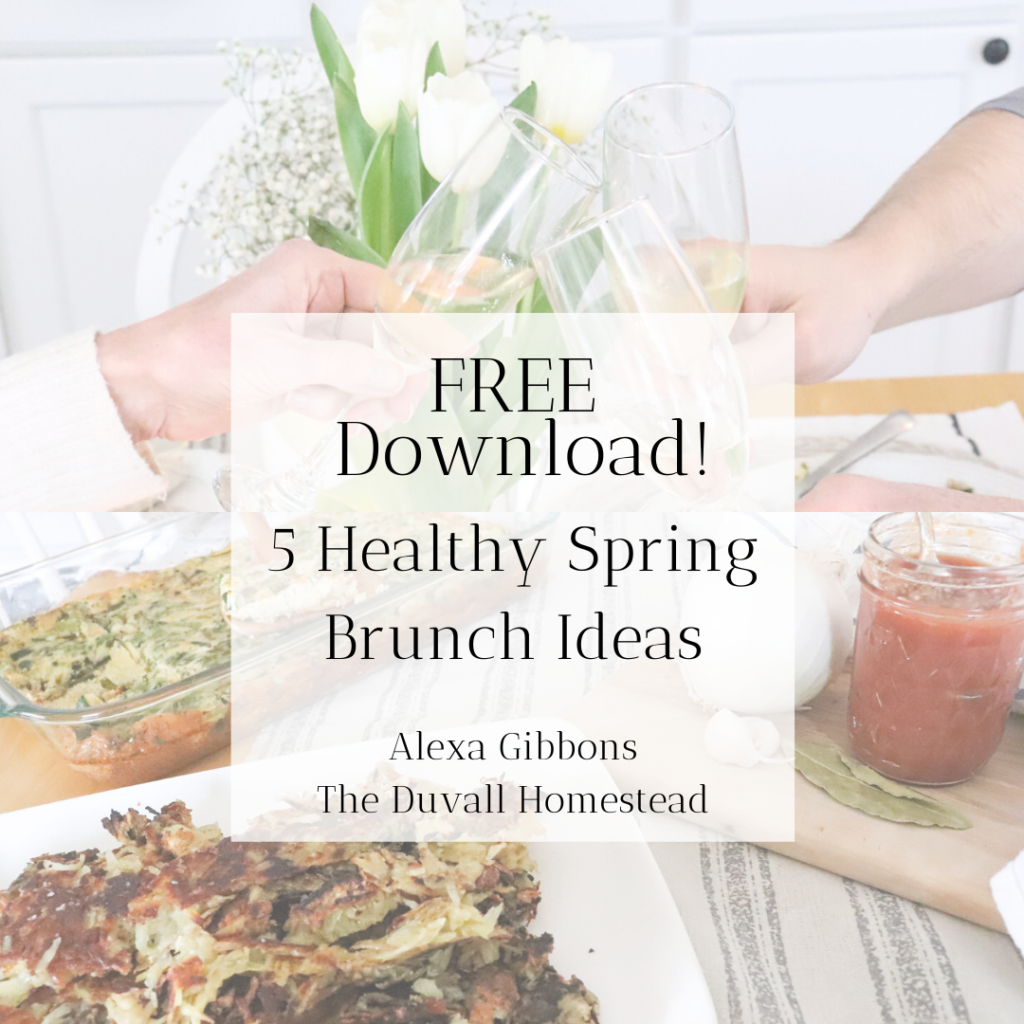 Gathering Inspiration for your Spring Brunch Table
Watch: Come Take a seat at the Farmhouse Brunch Table!
It wasn't too hard for me to be inspired for spring. After a few weeks of rain straight, we finally got some sunshine! And as soon as that sun came out, I got right out side and started tending the garden, etc. I love the change of seasons, and spring is so special because it means winter is ending and summer is coming.
I would say we do a lot of entertaining, but really we just have my family over almost every weekend. But that still counts because to be honest, I see every night as an opportunity to host a party. Ha! Is that just me or…?
So to turn my table over from winter to spring, I got inspiration from the following:
Spring "feeling" i.e., light, airy, fun, bright, and clean
Nature: tulips, baby's breath, local greens
Linen: a soft and light fabric used for napkins and placemats
The colors white, cream, and beige. And maybe some pink and green too!
Holidays – in this case, Easter. Add some eggs or straw to bring in some Easter flavor
Pinterest, of course! I made a Spring Farmhouse board to get some more inspiration.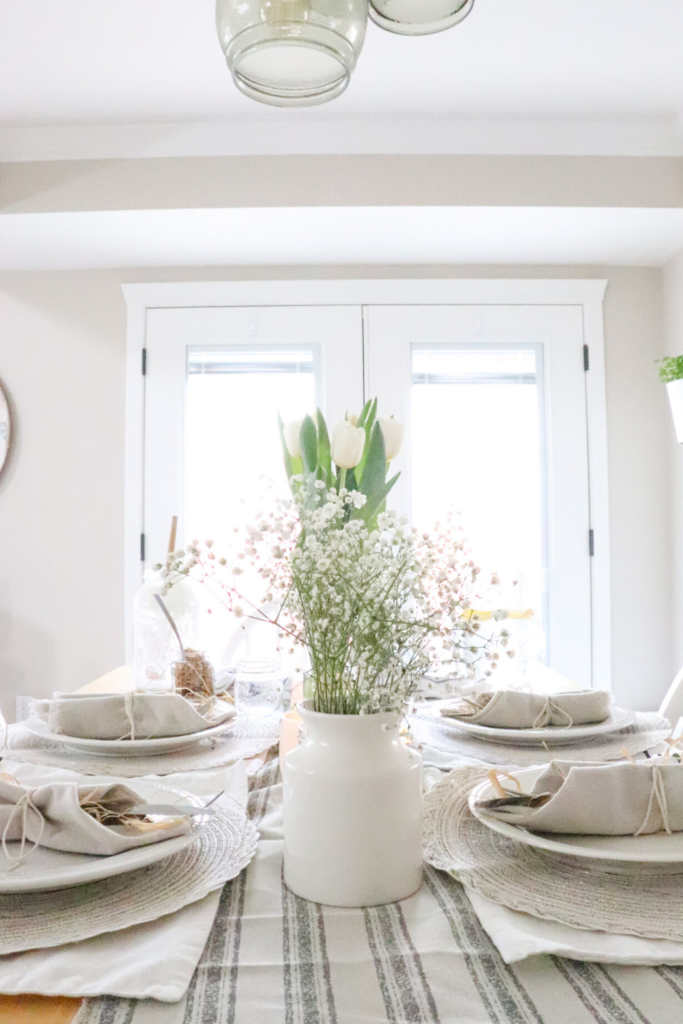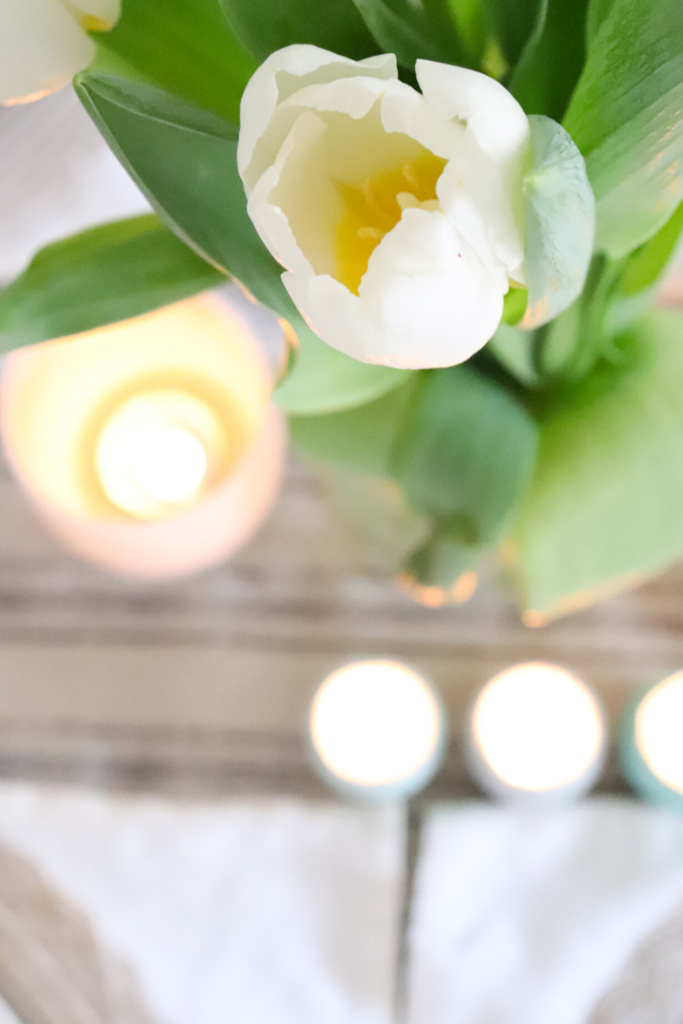 Five Simple Touches to Create a Spring Brunch Table
1- Add Fresh Brightness
One of the easiest ways to add brightness is to gather shades of white or cream together. And they totally don't have to match! I love when several whites or creams are combined. Just add a pop of green or pink and it'll really make the table pop.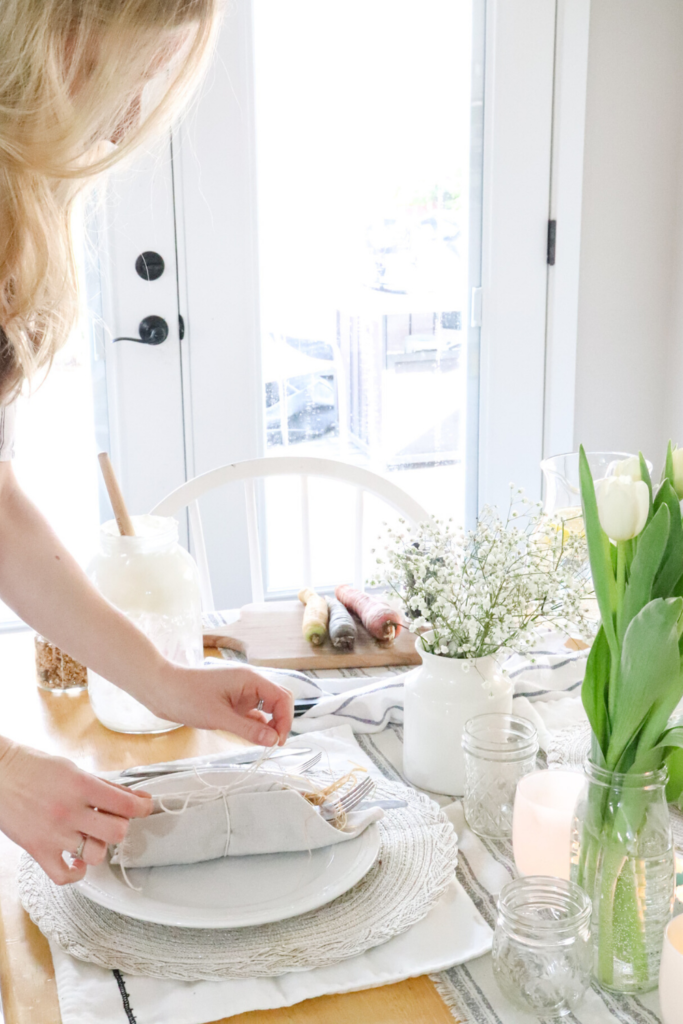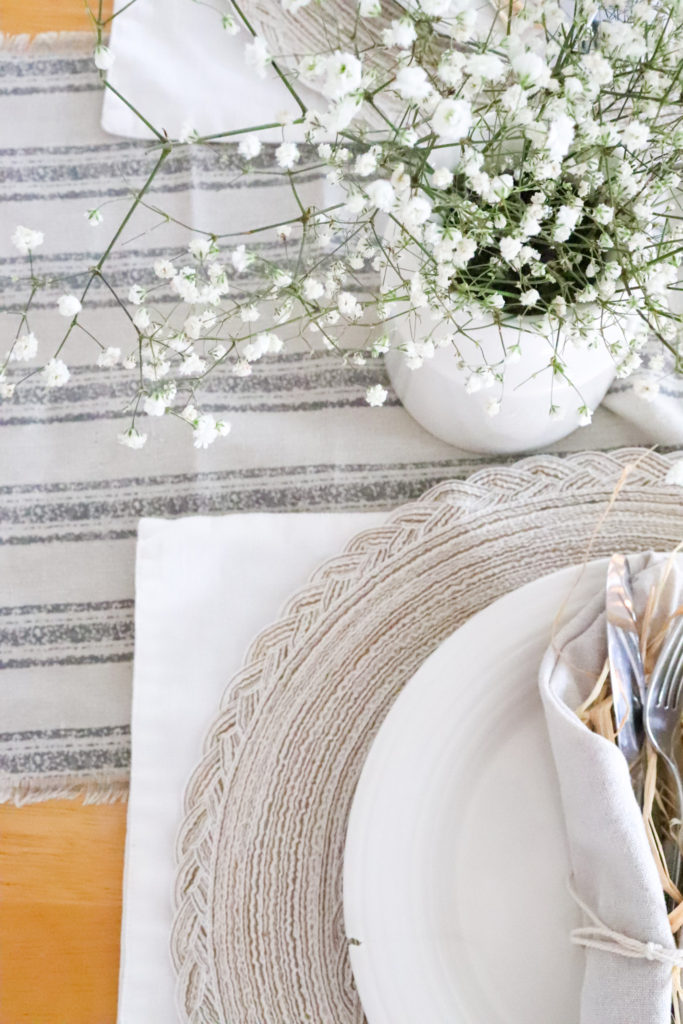 2 – Fresh Flowers for your Table
I'm partial to tulips during spring time (who isn't?!) but any flowers will do. Fresh flowers make such a difference in the room, no matter what you can get your hands on! Try some of these blooms to create your fresh spring table:
Tulips
Baby's Breath
Daffodils
Crocus
Hyacinths
Find some more spring floral inspiration here!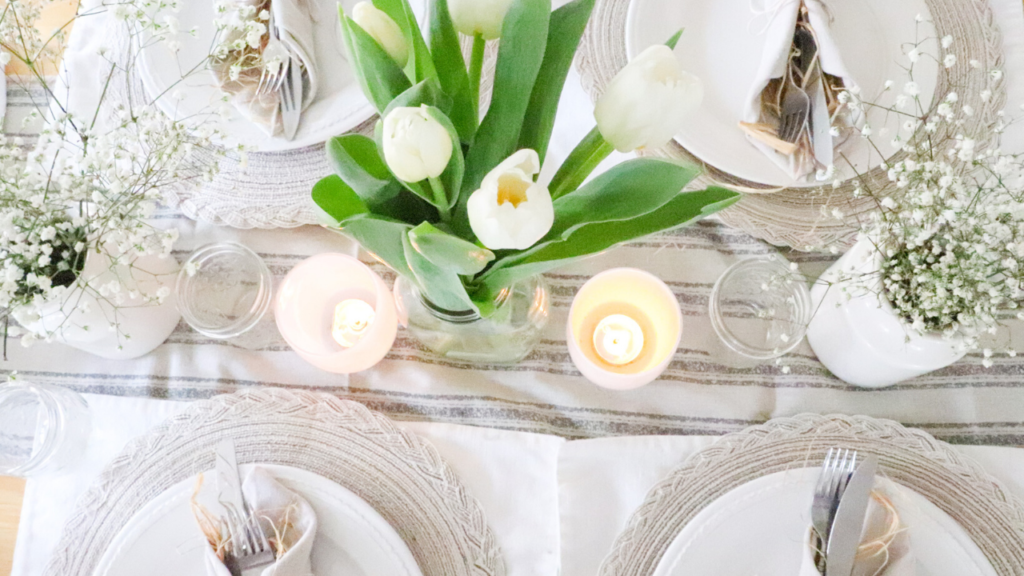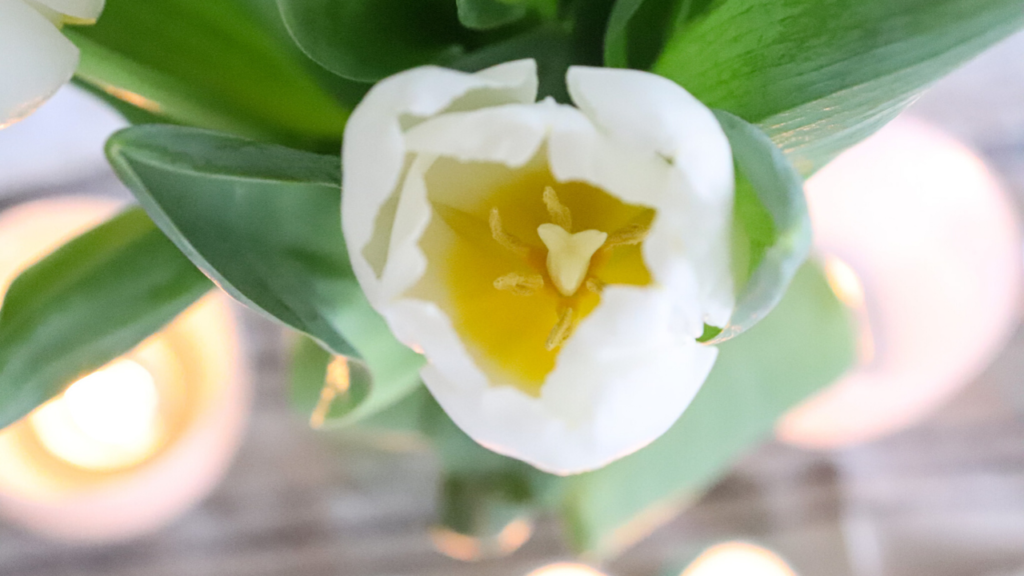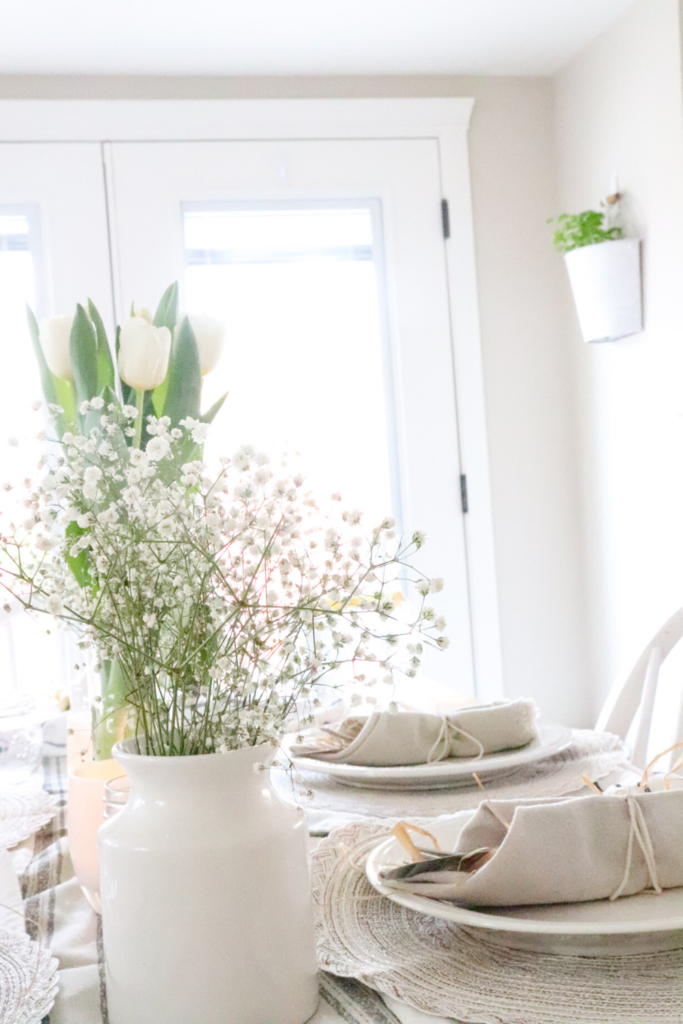 3 – Add candles for your spring brunch table, even during the day!
I love candles, but I don't always have them on because they expensive and we don't want to waste them. But for a brunch, I am definitely lighting the candles to add to a bright spring table! We were lucky to be gifted several GlassyBaby votive holders for our wedding a few years ago, so I lit those. My parents also gave us these super cute egg candles last year that we are reusing. If you are ever wanting to change the mood of the room, add a candle for your guests. Everyone loves candles!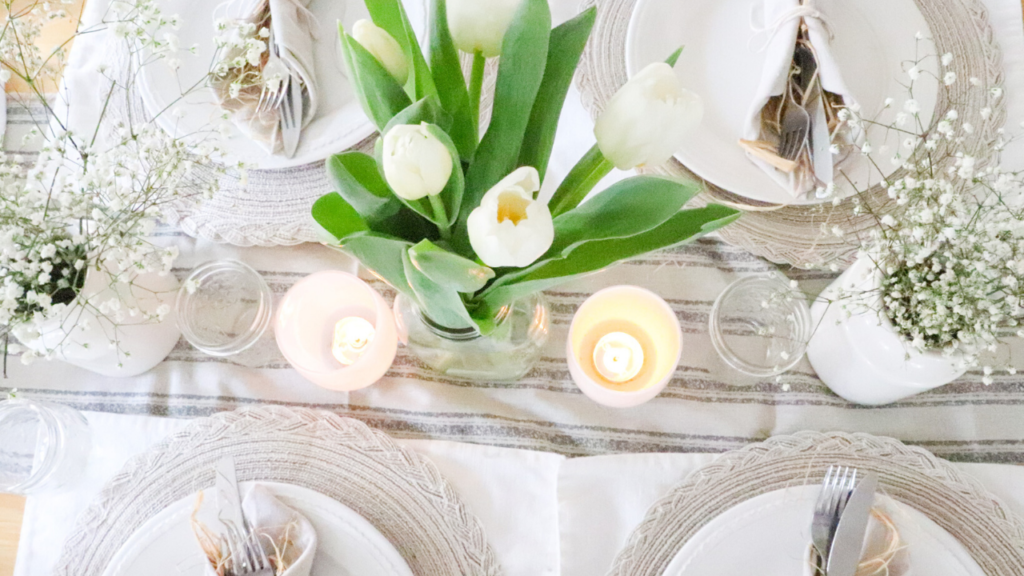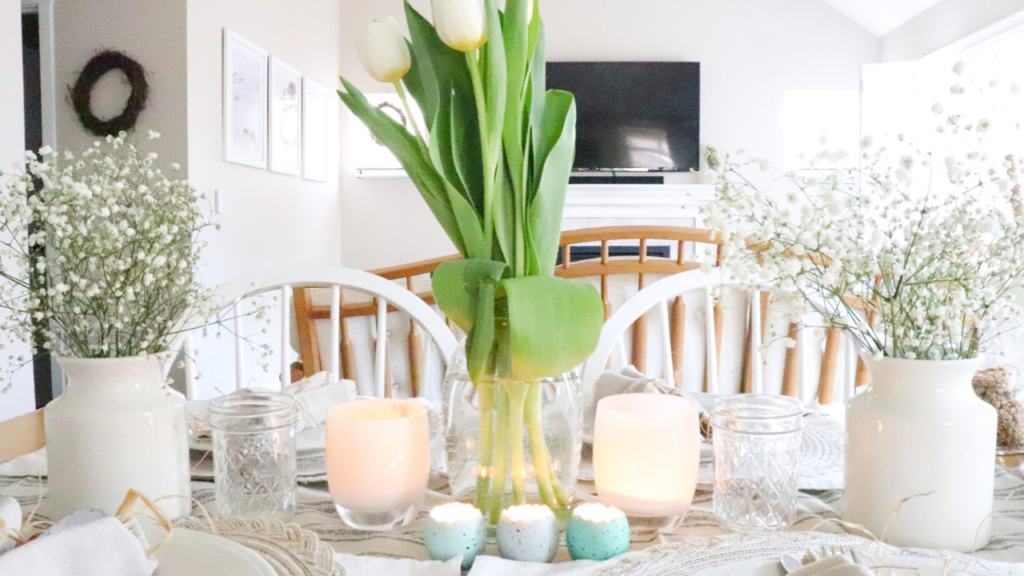 4 – How to fold a Square Napkin
This is the simplest way to fold your cloth napkins for a hosted meal, ever! I love it because you can put whatever you want inside, so be creative and change it up each meal.
First, lay the napkin out flat on the table.
Fold corner-to-corner to create a triangle, and then again to create a smaller triangle.
Fold both corners into the center. Keep the edges aligned so you end up with a little pocket in the napkin.
Stuff the pocket with a bundle of flowers, or in my case straw for an Easter basket filling. Be creative here! You could also keep it really simple and just put your silverware in the pocket.
You can stop here or use cooking twine or your favorite ribbon to tie the pocket fold together. This creates a rolled napkin. It's always fun when you get to your seat at a table and have something to open, so your guests will absolutely love this!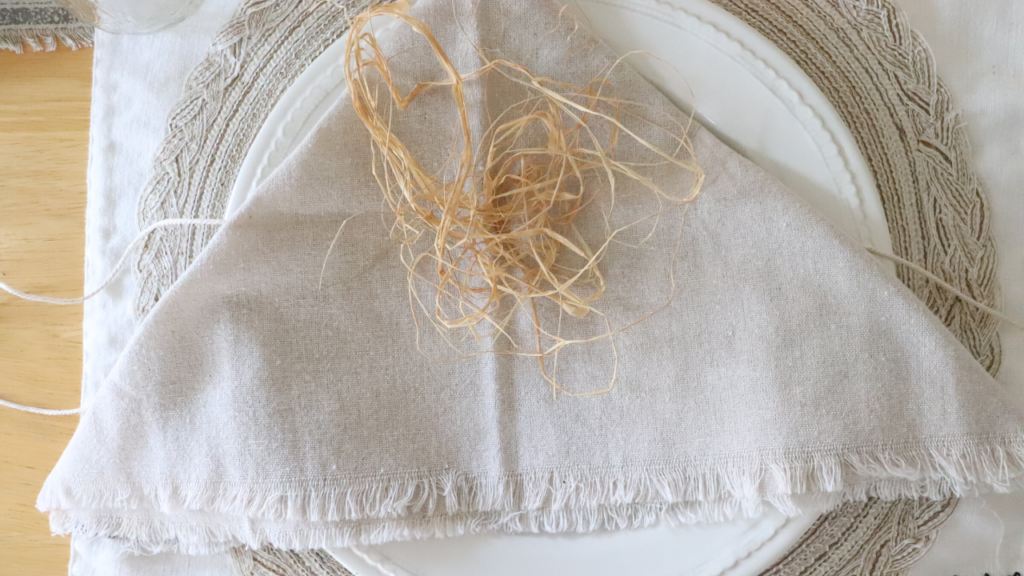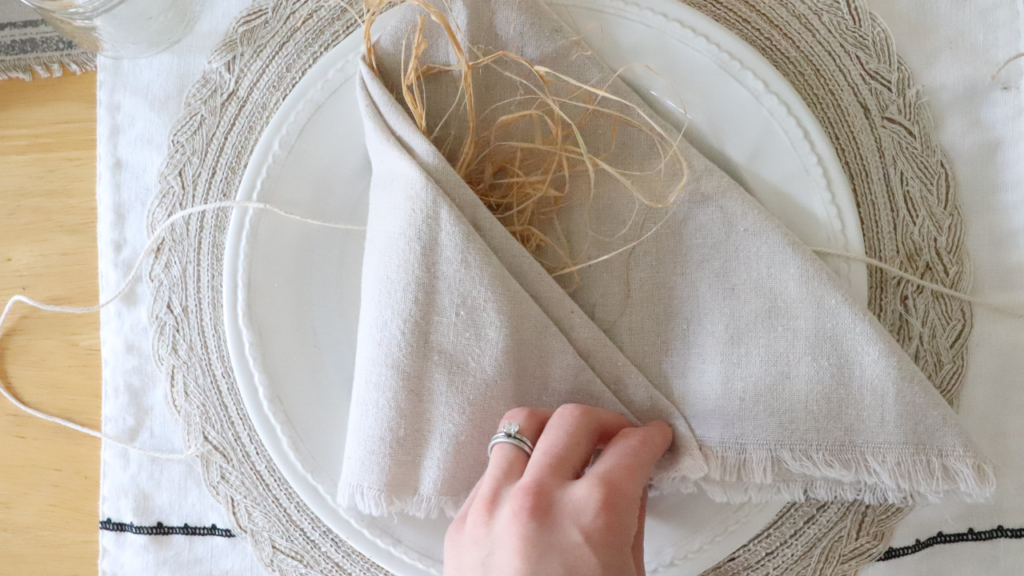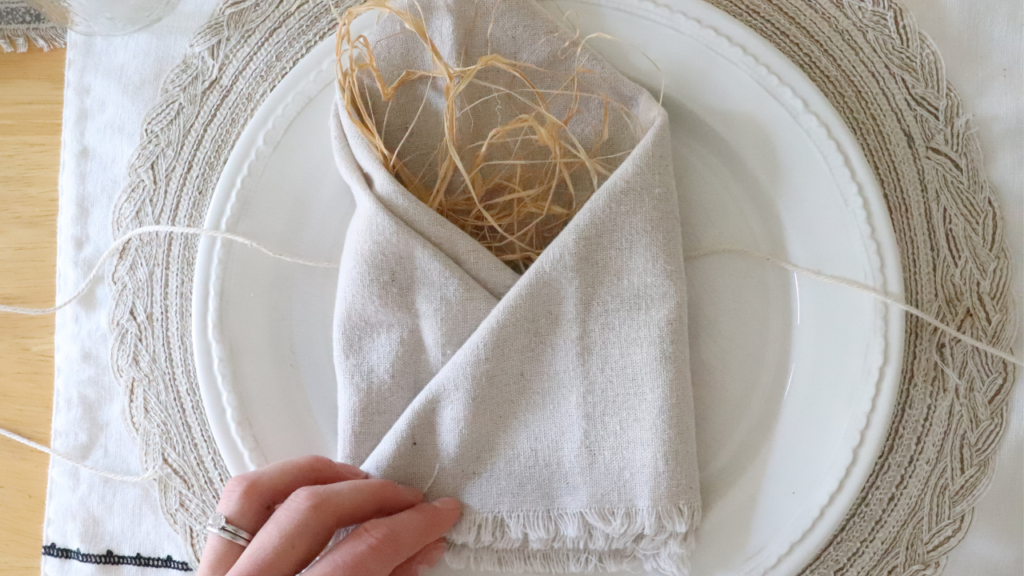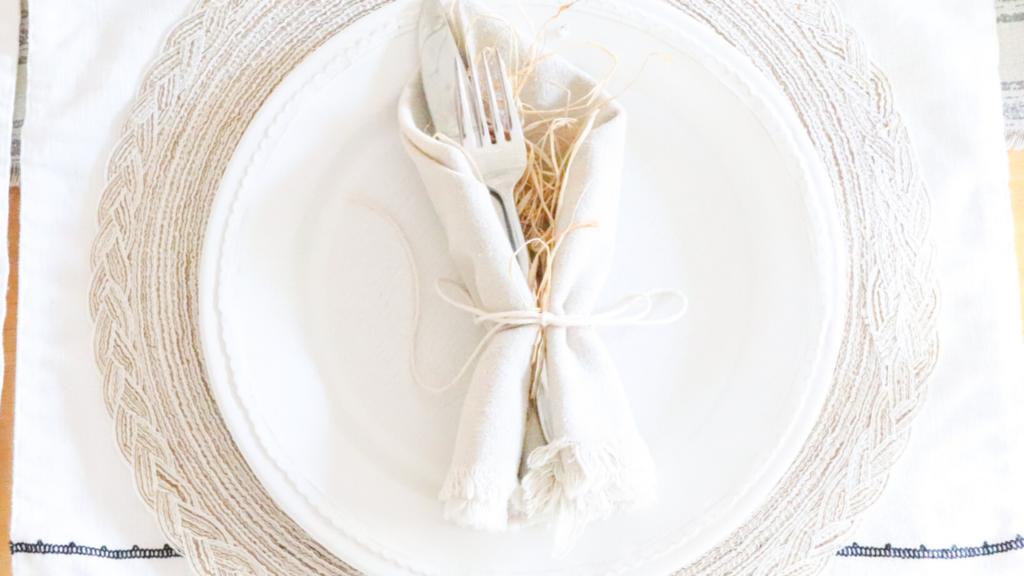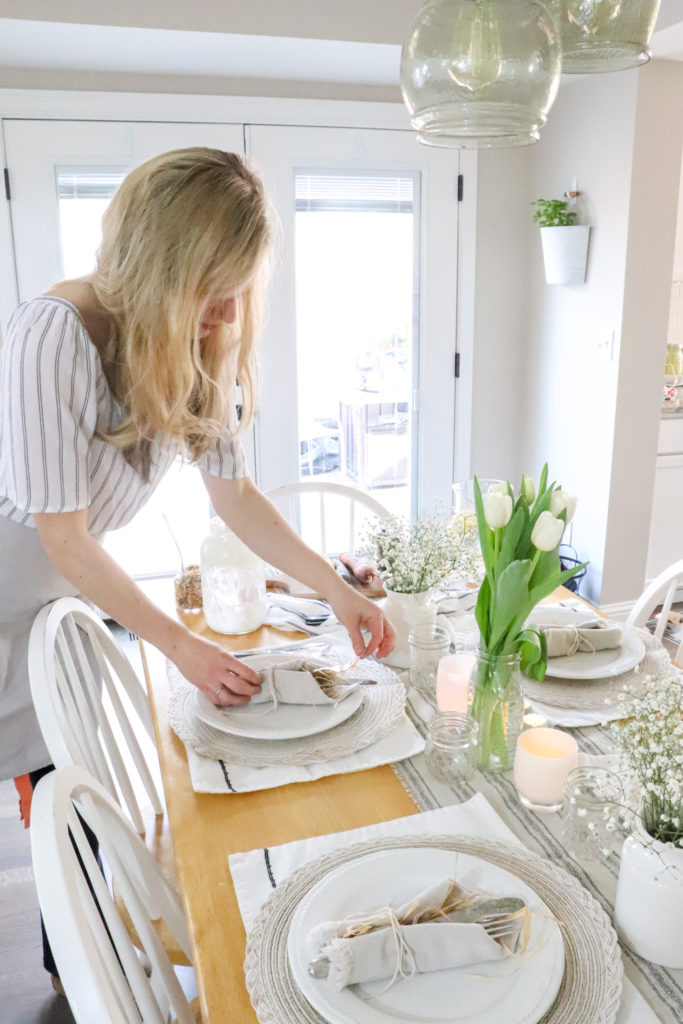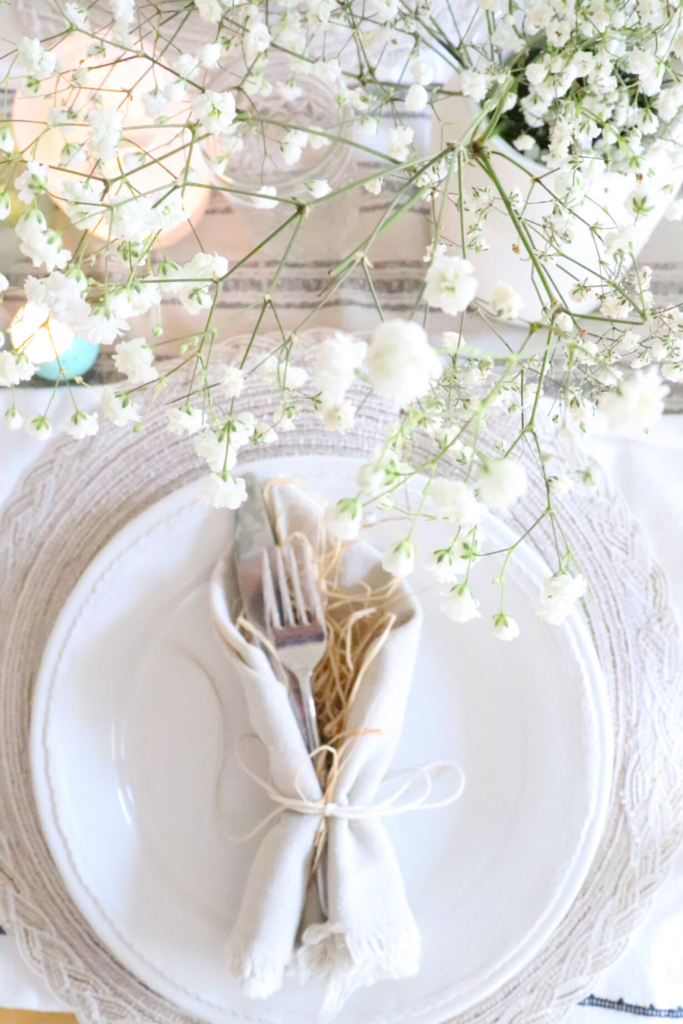 5 – Add fresh food to your Spring Brunch Table
One of the most natural ways to add spring touches to your table is put on some food! Maybe some fresh carrots or even yogurt and granola. If you've ever walked into a home and there was food on the table already ready for the pickin', you know how good that feels! So if you want to find a way to make your guests (or your family!) feel like they are right at home, just put some fresh food out. Just watch how fast people come to the table!
I wrote an E-Book on our family's 5 favorite brunch recipes, including homemade ketchup, yogurt, and more! This is a big hit for holidays like Easter, or just a regular Sunday morning. Scroll down to download your copy!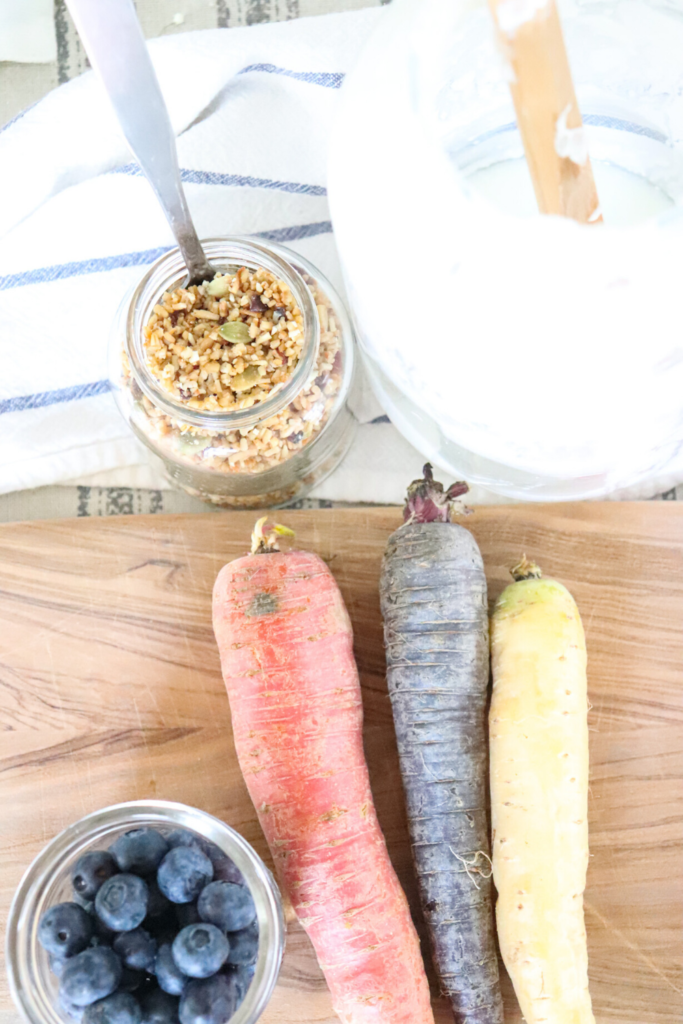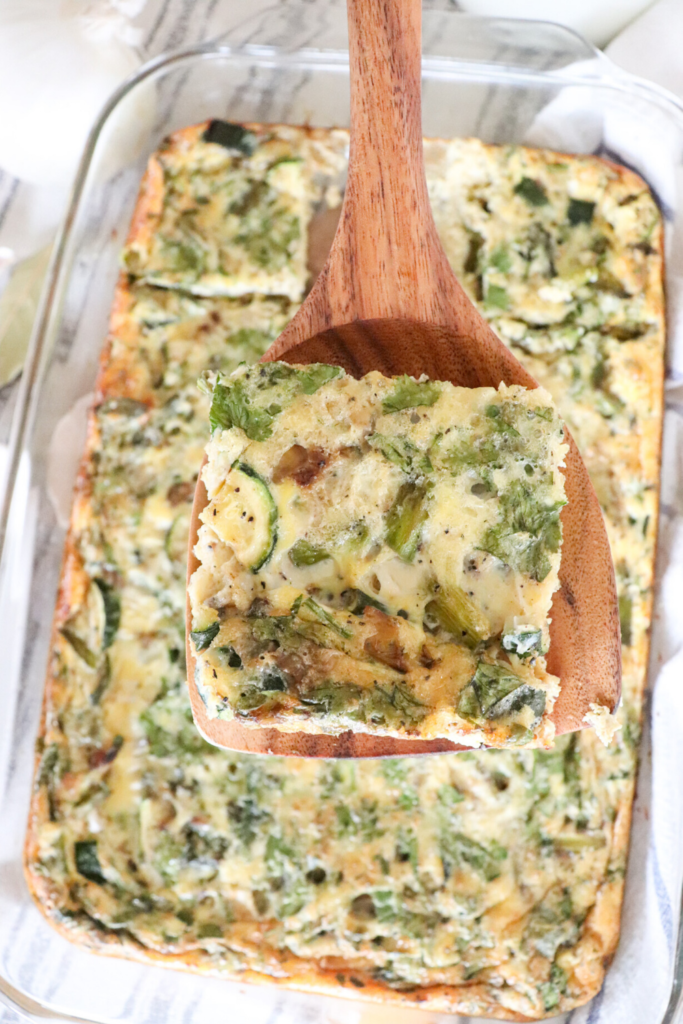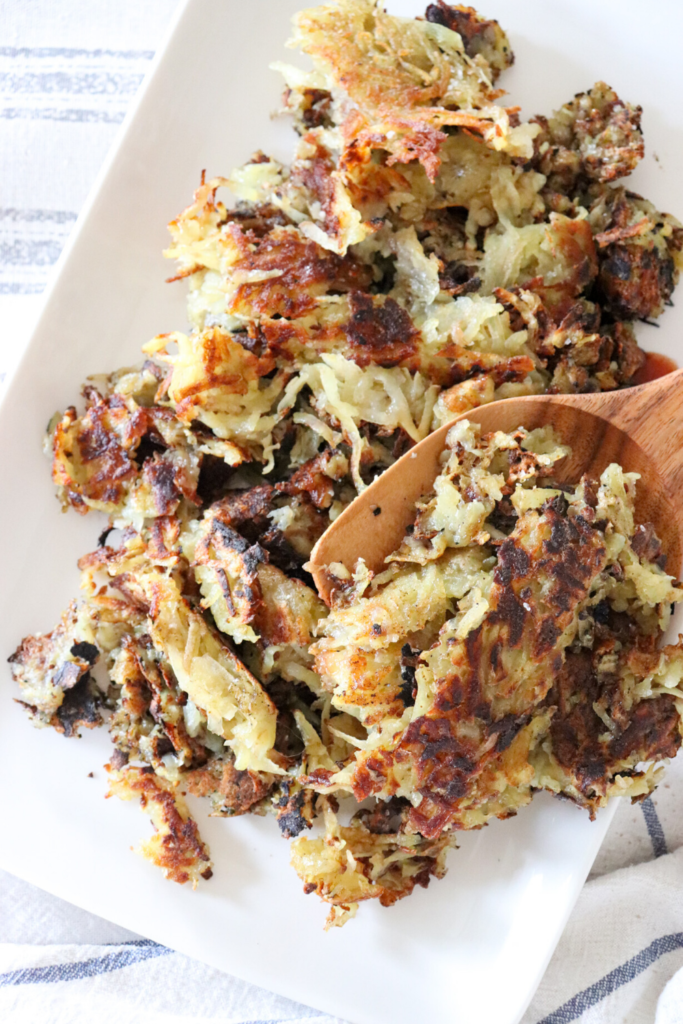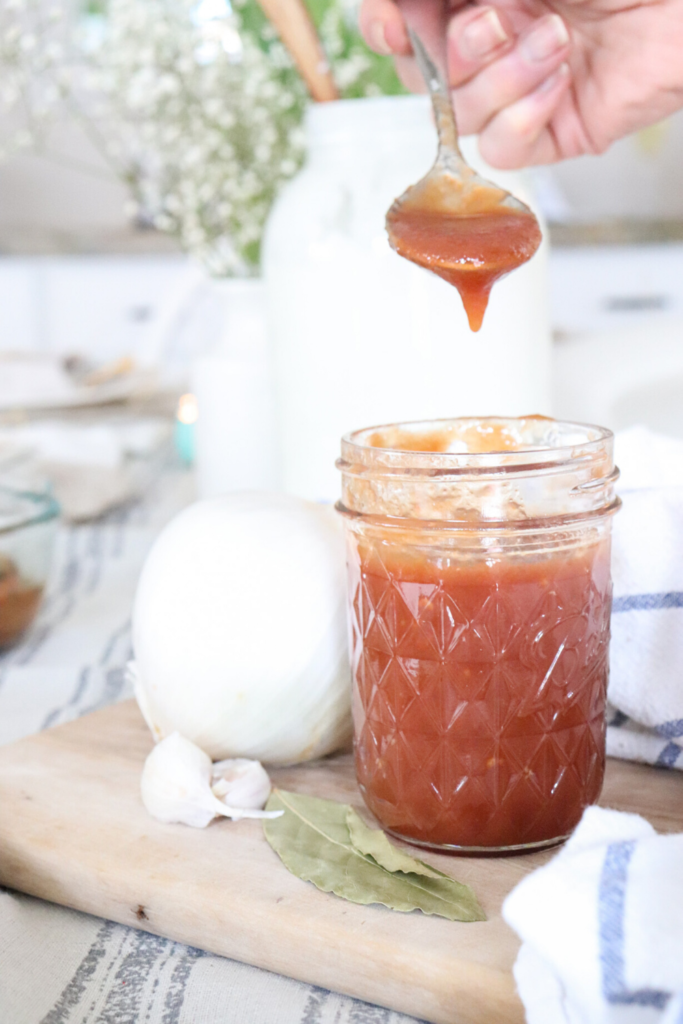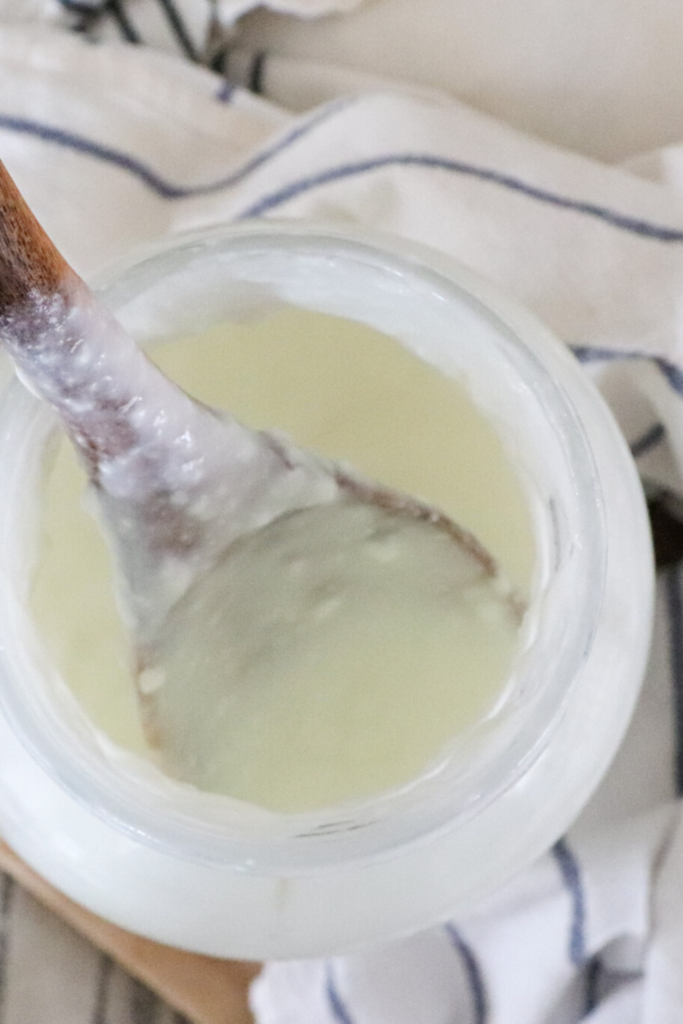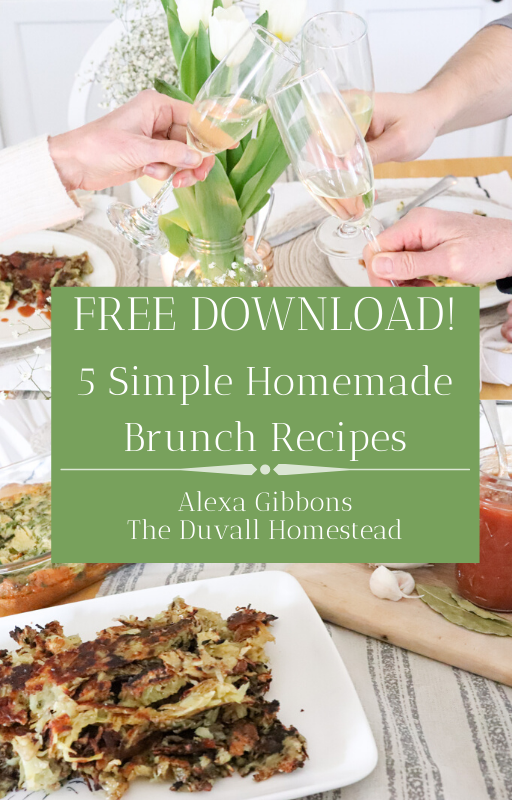 Now CLICK HERE to download your spring brunch menu!
More Spring Inspiration:
How to Make a Simple Spring Wreath
Thanks for stopping by the homestead!
Spring Tablescape inspiration from Jayden with Backroad Bloom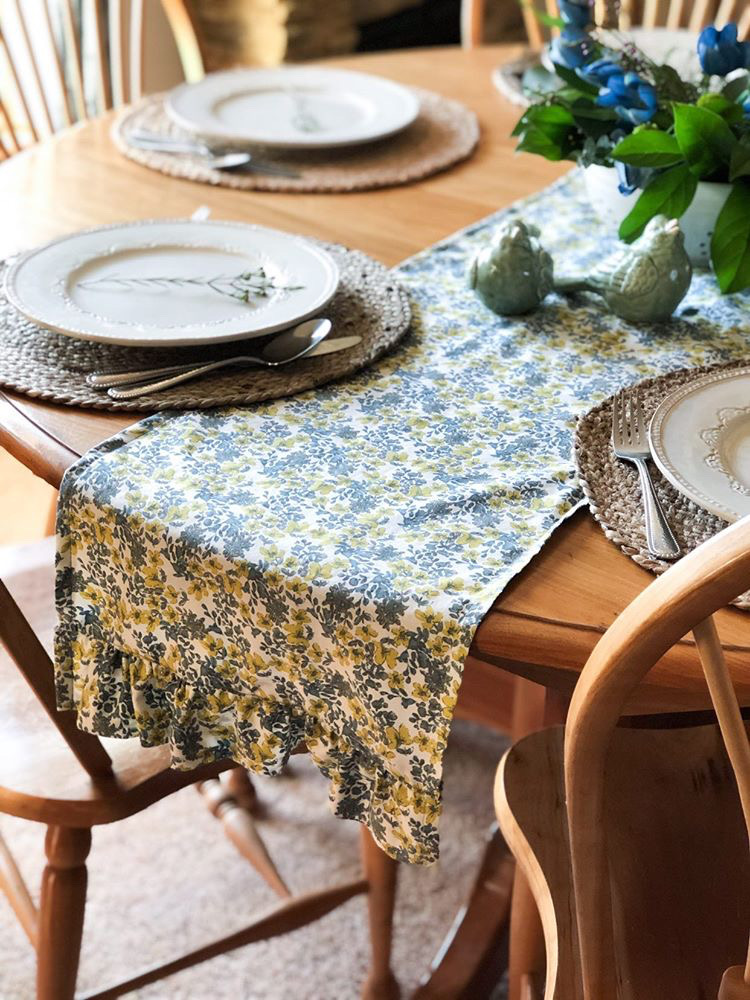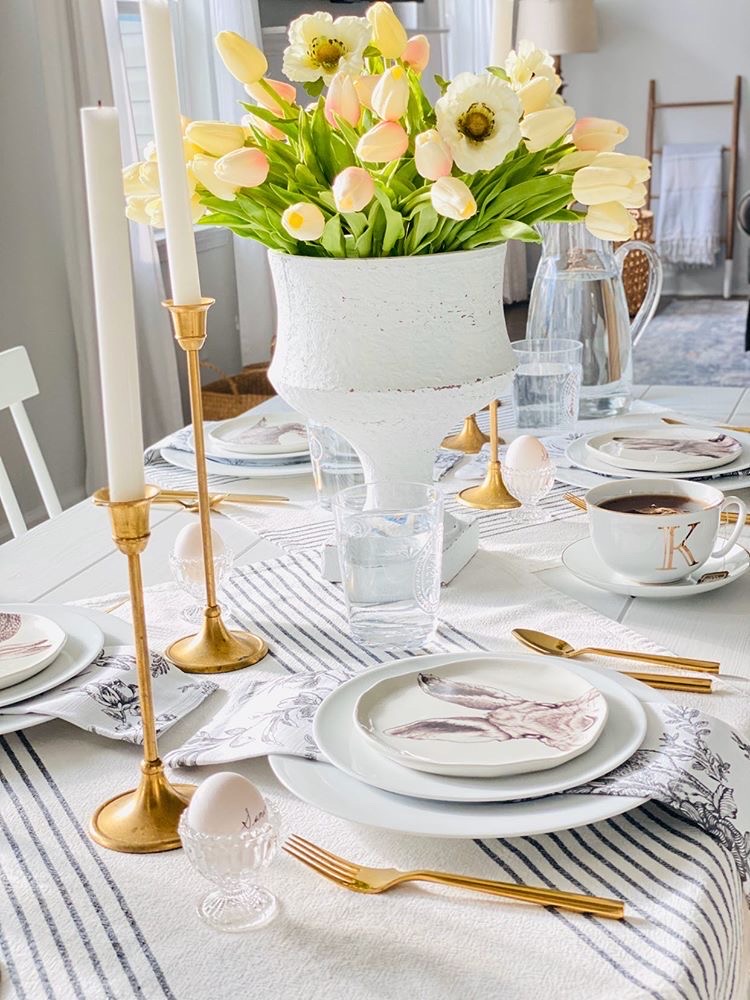 Pin it for Later