Learn how to make easy DIY stretch mark cream with this homemade lotion recipe. This lotion uses shea butter and is moisturizing for the face and all over body, even if you are not pregnant. With only two ingredients it's easy and inexpensive to make over and over!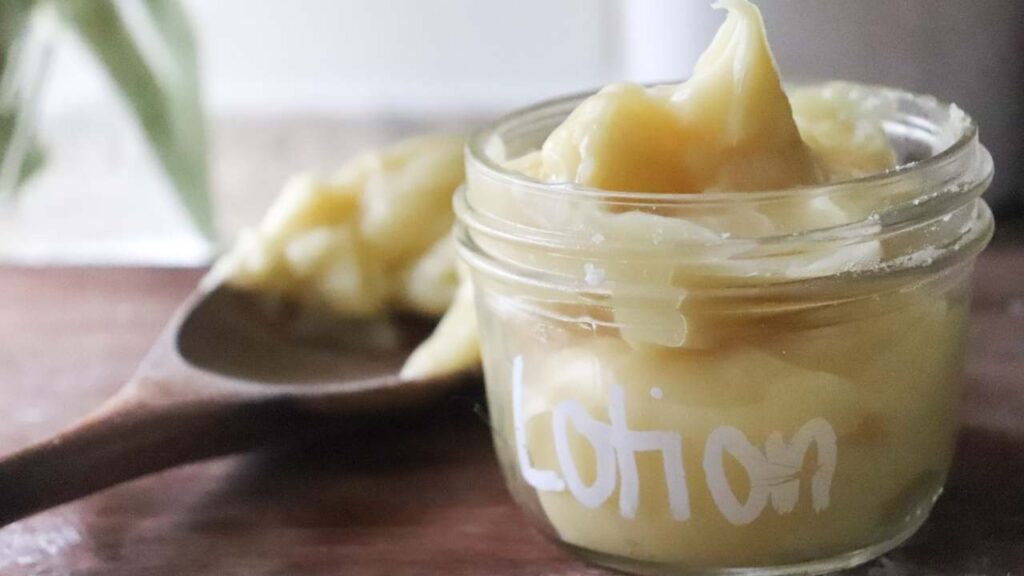 This post contains affiliate links, which means I may make a small commission off items you buy at no extra cost to you 🙂
This is an easy two-ingredient all-purpose lotion recipe that helped me prevent stretch marks during pregnancy. I didn't even have one mark!
Even if you are not pregnant, this is a great lotion to apply every day to the face and body. With only two ingredients, it's easy and inexpensive to make time and time again.
Surprise! First Trimester Update
Second Trimester Update + Preparing for Natural Birth
Third Trimester Recap & Thoughts from the Heart about Pregnancy and Birth
Save it for Later!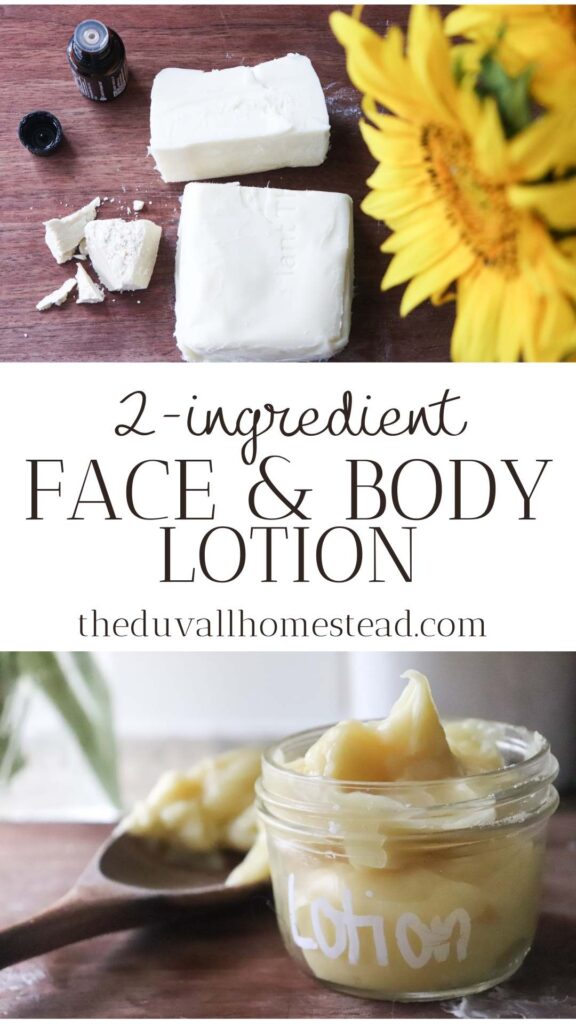 All Things Homemade
As I'm sitting here typing this blog post I have my newborn baby sleeping on my lap. I just gave birth to her 9 days ago and we just got back from our first pediatrician appointment.
Before I dive into why I like to make my own homemade products, I will first say that I understand and appreciate the need for modern technology, medicine, and products. But sometimes I think the advances in technology or medicine can sometimes harm us because they deviate from how nature intended something to be.
Take an over-the-counter anti-itch cream for example. It's made with chemicals and potentially toxins. It may help your itching but it may also be added chemicals to your sensitive skin. Why not ask yourself, what caused the itching in the first place? Could it have been fragrances or chemicals that were added to a body lotion?
So in my view, I'd say it's best to reduce the toxins that go in, on, or around our body in the first place. That way we reduce our chances of needed toxic or chemical products to help us down the road. Granted, I'm happy they're there if needed in an emergency. But in our house, all the soaps and lotions are handmade (well most of them are, occasionally something store bought will slip in).
So this is my go-to lotion recipe that is toxic-free and way nicer than the store-bought stuff.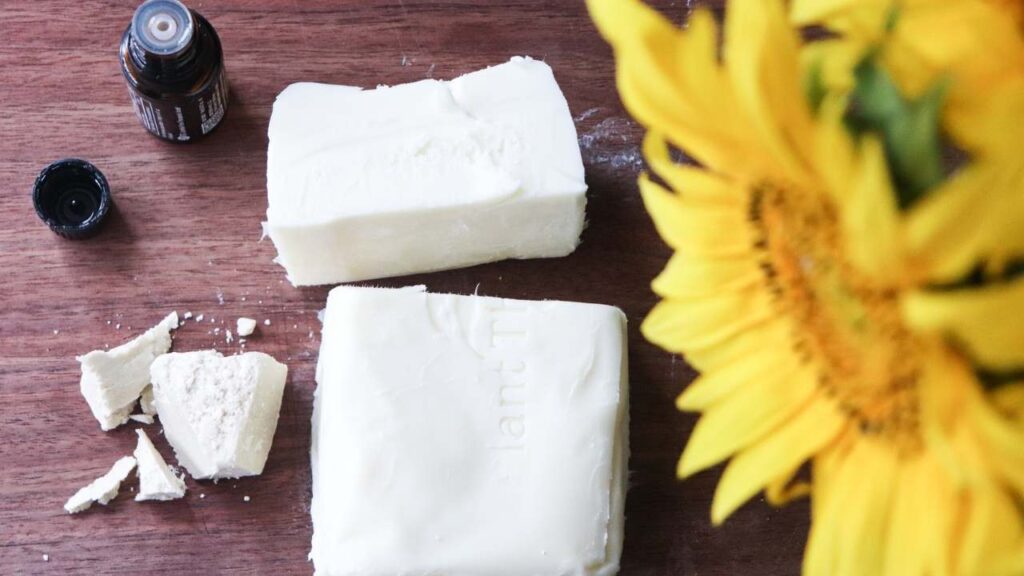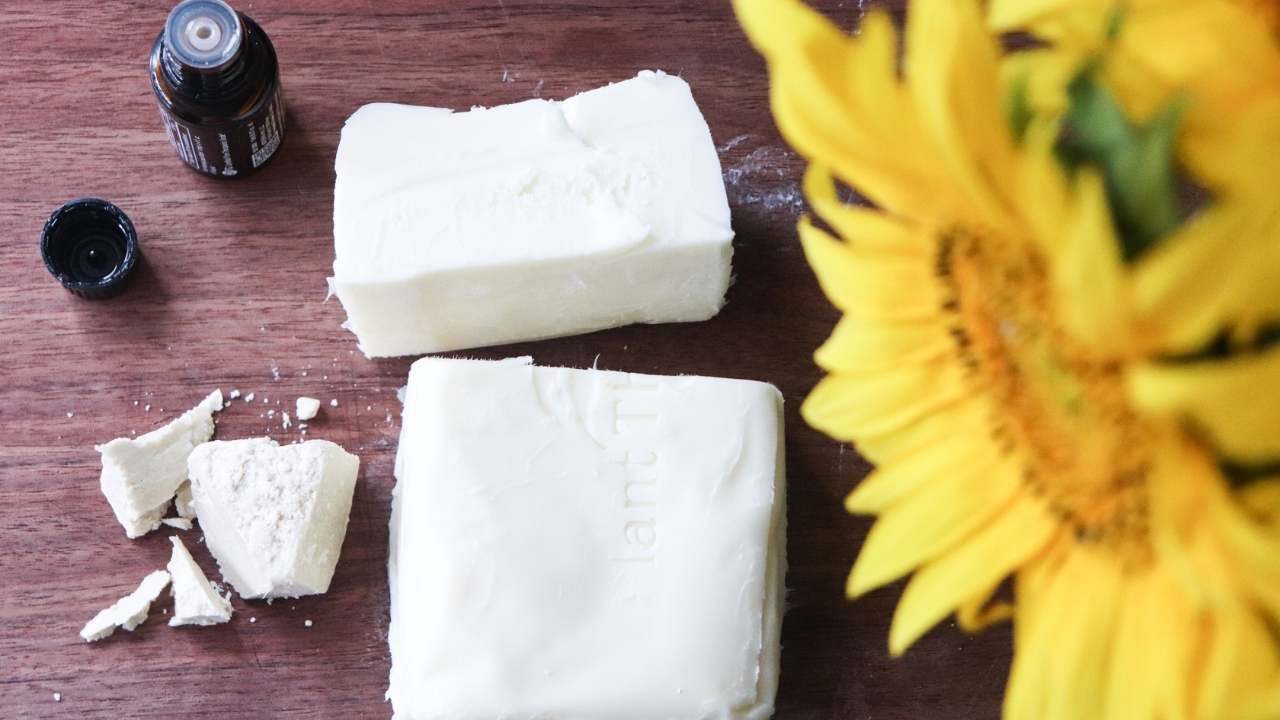 Natural Products During Pregnancy
Did you know that the skin is the largest organ in the body? That means that lathering up with lotion after a shower gives you a chance to introduce lots of products into your body through the skin. That's why homemade lotion is such a staple for me.
During pregnancy I was determined to keep my skin healthy. If you are newly pregnant and worried about stretch marks, one thing that can help is keeping your skin and belly moisturized.
Have you ever bought lotion from the store and found that your skin actually felt more dry after using it? It could be because the lotion is watered down, or because of the artificial fragrances in the lotion.
This recipe is thick and luxurious. I felt super moisturized every night when I would put this on after my shower. It was actually one of the best parts of my day. My goal was to avoid stretch marks throughout my pregnancy and I did! I never had a single stretch mark. I made this lotion probably a dozen different times and applied it generously at least once a day.
And the best part is that all the ingredients were things that I knew and loved. All ingredients that I didn't mind my baby absorbing as well!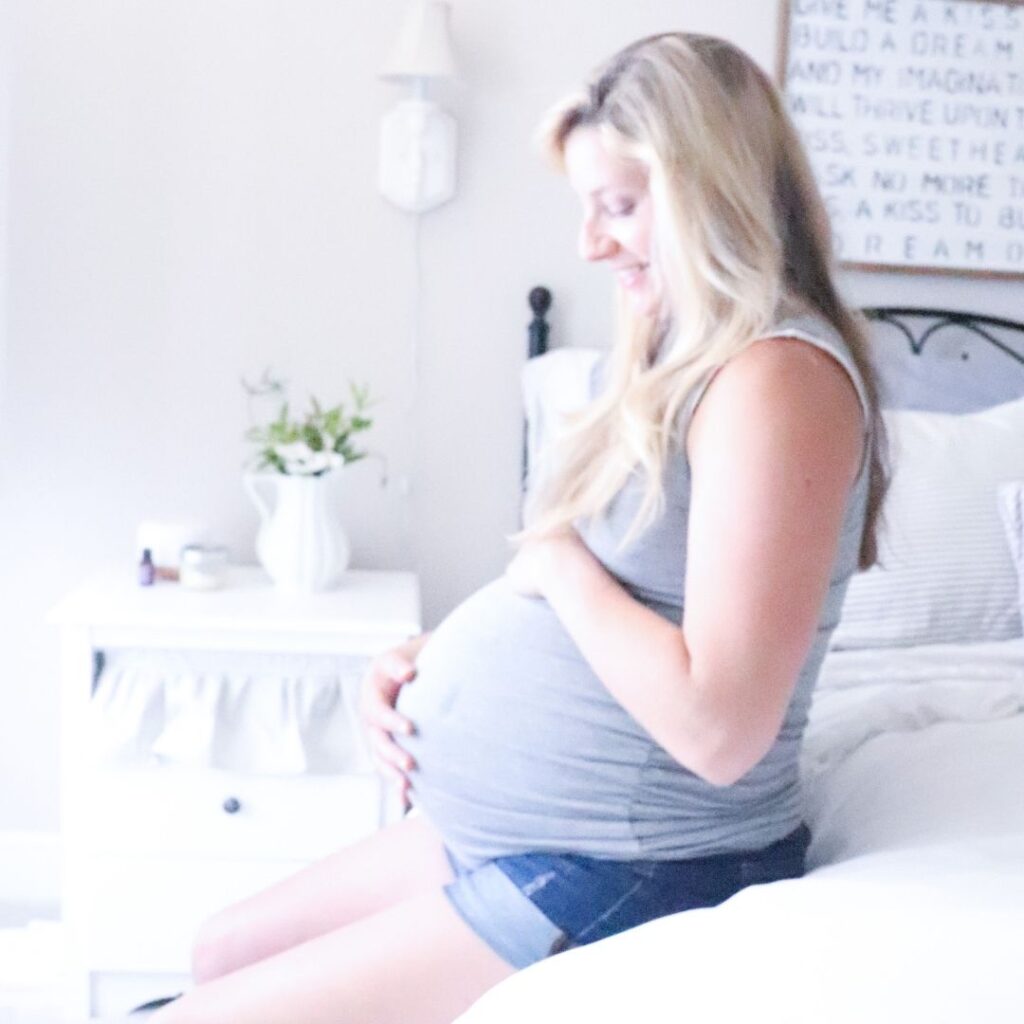 Tips for Avoiding Stretch Marks
There are other ways to avoid stretch marks, too.
Drink lots of water. Staying hydrated during pregnancy is super important for so many reasons. Talk with your practitioner about how much water is good for you, but I drank about a gallon a day and would still be thirsty!
Exercise. Obviously talk to your practitioner about this one too and don't do anything that doesn't feel good for you. But if you were active before pregnancy, then being active during pregnancy will also feel good. Exercising stimulates blood flow which helps keep our skin healthy as well. It also generally makes you want to drink more water, which we know is good for your skin too.
Lotion, lotion, lotion. When we are pregnant our skin grows and stretches more than it ever would normally. This can create itchy skin that can get cracked when it lacks moisture. So apply lotion at least once a day.
Apply this lotion right after you get out of the shower on your entire body and face. This is a good time because your pores are open after the warm shower so the moisture will penetrate the skin nicely.
Don't forget to cover some places that you may get unexpected stretch marks. For example, under the arm pits, sides of the belly, your bottom, the back, or the legs.
Tools Needed to Make Homemade Lotion
Double Broiler (or just use a stovetop pot with a mixing bowl on top)
Mixing spoon
DIY Stretch Cream Face & Body Lotion Ingredients
1 1/4 Cup shea butter (we like this one)
Note: in the video, I use 1 cup shea butter and 1/4 cup cocoa butter. This was just because I wanted to use up the last of the cocoa butter, so that's what I did.
1/4 Cup jojoba oil
Essential Oils (optional – see recommendations below)
How to Make Homemade Lotion Process
First, boil about an inch or two of water in a stovetop pot or double broiler. If using a pot, add a mixing bowl on top to create a double broiler. Boil on medium heat.
Add the shea butter and jojoba oil to the bowl. Keep them on heat until they are melted together.
Remove the bowl and let the melted butter mixture cool slightly.
Stir in 15-20 drops essential oils (optional)
Let the lotion harden slightly in the fridge or freezer. The fridge will take a few hours and the freezer will be faster. Just let it harden slightly, so you can still stir it with a spoon but its not watery.
Using a hand mixer, beat the lotion so its nice and whipped.
Transfer to a small mason jar and seal with a lid.
Apply to the face, body, and belly once a day after warm shower.
Do you need to add essential oils to homemade lotion?
No, that's what makes this recipe only two ingredients. I always add essential oils though, because I love the smell and you get lots of added benefits.
Essential oils are extracts from plants, flowers, roots, stems, leaves, food, and other natural products. They are highly concentrated and can contain strong beneficial properties for the skin.
You do want to always make sure you're getting good oils. The drug store brand essential oils are probably not the best bet. They sometimes have added chemicals, fragrances, or other fillers that aren't natural.
Read more about the top 10 essentials oils we use at the farmhouse here.
Best essential oils for DIY stretch mark cream
Get essential oils at a wholesale discount here.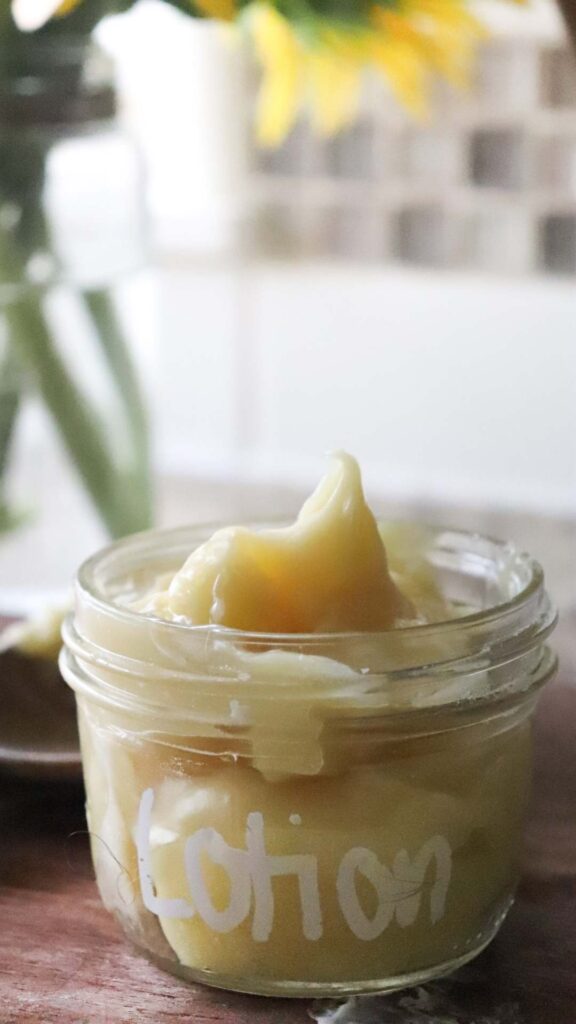 I love using this washable white pen to label my lotion jars. We also use it for our spice cabinet!
What essential oils are good for preventing stretch marks?
You can use any combination of lavender, frankincense, helichrysum, geranium, and patchouli to help prevent or treat stretch marks. As stated above, sometimes stretch marks are inevitable (one of those kisses that pregnancy gives us like varicose veins). Good hydration, exercise, a good diet, and keeping your skin hydrated all can contribute to stretch marks. Even your genetics can play a part. In my family, the women all get varicose veins, so that was my blessing as opposed to stretch marks 😉
I put this lotion on at least once a day, every day in pregnancy. I can't go back to store bought lotion now. This stuff is too good. Every time my skin was itchy from stretching, on went the lotion. And I didn't have a single stretch mark!
More Natural Pregnancy
Minimalist Farmhouse Nursery Tour
Natural Home Birth Tory Birth of our First Baby Allison Marie
Spring/Summer Maternity Capsule Wardrobe
4 Freezer Prep Meals before Birth
SAVE TO YOUR PINTEREST BOARD!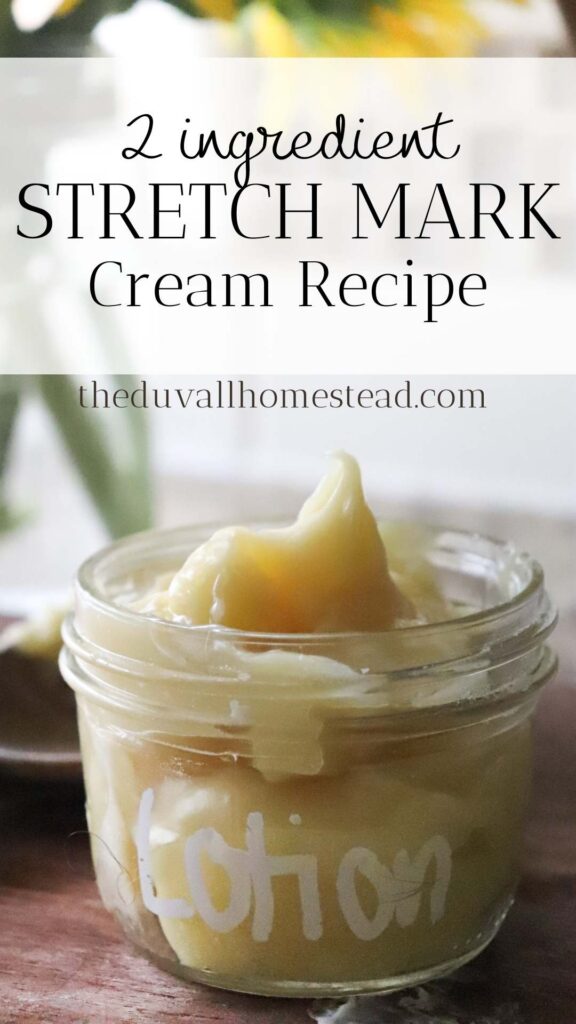 Thank you so much for stopping by the homestead!