About ten years ago I started buying natural products at the grocery store. But there were still so may ingredients I didn't understand written on the back. I just wanted to put as few ingredients as possible on my body and in our house, so I started making my own products with essential oils. In this post you'll learn all about how to use essential oils to remove toxins in your home and life.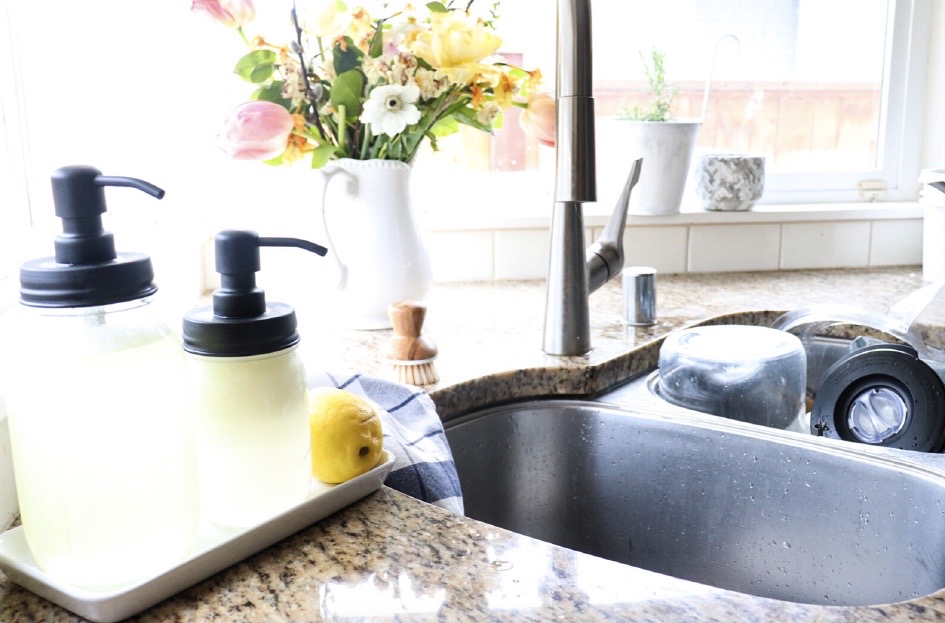 Pin it for Later!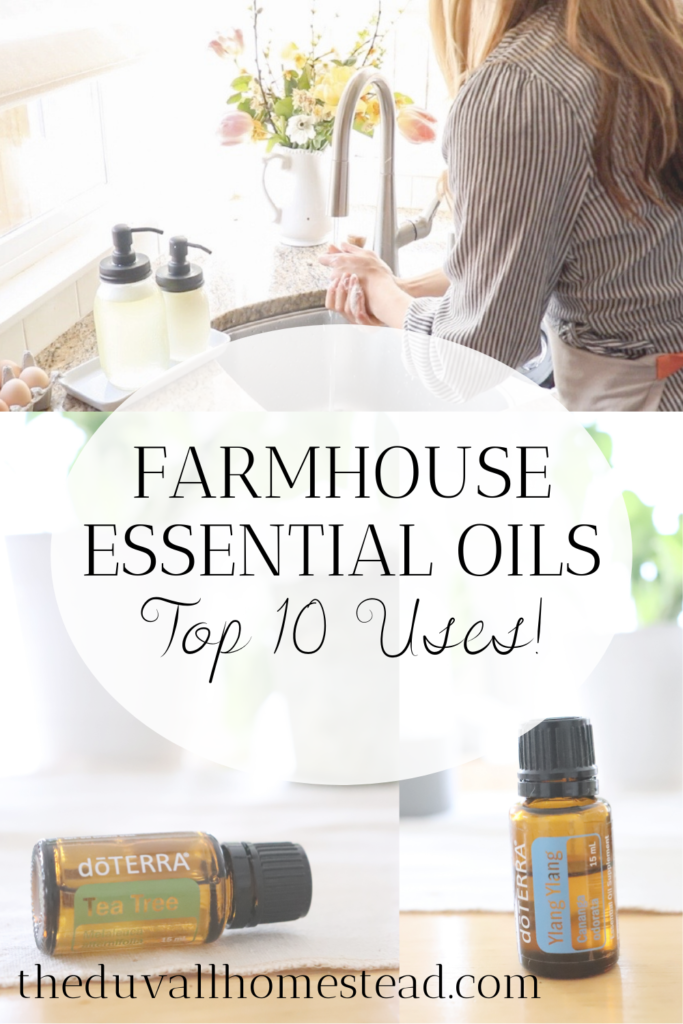 About ten years ago I started buying natural products at the grocery store. Even still, there were so may ingredients I didn't understand written on the back. I just wanted to put as few ingredients as possible on my body and in our house, so I started making my own products with essential oils. In this post you'll learn all about the best essential oils we use at the farmhouse, or at least my favorite.
Using Essential Oils to Remove Toxins in the Home
I started realizing about 5 or so years ago that there was really no need for me to buy products like Windex or other artificial cleaners anymore. So many good brands were coming out, like Grove and Mrs. Meyer's, that offered all natural products. I loves that they were plant based and better for you and the environment.
But the past year or so I have gotten more serious about taking away any ingredient that I don't know. Now of course I still have the bleach on hand for the one time of year I may see mold and need to kill it. But for the most part, I want to have only whole ingredients and products in our house.
Some people might think it's a little strange to use essential oils so much in your house. Why bother? Isn't that more work than just buying stuff at the store that's pre-made?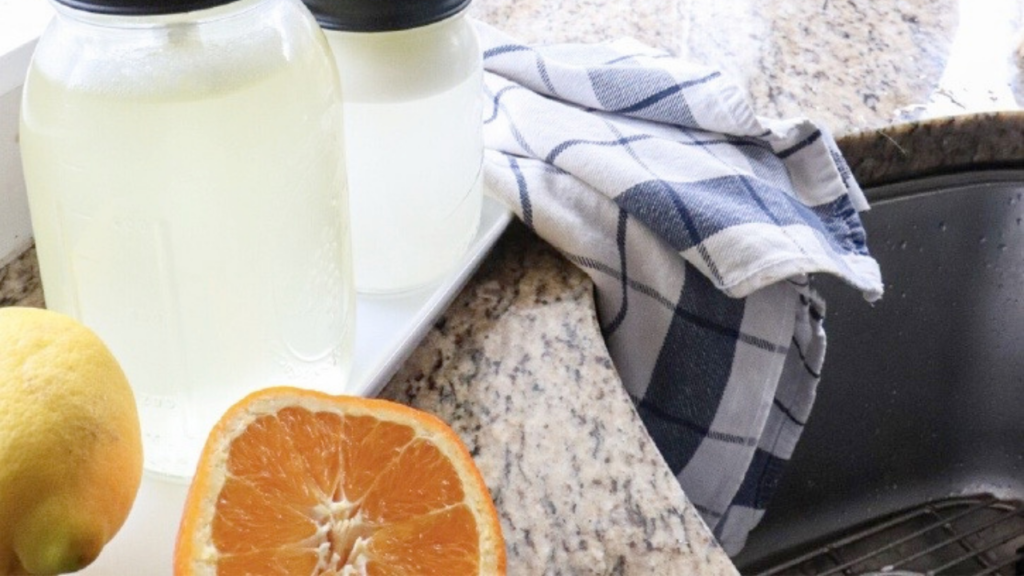 Others might think it's just weird, or like some say isn't that witchcraft? I laugh so hard whenever I hear that because rosemary essential oil, for example, is just expelled and extracted rosemary that is highly concentrated. And rosemary is an amazing herb that's in so many food recipes.
What are essential oils?
Essential oils are a highly concentrated version of food, plants, roots, and other earthly products that you can find. They are expelled and extracted vegetables, flowers, fruits, and more. With their high concentration, you can get more bang for your buck when it comes to homemade products, boosting your immune system, and overall health.
For example, one drop of peppermint essential oil is equivalent to 14 bags of tea. So if you're feeling a little sick, you might consider dropping one drop of peppermint oil into your water instead of downing 14 cups of tea.
You do have to be careful though because not all essential oils are treated the same. If you go to the grocery store and see a lavender EO and it's only a few dollars, don't buy it. You want to make sure you're getting high quality oils, or else you're risking consuming other ingredients that may be toxic into your body through your skin, internally, or aromatically.
Essential oils are not regulated by the FDA, so if the bottle says "100% pure" or "natural", those words really don't have any standard to test against them. It is best to buy essential oils from a reputable company like DoTERRA because you can see and know where they come from, how they're sourced, and how they're tested. Read more about that here.
Household Cleaning Products with Essential Oils
There are some household cleaning products that I don't mess with, like bleach or toilet cleaner. Yes I do still clean our bathrooms with essential oils and vinegar in my all-purpose cleaner, but if I see mold or someone is sick in the house and I really want to kill anything and everything, I will pull out the Soft Scrub.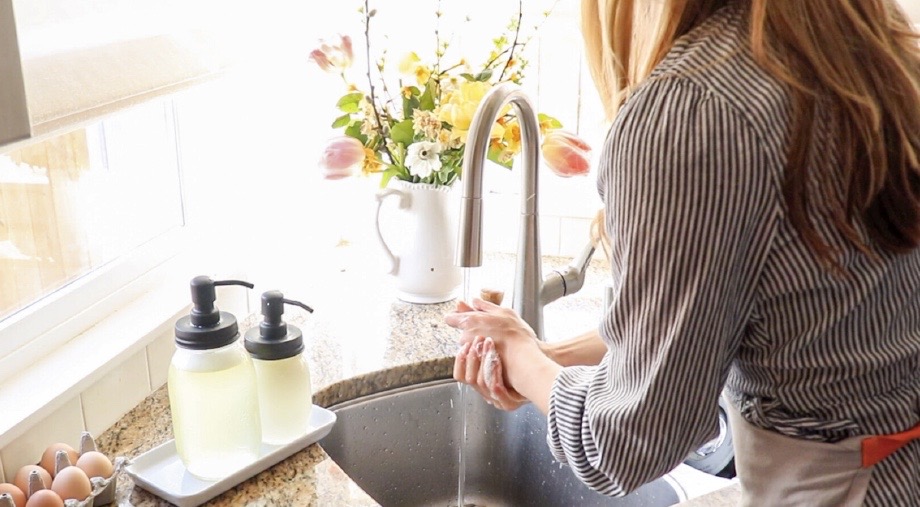 I can honestly say that Soft Scrub is the only store-bought cleaner that I will probably never give up, because it's worth having on hand for the one or two times a year I use it.
For everything else, like dish soap, hand soap, laundry detergent, and all purpose cleaner, there's a recipe for that!
Here are our favorite essential oils for household cleaning products.
Grab lemon, wild orange, and lemongrass here.
Lemon
Lemon is a powerful cleaning agent that helps purify the air and remove dirt from surfaces. This is why you always see lemon scented household cleaners because lemon is not only good on surfaces but good internally for you as well.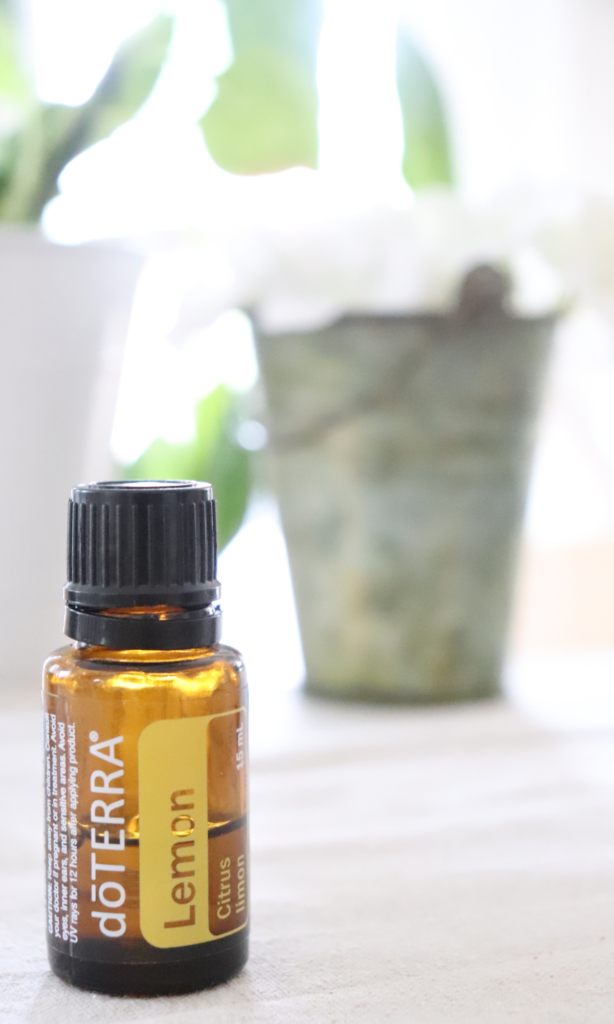 This post contains affiliate links, which means I may make a small commission off of items you buy at no extra charge to you.
We add a drop lemon EO in our water or use it in cooking if we are out of whole lemons. One drop of lemon EO is very powerful and works great in household cleaning products.
Lemon oil also makes great furniture polish, works well on hard wood floors, and I use it in my DIY carpet cleaner as well.
Wild Orange
Wild orange essential oil is made from orange rinds (the orange peel) and is one of my favorite scents. I put this in our hardwood floor cleaner and dish soap. We also diffuse wild orange a lot because citrus has a knack for making you feel more uplifted and stress-free.
Wild orange makes a great all-purpose cleaner addition because it cleanses the surface and freshens the air.
Orange, like many of the citrus oils, is also energizing and up-lifting. You can rub some in your hands and on the back of your neck for some mid-afternoon energy boost. Additionally, since skin is the largest organ of you body and you absorb what goes on it, you are also getting the benefits of orange and vitamin C, an immune boosting vitamin.
Lemongrass Oil for Bug Repellent
Lemongrass is a great oil for so many reasons. Look on the back on any natural mosquito repellent and you'll see lemongrass essential oil.
Whenever I clean our hard wood floors, I always make a mixture with lemongrass.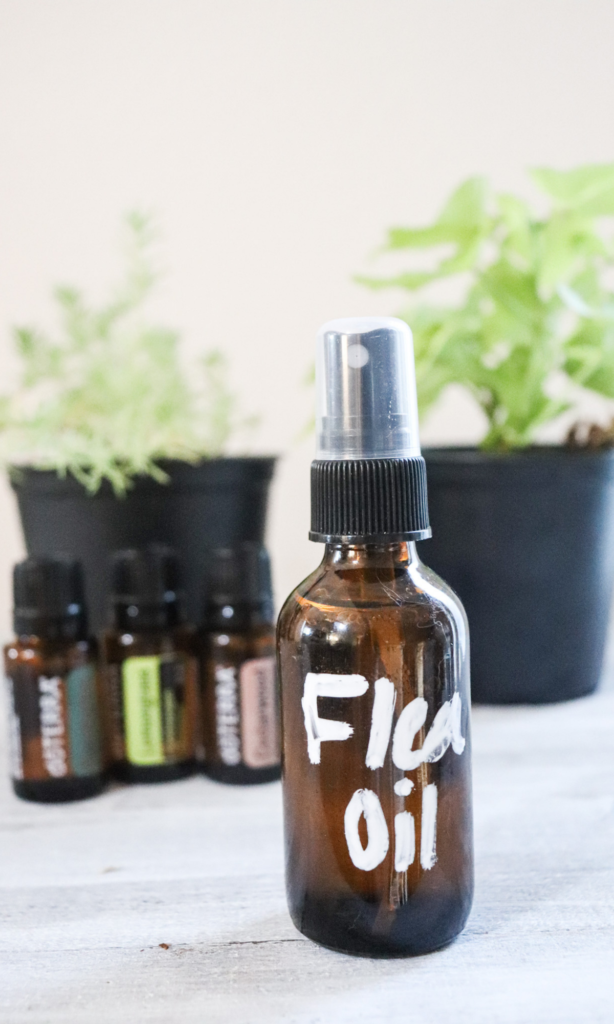 I mop around the edges of the floors where the floor meets the drywall and the doors to the outside to help deter bugs. Lemongrass is also a great one for a DIY bug spray oil, or for homemade candles. You could mix it with citronella for a homemade bug repellent candle in the summertime. Can you tell we get a lot of mosquitos here? LOL
Grab lemon, wild orange, and lemongrass here.
Best Essential Oils for the Skin
You can use essential oils to help hydrate and rejuvenate the skin. When I first started making my own facial products with essential oils, I had no idea how easy it would be. Then I looked in my existing "natural" products I bought from the store, and found that many of them contained essential oils already. Tea tree oil, lavender, and ylang ylang are just a few of my favorites!
Free Ebook! Homemade Gift Basket with Homemade Soaps, Lotions, and More
Lavender
One of the most popular essential oils, lavender is so well known because of its smell! Perfect for bath salts, dish soap, laundry scents, perfume, or face lotions.
Lavender is my go-to for anything that needs calming. There are many oils that are good for the skin, but I will grab lavender first for a skin rash, eczema, irritation, cramp, or burn. Of course, always dilute the oil with a carrier oil first before applying directly to the skin.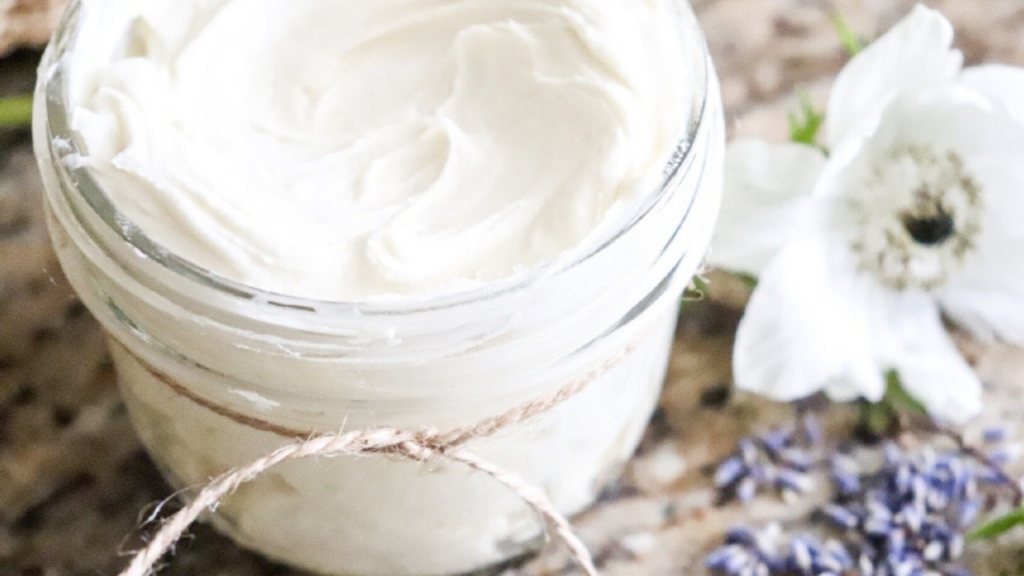 One of my favorite recipes that I just developed a few weeks ago is my bed sheet freshener. I started doing this when our cats got fleas, because they sleep in bed with us and I wanted to make sure the fleas didn't get cozy in our sheets. So I used cedarwood, lemongrass, and some other EOs in that mixture to deter the fleas. But once I started doing that and realizing how nice it was to step into fresh smelling bedsheets every night, I started making more mixtures to spray on our bed as well.
Lavender is great for a bed sheet refresh spray because of its naturally calming properties, which can help you get a good night sleep.
I also use lavender is our homemade laundry detergent recipe!
Tea Tree Oil
Tea tree is made from the leaf of a plant and is considered a very powerful cleaner and is also beneficial to the skin. Many naturally made cleaning and skin products contain tea tree oil because of its purifying and soothing properties.
For household cleaning, tea tree is my go to for hard wood floors and stain removal.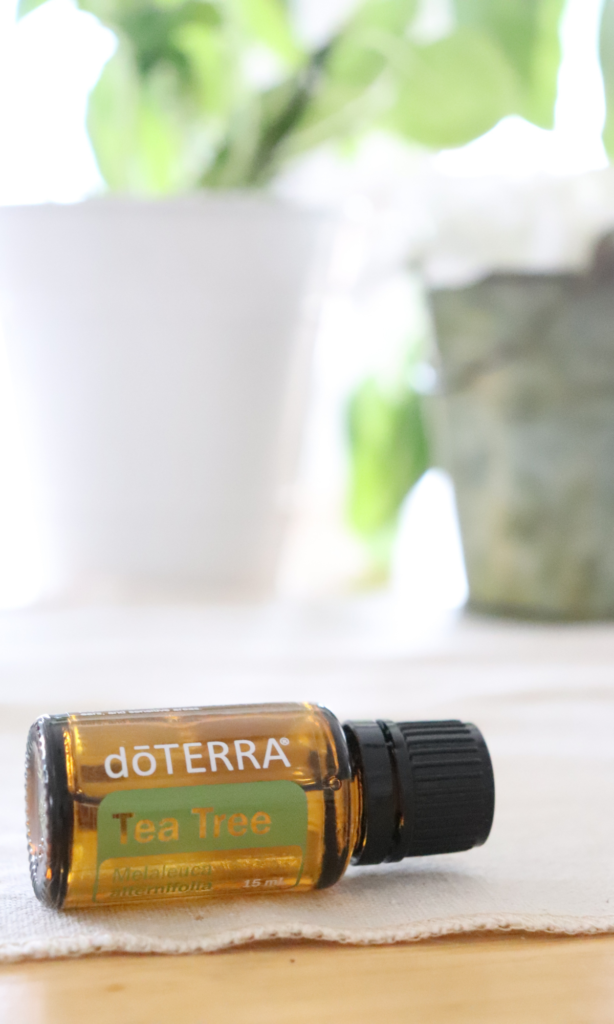 It's also one of the first oils I grab for skin irritations or even immune support at the first sight of a sickness.
Tea tree oil has antiseptic and antibacterial properties, and is a great oil to use for bugs. Ants, spiders, mosquitos, and fleas don't like the smell of tea tree oil, making it good for bug repellent.
I will made a blend of tea tree and few other oils in a bottle and call it "bug spray" and it can be used in two ways: first, around the house or on your skin if you think bugs are near. And second, directly on your skin if you get a bug bite. It works both ways!
The leaves of tea tree have been used by Aboriginal people of Australia for centuries! They would apply crushed leaves directly to the skin for a cooling effect.
Ylang Ylang
If I had to chose one oil to make a perfume out of, it would be ylang ylang. It has a rich floral scent that kind of reminds me of jasmine. It's not overpowering or overly sweet, it's just the right amount of floral in my opinion. It's my favorite oil to use in hand and face cream, because it is just so strong and it never fades. Every time I make lotion, I can smell the ylang ylang!
You can put ylang ylang in an epsom salt bath mixture or even take it internally for antioxidant support.
Deep Blue
Deep Blue is an essential oil blend by doTERRA that is our go-to for sore muscles, aches, or just a sleepy-time massage before bed. It has an amazing cooling effect. If you've ever tried "icy hot", it feels just like that, only it's made with essential oils, so it's a yes for me!
Deep blue is a blend of:
Wintergreen
Camphor
Peppermint
Ylang Ylang
Helichrysum
Blue Tansy
Blue Chamomile
Osmanthus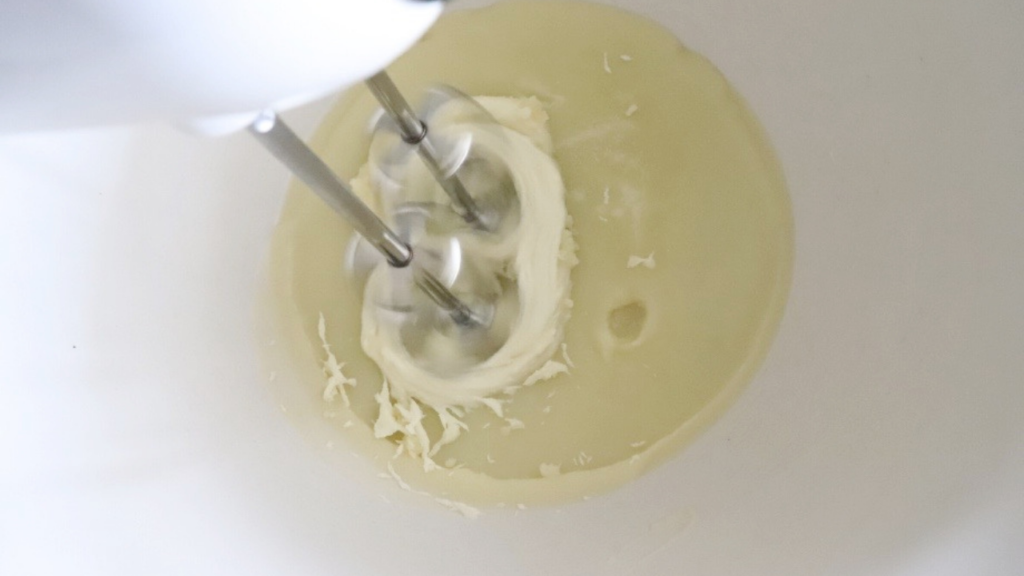 A little while ago my husband was complaining of some back pain before bed. I have had back pain too, because ever since COVID we're both working from home and this was before we invested in fancy office chairs. I would rub the deep blue lotion rub by doTERRA on his back and mine before bed and it knocked us right out! It almost numbs your skin so you don't feel the pain. Amazing!
Grab these healing oils for the skin at the link here.
Best Essential Oils for Immunity
I really started using essential oils because I was looking for the health benefits. The lotions, soaps, and other fun stuff you can do with EOs was just icing on the cake. To me I was really looking for natural remedies to improve our health and prevent series issues in the future.
One way essential oils have done that for us is by providing immune support. Instead of waiting for one of us to get sick and then going to the doctor, we take a proactive approach to health and try to prevent anything from ever happening. Of course this isn't totally possible and things can and do happen, but I haven't gotten the flu in so many years I can't even remember. So a strong immune system is something that should be at the very top of everyone's priority lists in life, in my opinion.
There are many oils that can provide immune boosting support, but here are our top 4.
On Guard
I had to put On Guard first because if I could only chose one oil to live with, it would probably be this one! Now this isn't just one oil, it is a blend of several oils that doTERRA makes that is truly life changing. On Guard is a powerful immune supporting oil blend of the following:
Wild Orange Peel
Clove Bud
Cinnamon Leaf
Cinnamon Bark
Eucalyptus Leaf
Rosemary Leaf/Flower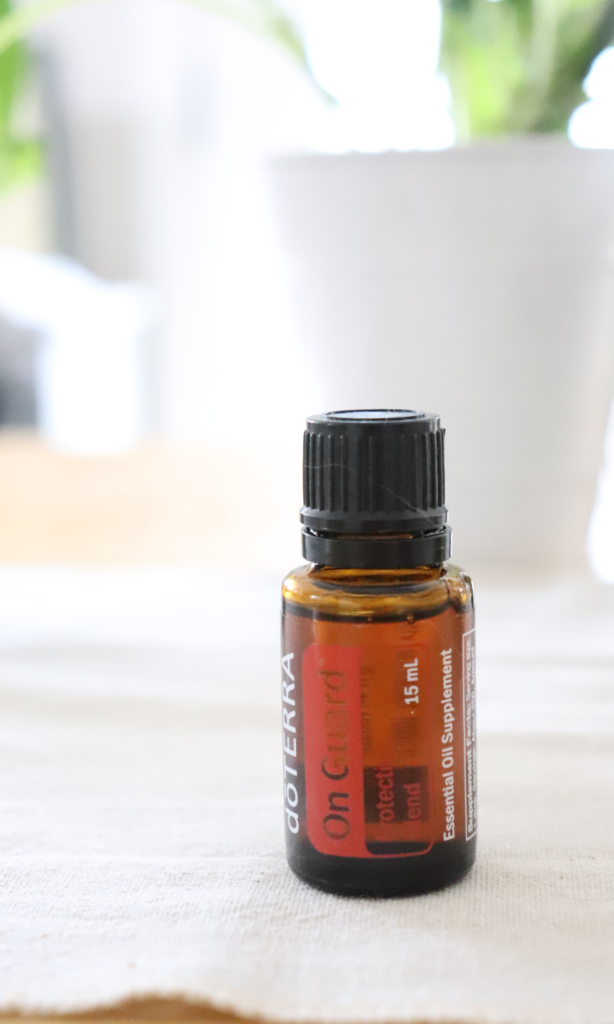 This blend is really powerful! We take less than 1 drop of this blend internally whenever we feel a cold coming on, or the flu is going around, or we are traveling/going to be around a lot of people.
I have gone to bed many a time with a scratchy throat and woken up feeling great after doing this before bed.
So, it's safe to say that On Guard is my go-to blend for all things immune boosting.
UPDATE: As I'm updating this post over a year later, I haven't been to the doctors office in probably 2 years now. Every time I get a hint of a cold or something coming on, I use on guard and I've been sick-free ever since.
Oregano
Oregano is a very powerful essential oil with great benefits. We use it often in cooking and, for the immune system, in elderberry syrup.
Oregano is a powerful cleansing agent with antioxidant properties. Make sure you always dilute this oil though, and only use one or two drops. It's very powerful!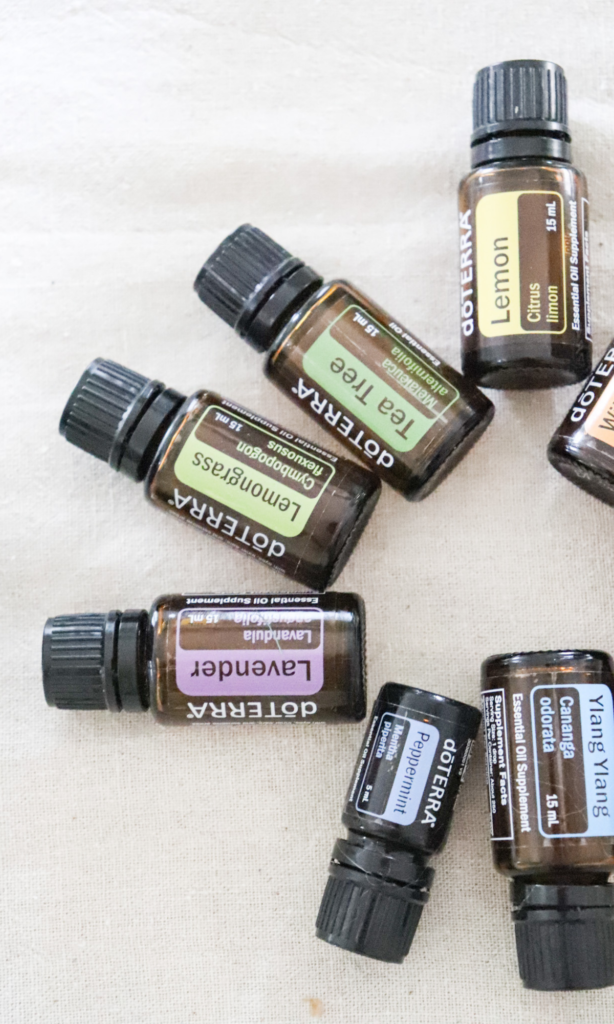 If you follow me over on Instagram I shared my elderberry syrup recipe in one of my highlights. It's a simple recipe that can be taken during fall and winter months to support the immune system.
I also use oregano oil in soups to get that added immune-boosting benefit. Check out my favorite chicken tortilla soup, which has oregano in it as well.
Peppermint
Peppermint has been known for centuries to support the digestive tract and help ease some stomach tension. I included it as one of my top 10 essential oils because of it's strong scent that, when diffused, can help someone who feels ill. I also like to diffuse lemon and chamomile when someone isn't feeling well.
But really, the last time we had a sickness in our house was over a year ago – and that was when I got food poisoning.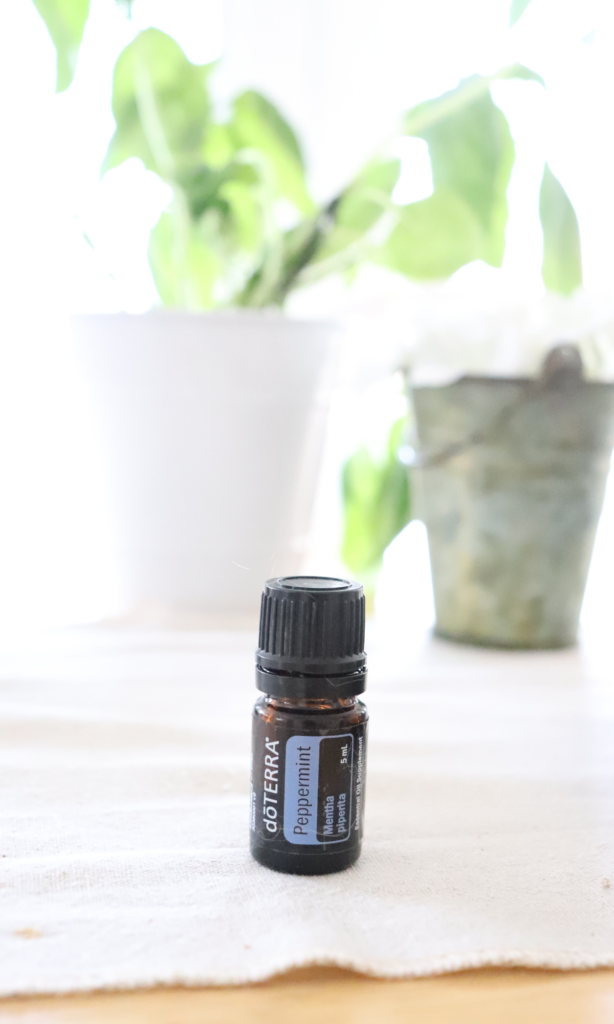 Other than that, we'll just have the occasional sinus headache or a tummy upset from something we ate. In those cases, I go straight to diffusing the On Guard, Oregano, Peppermint, Lemon, Chamomile, or really anything that sounds good at the time. Diffusing oils helps improve just about any situation I find, so that's why we have a few diffusers in our house.
I also love cooking with peppermint! Come Christmas time, you can use peppermint in your homemade brownie mixture, ice cream, or hot cocoa for a healthy and natural festive flavor!
Grab On Guard, Oregano, and Peppermint here!
Best Essential Oils we use at the Farmhouse
Once you get essential oils incorporated into your home and lifestyle, you will never go back to buying conventional remedies from the store. Obviously there is a time and a place for modern medicine and we are not against that, but we try to prevent having to see a doctor or use store-bought products in the first place if we can use essential oils first.
So in summary here's our top 10:
For household cleaning:
Lemon
Lemongrass
Wild Orange
For Skin and Body Care:
Tea Tree
Lavendar
Ylang Ylang
Deep Blue
For Immune Support:
On Guard
Oregano
Peppermint
How else can Essential Oils Remove Toxins?
Use them as natural flavorings in food – like Homemade Gingerbread Hot Coca with Ginger essential oil
Check out which essential oils helped me out during pregnancy
Homemade Beeswax Candles with Essential Oils
Best Essential Oils to Get Started
There is no better feeling than replacing toxic products with natural ones in your home.
Grab the healthy essentials kit to get started. It includes many of the oils mentioned above plus a few more, and you get them for a discount.
Do you use essential oils? Let me know in the comments below!
Pin it for Later!