After over a year of being pregnant and having a baby, it's time for some new clothes. In this post I take you along my spring capsule wardrobe 2022.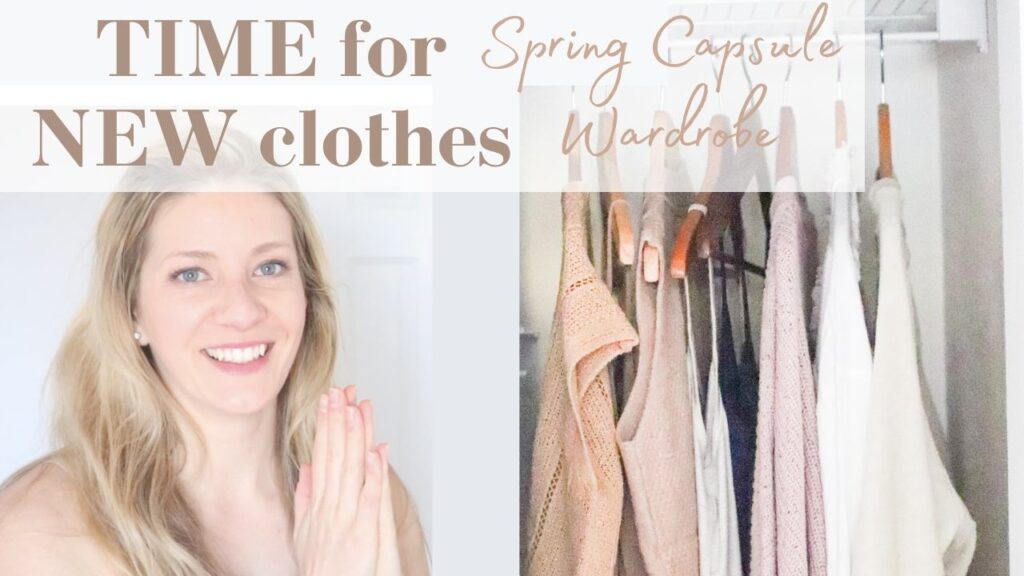 This post contains affiliate links, which means I may make a small commission off items you buy at no extra cost to you 🙂 As an Amazon associate, I earn on qualifying purchases.
PIN IT FOR LATER!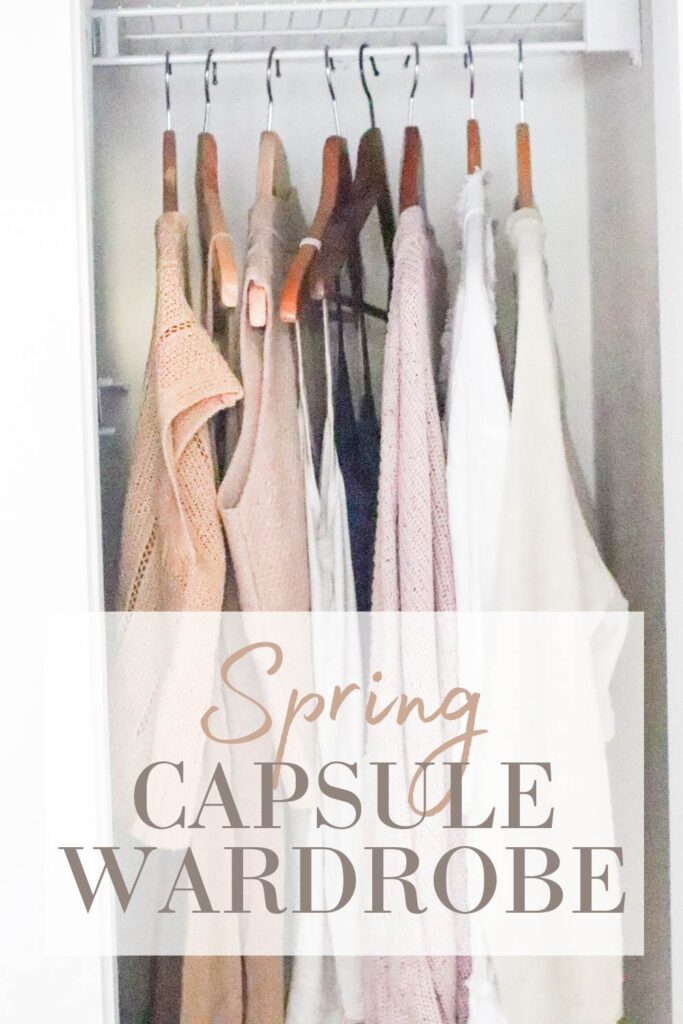 Needing a Change
If you've been following the blog for any amount of time you know that I had my first baby last summer. Last year I shared a maternity capsule wardrobe, and I should have done a postpartum one too. But I didn't know what I would need postpartum really, so I stuck with a few tank tops, yoga pants, and sweatshirts. And that's what I've been wearing the last 7 months (and I'm tired of it 😉
So after buying clothes for a growing belly, and then clothes for a somewhat smaller belly, it is now time to put some thought into a new wardrobe. Although my belly is not quite as flat as it used to be, which is one of my goals while shopping for new clothes.
I'm looking for loose fitting tops and sweaters that you can breastfeed in. Also a dress, jeans, and some yoga pants (I love a good pair of yoga pants).
So if you're a mom, or just a gal looking for cute clothes, this spring capsule wardrobe might help you out!
What is a spring capsule wardrobe?
A capsule wardrobe is a small collection of items that are to be warn for a season, usually 3 or so months. Ideally you want to buy clothes that are higher in quality and buy fewer of them. You pick them out at the beginning of the season and they last you until next season.
Realistically I don't think a capsule wardrobe is supposed to replace ALL of your clothing. For example I have big winter jackets, boots, and some other clothes that have lasted me years.
But especially being a mom and having kids, you're kind of buying new clothes all the time when your body changes. So I'm going to be doing seasonal wardrobes for a while I think 🙂
See my spring-summer maternity capsule wardrobe here.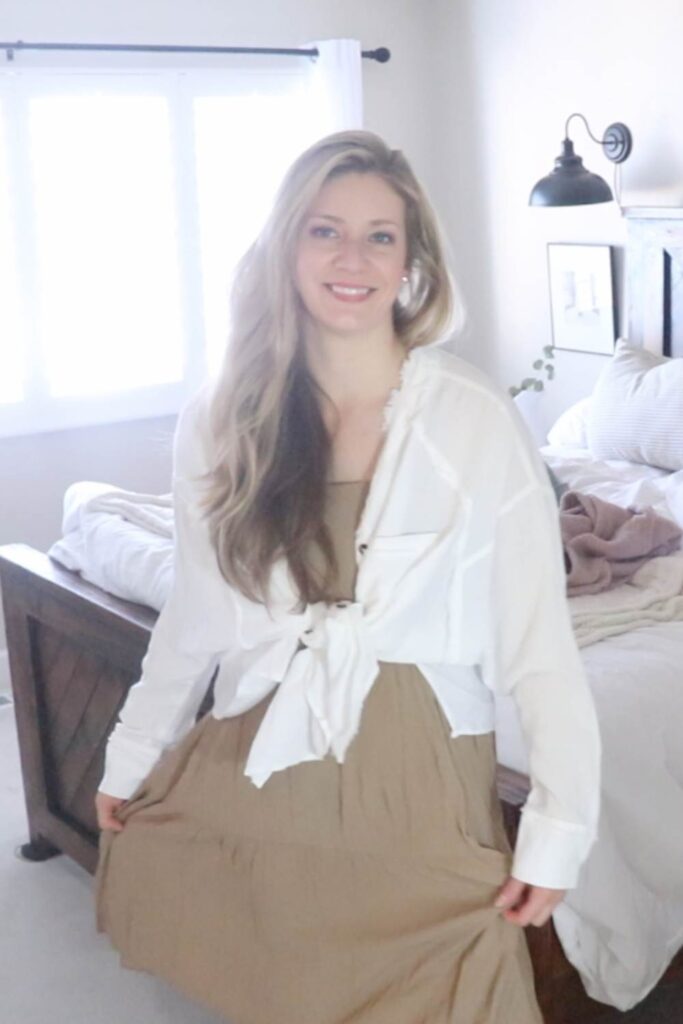 Where's the best place to buy capsule wardrobe clothes?
It's best to buy clothes that are higher in quality so you can buy fewer of them. Here is a list of common places to buy clothing, and my take on when/how to use these places:
Amazon – good for a low price option, and if you need one item quickly (since you have free shipping with Prime). Not the best place for capsule wardrobe pieces though, since the quality tends to be lower for clothing unless you know the seller. Better for a "I need a tank top ASAP" kind of thing.
Old Navy, GAP, and Target – second best place for low price clothing. Good to check out seasonally for sales and they have pretty good quality. You could pick out a capsule wardrobe from here. It's best to buy multiple items at once though so you get free shipping. Again, not the best quality but on the cheaper side.
Pact – my favorite place for organic clothing. They have the softest cotton you'll ever feel. I love their tank tops, nursing bras, and underwear (probably TMI but it's just so soft!). I've also gotten a few dresses and jackets over the years there. They don't have a ton of variety though, and you do pay a higher price for everything. So maybe not the best for a capsule wardrobe.
Vici Collection – this is a fun place to shop online. They have a great variety of dresses and overall vacation kind of clothing. They are on the lesser expensive side too. I've gotten some pieces that were great and some that I didn't like, so it's hit or miss.
Carly Jean LA – this is who I went for most of the clothes in this capsule wardrobe. I thought they were the perfect sweet spot of high quality, good selection, and reasonable price. They also have an entire capsule wardrobe guide and many of their clothes are maternity friendly.
My Spring Capsule Wardrobe
Cozy Beige Pullover (link)
Sweater Vest 1 (link)
Sweater Vest 2 (link)
Neutral Tan Dress, mocha (link)
White Oversized Button Up, white (link)
Two Loose Fitting Tank Tops – Tan and Navy
Pink Oversized Sweater (link)
Favorite Pair of Mid-Rise Jeans from Amazon (link)
Leggings from Pact (on sale now!)
Jean Jacket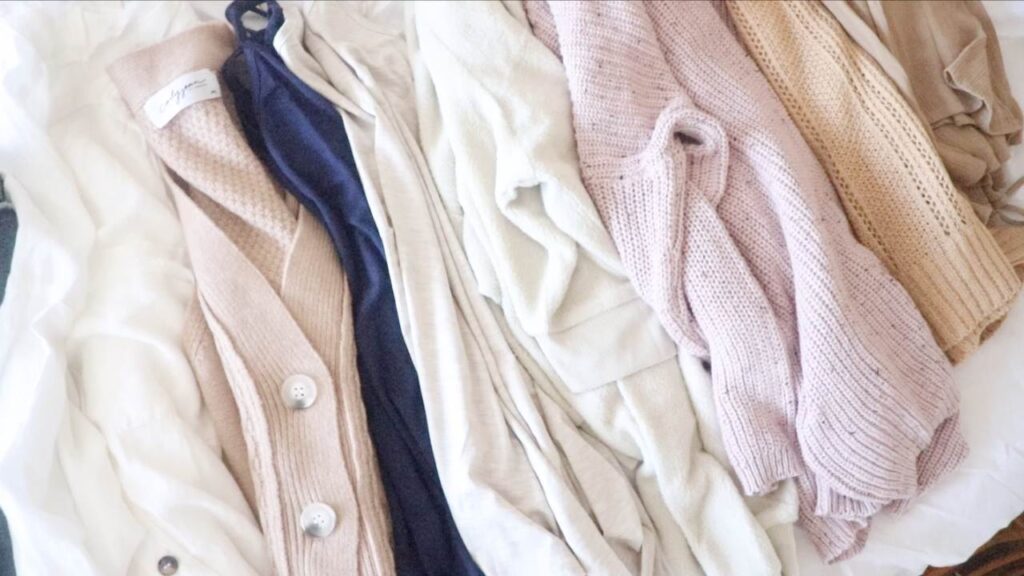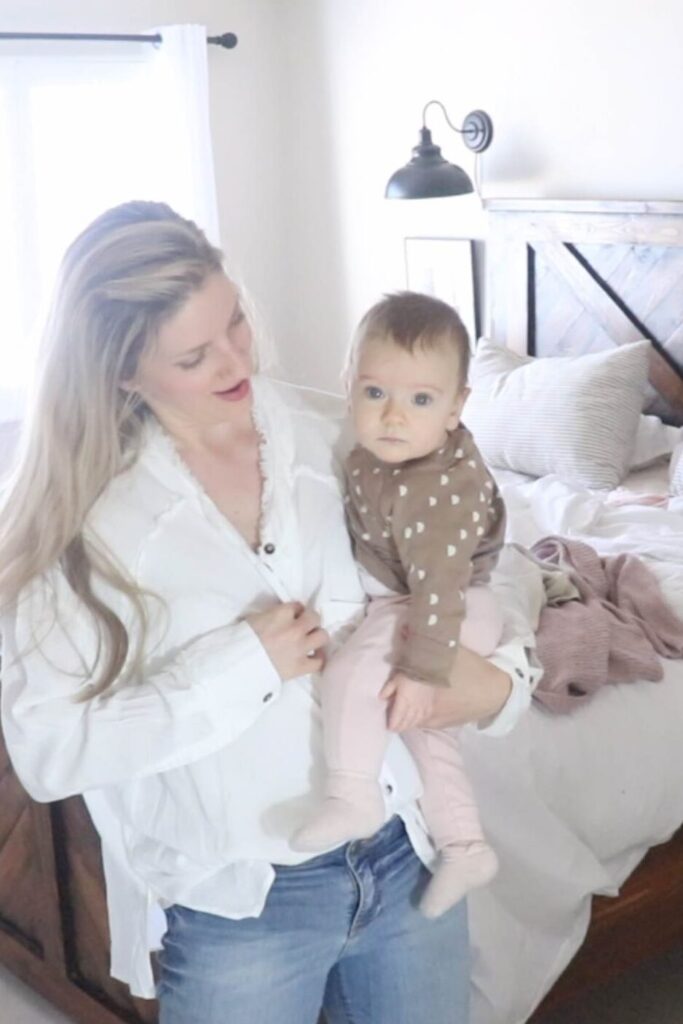 I hope you found some good inspiration for your spring capsule wardrobe this season!
Share it on Pinterest!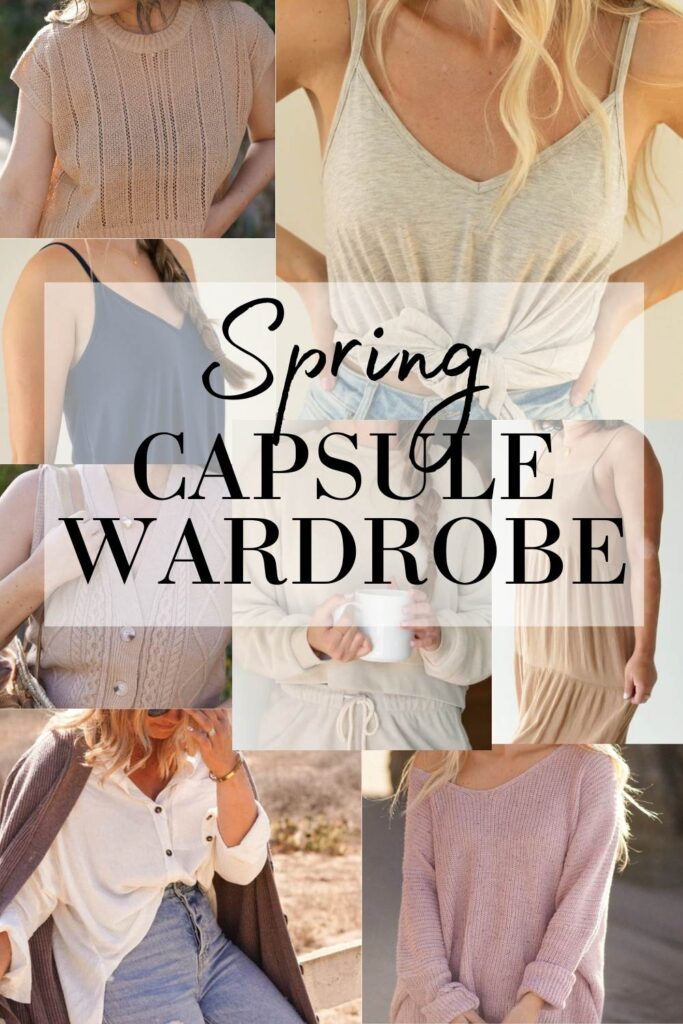 Thanks so much for stopping by the Homestead!