Have you ever been stuck without a good quality food option and a very hungry tummy? I try to cook everything from scratch at our homestead, but I'll be honest. Sometimes life gets busy. My rule of thumb is it's better to have high quality food at your fingertips than to eat low quality fast food. So how do you find good food that's readily available? Well one way is through your local farmers and markets. But in case that option isn't available, here is my top 39 healthy foods to buy on Amazon. And a few tips for buying food online in general. Enjoy!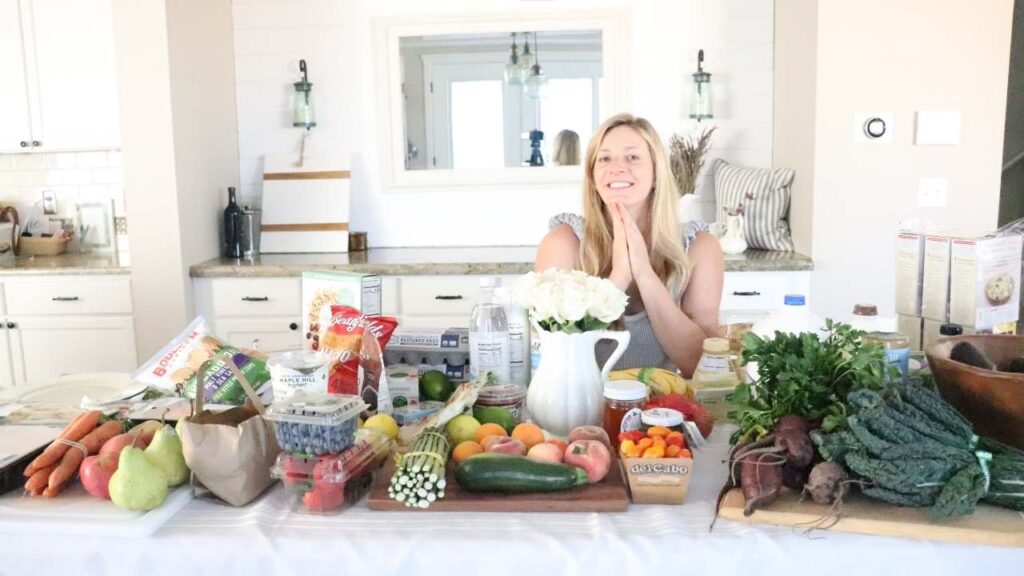 This post contains affiliate links, which means I may make a small commission off of items you buy at no extra cost to you 🙂
Pin it for Later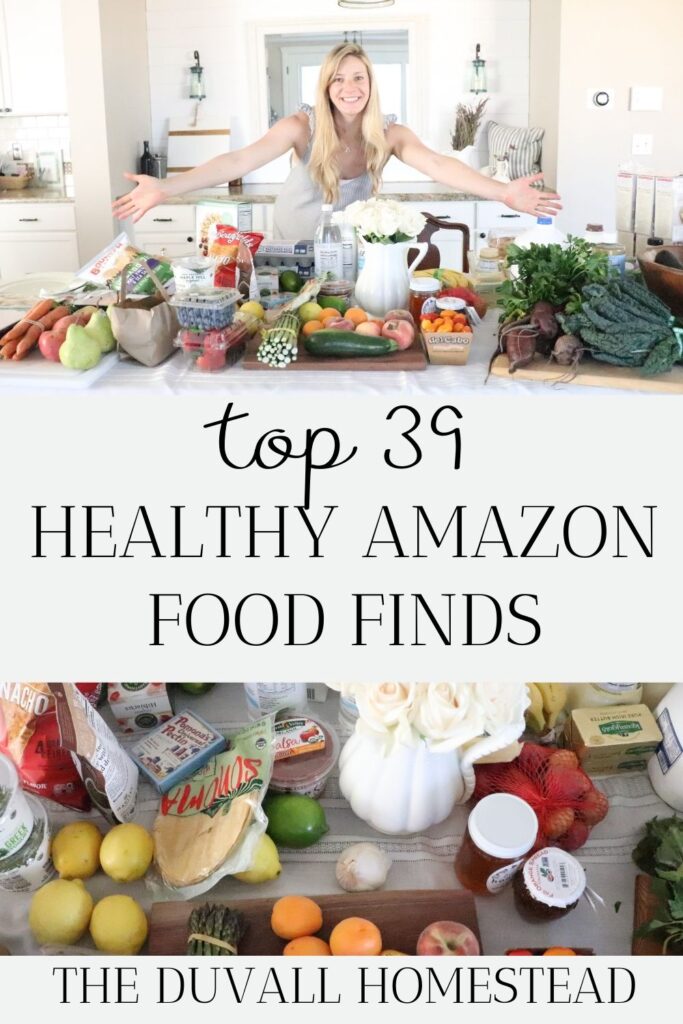 No Shame in Online Grocery Shopping
I am a big fan of growing our own food or buying it from local farmers. That's actually one of the first reasons I started this blog, was to share how to eat farm-to-table no matter where you might live. But there are times when sourcing your food locally doesn't make the most sense, and in those times Amazon can be a big life savor.
I remember when people first started getting Amazon prime, and everyone was buying everything on Amazon. Believe it or not I was one of the last people to hop on the Amazon train. I kept saying, I will not buy from them, I don't like the whole idea, it's too big, etc etc. But then of course I eventually made the switch and after several years of using Amazon for 95% of my online purchases, I can say without a doubt that it's a great tool to have in our world today.
I first started using Amazon for household products like dish soap (before I started making my own), printer paper, or a pair of scissors. Things I would normally go to a Target to buy. Then I warmed up to the idea of clothing, and eventually even food. See my Amazon Maternity Capsule Wardrobe here.
So in this post I want to share my top healthy Amazon grocery finds. Because there will always be the moment when your local farmers are out of food, or your car is broken and you can't get out to the store, or maybe you're stocking up on dry food for a camping trip. Those are the times when an Amazon grocery haul will be the perfect solution.
Now for the times when you can buy local, get some inspiration in my latest video below. All about my latest farm-to-table grocery haul!
Where Can I Buy Healthy Online Food?
Amazon
Amazon is one of the biggest online grocery stores, with its Amazon Fresh service as well as the Whole Foods bagging service. If you have a Whole Foods near you, you can actually shop your local Whole Foods store through the Amazon app. They have employees at the store who will grab your items, let you know if anything isn't available, and bag it all up for you to come pick up. I have to say that I personally like in-store shopping, but the few times I've used this service it was super easy and convenient! If you don't have Whole Foods, check out the Amazon Fresh service to see if they deliver in your area.
Walmart
Did you know Walmart also has an online food service? We do not have a Walmart near us so I have no reason to use this, but here's the link in case you do. I will say that I've ordered other stuff from Walmart online and am always impressed with their shipping times and overall experience. I love getting my sewing fabric from Walmart especially!
Azure Standard
I wanted to bring up Azure Standard because it's one I've used a few times. They have a local drop spot where people meet once a week and pick up their orders. Azure Standard is a great place to buy bulk items like flour or dried seasonings. They have food, vitamins & supplements, household goods, beauty, garden, etc. Check out Azure Standard especially if you're looking to save on bulk items!
Thrive Market
Thrive Market is a great way to get quality food delivered where ever you live. I have only used them a handful of times because I find everything I need normally at my local store. But if you're someone who wants high quality meats or other food and just can't find it at your local store, Thrive is a great option. They also allow you to search based on diet, so you can filter for "paleo" or "gluten free" if that's what you're looking for. It is a membership service with a monthly or annual fee option.
Grocery Haul Components
Usually when I do a grocery haul I think about several components: meat, produce, snacks, and other items. For this article I also want to show you what I would buy for a camping trip (i.e., if you need dry food to last on for a few days). Enjoy!
Fresh Produce
Dried Produce
Fresh Meat
Dried Meat
Snacks
Bonus: What to Buy for a Camping Trip (i.e., what to buy if you have to eat non refrigerated food for several days)
Tips for Buying Food on Amazon
Amazon uses a program called "Amazon Fresh" to deliver fresh food, which basically sources the food from somewhere near you so that it can get to your door quickly. These items will vary depending on where you live so you may not see the same items available as I do.
If you want your groceries to come from a specific store, trying using Amazon's "Whole Foods" service if you have one near you. Basically, it allows you to shop at Whole Foods on the Amazon website. You place an order and an employee will go around and pick all the food you want and bag it for you and have it ready to pick up. We've done this a couple of times, and it can be a nice easy way to shop without spending hours at the store.
Amazon Grocery Haul: Fresh Produce
Now personally I am picky about buying produce. Meaning I like to look at all the options available before picking the one to bring home. But in a pinch if I'm ordering online, I usually always have a good experience. I've never had food delivered from Amazon that didn't meet my expectations before. Here are just a few staples every week I get when shopping for fresh produce.
Amazon Grocery Haul: Dried Produce
Why get dried produce when you can get fresh? Well, first of all, you may not be able to get everything fresh. Mangos or pineapple for example are two fruits that don't grow in our area. When buying dried produce, make sure to read the label and look for preservatives or added sugar. Ideally you just want to see one ingredient on the label (like, "dried apple"). Although dried produce isn't as beneficial for you as fresh produce, it still does the job when fresh isn't available. Here are some of my favorites (by the way these are great snacks during pregnancy!):
Amazon Grocery Haul: Fresh Meat
Meat is such an important part of our diets and I try really hard to make sure we're getting high quality meat. Did you know that often times meat is stuffed with hormones or antibiotics fed to the cow or chicken that you then eat? If there's one place to not skimp out on the food budget, it's for your meat. Bad meat farming practices can produce seriously dangerous food for our bodies, and no one wants that. So I always buy organic and ideally I would buy from a farm local to us. But in case you don't have that near by, here are some options on Amazon:
Amazon Grocery Haul: Dried Meat
Why would you buy dried meat? Again, there are times when having high quality protein is more important that fresh meat. For example if we're traveling and the only option is McDonalds, I'd rather have some dried organic grass fed beef than opt for the low-quality burger. Obviously you wouldn't want to eat dried meat all the time (you'd probably get sick of it!) but having some on hand as a snack, when traveling, or just as a back up in case you can't get meat or your power is out and food goes bad, something like that. Here are some options for dried meat:
Amazon Grocery Haul: Snacks
Here's one thing I can always rely on Amazon for: healthy snacks! Whether it's dried fruit, crackers, nuts, or granola, you can definitely organic, clean snacks online. I always prefer to make my own snacks when possible. But, there are always those days when work gets busy or we have lots to do in the house. I'd rather have something that I can grab to nourish my body than to quickly cook something up while starving. This is especially true while pregnant, am I right?!
Amazon Grocery Haul Bonus: What to Buy for a Camping Trip
Ok this might seem a little random but last year John and I went to Montana for a camping trip. We did a little bit of backpacking/hiking and ended up at this beautiful lake and campground site. My first thought? FOOD. I am not the kind of person who can just "wing it" when it comes to food. I like to know exactly what food options I have and when/how we're going to get them. 🙂 And if I don't, then I simply bring my own! Here are a few staples that I take with me when traveling. They are also great for nourishing your body during a couple days in the mountains:
Keep Reading!
Top 9 Homesteading Books to Start Living Simply
Learn to Compost your Kitchen Scraps the Easy Way
How to Start Homesteading Today without Being a Farmer
Share to your Pinterest Board!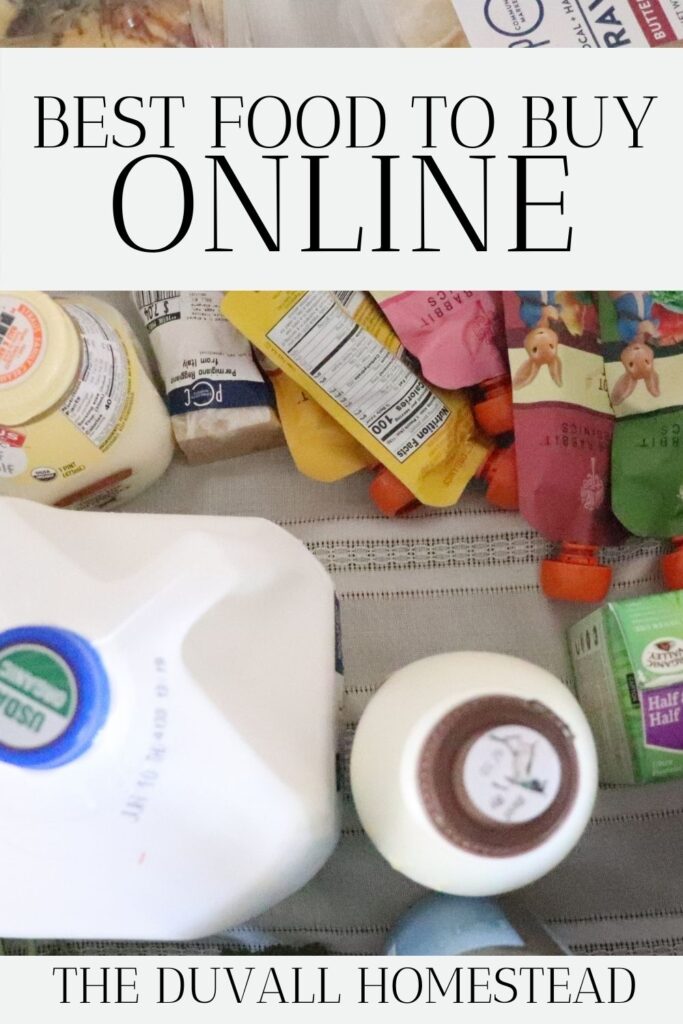 Thank you so much for stopping by the Duvall Homestead!