Head into the garden and grab whatever you have for this easy sourdough pizza with chicken and veggies. This pizza is gut healthy, easy to whip together, and a great way to use leftover chicken and vegetables you picked up from your garden or local farmers market.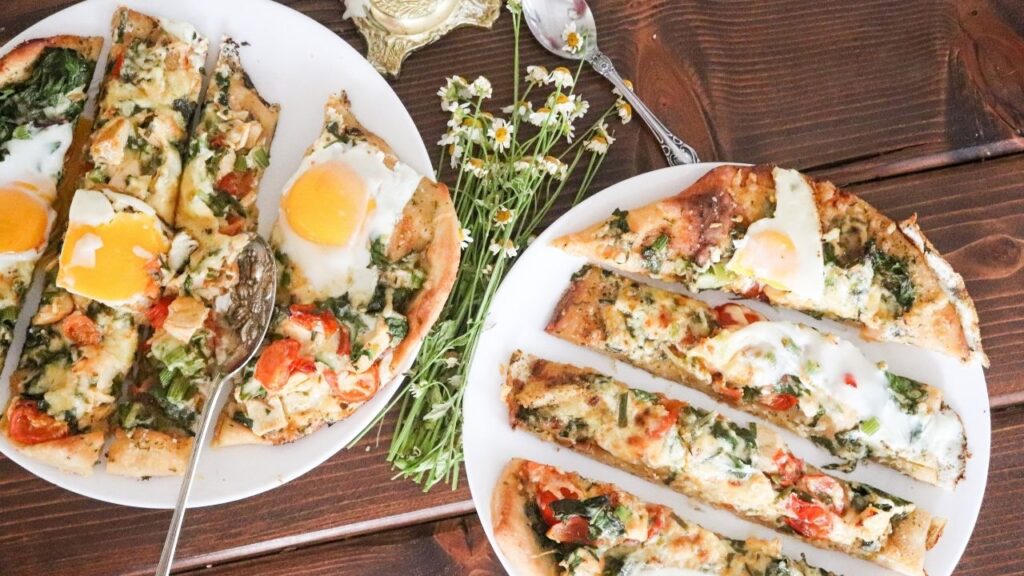 This post contains affiliate links, which means I may make a small commission off items you buy at no extra cost to you. As an Amazon associate, I earn on qualifying purchases. See my full disclosure here.
PIN IT FOR LATER!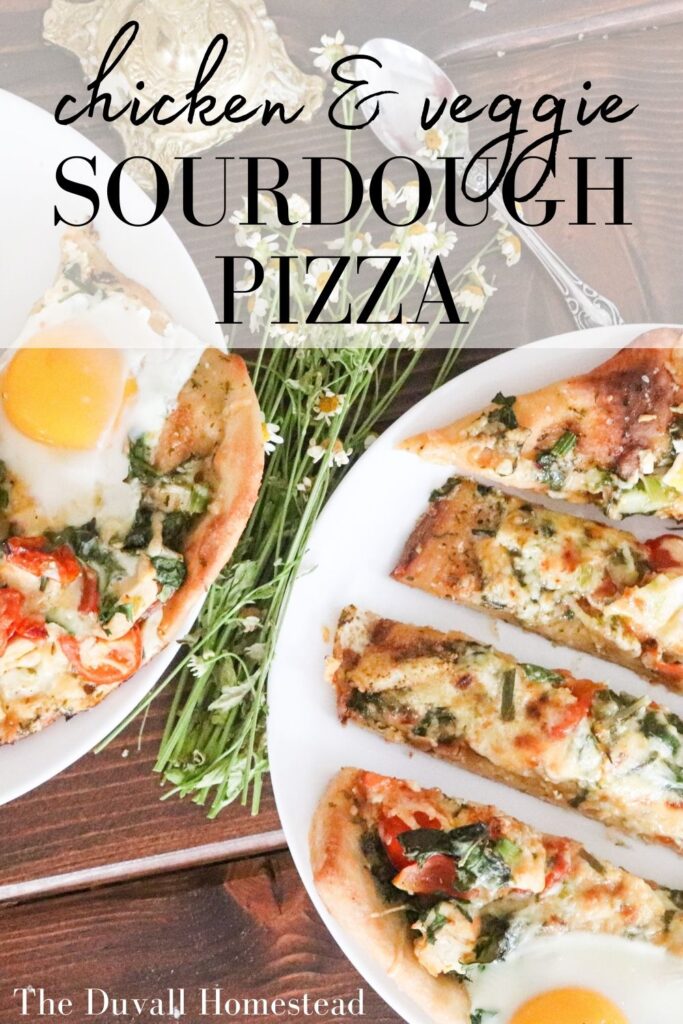 Summer at the Farmer's Market
If you dream of that homesteading lifestyle, heading to your local farmer's market is a great start. There is something just better about farm fresh vegetables. They are packed with nutrients straight out of the soil in your area and hand pulled from your neighbors. In my opinion, it doesn't get much better than farmer's markets in the summertime.
We've been picking up new vegetables every week from our CSA (community supported agriculture) program. Last week I shared how to make kohlrabi & potato slaw, a great summer side dish on a hot day. Today we're working with garlic scapes, fennel, and chard (you probably see these at your local farmer's markets) to whip up this delicious, sourdough chicken and veggie pizza. 
Getting a bunch of vegetables from the farmer's market can seem daunting to cook with. You look at a bag of garlic scapes and wonder how you're going to cook them all. My advice is just throw them on everything, like this sourdough pizza recipe, and don't overthink it! Same with fennel. You can use garlic scapes like you would garlic, and fennel like you would onion. Remembering this makes it easy to add them to dishes whenever you're cooking.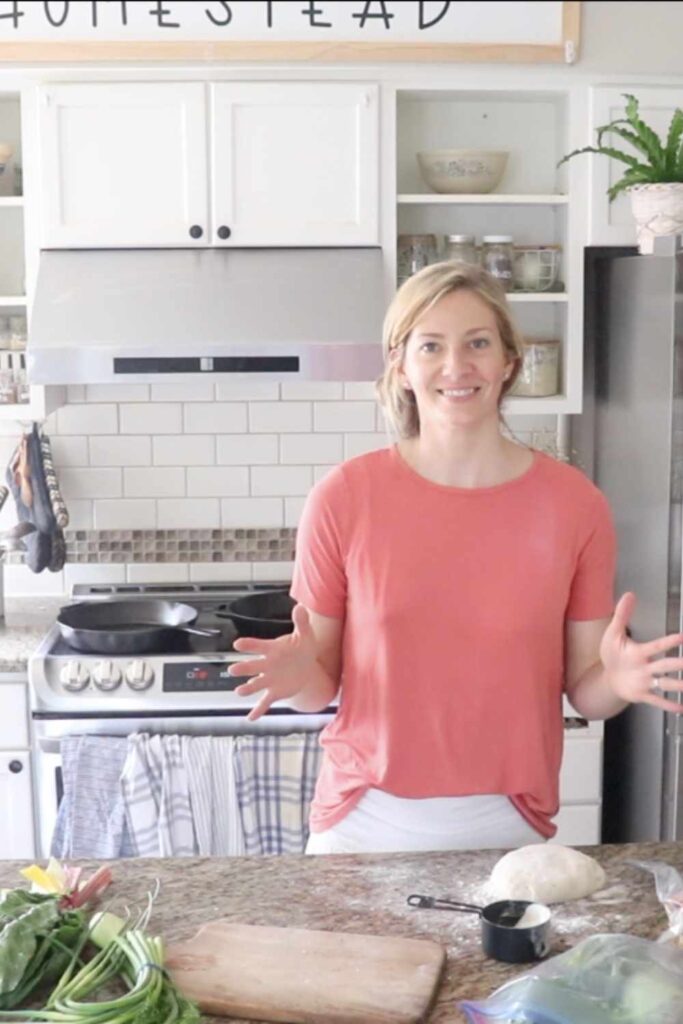 Why We Love Sourdough Pizza with Chicken and Veggies
I absolutely love making sourdough pizza. It's one of the few meals I make year-round and somehow never get tired of. But in the summer I like to change it up and use lighter toppings, like chicken and vegetables, instead of the heavier meats and toppings I may typically use in the winter.
This is also a great use of tomatoes. Today I'm making this with store-bought tomatoes, but I'm hoping our garden will yield for us this year and come August we can make this with fresh tomatoes!
I find that pizza is a good way to sneak in vegetables and leftovers – you can pretty much throw any veggie onto this pizza and it'll be delicious.
Speaking of leftovers, we make a whole roast chicken for dinner each week and always have some leftover chicken, but it isn't enough for a family meal on its own. Adding it to pizza stretches the remaining chicken into another entire meal – I love doing that!
If you make this chicken and veggie pizza with sourdough starter, you're also getting all the benefits of fermented grain. You could even make this pizza crust with einkorn flour for added protein and higher quality grain consumption. I buy this einkorn flour.
Variations on this Sourdough Pizza Recipe
Try adding BBQ sauce for an exciting summer taste.
For an easier, less ingredient-heavy pizza, try a simple Hawaiian pizza with sourdough einkorn crust.
Any lettuce will do. Try kale or spinach instead of chard if you have those on hand. You can put the lettuce on the pizza before or after it goes in the oven, depending on whether or not you want the lettuce cooked.
Health Benefits of Sourdough Pizza with Chicken and Veggies
Turns out healthy can be delicious. This chicken and veggie sourdough pizza recipe is actually loaded with nutrients and health benefits.
I was excited to join our local CSA this summer and experiment with some new ingredients in my cooking, so when we received fennel recently, I did a bit of research and learned it is such an amazing veggie! The fresh bulb is a good source of vitamin C, which is a vitamin critical for immune health, tissue repair, and collagen synthesis. Vitamin C also acts as a potent antioxidant in your body, protecting against cellular damage caused by free radicals. Additionally, eating fennel and its seeds may benefit your heart in a number of ways, as they're packed with fiber, which has been shown to reduce certain heart disease risk factors like high cholesterol. (source)
If you've been here a while, you know that I love using sourdough starter in my baking. But if you're new, or as a refresher: sourdough is fermented grain, which makes grain easier to digest. During the fermentation process, the live cultures in sourdough strip away some of the phytic acid that is naturally occurring in grain, making it easier to digest. Read more about the health benefits of sourdough here.
TOOLS NEEDED
Cast iron skillet – two if you're making the pizza crust from scratch
Chopping knife
Cutting board
CHICKEN AND VEGGIE PIZZA INGREDIENTS
Crust:
Sourdough pizza crust, or store-bought pizza crust
Sauce:
Half a stick of butter
Salt & pepper to taste
1/4 cup garlic scapes, chopped (you could also use 6 chopped garlic cloves)
One cup tomatoes, chopped 
1/4 cup cream
Leftover cooked chicken, chopped
Pizza toppings: 
1 cup chopped chard (you could also use lettuce, kale, or spinach)
1 cup shredded cheese 
Chicken sauce mixture
1/4 cup fennel, chopped (or half an onion, chopped)
2 eggs, optional
THE PROCESS
Cook your pizza crust according to the directions (I am making my sourdough pizza crust today).
Meanwhile, in a small saucepan over medium heat, add the butter, salt, pepper, garlic scapes, and tomatoes. Sauté 5 minutes, then add the cream and leftover chicken. Stir until combined and then turn the heat off. 
Once the crust is done, layer the chard, then cheese, then the chicken sauce mixture. Top with fennel. Return to the oven and bake another 10 minutes (note – this may vary depending on which pizza crust recipe you're following).
Optional: if you want an egg on top, crack the egg directly on the pizza and return to the oven for the final 3 to 4 minutes of baking. Another option (if you have enough cast iron pans) is to fry an egg in a cast iron pan while the pizza is cooking and use a spatula to place it on top of the pizza when finished.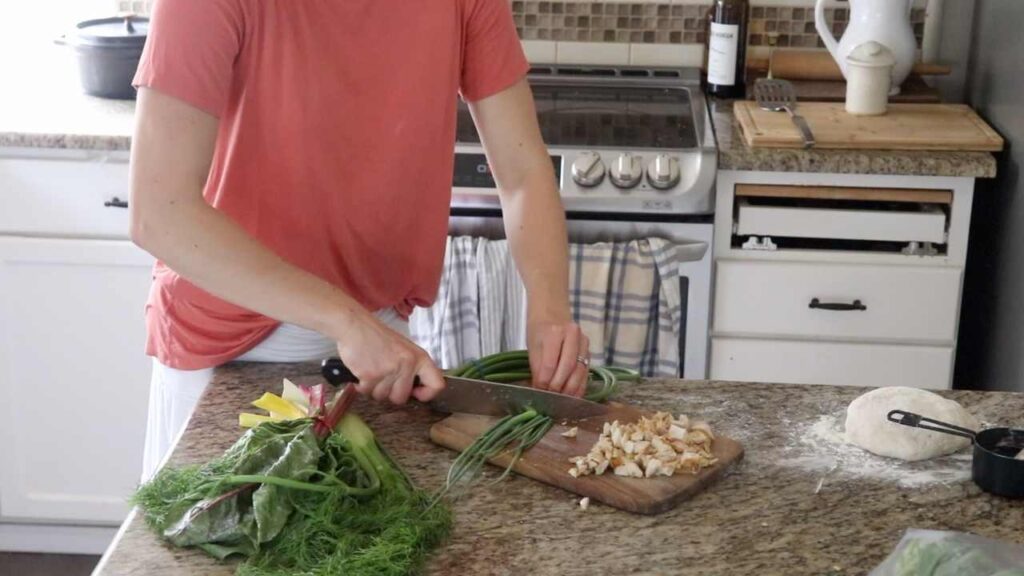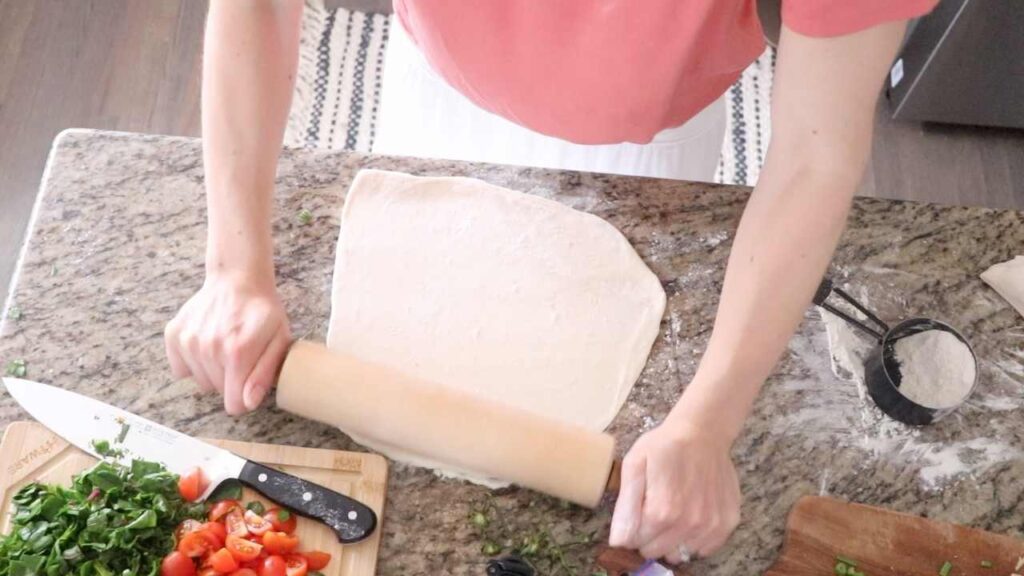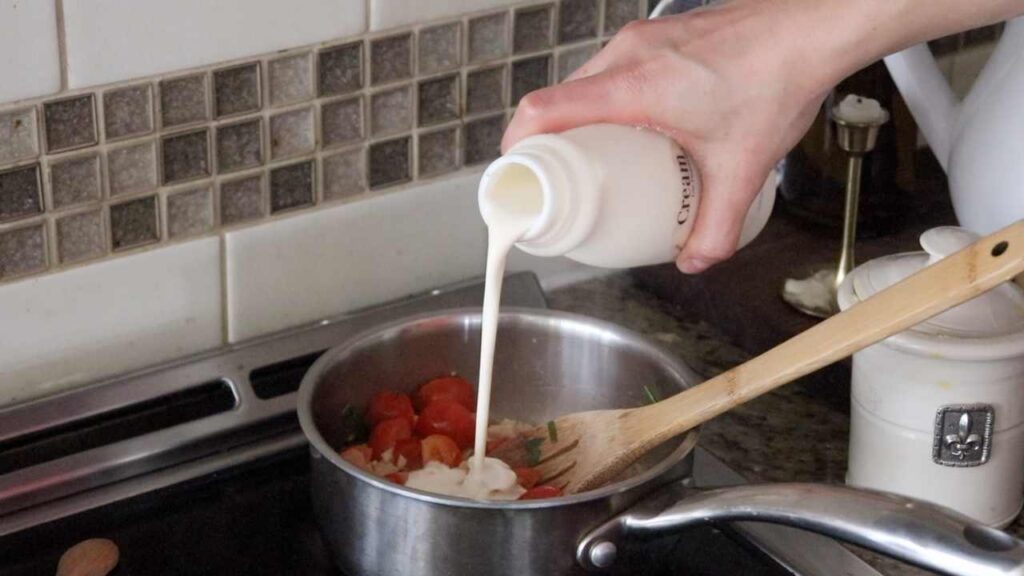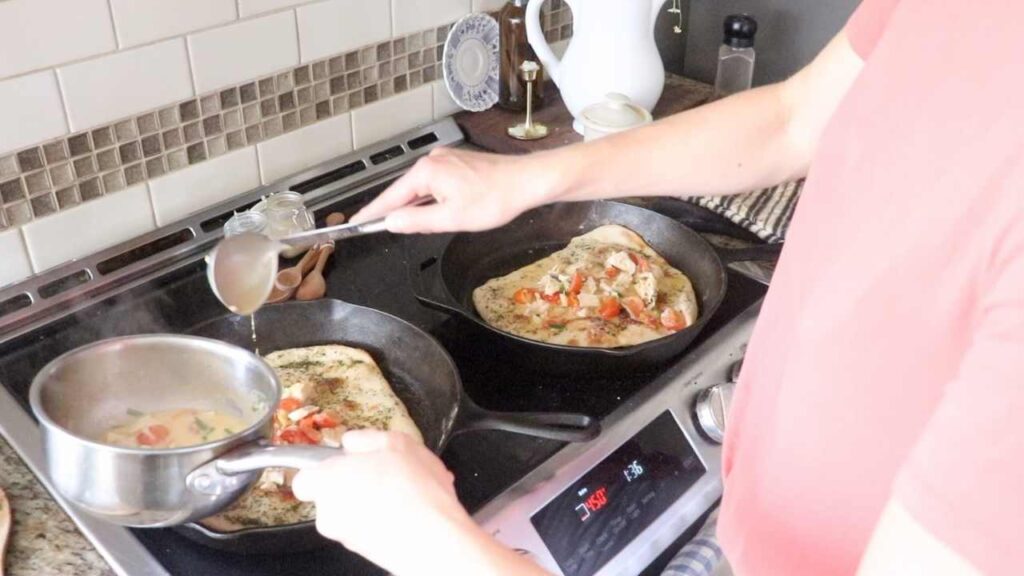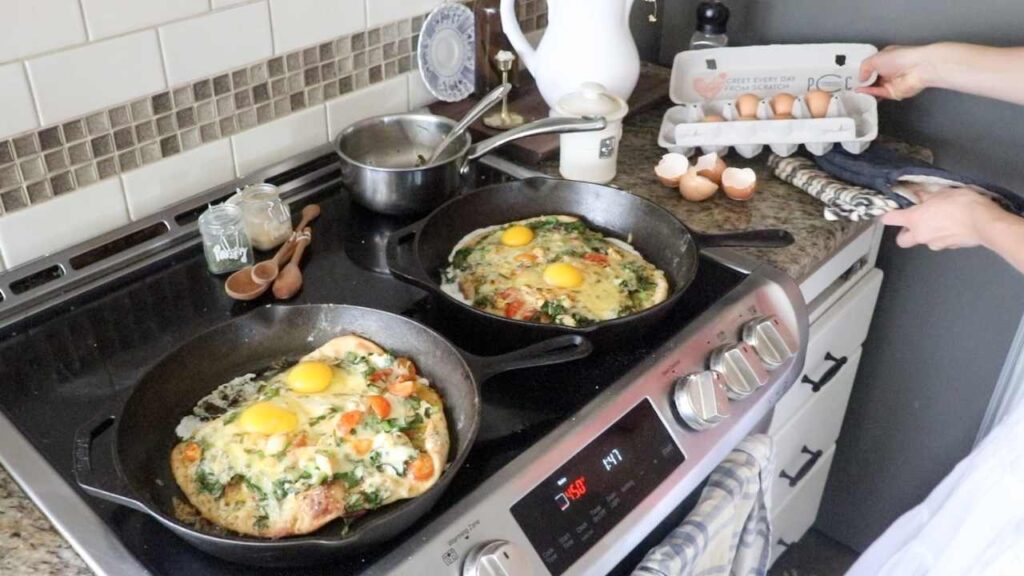 FAQ
What veggies go best on pizza?
Pizza is so versatile that you can add almost any vegetable. Some of our favorites are zucchini, any squash, broccoli or broccolini, tomatoes, mushrooms, fennel, onion, and garlic.
When adding veggies to pizza consider whether or not they need to be cooked. Always add garlic, squash, broccoli, tomatoes, or mushrooms to the pizza before it goes in the oven. Lettuce, peppers, chives, and herbs like basil on the other hand could all be added after the pizza comes out of the oven.
Should pizza toppings be cooked before adding to pizza?
Always pre-cook meat before adding to pizza. You can also pre-cook tougher veggies like broccoli to make sure they are tender to your liking. Always add garlic, squash, broccoli, tomatoes, or mushrooms to the pizza before it goes in the oven. Lettuce, peppers, chives, and herbs like basil on the other hand could all be added after the pizza comes out of the oven. It just depends on whether or not you want the veggie or lettuce cooked.
In this recipe I also add an egg. Whether or not it should be pre-cooked depends on your comfort level with the egg quality. You could just throw the egg on top of the pizza right after it comes out of the oven and it will cook slightly, like serving it over-easy. But I only do this because we eat eggs from our own chickens, or I trust the source if buying from a neighbor farmer.
How can I make pizza vegetarian?
Easy – just sub the meat for mushrooms or eggplant. Both these veggies have a firm texture similar to meat and even contain protein so you're getting that health benefit as well.
More Sourdough Recipes
When you're done making your sourdough pizza, be sure to check out some of my other sourdough recipes:
MORE SUMMER RECIPES FROM THE HOMESTEAD
Homemade Ice Cream Naturally Sweetened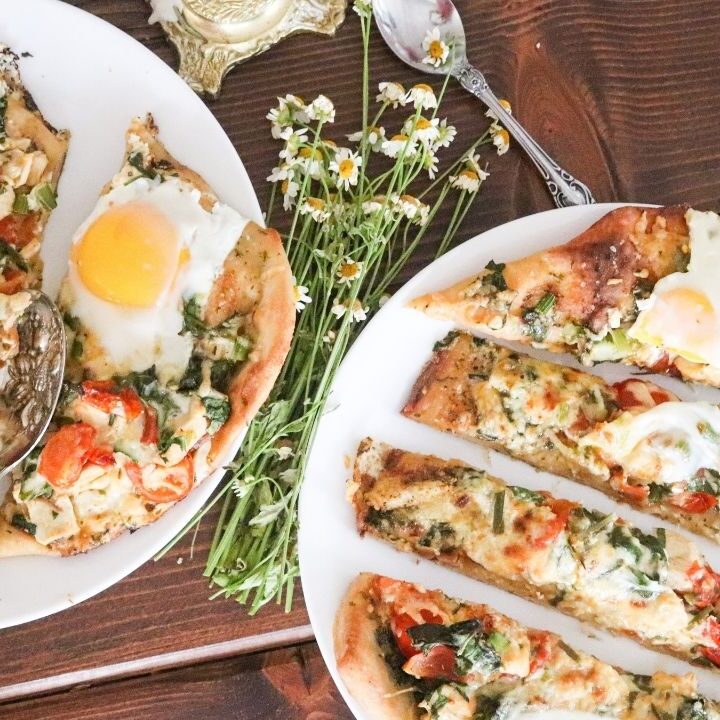 Sourdough Pizza with Chicken and Veggies
Yield:
2 pizzas (2-4 people)
These sourdough pizzas with chicken and veggies are the perfect summer lunch or dinner. They are a favorite in our homestead because we can throw on the leftover chicken and veggies from the garden or farmers market and it always turns out great.
Ingredients
Crust
Sourdough pizza crust, or store-bought pizza crust
Sauce
1/2 stick butter (4 tablespoons(
salt and pepper to taste
1/4 cup garlic scapes, chopped (or 6 cloves of garlic)
1 cup tomatoes, chopped
1/4 cup cream (we prefer raw milk cream)
leftover chicken, cooked and shredded
Pizza Toppings
1 cup chard, chopped (you could also use kale or spinach)
1 cup shredded cheese
Chicken sauce mixture (from above)
1/4 cup fennel, chopped (or half an onion)
2 eggs (optional)
Notes
I find it's best if you're using a thick lettuce, like chard or kale, to add it before putting the pizza in the oven. If you're using a thin lettuce like spinach, arugula, or butter lettuce, you could add that after the pizza is already out.
PIN IT FOR LATER!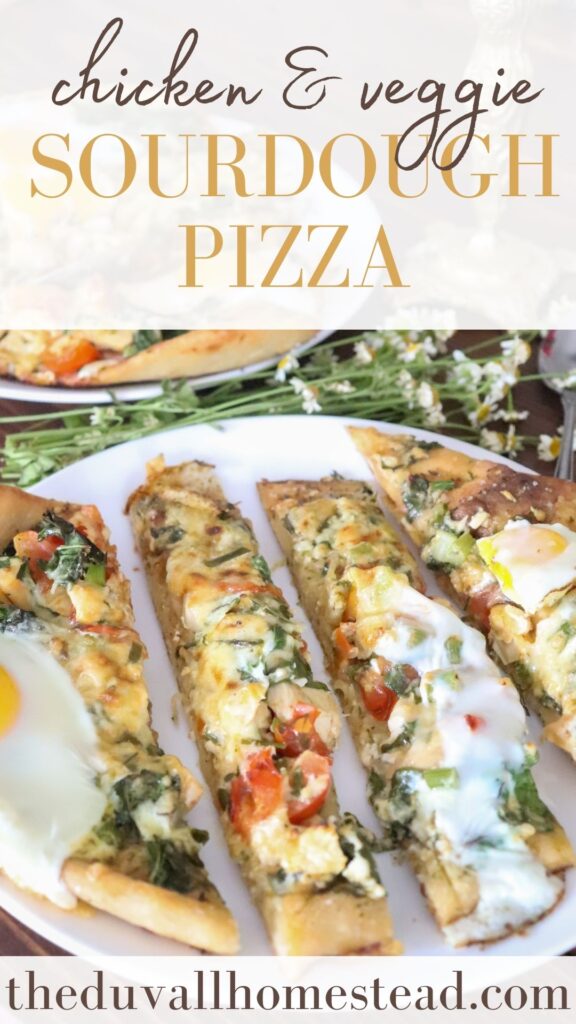 THANK YOU SO MUCH FOR STOPPING BY!