Come see our simple natural fall farmhouse home tour where I will show you the dining room, living area, master bedroom, and a sneak peak of the kitchen and porch during the fall. Grab some apple cider and enjoy!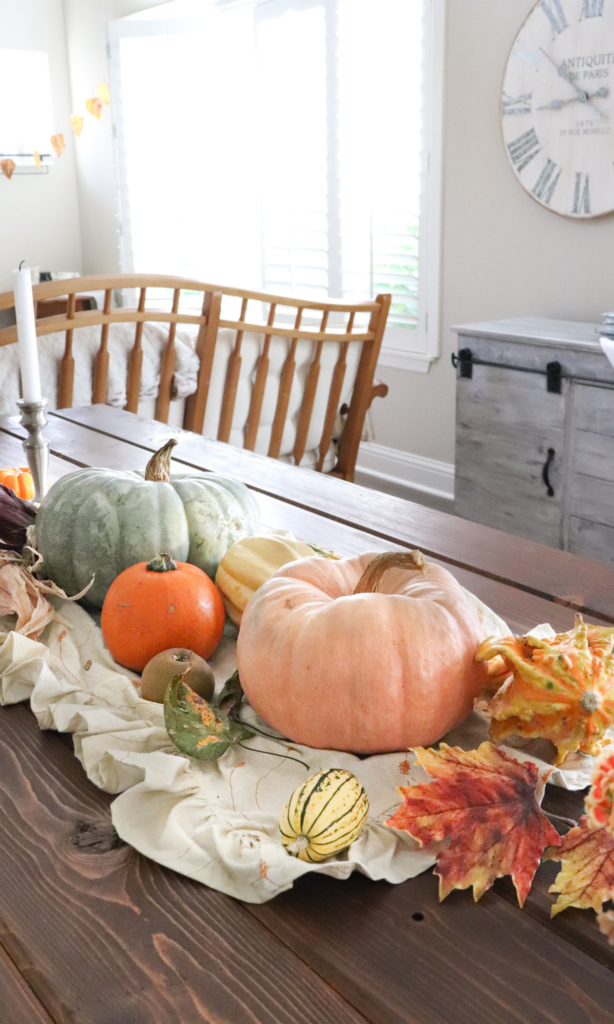 One New Thing this Fall
It's fall at the Duvall Homestead!
One of my favorite parts about fall in the Pacific Northwest is seeing the leaves change. It happens as soon as the temps get cold at night, and all of the sudden there's red, orange, and brown colors everywhere!
I prepared for the home decorating like I always do, thinking about natural elements and fall colors.
Only this year I added a new element and that is – handmade!
I just started sewing a few months ago and was so excited to go buy my "fall fabrics" for this year.
Can't wait to show you what I sewed up!
Pin it for Later!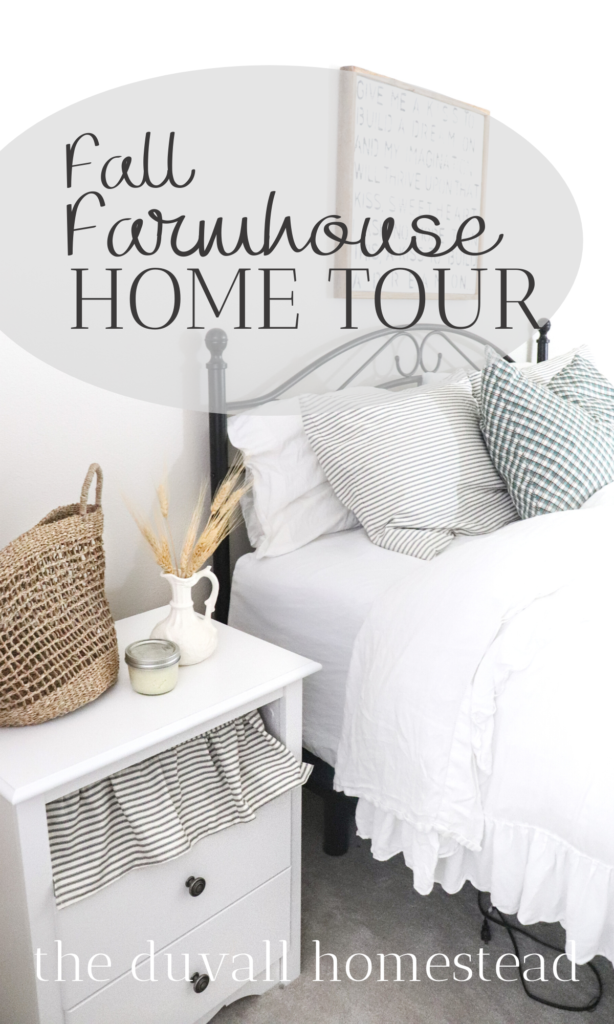 Fall Living Room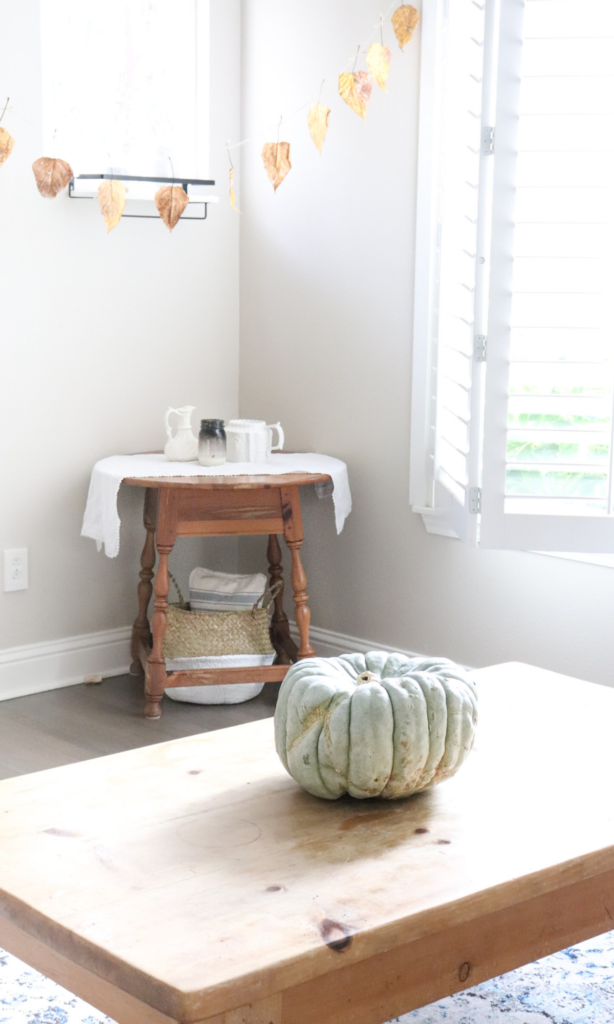 It was not too hard to decorate for fall this year. All I wanted to do was bring some of the outdoors in, and off course add pumpkins.
So that's exactly what I did!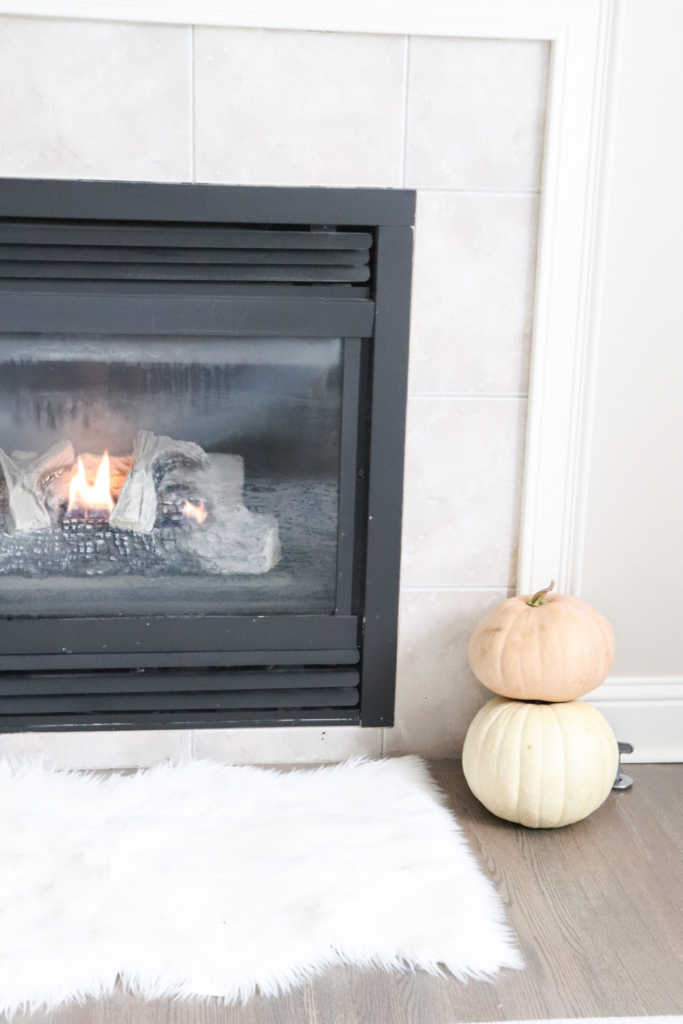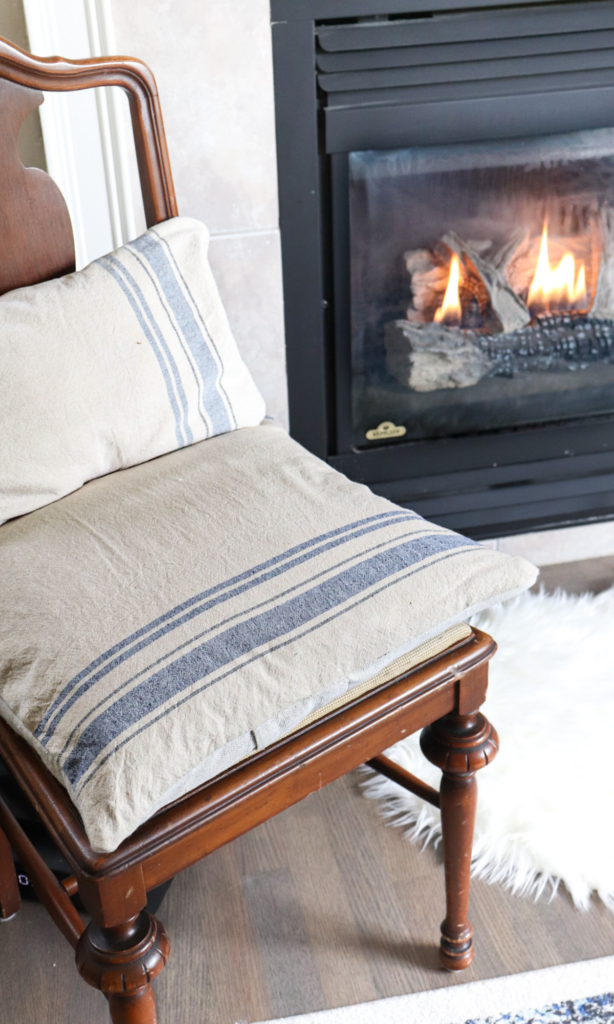 This post contains affiliate links, which means I may make a small commission off of items you buy at no extra cost to you.
Some of my first pillow cases I sewed were these guys. I love it because they are this fabulous tan color, which allows me to use plain drop cloth on the back.
Blue ticking stripe on the front, drop cloth on back.
You'll never know the difference 🙂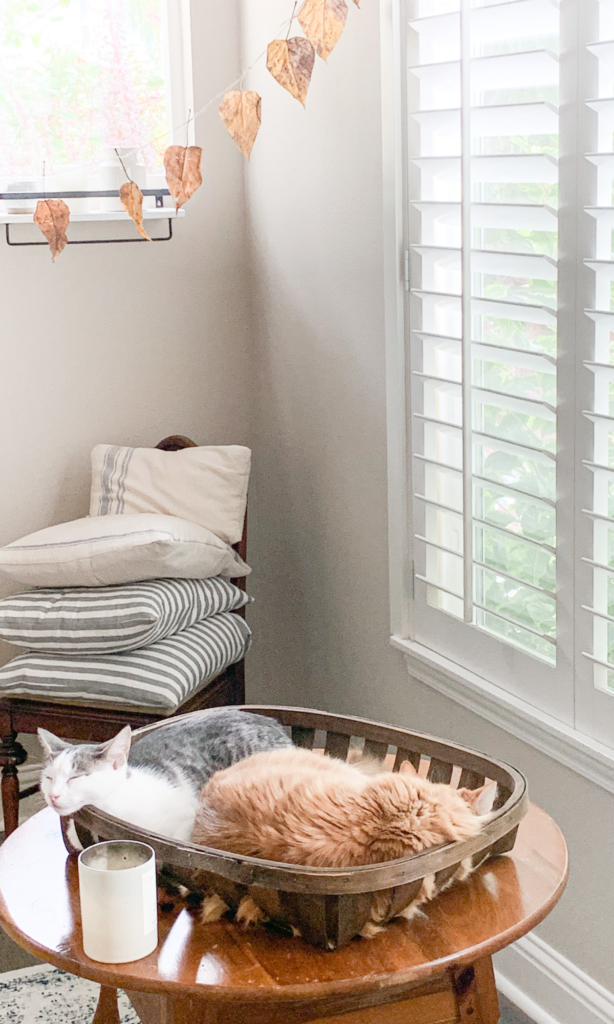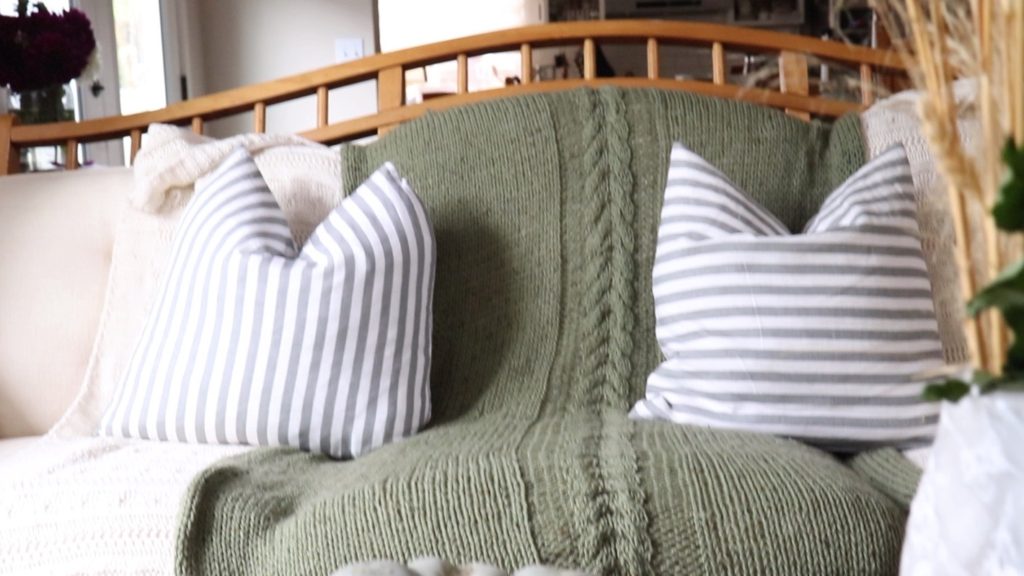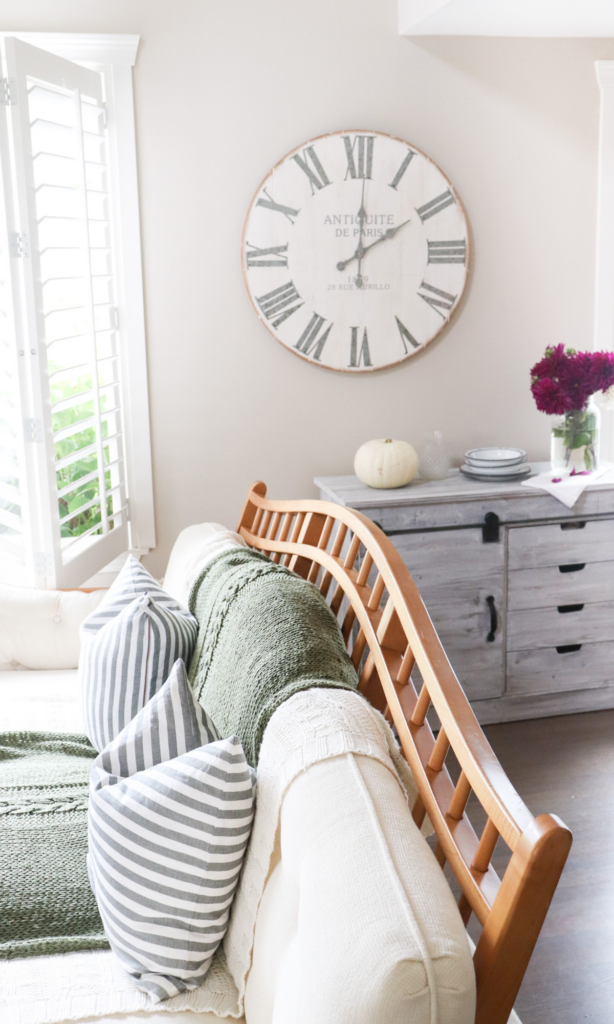 Another thing I wanted to do was bring in some warm fall textures. A white knitted throw followed by a green handmade throw were perfect for the couch.
Similar items I found on Amazon:
Topped it off with some navy and white striped pillows (these were actually gifted to us and are from McGhee and Co – here's a similar one I found) and the couch was ready for fall.
This couch was gifted to us from my parents. It was actually their first couch set when they got married! I can't believe it has lived this long, seen children and animals, and still doesn't have a single stain on it (well, not one that you notice right way at least).
They must be good luck couches!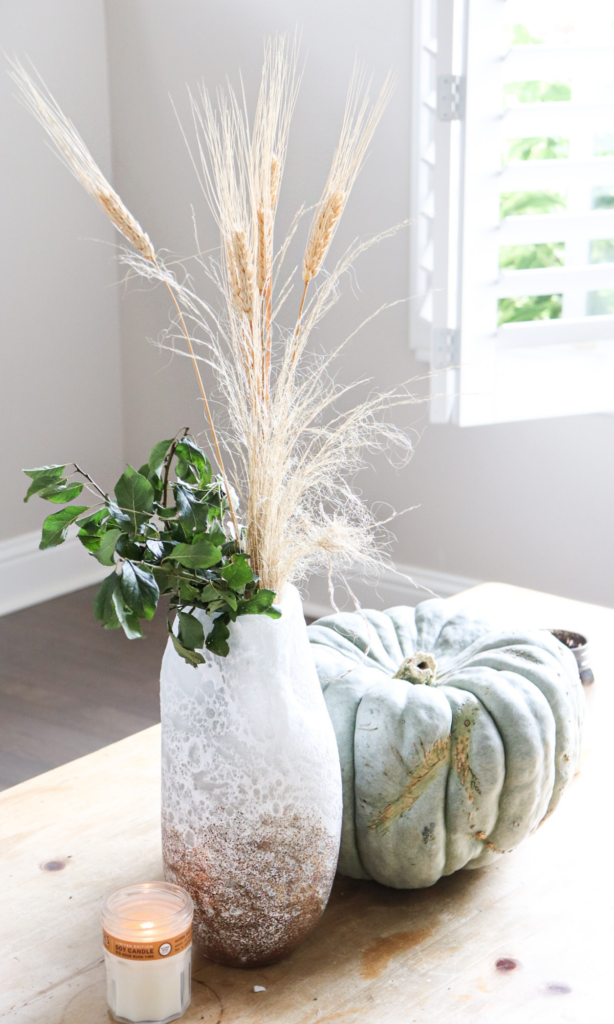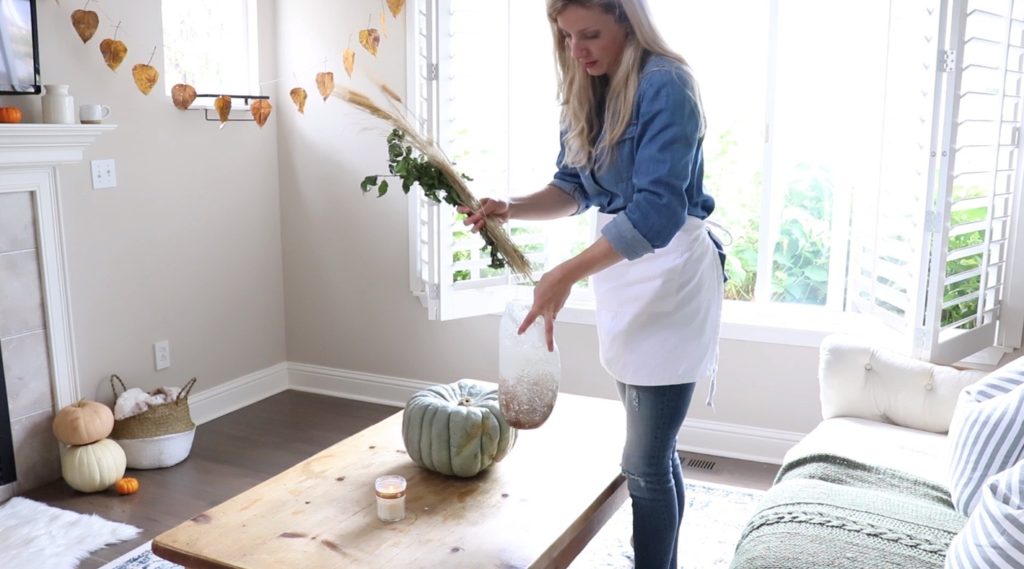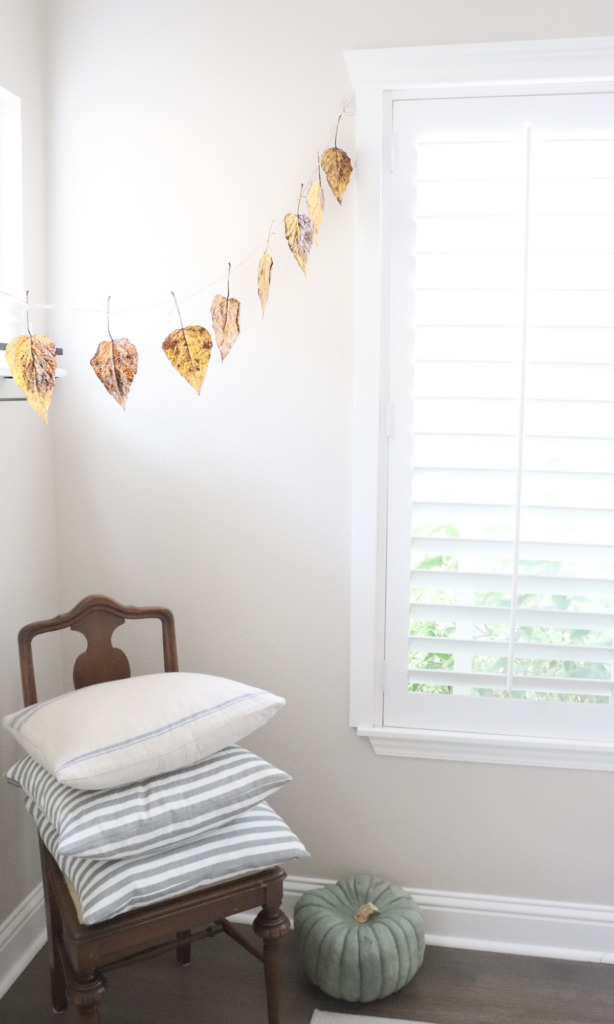 Learn all about how I made this DIY fall leaf garland here!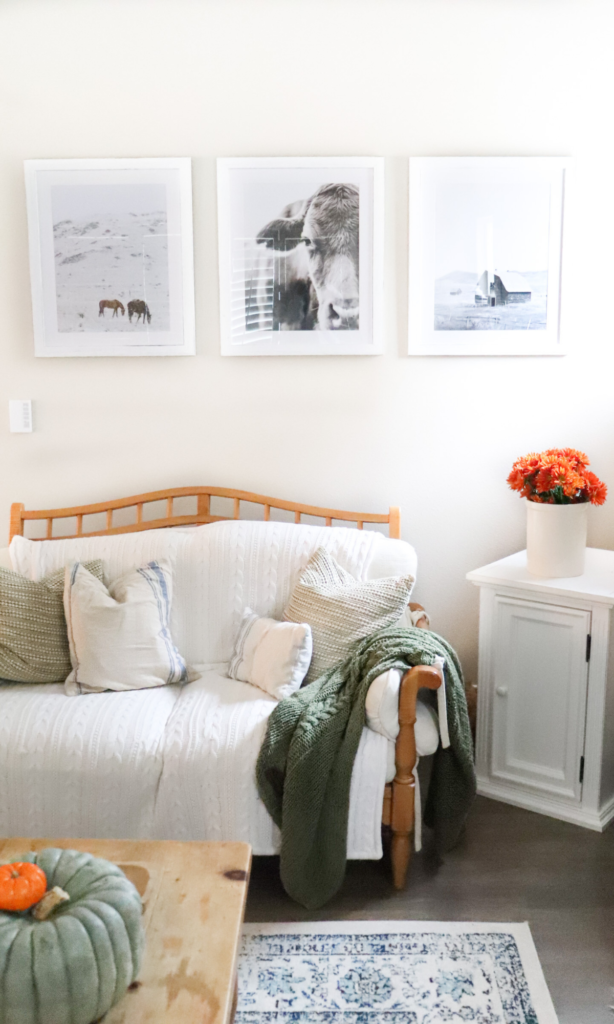 Fall Farmhouse Tablescape
This was one of my favorite and most time consuming projects this fall, because I wanted to sew, sew, sew!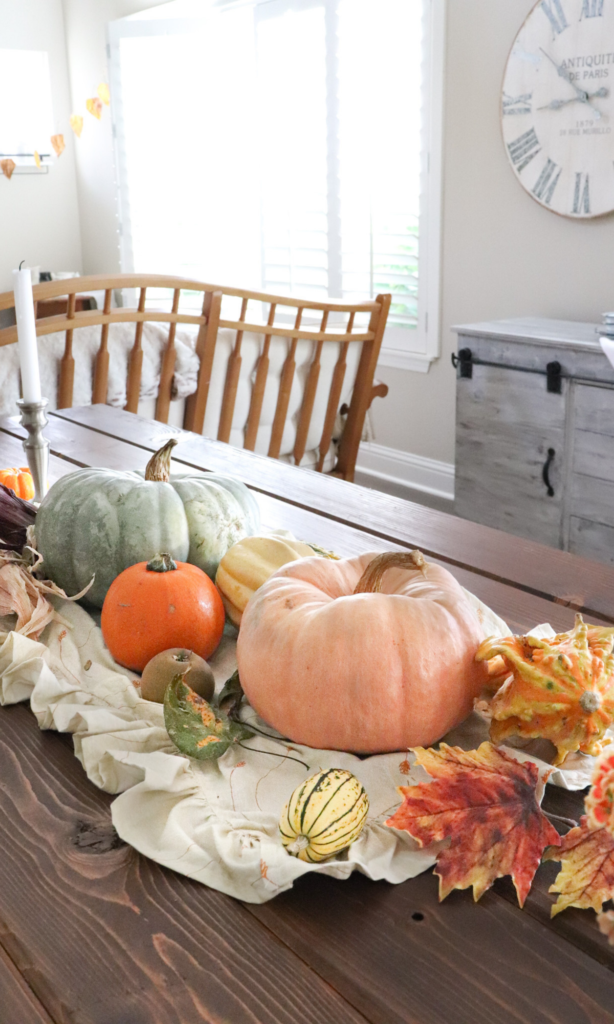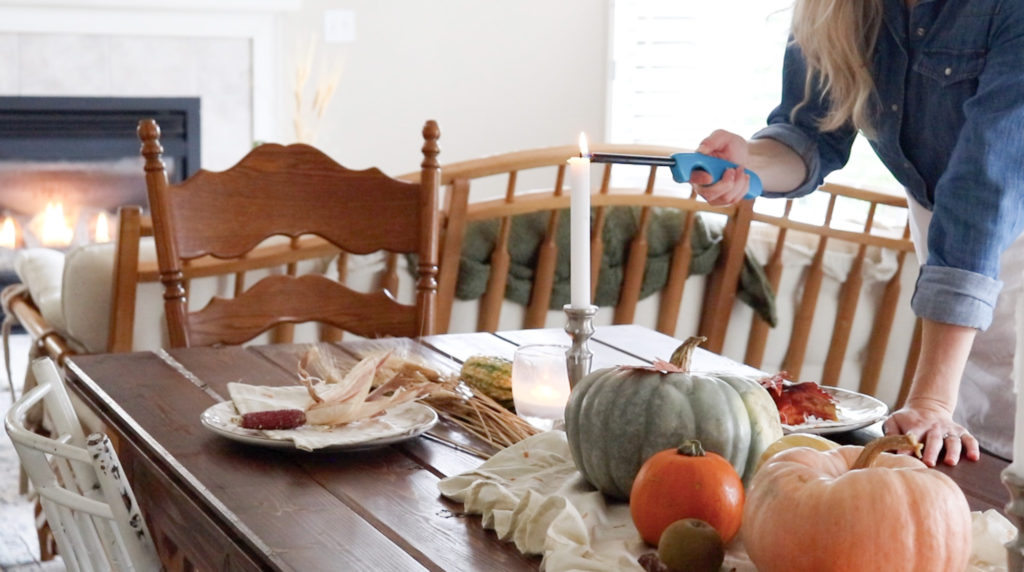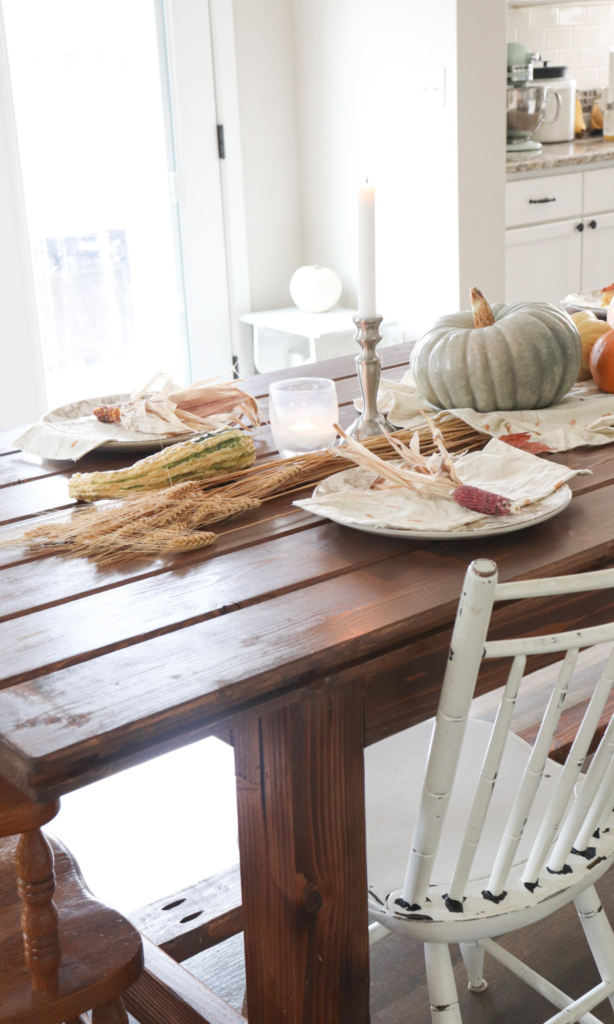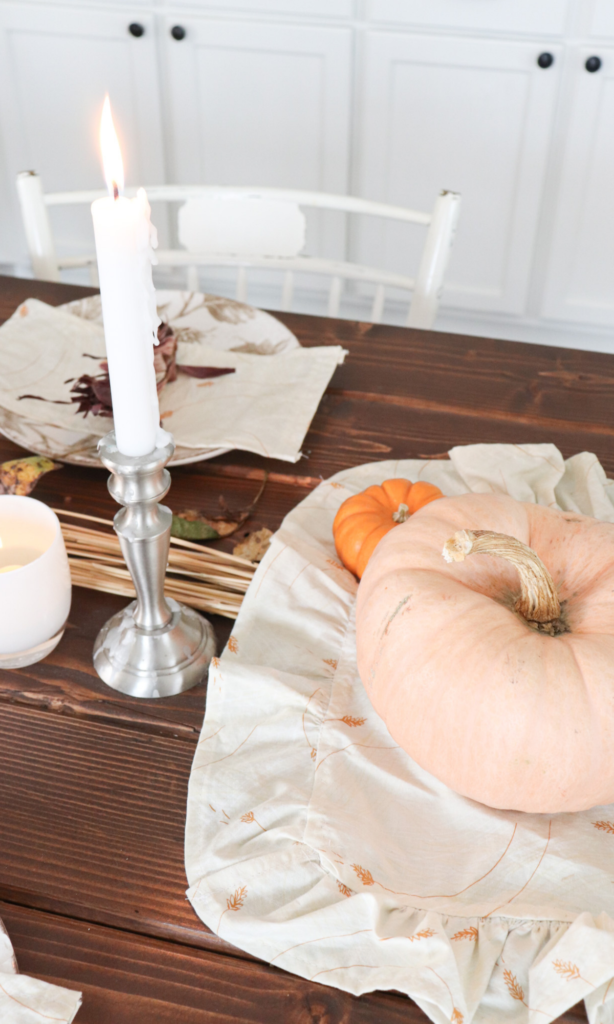 I sewed this autumn-inspired ruffle table centerpiece, perfect for placing pumpkins on. It was my first time doing "ruffles" with the sewing machine!
How do you like to decorate your table for fall?
In a fully honest disclosure here, it is very difficult for me to put any table setting on our farmhouse table.
It will take about 2 minutes for a cat to hear the sound of fresh flowers going in a vase and they'll be right there sticking their paws in it.
Do you have that problem?
It won't be any easier one day when we have kids, folks.
This is why I took to sewing. Pillow cases, blankets, table runners are all low-risk.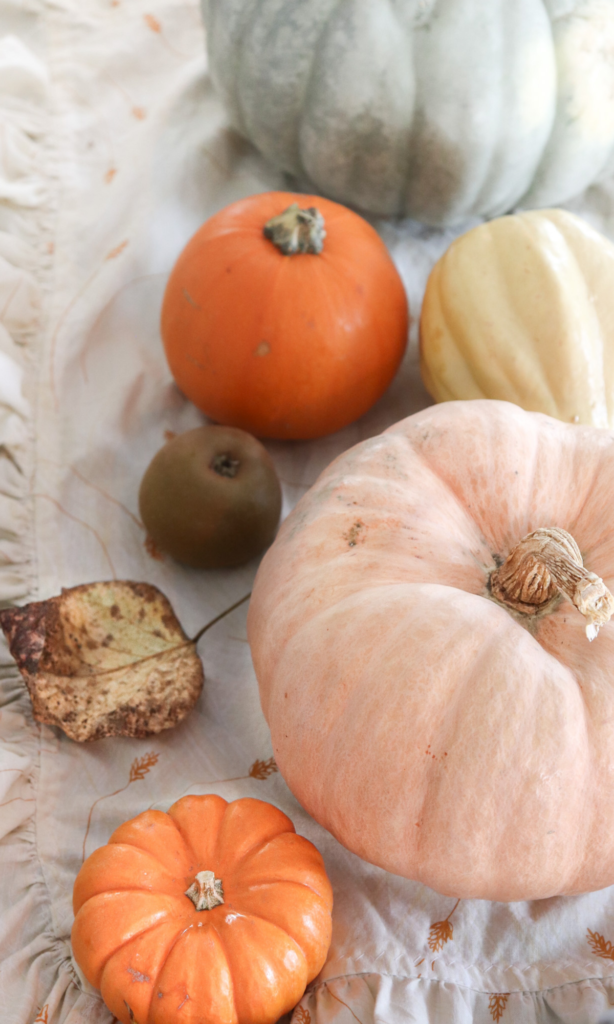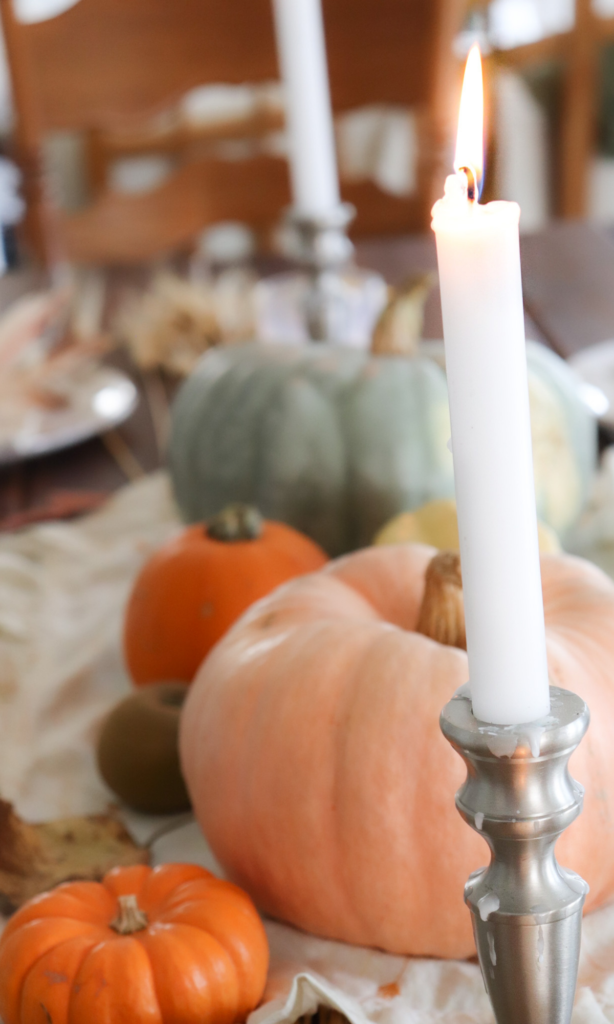 It's easy to create a fall tablescape.
Just grab some faux wheat stems, pumpkins from your local farm, and some candlesticks. That sounds pretty darn cozy to me!
I also threw on some apples, pears, and fall foliage we had lying around. This time of year we have way too many apples and leaves are as common as ever, so might was well display them.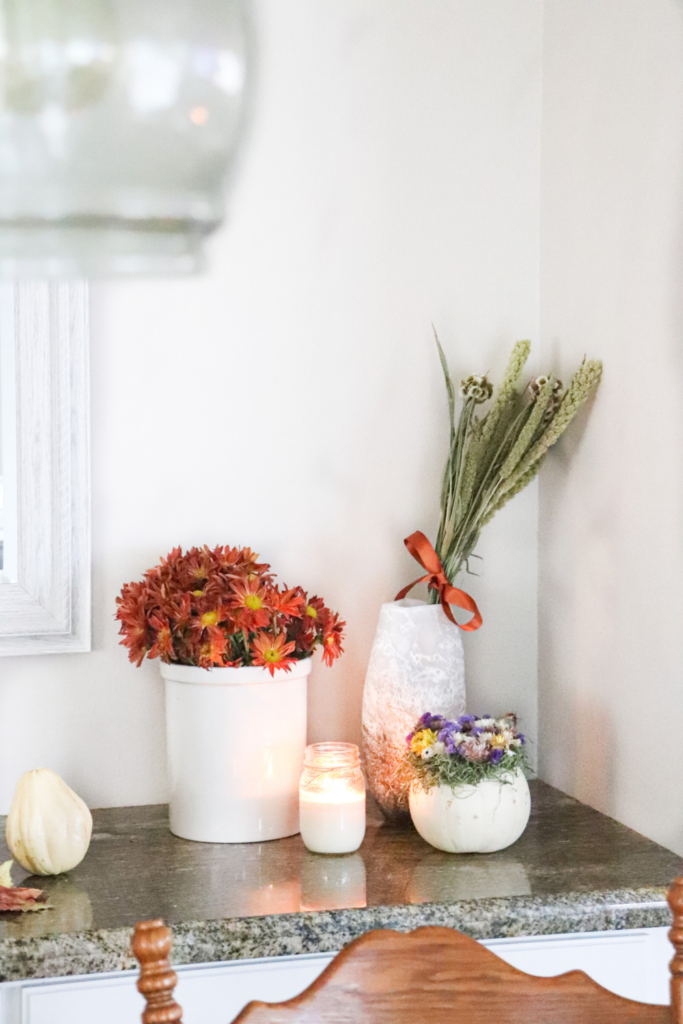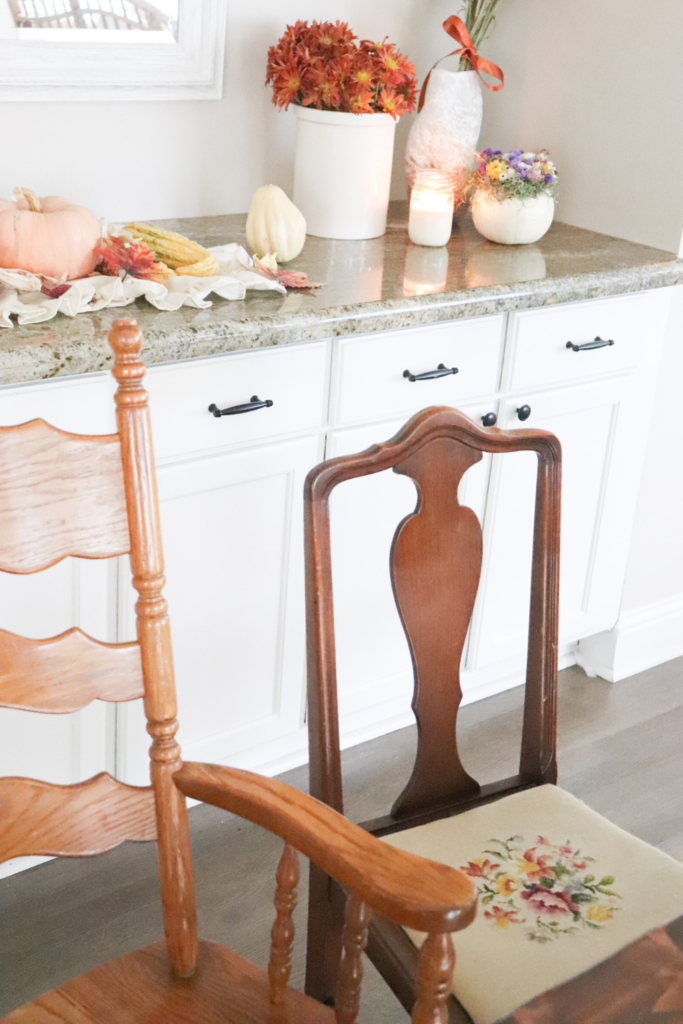 These chairs were thrifted from Facebook Marketplace for almost $0.
Fall Farmhouse Kitchen
This is a just a little preview because I have a fall kitchen revamp coming. We made some changes here as you might see so stay tuned!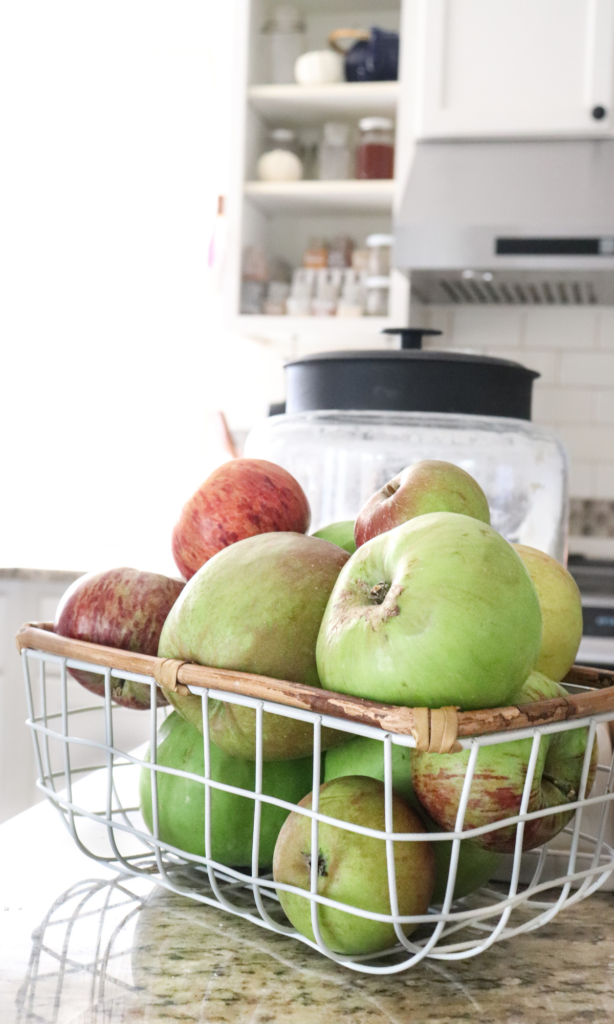 I keep the decor really simple in the kitchen!
Because how could you really expect pumpkins and wheat stems to stay on the counter when you spend all day cooking on it?
I'll tell you what does stay on the counter though, is apples. During fall we go apple picking and keep several dozen apples on the counter until they are almost bad.
Every year we make homemade apple pie and applesauce, and whatever other apple recipe we can get our hands on. Then we slice up the apples and freeze what's left!
Then after all that, I'll decorate the countertops with my staples: candles and coffee.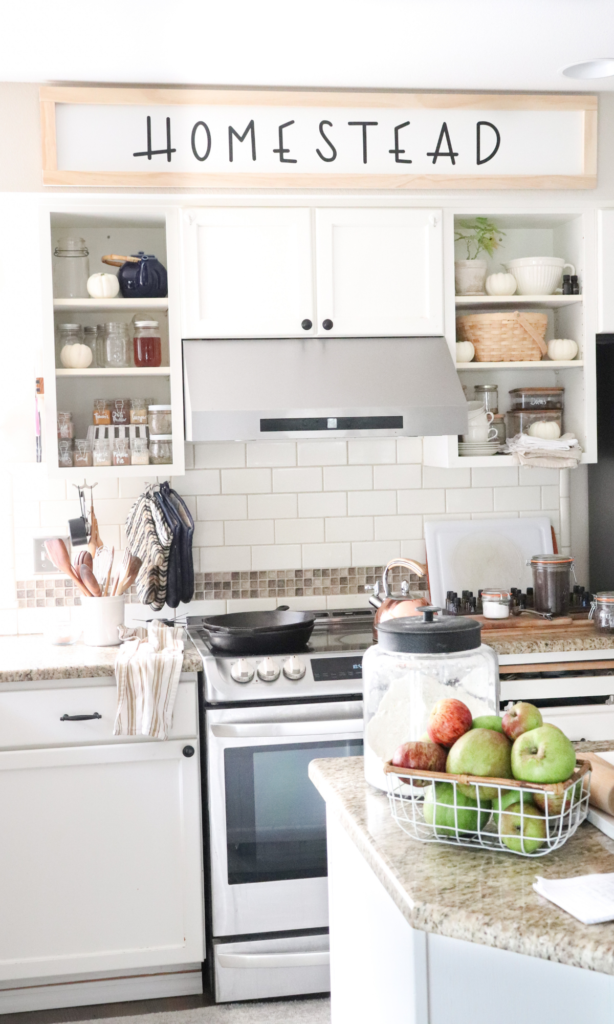 More about the kitchen later, but my friend Annalise over on Etsy handmade this sign for us. She wants to offer my readers a discount, so go check out her handmade signs shop on Etsy and use code HOMESTEAD15 for 15% off anything from her shop!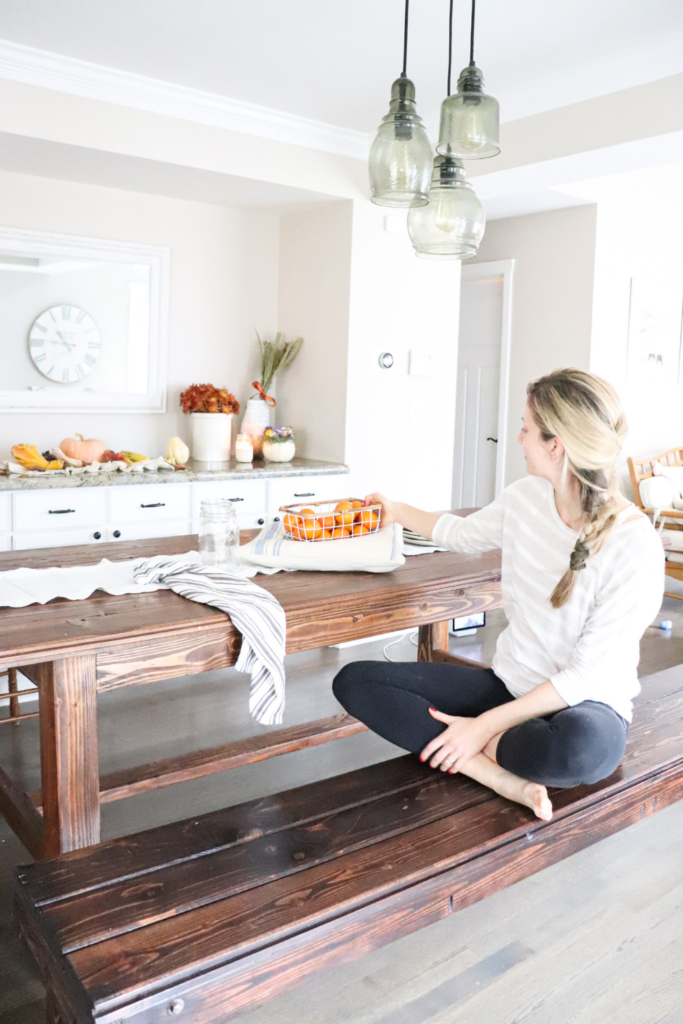 Did I tell you I finally finished the post for the DIY farmhouse bench plans? Well I did! You can head over here to get all the details and our tips for building your own farmhouse table and matching bench.
Fall Farmhouse Bedroom
It's so important to me to keep our bedroom beautiful yet subtle and simple. Don't know why, but I just see it as a sanctuary where you should feel relaxed and at home.
I don't want many loud decorations or anything too distracting. So here's what I did!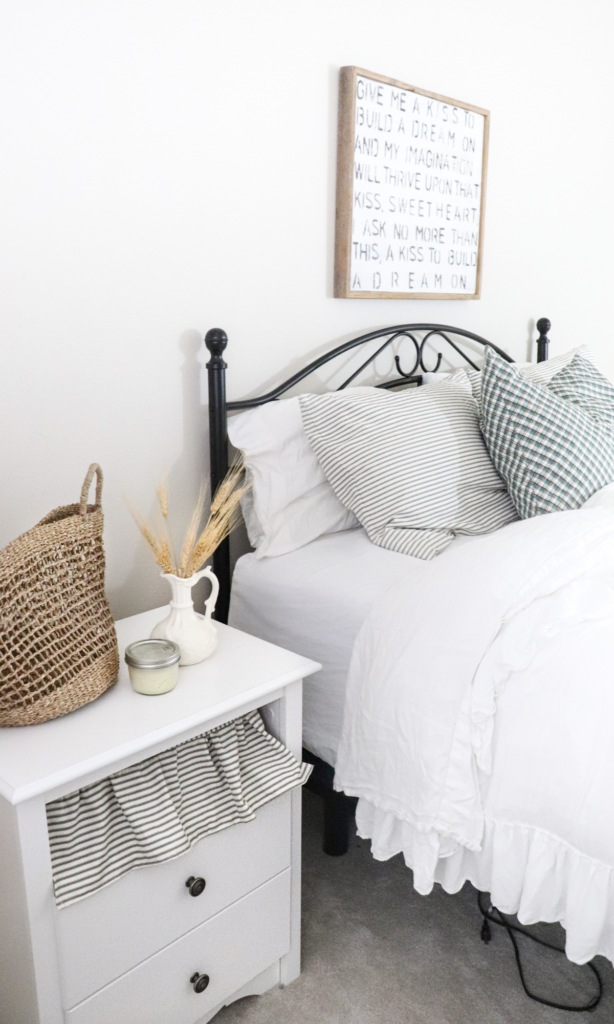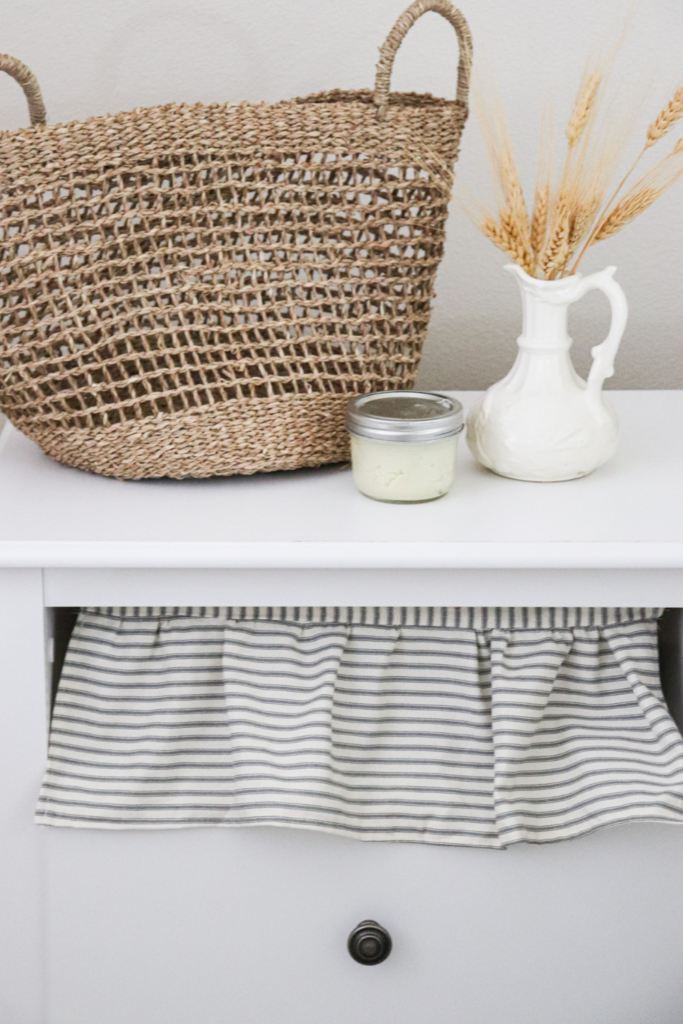 Not to brag but I sewed this too 😀
Hey, new sewer here. I'm excited when I can get anything together and the fact that I did a ruffle here AND it fit my bedside table, that was a victory.
Only problem was that I only had enough fabric for my side of the bed, so now my husband would like one too. I'll get right on that…
Wicker baskets are great for laundry, towel storage, or just to place on an empty table. Here's a good one on Amazon!
And here's the black and white ticking fabric I used on the curtain. It's also what I used for our large pillow cases. It's my favorite fabric so far to use and wear!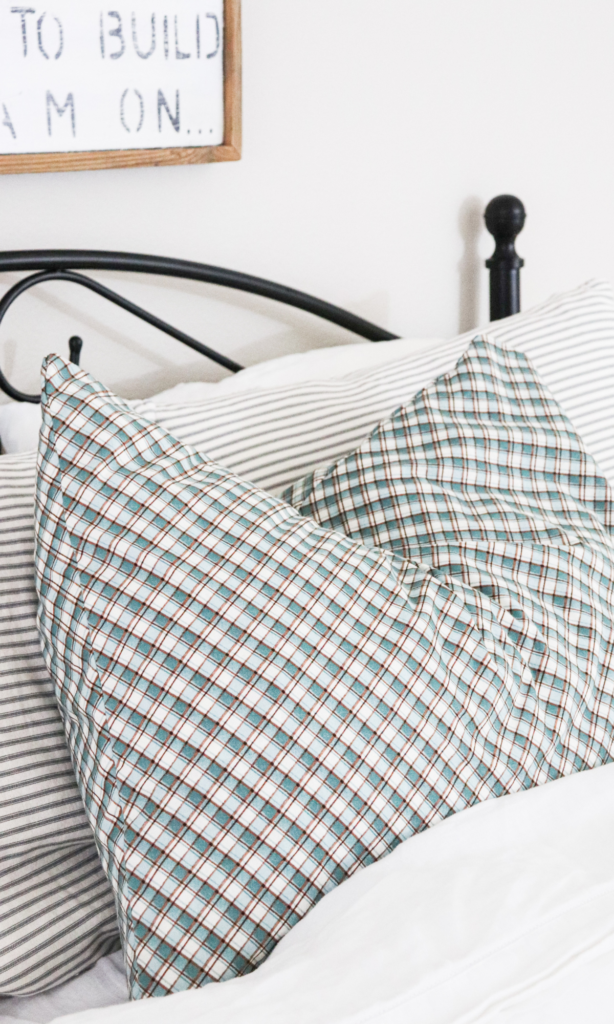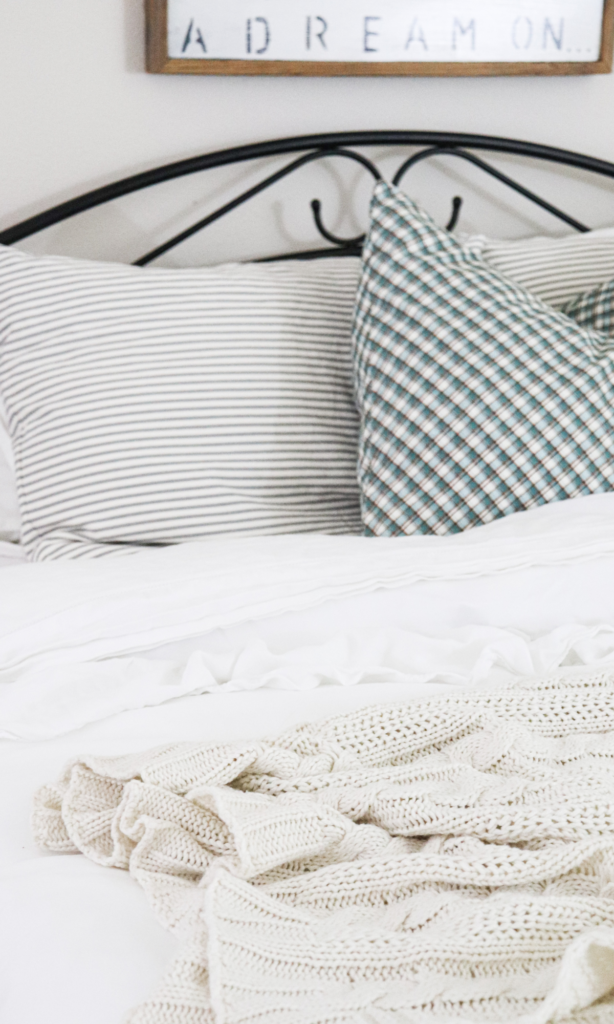 If you followed our farmhouse bedroom creation over the summer, you know that we put in this black steel farmhouse headboard and white light-filtering curtains. We also restored this old wooden dresser which is now the perfect place to put a feminine pumpkin, next to my makeup of course. Find out all about how we did that here.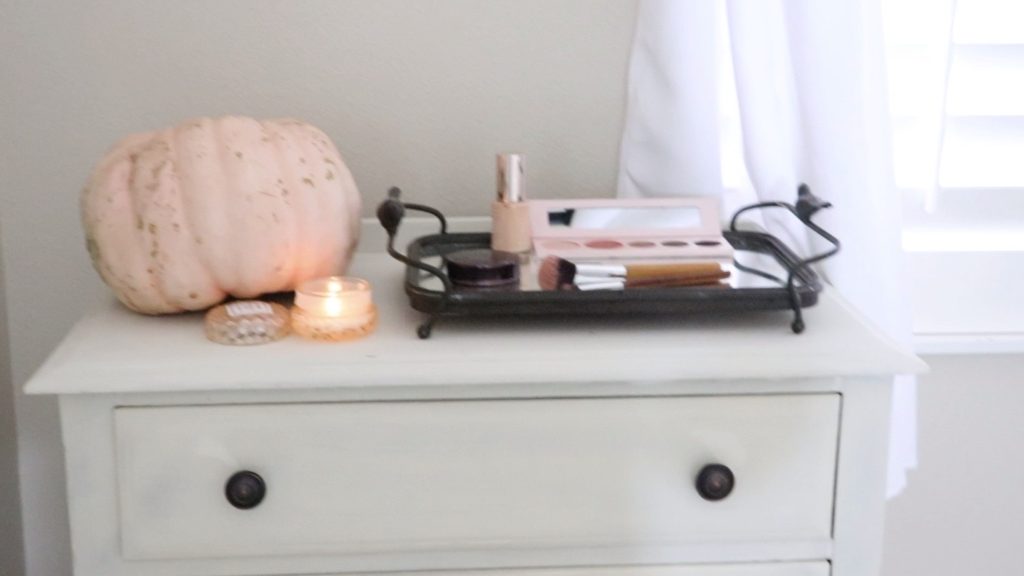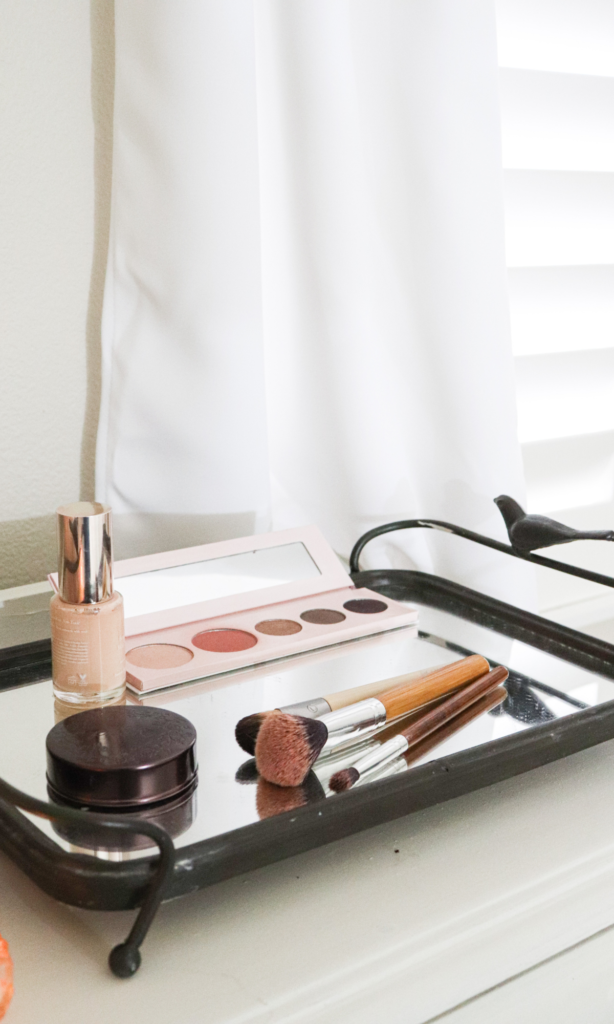 This make up pallet is from 100 Percent Pure fruit pigmented make up line. It is the only make up line I've found that works well and is actually organic, something I've been struggling to find for years. You can find it online here.
Read more about how we've been reducing toxins in our homestead in another blog post.
Farmhouse Fall Front Porch
Alright, I hate to do this to you again but this is only a preview! I have another post coming soon all about our front porch.
It's pretty simple though. We don't pull out the scary Halloween decorations until right before Halloween so…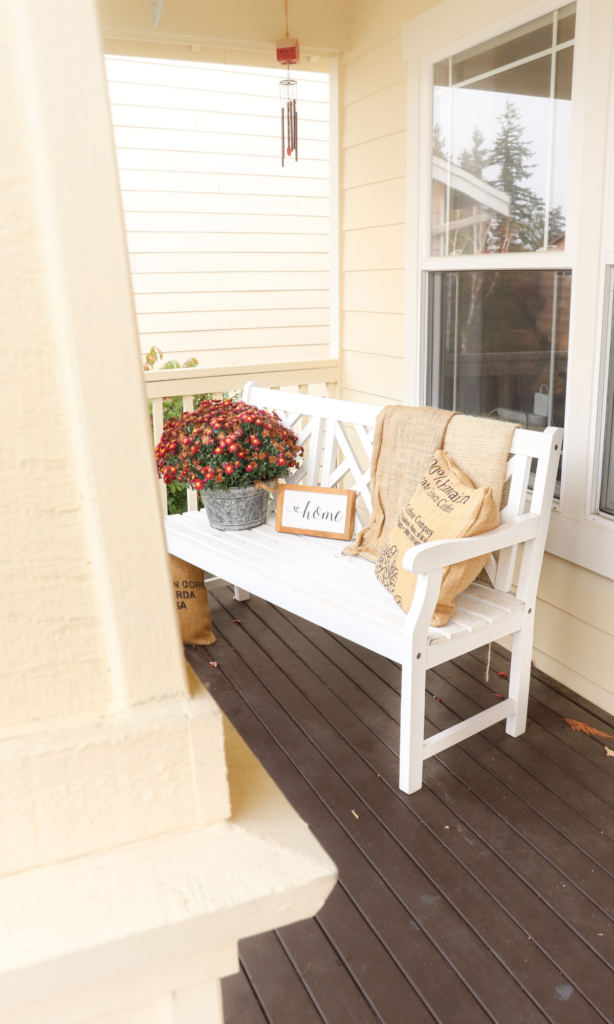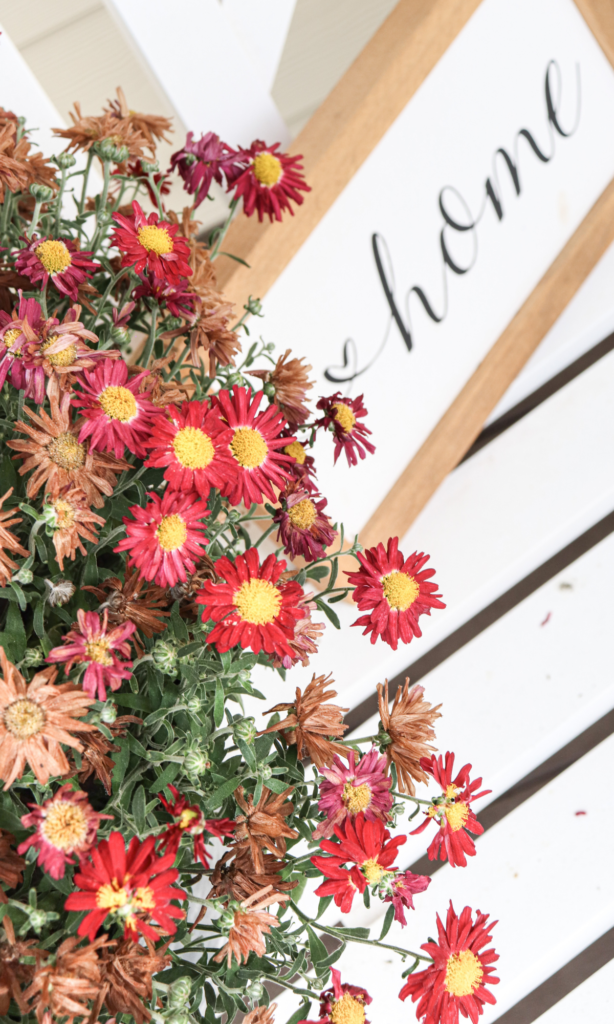 More to come on that.
I have another link for you – I know you might be getting tired of the links but if someone offers my readers savings I'm going to take it right?
This tiny "home" sign is from Etsy and is made with wood that is harvested in her own backyard. I mean that is just so cool to me. She's offering you a 20% discount with code DUVALL20!
Thank you all so much for stopping by the Duvall Homestead!
I would love it if you would subscribe to our farm-to-table newsletter!
Shop This Post
Blue Jean Farmhouse Long Sleeve Shirt for cooking, decorating, farm chores
Blue ticking stripe tea towels used for pillow covers
Drop cloth used for backs of pillows
Similar Cozy White Cable knit Throw
Faux Wheat Stems for table scape
Pin it for Later!