Learn how to make a winter smoothie bowl in the NutriBullet. This healthy breakfast bowl is packed with nutrients and yummy fruits, making it the perfect breakfast or snack all day long. It is especially important to get all your fruits and vitamins in during the winter time, and this bowl does just that. Serve it with eggs for breakfast or have it on its own for a filling and healthy winter treat.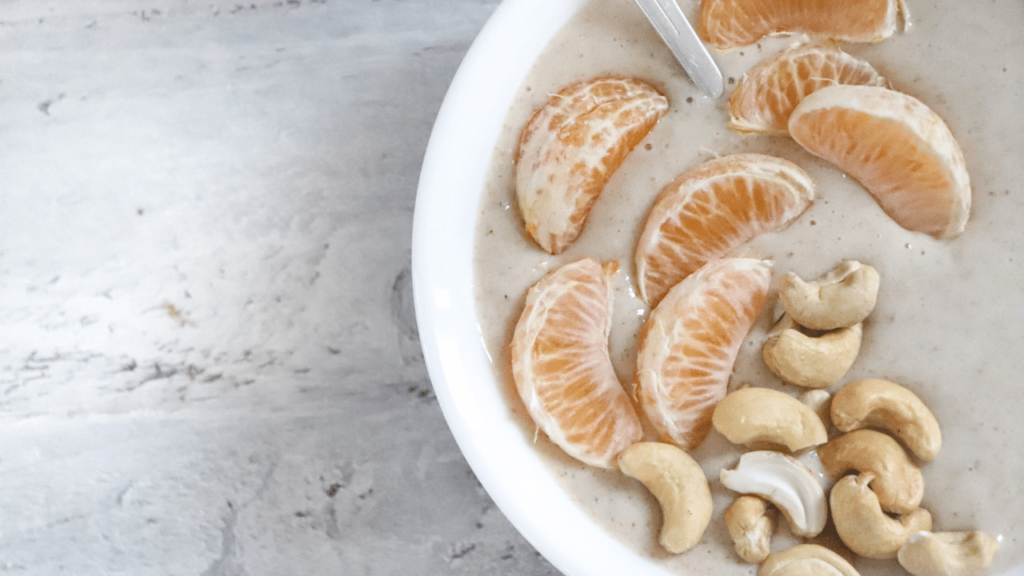 This post contains affiliate links, which means I may make a small commission off items you buy at no extra cost to you 🙂
Save it for Later!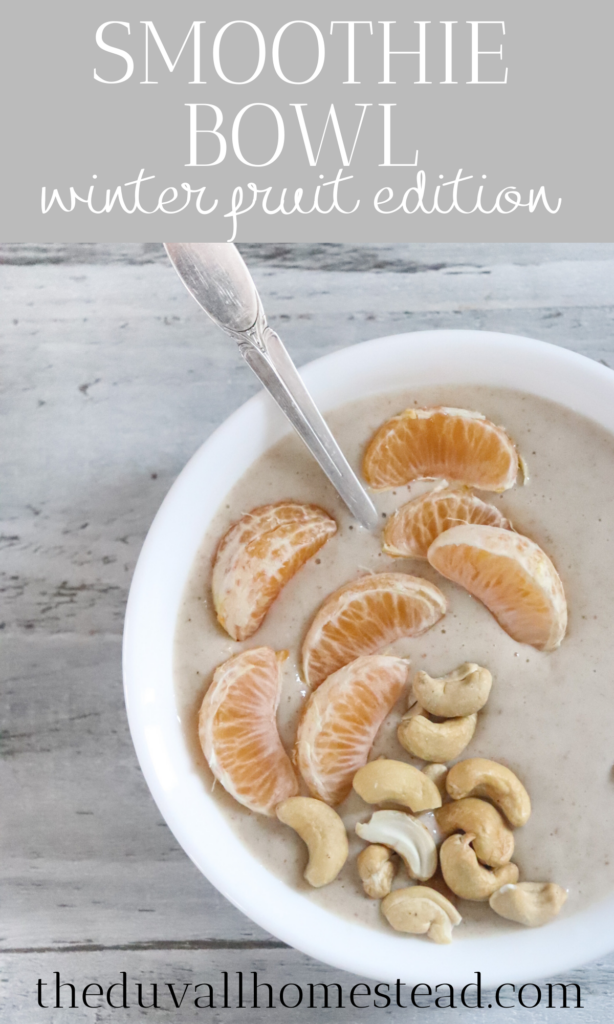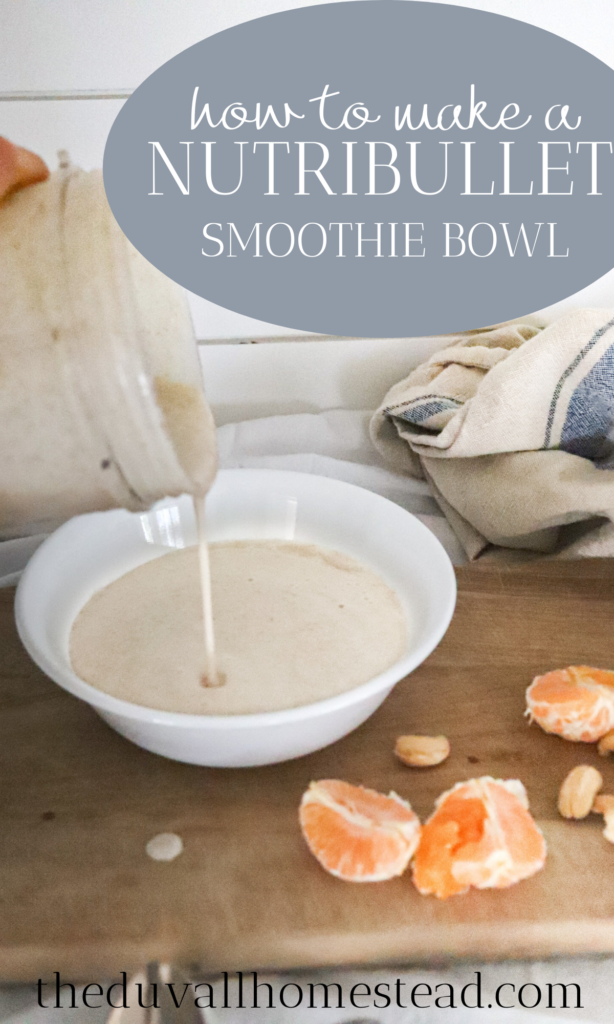 Healthy Recipes for the New Year Blog Hop
Before I get in to the recipe, I wanted to share two other healthy recipes with you. I love diving right into the healthy eating in the new year after alllllll the Christmas cookies, so here's a great place to start.
Megan from Simply Rooted Farmhouse shares her simple black bean stuffed sweet potatoes.
Michelle from Barefoot in the Pines is sharing a delicious strawberry pineapple smoothie with cayenne that is naturally sweetened.
So after your done with this recipe, be sure to go check them out!
Staying Healthy in Winter
Winter time calls for much cozier, heavier food. But I still love to make our smoothies in the morning as a reminder of the sweet fruity tastes of summer.
And, eating fresh fruit is still so important in the winter. That's why we stock up on organic frozen fruit.
This smoothie bowl recipe was kind of a special occasion for us. Usually in the mornings I mix up a kefir smoothie with frozen berries, banana, and protein powder.
But over the holidays we were gifted a box of fresh pears and apples. I immediately cut them up and froze them so they wouldn't go bad.
I am a big fan of eating the foods that are in season, so it's only fitting that we enjoy this smoothie bowl all winter long!
What's the point of a smoothie bowl?
In short, smoothie bowls let you put a little more "stuff" inside since they are thicker than a drinkable smoothie.
A smoothie bowl has the same benefits of a smoothie, only you eat it with a spoon and bowl like yogurt or ice cream.
Smoothie bowls are thicker than a smoothie, and usually contain some kind of oats, butter, or powder to thicken it. This means that they usually are higher in calories and you can eat more in one meal.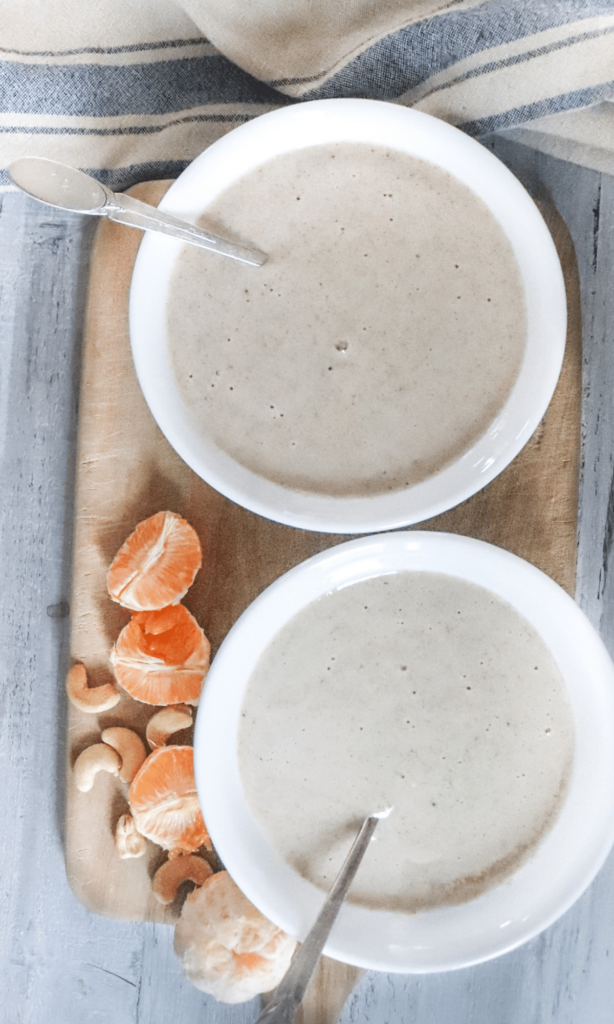 These bowls are great for breakfast or a hearty snack. You can fit a lot into a smoothie bowl and take it for the road, or feed it to kids as a fun breakfast idea.
Are smoothie bowls healthy?
Yes! Smoothie bowls are generally very healthy.
Smoothie bowls contain milk or yogurt, frozen fruits, oats, protein powder, peanut butter, nuts, honey, and more. So, you can get a lot of bang for your buck when it comes to smoothie bowls. Whereas without the blender you may not eat all of those foods for breakfast at one time.
Smoothie bowls are also just fun to make. At least for us, having the exact same smoothie every morning gets a little old. On the weekends we like to change it up and make a cleansing green smoothie, or a bowl like this.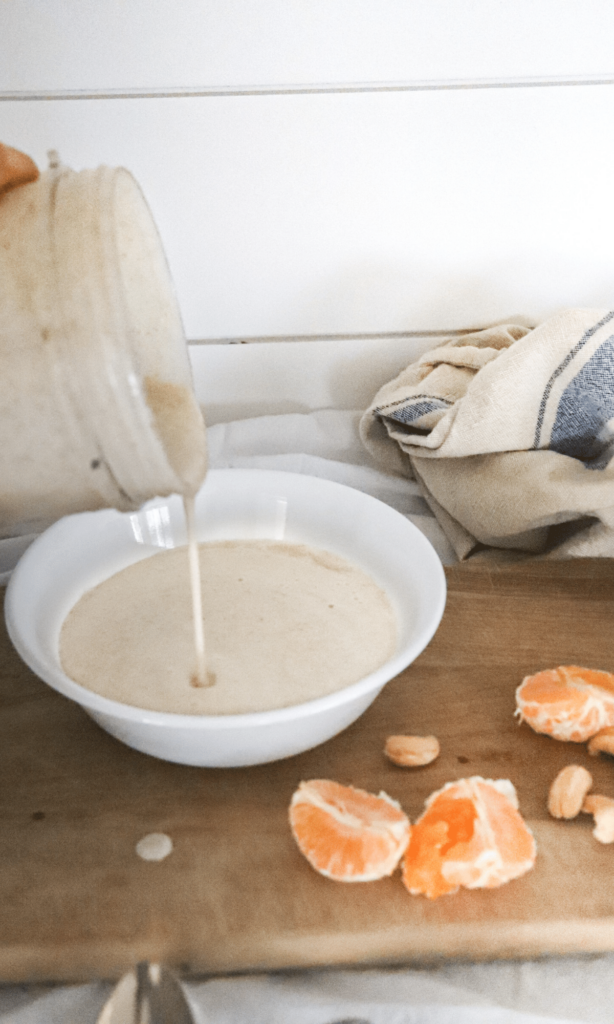 I have seen some recipes that call for cocoa powder and chocolate to make a sweet smoothie bowl. So, it could be much sweeter or more natural depending on what you put in them.
What makes a smoothie bowl thick?
To make a smoothie bowl thicker, I like to add oats. Now, you should probably soak your oats the night before adding them to the smoothie. This makes the oats more easy to digest. But I often don't think about that in time and just add dried oats to the blender.
Another thickening agent we like is avocado. Now, make sure you balance it out with something sweet like strawberries or blueberries. Otherwise the avocado adds a dull taste. But so healthy for you!
Or, try peanut butter. Try pairing peanut butter with banana or cocoa powder (or both!).
Frozen banana (or any fruit really) is also a good thickener.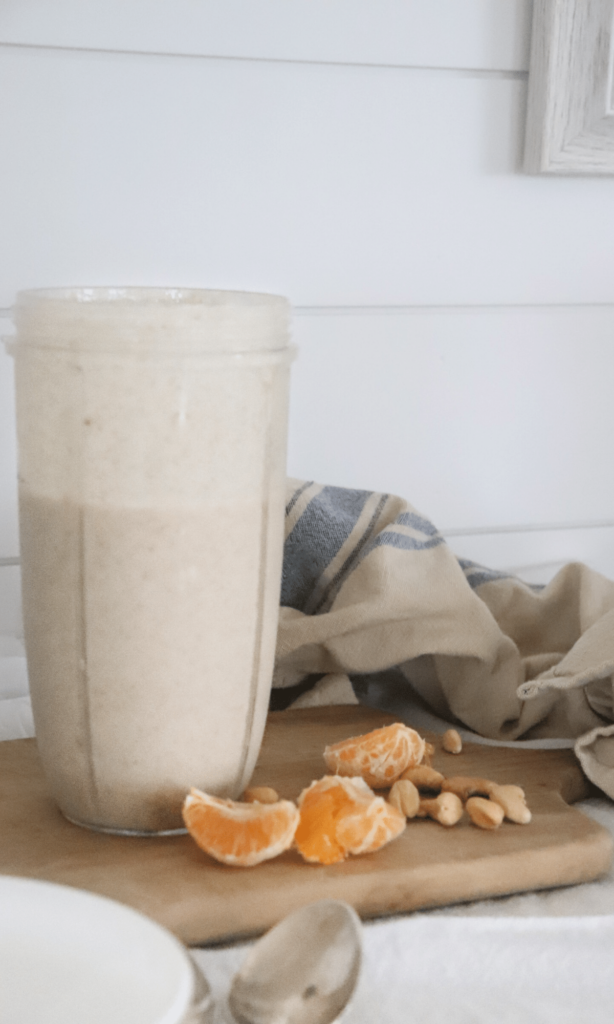 For a thicker smoothie bowl, try adding more yogurt instead of milk/water.
Nuts are another great thickener. Now, you want to make sure you're using a blender that can blend nuts properly (like a NutriBullet). I love adding almonds or cashews to my smoothie bowls. And it's a sneaky way to get some protein!
Can this be made into a drinkable smoothie?
Yes! The smoothie bowls I make are usually thin enough to drink if you wanted to. But if you want it even thinner, try substituting milk or water for the yogurt. Also, add only half the amount of oats.
A Note for your Sweet Tooth
A note for those with the sweet tooth. Because this smoothie is made with pear and not strawberry or blueberry, it may not be as sweet as you like. Pear has a more natural flavor (but the banana helps!)
If you want to add a little sweetener, I recommend about 2 TBSP of maple syrup. It will go well with the pear and give you a little extra sweetness.
Tools Needed
Smoothie blender (we like the NutriBullet)
Two large bowls or 4 small bowls
Knife for slicing
measuring cups optional
Smoothie Bowl Ingredients
For the smoothie:
One cup organic yogurt
1 pear, sliced (fresh or frozen)
a whole banana, fresh or frozen
Half cup oats
1 TB chia seeds (optional if you have them)
One cup milk (you could also use kefir)
Tablespoon honey
Optional: 2 TB maple syrup for added sweetness
For the toppings:
1 fresh orange or satsuma, peeled and opened
Handful cashews
Coconut flakes (optional)
The Process
Put all the smoothie ingredients into the NutriBullet and give it a shake so the liquid is dispersed throughout. Blend with the NutriBullet for about 20 seconds or until thoroughly blended.
Add toppings of choice and serve!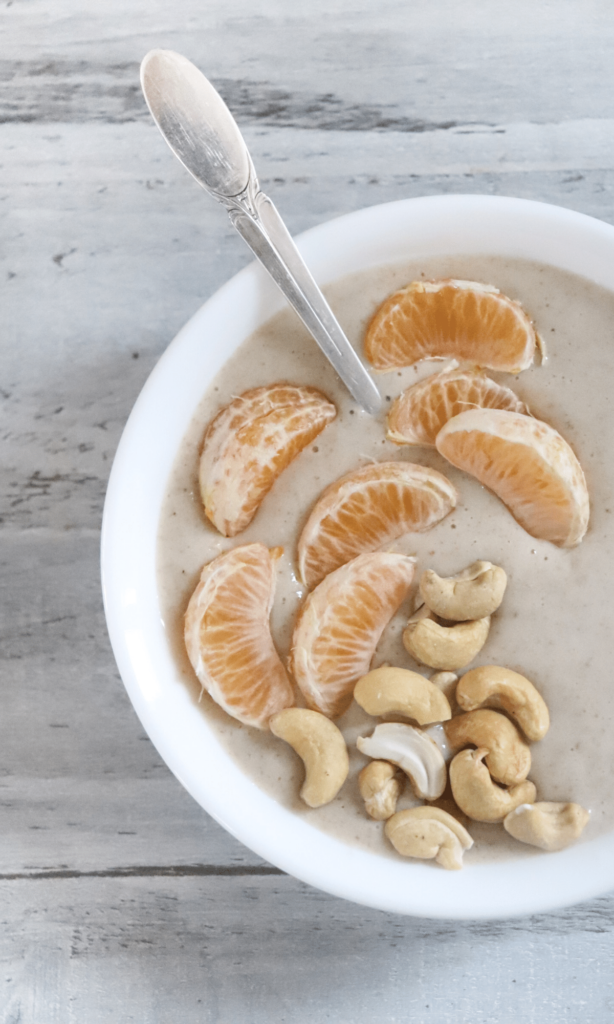 What to Serve with a Smoothie Bowl
Fry up some eggs or make 'em scrambled. Eggs go well with smoothie bowls!
Homemade cast iron hash browns. I talk about how to make crispy hash browns in my Spring Brunch ebook. You can download that here!
Add some sourdough pancakes to balance out the fruit in the smoothie for a nice breakfast. You can find my favorite sourdough pancake recipe here.
Simple sliced meat would go well too, like some ham steak. We just bought a ham steak recently and I notice it goes well with just about everything!
What's a NutriBullet?
If you've never heard of NutriBullet, it's a fine-blade blender that makes excellent smoothies. You might just have a regular blender and that's fine for most smoothies. But if you want to blend small items like dates or nuts, the NutriBullet is the way to go. It has a double blade that finely blends your fruits, veggies, and more.
We have used a NutriBullet for almost 10 years now every morning, and switched to a blender last year to see if that would work. And it did not, we ended up going back to the NutriBullet because we make so many smoothies!
I wrote a whole post on this a while back, and shared a cleansing smoothie recipe, in this post.
Winter Smoothie Bowl with Pear and Oats
This winter smoothie bowl with pear and oats is the perfect healthy breakfast or savor it as an afternoon snack. Get all the nutrients of fresh fruit in the winter and some immune boosting vitamin C in this savory, soothing smoothie bowl.
Ingredients
1 cup organic yogurt
1 pear, sliced (fresh or frozen)
1 banana, fresh or frozen
1/2 cup oats
1 TB chia seeds (optional if you have them)
1 cup milk (you could also use kefir)
1 TB honey
Toppings (per bowl)
1 fresh orange or satsuma
Handful cashews
Handful coconut flakes (optional)
Instructions
Add all the smoothie ingredients into the NutriBullet or similar blender.
Blend on high for about about 20 seconds or until thoroughly blended.
Add toppings, serve, and enjoy 🙂


Notes
Makes 2 large or 4 small smoothie bowls.
For added sweetness, add 2 TB of maple syrup to the blender.
Nutrition Information:
Yield:

4
Serving Size:

1
Amount Per Serving:
Calories:

360
Total Fat:

14g
Saturated Fat:

7g
Trans Fat:

0g
Unsaturated Fat:

7g
Cholesterol:

8mg
Sodium:

205mg
Carbohydrates:

52g
Fiber:

7g
Sugar:

27g
Protein:

11g
Keep Reading…
Nutribullet Pro 5-year Review & Cleansing Smoothie Recipe
Reader Favorite Rustic Sourdough Bread
Save it for Later!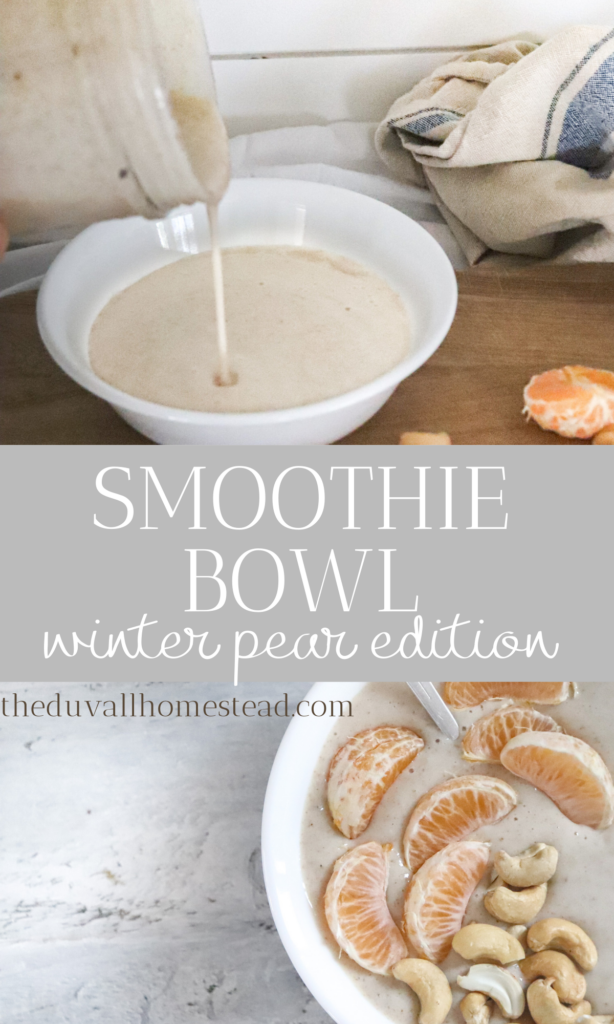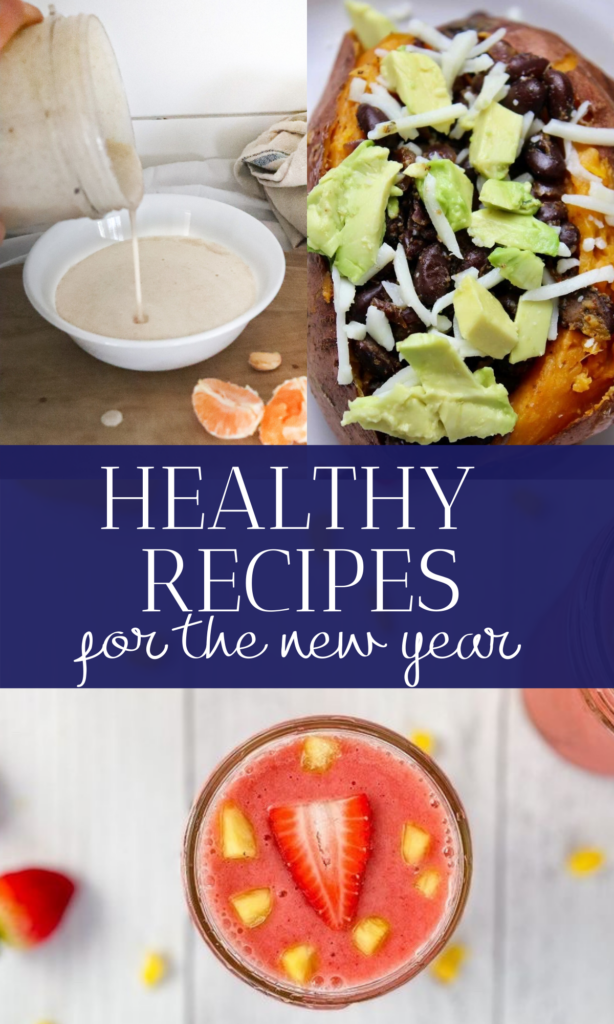 Thank you so much for stopping by the Homestead!